I've been keeping a pretty big secret over the past few months…we're renovating our house!!! It still seems really crazy to share it, because we've been dreaming and talking and planning it for so long, it's hard to believe it's actually happening. But as I'm sitting here typing this I can hear all the construction noise through the wall behind me, so it's safe to say there's no turning back now!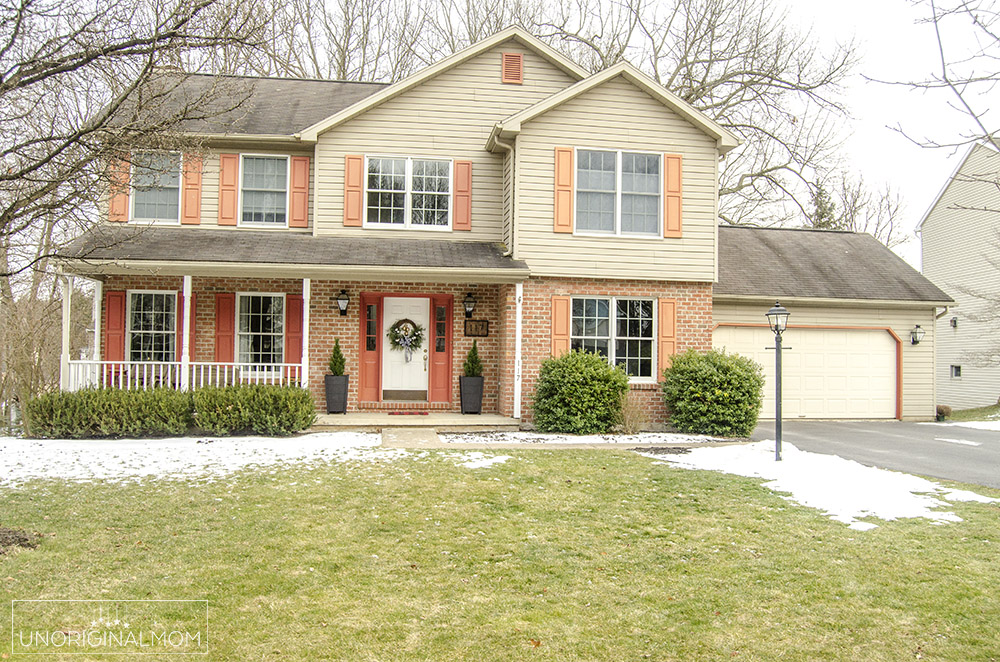 WHY WE'RE RENOVATING
We moved into this 1995 builder-grade house 7 years ago, in late 2013. The "plan" at that point in our lives was that this would be an 8-10 year house, and we would use that time to save to be able to build our "dream home."  Fast-forward to today, and we've come to the realization that we simply never want to leave this neighborhood.  First of all, the location is great – we live on the end of a quiet cul-de-sac but are only 5 minutes away from grocery stores, Target, Walmart, Michael's, and lots of other stores and restaurants. We have a fantastic elementary school right down the street and are close to the middle school as well. But most importantly, the neighbors are incredible.  This is the kind of street where you can walk out to get your mail on a summer evening and end up spending an hour chatting with whoever happens to be walking by.  My husband and I know the names of every single person (and dog!) in this little neighborhood of 27 houses, and our kids have lots of playmates around and are constantly outside playing in the warmer months of the year.  We've had outdoor neighborhood concerts, movie nights, front yard happy hours, a COVID carol-sing, prayer groups, and a yearly 4th of July brunch.  Long story short – this just isn't the kind of neighborhood you leave. On top of all that, we really sense the fact that the Lord has positioned us here and is telling us to stay put, long term.
Suffice it to say, we don't want to leave this house. And so we've realized that instead of saving up this money for a maybe-someday-dream-home-build, we'd rather spend it now to turn this house into what we really want it to really improve our daily quality of life! I think it's important to mention that none of the improvements we're making are absolutely necessary – we could absolutely stay here as-is and be totally fine. It's a really nice house, and we recognize how unbelievably fortunate we are to live in a place like this. At the same time, we've been cautious with our finances and purposeful with our saving over the years which, combined with the current state of interest rates, is going to allow us to really turn this place into our dream home.
It's also really important to note that we are working with an amazing local homebuilder team (Hackman Builders) who happen to be dear friends of ours. We trust them implicitly. If our only choice to do something like this was with someone we found in the (virtual) yellow pages, I honestly don't think we'd be doing it at all. We are so very blessed to have these guys in our life!
THE ADDITION
The biggest motivation behind this renovation in the first place was the desire for a designated laundry room, a mudroom/entry space, and a larger half bathroom on the first floor. Originally we'd been thinking about putting an addition onto the back of our house, until our brilliant builders suggested building the garage forward by 9 feet and then finishing the back 9 feet of the existing garage into an addition.  We have a nice long and flat driveway, so adding to the front of the garage doesn't eat into any yard space.  As you can see in the photo below, we'll be bringing the garage to be just about even with the posts on our front porch.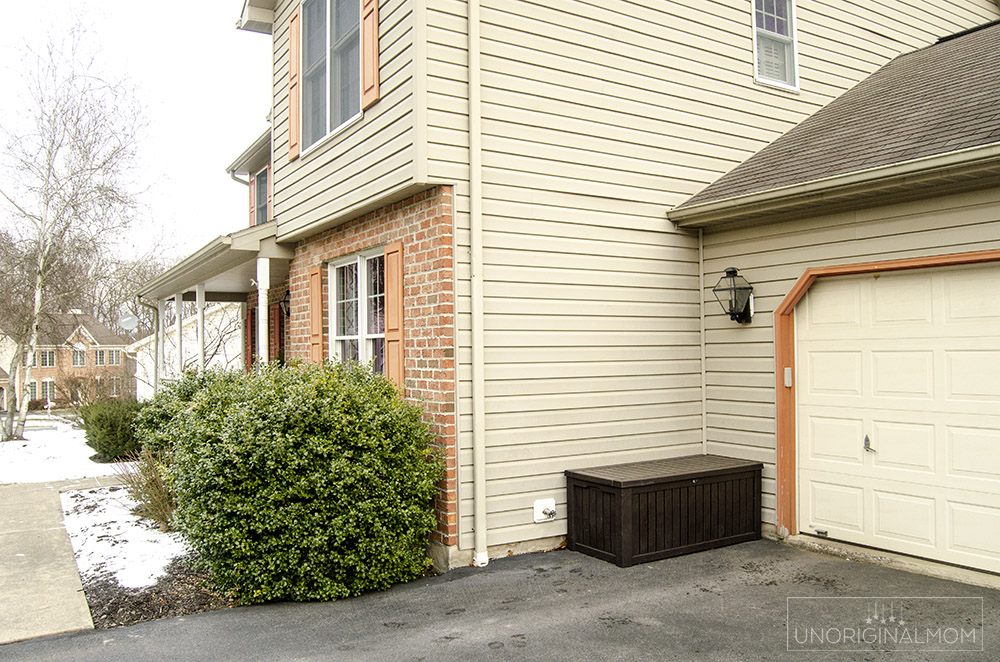 The idea of an addition caused a domino effect that led us into really increasing the scope of this renovation to include a brand new kitchen, new floors in the entire first floor and staircase/second floor hallway, opening up a wall between our family room and music room, a new roof and shutters, and a new front door. If we're going to do a big renovation like this, we only want to do it once! Not to mention that the cost of labor and materials has been increasing exponentially (as many skilled laborers reach retirement age and fewer and fewer young people are entering into those fields), so even if we were to save up to do this reno in two parts, we'd end up paying a LOT more to do it in another 5-6 years.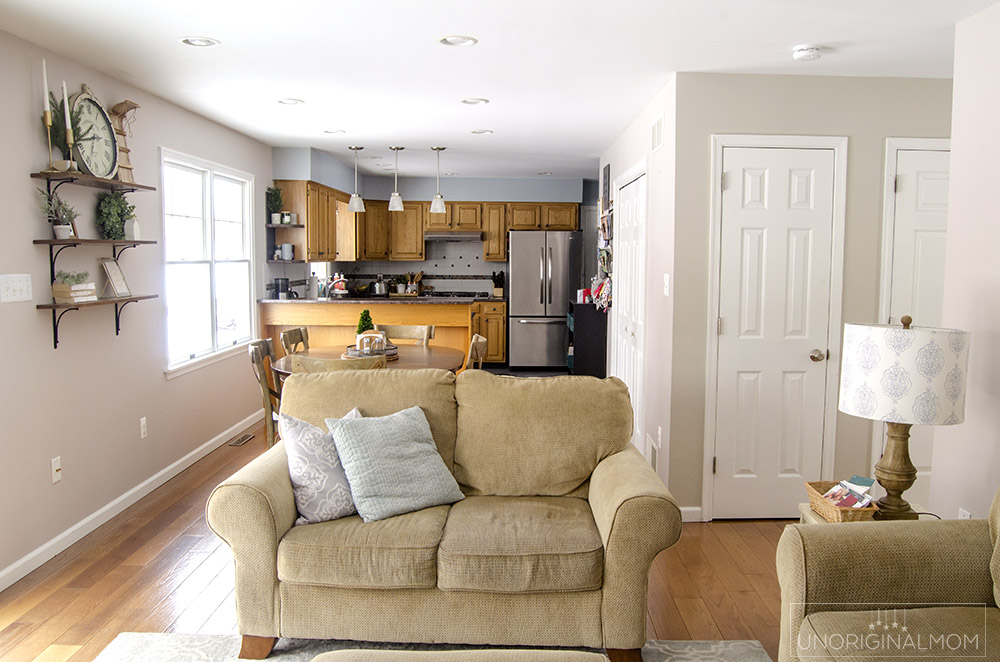 We live in a 1995 builder-grade home, and while the previous owners did do some updating in the kitchen that included putting in a wall oven and pantry, they moved the original powder room into what was originally a small closet – it's literally the size of a bathroom stall in a public restroom. (I'm not kidding…you can wash your hands while sitting on the toilet.) The location is also not very private, since it's right in between the kitchen and the dining room. Adding a larger half bathroom on the first floor will be a big improvement for us!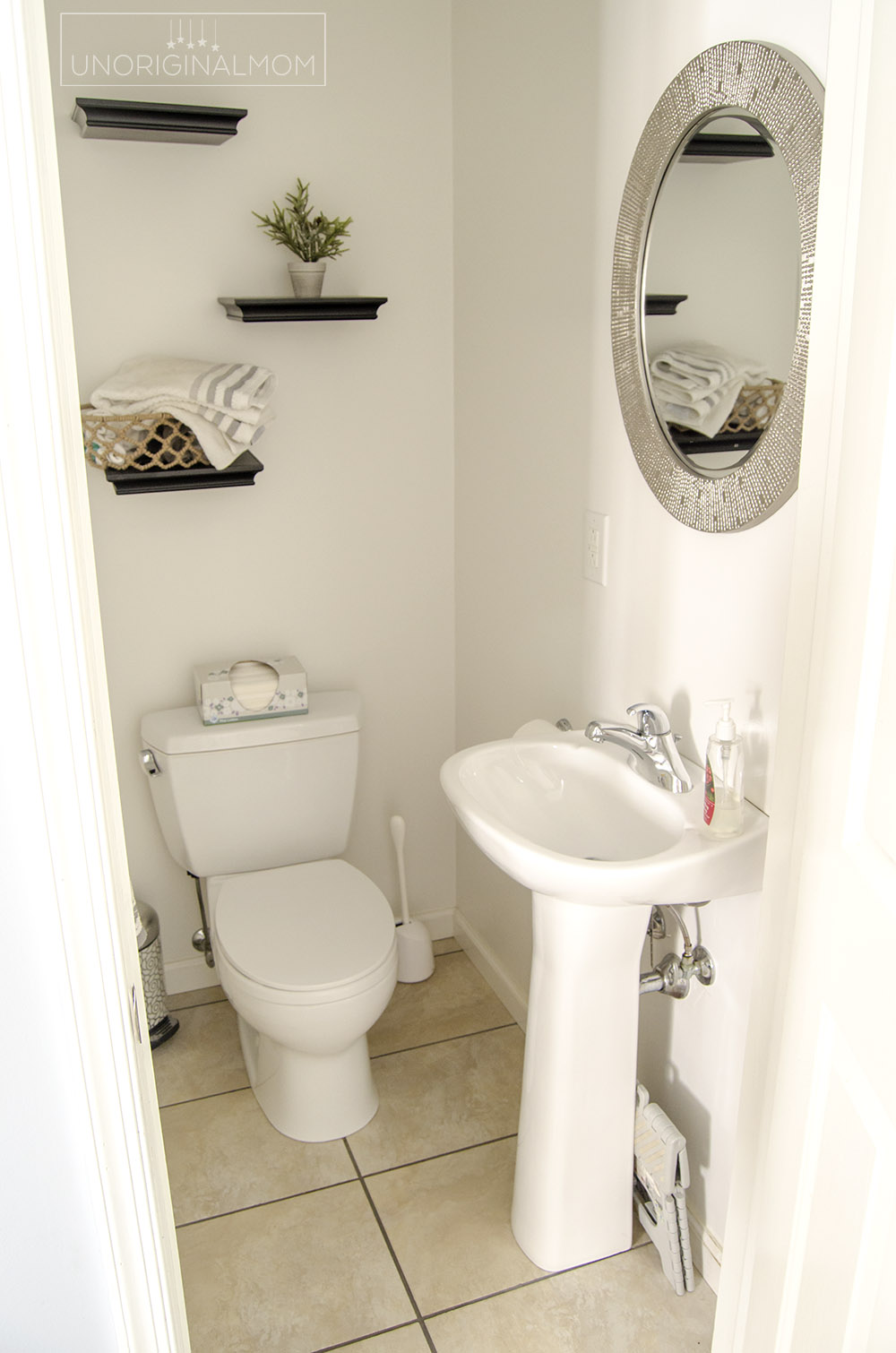 The pantry we have right now is on the small side, and definitely doesn't allow for a great use of space. Our new pantry isn't going to be huge, but it will give me more than twice the storage space I currently have! I've already got some really great ideas for a custom pantry that I'm super excited about, so you can be sure that you'll be seeing a several more blog posts about that around here!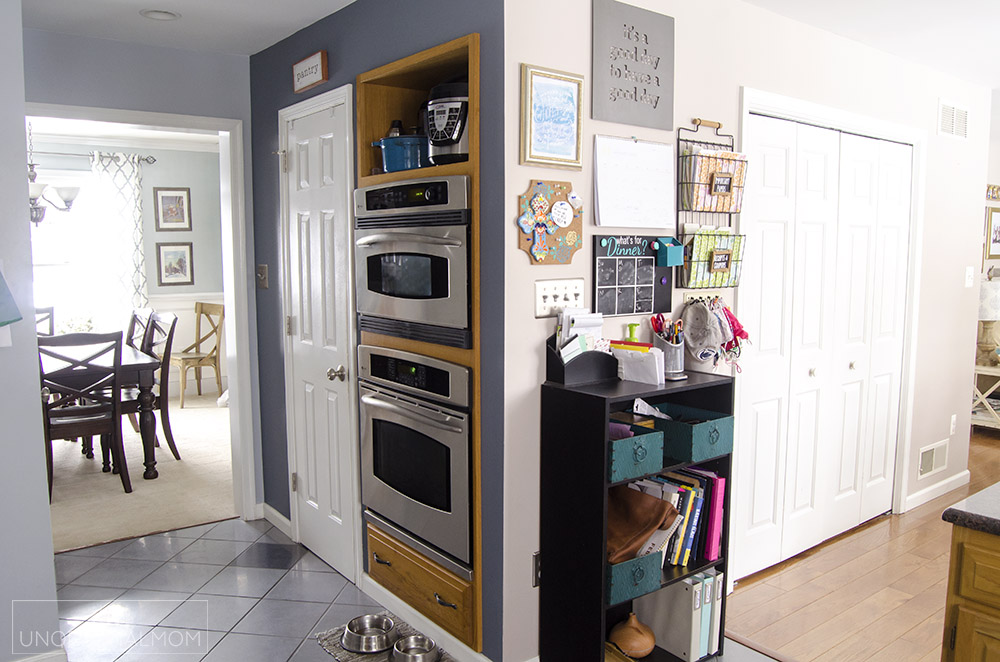 Our current laundry "room" isn't a room at all – it's a closet with bi-fold doors that is within arms reach of our kitchen table. (You can see more about how we came up with organization solutions for this multi-purpose laundry closet in this blog post!) I'm really looking forward to having beautiful laundry room that's big enough to hold everything that's currently in our laundry closet as well as things like an iron and ironing board (currently in our master closet), cleaning supplies (currently split between under the sink, the pantry, and our master bathroom), and mops/vacuums (currently in our pantry and master closet). In the new laundry room, we're also going to have enough space to add a sink for things like hand washing clothes, washing paint brushes, cleaning kids muddy shoes, etc., as well as an upright freezer, which we currently have in our garage. The laundry room will also have a door to the backyard, which will be great for kids coming and going when they're playing outside.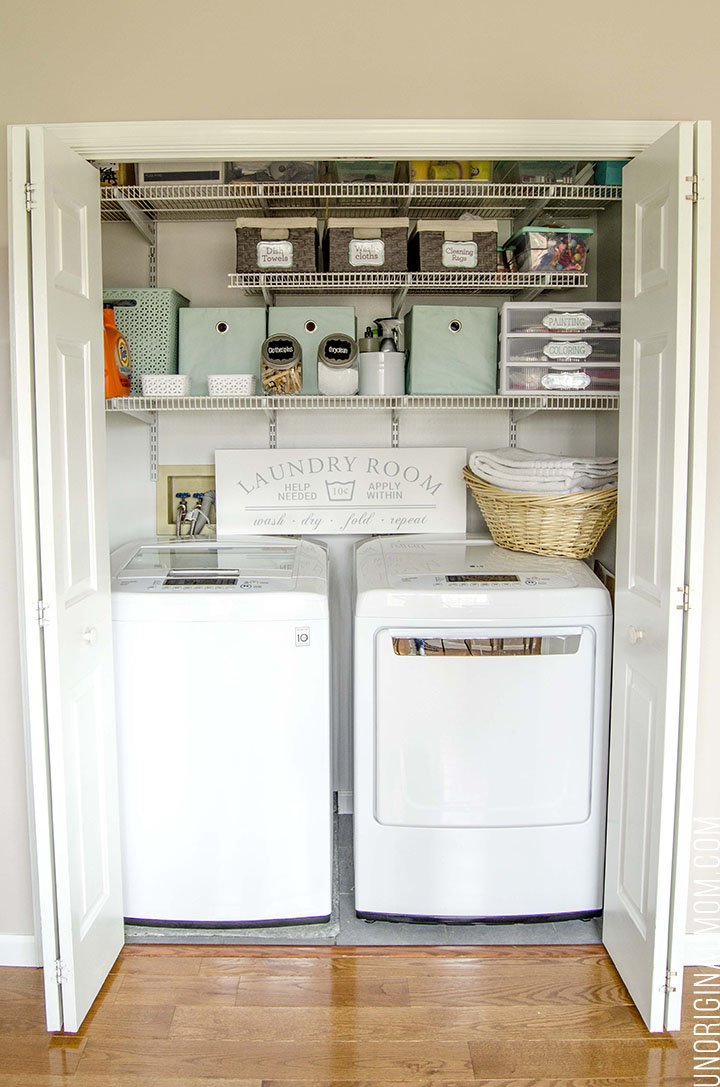 The last piece of the addition is a walk-through mudroom with a built-in bench and cubbies along with a drop-zone cabinet/countertop. Besides the kitchen, I think this will make the biggest difference in our everyday life! Right now the door from the garage (which is what we use most of the time) leads right into the middle of the kitchen with absolutely no place to drop shoes or hang coats. The small coat closet is around the corner on the other side of the laundry closet. Every time we come home it's like an obstacle course to get inside the house, stepping over children sitting on the floor as they throw off their coats and shoes. Of course, the kitchen is then also the place that all the dirt/mud/snow gets tracked in. Having an out-of-the-way, designated spot for taking off shoes and coats will be amazing! I'm also hopeful it will help with a lot of the clutter and mess that I'm constantly picking up, since each member of the family will have their own hooks and cubbies for coats, backpacks, hats and gloves, etc.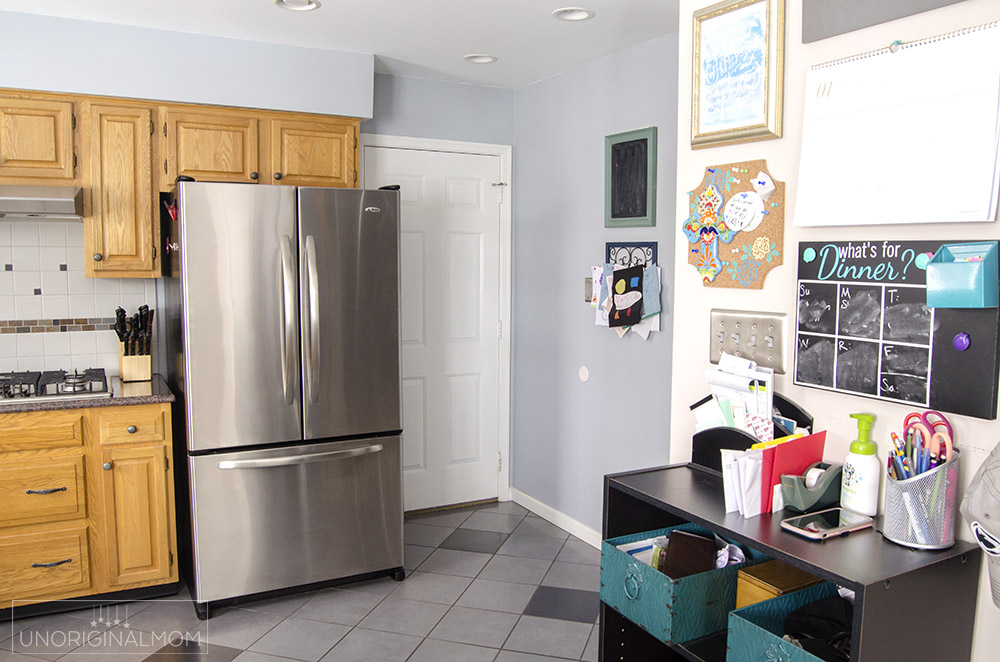 THE KITCHEN
Oh my goodness, I am so stinkin' excited about this kitchen! Since we're relocating the door from the garage into the house, that means we need to revamp the kitchen…and we're taking this opportunity to make it the best kitchen we possibly can! Of course, building a "dream kitchen" from scratch is a lot different than renovating a kitchen inside an existing space, but this is still going to be a GREAT kitchen. We'll be completely removing the existing half bath, pantry, and laundry closet, which will allow us to really open up the space and enlarge the kitchen – including a big beautiful kitchen island! I'll be sharing our kitchen design plans in a separate post once we decide on kitchen cabinets, hardware, countertops, backsplash, and lighting fixtures – SO many decisions.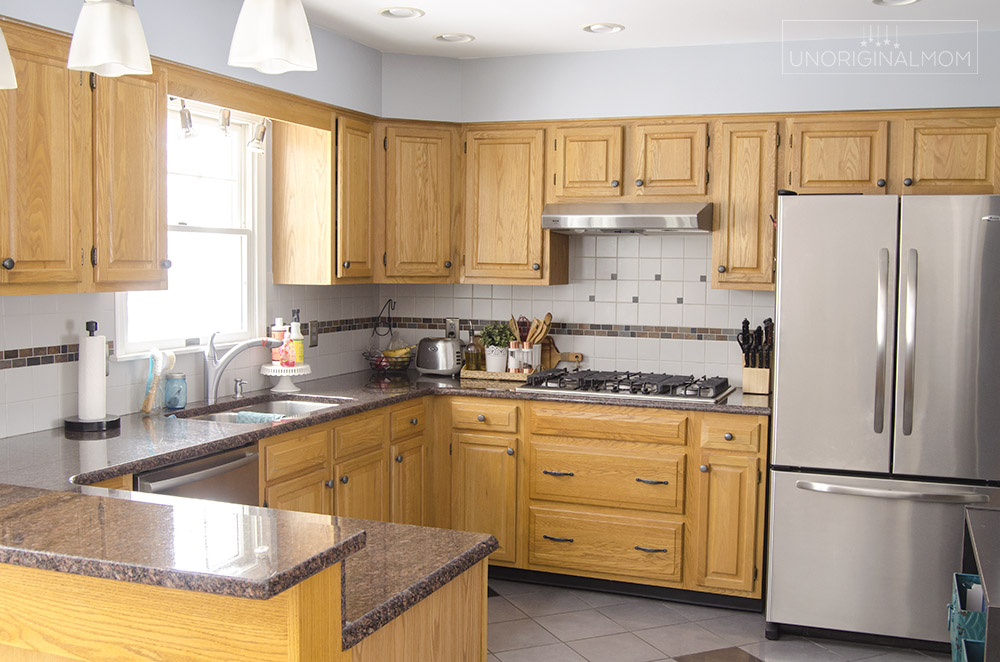 As far as layout goes, the doorway to the addition will be just about where the stovetop is now. The sink is staying where it is, and there will be a wall of cabinets around that, and then cabinets – range – cabinets – fridge along the wall where the fridge and half bathroom is now. Inside what is now our pantry will be a beverage station with an under-counter beverage fridge and glass upper cabinets for coffee mugs and barware. It will be really nice to have a spot to tuck our coffee paraphernalia out of the way so we can keep the rest of our countertops clear!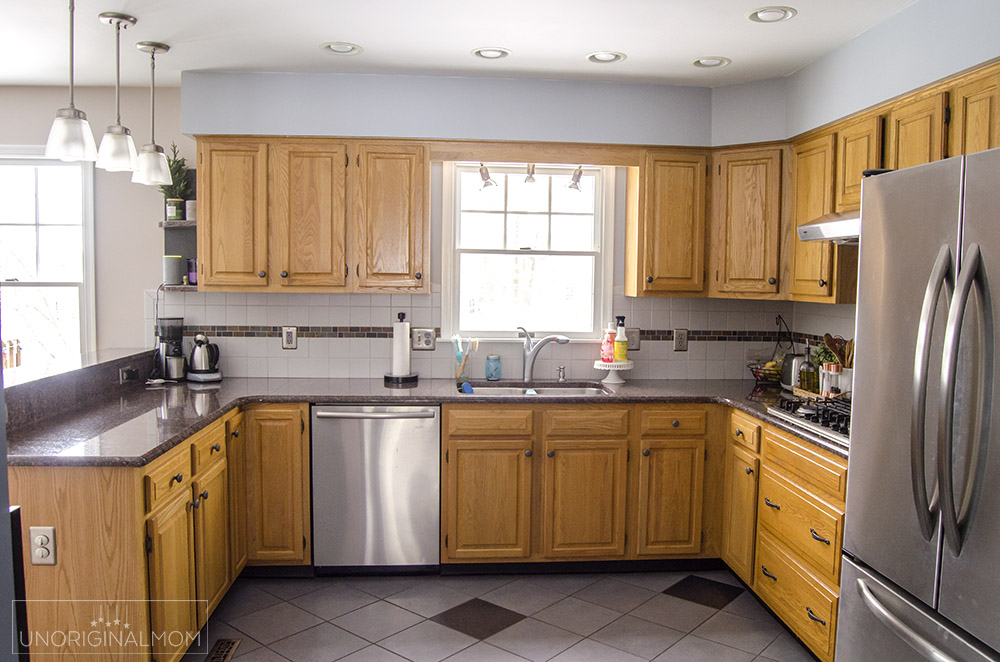 LIVING SPACES
The rest of the first floor is also going to get some major upgrades as we bring hardwood floor throughout the entire first floor. Our house is a big square with the stairs in the middle – there's a music room off the foyer to the left, a dining room off the foyer to the right, and the kitchen/eat-in area/family room is across the back of the house.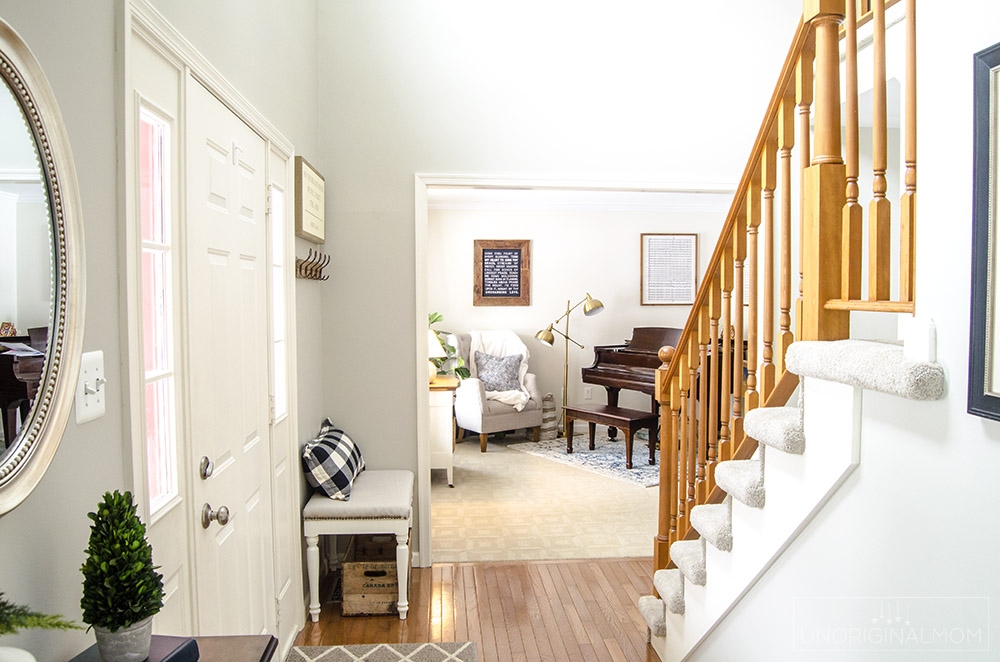 We really only use the dining room only a few times a year, and since we're opening up the kitchen and adding an island with some seating we think we'll have plenty of dining space in the kitchen alone. What we are lacking in is first floor living space, especially when we have guests, so we've decided to open up the wall between the family room and what is the current music room. Because of the mechanicals that are currently in that wall and the fact that it's load bearing, it's not possible to completely get rid of the wall, but we will be able to open it into a large cased opening. I'm struggling a bit with furniture layout and how to make the adjoining living spaces feel separate but still cohesive, so I'm sure you'll be hearing more about that as I plan the design…but I think it will make a big difference in the feel of the space, and also allow for larger gatherings to feel less cramped into the back half of our house!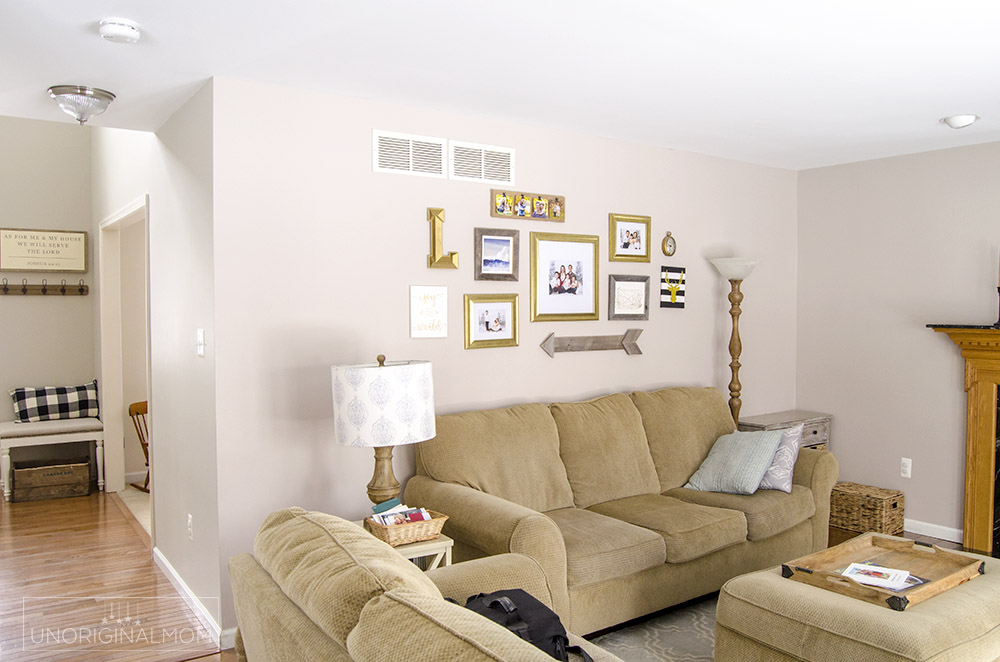 We do use the music room quite a bit (and we need a place for that beautiful baby grand piano!) so we're just moving our music room/office into our current dining room. We've got some beautiful old church doors that my aunt is gifting us that I hope we're able to use in the doorway from the foyer – I think that will add a lot of personality and character!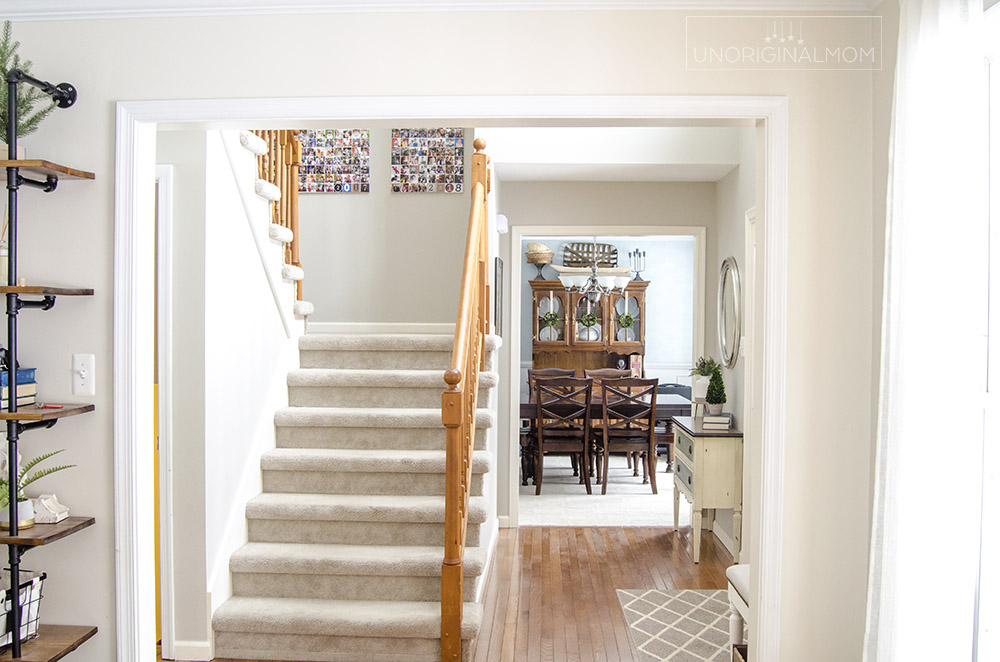 Our goal is to make this house feel like a custom home and not builder-grade construction, so we're trying to remove as many dated builder-grade elements as we can. We have a nice big two story foyer, but the banister is really dated and the carpet-wrapped stairs are totally 90s, so we decided to go ahead and extend the hardwood floors all the way up the stairs and through our second floor hallway.  The staircase is the first thing you see when you walk in the door, so that will make a HUGE difference!
We're also redoing the fireplace mantle, hearth, and surround. Again, it's very dated and builder-grade looking, so updating the fireplace will make a big difference in the custom look and feel of the space.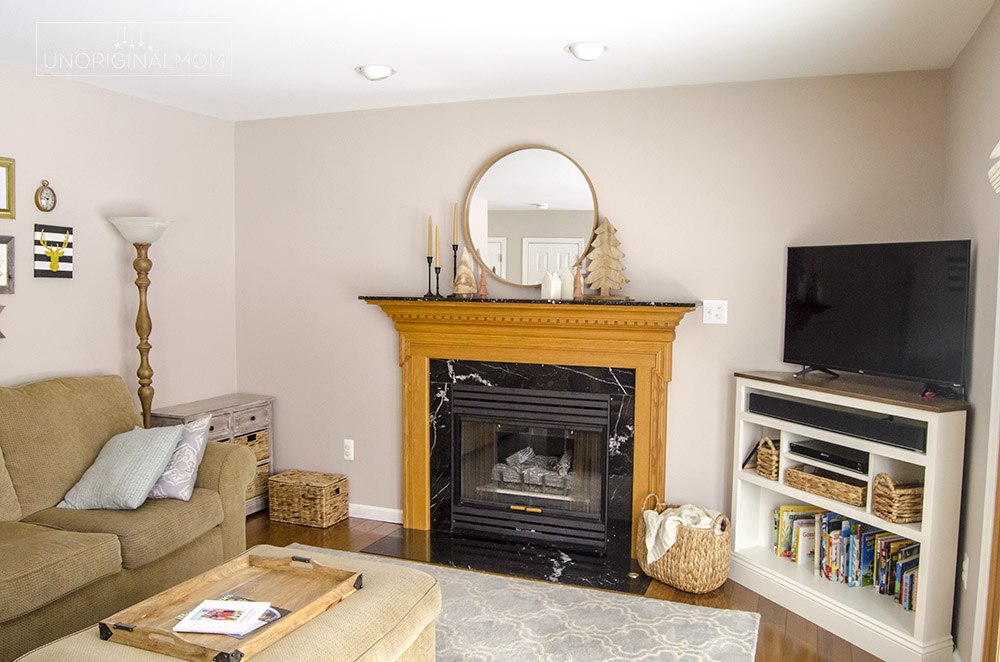 Even though my husband is really handy and knowledgable and we absolutely could DIY some of these individual interior elements, it really wouldn't save us that much money, especially when compared to the scope of the whole project. The convenience of doing it all at one time combined with the amount of time it will save us has led us to decide to knock out our entire wish-list all at one time.
THE EXTERIOR
While I would love to do a complete exterior overhaul, that's just not in the budget. Our siding and windows are still in good shape so it seems a little bit irresponsible to replace them just for the sake of aesthetics. Our roof, however, is 25 years old! Instead of replacing it all with asphalt shingles, we're going to add some standing seam steel accents on the new part of the garage and also on the front porch roof. The rest of the roof will be architectural shingles. I think the steel will make a HUGE change to the overall look of our exterior!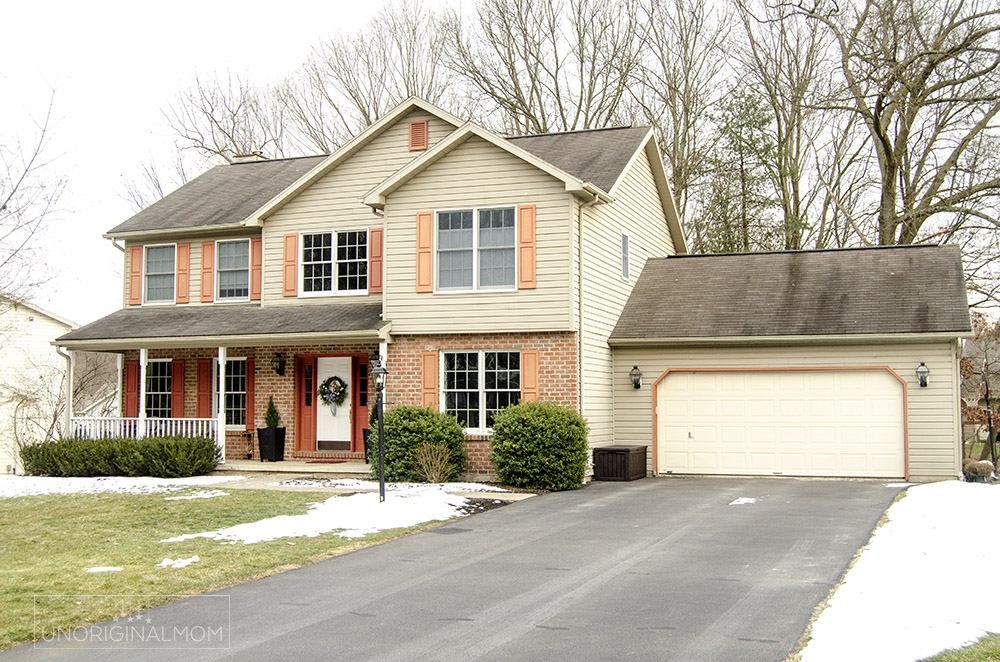 While we're keeping the windows, brick, and siding, we're going to replace the shutters (goodbye orange!!!), garage door, front door, and lighting fixtures. We'll also be removing the porch railing and beefing up the porch columns to get rid of the 90s-builder-grade-colonial look. My husband and I also have plans to change up the front yard landscaping this spring/summer, so by the end of summer this house will be barely recognizable! I'm already dreaming of fall front porch decor :-)
RENOVATION TIMELINE
As you've probably figured out by now, this is a HUGE project. The guys started the work on the garage last week, and thankfully they're able to essentially build the entire addition in the back of the garage without disrupting anything inside the house. They'll do most of the exterior work over the next few weeks as well – framing out the new front of the garage, pouring the new garage floor, and replacing the roof.
They won't do anything inside until they have the cabinets and flooring in-hand (which we're just now ready to order) so the start date for that work will depend on how long it takes those to arrive – likely about 4-6 weeks from now. At that point, they'll break through the wall of the kitchen and start demo! That's when our house will become essentially uninhabitable for about a month. They aren't doing any work in our bedrooms or the basement, but with disruptions to things like electrical and plumbing, all the construction dust and noise, and having no kitchen, it would be virtually impossible for us to live here through it. We'll be moving in with my parents for a few weeks during that stage of construction.  Hopefully, the whole project will be completed by the end of April!
FOLLOW ALONG!!!
I've been sharing plenty of updates on my Instagram Stories, so make sure you're following me over there to see all the behind-the-scenes details as we live through this renovation. There's a highlight on my Instagram profile to get you caught up with a video "before" tour and plenty of progress photos as well. I'm looking forward to sharing all of my design plans for our pantry, mudroom, kitchen, and living spaces here on the blog, so check back here for more updates as we go. And, of course, you can bet there will be plenty of amazing before and after photos after it's all over!
I'd love to know what would be most interesting and/or helpful for you as we walk through this big renovation – please let me know if you have any specific questions and I'll do my very best to answer them as we go along!


Get your copy of my FREE meal planning binder!
Sign up to get a free copy of my meal planning system - an 11 page printable meal planning binder, complete with a pantry inventory, shopping list, and more to help get on top of your menu each week!