Well, the calendar says it's spring, even if the weather around here doesn't, so I'm sharing a spring home tour with you today! Luckily most of the snow from the big storm last week has melted, though it will take a while for the big piles in parking lots to melt away. At least we've had a few sunny days, even though the temperature doesn't want to climb above the 40s!
If you follow me on Instagram and have been watching my Stories, you know that we are knee-deep in a room makeover, transforming our formal living room into a farmhouse style music room and office. Of course, even though we're only working on one room, the entire house is a disaster zone! I was able to clear enough clutter to get some pretty shots of the spring decor in our house, but lurking just beyond the edges of these photos is MAJOR mess. So before you start thinking "oh I wish my house looked like that," please know what you can't see in these photos is likely far worse than whatever you've got going on in your house ;-)
I did a bit of sprucing up the decor in our entryway last fall and it is my absolute favorite spot to decorate with the seasons! I just love this little nook inside the front door.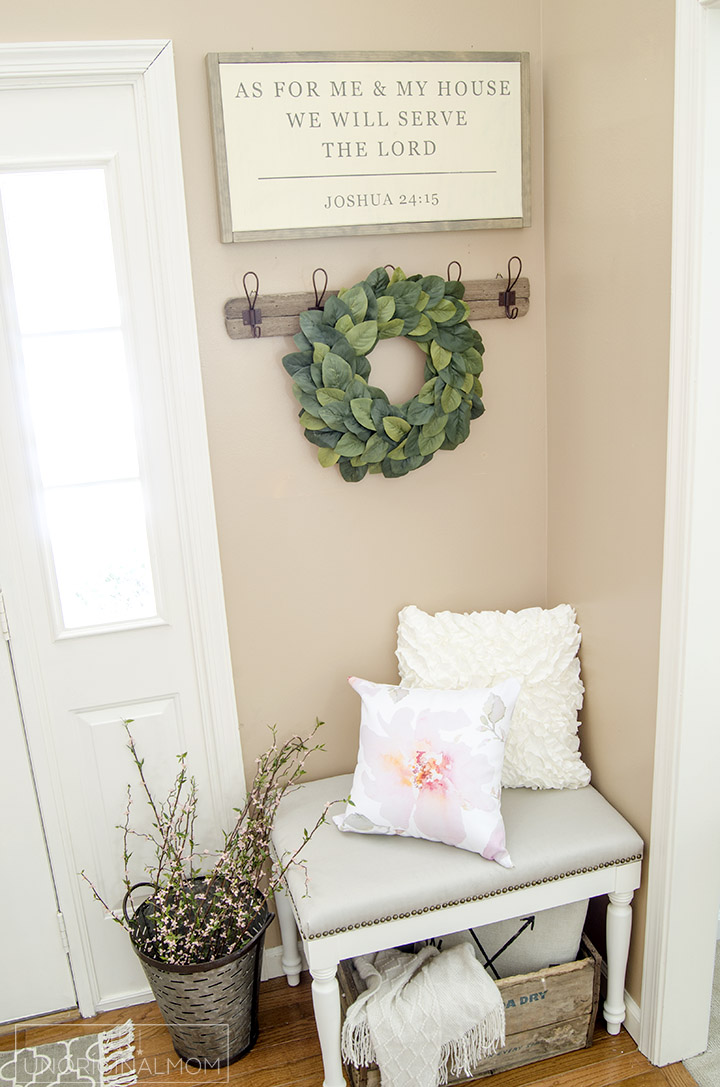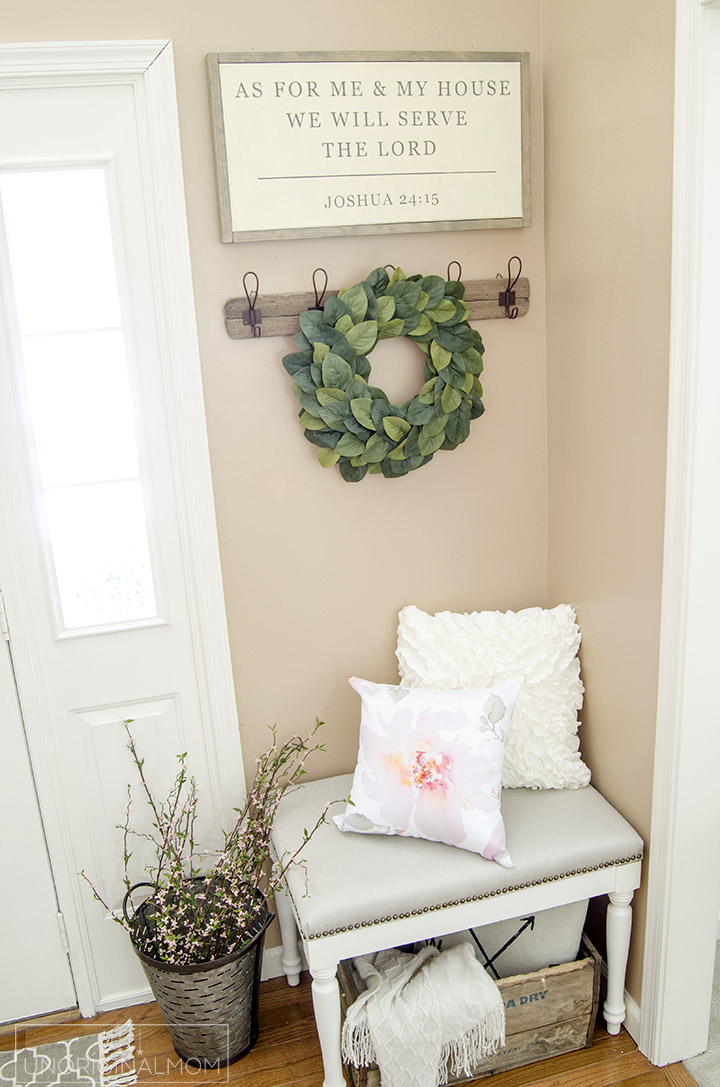 Sources: Magnolia Wreath – DIY | "As For Me & My House" Sign – DIY | Bench – DIY | Watercolor pillow – Craftberry Bush | white ruffle pillow – Big Lots | Olive Bucket – Decor Steals | Barnwood Hooks – Wayfair
I was happy to bring my DIY Magnolia Wreath back out after putting away Christmas decorations. It looks great year-round but is just perfect for spring! I filled up an olive bucket with some floral stems from Michaels to add another touch of spring. The wood crate was a thrift store find and I just love the contrast of the rustic wood underneath the upholstered bench.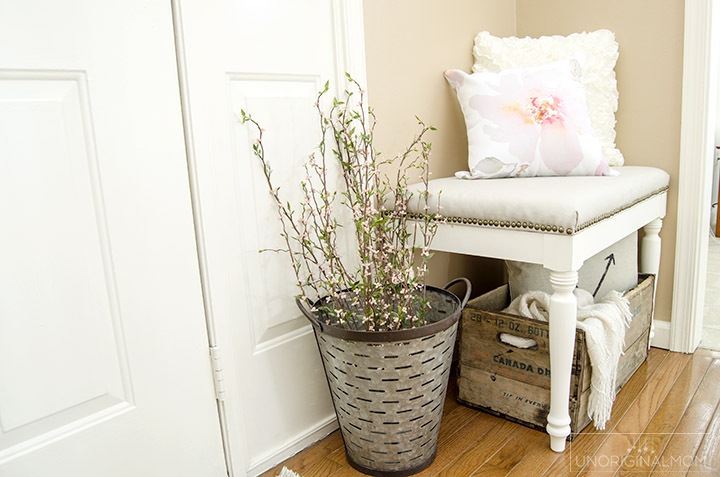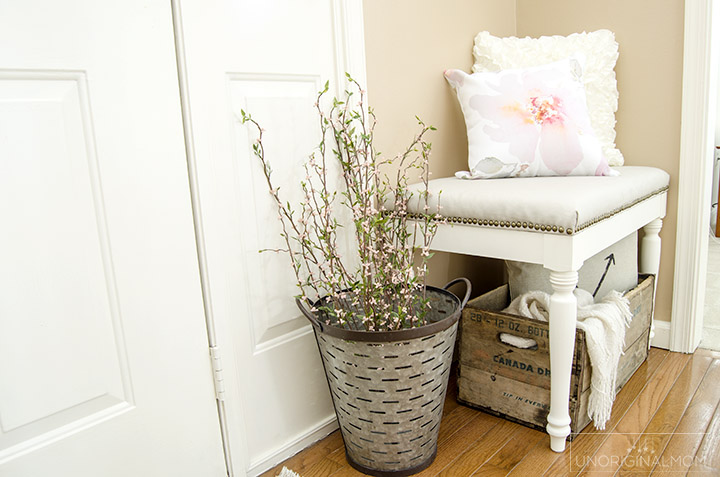 On the opposite side of the front door is this sweet little spot where I have a welcoming spring vingette.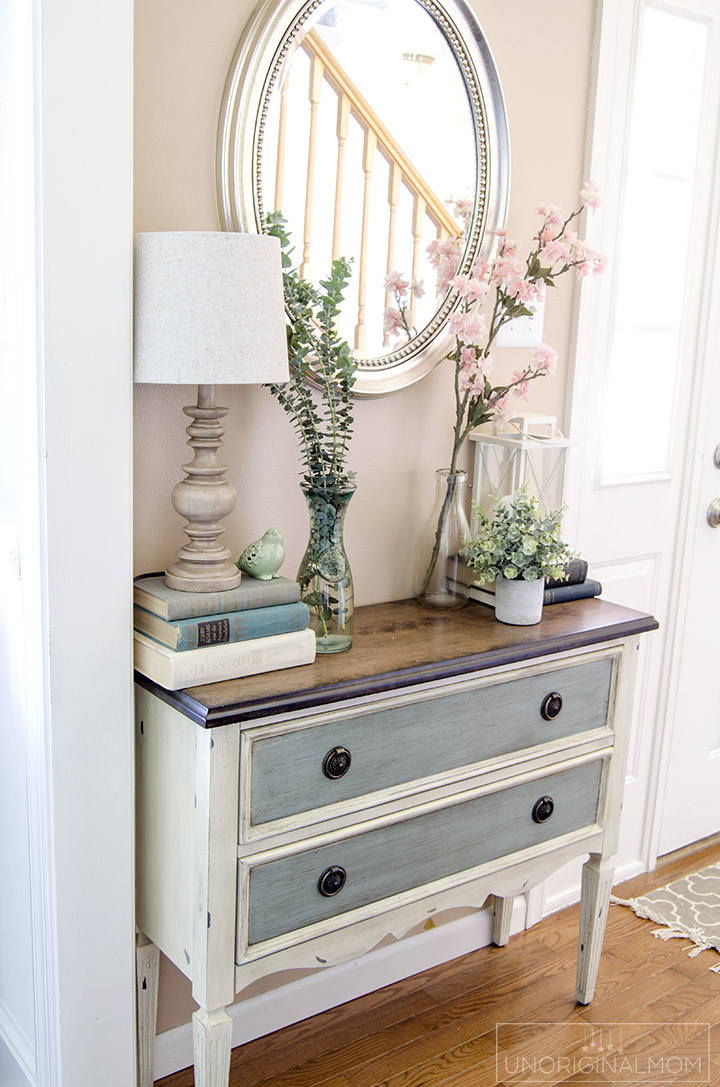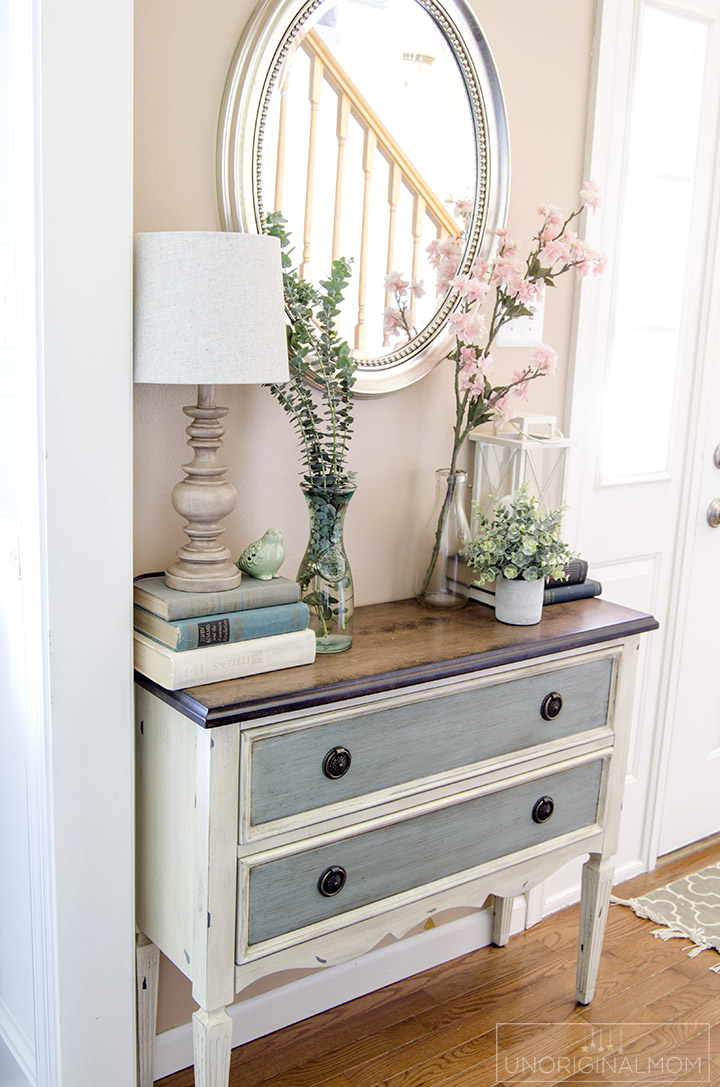 Sources: Chest – Wayfair | Lamp – Walmart | Mirror – HomeGoods | Faux plant – TJ Maxx (similar)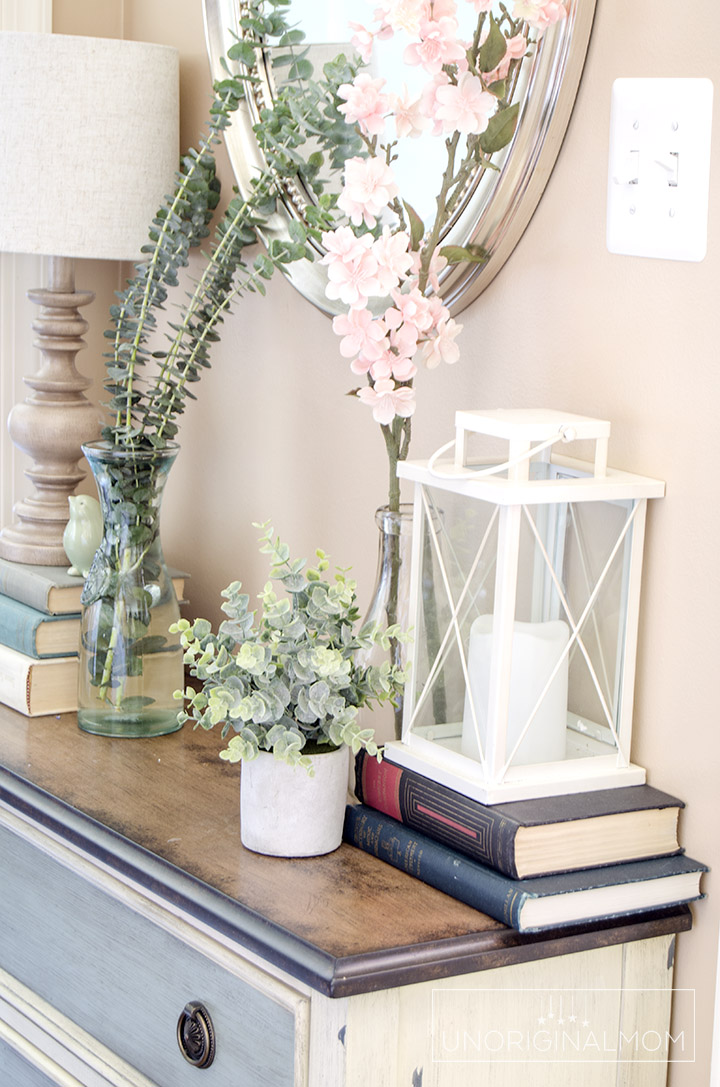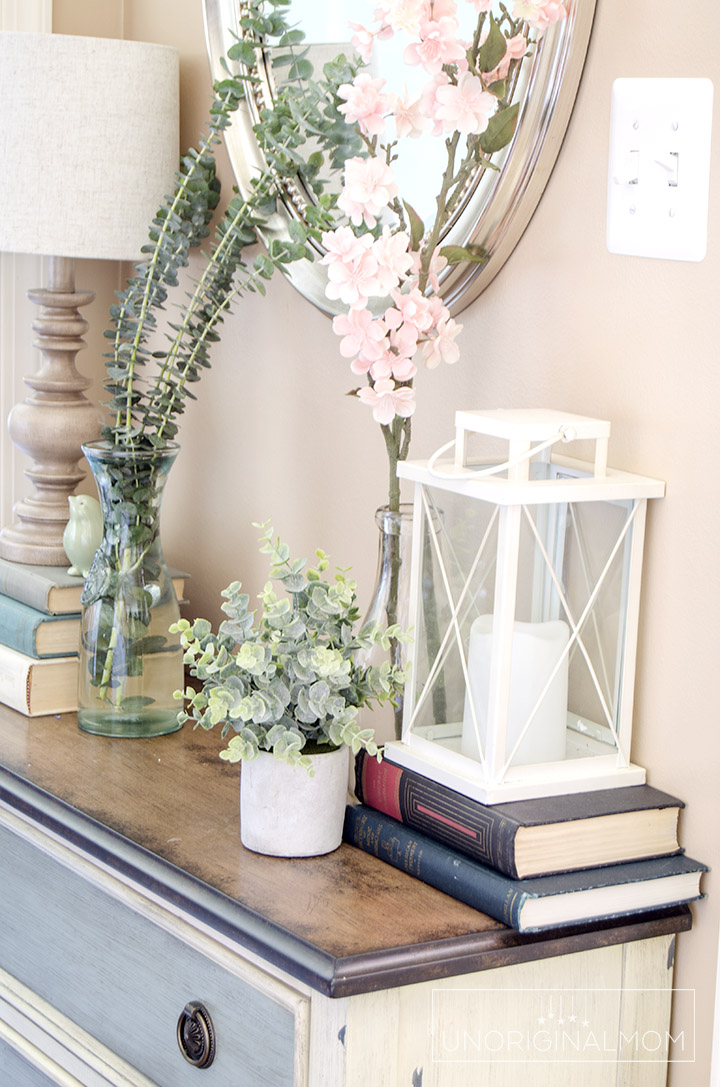 I rarely do big full tablescapes unless I'm hosting a dinner or something, so I usually opt for a simple centerpiece for our dining room table that can easily be moved. The pallet box centerpiece that we made last year is perfect for filling up in different ways for the seasons – right now it's looking springy with aqua mason jars and pink tulips!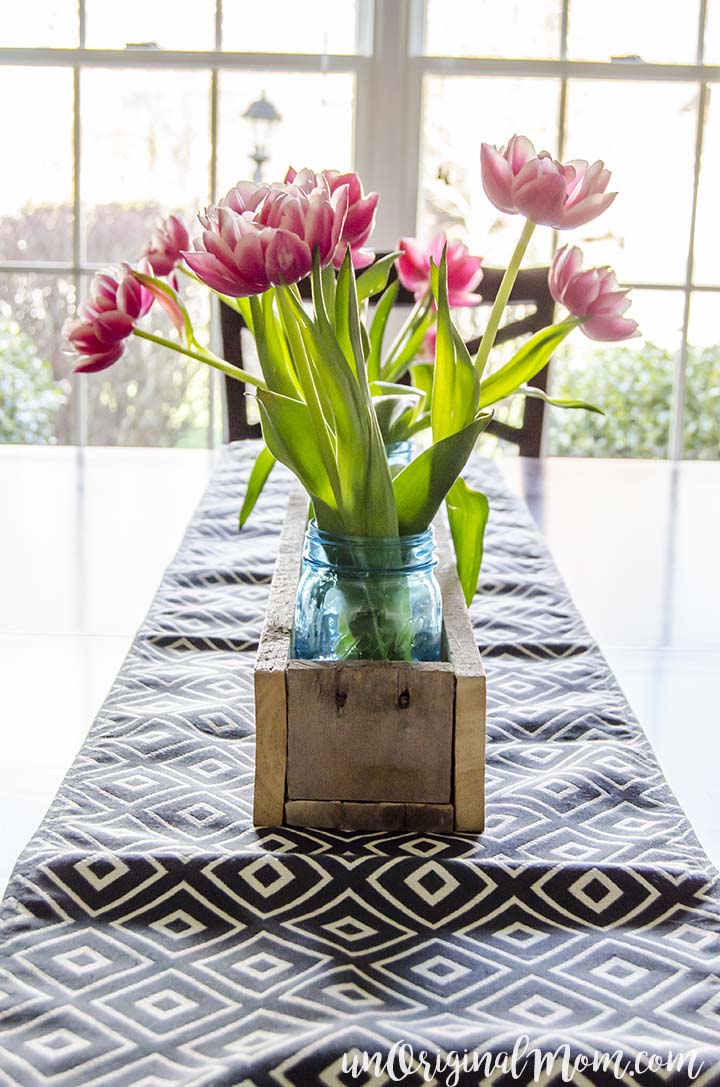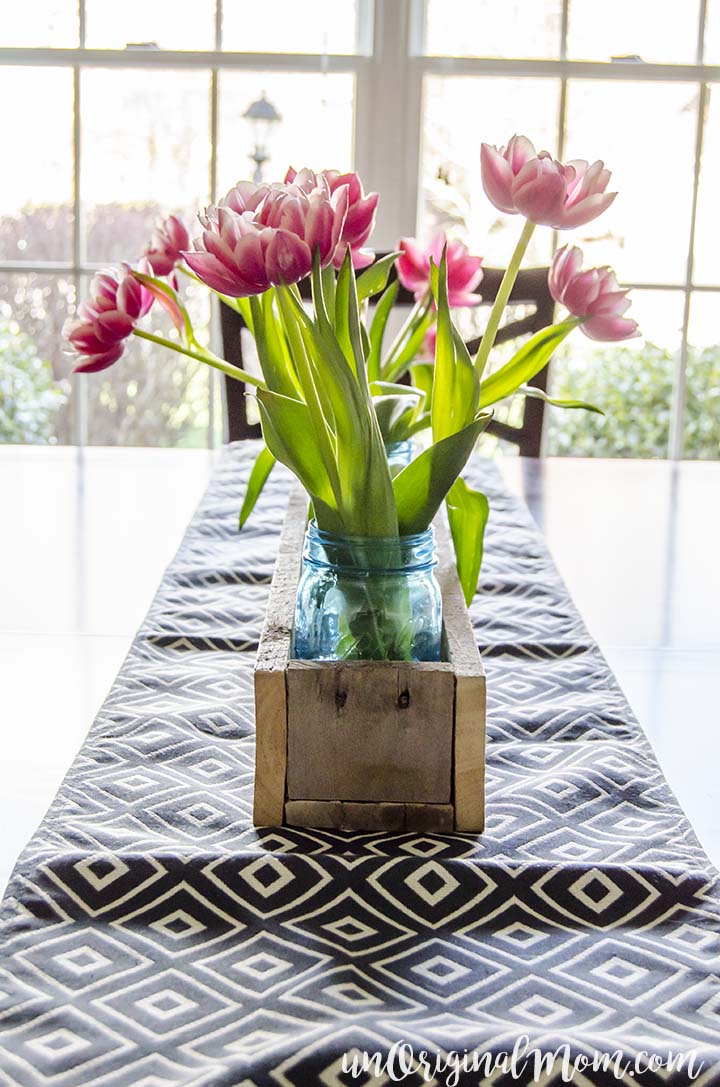 We got a new kitchen table in January and I absolutely LOVE it. It's a big change from our 50+ year old hand-me-down table that we had before, that's for sure! It took a LONG time to track down as I had a very specific wish list in my mind (round with 1 leaf, single pedestal, not too "country" of a pedestal style, more of a natural wood finish, but not more than 48″ wide) and I just could not find what I wanted. So, we finally decided to order a custom Amish made table…oh my, was it worth the wait!! (You can see a better pic of the full table and base on my IG here.) A simple white pitcher full of tulips is all it needs to get all dressed up for spring.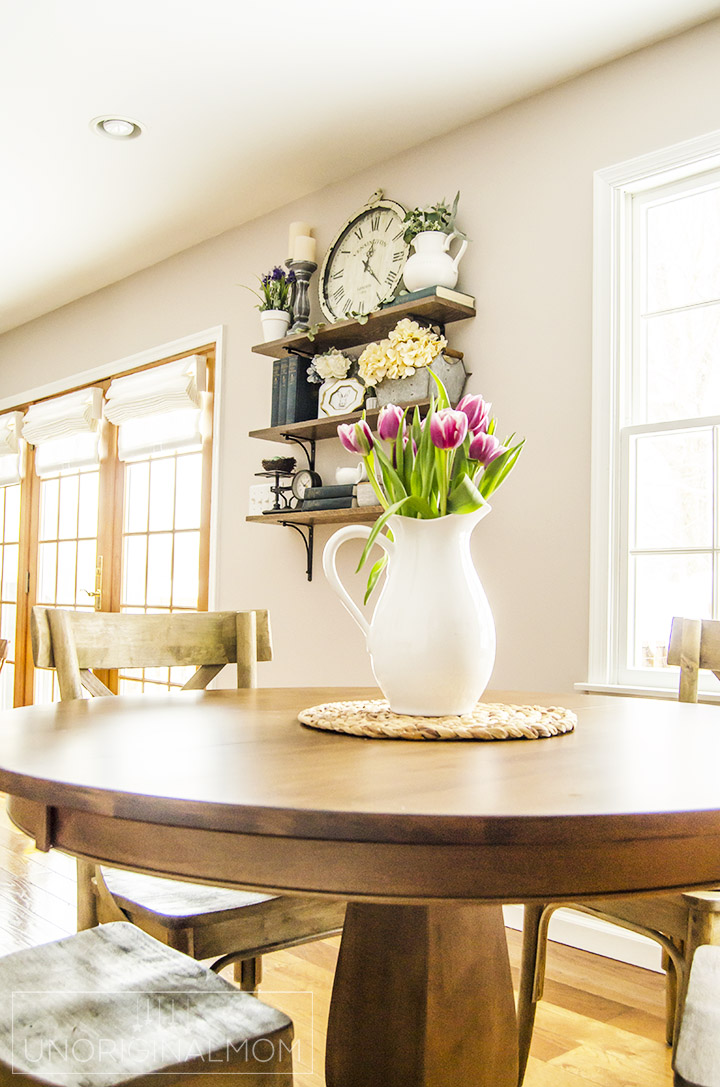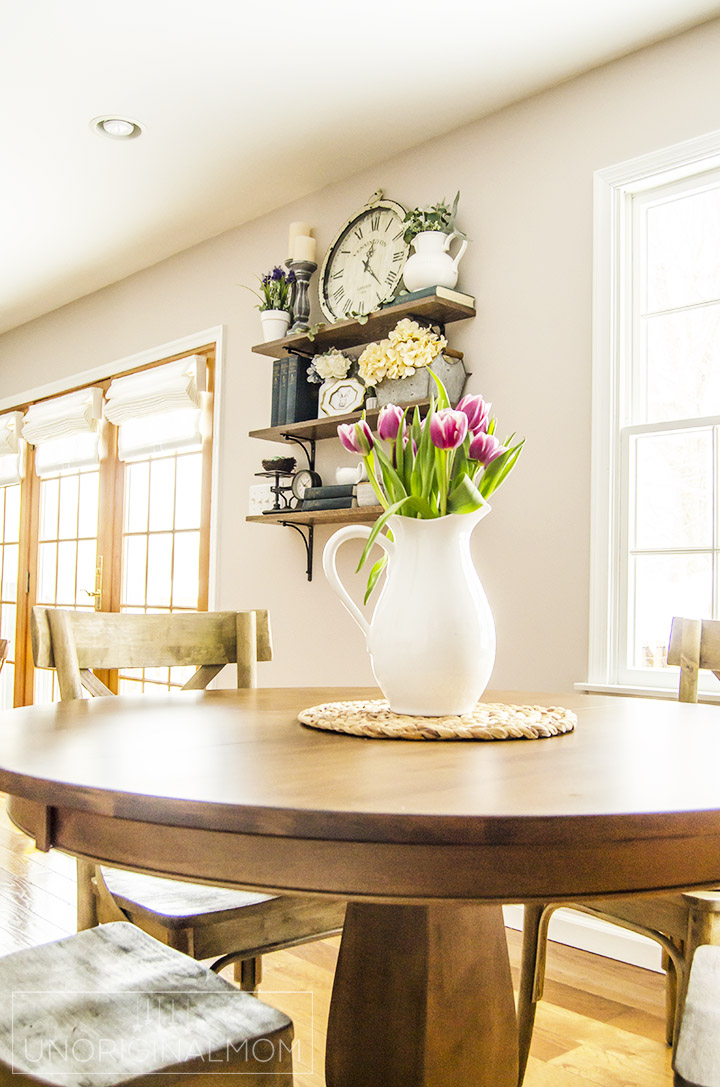 Sources: Table – Country View Woodworking Ltd via Klaban's | Chairs – World Market | Pitcher – Target
Behind the table are my farmhouse style open shelves that my hubby built for me last fall, and I big puffy heart love them. :-)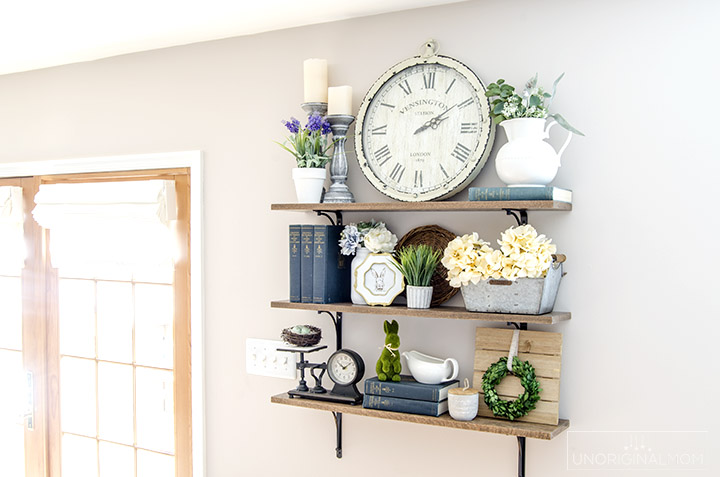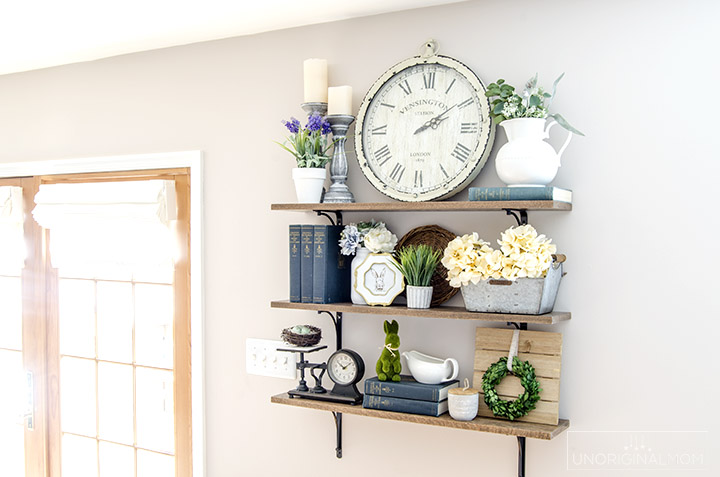 I'm new at styling shelves, but it's so fun to experiment and play around with them until I settle on something I like. I'm constantly rearranging them and adding and taking away elements, so it rarely looks the same from week to week. That moss bunny just jumped in my cart at Michael's yesterday.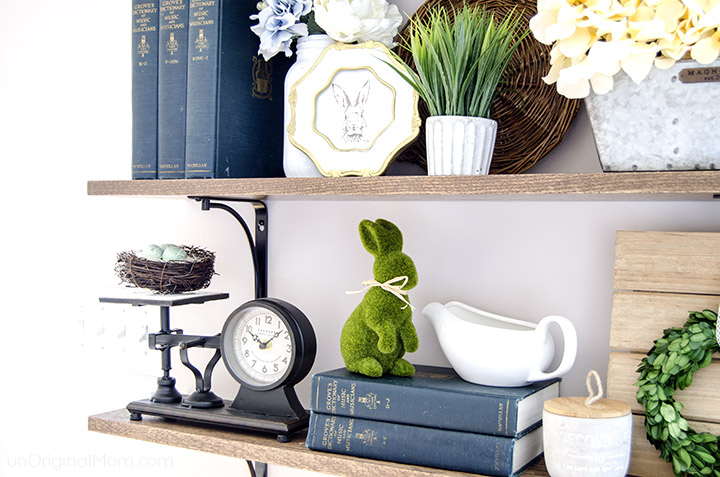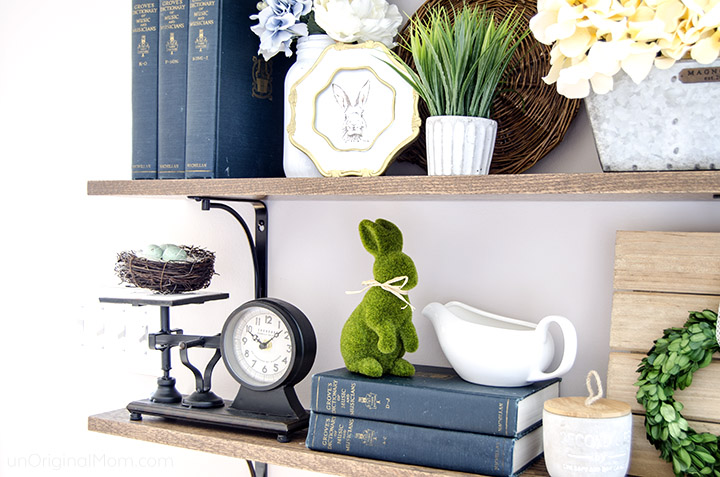 I found these old books at a thrift store last fall and was SO thrilled…as a former music teacher who actually used Grove's regularly in my college classes, this set was a perfect find. (Though I need to look for some more vintage books, since these babies will likely be moving to our music room once it's finished!)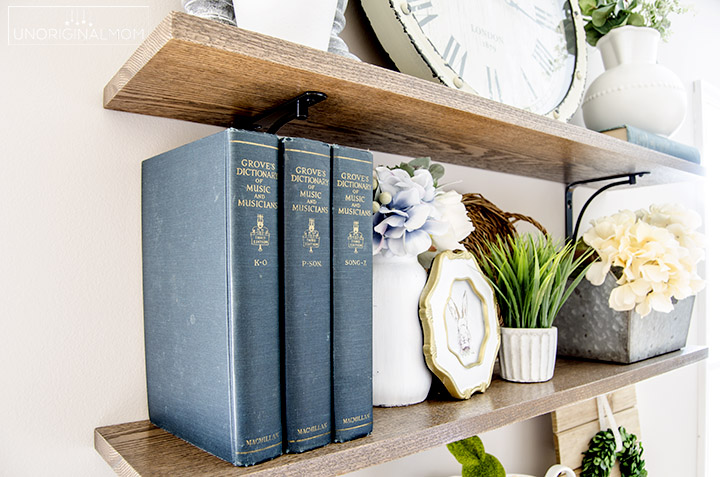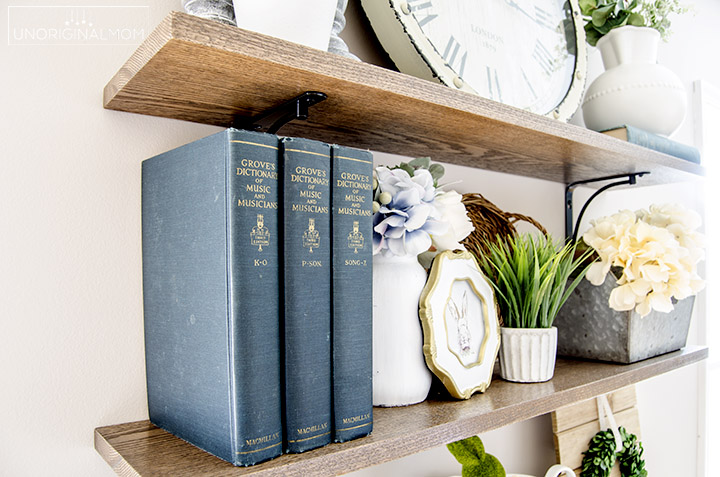 Finally, a simple vignette on the ottoman and a fun spring pillow from HomeGoods is all it took to freshen up our family room for spring.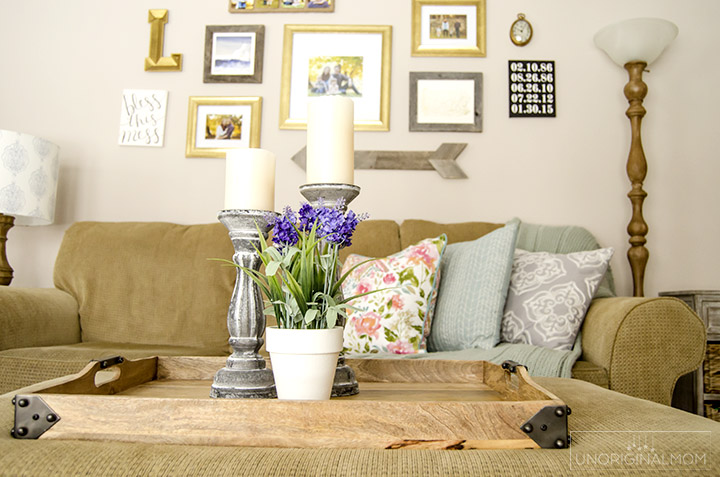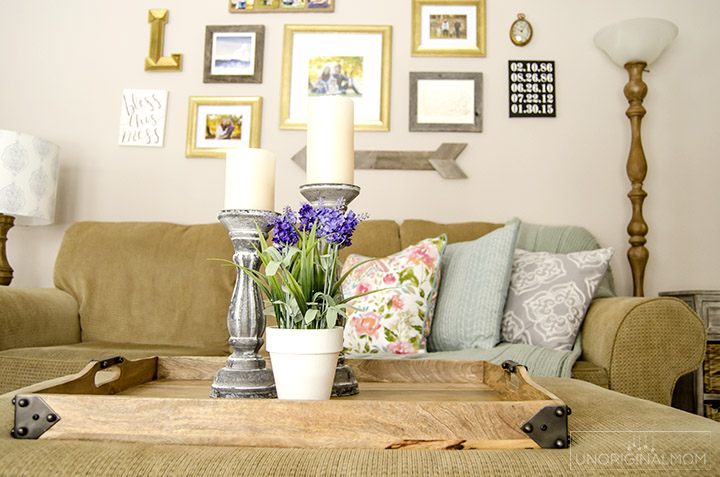 I don't know about you, but I feel like "spring decor" is actually closest to my house in it's natural state – I don't really do very much to freshen it up for spring beyond some fresh and faux flowers here and there. I'll likely leave most of it as-is through summer, of course restyling my shelves and vignettes but nothing too major. Is that true for you, too?
Happy Spring, friends!!


Get your copy of my FREE meal planning binder!
Sign up to get a free copy of my meal planning system - an 11 page printable meal planning binder, complete with a pantry inventory, shopping list, and more to help get on top of your menu each week!
Other Posts You Might Like: