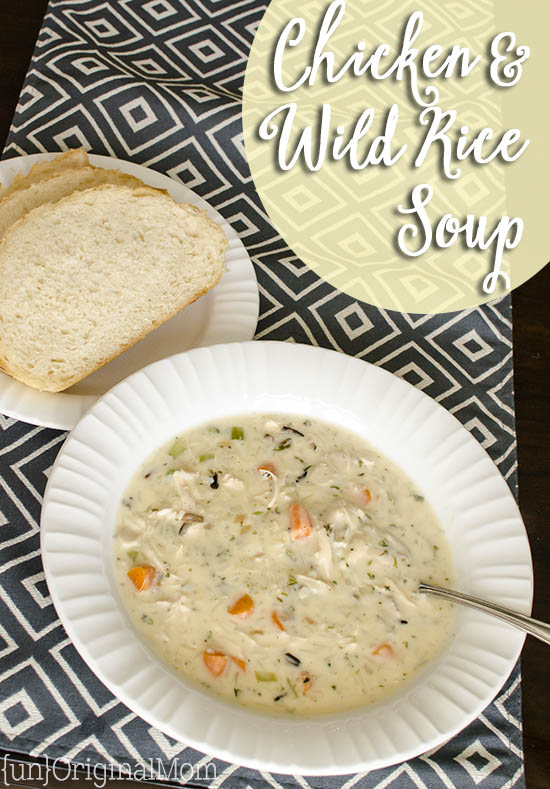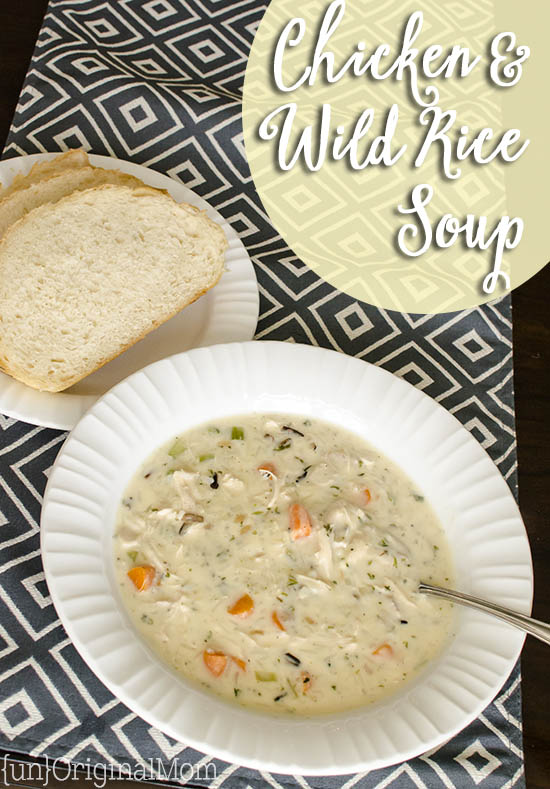 There's nothing better on a cold winter night than a delicious bowl of hearty soup with some fresh bread on the side.  In fact, soup frequently makes it on the menu at our house once a week through the colder months of the year…even though there's just two adults and a toddler, a big pot of soup is great for dinner one night and lasts us for several lunches through the week, too.  I find that soup is great for having dinner guests, too – add a pretty salad and some homemade (or bakery bought) bread, and you've got a delicious and filling meal.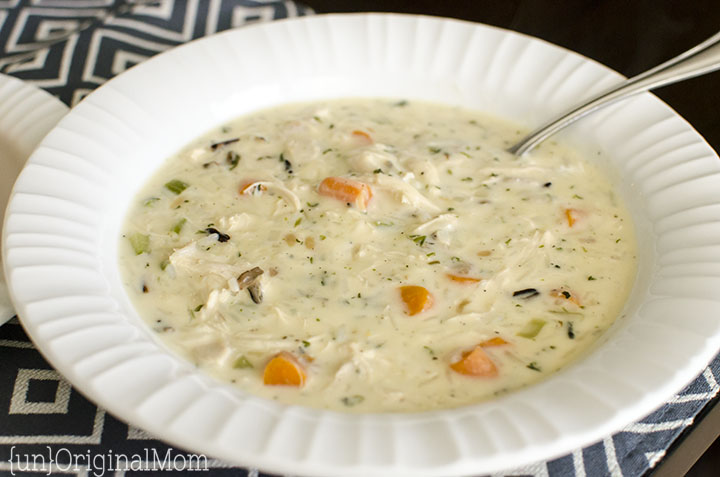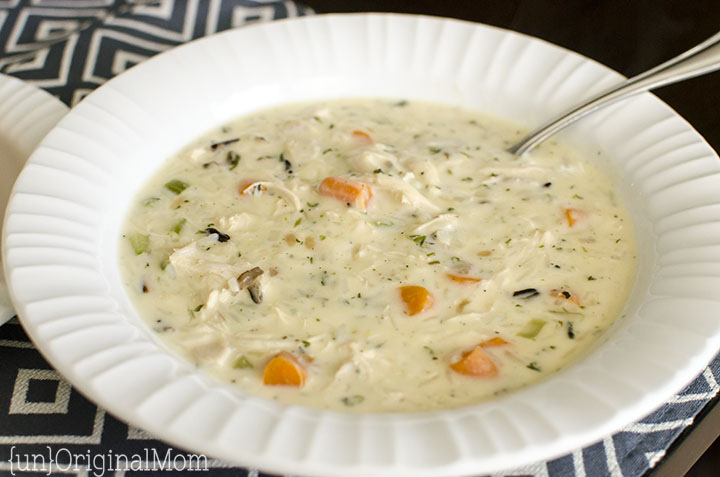 One of my very favorite soup recipes is one that I adapted from this popular recipe over on AllRecipes.com.  It's really easy and can be ready in 30 minutes!  There are two "tricks" to this soup – the first is using a rotisserie chicken or chicken that you've cooked and shredded ahead of time.  (I usually buy multiple rotisserie chickens at a time to stock my freezer with shredded chicken, and then make homemade stock out of it – see my entire rotisserie chicken freezer meal prep process here!)  The second "trick" is using a box of quick cooking long grain wild rice with a seasoning packet.  I like Uncle Ben's Quick Cook Long Grain & Wild Rice.  You cook the rice in with the chicken, broth, and veggies, but you use the seasoning packet in the roux that gets added to the soup to thicken it up.  That's really the key to the hearty, slow cooked flavor of this recipe!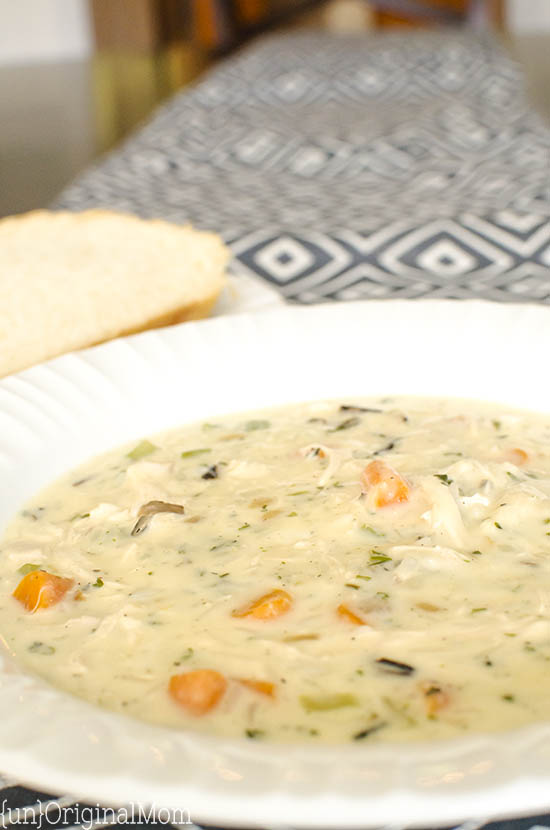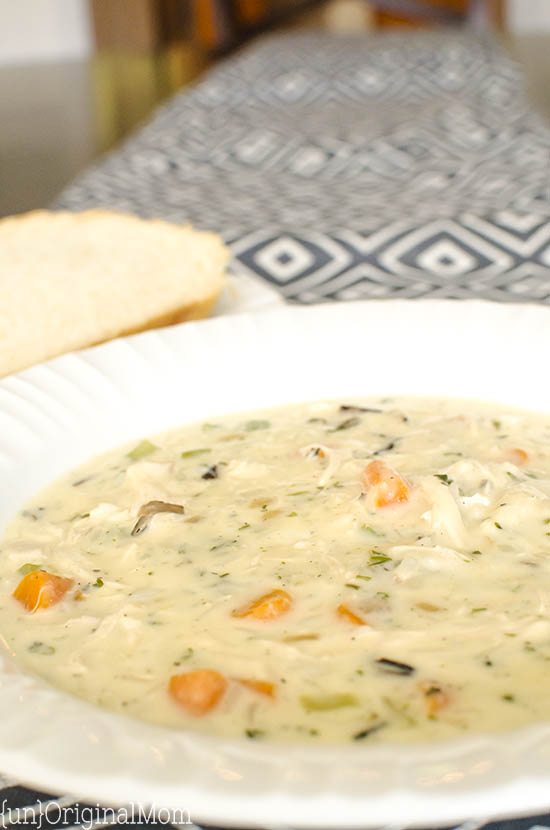 After reading MANY reviews and making it myself several times, I came up with a few alterations to the original recipe – the biggest is starting with some carrots, celery, and onions to saute in the bottom of your soup pot before adding the broth and chicken.  I also found milk worked fine instead of heavy cream.  You'll find my version of the recipe below.
This soup makes GREAT leftovers too – you'll just need to thin it out with some milk or broth when reheating.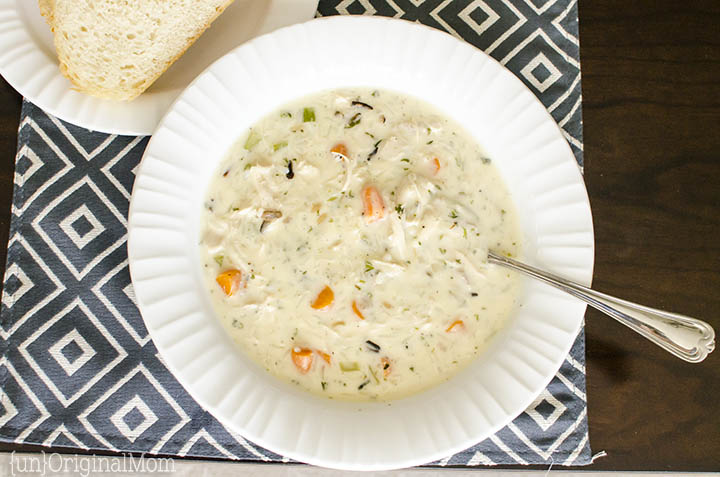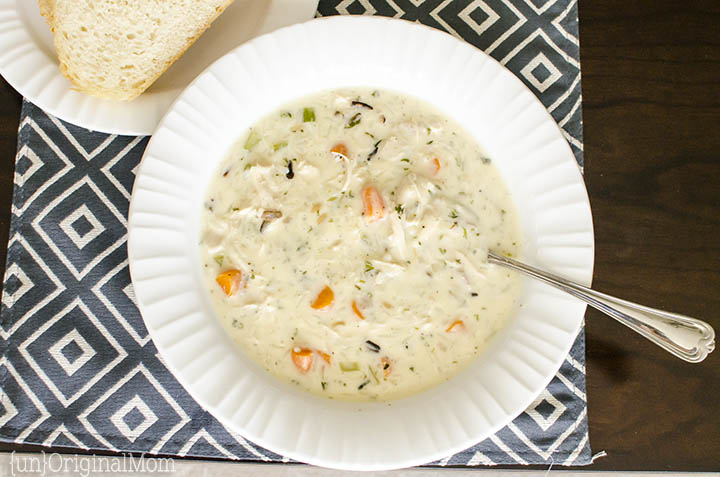 Easy Chicken and Wild Rice Soup
Prep time:
Cook time:
Total time:
Ingredients
olive oil
½ c. chopped onion
½ c. chopped celery
½ c. chopped carrots
1-2 cloves minced garlic
4 cups chicken broth
2 cups water
2-3 c. cooked, shredded chicken breast (rotisserie chicken works well)
1 package quick cooking long grain and wild rice with seasoning packet (I like Uncle Ben's)
½ teaspoon salt
½ teaspoon ground black pepper
½ cup all-purpose flour
6 T. butter
2 cups milk
Instructions
In a large pot over medium heat, saute carrots, onions, celery, and garlic in olive oil until soft.
Add broth, water and chicken to pot. Bring just to boiling, then stir in rice, reserving seasoning packet. Cover and remove from heat.
In a small bowl, combine salt, pepper and flour. In a medium saucepan over medium heat, melt butter. Stir in contents of seasoning packet until mixture is bubbly. Reduce heat to low, then stir in flour mixture by tablespoons, to form a roux. Whisk in milk, a little at a time, until fully incorporated and smooth. Cook until thickened, 5 minutes.
Stir milk mixture into broth and rice. Cook over medium heat until heated through, 10 to 15 minutes.
Find more soups to make with leftover rotisserie chicken here!
Enjoy!


Get your copy of my FREE meal planning binder!
Sign up to get a free copy of my meal planning system - an 11 page printable meal planning binder, complete with a pantry inventory, shopping list, and more to help get on top of your menu each week!