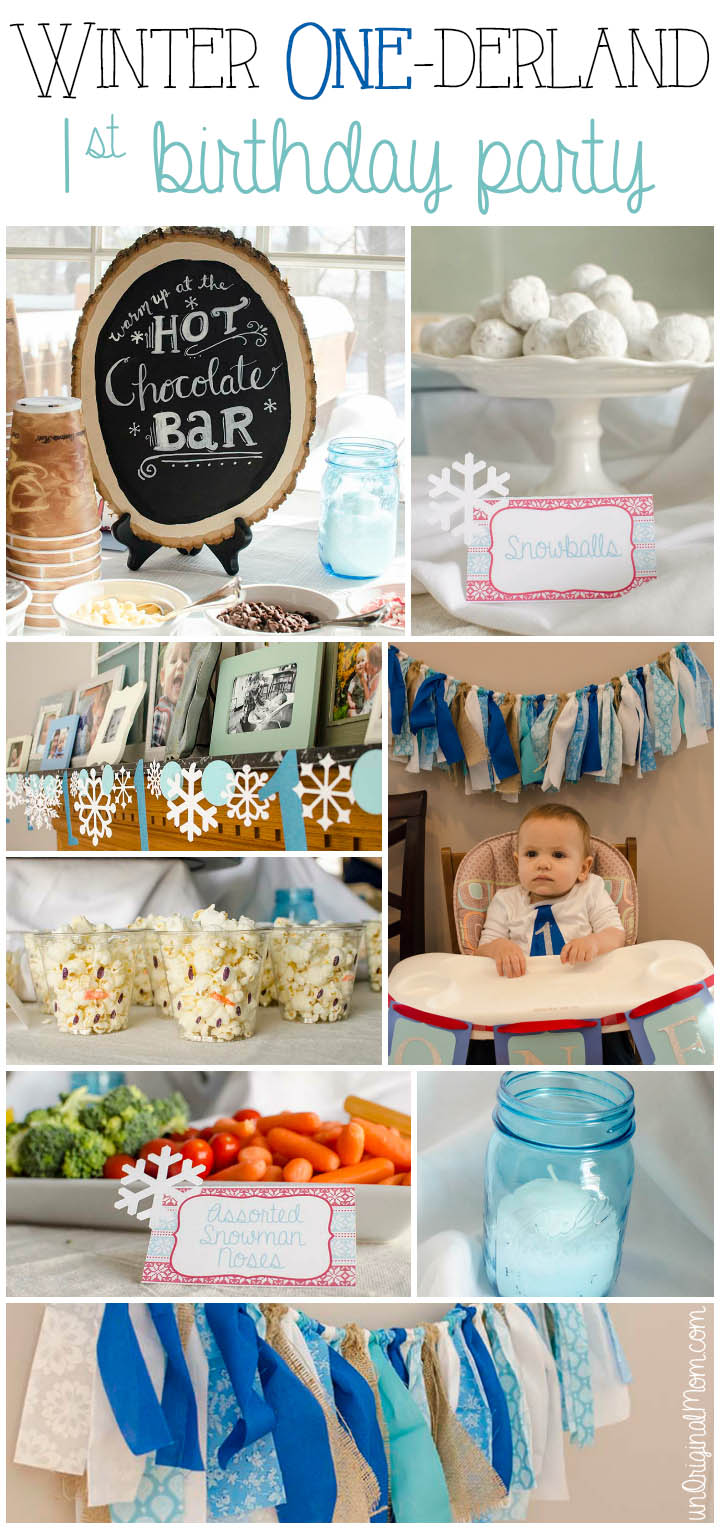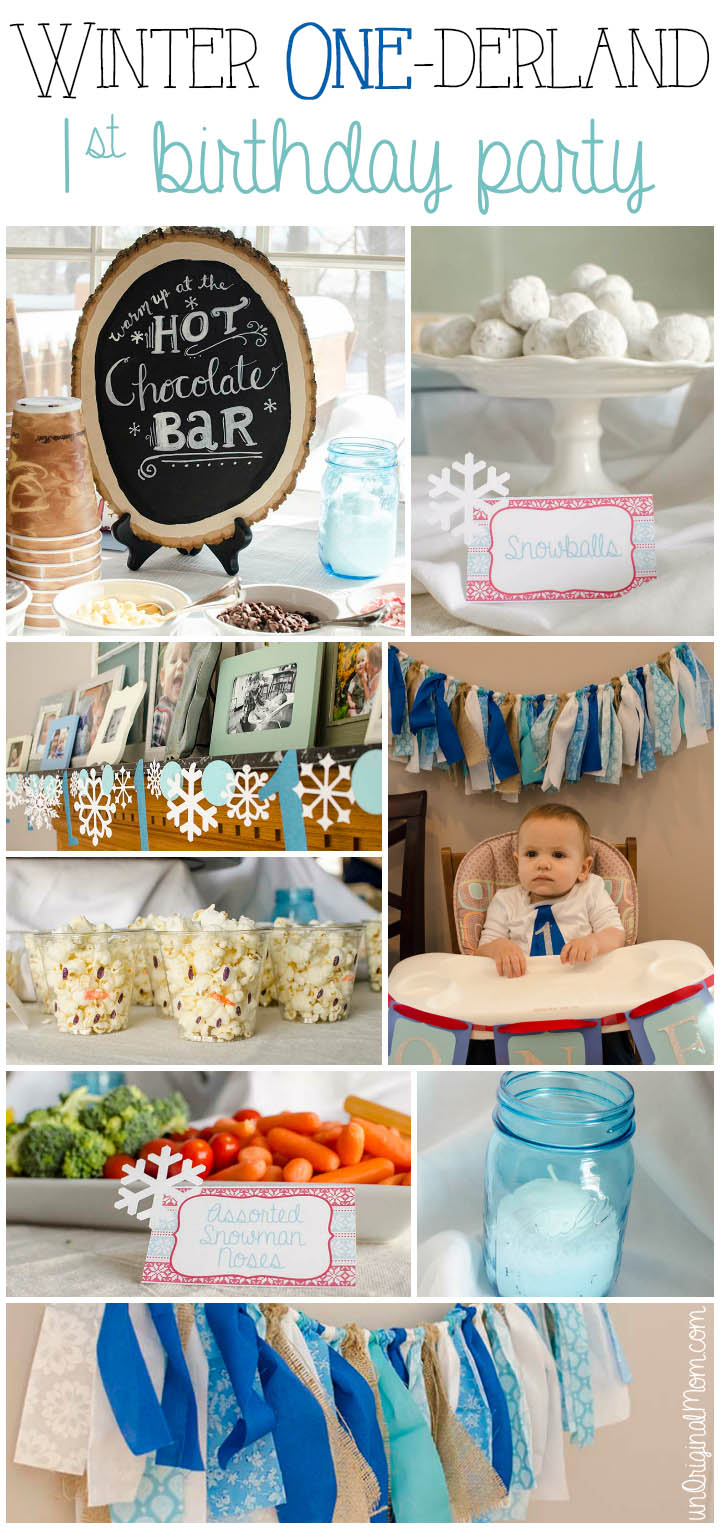 I can hardly believe it, but our precious little boy is ONE year old! To celebrate, we threw a small party for some family and friends. Given the time of year – and the fact that he was born in between two snow storms – I decided to go with some kind of a winter theme.  But of course, that's too generic.  More specifically, we threw him a Winter Onederland first birthday party! (I also thought it was a fun contrast to the "You Are My Sunshine" first birthday party that I threw for his big sister two and a half years ago!)
Many of the elements I created for his Winter Onederland party would work for other wintery party themes – like "Baby it's Cold Outside" or "It's *Snow* Much Fun to be One." Basically, anything snowy goes!
Guests were greeted with a small sign on the front door welcoming them to our little Winter ONE-derland. (A little play on the song lyrics!)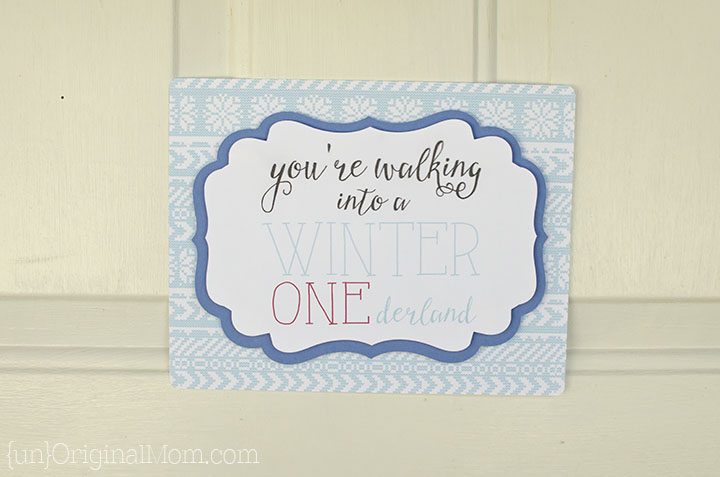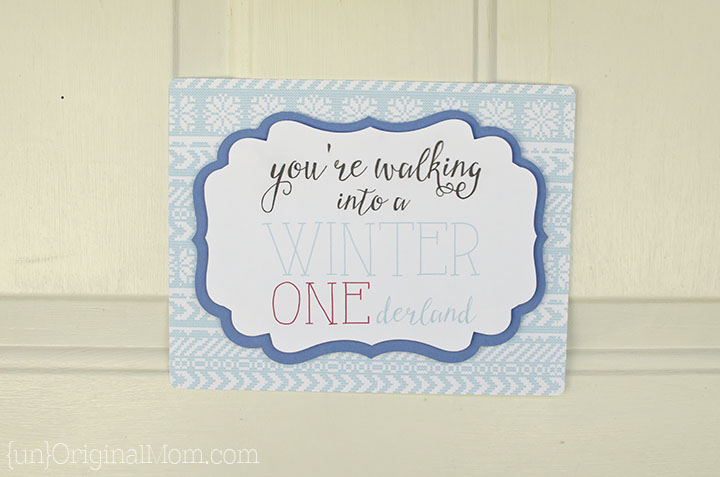 I cranked out a TON of snowflakes on my Silhouette machine. If you don't have a Silhouette, regular old paper snowflakes would be beautiful for a Winter Onerland party! But gosh, am I glad I didn't have to cut all these out by hand ;-) I printed a bunch of photos to put in a collection of frames on the mantel, added some frosted vinyl snowflakes to an antique window frame, and made a quick "Happy Birthday" banner out of card stock to hang on the window.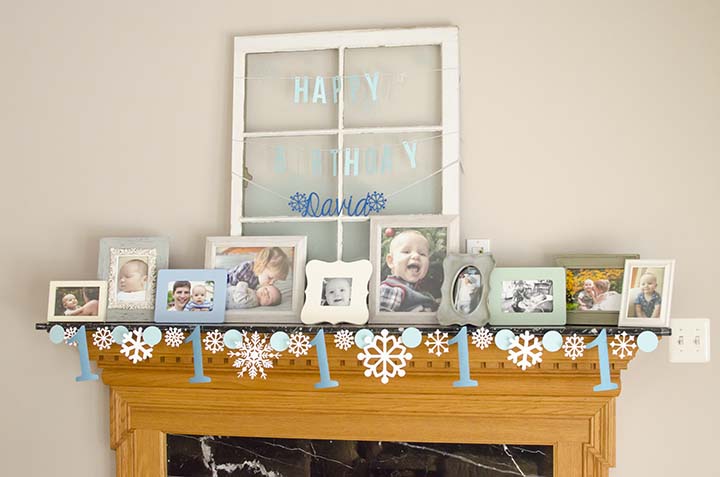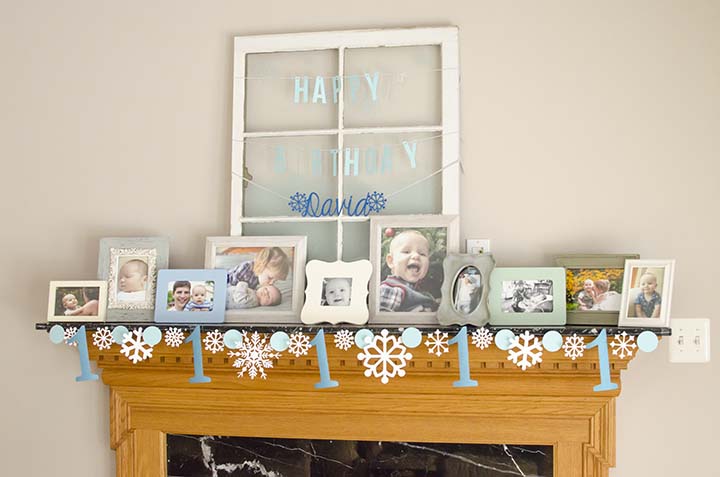 Then made a garland out of snowflakes, paper dots, and "1"s cut out of glitter card stock. (Actually, that was my plan B – plan A was to sew them together with my sewing machine into a vertical garland I could hang like this, but my sewing machine decided to stop working. Boo.)
No time to make decorations? Amazon has a ton of pretty winter wonderland decorations!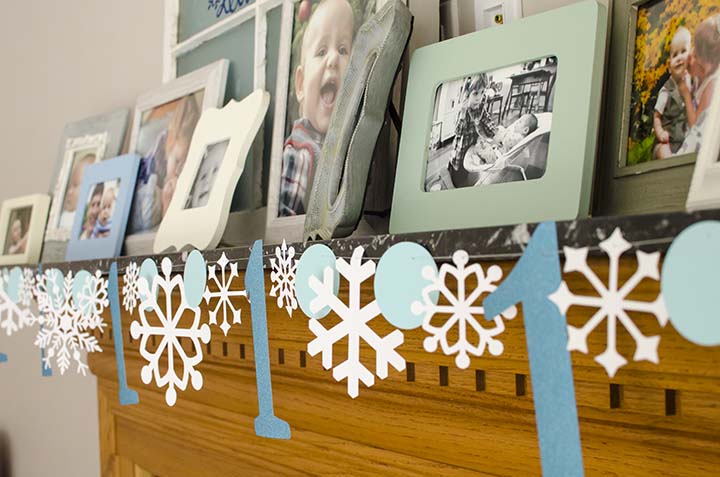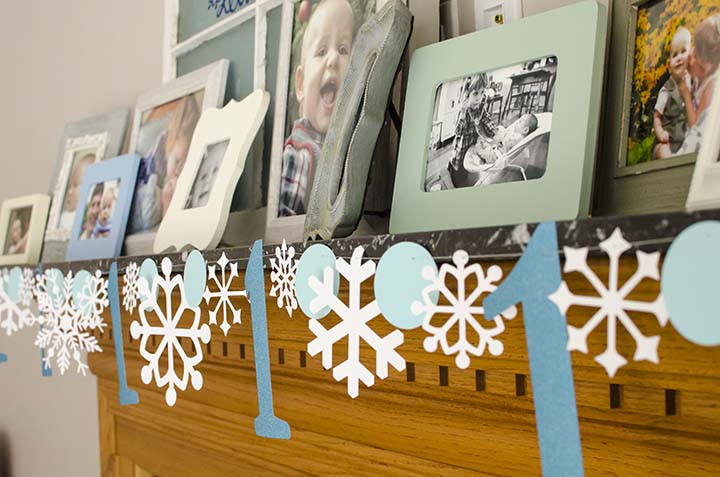 I had even more photos that I wanted to display (because, really – you can never have enough baby photos at a 1st birthday party!) so I strung them up with mini clothespins on some twine, alternating with more snowflakes.  I also hung snowflakes from the light fixtures above our kitchen peninsula and the chandelier above the dining room table. I had a little light-up birch tree in our Christmas decor that I used for a centerpiece on the dining room table…with, you guessed it, more snowflakes!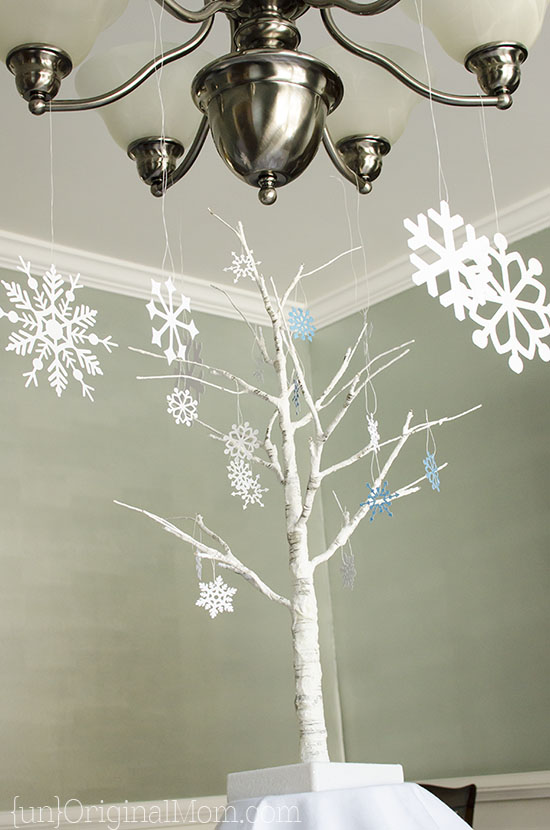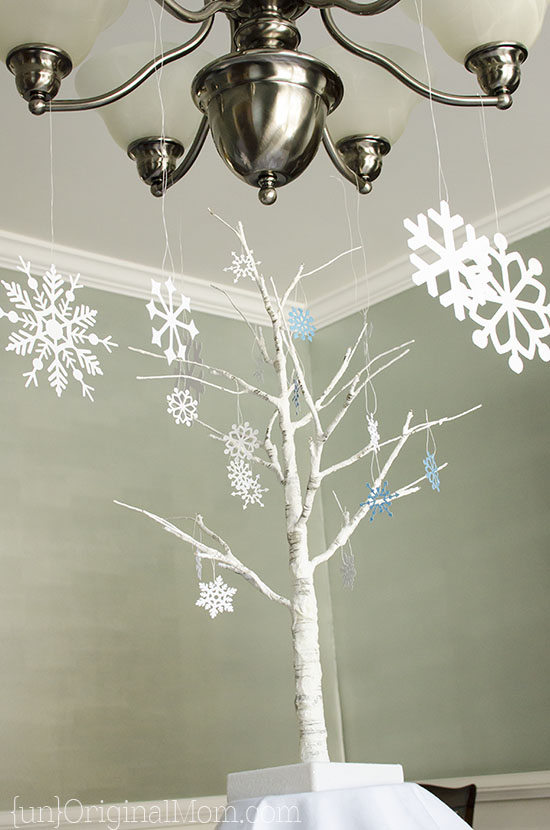 I scoured Pinterest for ideas and ended up with a really fun – and fairly easy – spread of food!  It was a lunchtime party so we got subs ("cold cuts") and served them with some other munchies, like "assorted snowman noses" (carrots and other veggies,) "snowman arms" (pretzel sticks), popcorn in clear cups with snowman faces drawn on them, a cheese "snow"ball and crackers, powdered sugar donut holes, and "pigs keeping warm in blankets." "Fruit infused melted snow" was the main beverage on hand (water with orange, lemon, and lime slices). I used my Silhouette to design, print, and cut the food tags.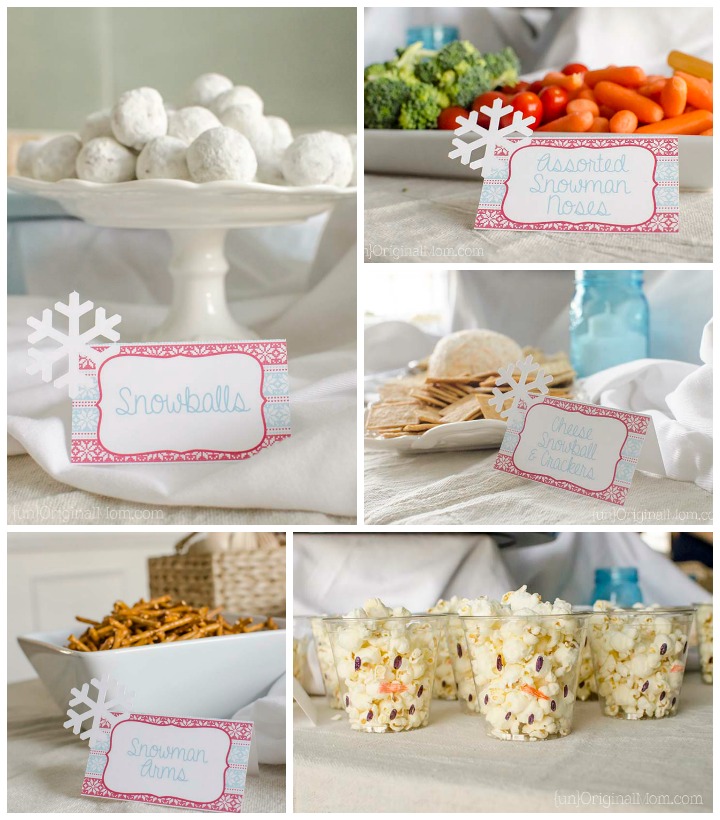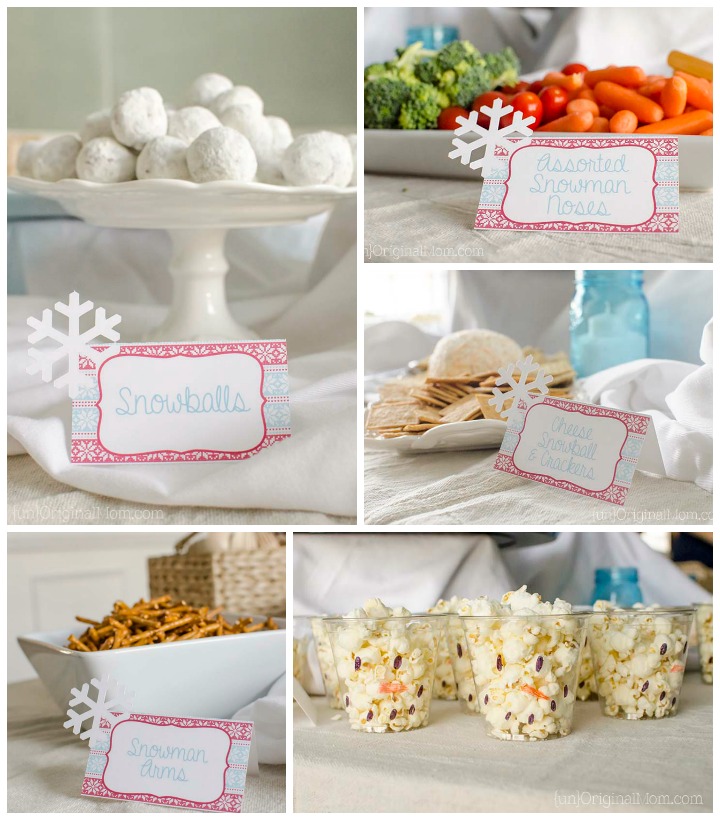 Probably the easiest decor were these pretty little mason jar candles. I found the vintage blue mason jars at Target (find them on Amazon here), filled them with some epsom salt, and added a votive candle. Presto, "snow" candles!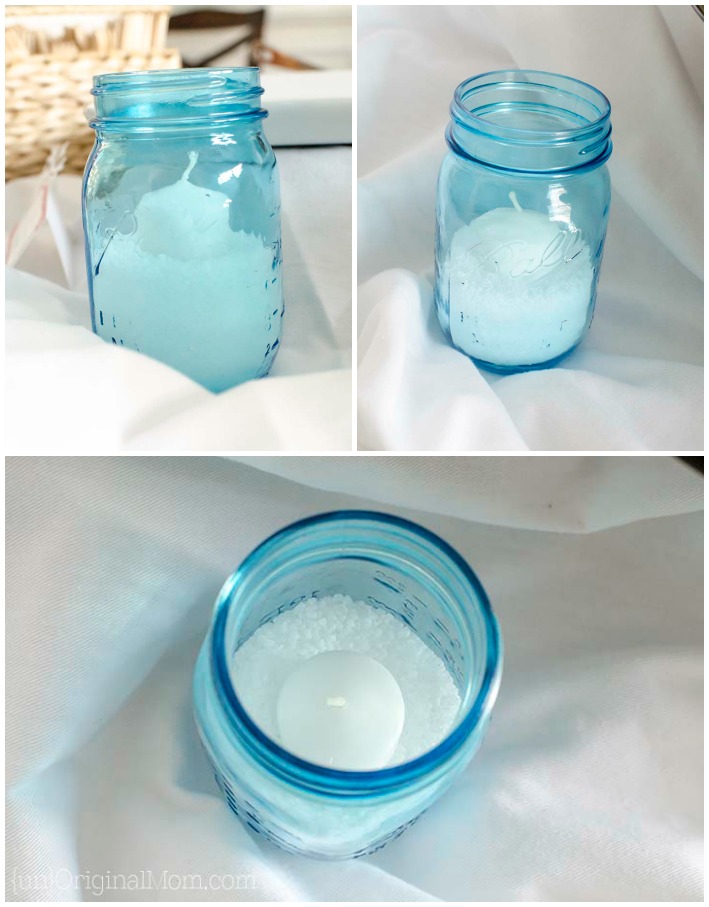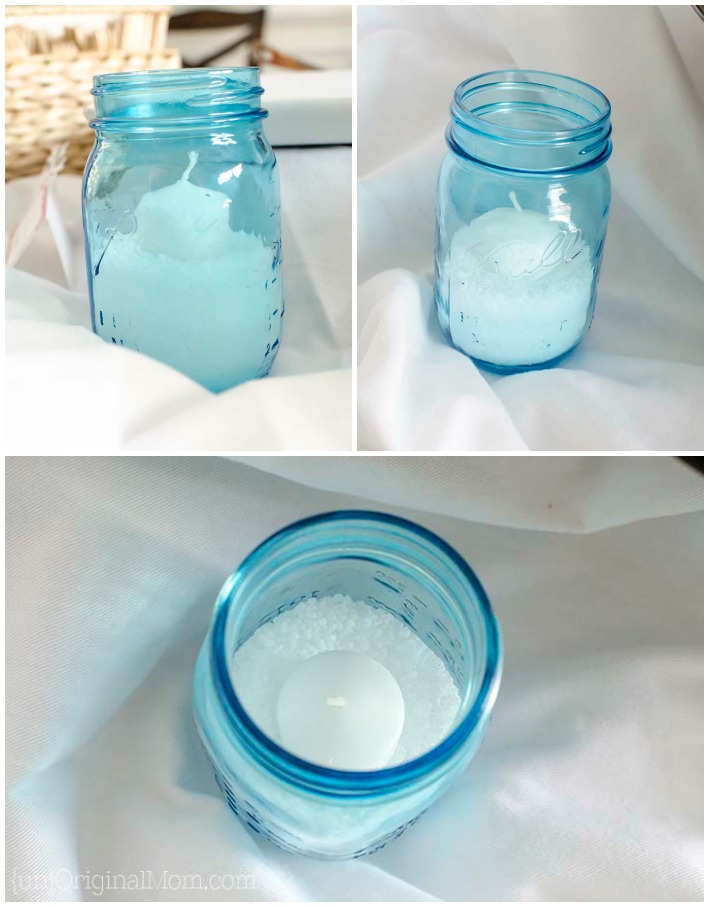 Finally, probably my favorite element of the party, we had a hot chocolate bar! I've always wanted to put one of these together and this Winter Onederland party was the perfect opportunity. I just started hand lettering (I've posted a few of my beginner doodles on Instagram if you'd like to see them) so I was pretty proud of the freehand lettering I did for my Hot Chocolate Bar sign. I bought a large wood slice from Michael's and then painted it black to look like a chalkboard. Then I used a white paint pen to draw on the lettering. (If you don't want to freehand the design, check out this post for the super-secret way to get printer-perfect chalk lettering on chalkboards!)
Don't feel like DIY-ing a sign? Search for a free printable on Pinterest, or buy a ready made one on Amazon here.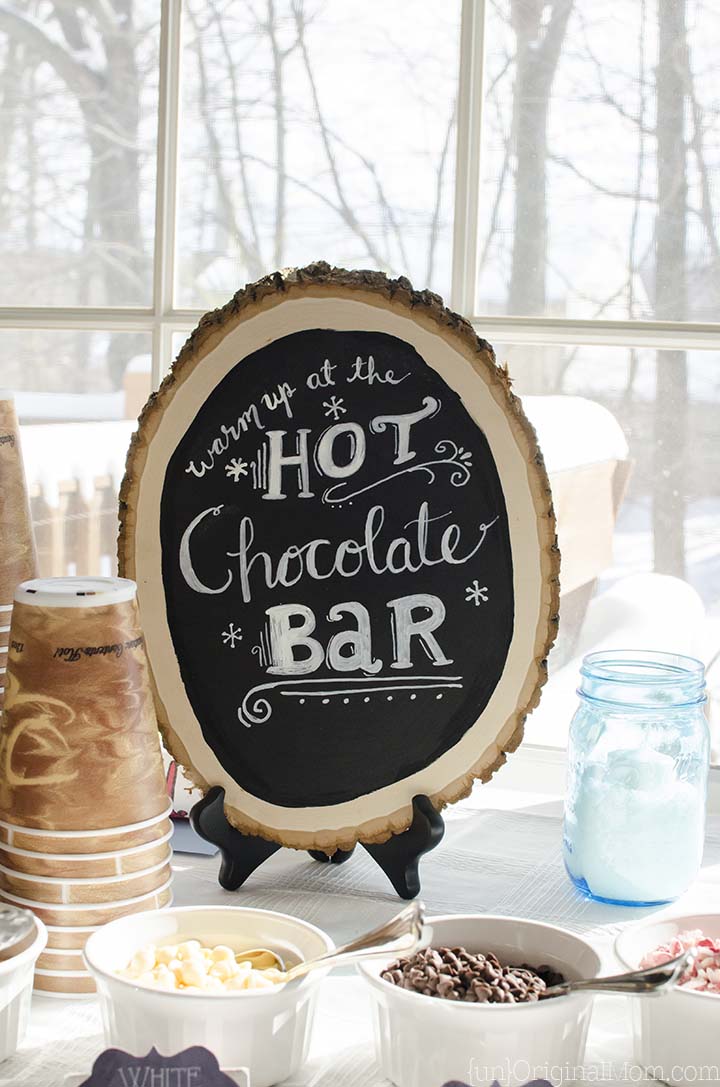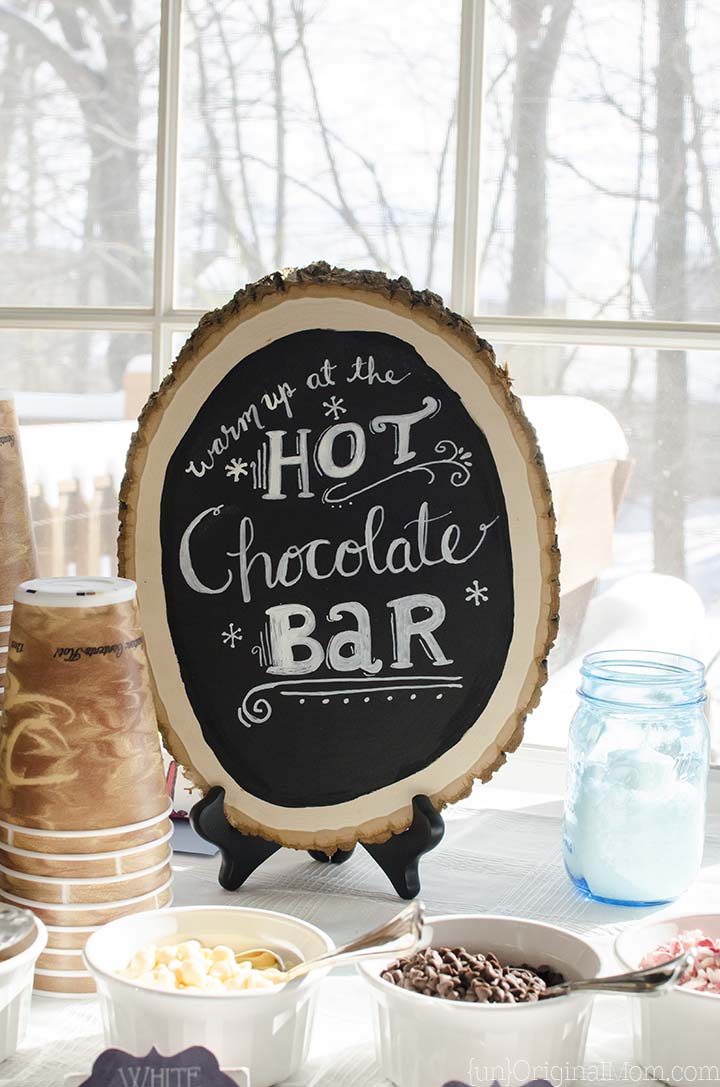 We had all kinds of yummy toppings for the hot chocolate bar – mini chocolate chips, white chocolate chips, butterscotch chips, peppermint chips, mini marshmallows, caramel sauce, cookie sticks, and whipped cream. I used the recipe on the side of Hershey's Cocoa Powder – it makes THE best hot chocolate.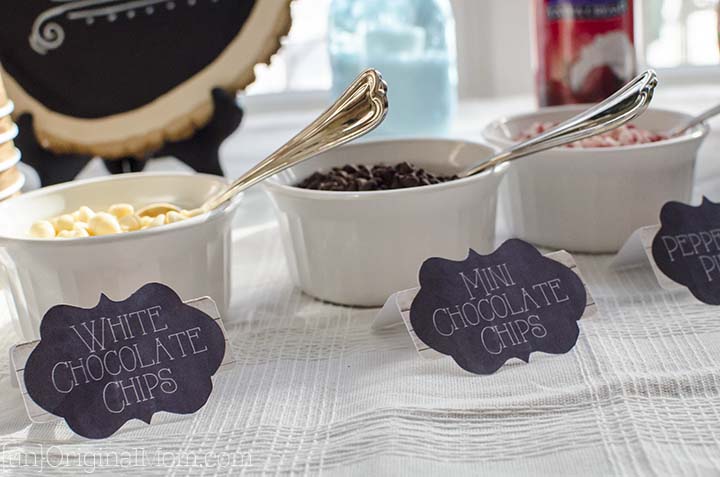 Finally, for the guest of honor, I made a fabric strip bunting to hang on the wall behind little man's high chair and a "ONE" banner for the front of his high chair. (You can spy a bit of the shirt I made for him, too.) He has always been a very serious, observant baby, and of course I couldn't get him to smile for any photos…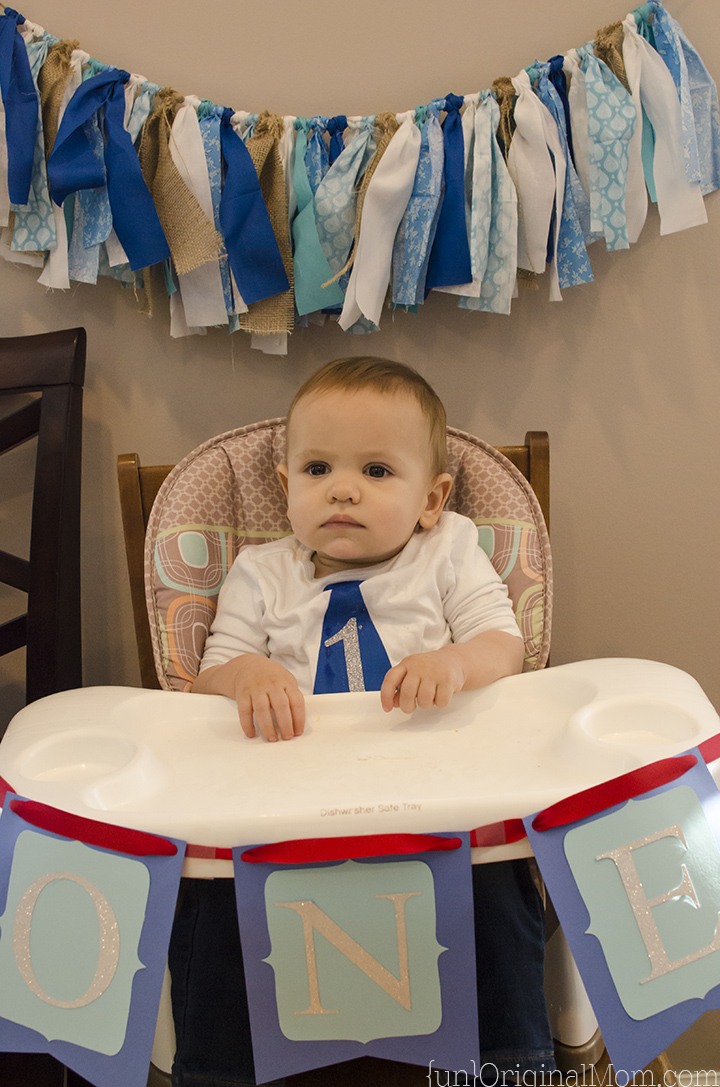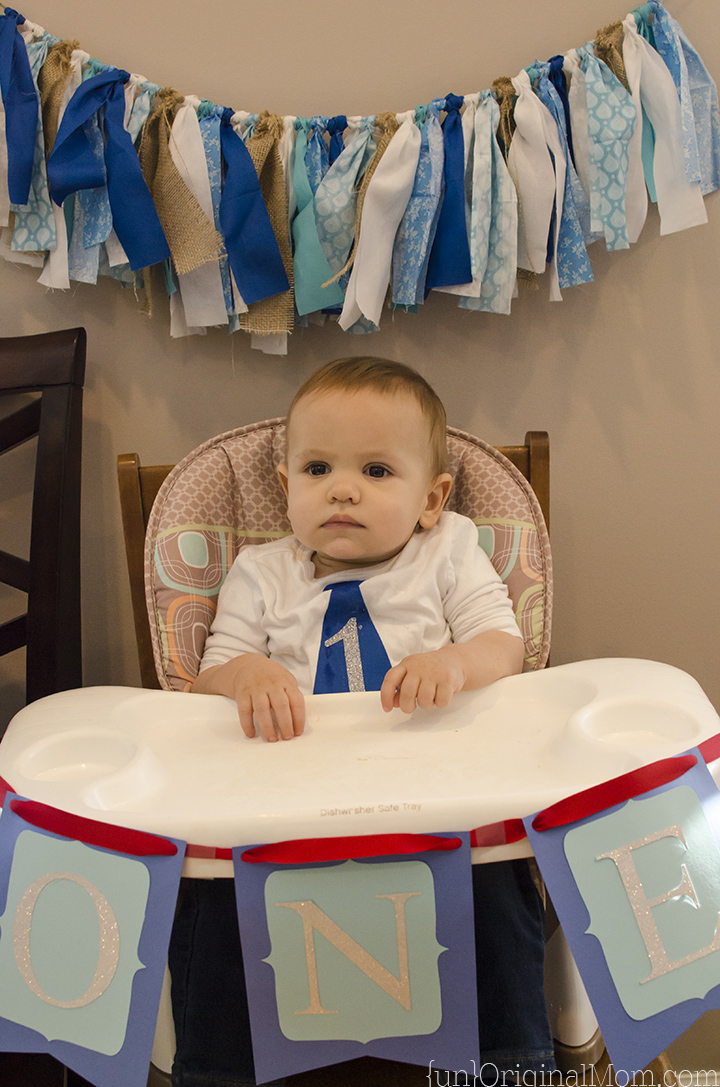 …until he dug into his cake, that is. That face!! <3 <3 <3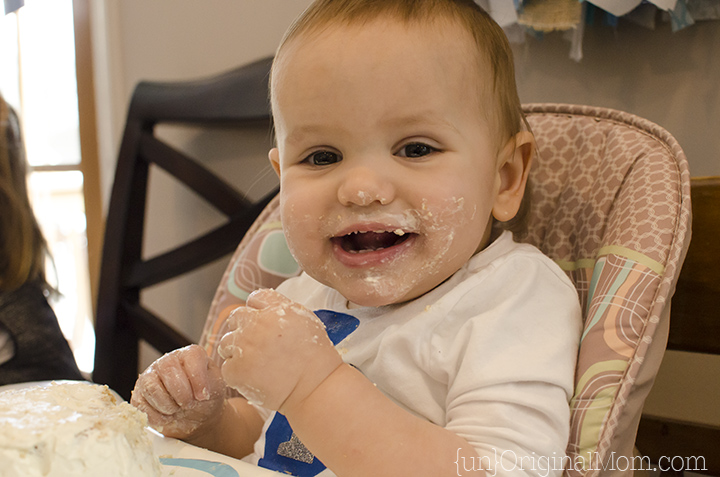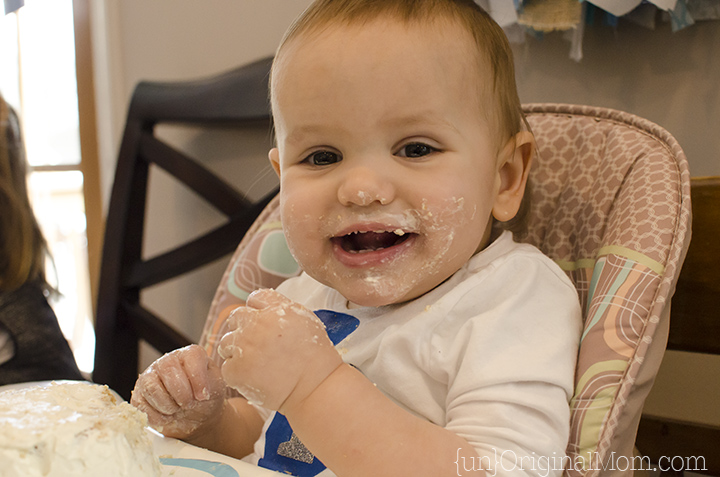 Happy birthday, sweet boy! You are very loved!!
This post contains affiliate links.


Get your copy of my FREE meal planning binder!
Sign up to get a free copy of my meal planning system - an 11 page printable meal planning binder, complete with a pantry inventory, shopping list, and more to help get on top of your menu each week!