If you've stumbled upon this post, you're likely one of three people…A) a crafter, thinking about purchasing a Silhouette machine (or asking for one as a gift!); B) a Silhouette user looking for reviews/ideas on Silhouette materials and tools, or C) someone who doesn't know much about Silhouettes at all, looking for gift ideas for a crafter in your life! Well, I'm glad you're here :-) I've got some ideas and answers for all three of you in this post, which I've deemed the ULTIMATE Silhouette Gift Guide and Wish List!
This post contains affiliate links. Trust me when I say I am recommending these Silhouette products wholeheartedly and with plenty of personal experience, because I big-fat-puffy-heart-LOVE my Silhouette!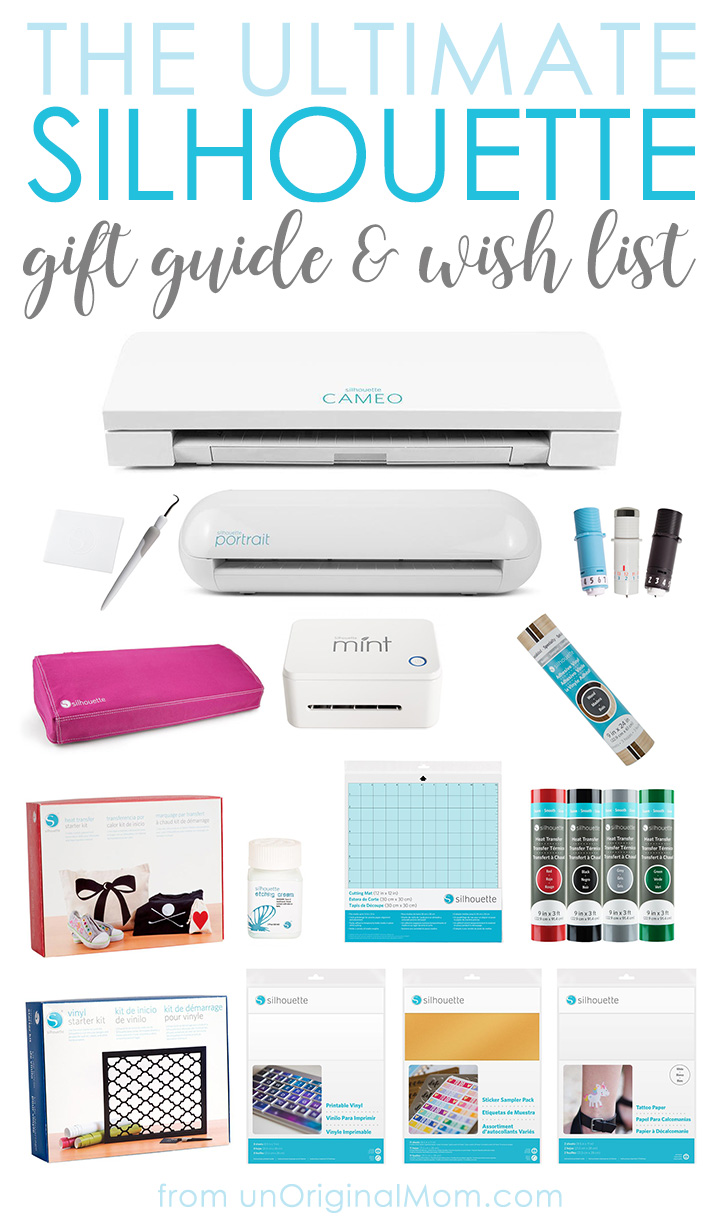 2020 SILHOUETTE AMERICA BLACK FRIDAY SALE DISCOUNT CODE
The Silhouette Black Friday Sale is here!!! Machine bundles, 50% off EVERYTHING (supplies, materials, accessories and software) and $5 shipping on all orders!! Hurry and shop before things go out of stock. Use my code UNORIGINAL to unlock the sale prices at checkout.
SHOP THE SILHOUETTE BLACK FRIDAY SALE HERE – USE CODE UNORIGINAL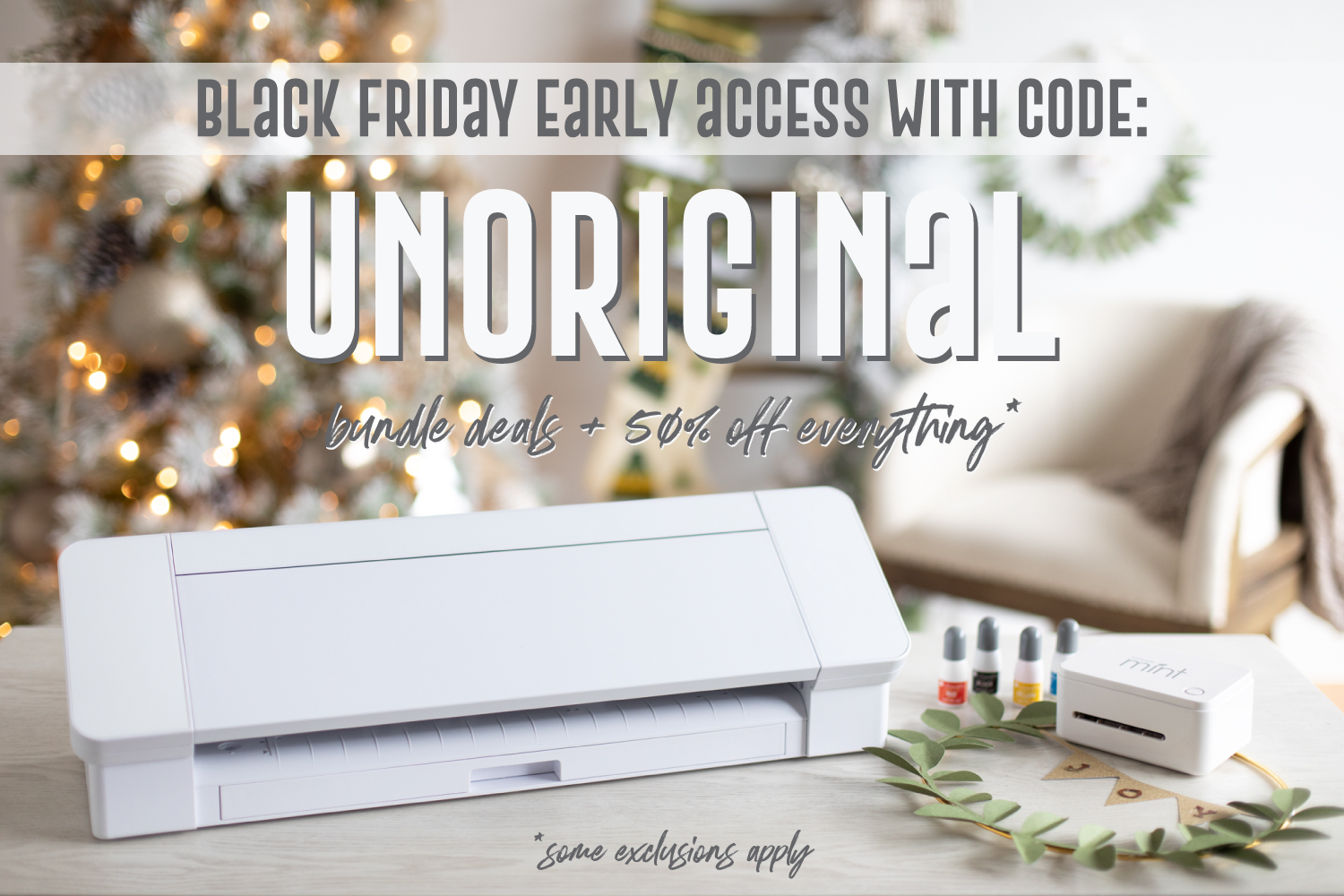 THE ULTIMATE SILHOUETTE GIFT GUIDE & WISH LIST
Psst – Looking for gift ideas? I've used an asterisk (*) to denote any products that would make great gifts for ANY Silhouette crafter – whether they've been using their machine for years or they are a brand new Silhouette user! So just grab a few of those starred items, wrap them up, and you'll be the even more popular than Santa on Christmas morning ;-)
~ Silhouette vs. Cricut ~
The first thing you need is a Silhouette machine. I am not exaggerating when I say that a Silhouette will completely change your crafting life – it did for me! I can't really speak much to the Silhouette vs. Cricut debate because I've never used a Cricut. I have read over and over again (and heard from friends) that Silhouette's design software (called Silhouette Studio) is much more powerful than Cricut's version, which is a big plus to me. I love how easy it is to make my own designs, and I never feel limited by what I'm able to do or not do with my software. Beyond that, I think it's just a matter of personal preference. But if you've decided on #TeamSilhouette (woohoo!), your next decision is which machine to purchase. (Keep reading…)
~ CAMEO vs. Portrait (plus the other machines) ~
Silhouette makes two main craft cutting machines – the CAMEO and the Portrait. Both of these machines use very small blades to cut whatever kind of design you can dream up out of all kinds of materials – card stock, paper, vinyl, heat transfer vinyl, sticker paper, fabric, and more. The biggest differences between these two are size (CAMEO cuts up to 12″ wide and the Portrait cuts up to 8″ wide – they can both cut essentially unlimited lengths when you're using rolls of vinyl) and the price. When I was just starting out, I bought a Portrait, and that was a great decision for me at the time. Read all about 3 Reasons Why I Chose the Silhouette Portrait here.  I've since upgraded to the CAMEO 3, and I LOVE the extra cutting width and the dual cartridge design. You can also read more specifics about the Silhouette Cameo 4 vs. the new Portrait 3 here.
Silhouette makes three more machines – the Curio, the Mint, and the Alta. The Curio is also a cutting machine with a platform base for cutting thicker and more rigid materials, as well as etching and stippling on metal sheets. I'd call it a companion machine to the CAMEO or Portrait, not a replacement. The Mint is in it's own category completely – it does no cutting at all! The Mint is a custom stamp maker. It would make a great gift for ANY crafter! Finally, there's the Silhouette ALTA, which is a 3D printer! I haven't been able to try it out yet but I've seen amazing things my blog friends have crafted up – personalized key chains, ornaments, even cookie cutters!

BASIC ESSENTIALS
Extra blades and mats.  Even though your machine likely came with a blade and mat, you'll always want to have a fresh set on hand.  Your blade and mat may need to be replaced after a few weeks, or they could last you for months at a time – it all depends on how often you use them and what types of materials you are cutting.
Fabric Blade.  You'll also need to have a fresh blade on hand to keep just for fabric – it's identical to the regular blade, just a different color so it's easy to keep separate, just like you keep separate fabric scissors so they don't get dull by cutting paper.
Hook Tool.  Absolutely a must-have for weeding designs (that means removing the material that's not part of your design after cutting), especially when you're cutting vinyl and heat transfer material.
Scraper.  I own two of these because I'm always putting one down and forgetting where it is!  This is used for pressing down transfer tape onto your vinyl designs, and then pressing down vinyl onto your project surfaces.  It's great for applying vinyl without bubbles!
(Note: The hook and scraper tool also come as part of the vinyl starter kit, so there's no need to buy them separately if you're already planning on getting one of those kits. You could also get the Silhouette Tool Kit, which includes a few other handy tools as well.)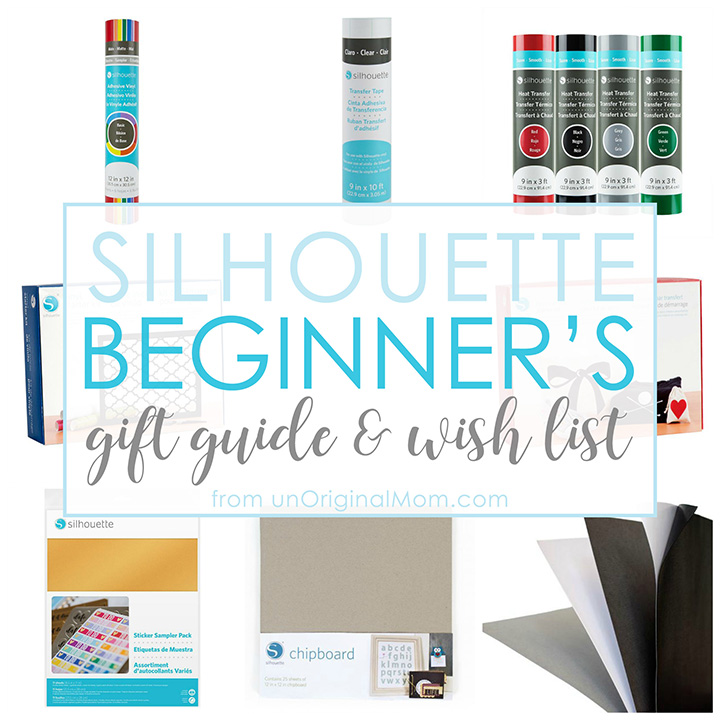 MATERIALS FOR BEGINNERS
Vinyl.  This is the quintessential material for a Silhouette.  It is incredibly easy to work with, you can use it on all sorts of project mediums (glass, canvas, card stock, ornaments, walls, plastic bins, or use it as as a stencil on all kinds of things…) and it looks so professional!  If you own a Silhouette and haven't used vinyl, well, that's kind of like having a really nice sports car and only driving it around the neighborhood.  You've got to try it! The Vinyl Starter Kit is terrific for beginners: it contains 4 large sheets of vinyl, a roll of transfer paper, plus the hook and scraper tool – everything you need to get started!
Transfer Tape.  Transfer tape is kind of like a big piece of painter's tape.  When you cut a design out of vinyl, you weed the extra vinyl that's not part of your design, cover your design with transfer paper and press it with your scraper, then lift the transfer paper – your vinyl design will lift with the transfer paper.  Then you line up your design on your project surface, stick it down (again pressing firmly with the scraper), and peel up the transfer paper – the vinyl will remain on your project, perfectly lined up!  It is virtually impossible to use vinyl without some type of transfer paper, so if you plan to cut vinyl with your Silhouette be sure you also have a roll of this stuff!
Heat Transfer Material.  Here's another amazing and simple use for a Silhouette with super professional looking results.  You cut out designs from this stuff and then iron them onto fabric.  I've used it for things like baby onesies (oh, so many onesies!), a few Christmas shirts (here and here), tote bags, and lots more!  I love coming up with the perfect, personalized saying or design to put on a shirt or onesie as a gift.
*Adhesive Card Stock. I always recommend that beginners start with making greeting cards. It's a great way to get comfortable with your machine and card stock is inexpensive, so it doesn't matter how many times you mess up the cuts. Plus, you can start with really simple designs and get more and more complicated. Silhouette's adhesive card stock is great for greeting cards or scrapbooking, and it's a good way to get familiar with a "kiss cut" – that is, cutting just the material but not the backing paper.
*Sticker Paper. Stickers are a great way to get your toes wet with the print-and-cut technique – the possibilities are endless. No, your Silhouette doesn't actually print (I was confused about that at first and I get questions about it often) – when you print to your printer from Silhouette Studio, you have the option of adding "registration marks" which are little shapes on the corner of the page. When you load your printed paper into the Silhouette, the Silhouette will "read" those registration marks to orient itself on your design. Then it will cut out your printed designs! This is really great for printing all kinds of stickers. I used a variety of sticker paper to make these return address labels, and you can also make amazing personalized planner stickers like these! The sticker sampler pack is great so you can get an idea of all the different kinds of sticker paper Silhouette makes – there are a bunch, and they're all pretty fabulous!
*Chipboard. Chipboard is thin cardboard, about the thickness of a cereal box. It's great for making small boxes, gift tags (like these!), and adding dimension or rigidity to other projects. This is a good material to have on hand in your stash.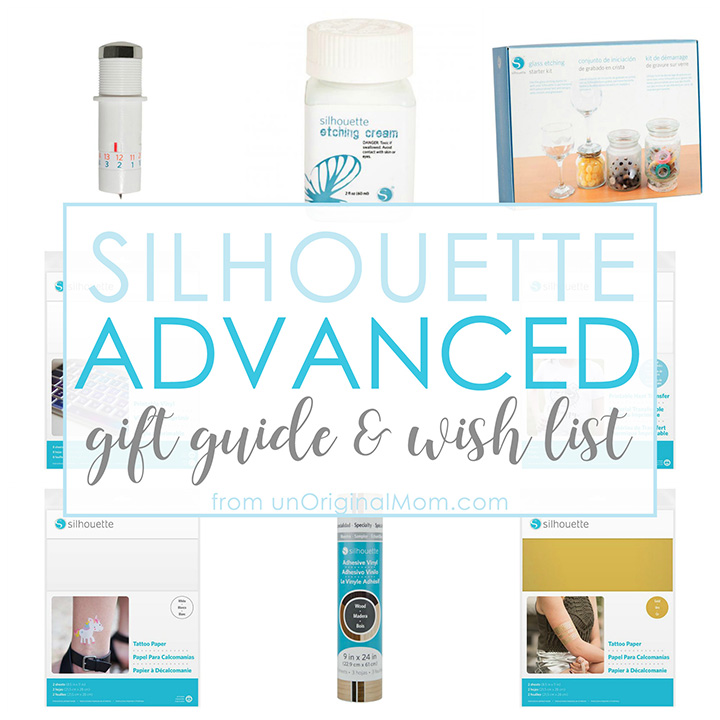 MATERIALS & TOOLS FOR INTERMEDIATE/ADVANCED USERS
Designer Edition. If you've been using your Silhouette for a while and are comfortable with Silhouette Studio, you may be ready to upgrade to the Designer Edition of the software! Don't worry, it's not a whole different program…upgrading to Designer Edition just "unlocks" some great features within the Silhouette Studio program you're already familiar with. My favorite things are the ruler, being able to erase and cut through single lines rather than entire shapes, and the ability to open SVG files. (In case you're wondering, the Business Edition is another step up from Designer Edition, and it unlocks the ability to save as SVG files, along with several other handy features for folks that use their machine more frequently.) Check out all the levels of software upgrades here.
Deep Cut Blade. Ready to experiment with thicker materials, like felt, craft foam, and more? Time to try out the deep cut blade. It can cut up to 2mm thick. (Note – this blade is only compatible with the CAMEO 3, Curio, and Portrait 2.)
*Etching. Vinyl makes a great stencil for glass etching. I've made all kinds of personalized etched glass gifts like casserole dishes, wine glasses, and even a whiskey decanter set! Grab the Glass Etching Starter Kit to get started!
*Tattoo Paper. This is SO fun to play with!! It works without a Silhouette too, but being able to cut around each tattoo with your Silhouette for nice neat little temporary tattoos is great. I tried this out the first time to make personalized tattos for my sister's bachelorette party, and it was amazing!! Make tattoos for parties, kid's treat bags, holidays, or just for fun! Plus…they have metallic gold and silver tattoo paper! That's is on MY Christmas list for sure. (Note – you'll need an ink-jet printer to use printable tattoo paper.)
*Wood Vinyl. I tried this out on this project, and it is really neat! It's basically just vinyl that's looks like wood…so you can imagine there are some neat possibilities here for sign making and other embellishments.
Printable Vinyl and Printable Heat Transfer. This is great when you want more intricate multi-colored designs but don't want to layer your vinyl or heat transfer material. Print, cut, and apply!
*Specialty Kits – Unlock some new crafting possibilities with some of Silhouette's newer starter kits, like the Silkscreen Starter Kit (silkscreen your own custom shirts and apparel items!) and the Doming Kit (make adorable custom domed stickers. There's also the Jewelry Making Kit, which involves printing and cutting shrink plastic sheets to make adorable little jewelry charms!
*More Specialty Media items! Silhouette makes a huge variety of specialty media…I didn't list them all here, but you really can't go wrong with any of them! (Psst – even if you have a Cricut, you can use any of these specialty media items with your machine, too!)
NICE-TO-HAVE ACCESSORIES & MORE
*Silhouette Mint. This is such a fun little machine! It makes custom stamps that you can personalize and design yourself. Fun for any crafter, but especially great for anyone with a crafting business or other side hustle like a direct sales business. You can make return address stamps, branded stamps to use on receipts, packing slips, packages, etc.
Roll Feeder. If you find yourself often cutting directly from rolls of vinyl or HTV, the roll feeder is a life saver. It keeps your rolls feeding perfectly straight! The only bummer is it's bulky to store when you're not using it. (The Cameo 4 comes with a built-in roll feeder, so this is only necessary for older models.)
*Dust Cover. Though not completely necessary, a dust cover helps keep your machine clean and protected when not in use. It's also fun to customize with HTV!
*Pen Holder. The pen holder allows you to use your own pens, markers, and sharpies to sketch on materials with your Silhouette.
24″ Cutting Mat (for CAMEOs). Really nice to have when cutting larger sheets of paper or vinyl!
Do you have any questions about items on my list? Or maybe you have a favorite item you think I should add? Leave a comment and let me know!



Subscribe to unOriginal Mom via email and get instant access to my library of FREE Silhouette Studio & SVG cut files - exclusively for email subscribers. Plus there's a new file added every month!