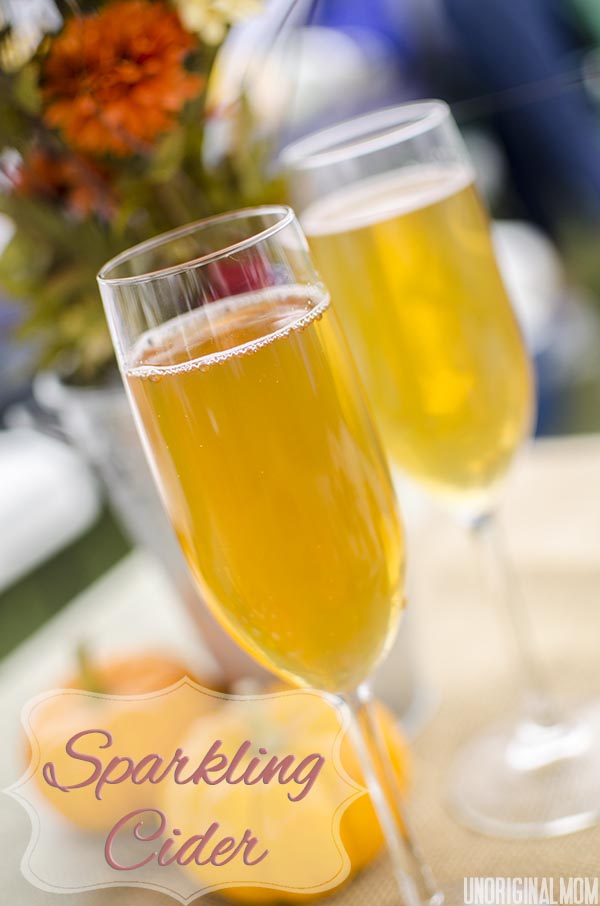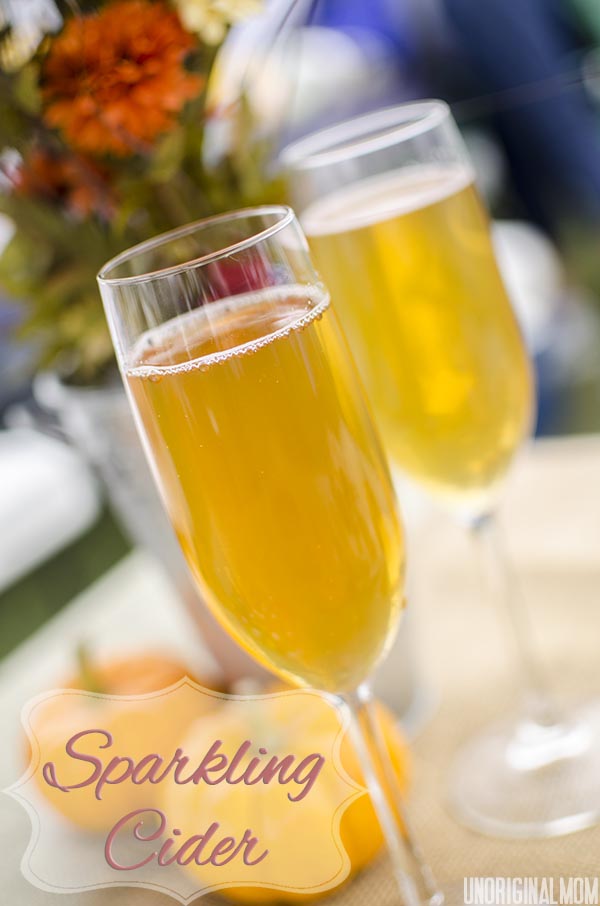 For our tailgate party last weekend, I was originally planning on making hot mulled cider.  That's always one of our favorite tailgating drinks – I make it the day before to let it simmer for several hours, then just re-heat it on our camp stove at the tailgate.
But since the forecast for the day was in the high 60s and sunny, hot cider didn't sound like such a good idea.  Instead, I served it chilled and mixed with champagne for a "grown-up" spiked sparkling cider.  It was DELICIOUS!!  I did the same thing I usually do and mulled the cider the day before – I just brought it along in a pitcher alongside a bottle of prosecco (a dry Italian wine).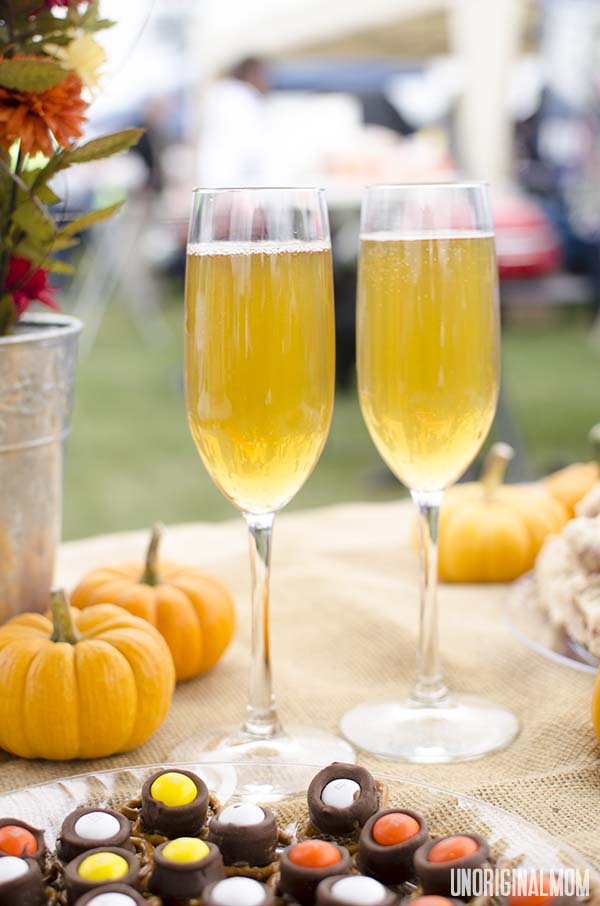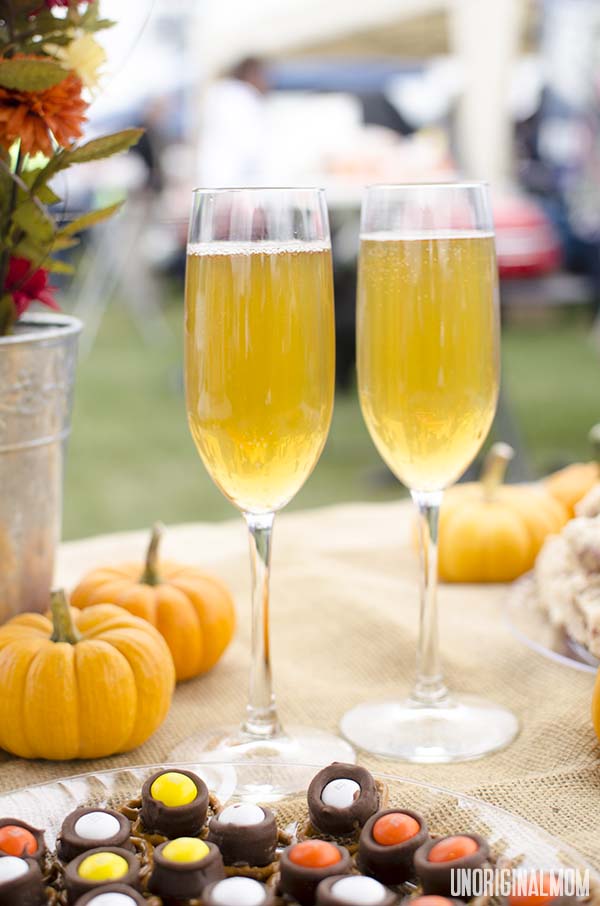 You can use apple juice or apple cider (I used apple juice because it's cheaper) and mull it with cinnamon sticks, allspice berries, whole cloves, and orange slices.  (If you don't have a fresh orange on hand, you can use a few splashes of orange juice.)  Then, mix the chilled mulled cider with an equal amount of champagne.  Scroll down for the recipe!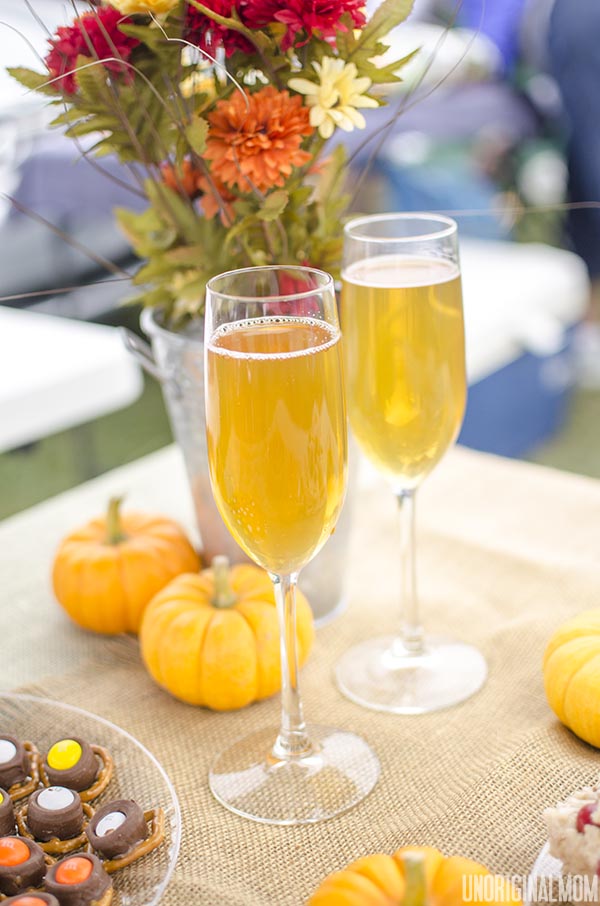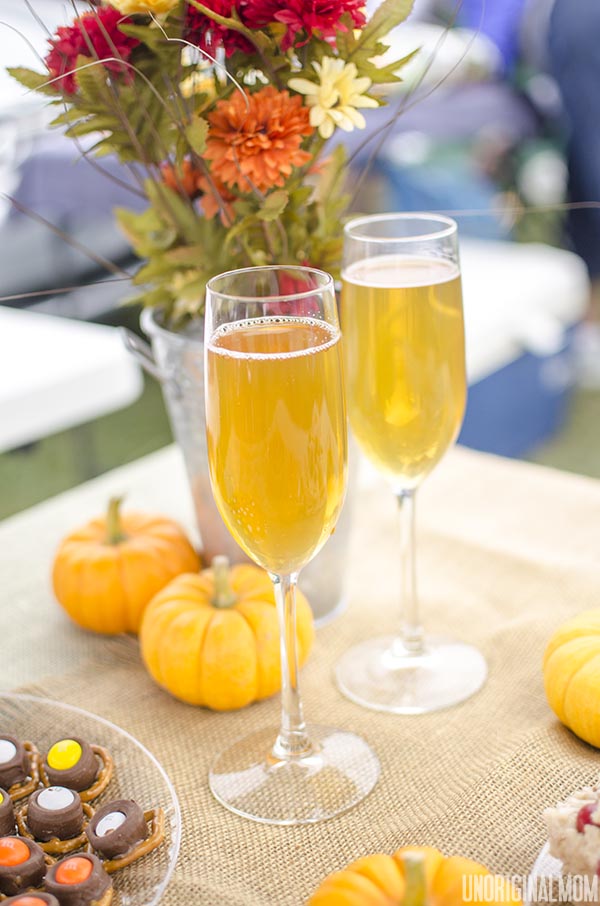 I will definitely be making these delicious cocktails again…and once the weather gets a little cooler, mixing the hot cider with spiced rum is another yummy adult alternative :-)
A toast…to fall!
Ingredients
1/2 gallon apple juice or apple cider
2 cinnamon sticks
3-4 whole allspice berries
4-6 whole cloves
1 orange
cheesecloth
Dry sparkling white wine (or sparkling water, for a non-alcoholic cocktail)
Instructions
Pour juice/cider into a pot.
Slice orange and add to juice.
Tie cinnamon sticks, allspice berries, and cloves in cheesecloth. Add to juice.
Heat mixture until boiling. Reduce heat to simmer for 1.5-2 hours.
Cool, transfer to pitcher and refrigerate.
When ready to serve, mix equal parts cider with chilled prosecco (or any other dry sparkling white wine.)
Makes about 6 servings, depending on how long you simmer the cider (the longer you simmer, the more liquid evaporates)
https://www.unoriginalmom.com/spiked-sparkling-cider/


Get your copy of my FREE meal planning binder!
Sign up to get a free copy of my meal planning system - an 11 page printable meal planning binder, complete with a pantry inventory, shopping list, and more to help get on top of your menu each week!
Other Posts You Might Like: