Need small deck decorating ideas? See how we maximized the space on our small deck to include a seating area with fire pit plus dining area, and how we decorated it to be functional, practical, and inviting.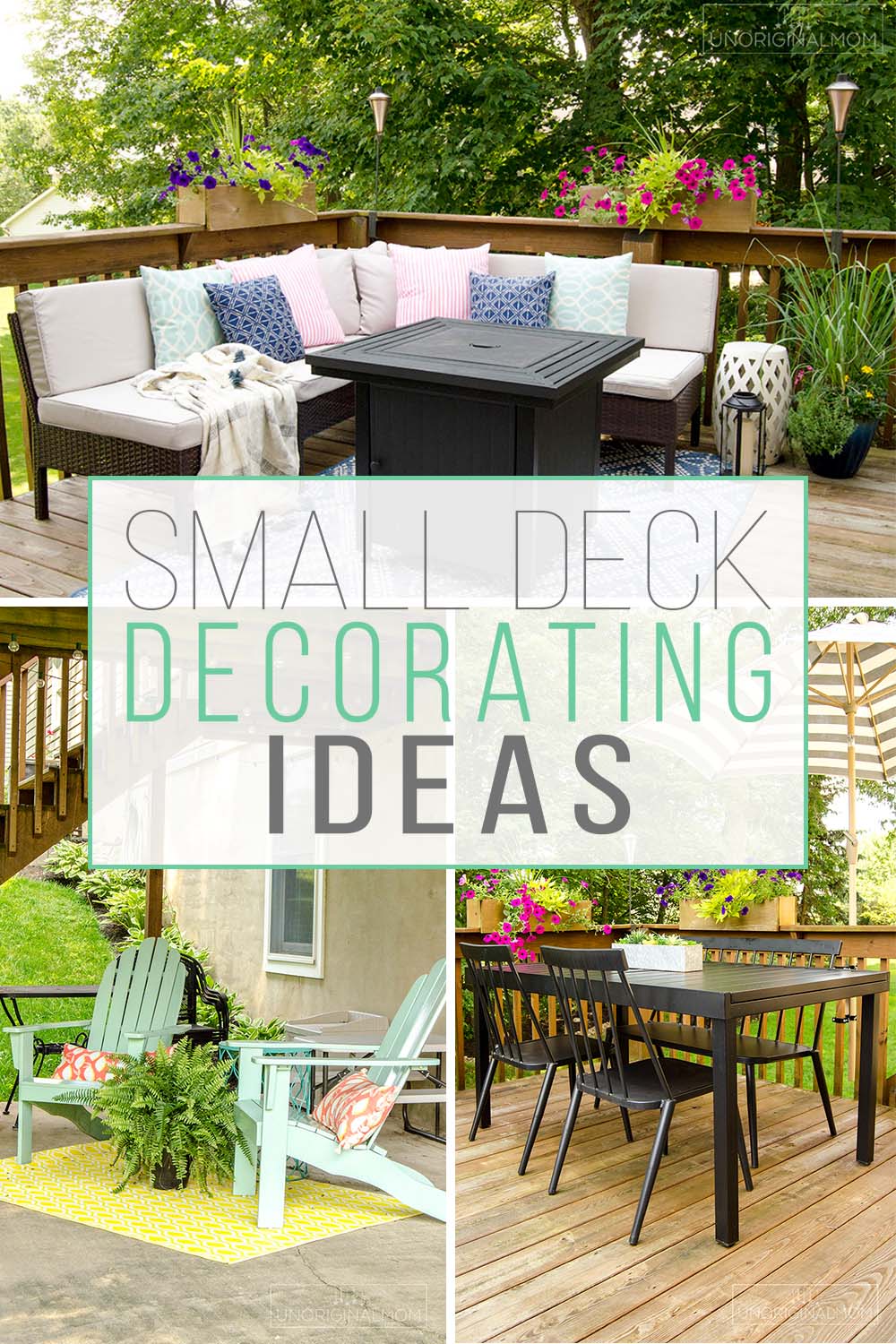 This post contains affiliate links. Click here to read my full disclosure.
We are deck people.
I was a bit taken aback last summer when my good friend and neighbor told me, "we're not deck people. We just don't spend any time out on our deck." WHAT?? There are actually people like that? The thought had honestly never occurred to me. All summer long, whenever the weather is nice, we are out on the deck. We grill. We eat meals on the deck. We sit out there with a cold drink after my husband gets home from work and the kids are playing. I like to catch some time on the deck to do my Bible study during the kids' afternoon nap/quiet time. On nice evenings after the kids are in bed, my husband and I light the tiki torches and have a mini-date-night over a glass of wine. We've even been known to pull out the big movie screen and watch a movie on the deck! Yes, without a doubt, we are deck people.
Needless to say, it was important to us to maximize the space on our small deck. We've gone through several layouts and furniture combinations since we moved into this house almost 6 years ago, but I think we've finally settled on a way to make the most out of this small deck and give us what we need here! I still have dreams of expanding it someday, but for now this works well for us. In case you're also looking for small deck decorating ideas, I thought it would be fun to give you a tour of our space!
SMALL DECK DECORATING IDEAS: OUR DECK TOUR
We have a walkout basement, so our deck is a full story off the ground. It's 180 square feet (12 ft by 15 ft) – not as tiny as most townhouse/duplex decks, but it's still on the small side, especially for a 2200 square foot house. When we moved in, I knew I wanted some comfy outdoor seating in addition to a dining table and grill out here, so that took some creative space planning. But it worked out!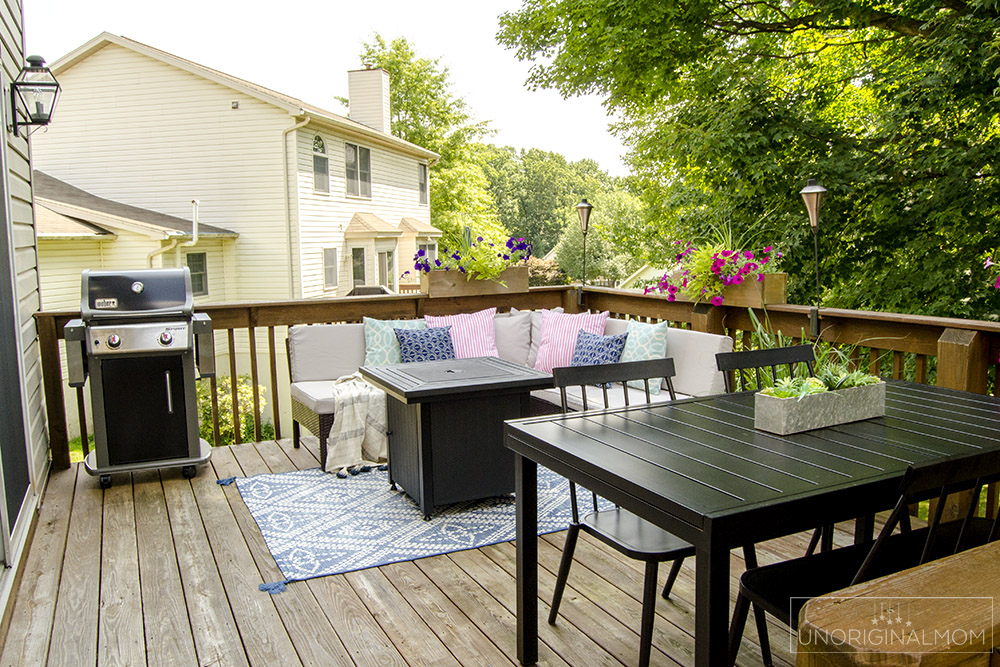 We purchased our outdoor sectional from Wayfair several summers ago and we've used it a ton. It has held up really well against the elements, too! We always cover it when it's not in use, so that helps. (This is the cover we use to cover the sectional and fire table together when rain is in the forecast.) Unfortunately, our specific outdoor sectional no longer available, but I've linked a few similar options below. Whatever kind of patio furniture you have, whether it's a high-end sectional or just some simple inexpensive or secondhand chairs, it's easy to dress them up with outdoor pillows! My favorite places for cheap outdoor pillows are actually Walmart and Big Lots. I snagged the blue ones from Walmart last summer, and the coral stripe ones were a two-pack from TJ Maxx.  I've also been known to purchase outdoor fabric and make my own! (I did that for the front porch last summer.)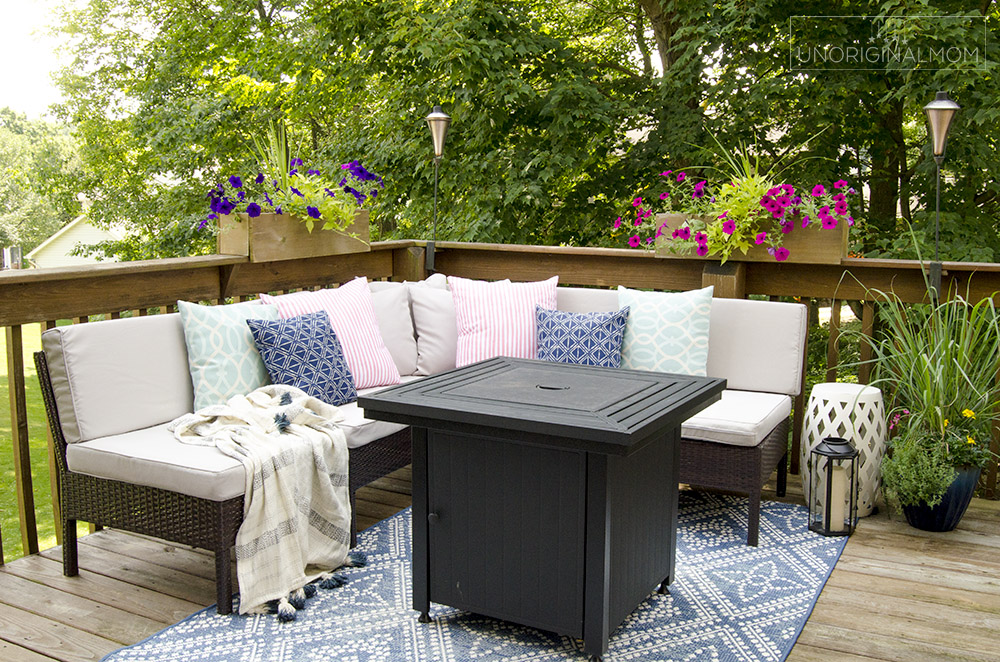 We added this small propane fire table last summer, and it's one of my favorite things about the deck. Not only does it allow us to use our deck on cooler evenings well into the autumn months, it means we can do s'mores all summer long! It doubles as a coffee table when the lid is on, which is a space-saving win.
The outdoor rug was another Target find and I love how it anchors the space. We used to have a much bigger rug out here that spanned almost the whole deck, but it made the deck virtually unusable after a rainstorm because the rug was so soggy and took a day or two to dry out. I like having a smaller rug – it really separates, defines, and grounds the seating area. Surprisingly, it actually makes the deck feel larger.  Plus, if we want to have dinner on the deck after a passing afternoon shower we can still do that.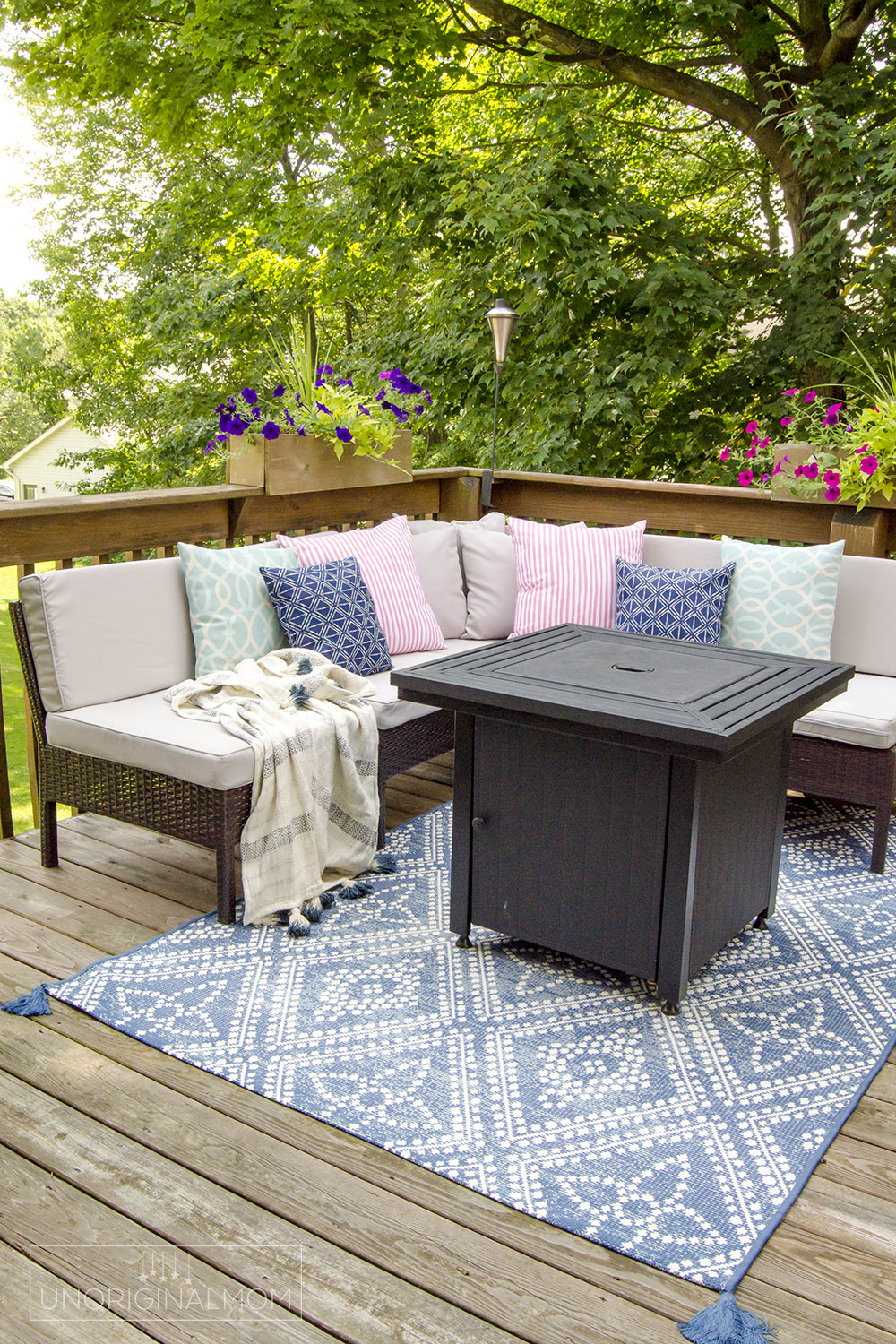 The dining table was just added last summer, and I LOVE it! The design is simple and classy, but the best part is – it expands! It has a built-in leaf in the center so we can pull it out and add chairs on either end to seat up to 8 people. But when it's just our family of 5, we can leave it pushed a little more out of the way. The one we have goes in and out of stock quite a bit, so I found a few similar styles (including another expandable one like the one we have) and linked them for you below. The chairs and bench are from Target.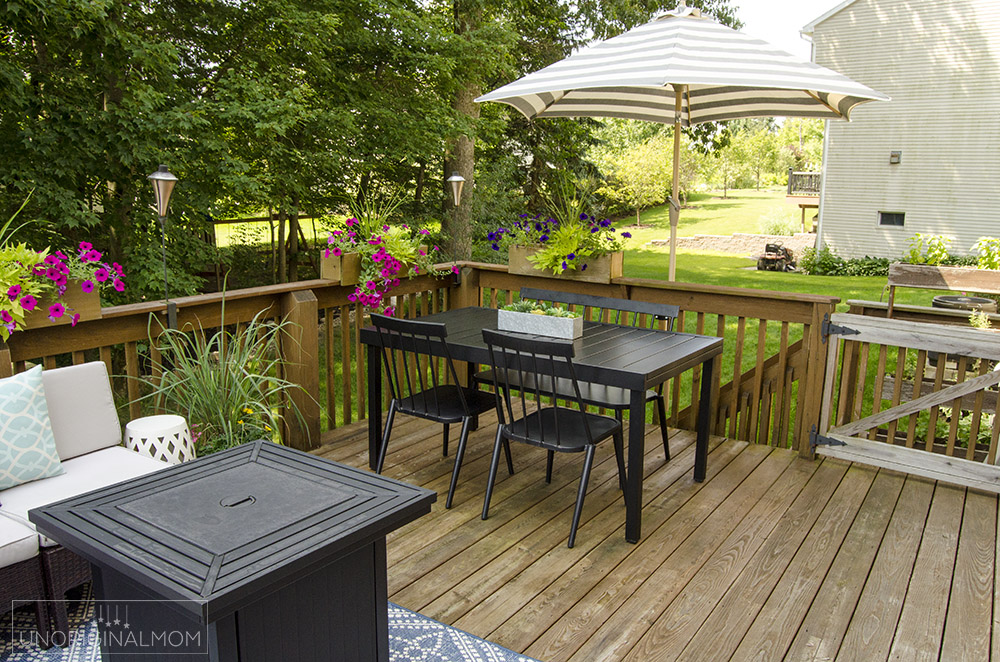 The deck railing window boxes have seen better days, but I still love filling them up each year! My husband built them for me 7 or 8 years ago (back when we lived in a townhouse – also with a tiny deck!) and they've certainly weathered a bit, but I love the clean look of the plain cedar window boxes on the railing. They add such a beautiful pop of color without taking up the floor space that lots of planters would. (Side note: I always use the thriller-filler-spiller method of filling planters. One taller plant in the middle as a "thriller," colorful "filler" flowers and/or greens, and then a "spiller" plant of some kind – leafy or floral. It makes it easy to create beautiful and balanced planters without knowing much of anything about plants!)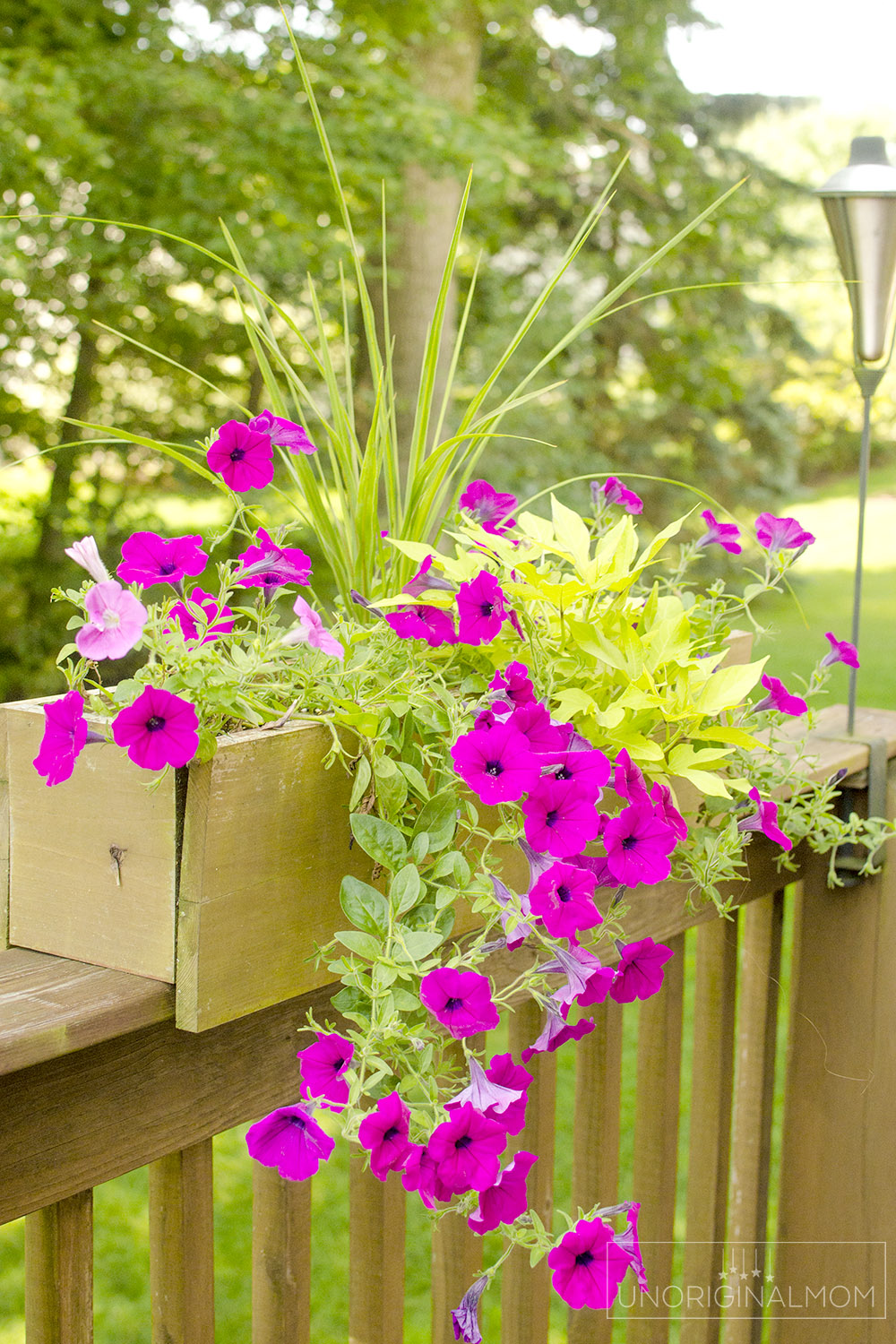 Another space saving idea was to mount our umbrella to the railing.  I'm not a big fan of an umbrella in the middle of the table (it just seems like it's always in the way!) so that wasn't really an option for us. We used to have a cantilever umbrella over our seating area but the base took up a LOT of space, plus anytime there was more than a slight breeze we couldn't put it up. I found a solution with this genius deck umbrella mount! It clamps onto the deck balusters, so we can put it anywhere on the deck we want to. It's really easy to install, too.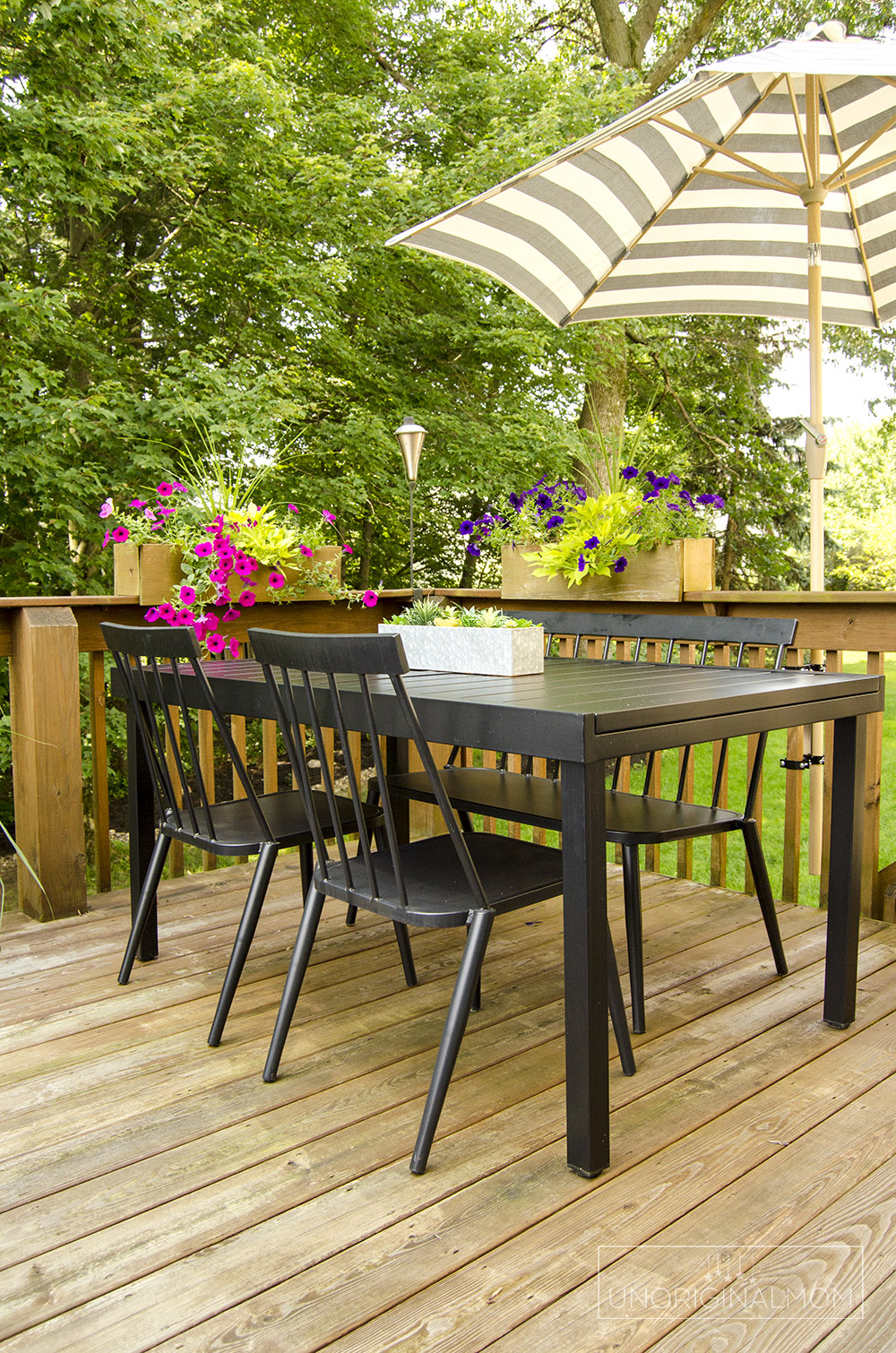 While I'm giving you a tour of our deck, I thought I'd show you a peek at what we have underneath our deck, too. Since our yard is sloped and we don't have enough flat space for a full swing set, we mounted swings for our kiddos underneath the deck. Of course, until they learn to pump, that means I've spent a lot of time down here pushing kids on swings. But it's also really lovely down here in the shade in the summertime, so we bought some Adirondack chairs and I put together a little seating area. It's a great spot to sit with a book, or to chat with another mom while kids have a playdate.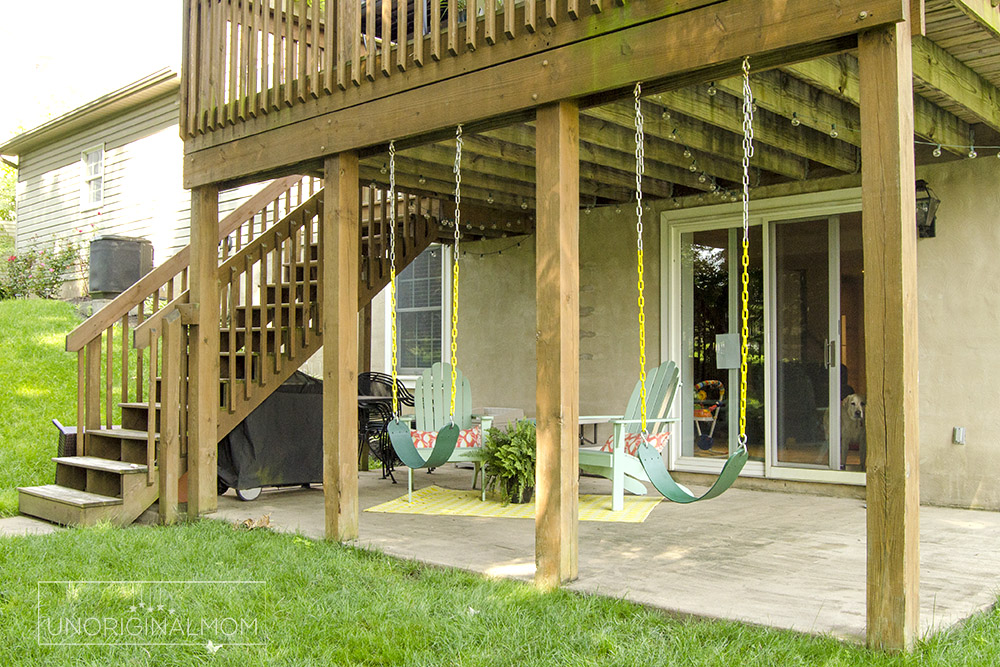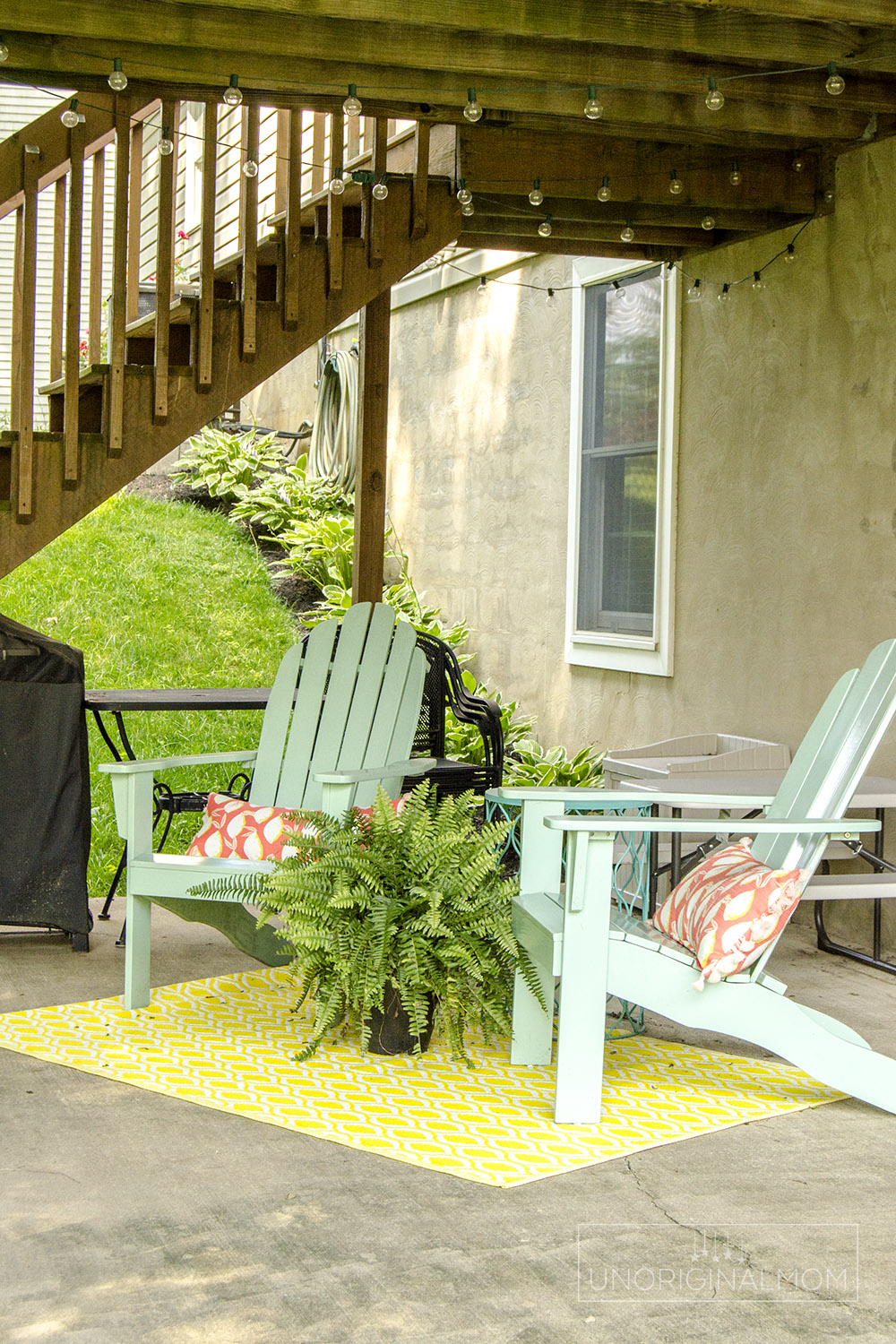 Our deck is a space that has certainly evolved summer-to-summer since we moved in, but I think this is the first year I'm really happy with it. In fact, after I bought the outdoor rug and put it out there last month, I turned to my husband and said "I think it's actually done."  (It took him a minute to reply since I think he was slightly in shock, haha.)  I honestly don't have anything else on my someday-to-do list for this space – it's pretty much exactly the way I want it!  I don't know about you, but that's a very unfamiliar feeling for me (my "wish list" for almost every room in the house is a mile long), so I've been really savoring it all summer long.
I hope you enjoyed our little summer deck tour and my small deck decorating ideas. I'll be out here soaking up summer evenings in this space as long as I can!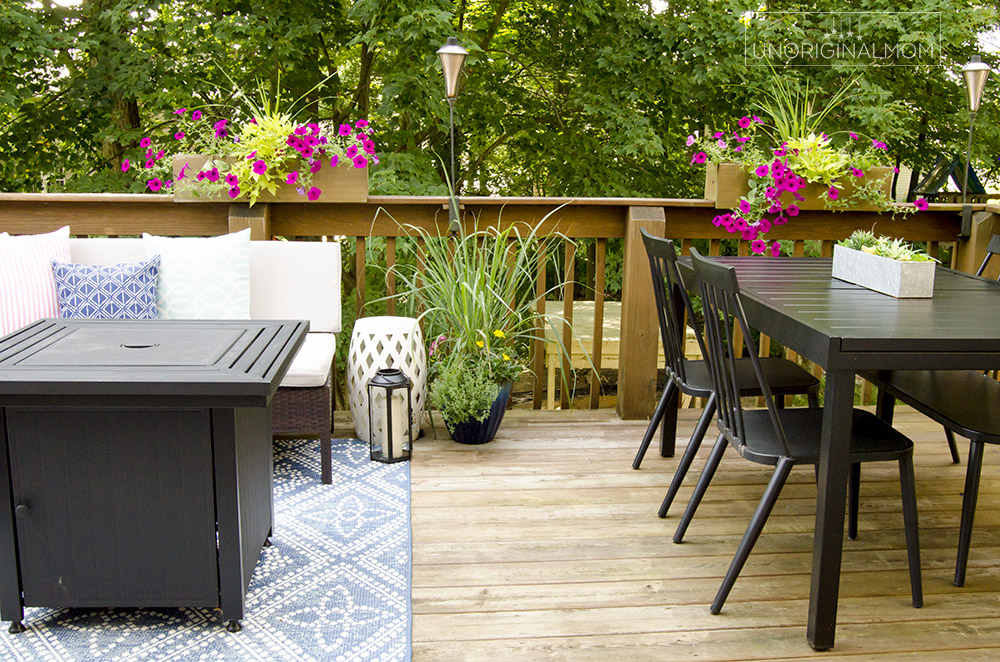 SMALL DECK DECORATING IDEAS: SHOP OUR SPACE



Get your copy of my FREE meal planning binder!
Sign up to get a free copy of my meal planning system - an 11 page printable meal planning binder, complete with a pantry inventory, shopping list, and more to help get on top of your menu each week!