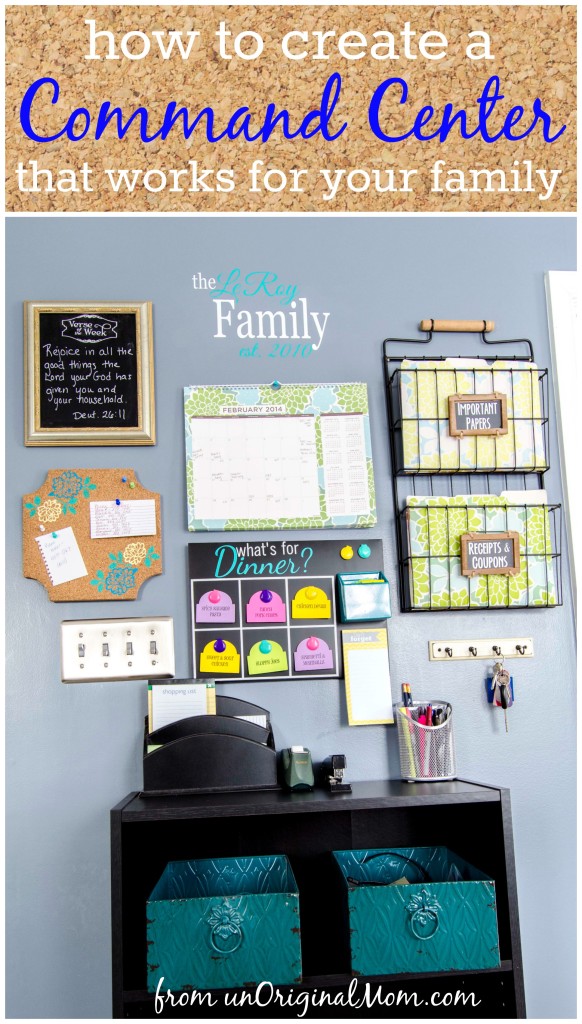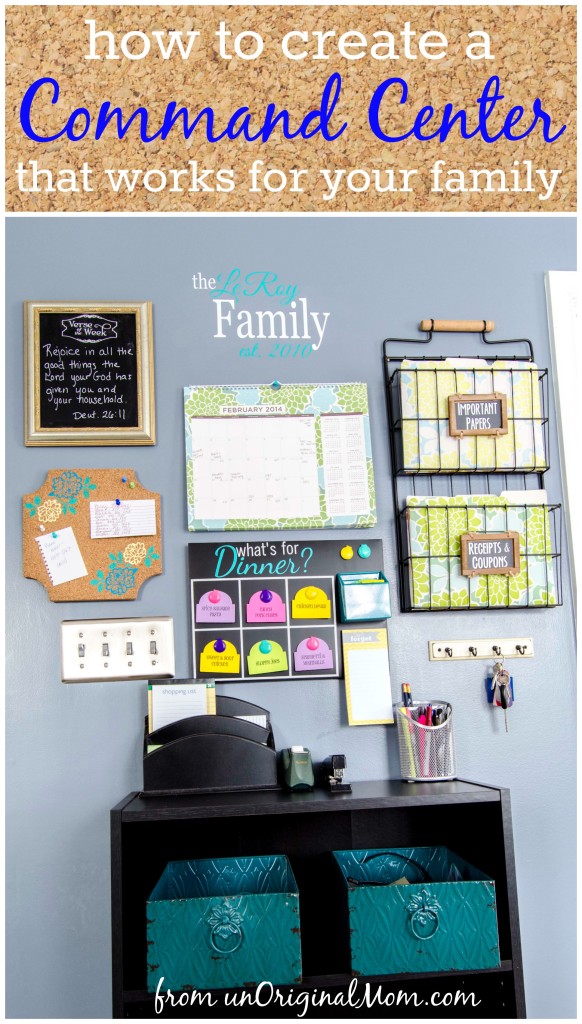 I finally created a command center in our house, but it is very much a work-in-progress…and with a family of three (including one 18 month old), there isn't much need for extreme organization beyond the basics.  But I know that as our family grows, and kids get older, we'll rely on our command center organization more and more!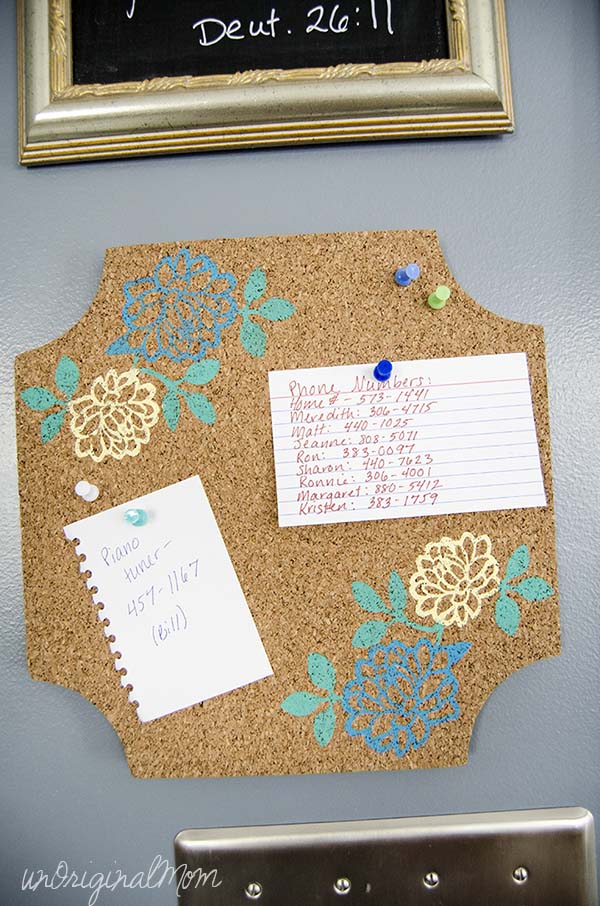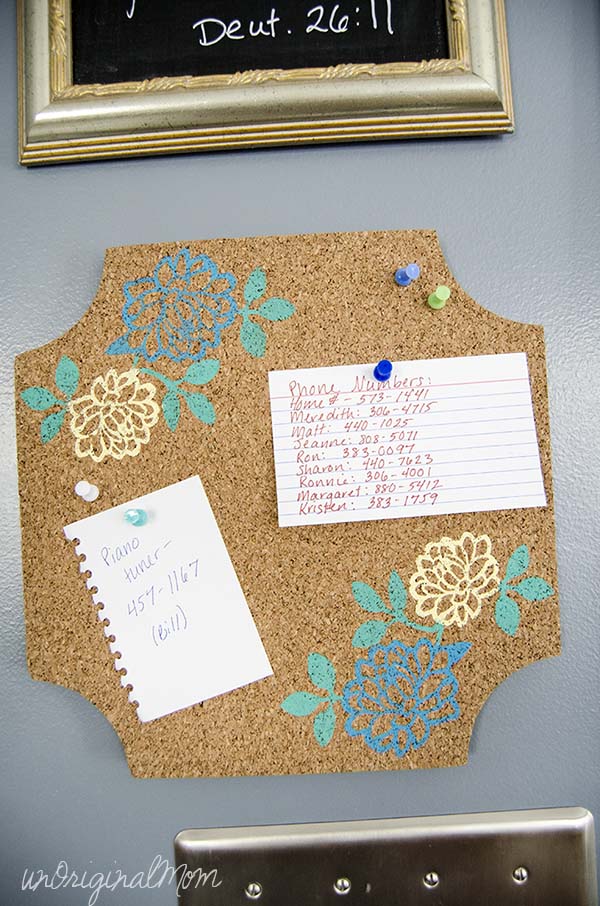 A great command center is a perfect mix of organization, function, and style.  You've got to first determine what kind of organization your family needs before you actually go shopping for all the details.  If you take a little bit of time to really plan out your space, you'll end up with a beautifully functioning (and affordable) command center that will help make your life a little easier!
1. Find the right space.  A command center isn't going to help you if it's not in a place that makes sense.  It should be somewhere in the main-traffic-path of your home – maybe right inside the garage door, in the kitchen, or even the mudroom.  The closer you can get to the "drop zone" – you know, where all the stuff gets dropped right after you get in the door – the better!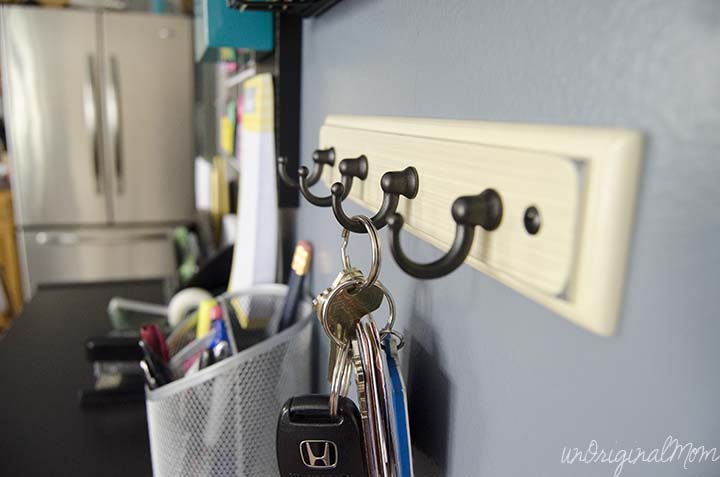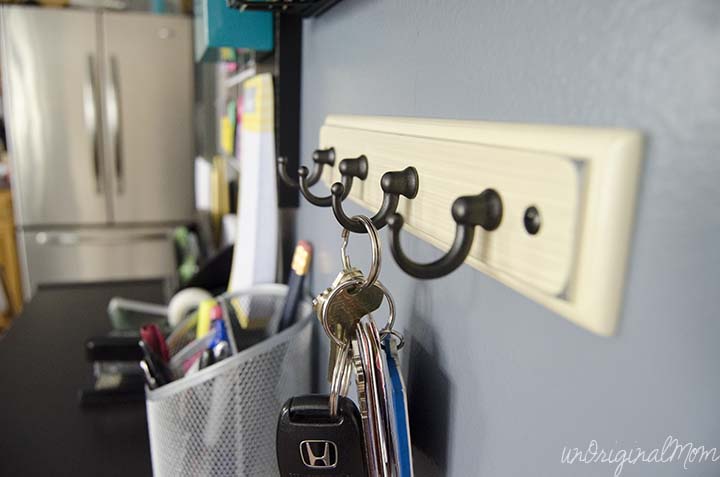 2. Take inventory of your clutter.  Here's a great way to figure out the clutter that regularly accumulates in your space – without tidying up first – take a pad of paper and a pen and go write down everything you see lying around your space.  This is good to do mid-week, when the daily mess has really had a chance to accumulate.  You'll see things like keys, phones, wallets, mail, school papers, random papers, lists, coupons, and probably much more.  Write it ALL down.  You know what they say – "A place for everything, and everything in its place."  Decide where those places are!  If you need a place for something that doesn't already have a home, start a list for your Command Center.  Include everything that needs to have a home in your new space.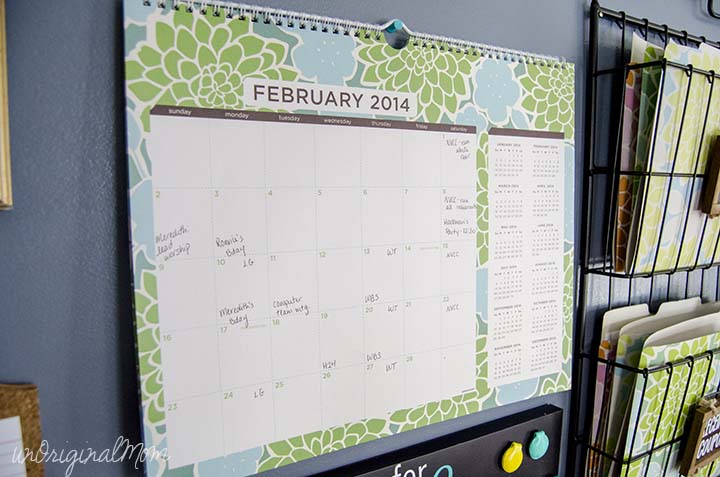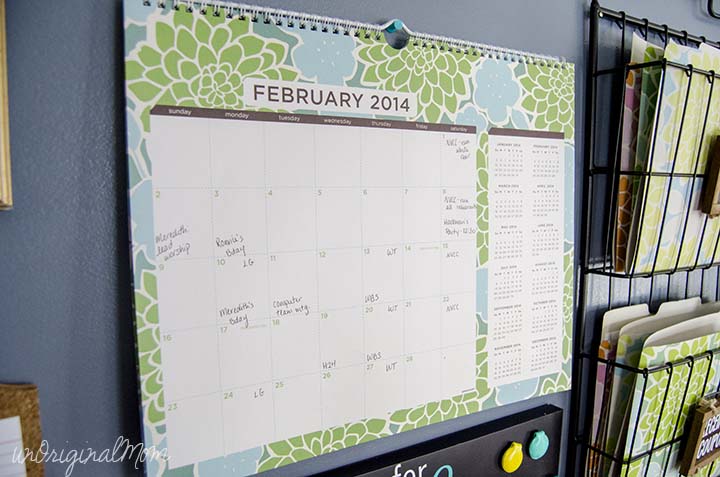 3. Determine the essentials.  Things to consider – Calendar, dinner menu, shopping list, schedule/routine, To-Do list, frequently called or emergency phone number list, in/out box for mail/bills and school papers, receipts file, coupon file, pen/pencil storage, charging station for phones/devices, hooks for keys, clock, etc..  Based on the list you made in step #2, what are the things that you want to have included in your Command Center?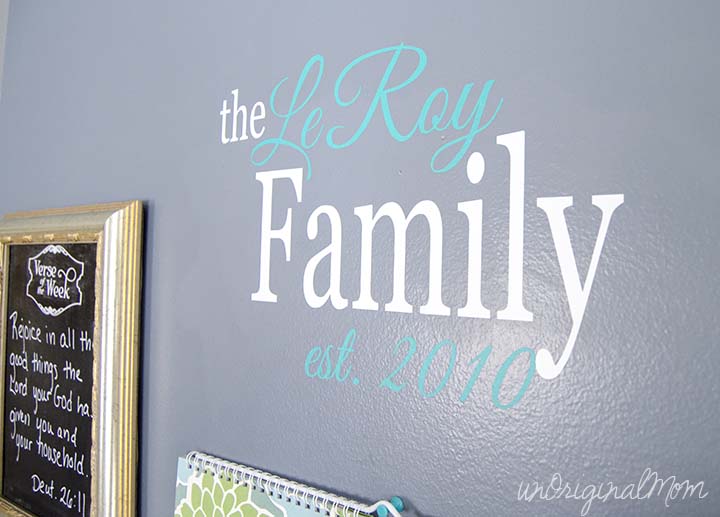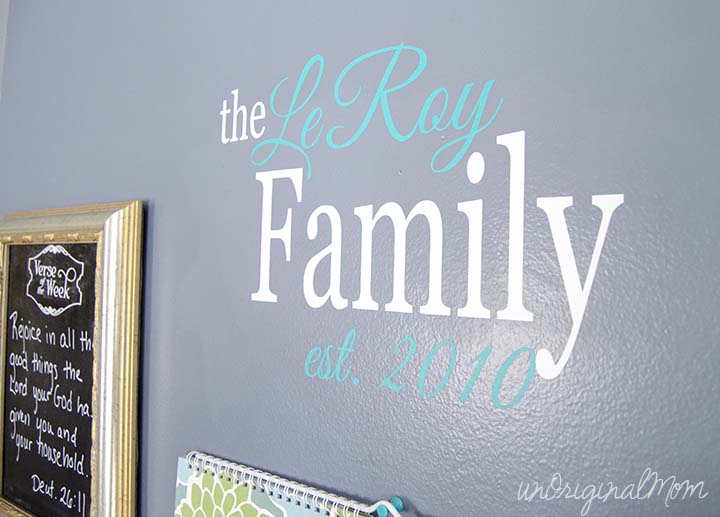 4. Make it personal. Think about including a place to display photos, greeting cards, or children's art work.  Or creating some artwork with your family name or initials to hang.   Have some extra wall space nearby? Create a gallery wall of family photos.  You could find an inspirational word or quote to print and frame.  I created a "Verse of the Week" chalkboard to display a new Bible verse for us to memorize each week.  I also used my Silhouette to cut some vinyl lettering for the wall.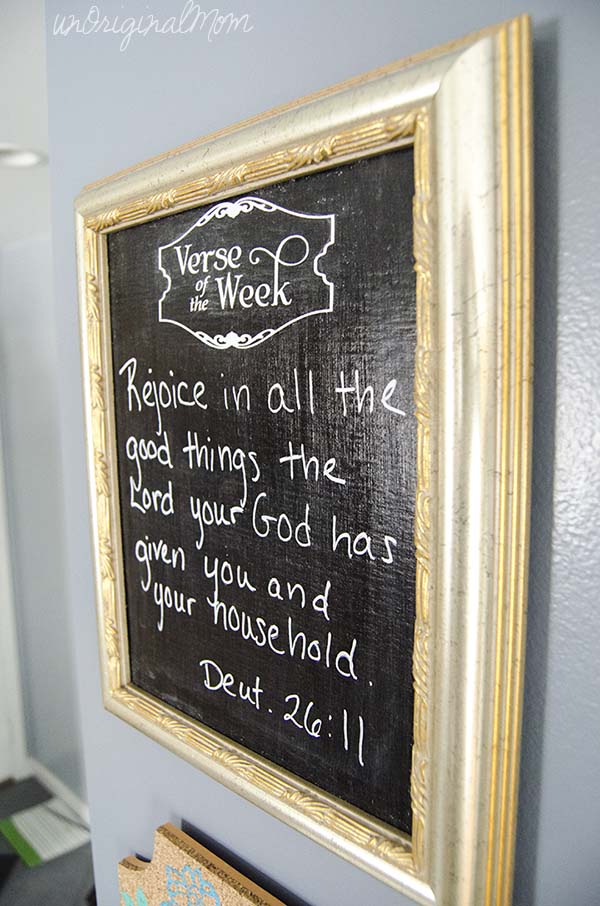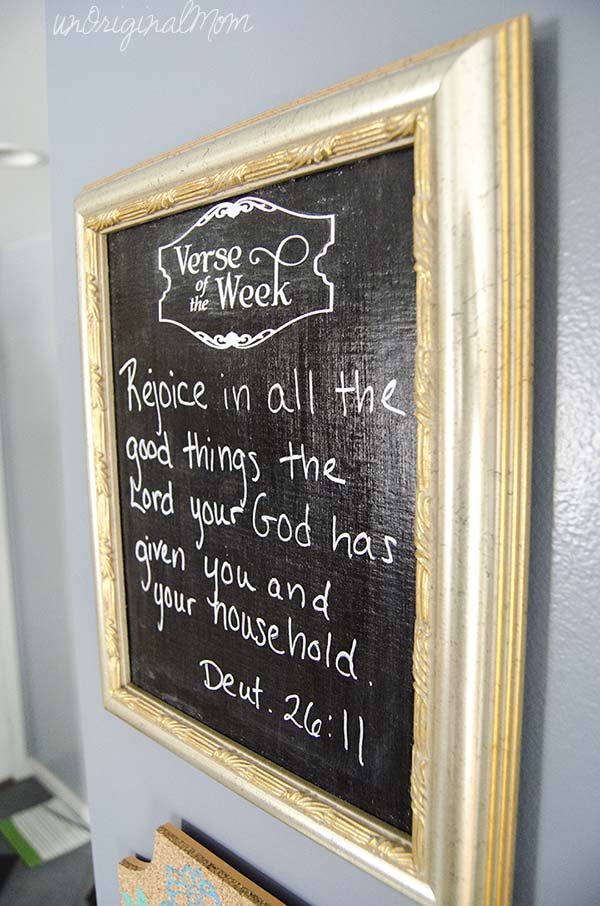 5. Design it.  Now that you've through through what you'd like to include, it's time to figure out a design!  First of all, decide how much flat space and how much wall space you will be devoting to your command center.  We bought an inexpensive put-together-yourself 3 shelf bookshelf to be part of our space – it's not very deep so it doesn't get in the way, but the top is great to have a flat space to write quick notes and lists.  I added a few bins to the shelves to help catch clutter.  Next, you need to determine a budget – how much are you willing to spend on this command center?  (Remember that you can start with the bare bones and add to it later!) After that comes the fun part – grab a cup of your favorite hot beverage and spend some quality time on Pinterest browsing Command Centers.  What do see that you absolutely love?  What seems like it would be functional for your family, in your space, and with your budget?  Think through your plan.  Are you creating a separate space for each member of your family?  Or grouping by category? How will you control clutter on flat spaces?  Consider height – what do the smaller members of your family need to be able to reach?  Don't forget about the list you made in #1 – make sure you create a place for everything!  Now, sketch out a "blueprint" of your command center. You'll probably go through several drafts until you settle on something that will work.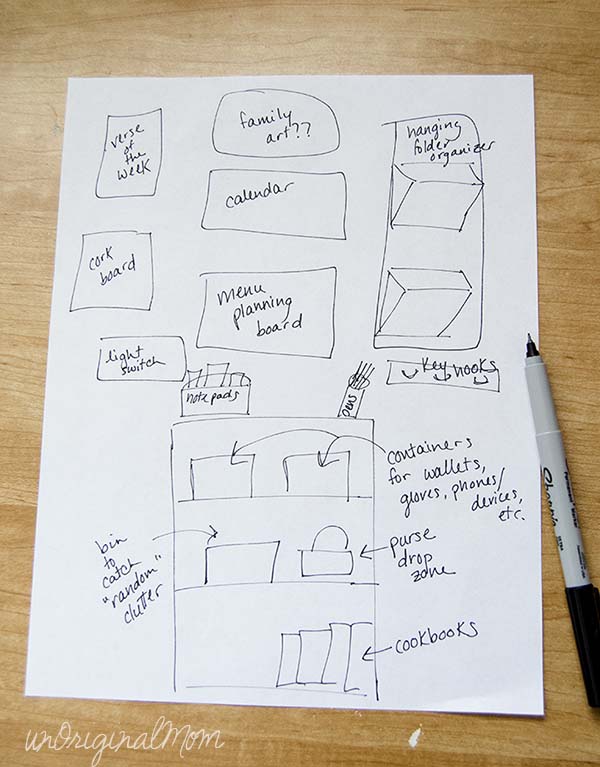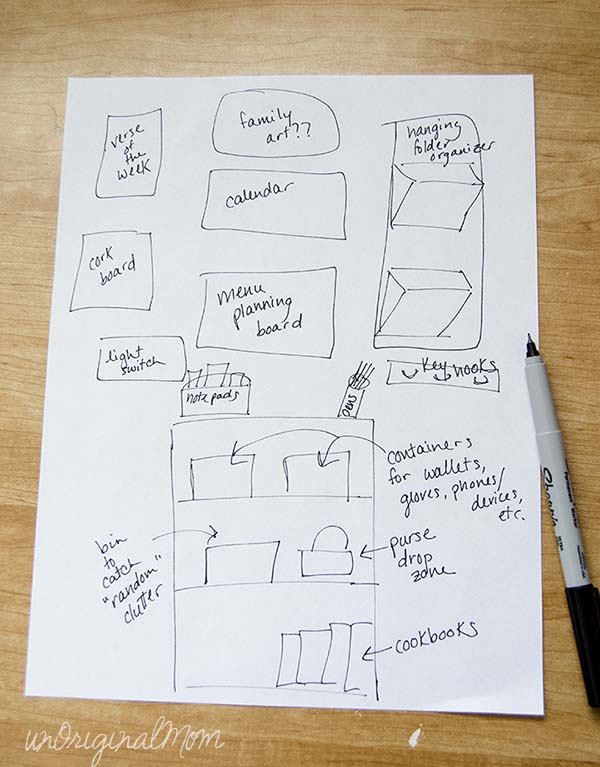 6. Go shopping.  It will be reeeeally easy to overspend, especially when you're in the store and see something absolutely adorable that you didn't know you needed.  My advice – go to the ATM and get cash in the amount of your total budget.  (If you're ordering items online, be sure to account for that money out of your budget.) That way, you'll be less likely to impulse-buy and more likely to stick to your list.  Some things that might be on your list: clipboards, frames, magnetic chalkboard/whiteboards, dry erase calendar, wall file organizer and file folders, hooks, cork boards, magnets, push pins, chalk or dry erase markers. Check out my list of Command Center Must Haves for more specific ideas – as well as where you can buy the same wire wall organizer I have!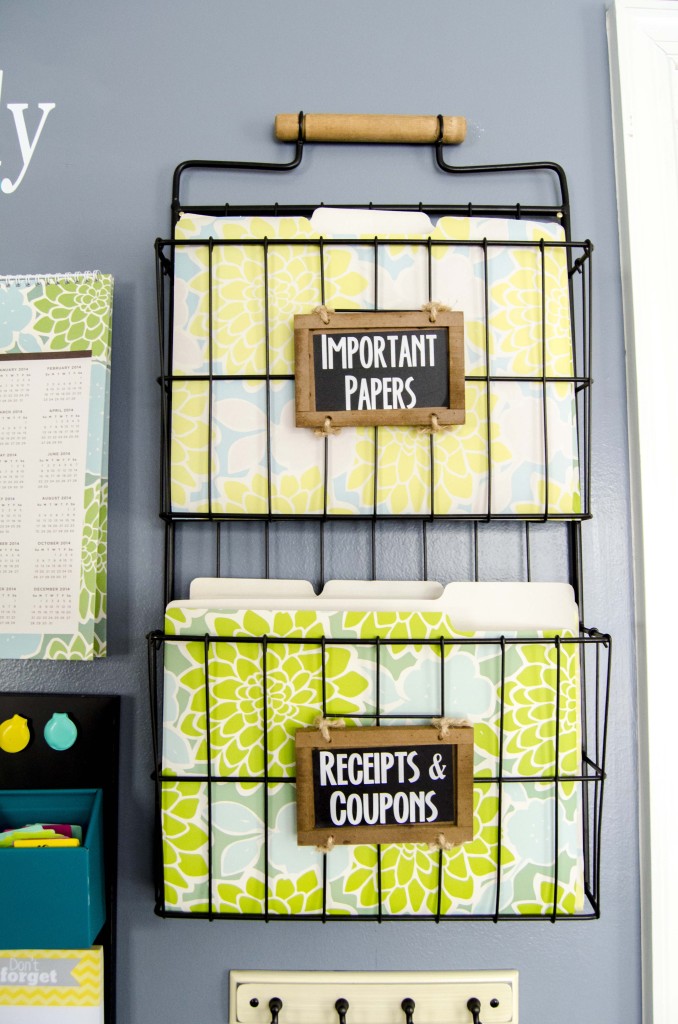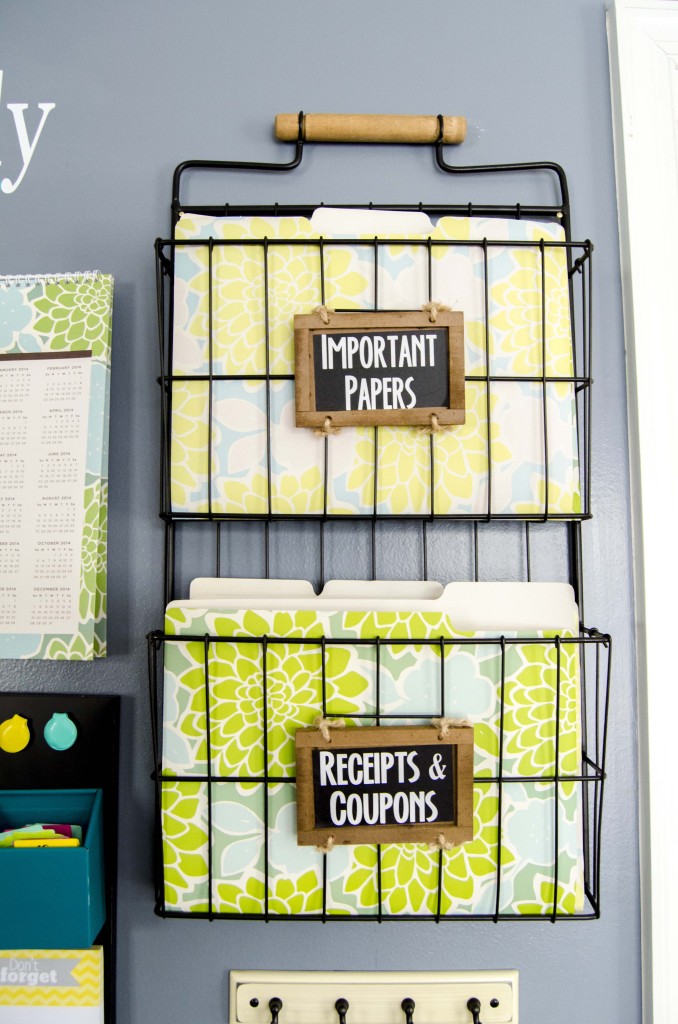 I found my calendar, file folders, and key hooks at Target; the wire file folder rack and metal bookshelf bins are from HomeGoods; the cork board (which I painted myself) is from Kohl's.  I made the Verse of the Day chalkboard myself using a frame from Goodwill.  I also made the menu planner using a magnetic chalkboard and vinyl lettering – since then I've added a meal planning binder to go along with it!  (Get your own free printable meal planning binder by signing up for my email newsletter!)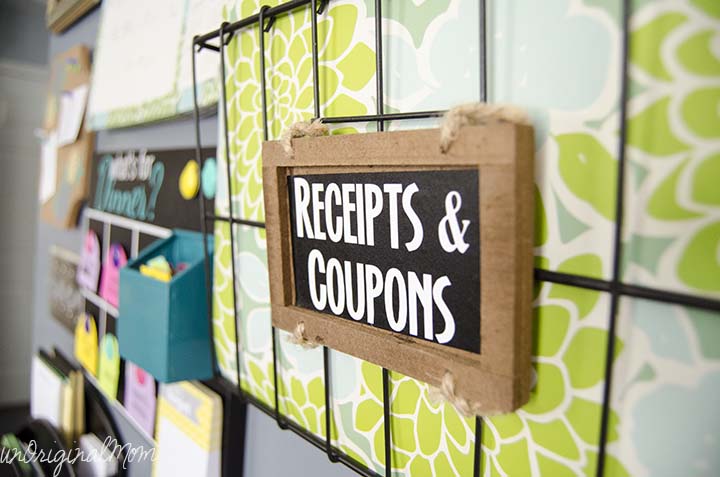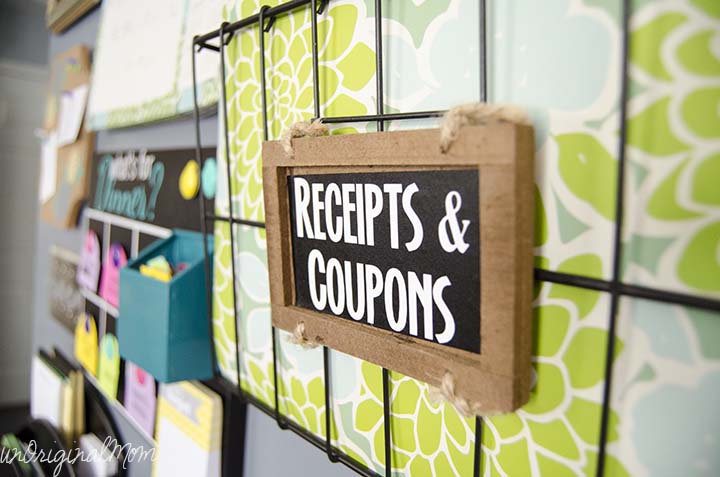 7. Make it pretty.  If you're like me, you'll be much more likely to keep stuff organized if it looks pretty when it is put away.  Pick a color scheme for your command center.  Then, instead of buying plain manila folders, find some with a fun pattern.  Don't be afraid to use pops of brighter colors too!  Make pretty labels using your printer, craft cutting machine, or pre-cut letter stickers from the scrapbook section of the craft store. I took a plain cork board and painted some dahlias on it to make it pretty (using a contact paper stencil cut by my Silhouette!).  Create a family Command Center that makes you smile each time you walk past it.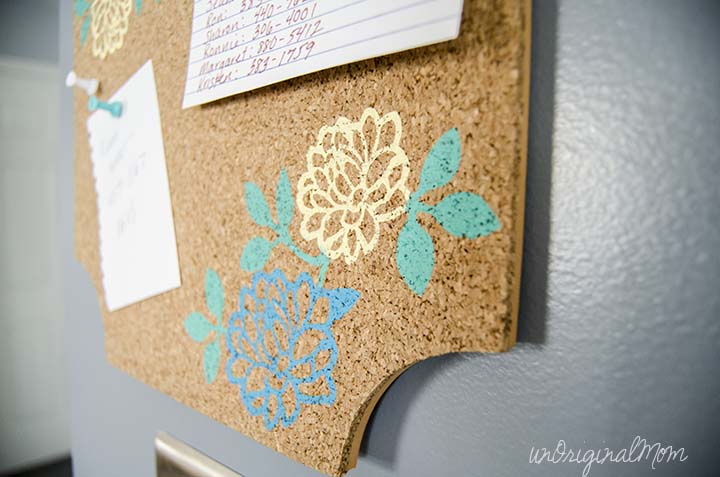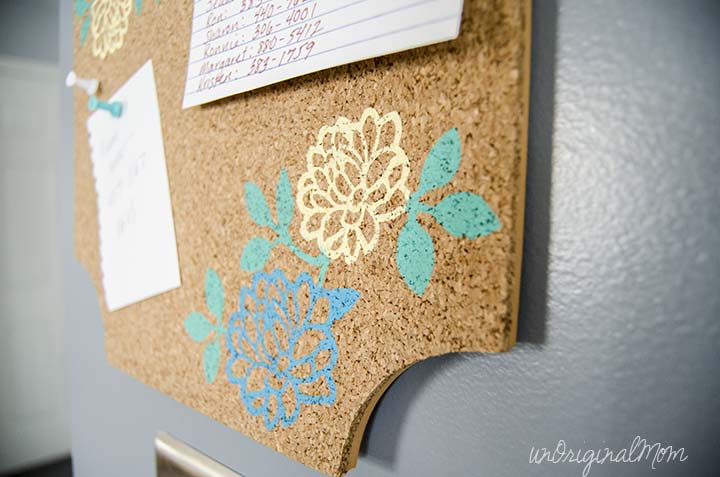 Really, though, there's no right or wrong way to go about creating a command center…the most important thing you can do is to have a vision for how you'll use the space BEFORE you start creating it!  Then, once you've got it up and running, you can enjoy how much easier it will make your life.
Are you ready to put together the perfect Command Center in your home? I have a guide that will help you! Introducing Command Center 101, the step-by-step guide to creating a Command Center that WORKS for your family! Click here to find out more.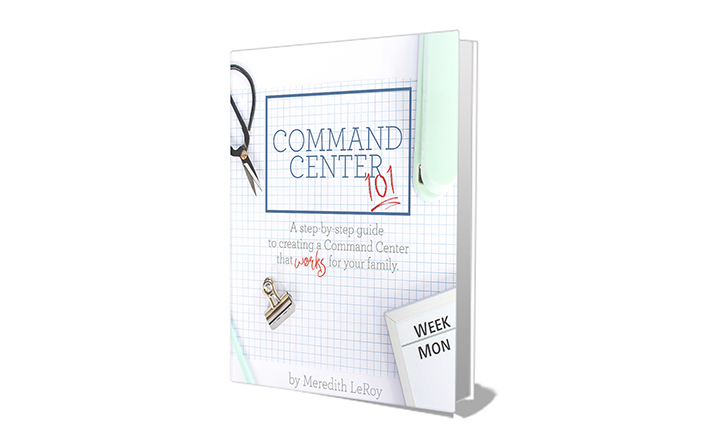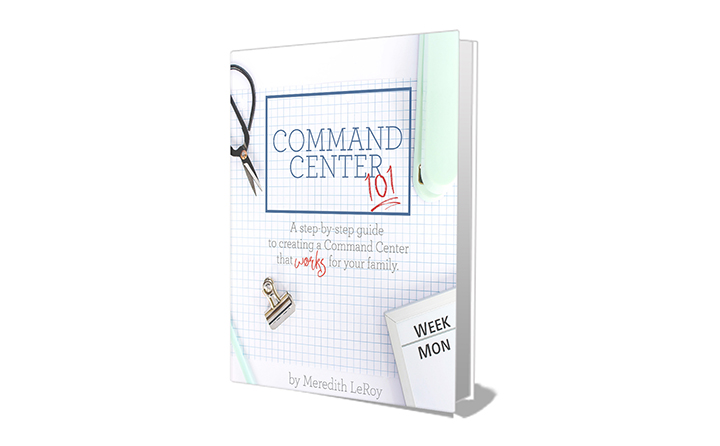 Looking for more command center ideas??  Here's a great list of 20 command centers that are sure to inspire.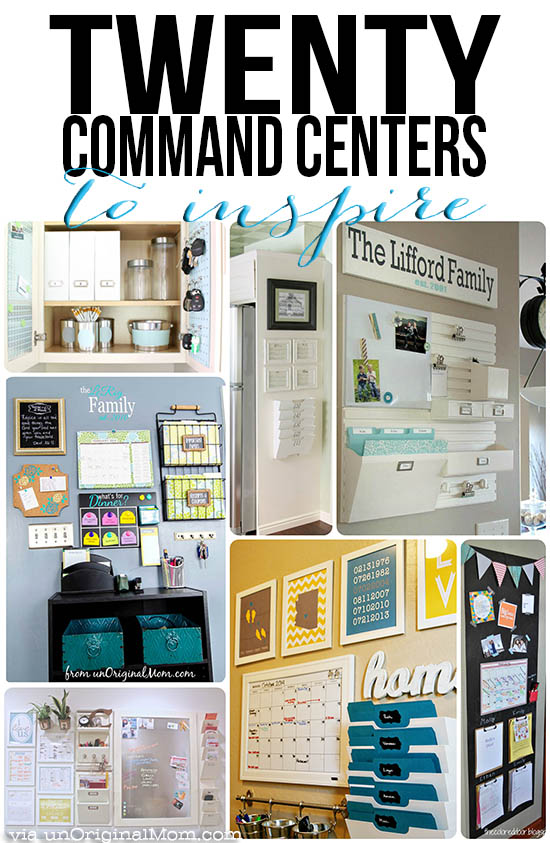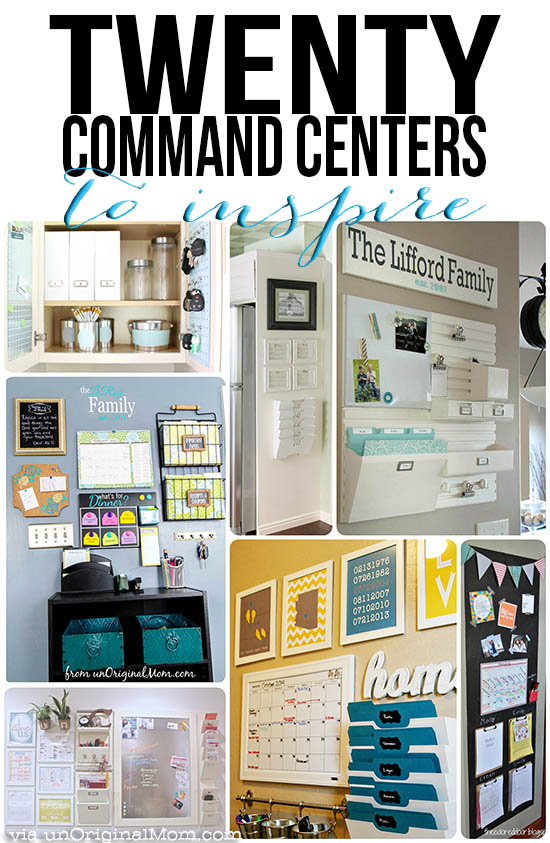 And you'll definitely want to take a look at my list of Command Center Must-Haves!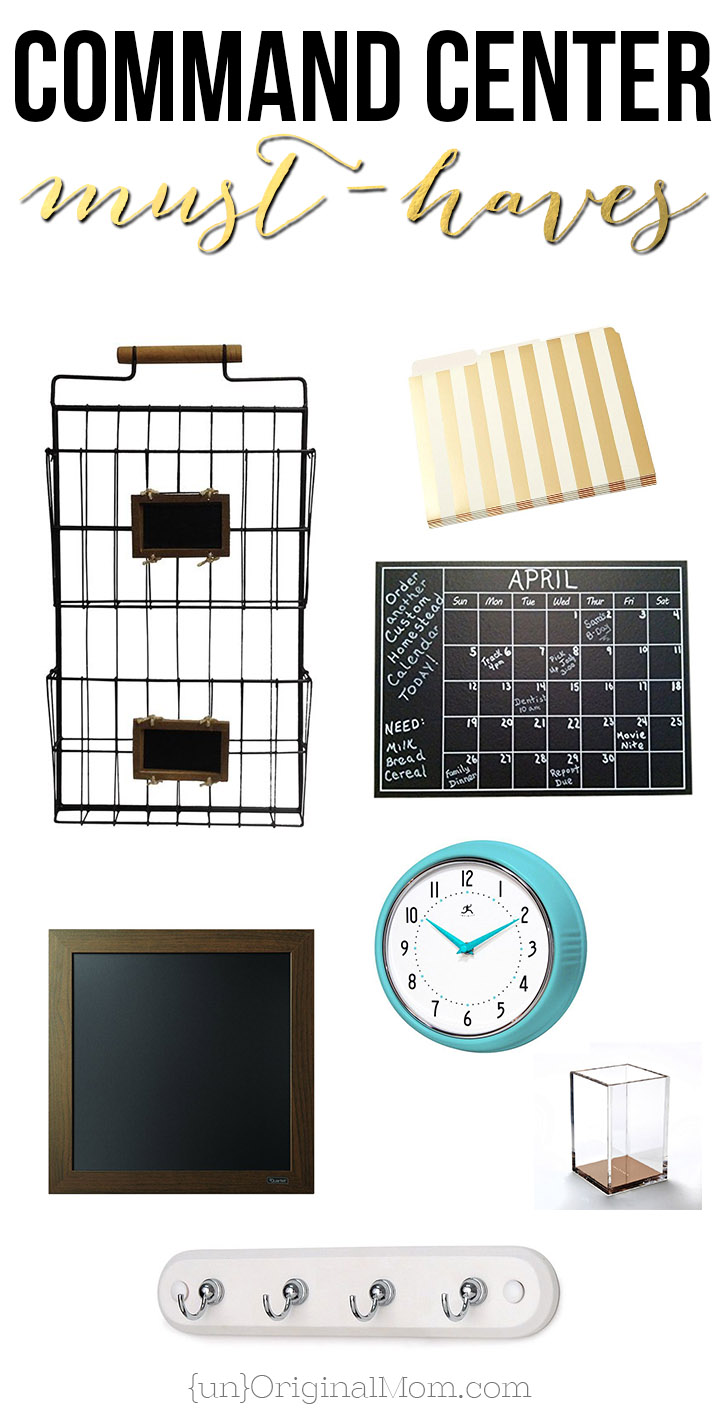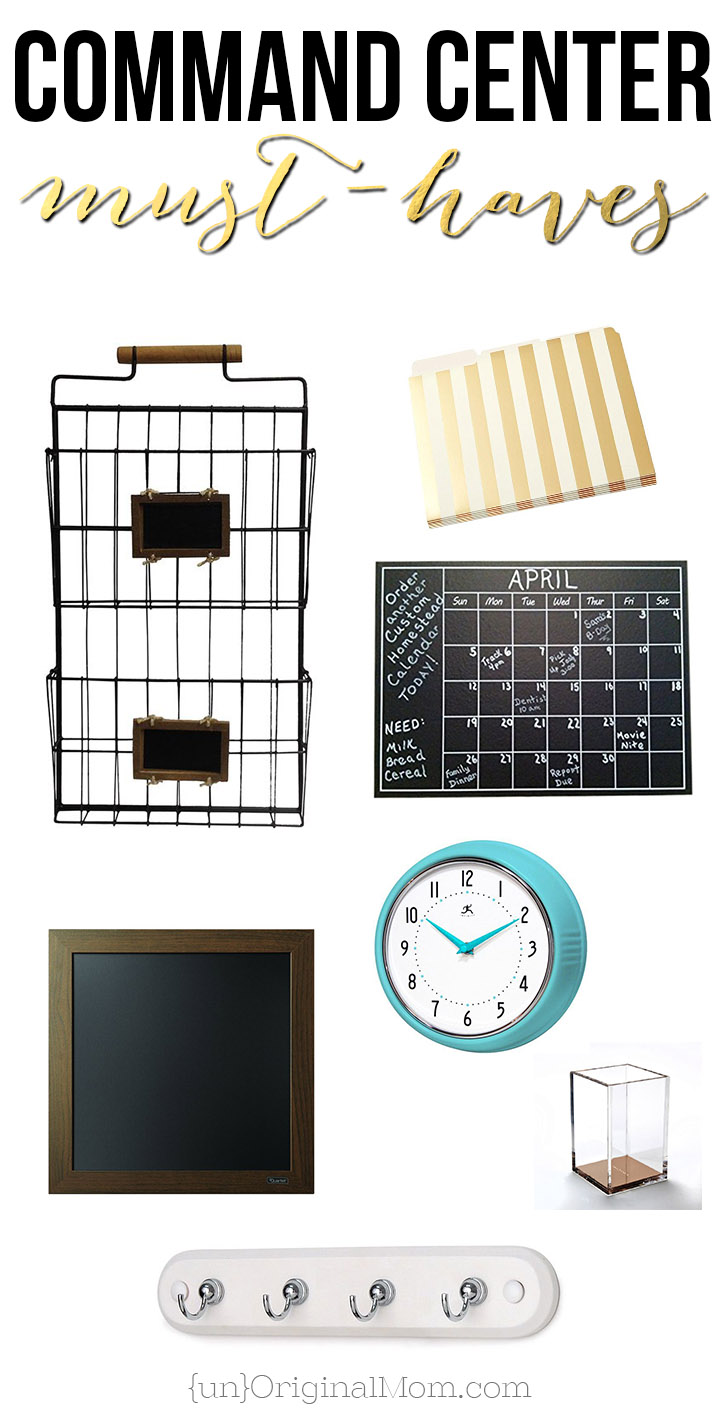 Psst!  Right now I'm giving away a FREE 11 page printable meal planning guide as a gift for new email subscribers – perfect for adding to your own command center! Sign up by clicking HERE and have the freebie delivered straight to your inbox!
Do you already have a command center somewhere in your home?  Or are you planning on making one anytime soon?  I'd love to hear about it!


Get your copy of my FREE meal planning binder!
Sign up to get a free copy of my meal planning system - an 11 page printable meal planning binder, complete with a pantry inventory, shopping list, and more to help get on top of your menu each week!