I am a member of the Collective Bias®  Social Fabric® Community.  This shop has been compensated as part of a social shopper amplification for #CollectiveBias and its advertiser. #EurekaPower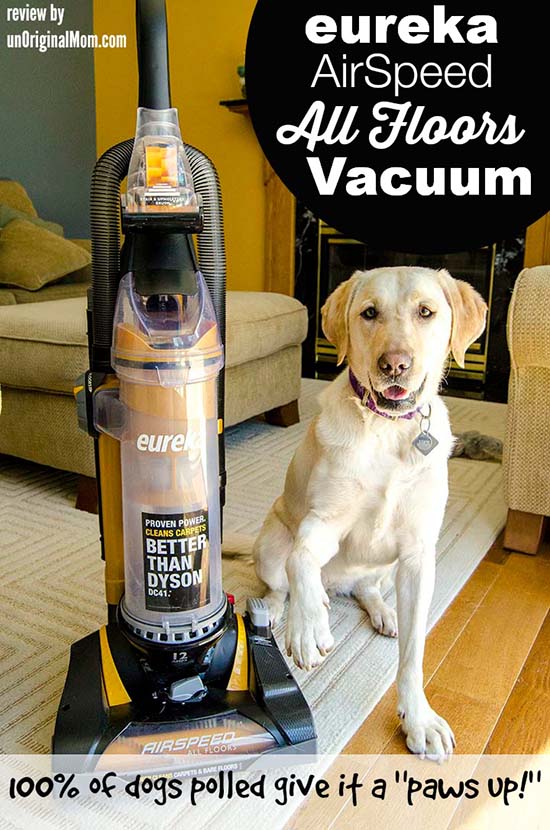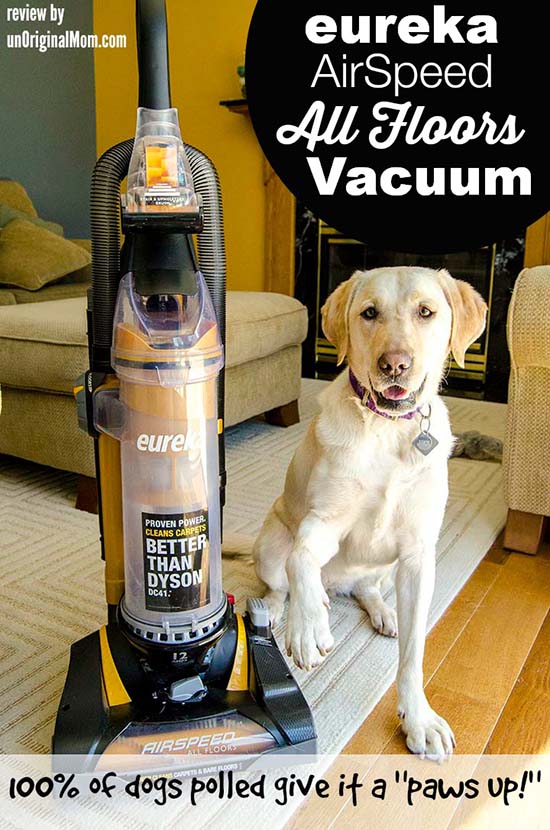 We've been in this house just over 4 months, and I am still trying to figure out the best methods and routines to keep it clean.  We went from a small two-bedroom townhouse to a much bigger 4 bedroom house with 3 floors of living space, which means LOTS more cleaning!  One of my biggest frustrations was the amount of time it took to clean the floors on the main floor – microfiber sweeper for the hardwood floors in the eat-in area, living room, and foyer; broom for the tile in the kitchen; vacuum for the carpet in the dining room, study, and area rug in the living room.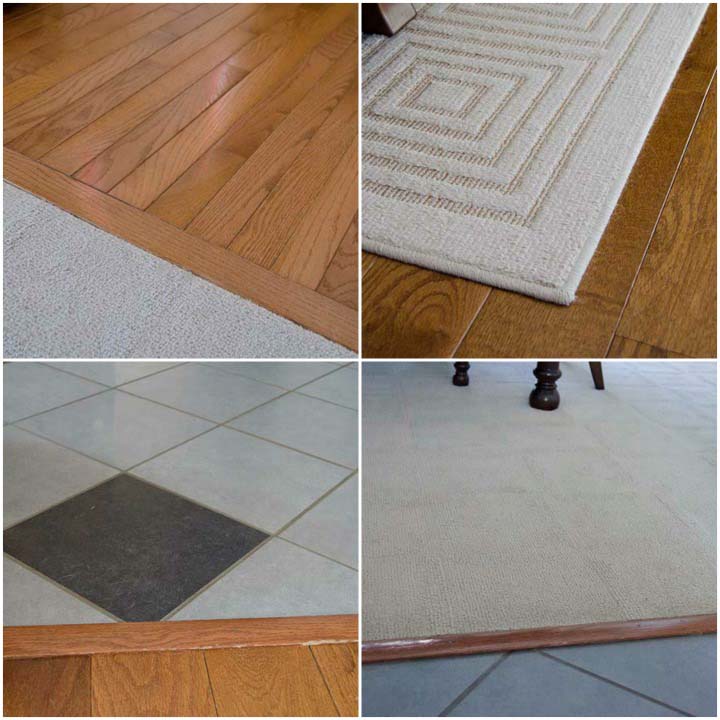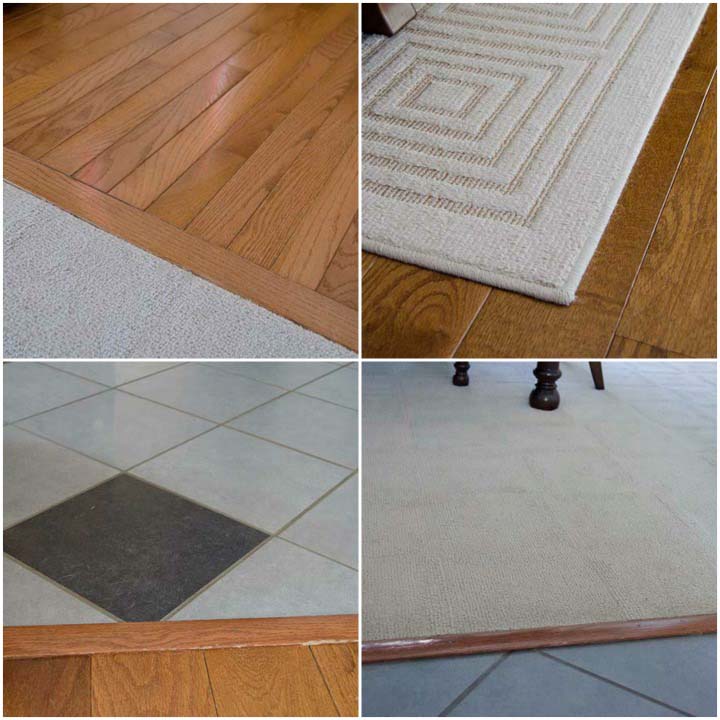 Not to mention sweeping with a dog and almost-2-year-old running around takes about twice as long as it should, since inevitably one or both of them ends up running through the dirt pile before I can sweep it up.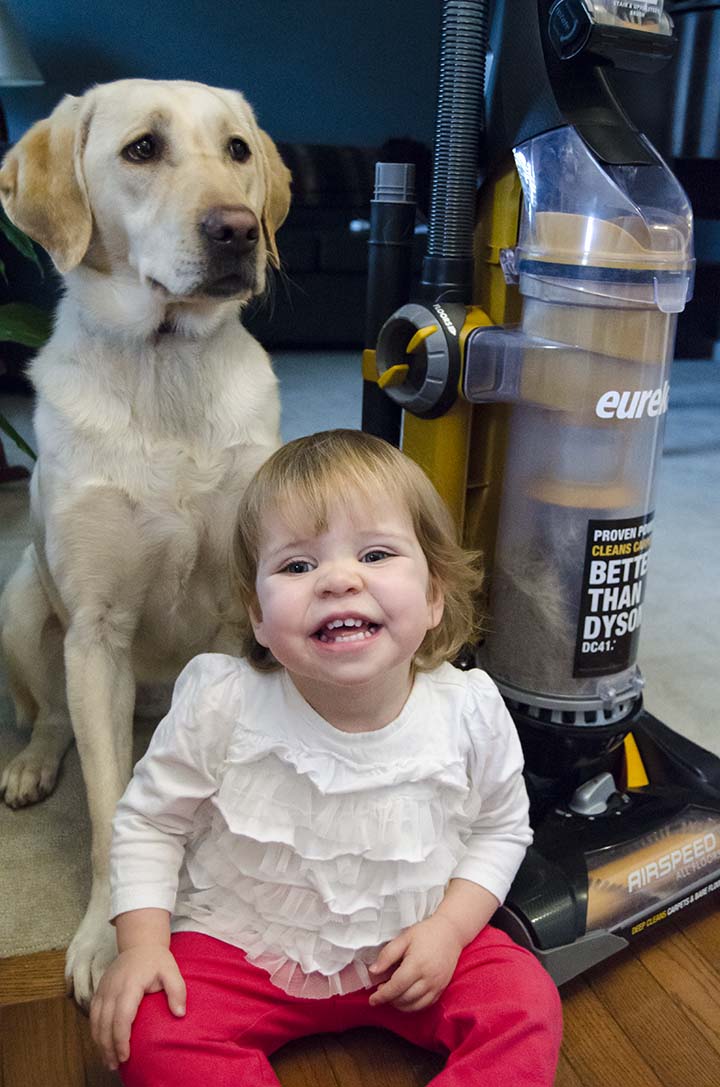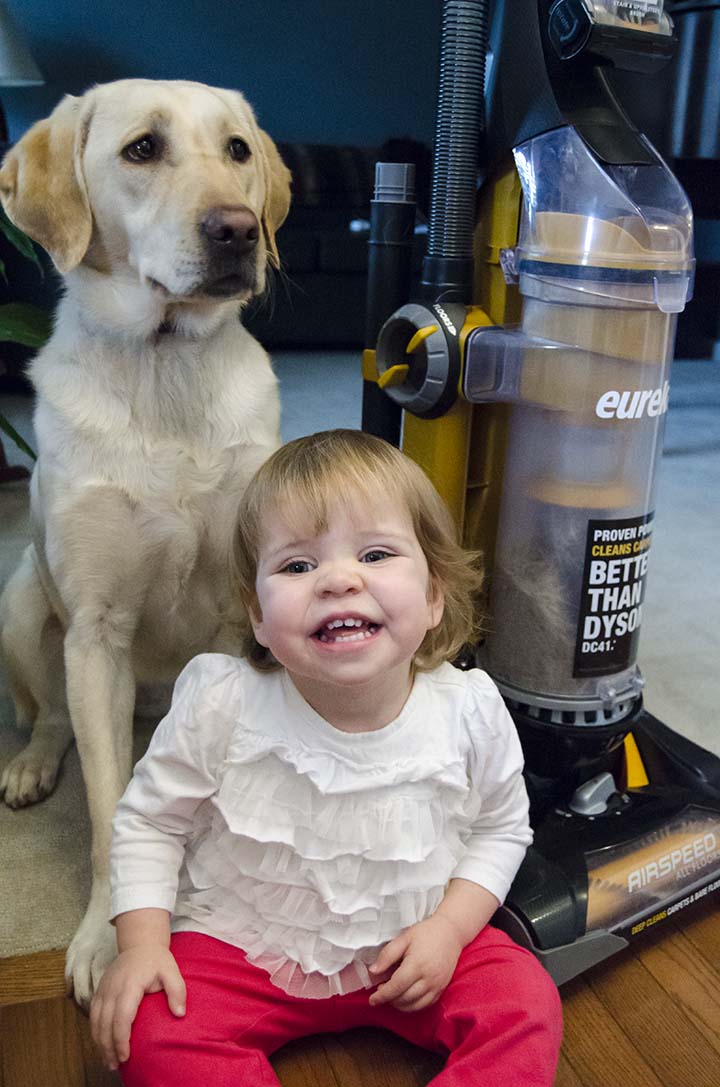 (yeah, they look so sweet and innocent, don't they?)
We have a decent (but old) canister vacuum that works well on carpet, but doesn't do much on hard floors.  I had been on the lookout for a good multi-surface vacuum for a while, but hesitated to waste my time with a cheap one and didn't want to fork over the money for an expensive one.  When I had the opportunity to try out the Eureka AirSpeed All Floors Vacuum, I jumped at the chance…though I will admit, I was a bit skeptical.  I'd bought a similarly priced vacuum for an apartment in college and it was cheaply made and didn't work very well.   An "all floors" vacuum that is powerful enough to deep clean carpets and hard floors, claims best in class performance, and even cleans carpets better than a Dyson?  All for UNDER $100?  I was willing to give it a try, but couldn't believe a vacuum like that would be priced so low.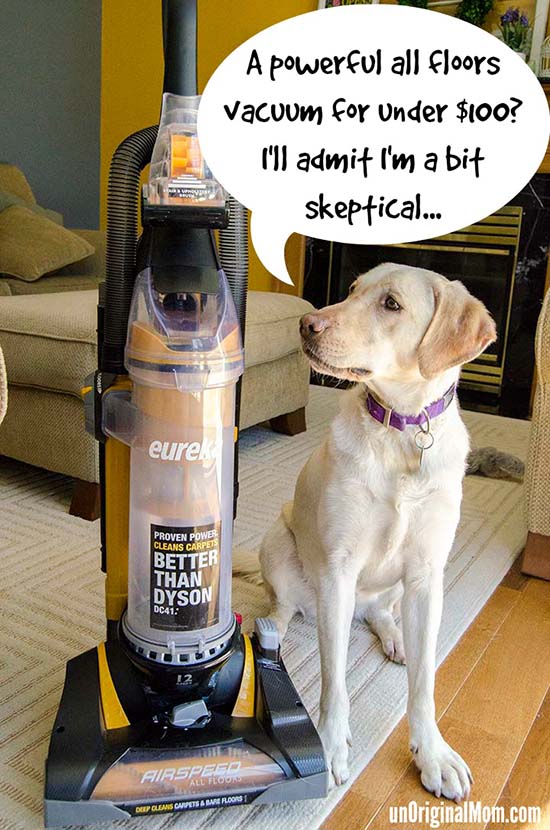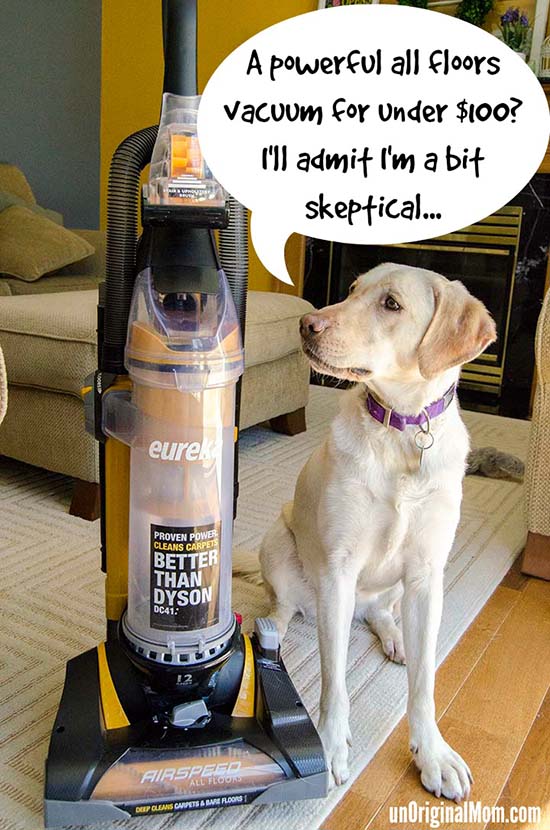 I tend to prefer online shopping, so I ordered the Airspeed from Walmart.com.  There was TONS of great information about the vacuum right there on the page – customer ratings and reviews (4.5 stars!) two different videos, and even PDFs of the owner's guide and quick start guide.  Plus an incredible price and free shipping – what more could you want?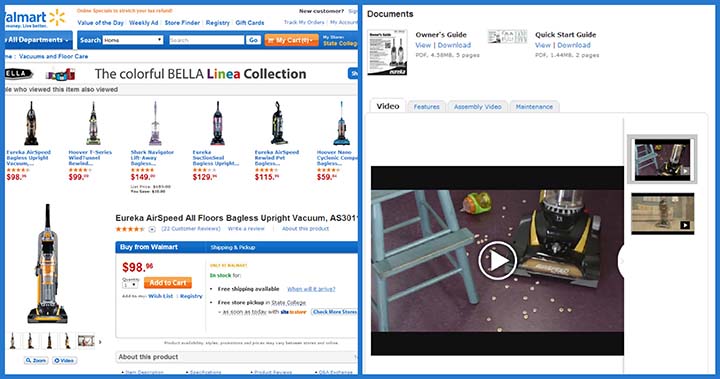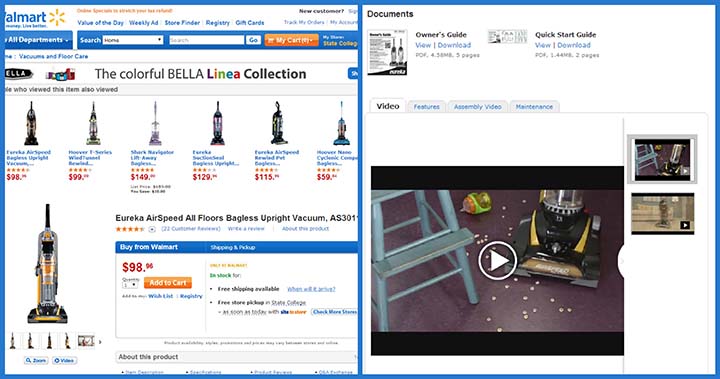 It arrived promptly and was surprisingly quick to assemble – only 4 pieces that snapped easily together.  (I didn't even have to wait until my husband came home to help me!  And if I can do it, anyone can!)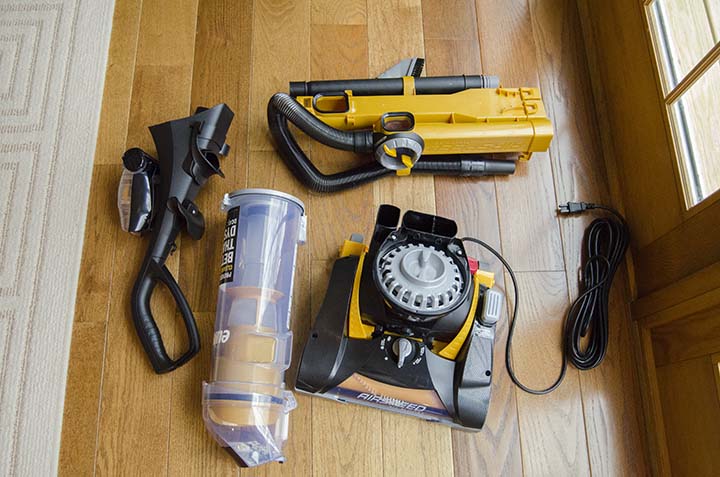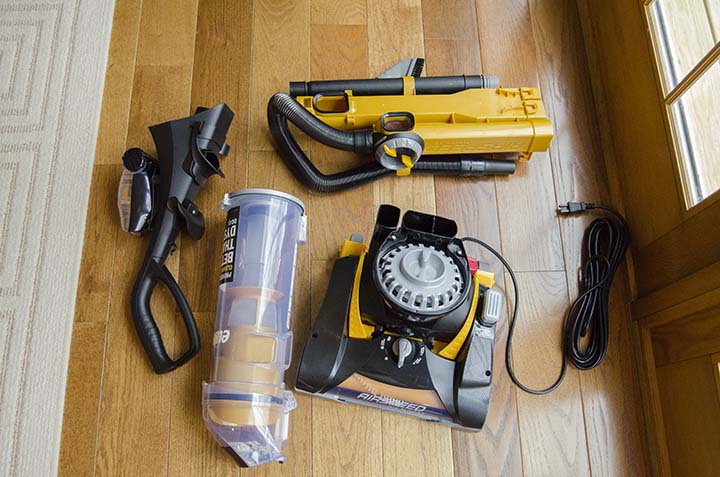 Luckily, the vacuum had come just in time for our yellow lab, Lucy, to begin shedding her winter coat.  Even after I'd just swept a few days before, there was dog hair everywhere!  Time to put this "all floors" vacuum to the test.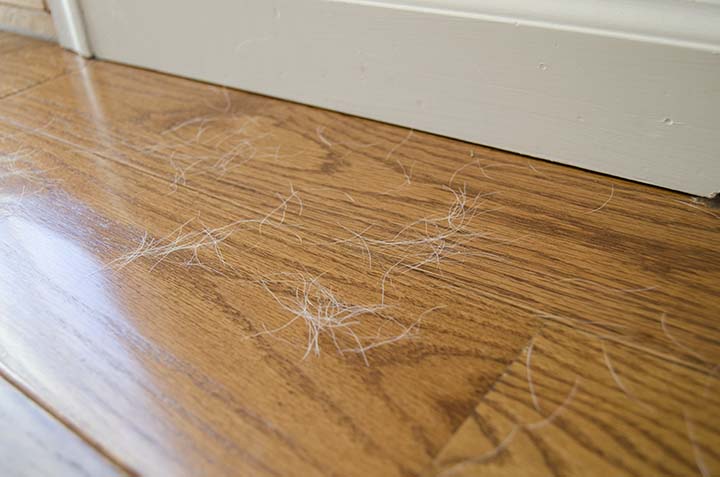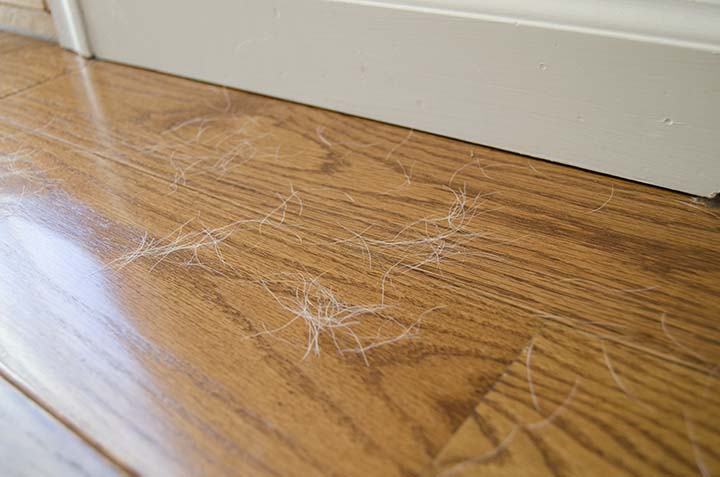 I quickly discovered that the Eureka Airspeed All Floors has some great features to make switching between surfaces fast, easy, and effective!  There's a button to turn off the brushroll when you're cleaning hard floors – this prevents the brush from spinning away all the dust and dirt before it can get sucked up.  There's also a floor-selector dial to pick bare floors or the height of the carpet.  The vacuum has soft rubber wheels that are safe on hardwood floors, smooth, and easy-to-maneuver.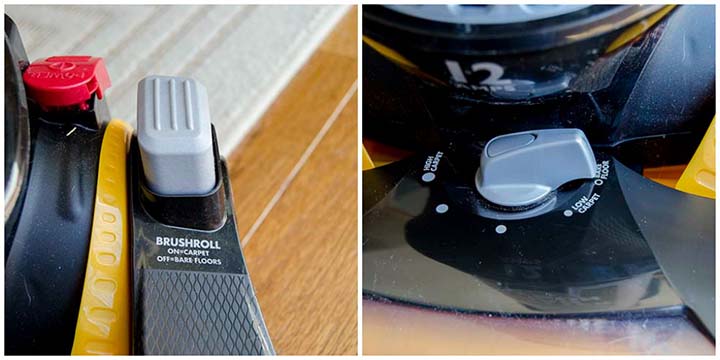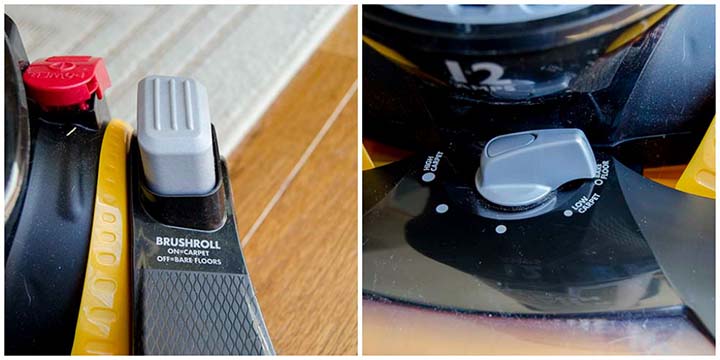 But that's not all!  It's easy to switch to using the attachments – just turn the dial from "floors" to "tools."  The upholstery attachment worked great on my living room furniture, and even the dog bed!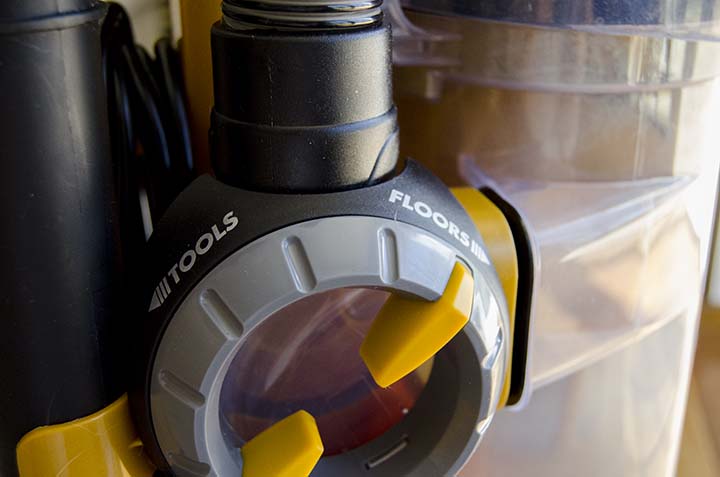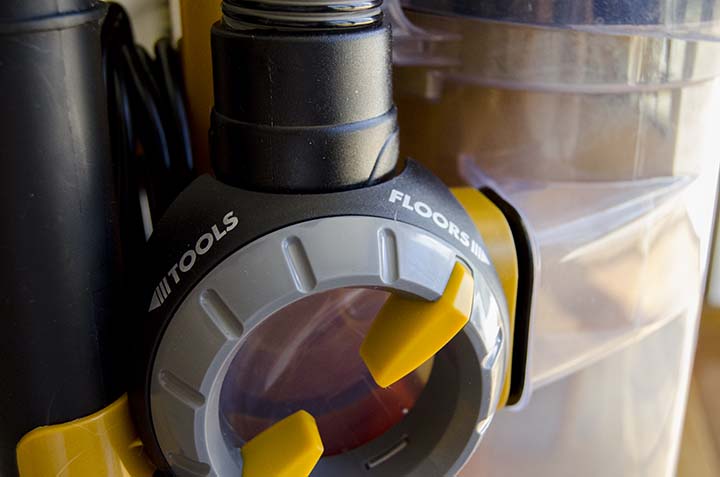 When it's time to empty the dirt (you'll be amazed by how much this powerful vacuum sucks up!), it couldn't be easier – just hold it above the garbage can and release the trap door at the bottom of the canister.  There is also a high efficiency allergen filter inside that should be rinsed occasionally.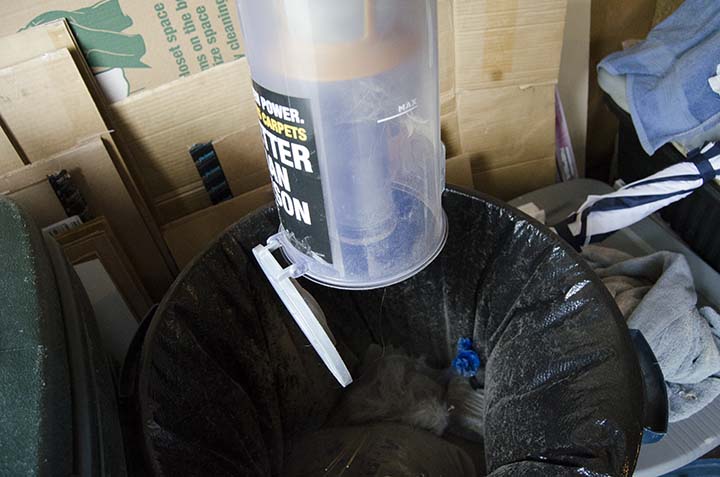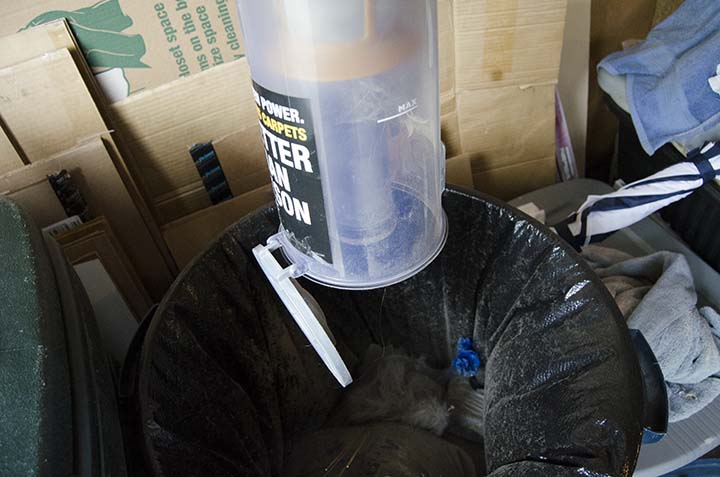 I did a little experiment the other day to see just how long it took to vacuum the foyer, study, living room, kitchen, and dining room with my Eureka Airspeed.  Care to take a guess?  Before, when I was sweeping and vacuuming, it was probably a 30-45 minute task at minimum.  Now?  15 minutes.  Seriously, I started in the foyer and made the circuit of the first floor, and was finished in 15 minutes.  And it did a great job!  That included carpet, hardwood, tile, and an area rug.  Do you know how life-changing that is?  That's only 1/8th of nap time…which means I vacuum and still have time to get some nap time crafting in!  And I can stay on top of the crazy amount of dog hair that seems to accumulate en masse on a daily basis.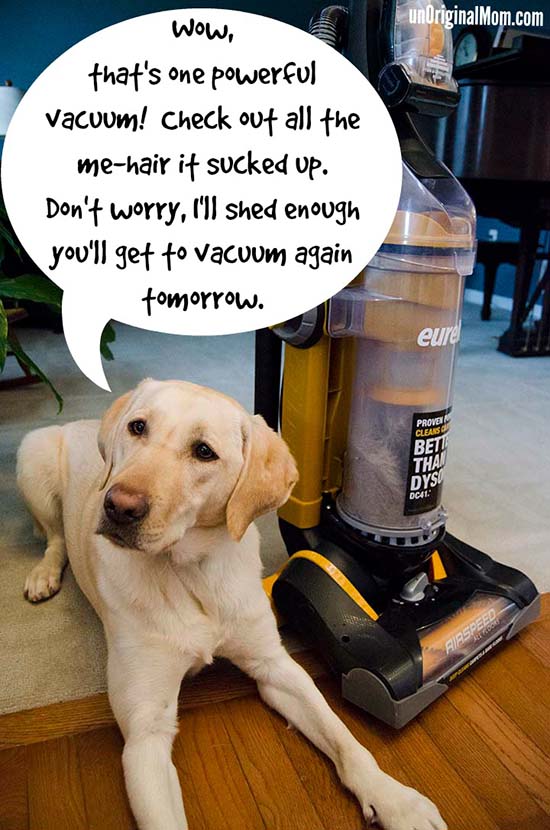 In the month that I've had this vacuum, I've used it at least once a week (usually more) and it works fantastically well!  I actually enjoy vacuuming with it!  It's difficult to believe that it cost me less than $100.  It is easily worth 3-4 times that!  I can honestly tell you that I will continue to use this vacuum on a regular basis and recommend it to my friends and family.  This Eureka Airspeed All Floors Vacuum can really handle anything that life throws at you!




Get your copy of my FREE meal planning binder!
Sign up to get a free copy of my meal planning system - an 11 page printable meal planning binder, complete with a pantry inventory, shopping list, and more to help get on top of your menu each week!