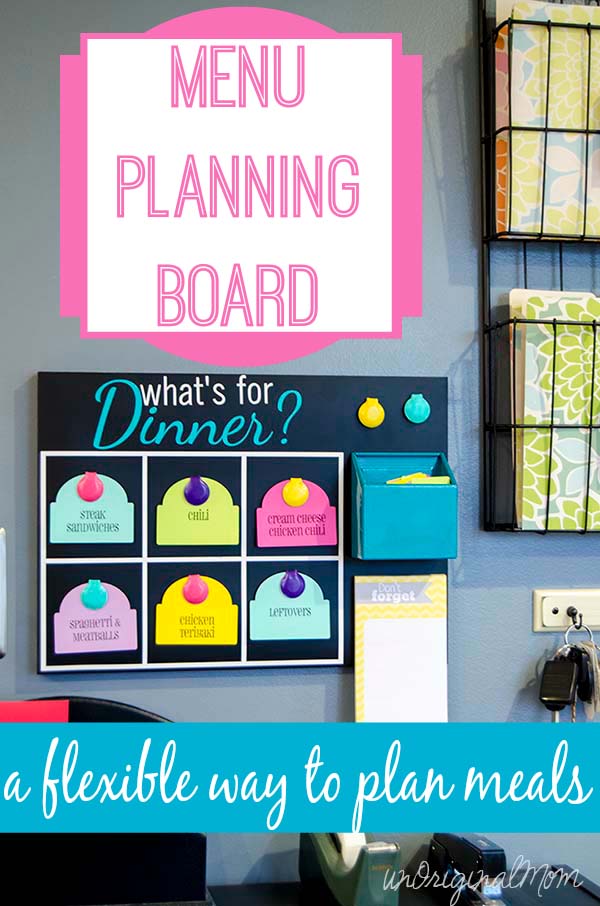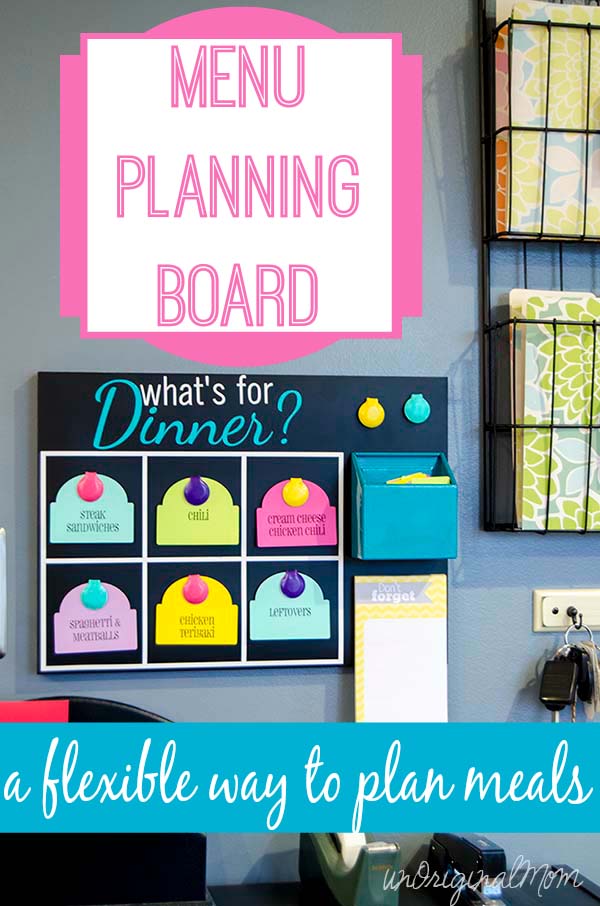 I will freely admit, I am someone that feels stifled by too much organization. Don't get me wrong, I "ooh" and "aah" over flawless labels on beautiful containers…or command centers with a place for everything…or spotless pantries with cans stacked perfectly…or weekly cleaning schedules with chalkboard checklists.  I admire them, but that's just not realistic to me.  And when I try to attain something like that, I feel really great for the day or two that it actually works…then feel like crap when I get behind on keeping it up and discouragement sets in.
I prefer something in between chaos and perfect order that's a little closer to reality – methods of organization that make it easier to stay on top of the mess rather than fall behind it.  For me, that's something with a little bit of wiggle room for life to happen.  That's how this menu planning board was born!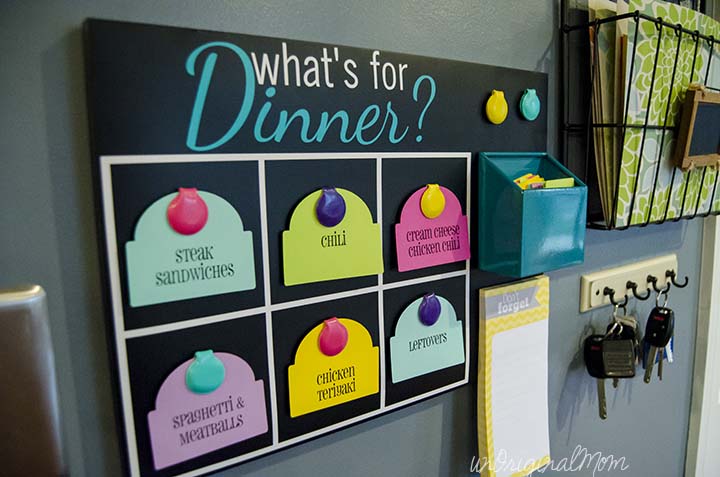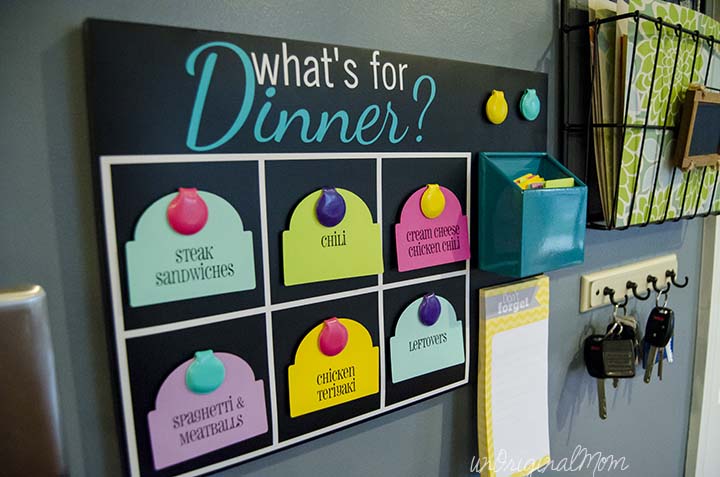 I've seen many a weekly menu planner with a label for each day of the week, and I just couldn't bring myself to stick to something like that.  I like the freedom to say, "I don't feel like chicken tonight," or "I really want to try this new recipe I found today," or "I had a really bad day and don't want to cook anything, let's just do a frozen pizza on paper plates."  But at the same time, I absolutely hate the 4:00 question "what the heck am I going to make for dinner tonight?" followed by aimlessly staring at the pantry shelves for 10 minutes.
So here is my solution! A menu planning board that doesn't force me to pick exactly what the menu is for the week, but instead gives me a list of our regular meals to pick from and put in an easy-to-see place.  I can pick out 6 (or more) meals, make a grocery list for them, go shopping, and be good to go for the week. Why only 6 and not 7? Because inevitably something is going to come up on one day of the week – getting an invite to dinner at my parents house, eating out, deciding to try a new recipe, ordering a pizza, whatever! But because I don't have a specific meal planned for a specific day, I have the freedom to do that without getting stressed out!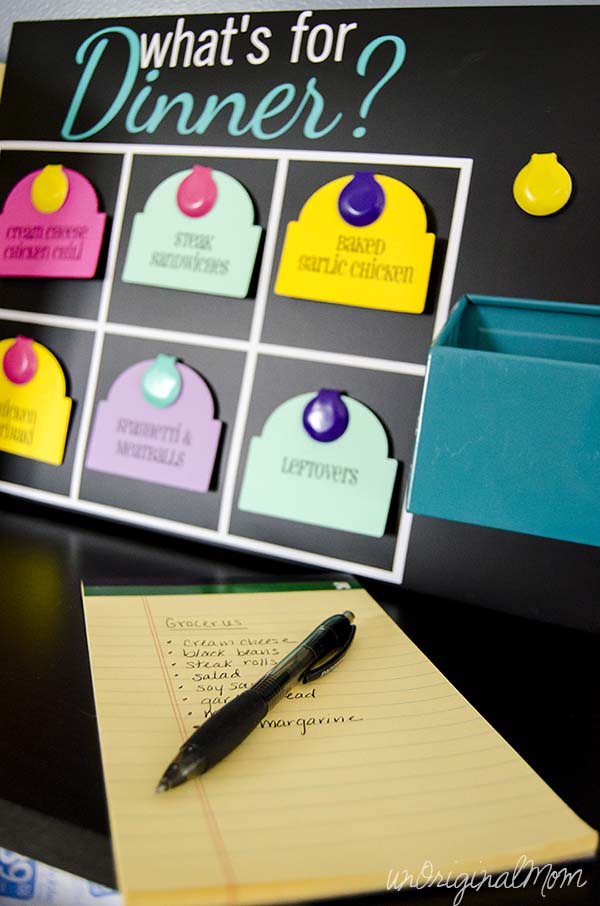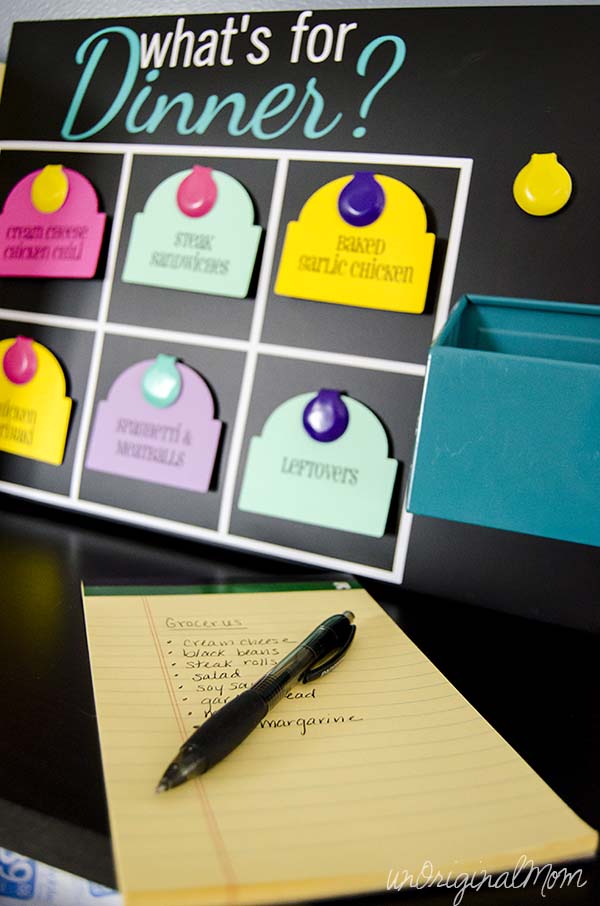 Now, for the DIY Details!
I used a magnetic chalkboard from Target, along with a magnetic pencil holder to hold my meal tags and colorful magnetic paper clips.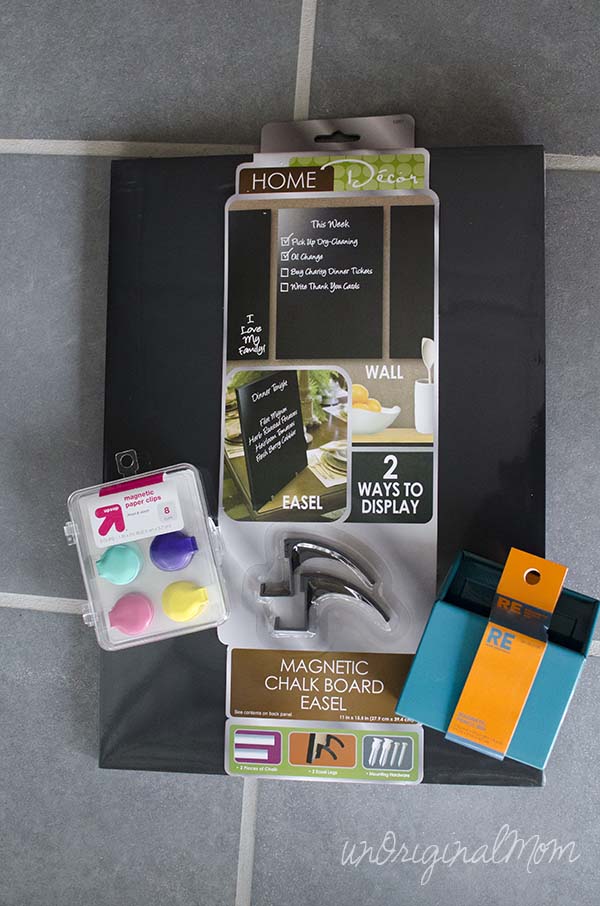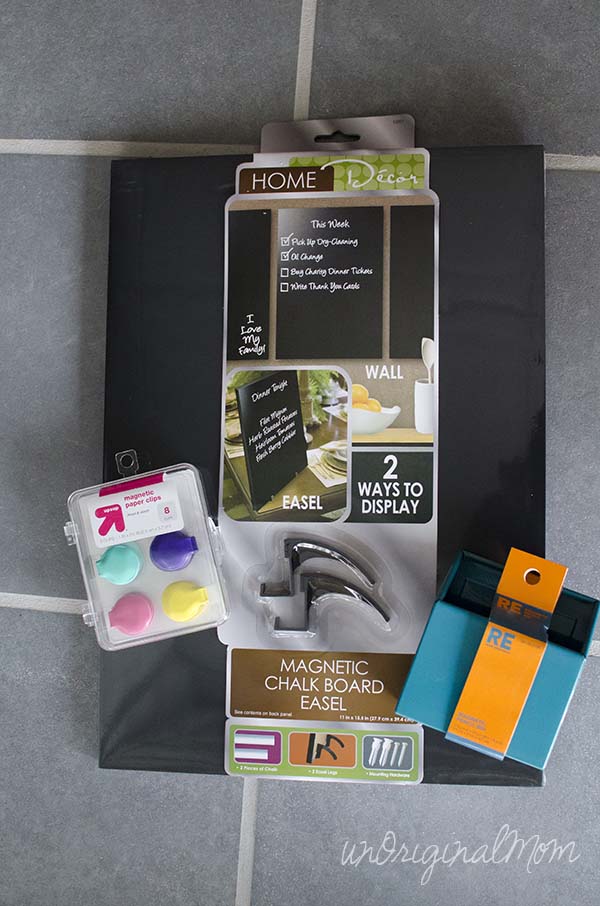 Then I used my Silhouette to cut the grid and title out of vinyl.  Want the cut file?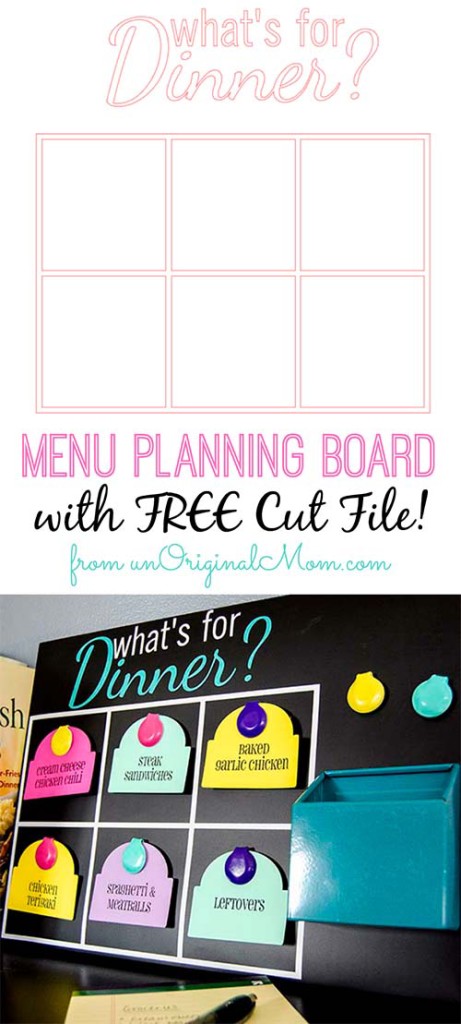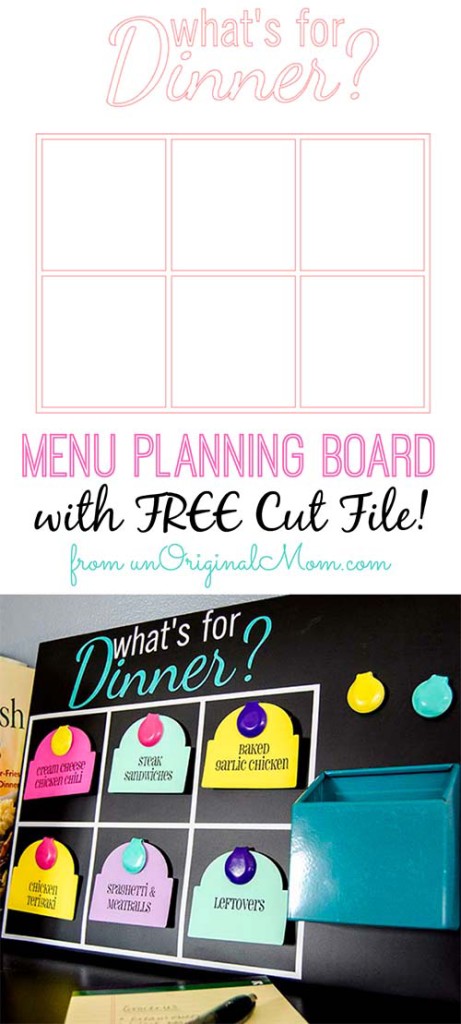 Click HERE to download it!
Fine print:  This design is for personal use only.  I'd love for you to follow me via Facebook, Pinterest, or Twitter in exchange for the download…of course, it's not mandatory, but very much appreciated!
Finally, I made a list of all our regular meals and made print and cut meal tags – using a file from the Silhouette Store for the tag and the free font Pharmacy for the letters.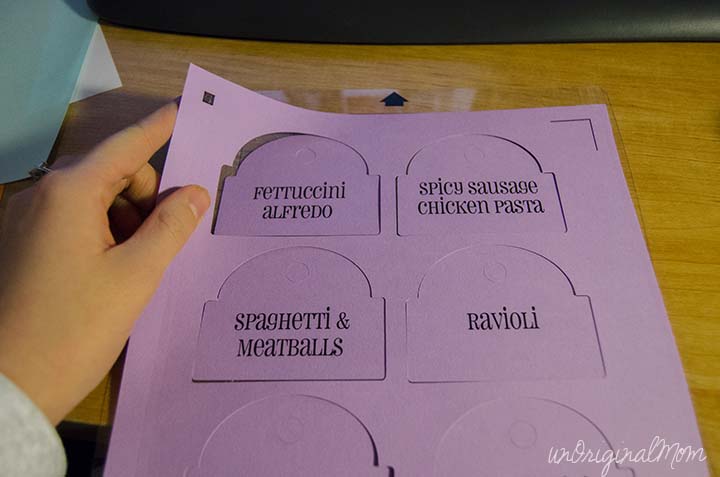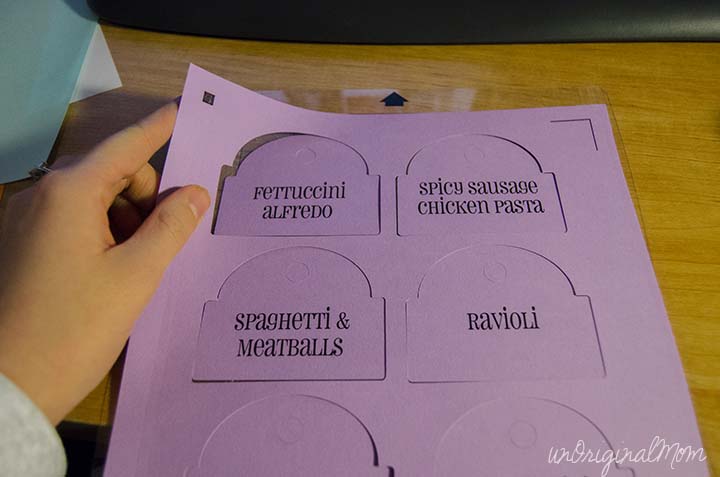 I color coded them into the following categories – Quick and Easy, Slow Cooker, Chicken & Fish, Beef & Pork, and Pasta.  That way it's easy to work variety into the week's meals by making sure the board is always colorful!  You could easily add the required ingredients or even the recipe (in tiny type) on the back of the cards.  These are all recipes in our regular rotation, so I know the ingredients off the top of my head…but as I add meals (I printed several blank cards) I may jot down a few things on the back to help me with my grocery-list-making.
All the tags are stored in that magnetic pencil holder, and I found a magnetic note pad in the Dollar Spot at Target to add underneath – it makes it really easy to pick my 6 meals and make my grocery list for the week.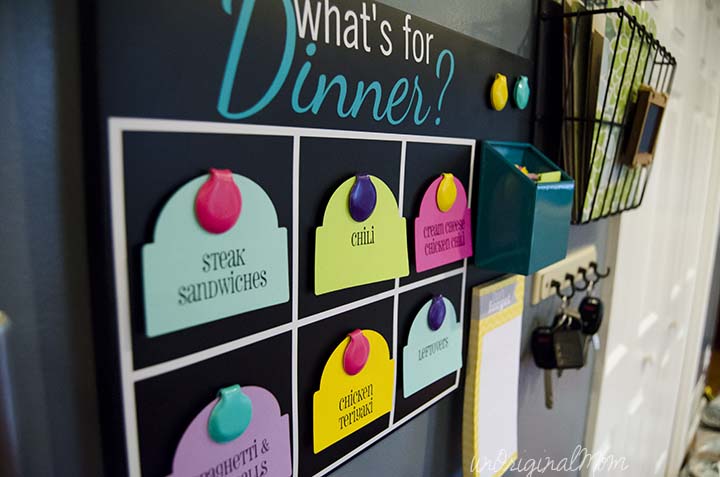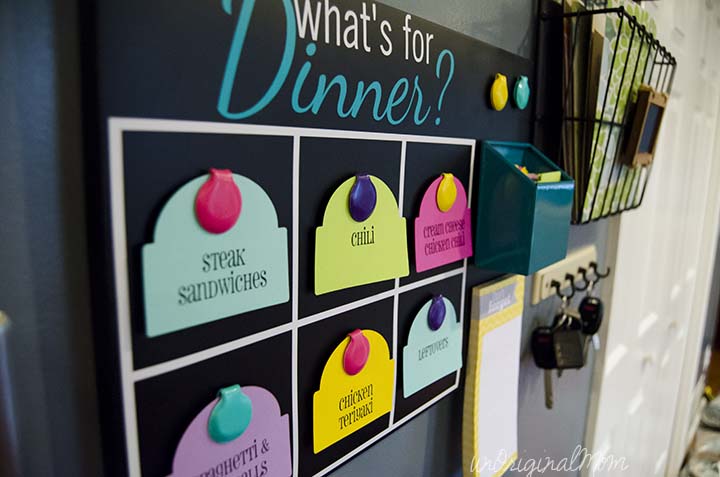 One word to the wise…make sure that BEFORE you add your vinyl and create your beautiful meal planning board, you make sure the board is right-side-up.  Whoops.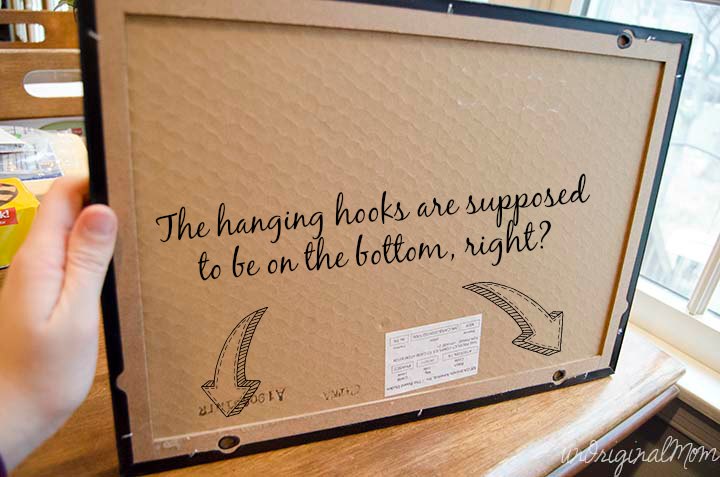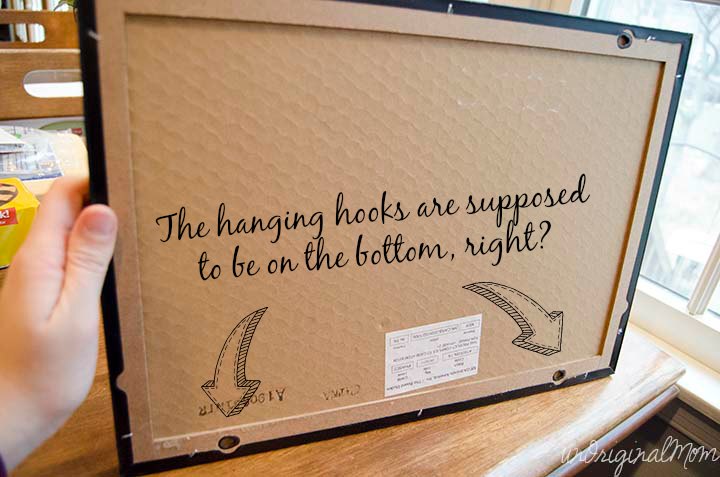 Luckily, my handy hubby was able to hang it with some picture hanging clips without me having to peel off the vinyl and start again.  Whew!  (Thanks, dear!)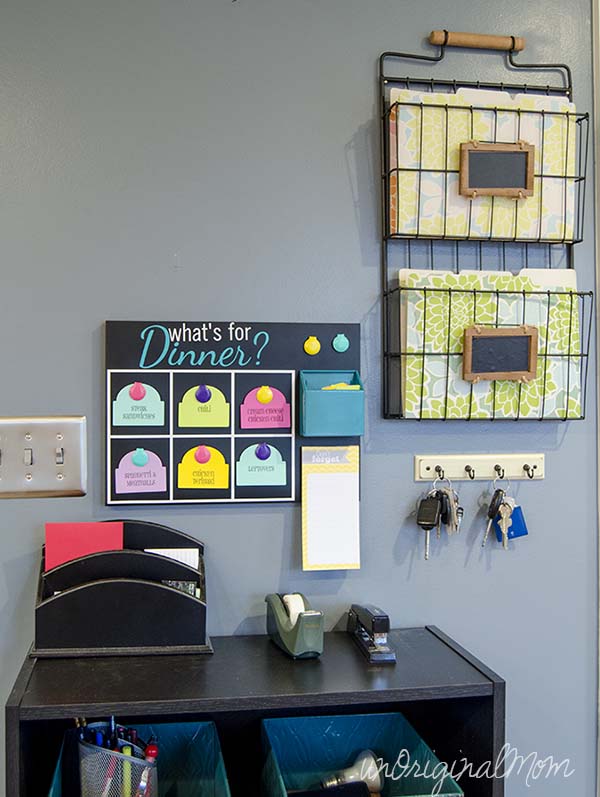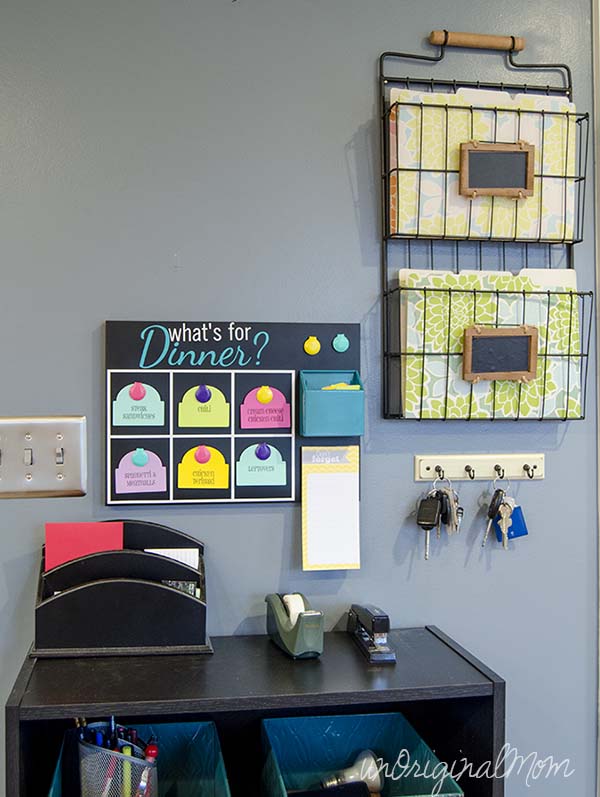 (What do you think of the start to our "Command Center?" I still have a few things to add…but I'm loving it so far!)  UPDATE – here's our finished Command Center!
Psst!  Right now I'm giving away a FREE 11 page printable meal planning guide – based on THIS menu board – as a gift for new email subscribers! Sign up by clicking HERE and have the freebie delivered straight to your inbox!
Want some more meal planner ideas? You're sure to find one in this list that will work for your family!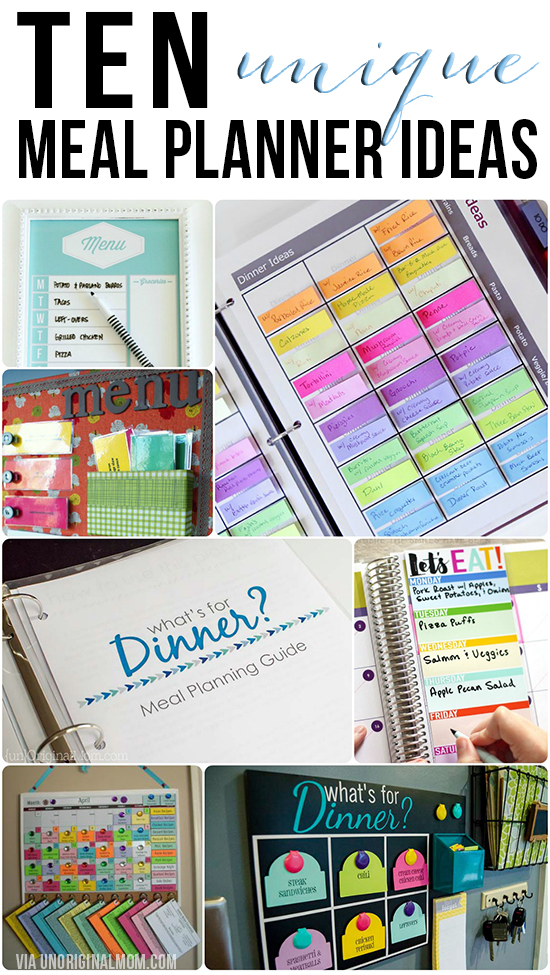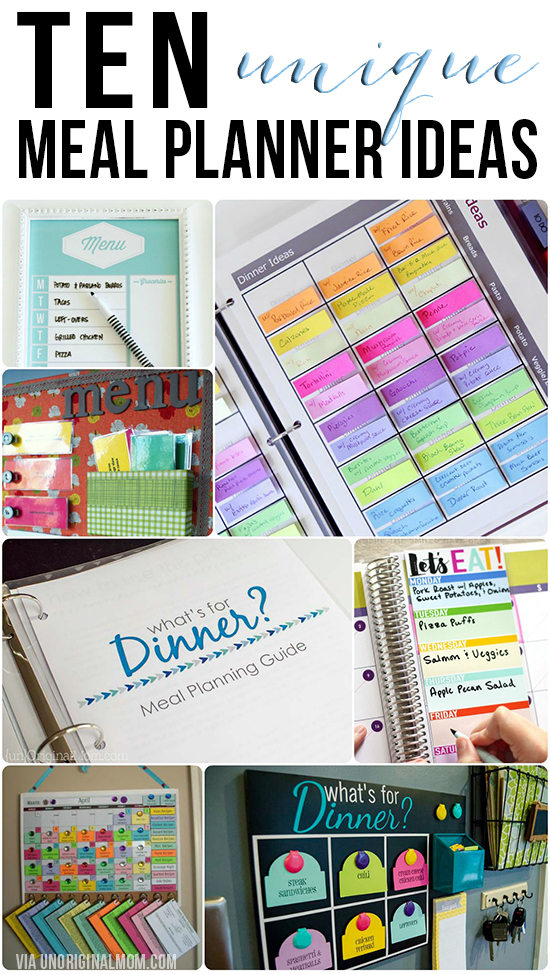 Feeling organizationally-inspired yet?  Brace yourself – there's LOTS more inspiration and clever organization ideas coming your way…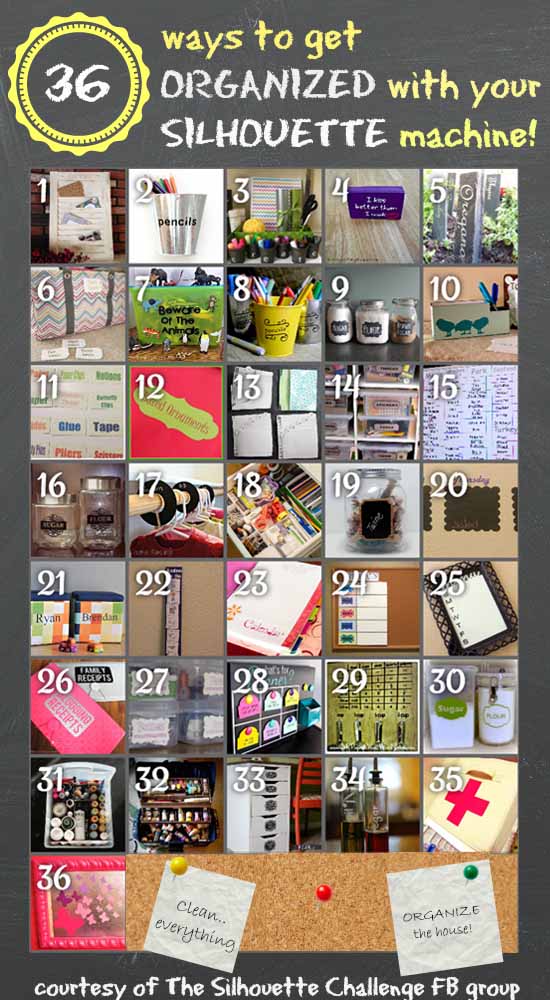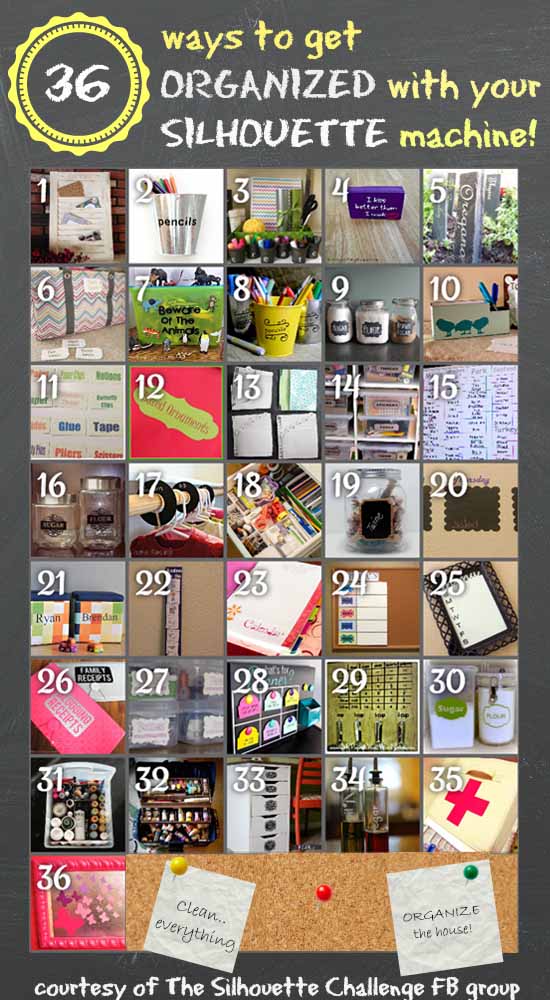 That's right, this is the 2014 version of the Silhouette Challenge – with THEMES!  So grab a cup of coffee and get browsing through these THIRTY-SIX (!!!) awesome organization projects from some bloggy buddies of mine – all made with a Silhouette!
Wow-ee!  Are you inspired? I sure am! Do you have any organizing projects on your to-do list?


Get your copy of my FREE meal planning binder!
Sign up to get a free copy of my meal planning system - an 11 page printable meal planning binder, complete with a pantry inventory, shopping list, and more to help get on top of your menu each week!