How to meal plan for your whole summer in 5 simple steps. It's easier than you think!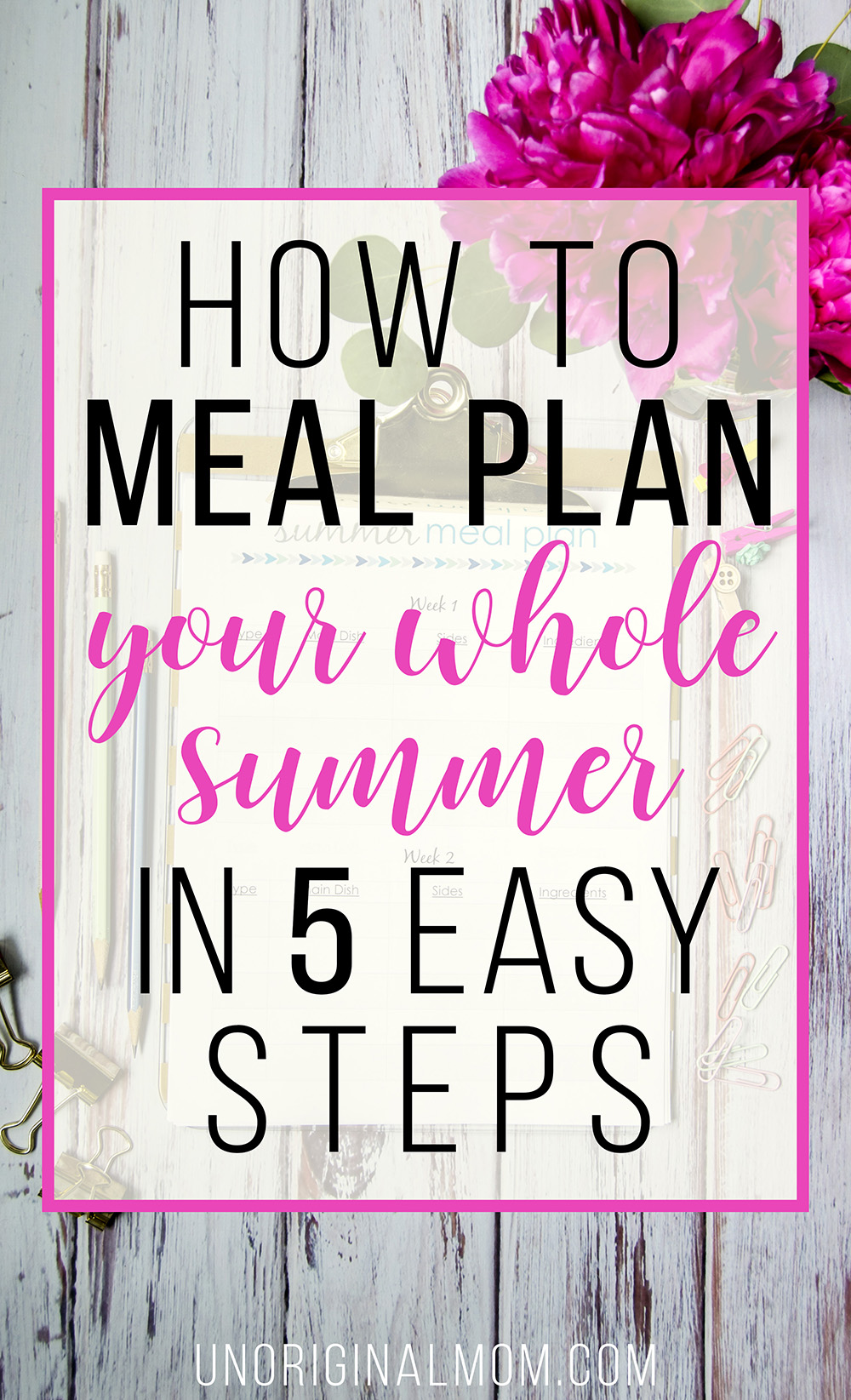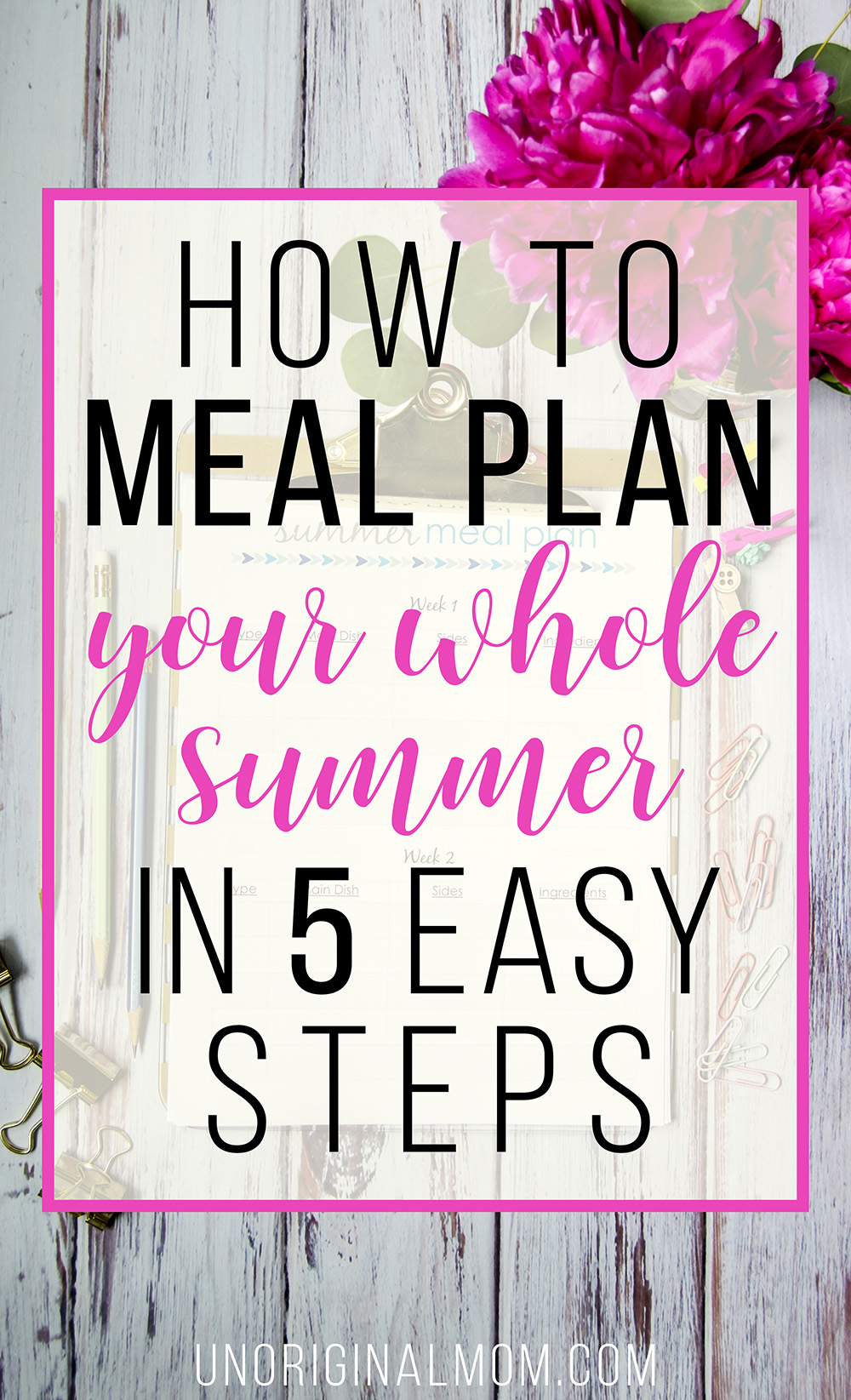 I'm never a big fan of meal planning…I've tried it many times with varied levels of success, but it's a discipline I just can't seem to get myself into doing regularly. The best method I've found for me is actually one that I came up with myself – my flexible meal planning binder (which you can get for free in this post!). That still requires sitting down once a week to plan out my meals and grocery list, though, which I have a hard enough time doing during the year…let alone in the summertime when schedules and routines go out the window!
To make matters worse, now that my daughter is done with preschool for the year I'll be taking TWO kids under the age of 5 to the grocery store instead of just one, so I definitely don't want to be making multiple trips to the store each week to pick up things I forgot – which inevitably is how things go on the weeks that I don't meal plan. Plus I often play outside with the kids after their naps in the afternoon, and on those days I don't get inside to start dinner until after my husband gets home from work. When I have no clue what to make and I'm not even starting to figure it out until 5:30, we end up eating much later in the evening than I'd like or frequently just giving up and going out to dinner.
I *could* just resolve to be better about sticking to my meal planning routine each week and making sure I have the week's meals planned out on Sunday night…but I know myself too well for that. It just won't happen.  Instead, I decided to do something radical and crazy – plan dinners for the ENTIRE summer at one time.
Woah.
It sounded pretty overwhelming at first, but once I thought it through and broke it down into a few steps, I was able to plan out a whole summer's worth of dinners in one naptime. How crazy is that?? Let me walk you through my process.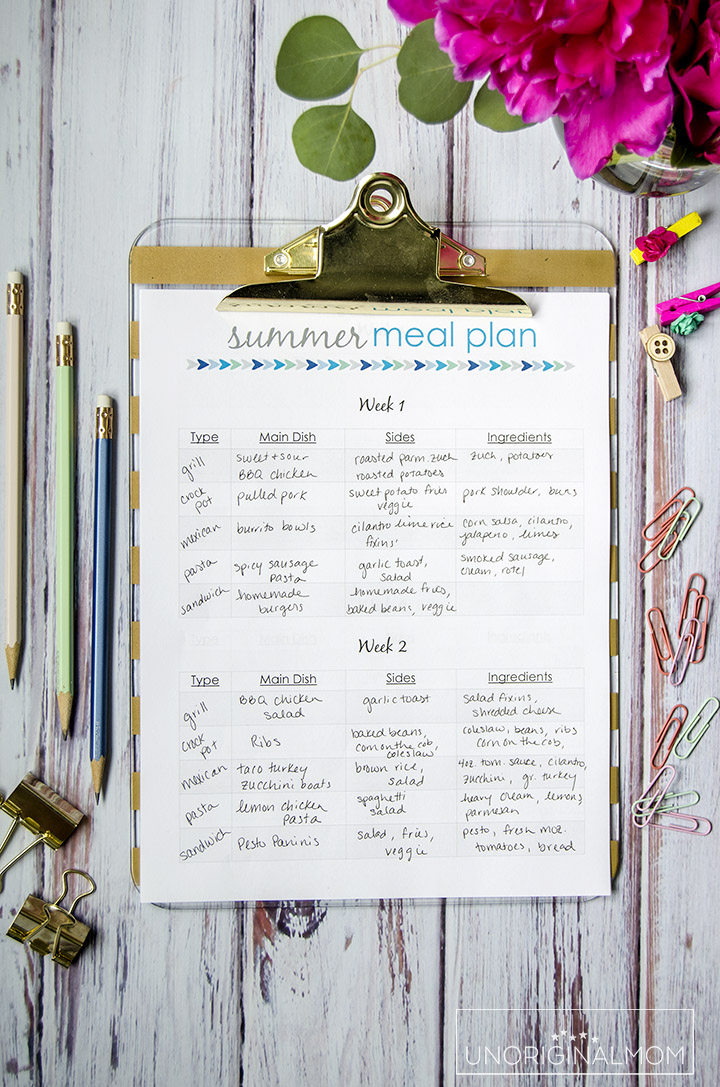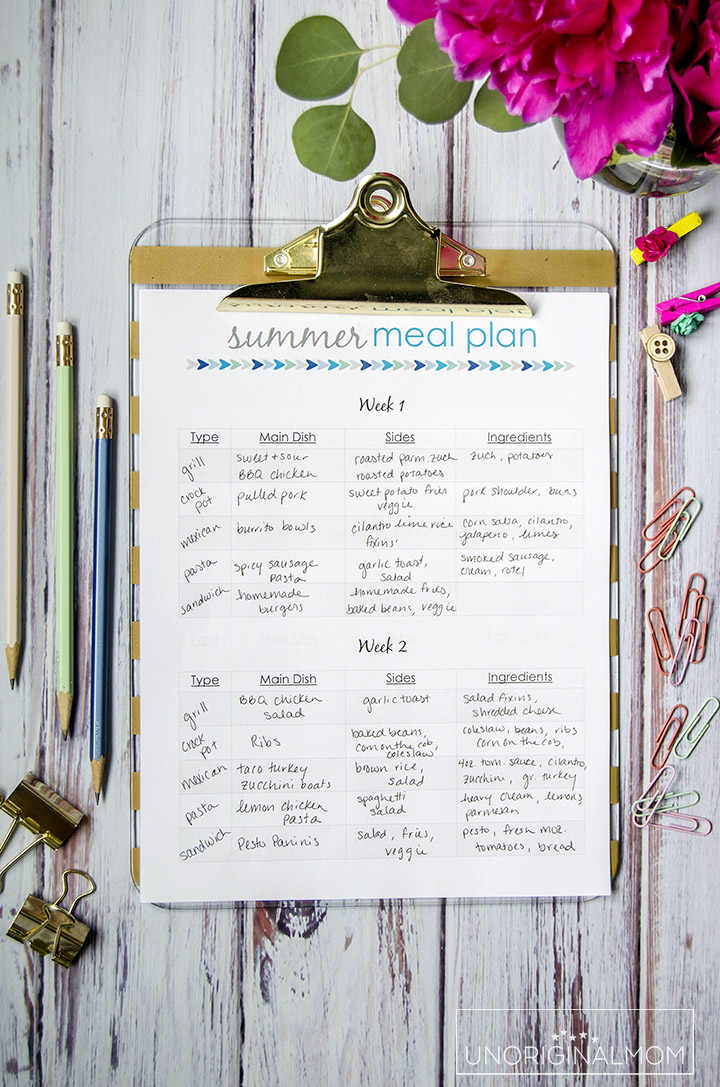 1. Only plan for 5 dinners a week.
I don't know about you, but I like to be able to be spontaneous in the summertime, so assigning meals to specific days makes me feel too nailed down. (In fact, that's the whole foundation of my free printable flexible meal planning binder!) Also, it's rare that I cook 7 nights a week, especially in the summer. Planning 5 dinners a week without assigning them to days on the calendar gives me the flexibility to try a new recipe, decide to take a picnic to the park, pick up a pizza to take to the pool, eat up leftovers, get take-out, head to a friend's house for dinner, or eat out.
Another thing that I do with my meal planning is wait to assign meals to specific days until the week-of, or even the day-of. If I have a casserole  planned for Tuesday night but then hit up the Tuesday farmer's market and get inspired to make something different, I like being able to switch things up. That's why I like using this menu board – I can just look and see what meals I have the ingredients to make and decide on the spot what I'd like to make that day. Of course, if you like planning meals for specific days, go for it!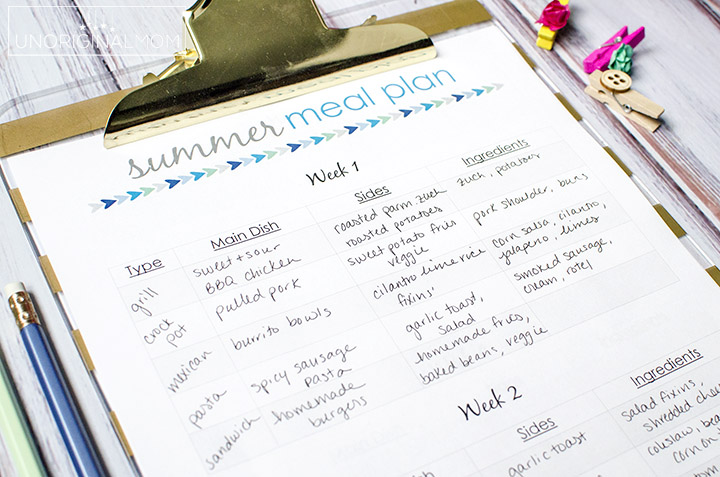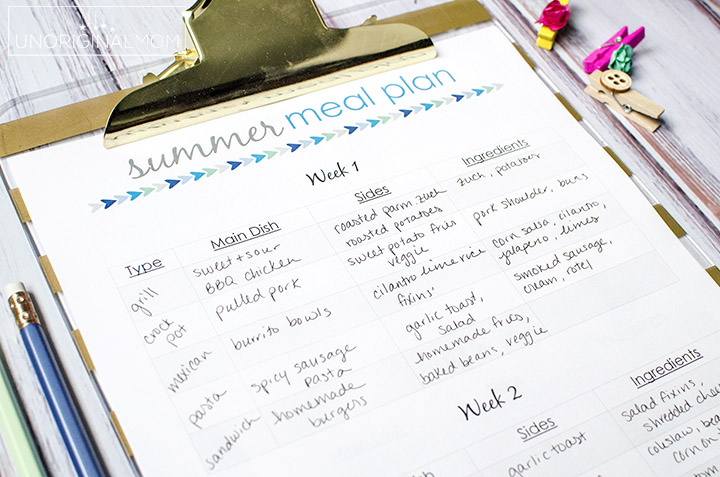 2. Pick 5 dinner "categories."
This isn't completely necessary, but it picking five different dinner categories helped me to plan a variety of dinners for each week without getting stuck. The categories I chose were grilling recipes, crock pot recipes (great for not heating up the kitchen or days when we'll be out and about in the afternoon), pasta (our whole family loves pasta, and I'm a big fan of lighter pasta recipes in the summertime), Mexican/southwest recipes, and sandwiches (always quick, easy, and crowd pleasers). You could pick a more general "quick and easy" category, go meatless for a vegetarian category, add some asian food recipes, or anything else that you and your family like to eat.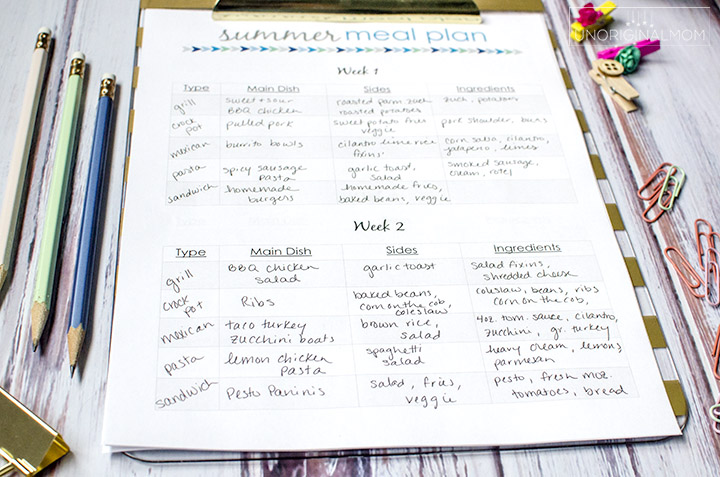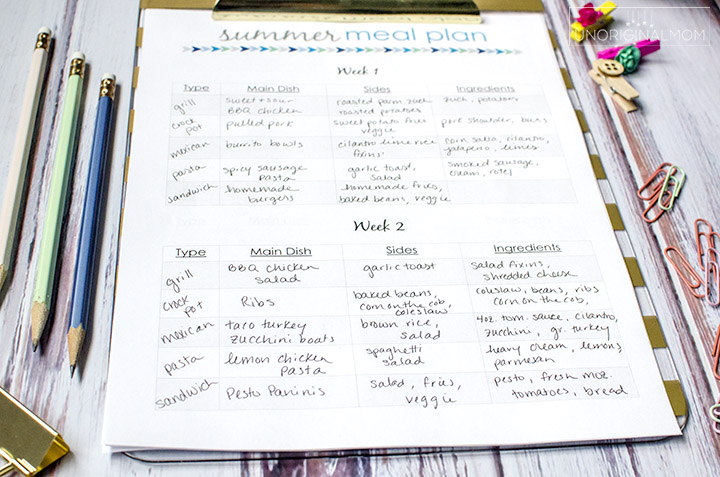 3. Make a list of 5 dinners per category.
If you're using categories, all you need to do is come up with 5 dinner recipes per category. That's doable, right? I'd recommend trying to stick to tried-and-true recipes that you've made before rather than filling your calendar with new recipes (remember, we're trying to simplify here!), but that's up to you. Think of summertime meals – fresh summer produce you can get at the farmer's market, meals that use the grill, picnic food, lighter fare, etc.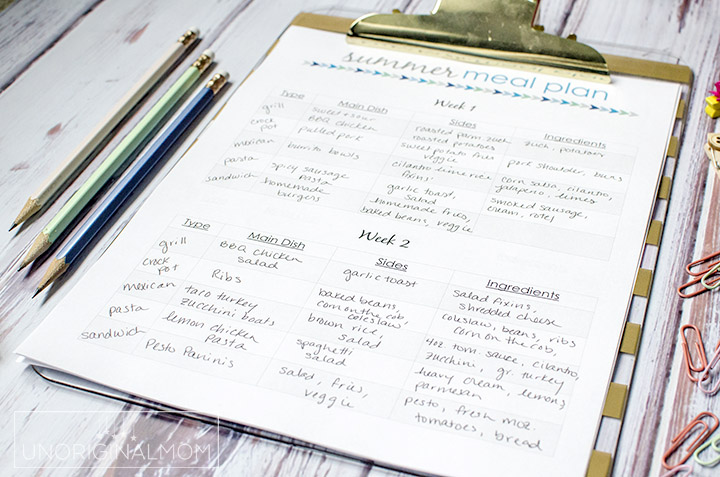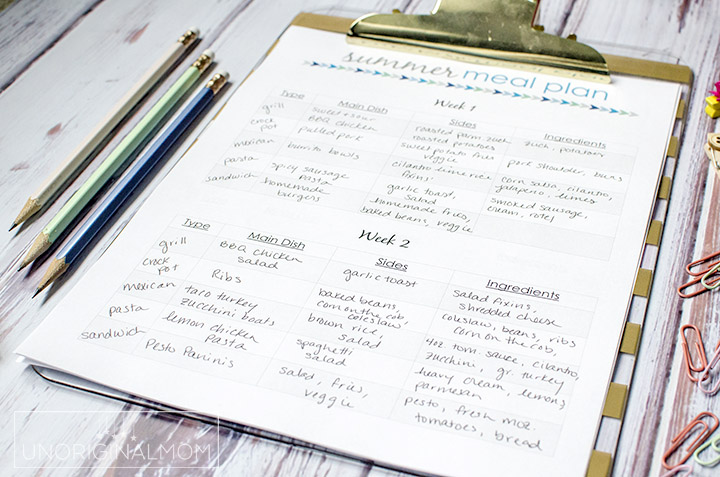 4. Plan 5 weeks of dinners.
You don't need to have a different dinner for every night of the summer! Take your list of meals in each category and put them together to make a master list of 5 weeks worth of dinners. Then assign each week to a week on the calendar and repeat it 3 times to cover the rest of June, July, and August.
5. Include an ingredients list with each dinner.
Here's where this will REALLY save you time. For each week of meals on your master meal plan list, make a shopping list to go along with it. Don't include pantry staples that you always have on hand or will automatically add to your weekly grocery list when you run out – just the extra ingredients you'll need for each dinner. Write it down and save it, so when that week's meal plan rotation comes around, all you have to do is grab your shopping list and go! No more 5:00 pm trips to the grocery store – you'll have everything you need to make 5 dinners each week without having to pick up any extra ingredients. Doesn't that sound great?
That's it! You'll have dinner plans for your whole summer planned out and ready to go!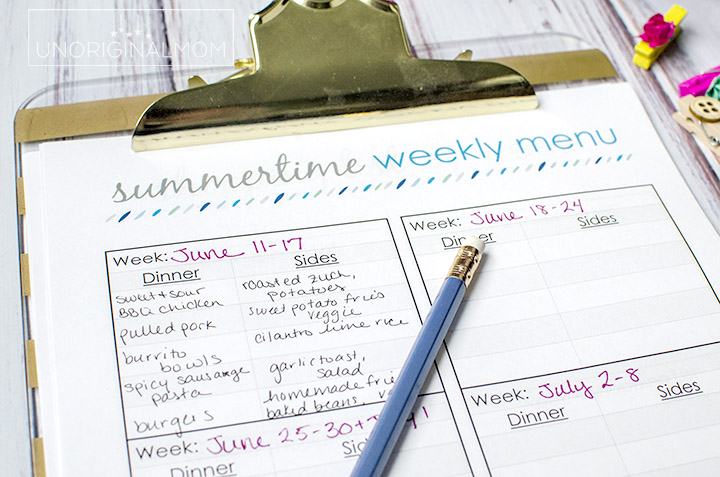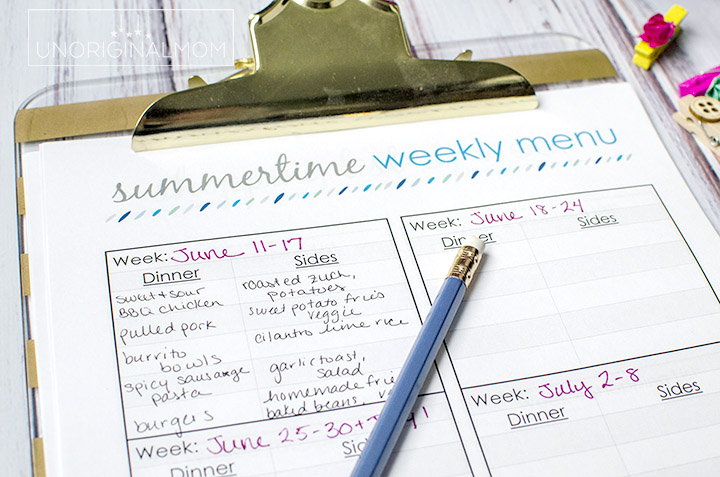 To help you through this process, I have two organizing options for you: a digital version and a free printable version.
For you Google Doc lovers like me, I'm sharing the Google spreadsheet I made for our summer meal plan – complete with our actual meal plan, if you find that to be a helpful starting point! You won't be able to edit it, but if you make a copy (under "File") and save it to your own Google Drive, you can use it as a template to make your own version – just delete my text and add yours.
Click here to get the Summertime Meal Planner in a Google Spreadsheet version.
If you're more of a pencil and paper kind of gal, I made a free printable just for you! There are 3 sections – the first is your "Summer Meal Plan" where you write out your master list of 5 weeks of meals. The second is your "Summertime Menu" – print several copies of this so you can write in the meals as you assign them to weeks through the summer. The last section is your shopping list, so you can write out your ingredients for each week of your master meal plan and take it along with you to the store each week.
Download your free printable Summertime Meal Planner here!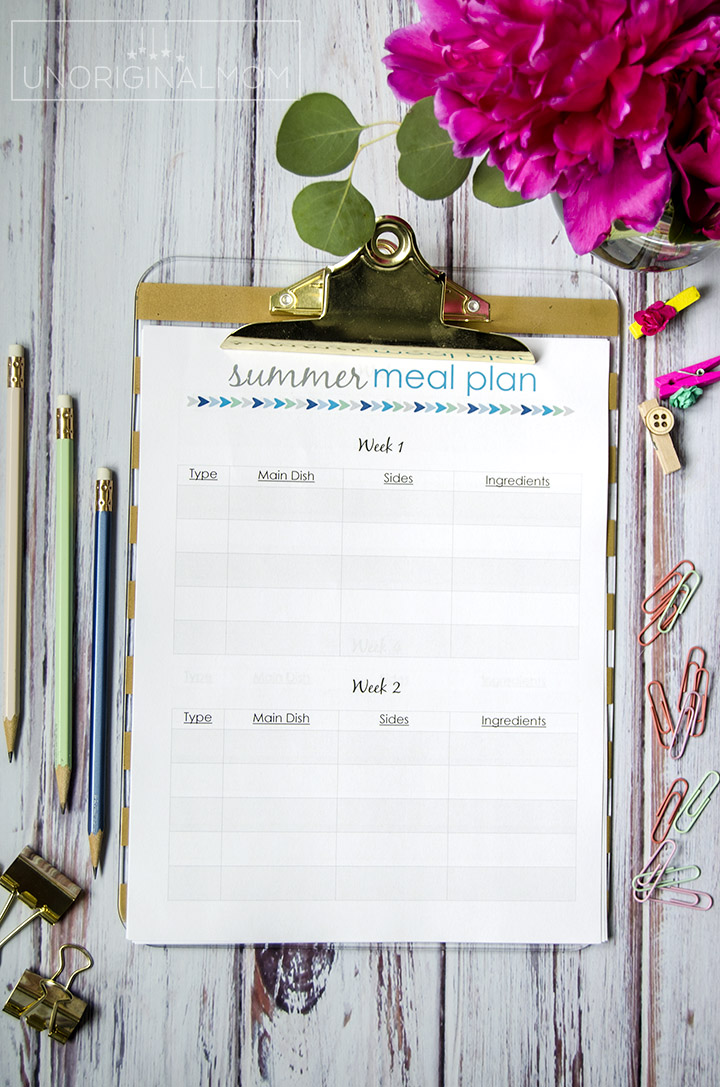 By planning your whole summertime's worth of meals now, you are giving yourself the gift of more quality time with your family this summer. Less time at the grocery store, less time in the kitchen, less stress about what's for dinner, and more time enjoying the summer. (Quite honestly, by cutting down on grocery trips you'll likely save some money, too!) This isn't a perfect system, and of course you'll have to tweak it to fit YOUR needs – but I hope you find it's a good place to start and will be helpful for you and your family. Happy summer!


Get your copy of my FREE meal planning binder!
Sign up to get a free copy of my meal planning system - an 11 page printable meal planning binder, complete with a pantry inventory, shopping list, and more to help get on top of your menu each week!