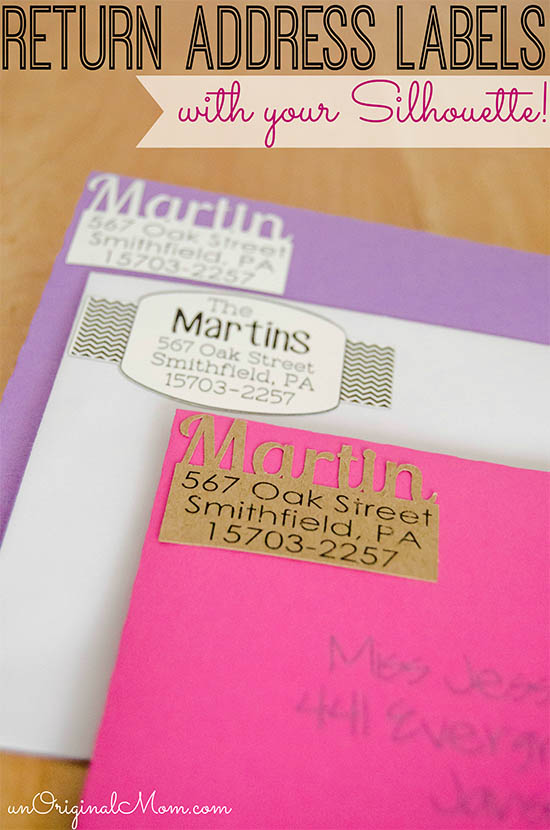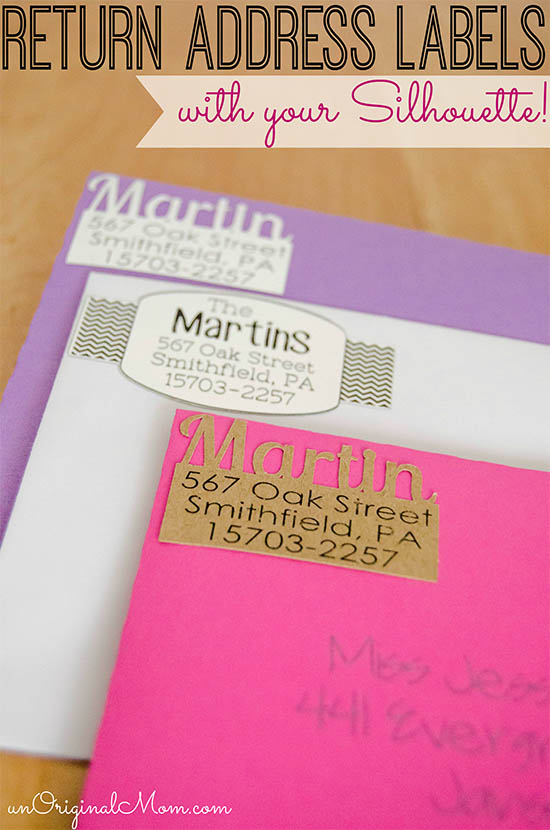 Ever since we moved to our new house 4 months ago (has it really only been 4 months??), I've been wanting to make some new, fun, personal, DIY return address labels.  They just make mailing a letter so much more exciting, don't they?  I mean, nothing against those labels you get to guilt-trip you into donating as a free gift from a charity…but I wanted something with a little more personality.
Of course, where else did I turn but my trusty Silhouette?  Silhouette has an awesome line of "Print and Cut" materials…white and clear sticker paper, adhesive kraft paper, printable gold and silver foil, printable cotton canvas, even printable temporary tattoo paper!  I decided to experiment with the white sticker paper, kraft paper, and silver foil.
Now, as I told you last week, I don't have a functioning color printer…and I have a barely-functioning laser printer that is seriously low on toner….so this was a bit more of a challenge.  I was trying to think of a way to bring that "wow" factor (well, as much "wow" factor as there can be in a return address label) with only black ink.  (I shared a tutorial on how to do print and cut with color copies from a print shop if you need copies on regular paper or card stock, you can see that HERE.)
After a bit of brainstorming, I came up with an idea inspired by the ever-popular "A Thousand Thanks" Card by Lauren of The Thinking Closet…create a cut-out of the last name to pop out above the label!  It looks great, and couldn't be easier to design…here's a quick tutorial!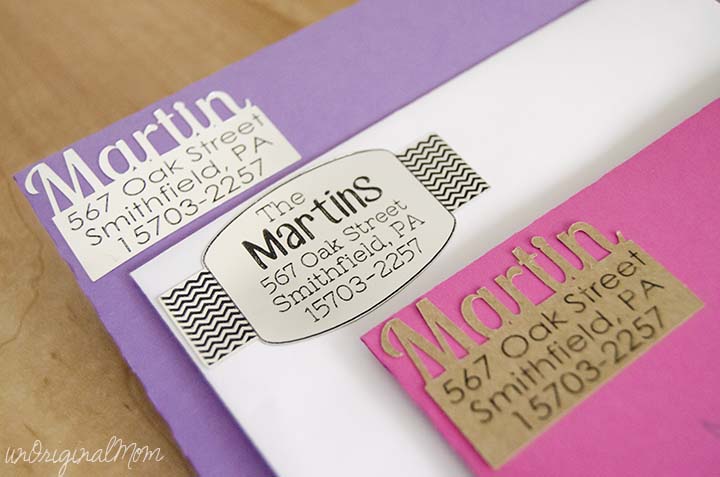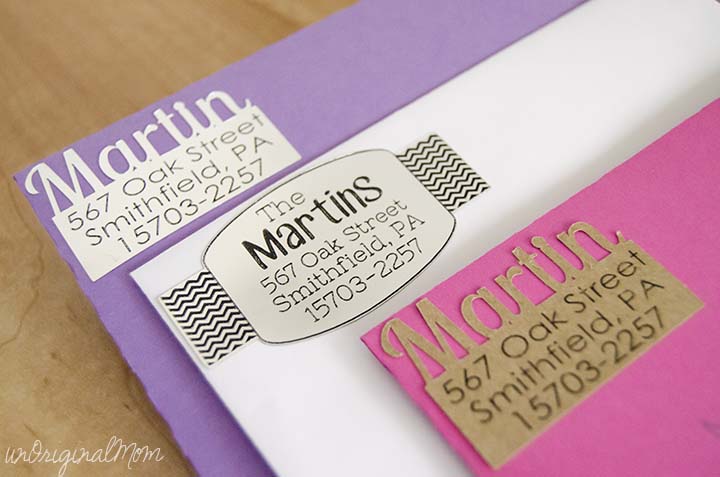 Type your last name in your desired font.  If you have any letters that "dangle" – like y, j, p, etc., you'll need to pick a font that is all caps- I like something like the free font Pharmacy.  If you choose a script font, be sure to weld your letters first, including the dots of i's and j's!  Then, draw a rectangle the width of your last name, with enough height to fit in your address.  Slightly overlap it with the bottom of your name.  Finally, select your rectangle and your name, then weld them together!  Then type your address into the box, being sure to fill it in with your desired color so that it will print.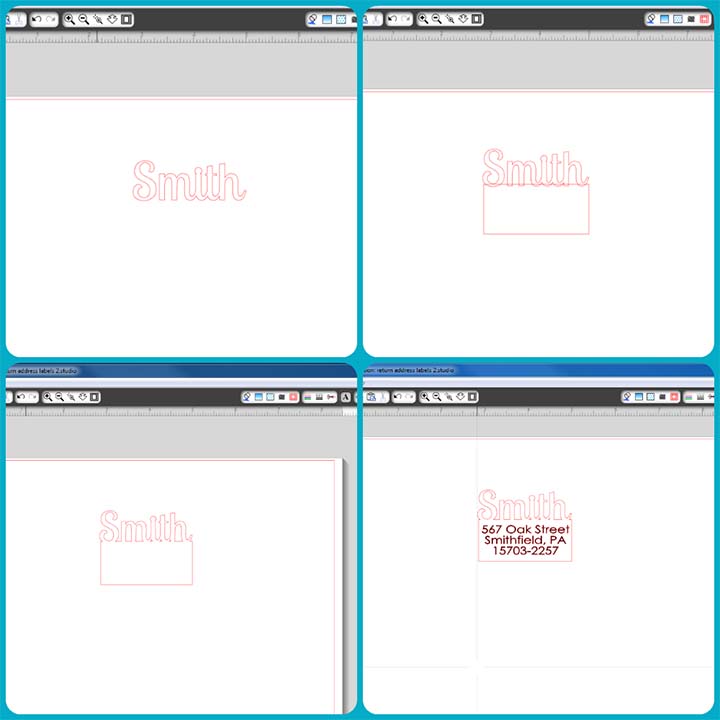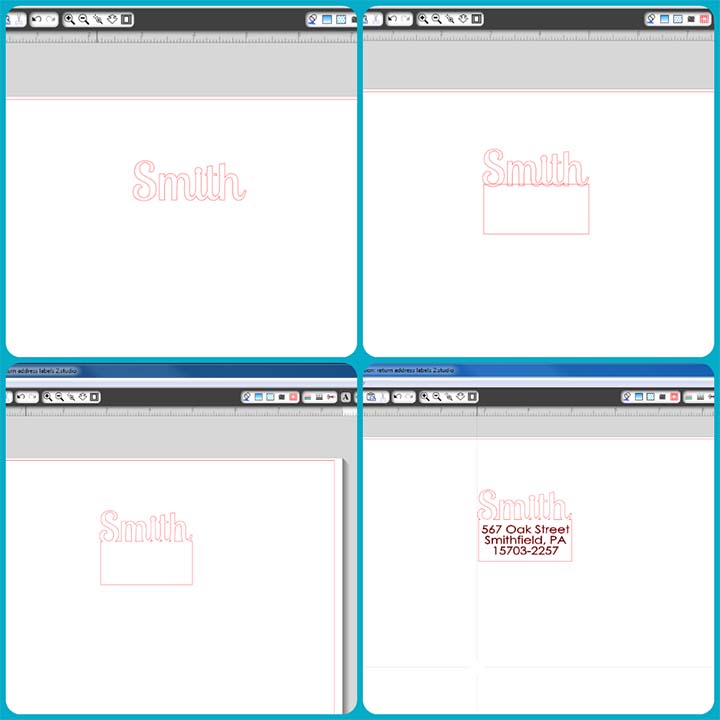 Add your registration marks (this is what the Silhouette will "read" after you've printed to orient itself on the page), and then you can use the "fill page" option in the replicate menu to fit as many labels onto one page as possible.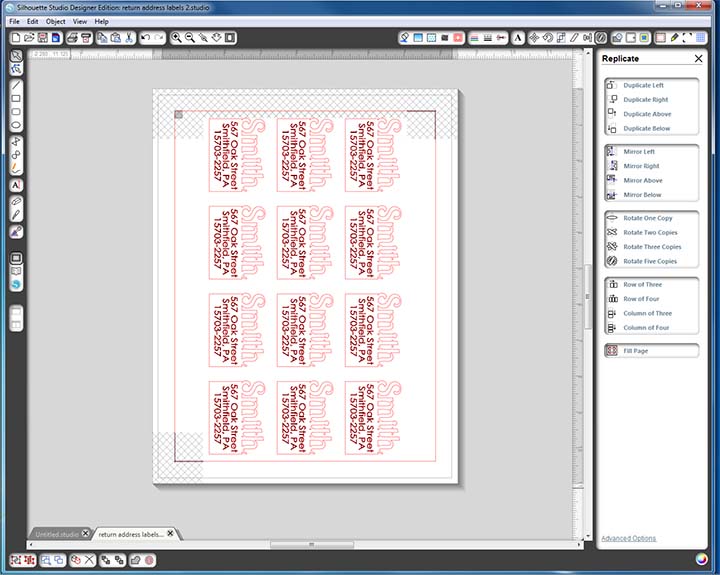 Now, print!  The software will take you through everything you need to do to read the registration marks and then cut.
A couple of important tips – make sure you go into the Cut Style menu to mark your text as "no cut."  The only thing you want to cut is the outline!  Also, my machine had a heck of a time reading the registration marks on the silver foil and the kraft paper.  Use a flashlight to help your machine "see."  Take the blade out and hold up a small flashlight vertically, shining down, where the blade cartridge goes.
The design cut PERFECTLY on the foil and kraft paper.  I was really impressed!  I think I could have even gone a smaller and not had any problems.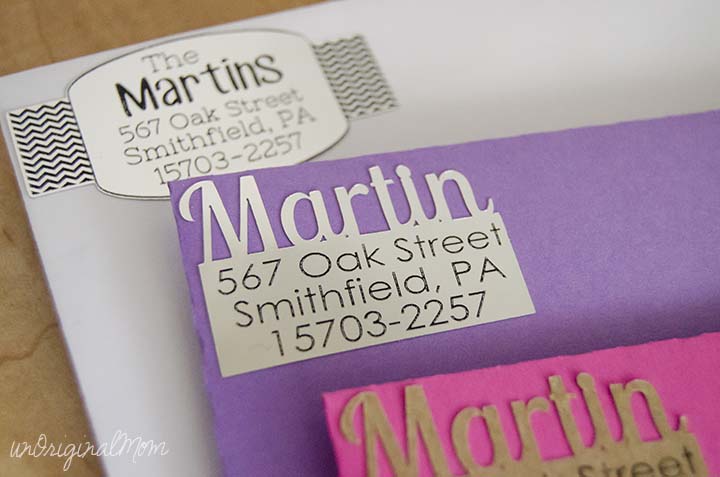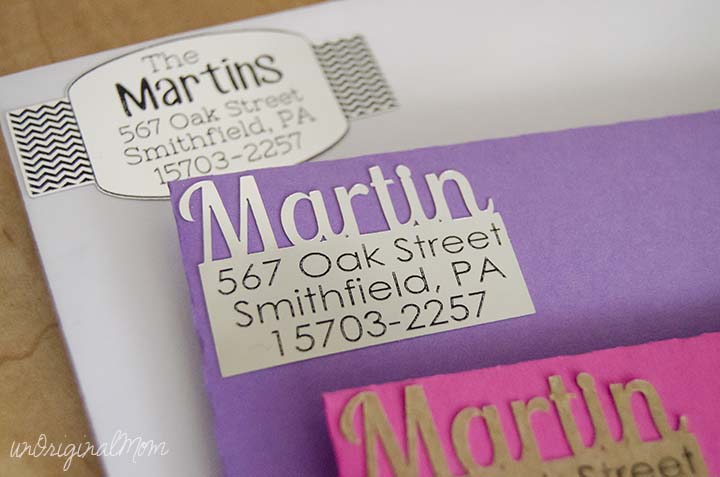 Here's a hint when using the white sticker paper…make sure you know which side is the sticker and which side is the backing before you cut.  Oops.  Once I figured it out it did well!  You may need to slow the speed down a little bit from the recommended settings to get a clean cut.  But I love how the sticker paper pops against a brightly colored envelope!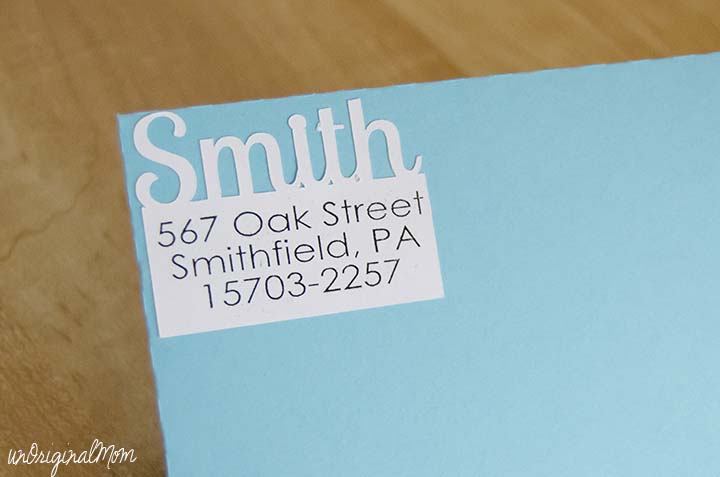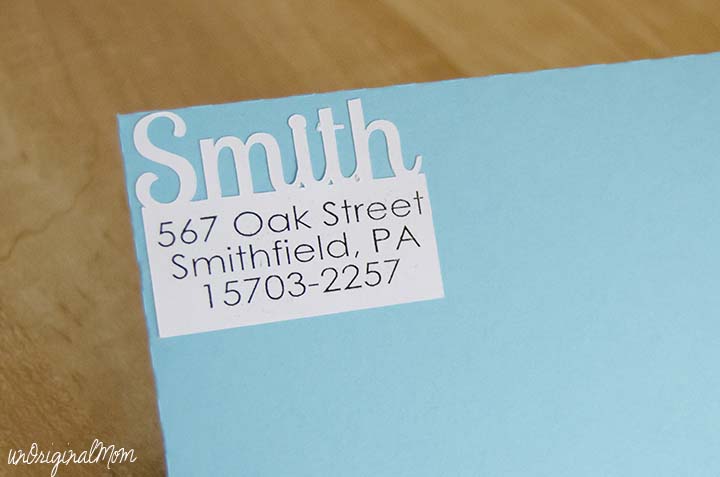 I also came up with another fun design that looks FABULOUS on the printable silver foil!  A little trendy chevron and some fun fonts, and presto – a fun DIY return address label!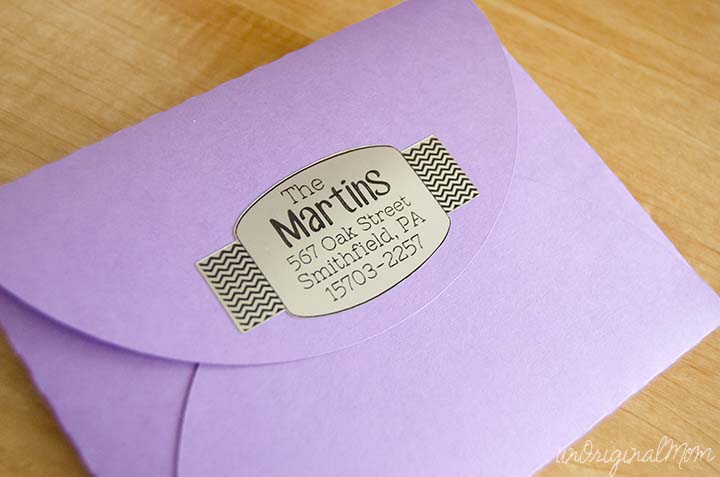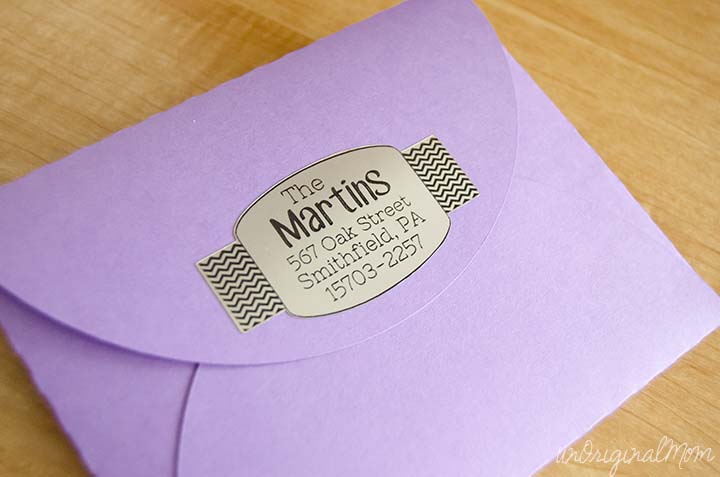 There are so many possibilities with these labels…the foil is perfect for fancy party invites (with envelopes addressed in Silhouette sketch pen, of course!), or would even be really neat for wedding invitations!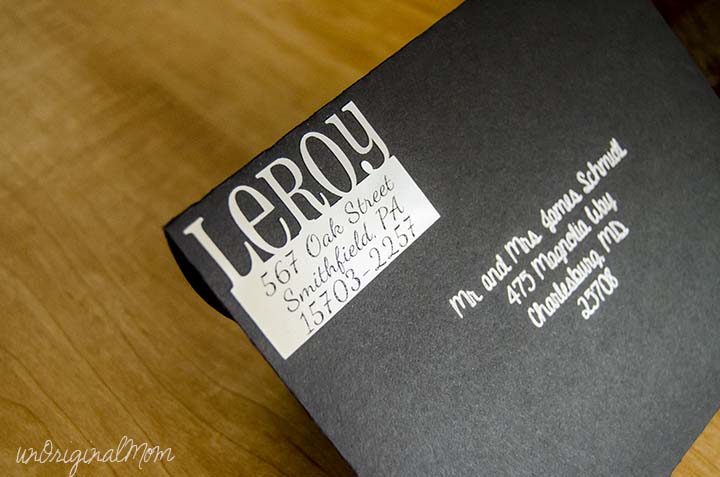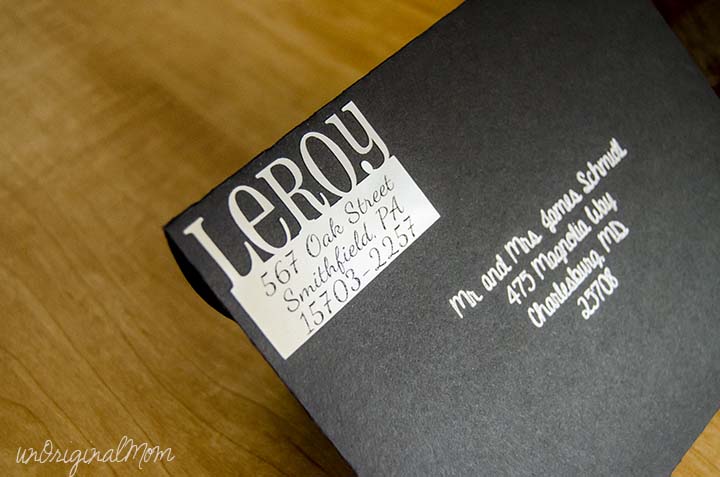 And it's so easy to make a few sheets of these at a time to always have some on hand.  It could even make bill paying fun!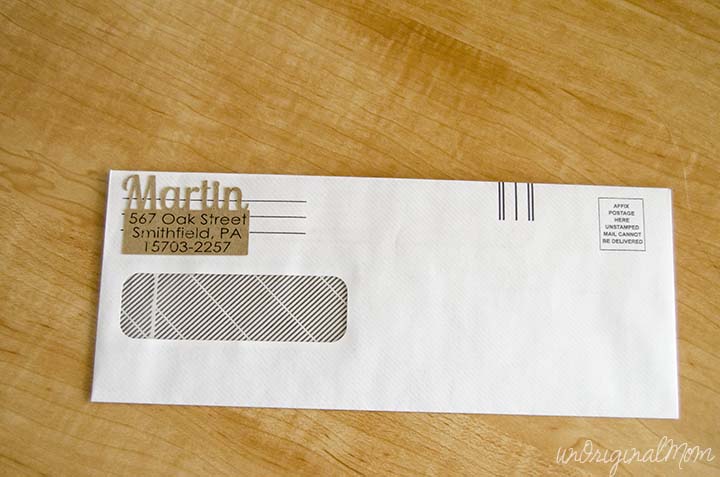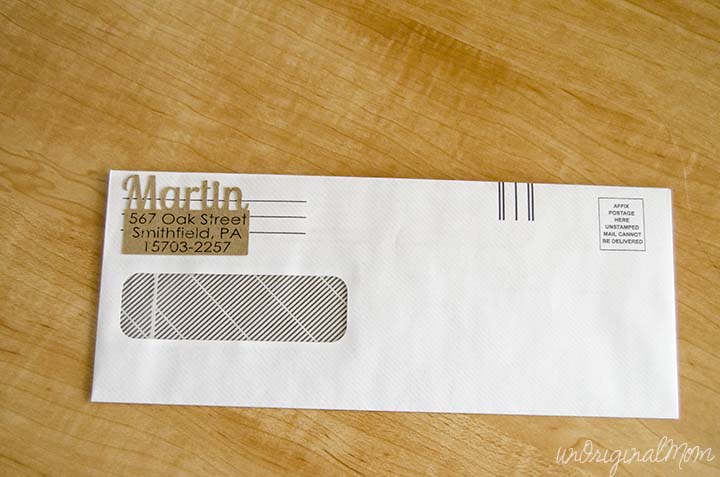 Looking for another project to make with the printable gold and silver foil?  Check out these Easy Geometric Cards with Gold Foil!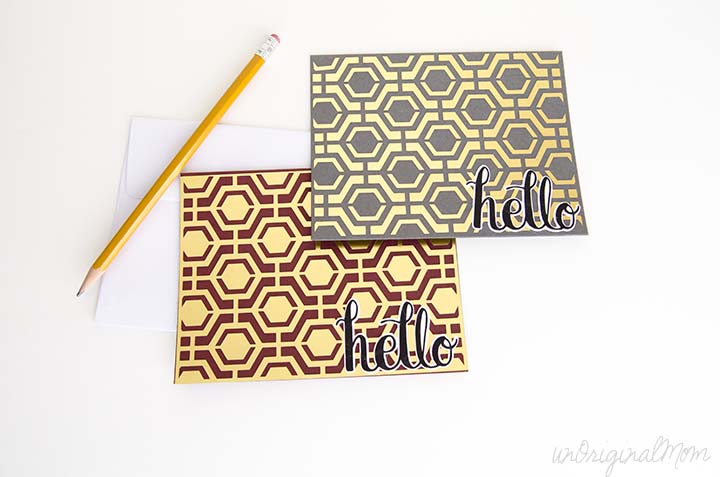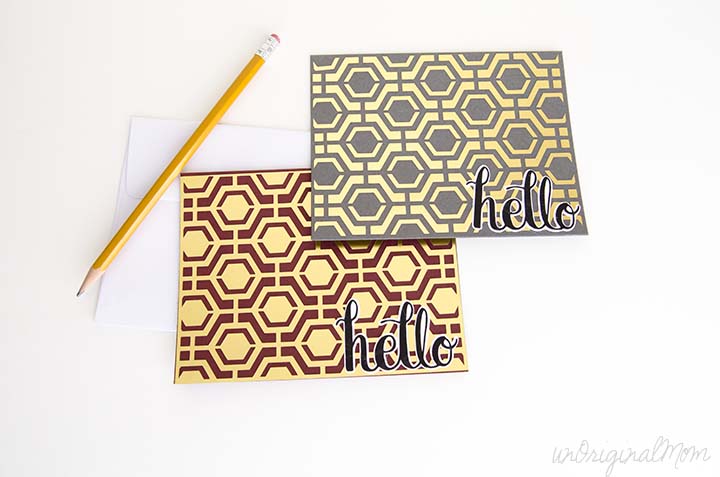 Silhouette Promotion
Silhouette is running a FANTASTIC promotion March 20-31st (2014) – Cameos and Portrait bundles are on sale for a great price!  Plus they come with everything you'd ever need to get started printing and cutting.  unOriginal Mom readers can get these bundles at the following prices by using the code UNORIGINAL at checkout!
Silhouette CAMEO® Bundle – 357.92 $269.99
1 Silhouette CAMEO®
1 package of temporary tattoo paper
t package of printable adhesive kraft paper
1 package of printable adhesive gold foil
1 package of printable adhesive silver foil
1 package of white sticker paper
1 package of clear sticker paper
1 package of printable adhesive cotton canvas
Silhouette Portrait™ Bundle – $237.92 $129.99
1 Silhouette Portrait™
1 package of temporary tattoo paper
t package of printable adhesive kraft paper
1 package of printable adhesive gold foil
1 package of printable adhesive silver foil
1 package of white sticker paper
1 package of clear sticker paper
1 package of printable adhesive cotton canvas
Already have a Silhouette? All specialty media is 30% off!  That's everything that's listed above, plus a few more great products like magnet paper, double-sided adhesive, vellum, washi paper, and more…time to stock up!  Remember, use the code UNORIGINAL when you check out to get these great prices!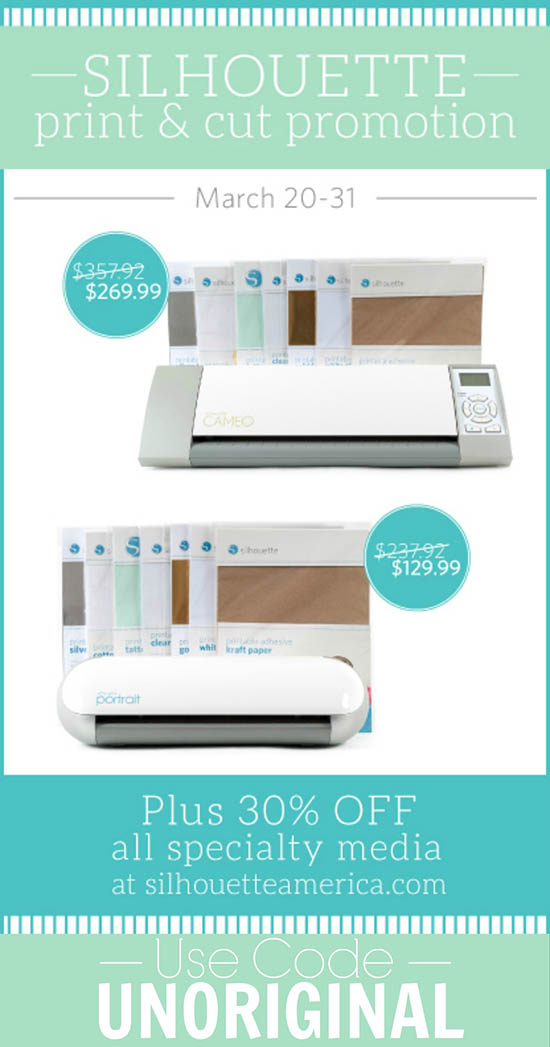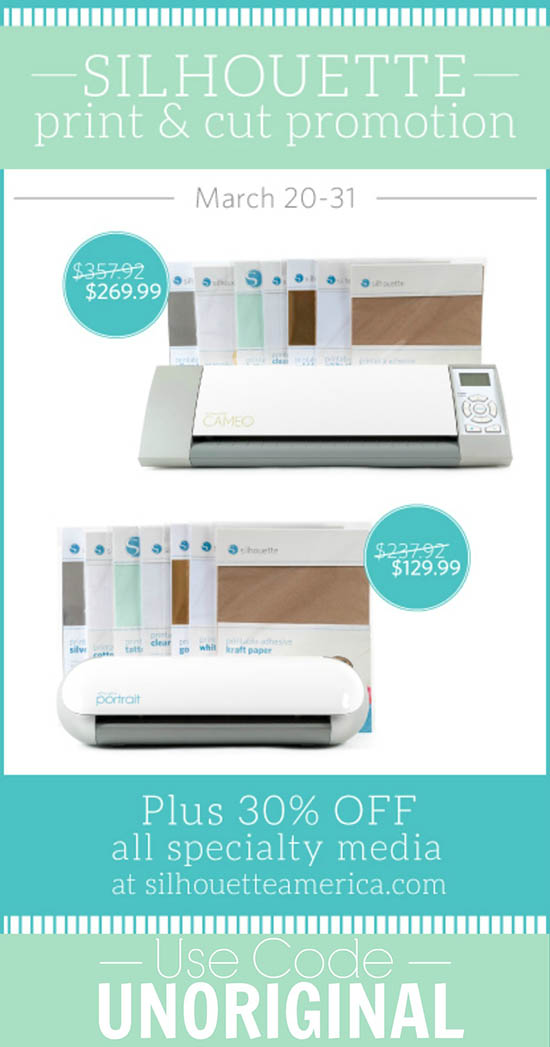 Want to learn more about the Print & Cut possibilities from Silhouette?  Here's a handy video for the visual learners:
What's your favorite Silhouette crafting medium?
Psssst!  Right now I'm giving away a FREE 11 page printable meal planning guide as a gift for new email subscribers – sign up by clicking HERE and have the freebie delivered straight to your inbox!
Disclosure:  I was provided product to use for this post.  As always, all thoughts and opinions are 100% my own…cause you know I LOVE my Silhouette!



Subscribe to unOriginal Mom via email and get instant access to my library of FREE Silhouette Studio & SVG cut files - exclusively for email subscribers. Plus there's a new file added every month!