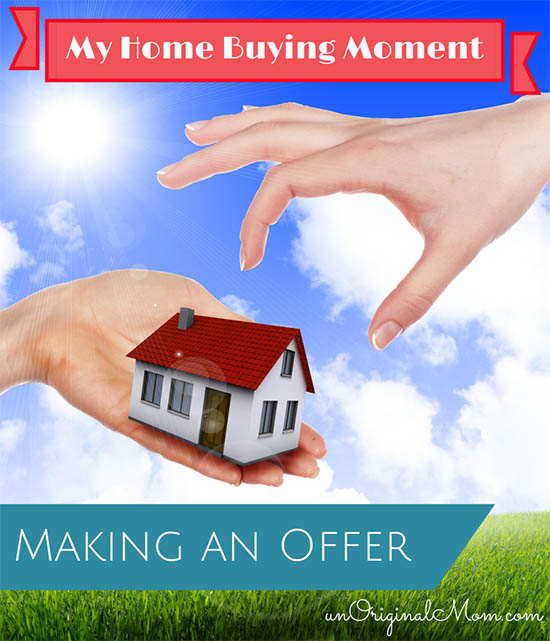 Disclosure:  This post was sponsored by Trulia to share part of my home buying story.  As always, all thoughts and opinions are my own.
If you missed my first Home Buying Moment all about our search for the perfect house, be sure to go back and catch up on our story!  Here's where we left off:
After about 4 months of searching for a new home (and countless showings!) our amazing Realtors from the Beth Richards Group had a really great sense of what we were looking for in a home.  So when a family called them to begin the process of listing their home (that fit our wish-list to a "T!") they let us know!
They were able to arrange a showing for us, even though the family wasn't actually planning to put their house on the market until September (since they were building a new home which wouldn't be completed until November).  This was July.  So we went in to this knowing that if we were to make an offer, we would be under contract for a LONG time.
Home Buying Moment: Competition stinks – at least when you're buying.
Unfortunately for us, our Realtor had another couple that was looking for the same things in a house that we were, and they were given the opportunity to see the house as well.  (We knew all of this ahead of time, our Realtor was very up-front about the whole situation and we were each working with different agents in the group to see the house and make an offer to prevent any conflicts.)  The kicker to all of this – the husband of the "other couple" was a friend of my husband's from work that we had actually referred to our Realtor when they began looking at houses!
Home Buying Moment: Falling in love.
We went to see the house on a Tuesday.  It was incredible.  In a great neighborhood, on a quiet cul-de-sac (just up the street from the very first house we saw that we *almost* offered on!), updated kitchen and master bath, fantastic finished walkout basement, a space for a music room, the exact number of bedrooms and even one more bathroom than we wanted! Of course, it wasn't perfect…I know that the "perfect house" doesn't really exist unless you build it yourself!  It wasn't in our #1 choice location, still had a bit smaller family room than we would've liked, and was at the tippy-top of our budget.  But all things considered…this was "the one!" I think both my husband and I knew it from the moment we stepped inside.
Home Buying Moment: Gotta get the house.
Since we knew that we would be making a competing offer, we sat down with our Realtor to discuss how we could make our offer as strong as possible.  First of all, we went in at full asking price and included an escalation clause.  We put down a strong cash deposit.  Our offer was non-contingent on selling our townhouse (approved by our lender).  And finally, we wrote them a letter.
Home Buying Moment: Writing a letter to complete strangers.
Our Realtor suggested that we write a letter and send a family photo to the sellers, or even make a video.  Nothing huge or dramatic or earth-shattering, just something that would introduce ourselves and give them a bit of a story to go with our names.  We actually tried the video, but only had time for one take that didn't go very well (with an antsy one-year-old on my lap!), so we went with the letter instead.  We wrote a few sentences about ourselves, what we loved about the house, and why it was perfect for us.  I mentioned that I would love to use the formal living room as a music room to teach voice lessons, and my husband would enjoy using the unfinished basement space as his workshop.
Home Buying Moment: Waiting.
I mentioned that we saw the house on a Tuesday…we made the offer on Friday…and we didn't hear back until Sunday evening.  I was on edge the whole time.  When we got the call from our Realtor that we'd gotten the house, it was all a little surreal!  After months of looking at houses, wondering if we'd ever find the right house for us, second- guessing the houses we passed up, thinking maybe we should stop looking altogether for another year or so…it all faded away and we were left with the excitement of knowing WE GOT THE HOUSE!
We've been here for over 3 months now, and it definitely feels like home.  We have a list of projects, of course (who doesn't?), but all-in-all, we are thrilled that this is where we ended up!
Home buying certainly has a whole lot of ups and downs, doesn't it??  Thankfully for us, it was a mostly positive experience, but there were some frustrating "downs" in there, too.  Trulia really knows and understands the highs and lows that come with buying a home – head over here to be entertained by some more Home Buying Moments!
Are you in the midst of buying or selling a home?  Or maybe you're planning to in the near future?  Trulia is a really incredible resource that you should check out.  They've got online listings, a great mobile app, posts with advice from professionals on all aspects of buying and selling, and even an online community where you can post questions!
Have you ever bought a house?  What is your "we got the house!" home buying moment?  Leave a comment – I'd love to hear your story!




Get your copy of my FREE meal planning binder!
Sign up to get a free copy of my meal planning system - an 11 page printable meal planning binder, complete with a pantry inventory, shopping list, and more to help get on top of your menu each week!