I've got a quick, easy, and delicious crock pot meal for you!
This post contains affiliate links – click here to read my full disclosure.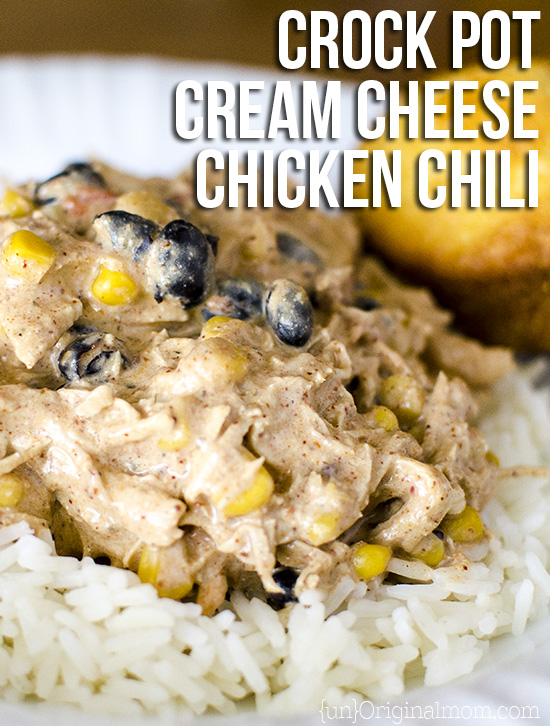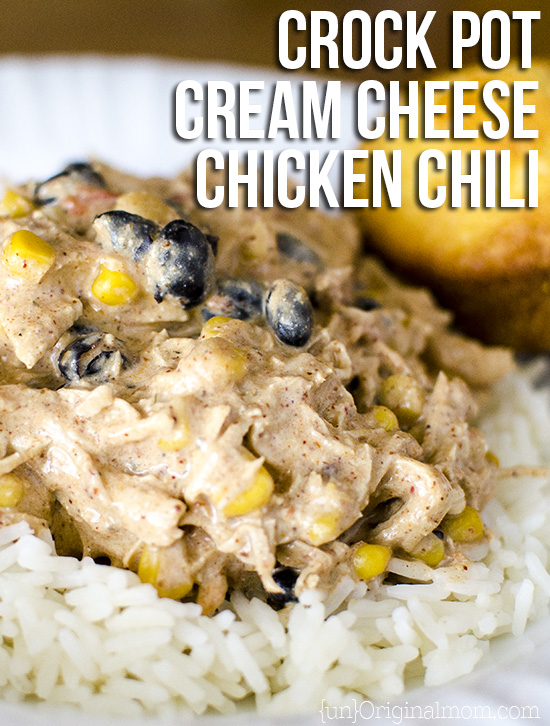 I found this on Pinterest, and decided to give it a go since it's kind of a variation on one of my favorite quick crock pot staples – salsa chicken.
Have you heard of that one?  Take fresh or frozen chicken breasts, a jar of salsa or a can of Rotel tomatoes (not drained), mix in a packet of taco seasoning, and cook on low 6-8 hours or high 4-6 hours. Shred the chicken with a fork, and you've got a super-versatile dish:  great for chicken tacos, quesadillas, or Mexican Chicken Soup.  (Bonus – it freezes really well, so I often make double what we need and freeze the rest in ziploc freezer bags.)
Anyway, this recipe is basically just that – changing up the seasoning and adding cream cheese.  Yummm!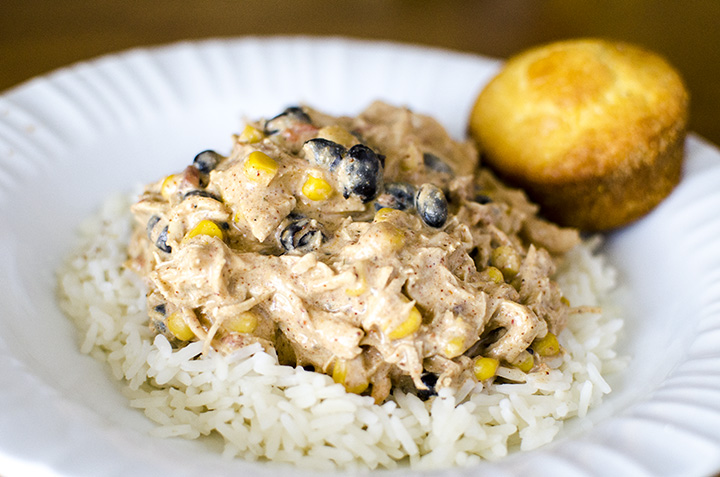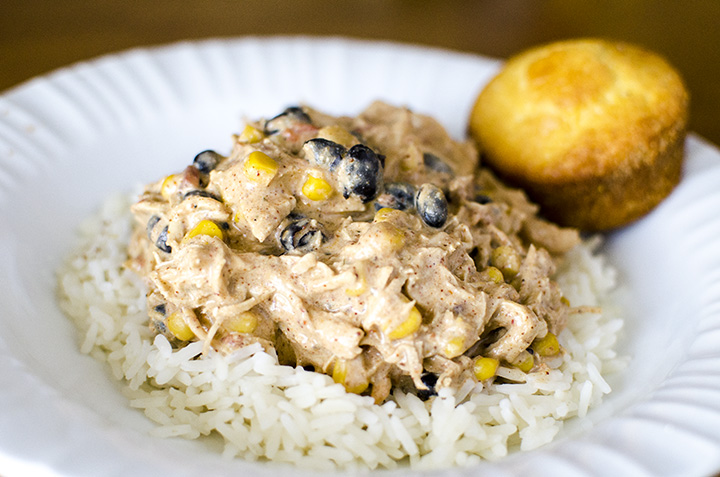 The link I found for Cream Cheese Chicken Chili via Pinterest was from Rita's Recipes, but upon a quick Google search I found there were several other extremely similar versions out there, like this one from Plain Chicken.
Bottom line – it is DELICIOUS!  I served it up over rice with some cornbread, and it was a yummy and filling meal.  (Side note – my hubby hates cream cheese but he still loved this dish!)
Crock Pot Cream Cheese Chicken Chili
Ingredients
2 chicken breasts (fresh or frozen)
1 can Rotel tomatoes (undrained)
1 can corn (undrained)
1 can black beans (drained and rinsed)
1 t. cumin
1 t. onion powder
1 T. chili powder
1 packet ranch dressing mix
1 pkg cream cheese
Instructions
Put chicken in the bottom of the crock pot.
Add Rotel, corn, black beans, spices, and ranch dressing mix. Stir.
Add cream cheese on top (do not stir).
Cook on low for 6-8 hours.
About 30 mins before serving, stir cream cheese into chili.
Serve alone or over rice.
Possible add-ins or substitutions:
I used "Fiesta Blend" canned corn with green and red peppers, which gave it a little something extra than plain canned corn.

You could add a small can of chopped green chilis and/or some cayenne powder if you want a little extra kick
If you don't have any canned corn, use frozen corn but add a little bit of water in with them to substitute the liquid that the canned corn would have
You could probably substitute Great Northern or Cannellini beans instead of the black beans if you want
If you don't have a can of Rotel on hand, I'm sure you could substitute canned diced tomatoes or even a jar of salsa.
Looking for a good crock pot? Here's the one I have – and I LOVE it!! It has gotten quite a work out in my kitchen over the years and it's still going strong. I love the programmable features.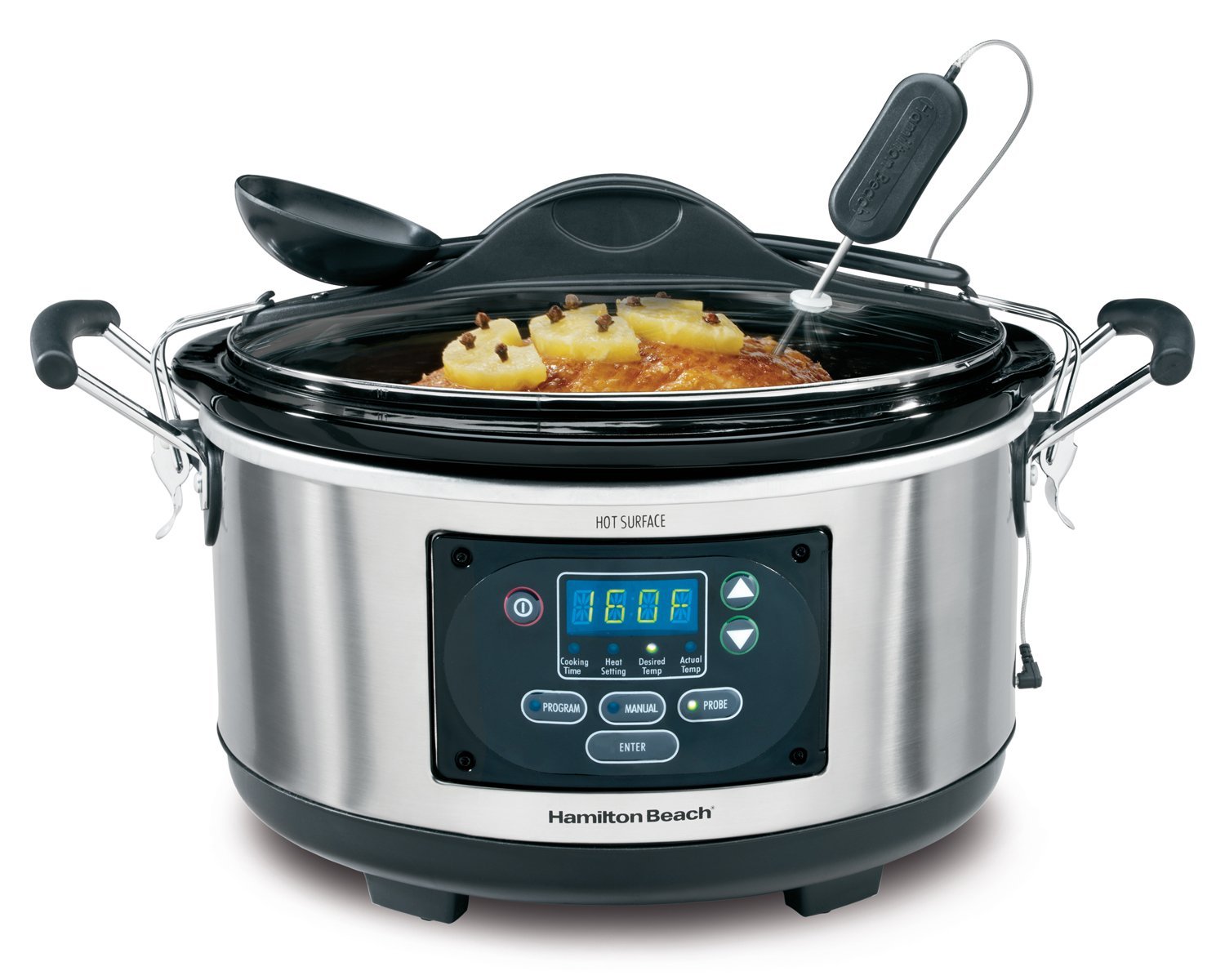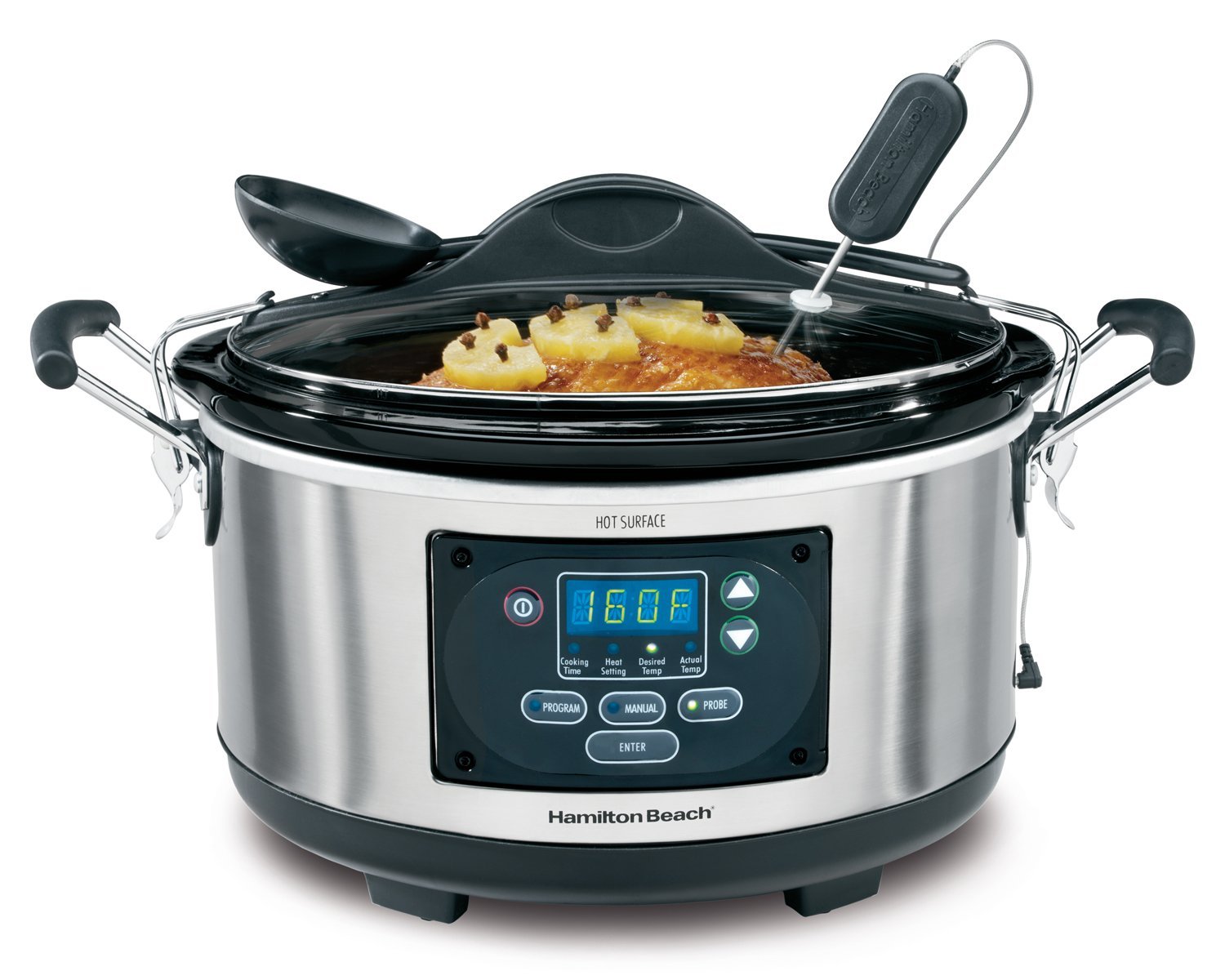 And if you like super easy and delicious crock pot meals (who doesn't??), you'll also want to try these Crock Pot Ranch Pork Chops: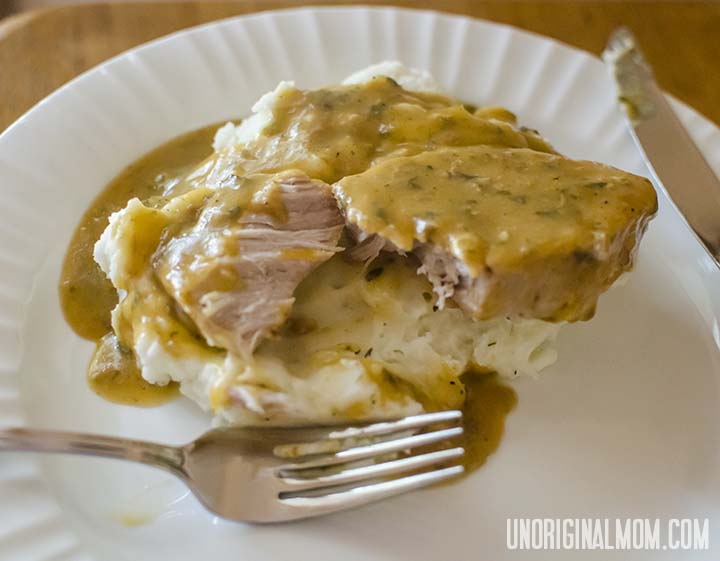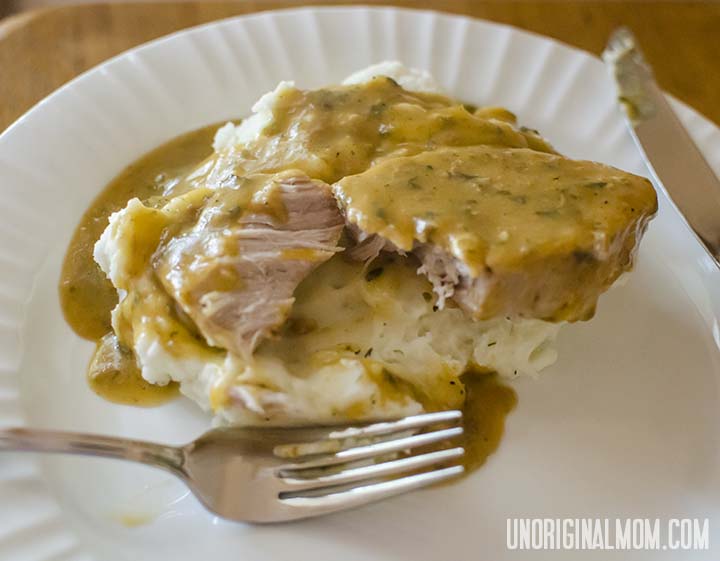 Enjoy!!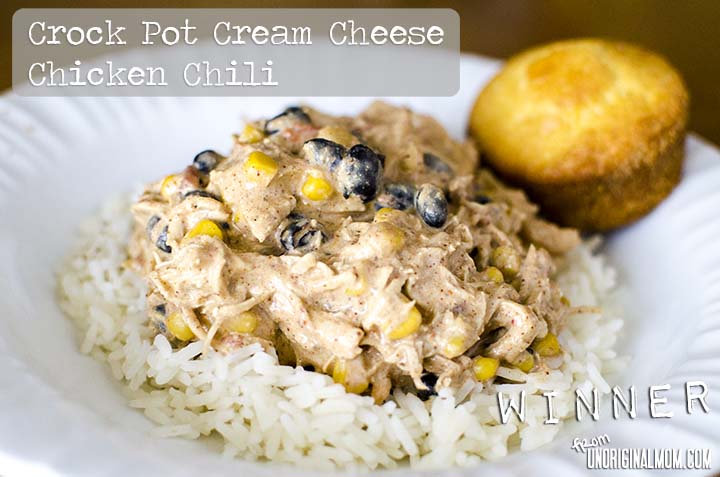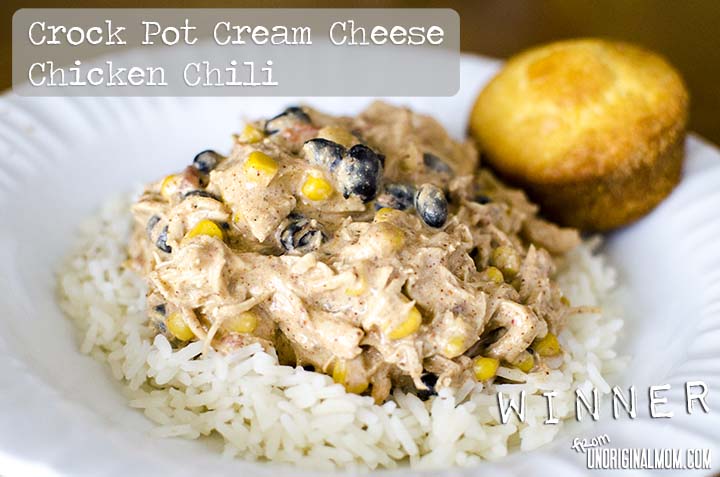 This post contains affiliate links – click here to read my full disclosure.


Get your copy of my FREE meal planning binder!
Sign up to get a free copy of my meal planning system - an 11 page printable meal planning binder, complete with a pantry inventory, shopping list, and more to help get on top of your menu each week!