Well folks, it's been three weeks since I officially took this blog "public," and I can't believe how quickly it's growing!  In that short time, we've had over 1,000 unique visitors and almost 2,500 page views, plus more than 100 pins/re-pins on Pinterest!  I've also been featured on a few blogs…check out the list in my sidebar :-)
In addition, I have been nominated for the Liebster Award by three separate and fabulous blogs, Summer at Mallow & Co., Emily at The Benson Street, and Alexis at Maybe I Will.  Thanks so much, ladies!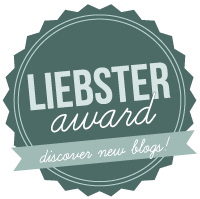 For those new to the blog world (like me), the Liebster Award is an honor that gets passed around by new bloggers to other up-and-coming blogs (with about 200 or fewer followers and blogging for 6 months or less).  It's a great way for us newbies to network and meet other bloggers in the same stage as we are!
Now, the rules are that you're supposed to tell 11 random facts about yourself, answer 11 questions given to you by your nominator, and nominate 11 more blogs…but I'm going to change that up a bit.  I know I'll lose all of you by the time I tell you 22 things about me (in fact I think I'll bore myself by the end!), but more importantly, I don't want to just search for 11 random blogs and nominate just anyone.  Like I said, I'm still very new at this blogging thing, so I'm still getting to know all the great blogs out there and just don't know of 11 new blogs off the top of my head.  So instead, I've got 4 fantastic new blogs that I have come across and think are great – so I'll tell you 4 facts about me, answer 4 questions, and nominate 4 blogs!
First, 4 things you should know about me…
I am the oldest (and probably least exciting/interesting) of three girls.  In fact, as I write this my youngest sister is beginning her 5 month study abroad in Santiago, Chile, and my middle sister is at some kind of engineering conference in Switzerland where she is presenting to a bunch of leaders in her field.  I, on the other hand, live in the same town where we grew up, married my high school sweetheart, and am a stay-at-home mom.  But I wouldn't trade that for anything!
My favorite foods are mashed potatoes and ice cream.  (Separately, not together!)
In my previous life (before becoming a stay-at-home mom this past summer), I was a high school choir director.  I still love and am very involved in music!
I am the dreamer/procrastinator type.  I love thinking and dreaming about great ideas and inspirations for our home, or other projects for me, but it takes quite a while for me to accomplish any of it (if I do at all)!  In fact, starting a blog like this has been on my mind for a long time now…hopefully it will help give me some motivation to follow through!
And here are 4 questions from the list that Summer, Alexis, and Emily came up with in their nominations…
1)  What is your favorite season and why?  (from Summer and Emily)
Definitely spring.  I live in central PA where we have gloomy and cold winters, and by the end of each winter I am longing for sunshine…so when the sun comes out, the grass gets green, and the flowers start to bloom, there is nothing better!
2)  What is your favorite quote and why?  (from Alexis)
Romans 8:38-39.  It is SO comforting to know that no circumstances, no emotion, no action, NOTHING can separate us from the love of God.  Nothing.  Ever.
3)  Last really good movie you saw: (from Emily)
Les Miserables.  SO good!  Bring tissues.
4)  What is your biggest pet peeve?  (from Summer)
Getting songs or jingles stuck in my head.  If I have a song stuck in my head I literally can't get to sleep, it will keep me awake.
And now, for my nominees!
I love each of your blogs!  Here are 4 questions for you:
Who, in your life, has influenced or inspired you the most?
What is your favorite go-to recipe?
If you could move anywhere in the world, where would you want to live?
If you could meet any celebrity, who would you want to meet?
Congrats, ladies!
Well, if you made it all the way through this post, I think YOU deserve an award!  Thanks for visiting! :-)




Get your copy of my FREE meal planning binder!
Sign up to get a free copy of my meal planning system - an 11 page printable meal planning binder, complete with a pantry inventory, shopping list, and more to help get on top of your menu each week!