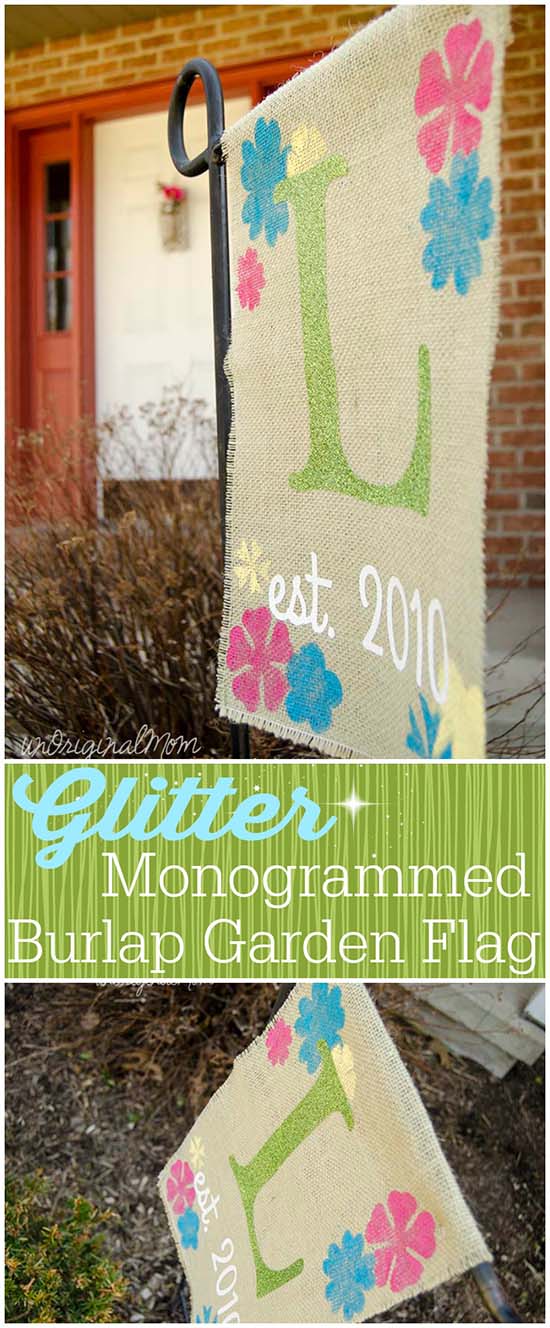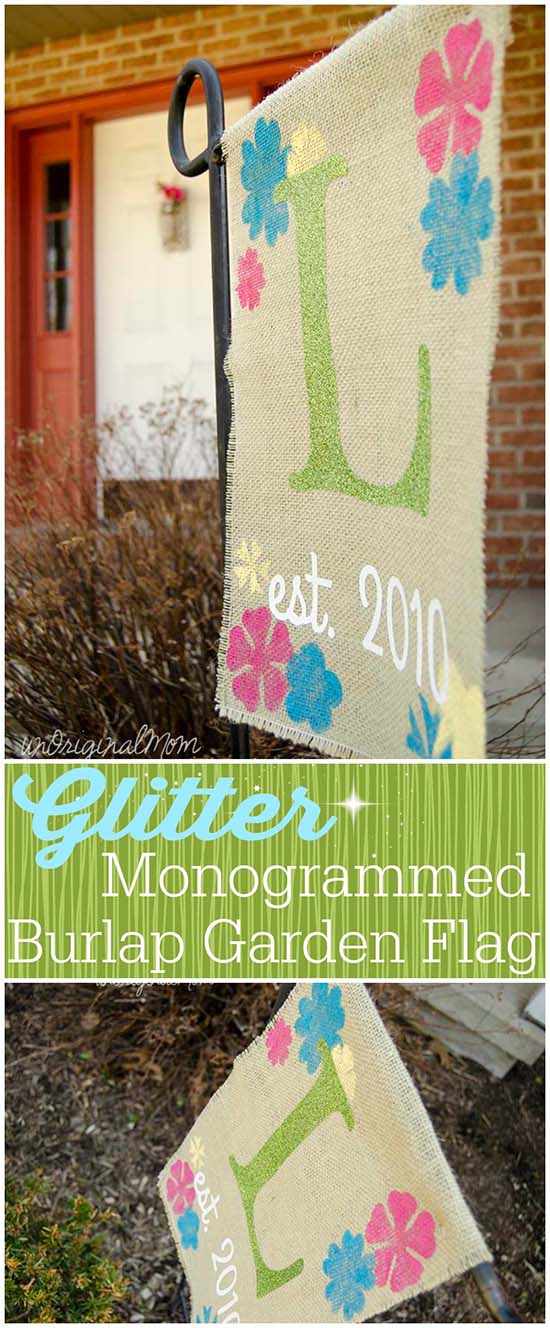 Happy Spring, y'all!  We had two incredibly beautiful spring days in a row this weekend, and I think it's safe to say spring time has finally arrived in central Pennsylvania!  We even had people over for a cookout to "christen" our deck and backyard…the first time we've been able to use it since we moved in 4 months ago.  I have a feeling we will be spending a lot of time out there in the coming months!
So, inspired by the tulips and hyacinths sprouting up in our front yard, I whipped up a little spring burlap garden flag this week with the help of my Silhouette!
The first step was to cut the burlap to size – I made mine 10″x 15″ to fit our garden flag stand.  Do you know the trick to cutting burlap so it doesn't fray?  Pull out one of the burlap strands where you want the cut – you'll be able to see the "hole" of the missing strand and cut along it.  That will give you a nice straight line with no fraying.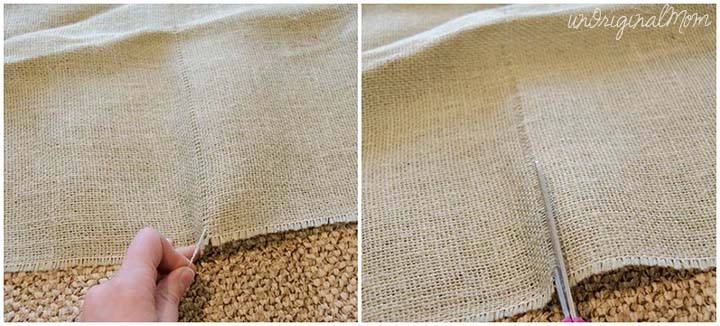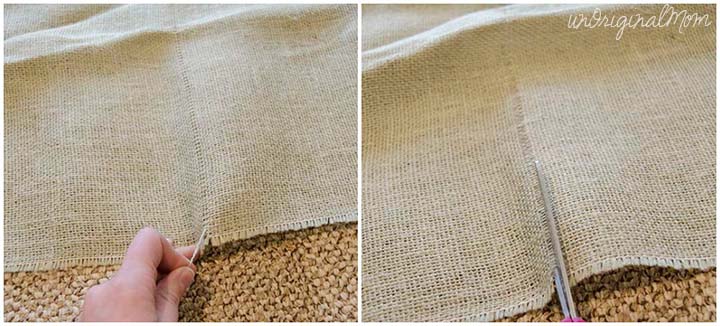 I decided to use freezer paper stencils to paint some flowers on the burlap.  (You can find a great step-by-step tutorial on freezer paper stencils along over at The Thinking Closet!)  I cut out a variety of flowers in different sizes, ironed them on, and painted them.  Since I wanted a few of the flowers to be overlapping, I had to freehand some of the painting around the edges after I peeled up the stencils…that was a bit tedious.  If I had to do it again, I'd probably paint one whole flower, let it dry and peel of the stencil, then apply another flower stencil and paint over top of the first one.  Ah well…next time!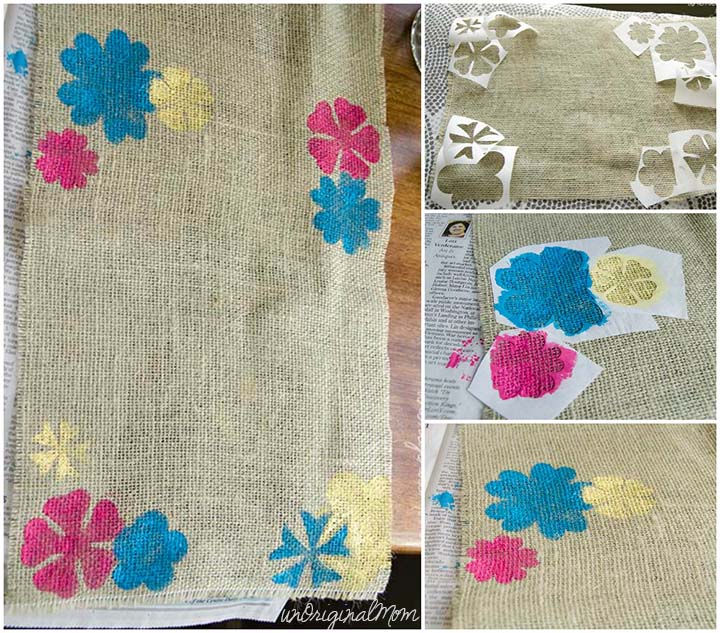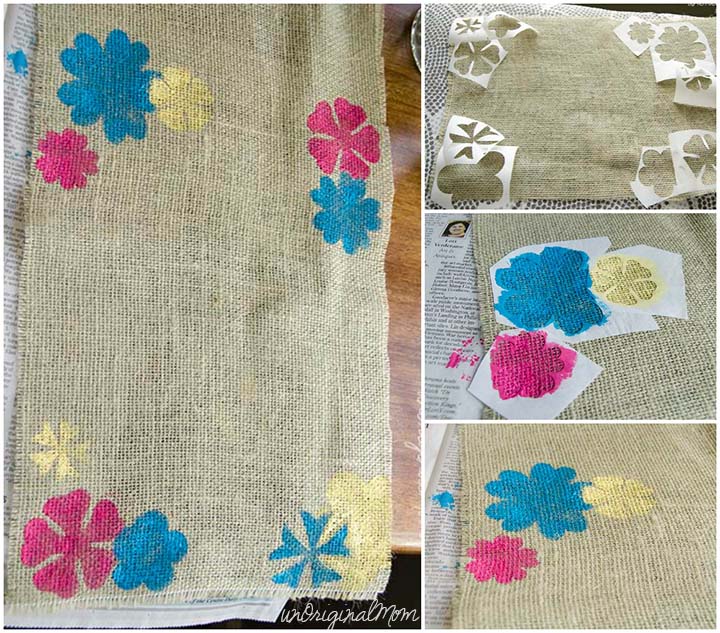 At first I had planned to paint everything on the flag…but then I remembered the glitter heat transfer vinyl I had ordered from Expressions Vinyl!  I really love the look of rustic glam…and putting some glitter HTV on a burlap garden flag would be a fun bit of unexpected glitz!   I decided to go with green glitter HTV for the monogram, and regular white HTV for the "est. 2010" text.  (And this isn't the first time I've tried a glitter monogram project, either!)


After laying out the HTV where I wanted it on the flag, I ironed it on.  The trick to ironing HTV is keeping your iron in one place while applying pressure for about 20 seconds or so, letting it cool for about 30 seconds, then repeating until it is fully adhered.  I had no trouble getting it to stick to the burlap!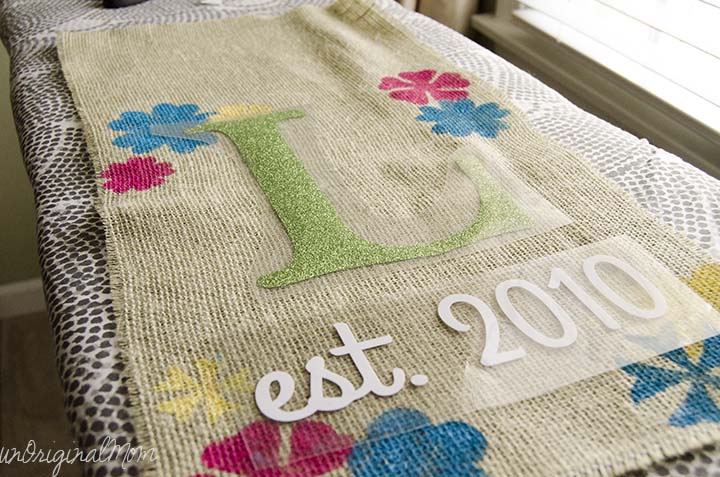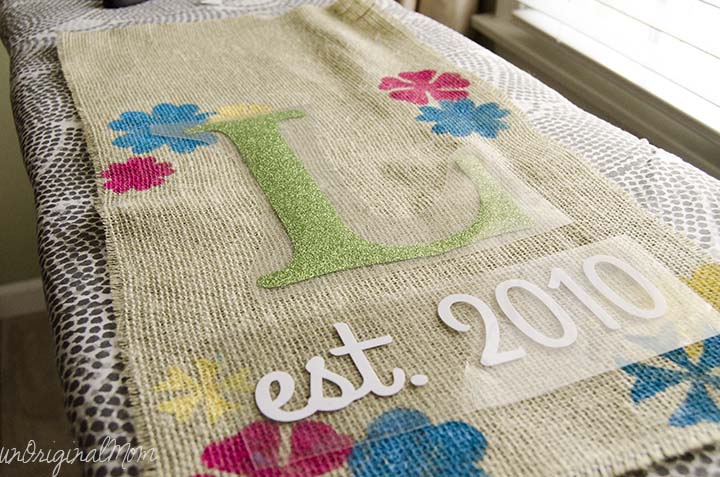 You can see that the texture of the burlap is visible through the regular HTV, but the glitter HTV is much thicker so it doesn't show through.  It works fine for my garden flag, but might not be the look you're going for on particular projects…so just keep that in mind when trying out HTV on burlap!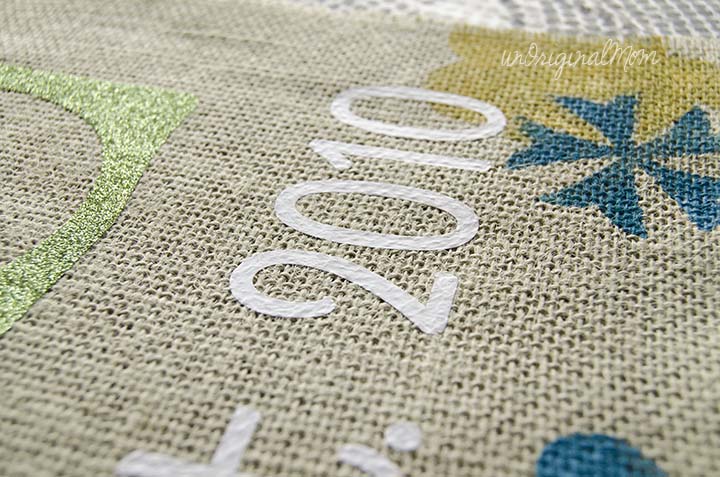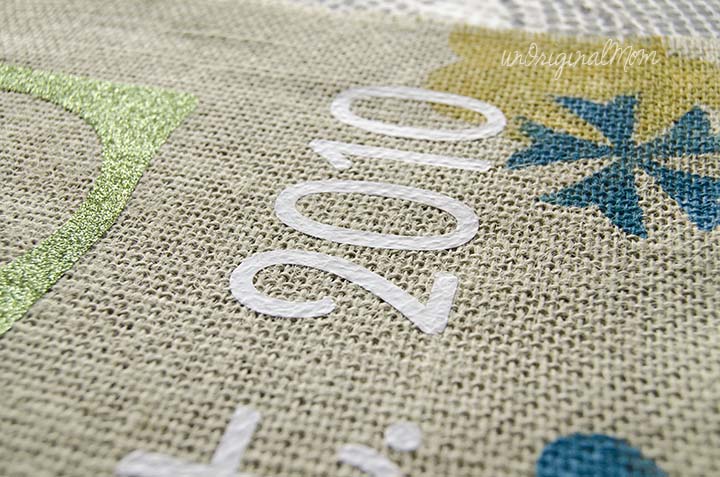 I folded over the top edge of the burlap and hot glued it to create a sleeve that would slide onto the garden flag holder.  It was hard to photograph…but it looks SO great in the sun!  With the colorful flowers and the glitter monogram, this flag is cheerful and welcoming!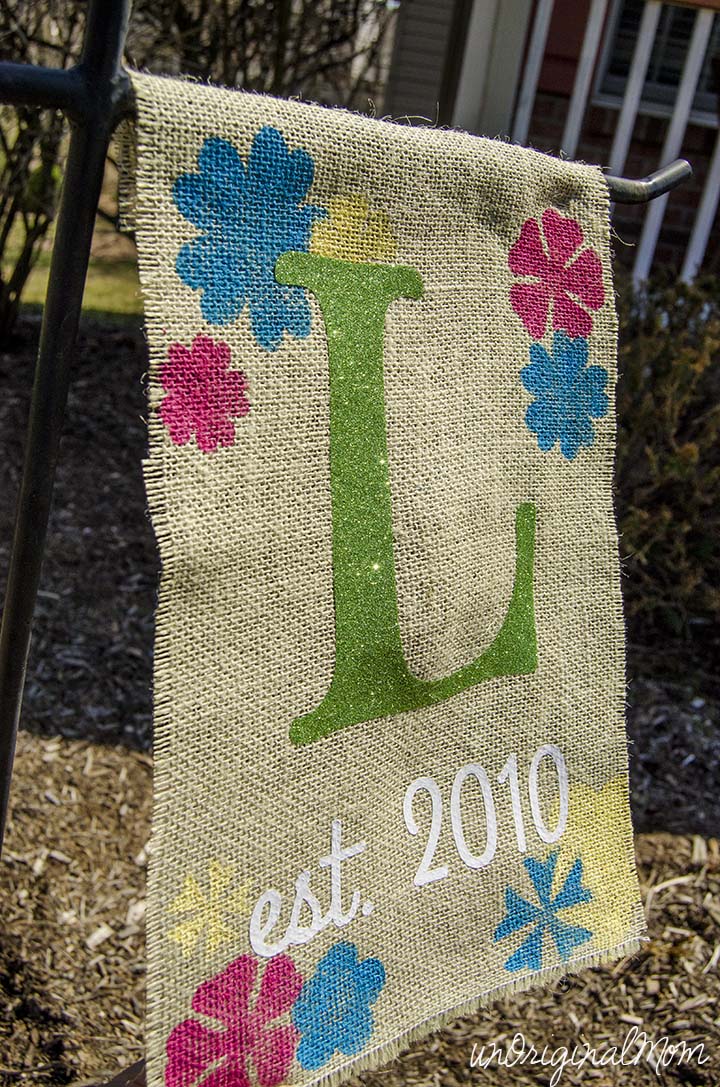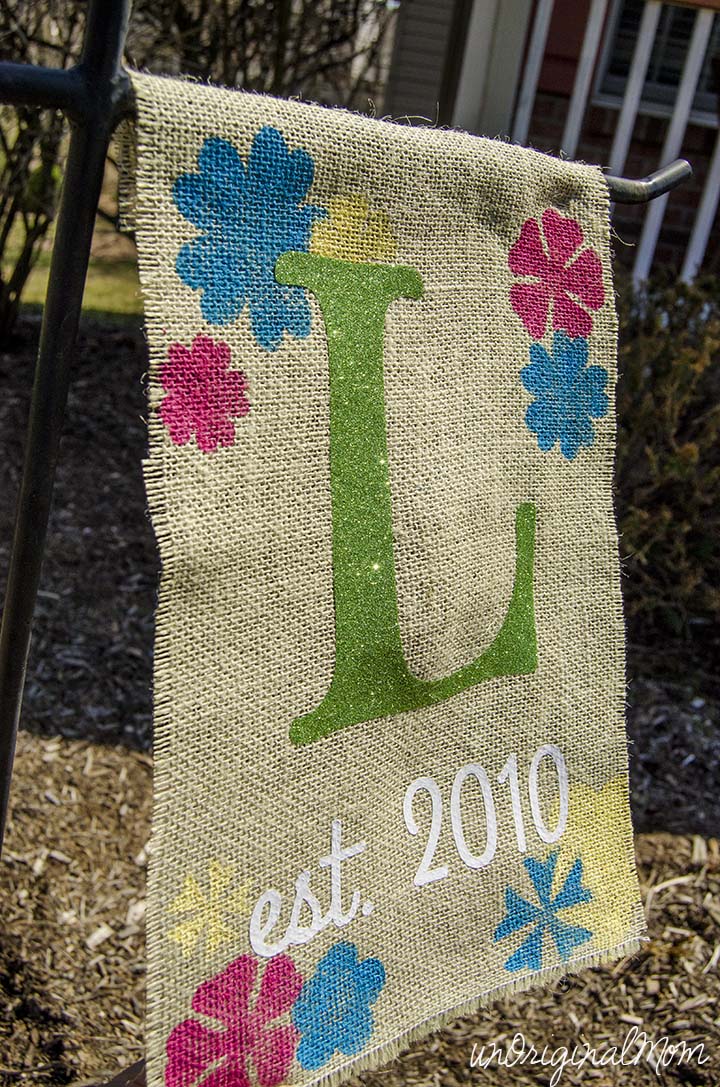 I am so excited about how the heat transfer vinyl worked on burlap – it looks great!  And what possibilities…I don't think this is the last time you'll see a burlap and vinyl project from me!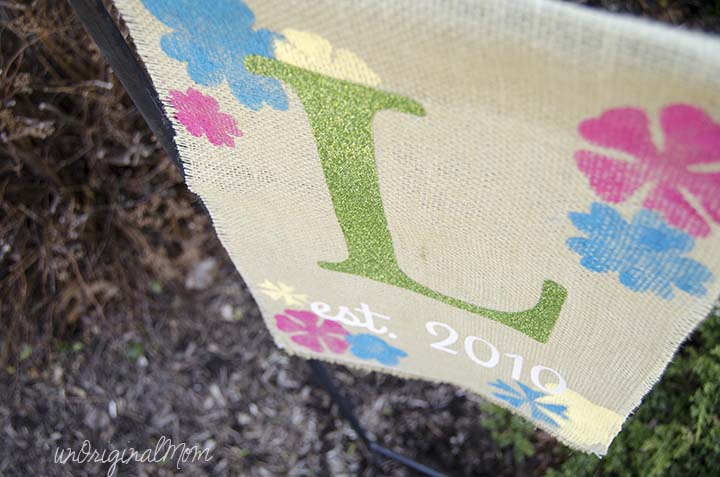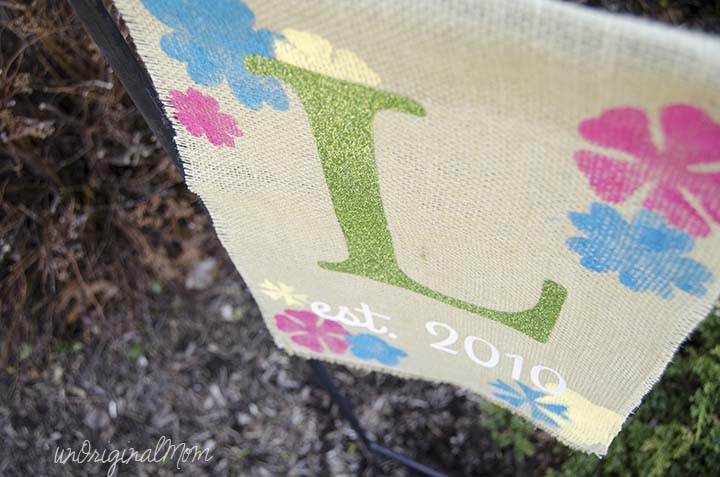 Aaaaand that's NOT all, folks – the inspiration doesn't stop here!  A bunch of my buddies from the Silhouette Challenge Facebook Group are all sharing spring silhouette projects on their blogs today.  Click through for some great project ideas, or pin it to come back and browse later!
1. Dream a Little Bigger // 2. So Much Better With Age // 3. Adventures in All Things Food // 4. Creative Carnival // 5. The Kim Six Fix // 6. feto soap // 7. One Dog Woof // 8. The Experimental Home // 9. From Wine to Whine // 10. Architecture of a Mom // 11. Grey Luster Girl // 12. Minted Strawberry // 13. Designed Decor // 14. Tried & True // 15. Silhouette School // 16. Bringing Creativity 2 Life // 17. Weekend Craft // 18. Practically Functional // 19. Please Excuse My Craftermath… // 20. McCall Manor // 21. unOriginal Mom // 22. Creative Ramblings // 23. A Tossed Salad Life // 24. A Glimpse Into Barb's Life // 25. Kate's Paper Creations // 26. Simply Kelly Designs // 27. Cutesy Crafts // 28. Persia Lou // 29. Whats Next Ma // 30. Two Purple Couches // 31. The Frill of Life // 32. Nearly Handmade // 33. Get Silvered // 34. Ginger Snap Crafts // 35. Life After Laundry // 36. The Sensory Emporium // 37. Monograms & Cake // 38. The Thinking Closet // 39. My Paper Craze // 40. Chicken Scratch NY
What's on your spring "to-craft" list?  Maybe something rustically glamorous with burlap and glitter? ;-)
Disclosure: I was not compensated for this post, but I did receive product from Expressions Vinyl to complete this project in exchange for an honest review.  As always, all opinions are 100% my own!



Subscribe to unOriginal Mom via email and get instant access to my library of FREE Silhouette Studio & SVG cut files - exclusively for email subscribers. Plus there's a new file added every month!