This post contains affiliate links – click here to read my full disclosure.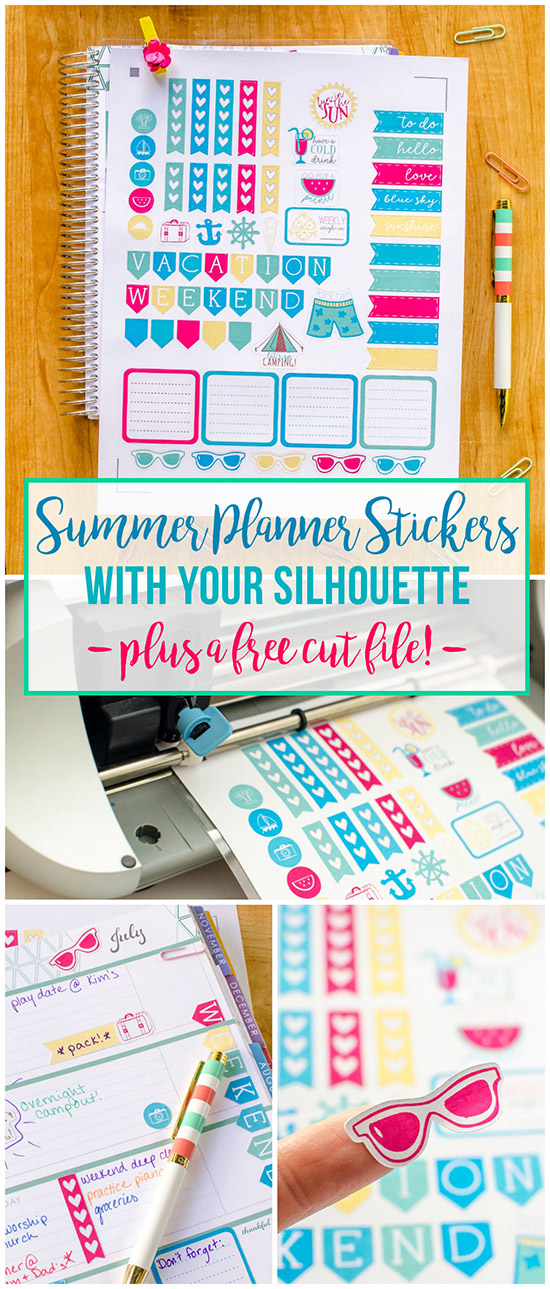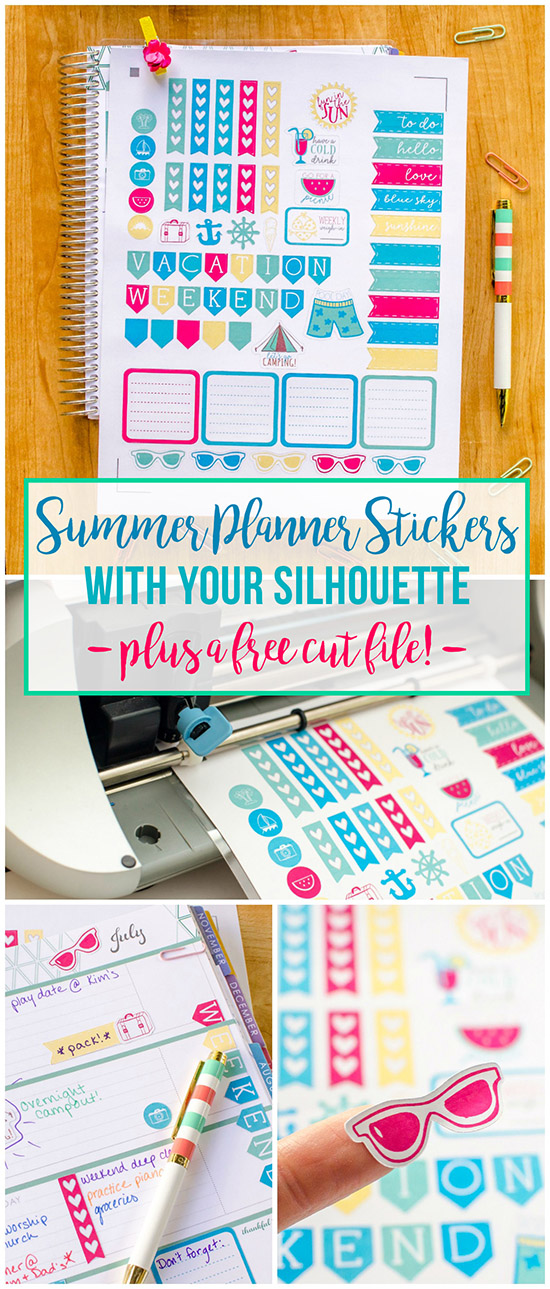 Today's post is jam-packed full of Silhouette goodness! A free cut file, Silhouette Challenge inspiration, and a Silhouette Portrait GIVEAWAY! Keep reading to the end of this post to make sure you don't miss any of it!
Okay, who's ready for summer?? *raises hand* I know I am. Warm weather, kids playing outside, family vacations, picnics, days at the pool, and a short to-do list…wait, no, the to-do list doesn't get much shorter, does it? There's no such thing as summer vacation from parenting. Or cleaning. Or cooking. Or grocery shopping. Sigh. Well, if we still have to plan, we might as well have some fun, cheerful, colorful stickers to play with – right? Right!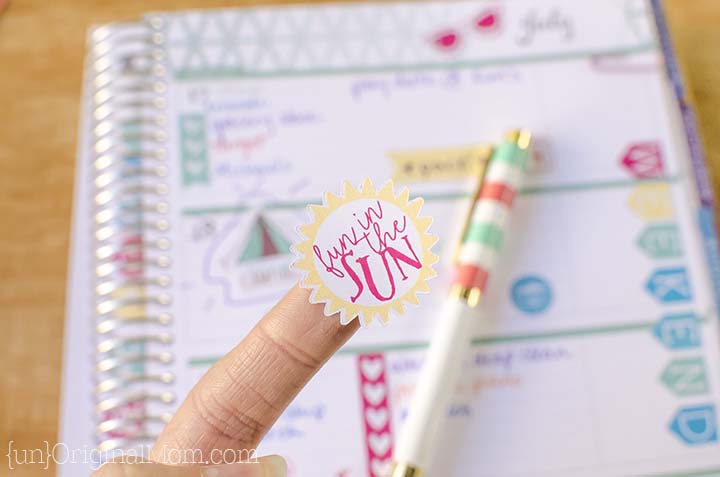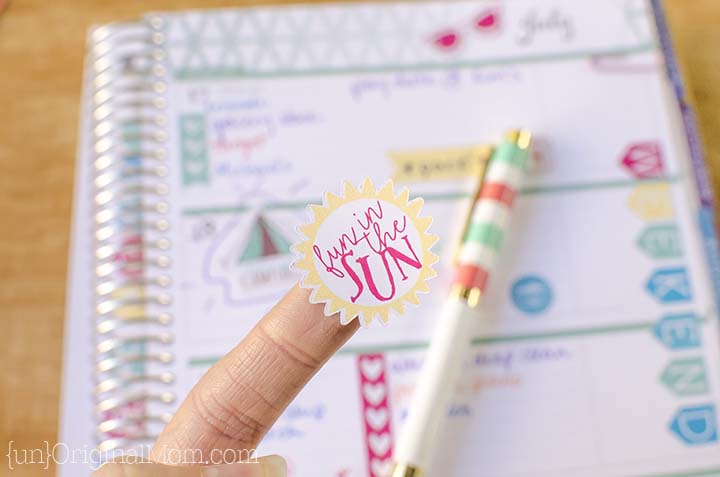 I have a little confession to make, though. I desperately want to be one of those really organized, my-planner-is-my-life kind of people who write everything down with perfect handwriting and fun little doodles. I just can't figure out how to use my planner! I bought a GORGEOUS Erin Condren planner quite a few months ago (okay, almost a year ago) and I just haven't been able to get into the rhythm of using it.  With a 4 year old and a 1 year old, our family calendar isn't that complicated (yet) so I track most of our events and commitments on a wall calendar. But I'd love to get more into checklists and planning my days and to-dos in my personal planner. Do you have any tips for me? How do you use your planner?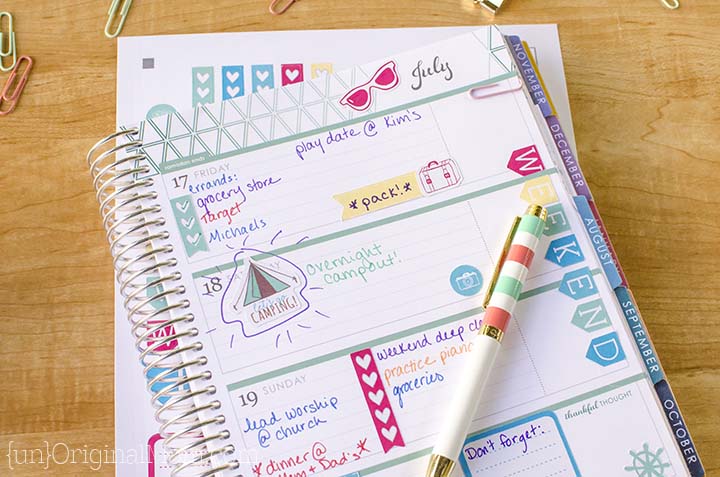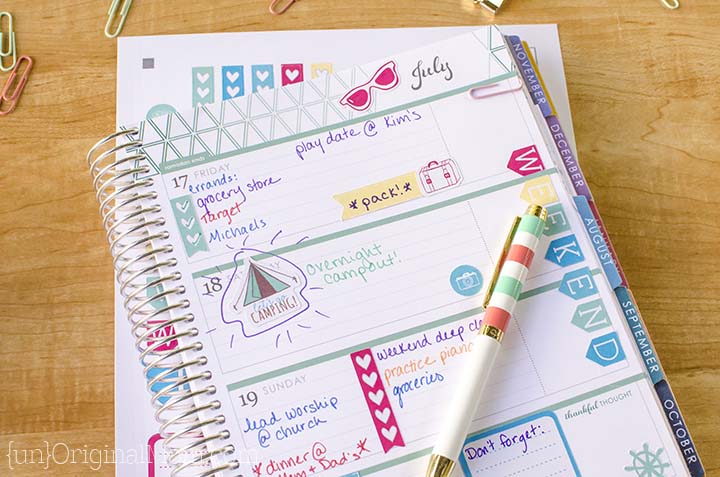 As I'm jumping into using my planner more this summer, I also wanted to start making my own stickers with my Silhouette. It's so easy! Well, designing the stickers can be a bit labor intensive. But the printing and cutting is a breeze! I used Silhouette brand white sticker paper, but you any kind of sticker paper would work (I've used this kind before, too).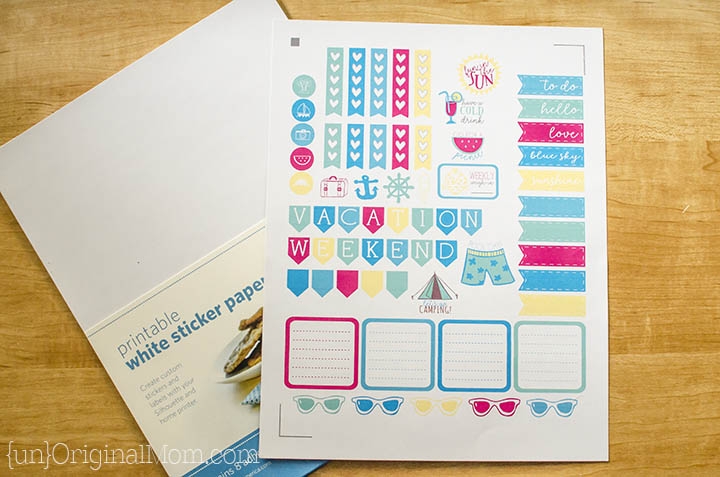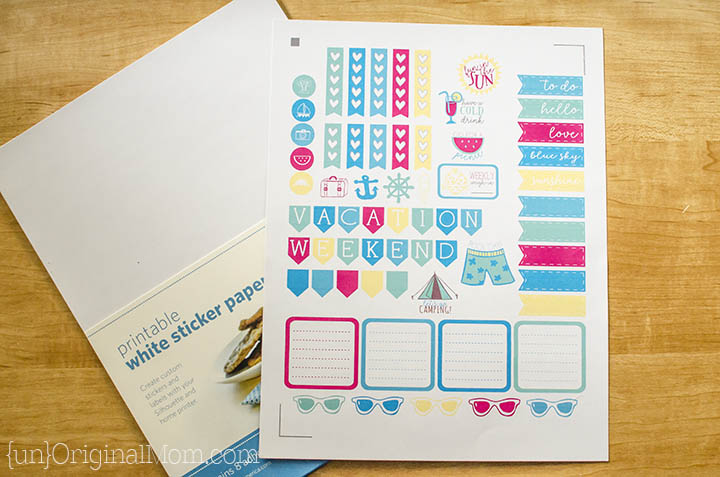 The trick to creating great stickers is using the offset tool to create "full-bleed" stickers. The Silhouette is great at reading registration marks on a printed page and knowing exactly where to cut…but there is a millimeter or two of a margin of error. And when you're dealing with small stickers that are filled in with a color, that can really show. So, the trick is to account for that margin of error by filling the shape a little bit wider than you actually want it to cut. You can either do this by using the external offset tool to make your fill color go wide than your shape outline – OR using the internal offset to create a cut line just inside of our shape. Just make sure that you only have ONE of those lines set to cut when you send it to the Silhouette. You can see on the photo below how I filled the shapes a bit beyond the edge of the cut line so I got a perfect fill on my cuts, even though the machine was off by just a hair: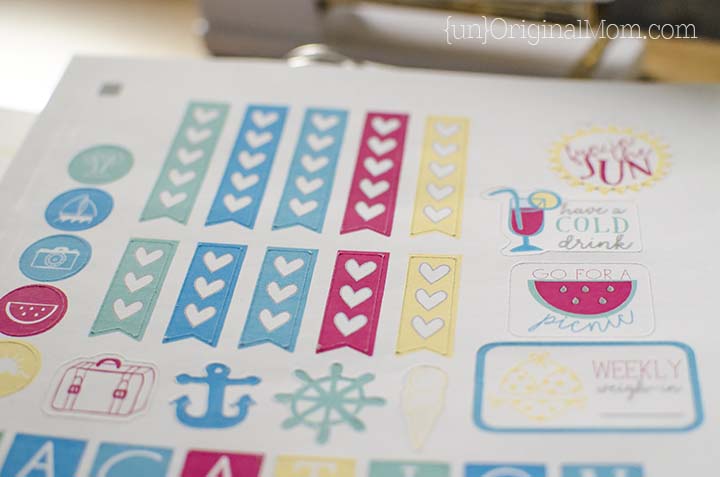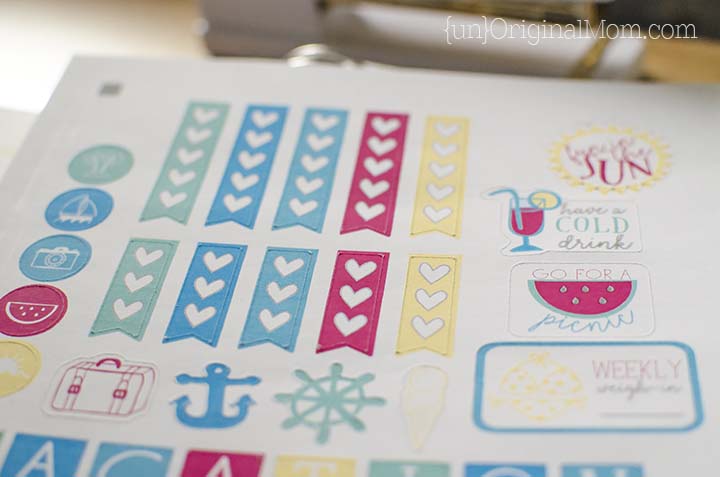 Of course, on shapes that don't have a filled background you don't need to worry about that. But you can still use the offset tool to create an outline custom to your image instead of all square or round shapes, like you see below on the "have a COLD drink" sticker in the photo below.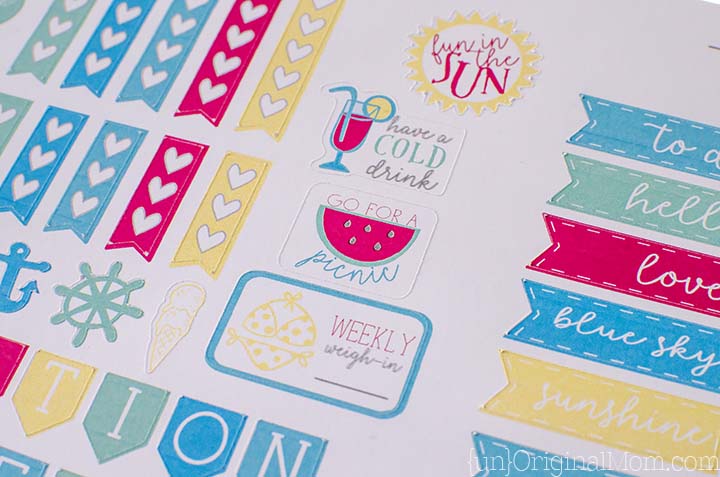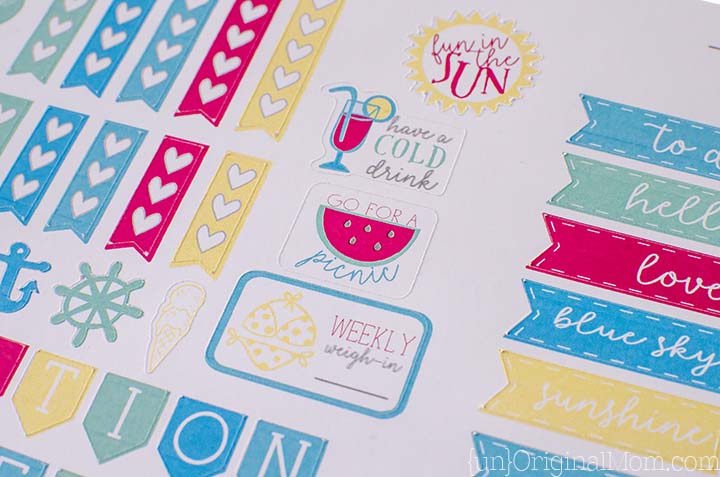 I worked really hard on these stickers, and it would be such a shame to just keep them to myself! So I'm sharing them with you :-) You can easily re-size them to fit whatever kind of planner you have. Just remember that I've already created the offset lines for full-bleed stickers and the correct lines are set to cut, so be careful when ungrouping images and double check those cut lines before you start cutting. You'll find this cut file, along with many more, in my Silhouette Library, available exclusively for my email subscribers! Sign up below and you'll immediately receive an email with a link to the library and the password to get in.
For those of you without a Silhouette, I've got a PDF version that you're welcome to have – you could print these on sticker paper and then cut them out with scissors or an x-acto knife. PLEASE NOTE – these files are for personal use only. You may not sell them, alter them for sale, or distribute them in any way (that includes hosting this file on your own blog or website, even for free distribution.) Thank you!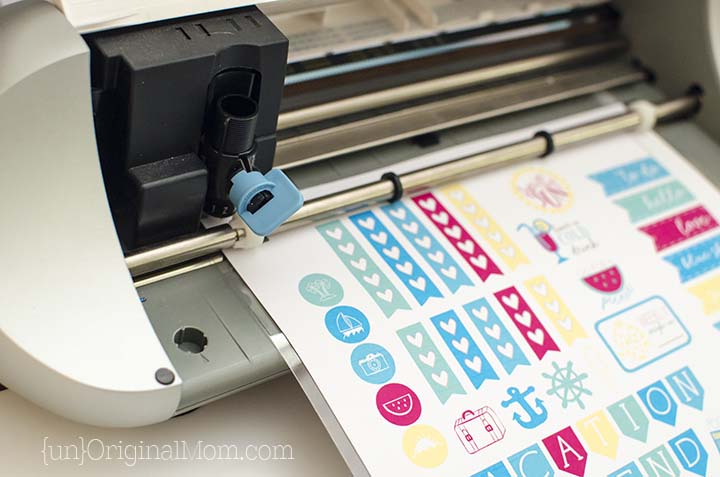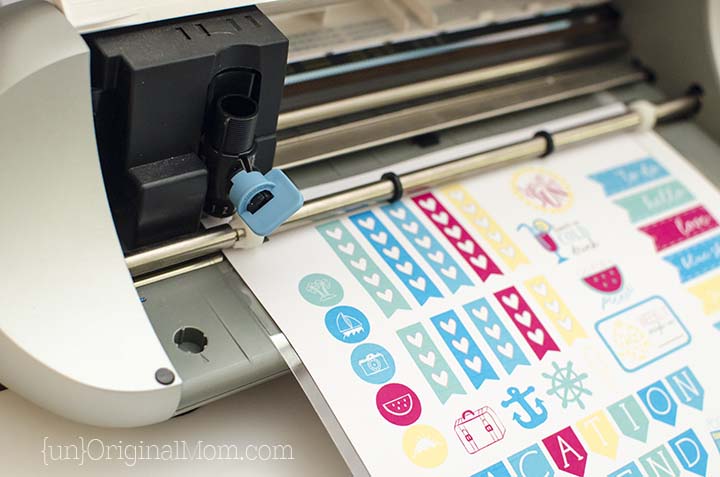 I'm excited to start beautifying my planner with these colorful stickers! If you're looking to try out a planner (or upgrade), I'd highly recommend an Erin Condren planner! I have the horizontal layout with a personalized cover and it's such good quality. They've got a ton of great options for you.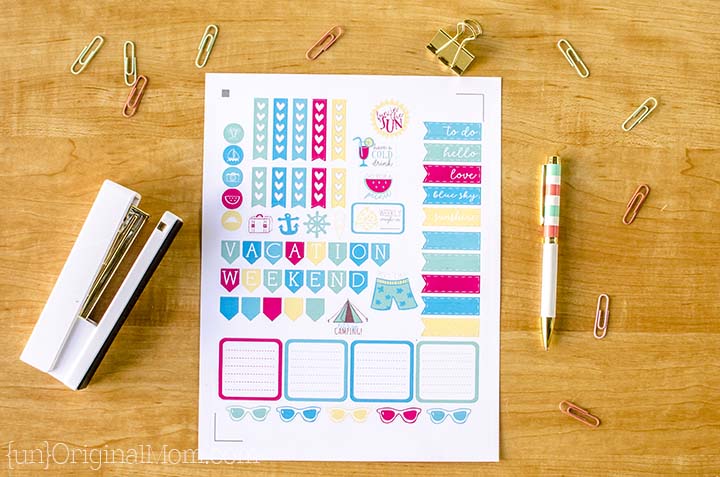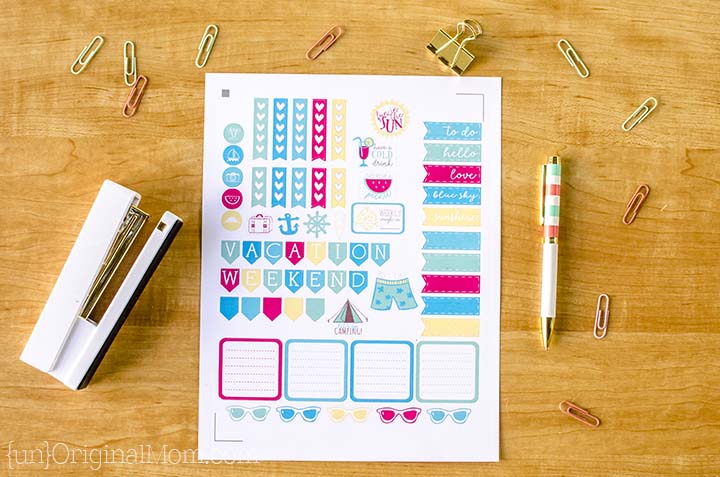 Ok friends, I've got two more great Silhouette treats for you today! First off, my Silhouette Challenge buddies and I are all sharing summer projects on our blogs today, so peruse the projects below for a wealth of Silhouette inspiration…  
1. Sisters, What // 2. Small Stuff Counts // 3. Adventures in All Things Food // 4. Creative Ramblings // 5. Where The Smiles Have Been // 6. Curly Crafty Mom // 7. Architecture of a Mom // 8. Create & Babble // 9. HaberdasheryFun // 10. Coral + Mint Design Co. // 11. Designed Decor // 12. Tehtaiskˆ nyt? // 13. Tori Grant Designs // 14. Morena's Corner // 15. It Happens in a Blink // 16. unOriginal Mom  
And I've saved the best for last! Silhouette America has graciously sponsored our giveaway of a Silhouette Portrait! One lucky grand prize winner will receive their very own Silhouette Portrait, and two runners up will each receive a Heat Transfer Vinyl Starter Kit. (If you already own a Silhouette, just think how great a gift this would make for a friend!) To enter: just complete the entries in the Rafflecopter widget below. You have 18 potential entries, which means a lot of winning power. So, hurry up and enter! (This giveaway runs from 8:00 am on May 9 until 11:59pm on May 16, 2016, and is open to readers with a US mailing address.) a Rafflecopter giveaway
This post contains affiliate links – click here to read my full disclosure.


Get your copy of my FREE meal planning binder!
Sign up to get a free copy of my meal planning system - an 11 page printable meal planning binder, complete with a pantry inventory, shopping list, and more to help get on top of your menu each week!