Get your quarantine crafting on with 14 free quarantine SVGs, including this Quarantine Hair Don't Care SVG. Perfect to put on a hat for covering up those gray roots and overgrown hair!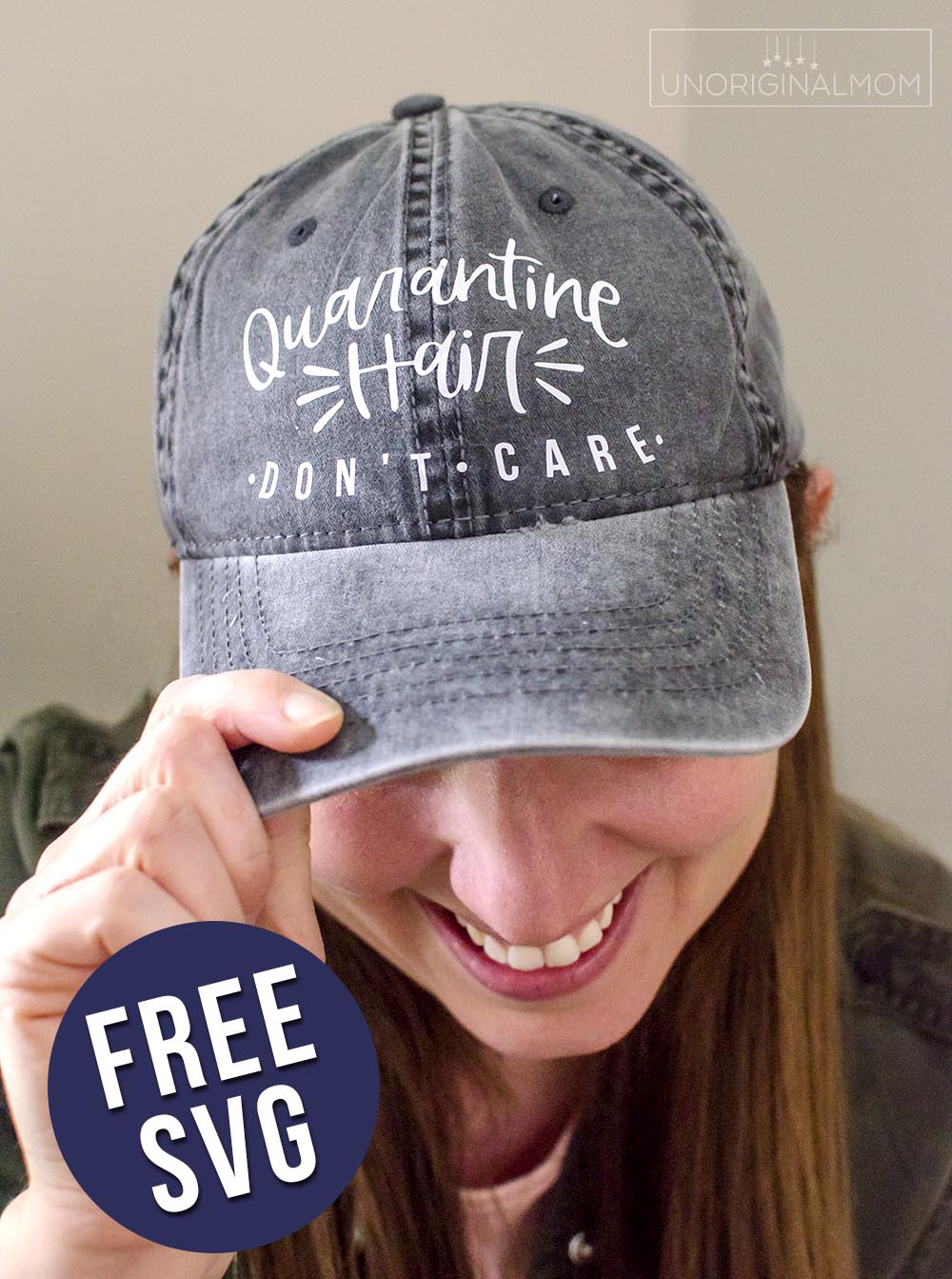 Well, here we are in week one thousand and fifty three of quarantine – or at least it's starting to feel that way. When we're finally on the other side of this, I don't think anyone will take a visit to the hair salon for granted again! I've already had to give hair cuts to everyone else in my family, but my poor hair will have to wait. My salon visits are normally few and far between anyway (#momlife) and I was already well overdue for a hair cut right before quarantine hit, and was literally planning on calling for an appointment the day that everything started closing…so now, 2.5 months later, I am desperately hair cut! In fact, it's now been over a year since my last trim. I am ready to cut it all off!  I do realize I'm luckier than my short-haired friends, though. At least I can throw my hair up in a top knot and ignore it! I know not all of you are that lucky. And that's not even mentioning the root grow-out that many of us are dealing with, too.  I know it's a very small price to pay for the health and safety of my family and our community, and I'm certainly willing to do it. But oh, am I looking forward to that first post-quarantine fresh cut…
QUARANTINE HAIR DON'T CARE SVG
Hence the inspiration for my latest Silhouette cut file design – this Quarantine Hair Don't Care SVG! I decided to try cutting it out of heat transfer vinyl and ironing it onto a baseball cap. I've never made one before, but I figured it couldn't be *too* hard. I was wrong, haha. It was pretty tricky to get my design ironed on without creasing or wrinkling the HTV! I rolled up a towel to fit inside the hat, and that worked pretty well, but this style of hat made things difficult.  I think it would have been MUCH easier with the smoother front of a trucker style cap. I did get it to work, though (after two tries), and I'm really happy with how it turned out!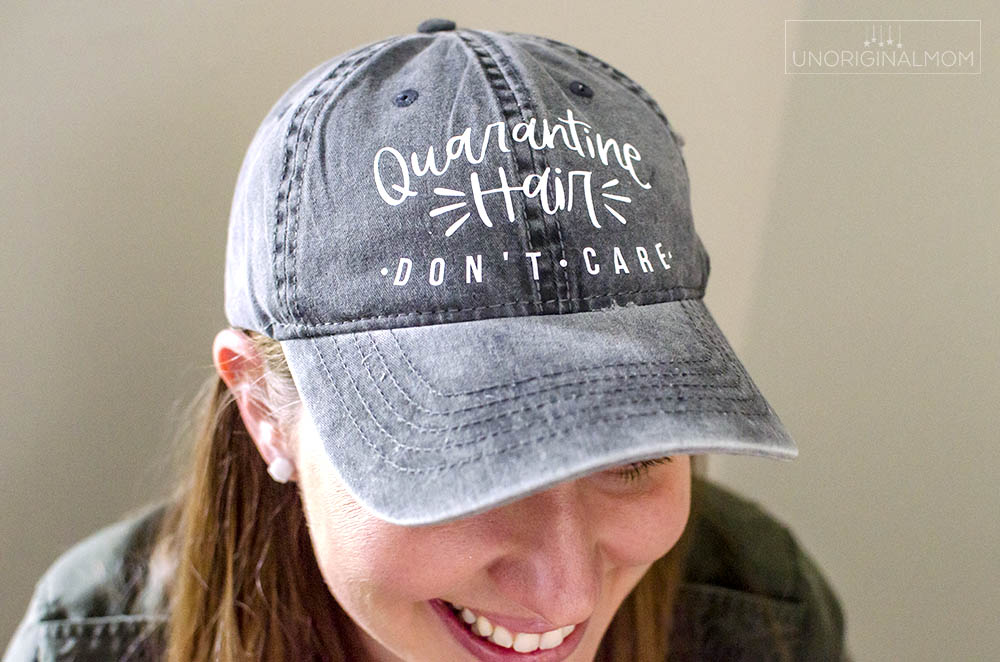 What do you think…should I wear this to the grocery store? I think it goes well with my mask, haha!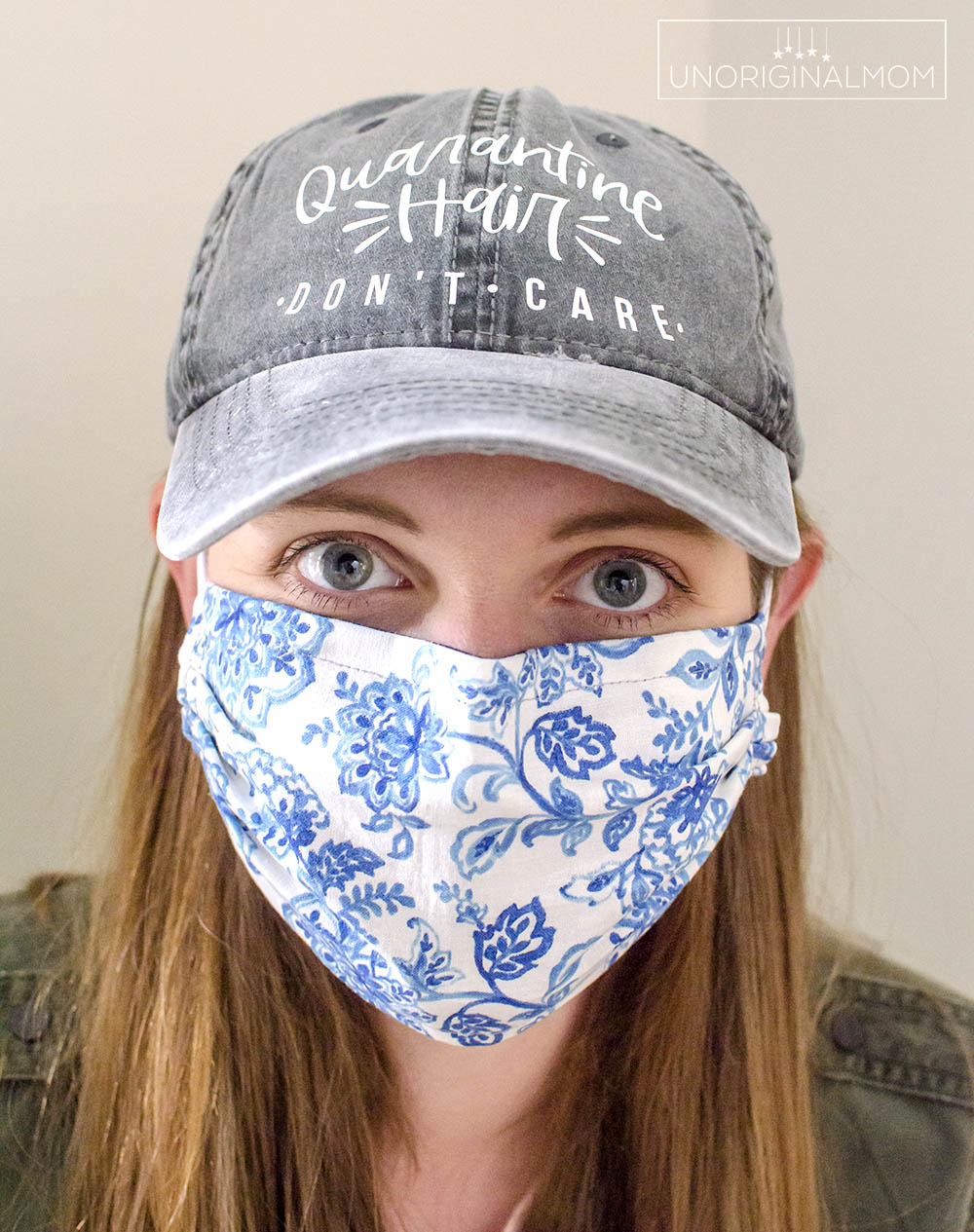 QUARANTINE HAIR DON'T CARE SVG – FREE DOWNLOAD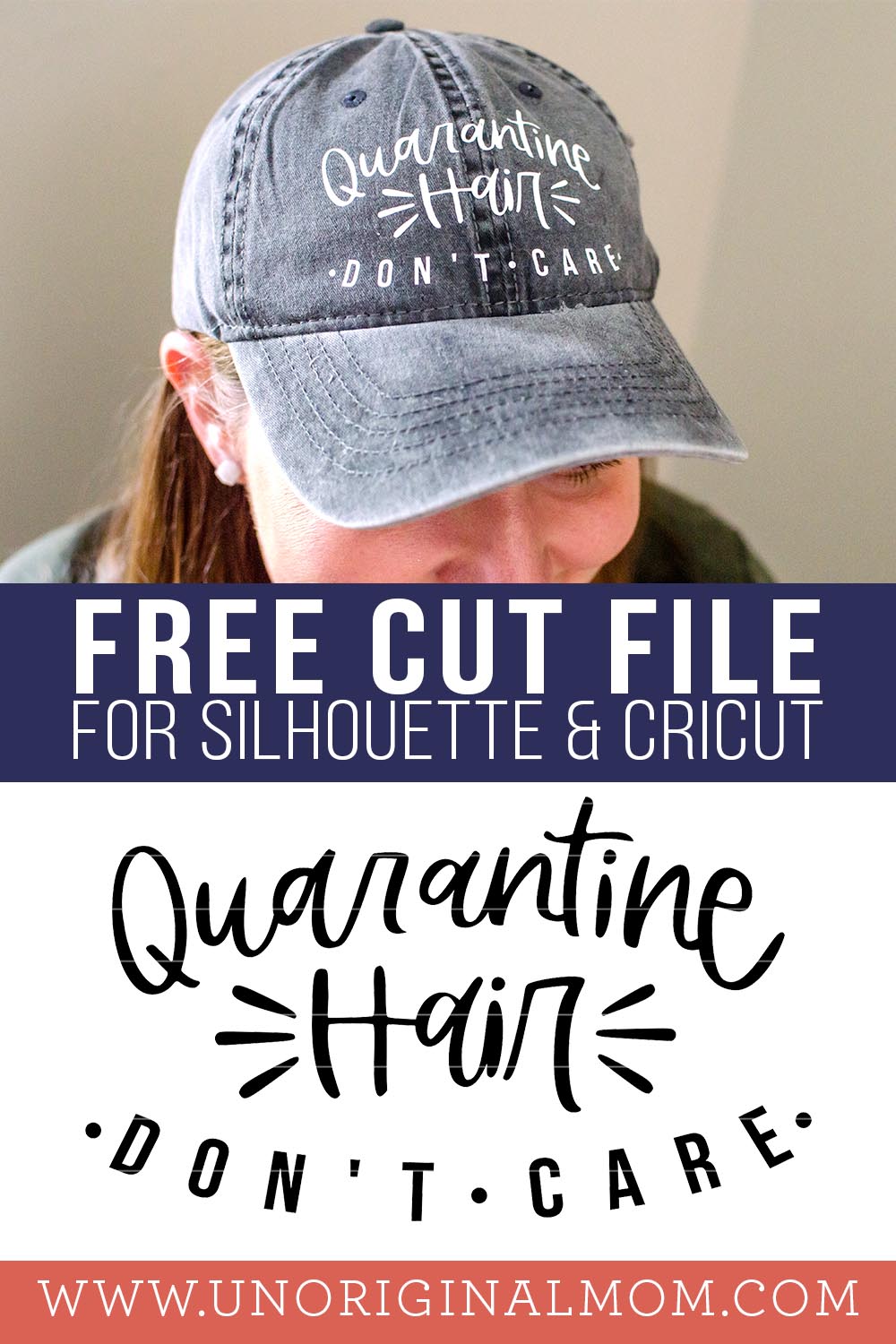 You can access the .studio and SVG files of this design for FREE inside my Silhouette Library! Sign up for access here, and you'll receive an email with instructions on how to access the library. Unsubscribe at any time.

FREE QUARANTINE SVGs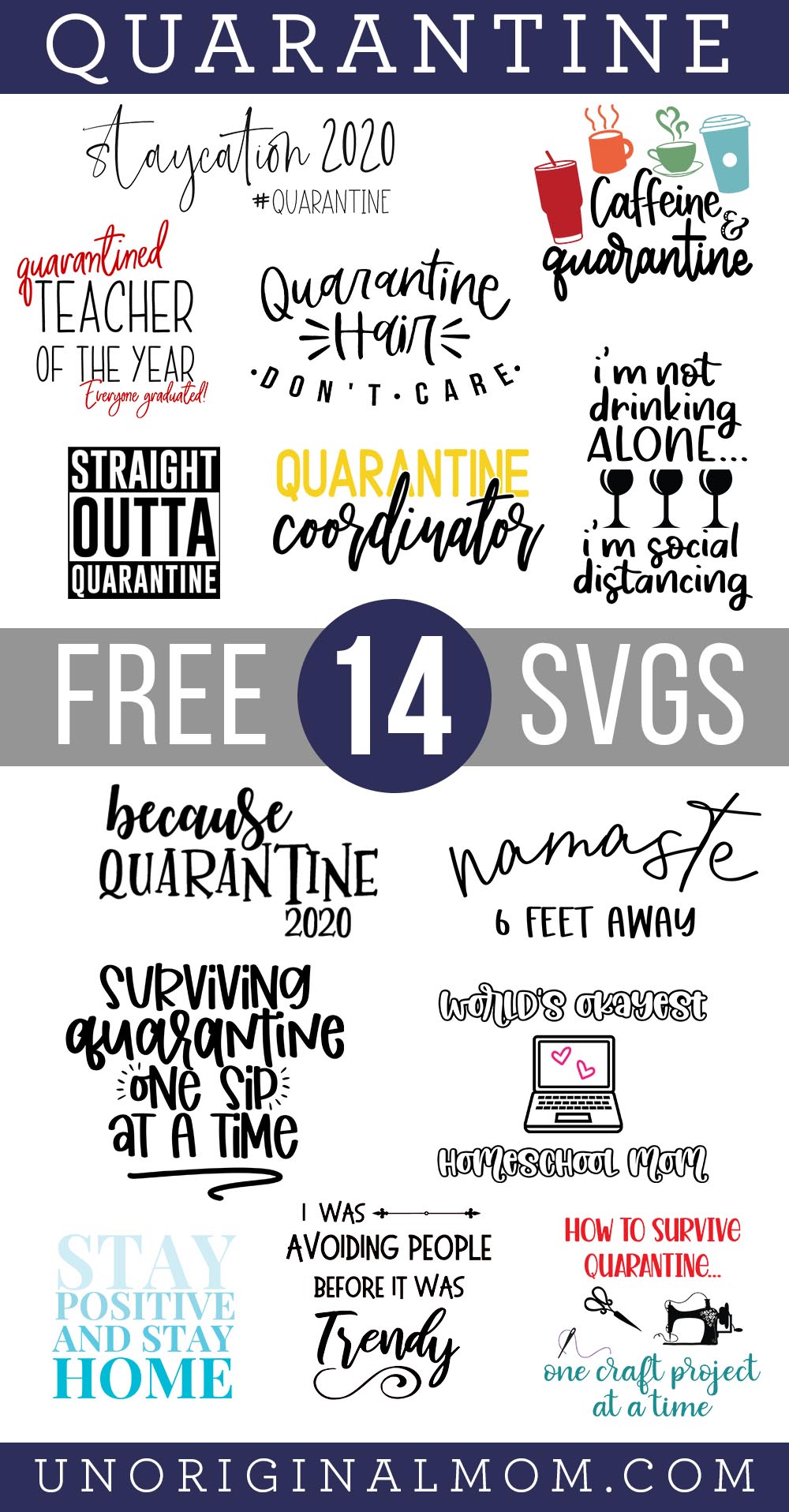 Some other blogging friends of mine are also sharing free Quarantine SVGs today! Browse around and download your favorites for some more quarantine crafting. Whip up some tees, signs, mugs, and/or wine glasses to use now…and then keep them as a way to look back and remember this crazy time of quarantine!
Because Quarantine 2020 from Leap of Faith Crafting
Namaste…6ft Away from Brooklyn Berry Designs
Quarantined Teacher of the Year from We Can Make That
Quarantine Coordinator from That's What Che Said
World's Okayest Homeschool Mom from Hello Creative Family
Straight Outta Quarantine from The Girl Creative
Caffeine & Quarantine from Liz on Call
Stay Home from Try It – Like It- Create It
Staycation 2029 from Everyday Party
Surviving Quarantine One Sip at a Time from Happy Go Lucky
I'm Not Drinking Alone…I'm Social Distancing from Kelly Leigh Creates
I was avoiding people before it was trendy from A House to Grow Old In
How to Survive Quarantine One Craft at a Time from Mom of 5 Trying to Survive
Happy crafting!



Subscribe to unOriginal Mom via email and get instant access to my library of FREE Silhouette Studio & SVG cut files - exclusively for email subscribers. Plus there's a new file added every month!