13 months ago, I jumped into this intermittent fasting + nutrition + exercise program called The Faster Way to Fat Loss. I was seven months postpartum with my third child and desperately in need of some healthy lifestyle and weight loss strategies. Despite some issues with the program, I had really great success with the Faster Way to Fat Loss "formula." I shared all the positives and negatives of the program in a complete and honest Faster Way to Fat Loss review last summer – that's a great place to start if you're unfamiliar with the program.
I regularly get questions – both from readers and social media followers, and from friends and family – about Faster Way to Fat Loss. After a year of following the program on-again and off-again, I figured it was about time for an update to my original blog post. After you've read my initial Faster Way to Fat Loss review (including my results and before-and-after photos!), read on for more updates on the program, some FAQs, and whether or not I still recommend the Faster Way to Fat Loss.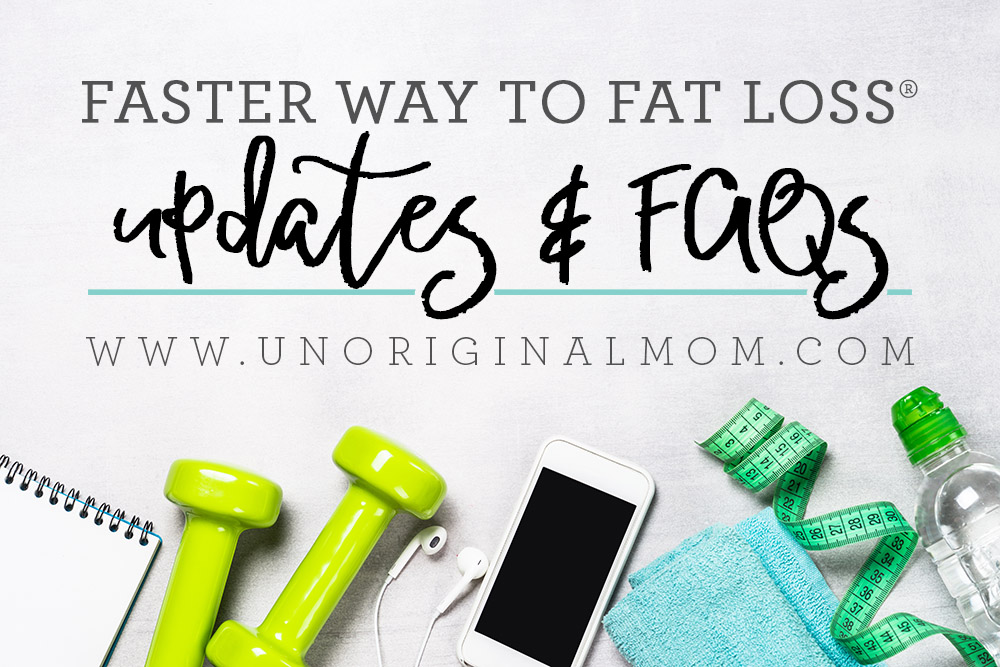 My referral links are included below for your convenience. This post is not sponsored in any way.
FASTER WAY TO FAT LOSS REVIEW – PROGRAM UPDATES
Faster Way to Fat Loss continues to make major adjustments to the layout of the program – it seems like they just can't settle on a format that works. For my first round in May 2019 there was one week of prep and then you jumped into 6 weeks of following the program. Then they transitioned to an 8 week program where you had concepts introduced one week at a time and then 4 weeks of the whole thing. At one point I think they included a 4 week "trial" of the VIP membership for those last 4 weeks, but they don't do that anymore. I signed up for a "refresher" round for myself in January 2020, and at that time they were slowly rolling out concepts one week at a time. The biggest problem with that is they have you start intermittent fasting BEFORE teaching you about your macros. This means that if you don't know what you're doing, you're essentially just skipping breakfast and will be STARVING! That's not setting you up for success. I think they realized that method wasn't working, either, because starting June 2020 they're back to a 6 week format where they teach you all the concepts right away so you have the most amount of time to jump into the full program.
My biggest complaint from my January 2020 round is the same complaint I had from my original round in May 2019 – the "small groups" are NOT small. In my second round, there were 2,000 people divided into 20 "small groups" which were optional to join, but required mandatory participation if you did decide to join. There were 60 people in my group and no relationship building or camaraderie among the members. We were given opportunities to post questions and post screenshots of your daily macros for feedback, but there was no individual accountability. In fact, I went for a few weeks without posting anything and was removed from the group without my knowledge. To their credit, they did say up front that if you did not participate in the groups you would be removed. I was disappointed, though, that I didn't get any kind of notification, reminder, or encouragement to stay active before I was deleted from the group. I don't know if their policies or groups are run the same way now, but it was a big turn-off for me in both of my rounds. I believe that's the biggest way that they could add value to the program, and they're really missing the mark there. (If you've participated in a more recent community round and have noticed a change, please let me know!)
The online portal, where you get all the information you need, is very poorly organized. The information and resources they provide are really great, but it's challenging to locate something specific when you're looking for it. It seems like they're pushing for you to do everything on your phone with their app.
Speaking of the Faster Way to Fat Loss app (which was new when I did my January 2020 round)…it's really not as great as I was expecting, given all the hype around it. It's simply a mobile version of the online portal. All your meal planning and macro tracking still happens on My Fitness Pal. I was hoping they'd at least have some sort of calculator to make calculating your macros on regular and low carb days more straightforward (it's VERY confusing to set up on MFP), but they don't. It's basically just a mobile-friendly way to access the workout videos, the meal plan, and the information that's in the portal. If you're a use-your-phone-for-everything kind of person, then it's definitely a nice feature. For me, though, I prefer using my laptop so I barely used the mobile app at all.
One major improvement between my first and second round was the addition of meal plans. It's important to note, though, that while the meal plans and recipes are a helpful starting point, but not really realistic to just follow as-is unless you A) have a personal chef and shopper or B) have NOTHING else to do besides shop and cook for yourself. They involve 3 fully prepared meals a day! I wish they took advantage of leftovers, meal prep for breakfast/lunch, or at least using the same ingredients for multiple meals to help save on the grocery budget. They're a good starting point for ideas, but you still have to learn how to track your macros and adjust snacks and portion sizes to hit your own personal goals for each day – there is no "one size fits all" meal plan on this program. That's actually one of the reasons I really like the program itself, because once you adapt it to your own tastes, preferences and lifestyle (which takes a LOT of work up front) it is really adaptable and sustainable for the long-term.
The biggest change that they recently made is that after completing the initial program, you will be auto-enrolled in the $79/month "VIP" membership subscription. I hate it when companies do this – it feels really sneaky and scammy to me. I address the VIP membership more in the FAQs below, but just be warned that you'll need to remember to CANCEL your VIP membership at the end of the program or else be charged the recurring monthly fee.
Despite the format of the actual 6 or 7 weeks, I think the best thing this program has going for it is that their "formula" really WORKS – and that's the most encouraging part! I've experienced major weight loss and muscle building as well as other health benefits and balanced energy. I won't lie, the first few weeks of doing it all is REALLY hard, but you also start seeing results really quickly…which spurs you on to keep at it.
FASTER WAY TO FAT LOSS REVIEW – FAQs
Can't I just do intermittent fasting on my own?
Yes, you absolutely can. There is a ton of information out there about intermittent fasting! FWTFL isn't the only program that uses this technique. But there is a good and bad way to do fasting – it's not as simple as just skipping breakfast. FWTFL has a good blog post here on the most common mistakes of intermittent fasting. Pairing intermittent fasting with carb cycling, HIIT workouts, and strength training (which is what FWTFL does) is where you get the biggest bang-for-your-buck with the weight loss and health benefits. But you'll probably still see some progress with intermittent fasting on it's own, as long as you're doing it correctly and NOT starving yourself!
What am I actually GETTING when I sign up for the program?
Honestly, the biggest thing you're getting is the Faster Way to Fat Loss "formula" – the guide to intermittent fasting, the carb cycling schedule, how to calculate and track your macros, and meal planning + recipe resources. That's the stuff that really works. You're also assigned a coach who is your personal resource and guide through the process. You'll need to take on personal accountability to stick with the program and actively ask questions when you need help or clarification. Don't expect much from the Facebook groups or coaches otherwise. You also get access to their at-home video workouts (30 minutes or less, and they're new each day), which I actually enjoyed. The workouts are hosted by a trainer but include real-live FWTFL team members who aren't actors or professional trainers, which I found to be encouraging and authentic. There is no way to download these workouts, though, so once the program is over and your access to the portal expires, you lose the workouts.
The benefit is once you've purchased the program, you know how to do it and can continue with nutrition/fasting aspect of it for as long as you'd like! Make sure you take good notes and download all the resources from the portal so that when your access ends after the program, you have everything you need to stick with it or revisit it later.
Can you just tell me how to do it so I don't have to buy the program?
I actually get this question a lot. Nope, that information belongs to the Faster Way To Fat Loss company. They put a lot of resources into researching and developing a program that really works. It wouldn't be fair, ethical, or legal for me to share that information with you.
Who is this program best for?
You'll have the most success if you're a self-starter and willing to put in the work and stick with it. If you're someone that needs a lot of hand-holding and outside motivation/encouragement, I don't think this is the program for you. I do strongly encourage you to do it with a friend so you can help hold each other accountable! You also need to have a fair amount of time to devote to learning and implementing the program during the first 2-3 weeks.
Can I still drink alcohol in FWTFL?
Yes and no. It's discouraged, but you are allowed to include it on your "treat day." I abstained for most of my first round in order to maximize my results, but as I incorporated FWTFL into more of my everyday lifestyle, that just wasn't realistic for me. You can find a really helpful run-down of how alcohol affects your body's fat burning ability in this article on the Faster Way blog.
Is Faster Way to Fat Loss an MLM?
"MLM" stands for "Multi level marketing." (Think direct-sales companies like Beachbody, Young Living, LuLaRoe,  Rodan and Fields, etc.) Not all MLMs are bad. The main characteristic of an MLM is that one of the biggest ways you earn money is by recruiting more people to sell under you, and in that sense, Faster Way to Fat Loss is NOT an MLM. Coaches don't recruit other coaches to coach "under them," like, for example, Beachbody coaches do. However, in my opinion, there is still very much of an MLM "feel" to FWTFL. From what I've heard, it costs thousands of dollars to become a "certified coach," and then coaches have to recruit their own participants. So, in the sense that coaches and influencers are constantly pushing the program on social media, it certainly has many similarities to a direct sales and/or MLM program. I do appreciate, though, that FWTFL is a company with good values that generously gives back to worthy causes.
I've already done the program. Should I sign up for VIP?
The FWTFL VIP program is for people who have already done at least one round of the program and want to continue with the Faster Way lifestyle. It's $79 per month. (As of the June 2020 round, participants will be AUTO-ENROLLED in the VIP program upon completion of the initial round – that means you'll need to actively cancel in order to not be charged!) In exchange, you get access to the VIP community, more coaches, experts, the VIP meal plan, monthly challenges, and a ton of workouts – their regular live workouts as well as a library of various different styles of workouts. I've heard from plenty of people that really love the VIP program (including a few friends of mine), but I'll be honest – $79/month is a totally mind-blowing number for my budget. I could never justify spending that much money on something like this, so I've never done the VIP program.  Once you do the program, you already have the FWTFL "formula" and can continue to follow the diet or modify it to your lifestyle for as long as you want to. You could even pair it with a different workout program. I've done that, and continued to see great results. But if you're someone who loves the workouts and wants to stay engaged in the FWTFL community (and would already be spending a large chunk of that monthly amount on a gym membership that you could cancel), maybe the VIP program is for you. It's definitely NOT a necessity, though.
Do you still recommend the FASTer Way to Fat Loss?
I'll be honest, I'm a bit more on the fence about it than I was when I wrote my original review. I am not a big fan of the business itself and the way they are constantly making changes to the layout of the program.  I actually had a very negative personal business encounter with Amanda Tress which made me lose a lot of respect for her and the way she treats people professionally. The program could use significant improvement in terms of resource organization and their coaching/small group model. All that said, however, I do still believe that the program works. Unlike Keto, it is actually GOOD for your body. In fact, there are lots of health benefits to intermittent fasting. If you're willing to take on the challenge, spend a lot of time planning meals and calculating macros for the first few weeks, and really stick with it, I think you'll see good results in both fat loss and overall health and energy level and I would recommend it to you.
How do I sign up?
They start new rounds of FWTFL every few weeks – you can find out the next start date and sign up here.
FREE FASTER WAY TO FAT LOSS MEAL PLANNING RESOURCE
Throughout my journey with the Faster Way to Fat Loss lifestyle, I've compiled a big list of my favorite meals and snacks, along with a shopping list of my favorites from Trader Joe's. If you register for FWTFL through my referral link, I'd love to share this resource with you to help you have success with the program!
Here's how to get access to my Faster Way to Fat Loss Meal Planning Resource:
Register for the next round of Faster Way to Fat Loss by clicking here
Email me (meredith at unoriginalmom dot com) to let me know you signed up, and I'll share my meal planning document with you! (If I don't reply within 48 hours, please try again! I get a LOT of email and sometimes messages get lost as I sift through all the junk mail.)
(Note – this resource is my way of saying thank you to people who sign up through my referral link. Please do not request access otherwise.)
Wheeeeeew-eee, that was a LOT of information! I hope you found it helpful. If you have any questions, feel free to reach out via email or leave a comment!


Get your copy of my FREE meal planning binder!
Sign up to get a free copy of my meal planning system - an 11 page printable meal planning binder, complete with a pantry inventory, shopping list, and more to help get on top of your menu each week!