I really can't believe I've had this blog for four years and never shared my love of rotisserie chickens with you! They're like my meal planning secret weapon. Seriously.  It's high time I leveled with you about this well-kept secret of cheap and easy freezer meal prep – once you've tried this, you'll be absolutely hooked!
Of course, supermarket rotisserie chickens are no secret. I hope you've discovered what a terrific value they are! They're one of those "get you in the store" deals where the store isn't making much – if any – money off of them. Around here in central PA, the price for a rotisserie chicken is $5 at pretty much any store you shop at. That's much cheaper than you can typically get a whole raw chicken, not to mention much easier than making one yourself! I'm sure you've grabbed one for a quick and easy dinner before (if you haven't, you should!), they make a terrific dinner with a simple side or veggie and a green salad. But here's the well-kept secret – you can use a rotisserie chicken to stock your freezer with delicious and CHEAP meal starters that will make cooking dinner insanely easy!!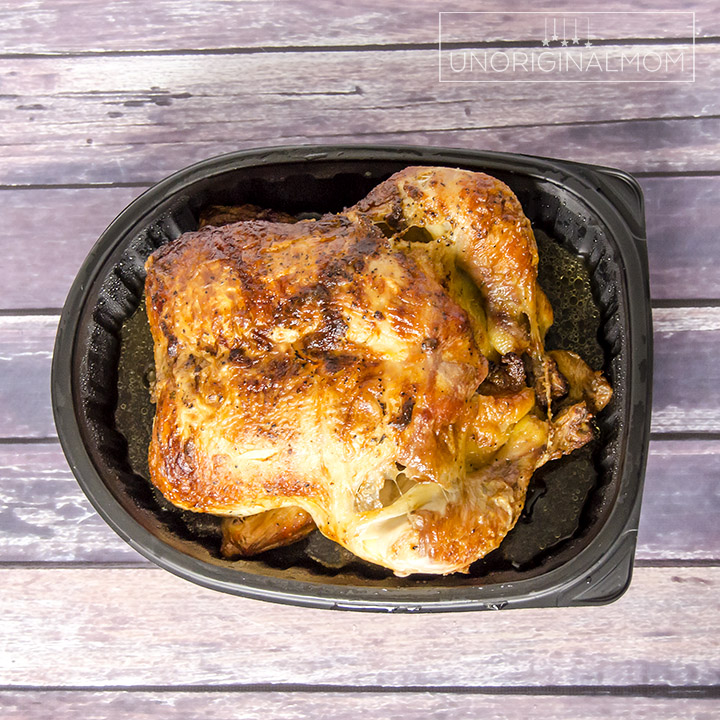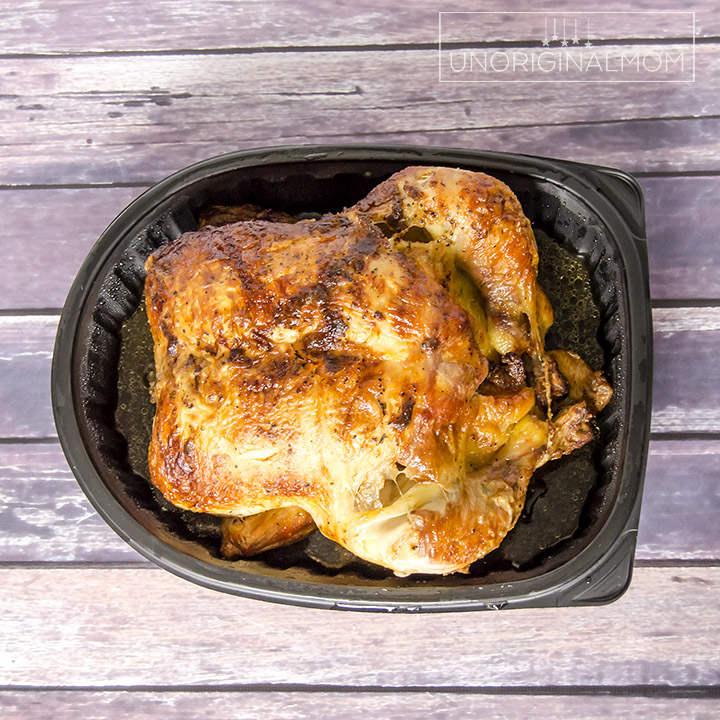 Now, when you're buying a store-made rotisserie chicken, you can't control the flavorings and fat content. You could certainly buy your own whole chickens and cook them how you like, then follow these rotisserie chicken freezer meal prep tips for super easy meal planning!
Tip #1: Sam's Club Rotisserie Chickens – hands down.
I have personally tried at least one rotisserie chicken from every grocery store near us – Weis, Giant, Wegman's, and Walmart. None of them even come close to Sam's Club's rotisserie chicken's in quality, quantity, or flavor. They're all $5, but the one's at Sam's club are almost twice the size and much more flavorful and juicy than any of the other one's I've had.  Wegman's are usually pretty tasty but MUCH smaller than the ones you get at Sam's, for the same price. If you live near a Sam's Club and have a membership, I highly recommend trying their chickens! (I've even heard that they will discount them down to next to nothing late in the evening before closing if they have any left – that's a great time to go snag several!) Nope, this isn't sponsored in any way by Sam's Club, I just really like their chicken! We don't have a Costco nearby, so I can't personally attest to their price/quality/flavor, but I've heard that they are very comparable to Sam's Club's rotisserie chickens, too.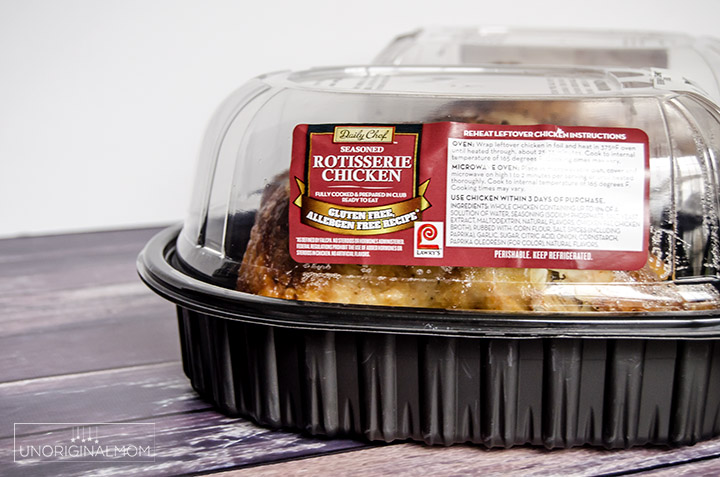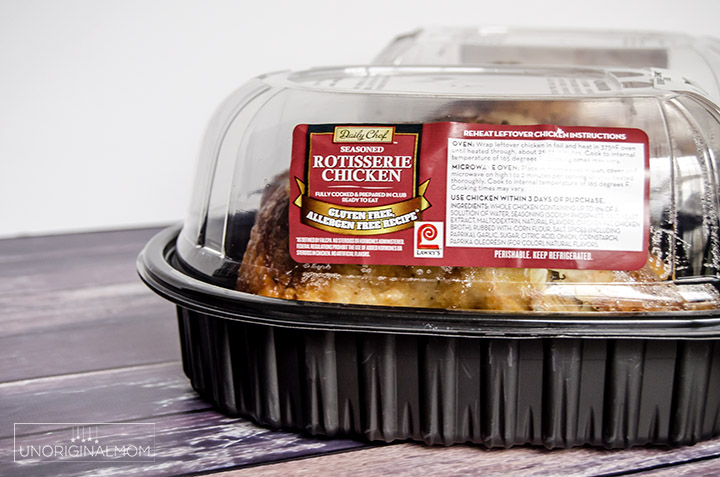 Tip #2: Buy multiple chickens at one time.
If you're going to use my method of stocking the freezer with rotisserie chicken, only buying one chicken at a time isn't going to be a very efficient use of your time. I always buy at least two chickens at a time. If you've got a large family, it might make sense to even buy 3 or 4 at a time.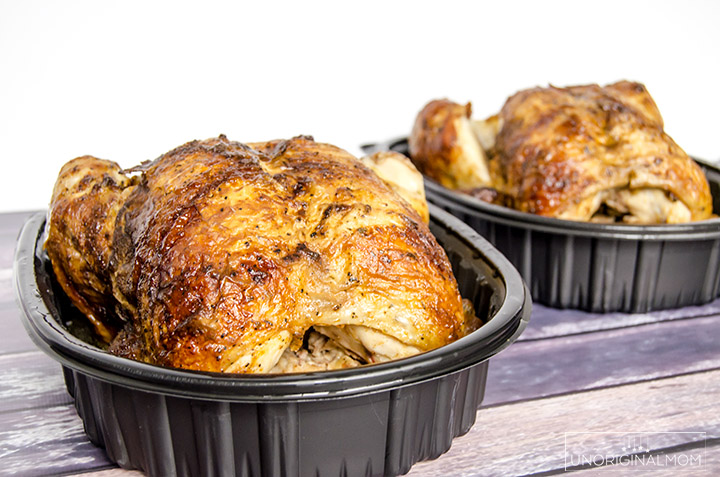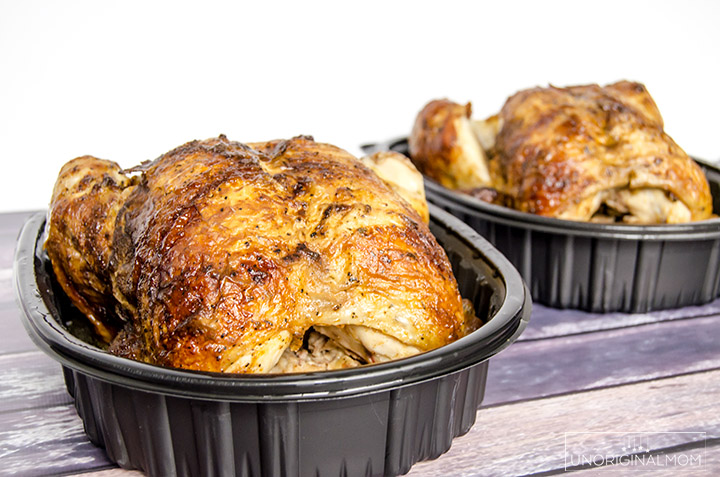 Tip #3: Set aside what you need for dinner, and shred the rest.
Of course, it makes sense to eat chicken for dinner when you buy one and it's fresh! It also means that you can spend an hour in the kitchen prepping your chicken for the freezer and not have to spend extra time in there cooking dinner, too. So take whatever you need to feed your family for dinner and set it aside. Then, get to work picking ALL the meat off of the bones and shredding it with your fingers into a large bowl.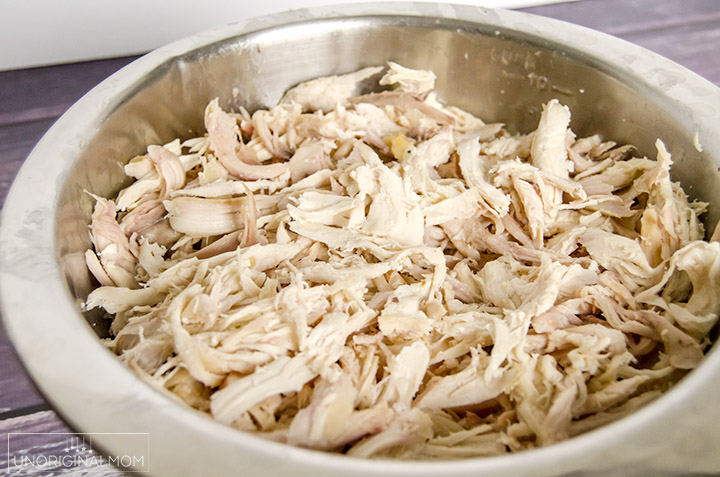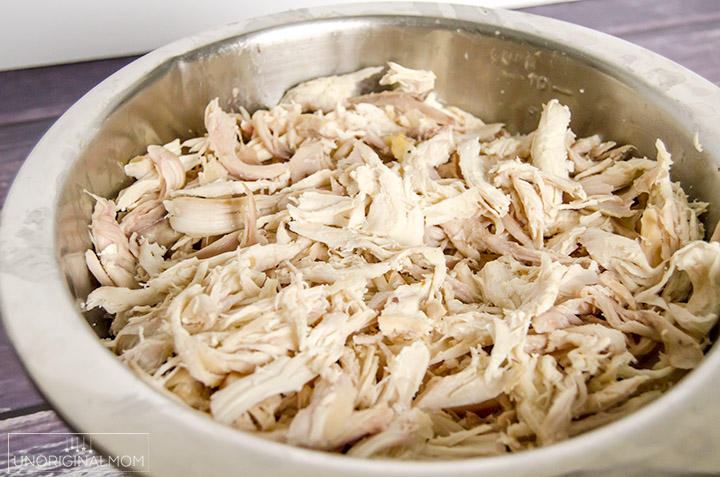 Tip #4: Freeze the shredded meat in 2 cup portions to use as meal starters.
I separate my shredded chicken into 2 cup portions (white meat mixed up with dark meat) and put them in quart sized freezer bags. Depending on the size of your family, you could do larger portions if you'd like. I find that I use 2 cups of shredded chicken in most of our go-to soup recipes, but closer to 4 cups in more hearty dinners and casseroles that call for shredded chicken. That way I can either grab one or two bags depending on what I need it for. Make sure you label them with the quantity and date. Then, use the shredded chicken in soups, casseroles, chicken salad, dips and appetizers, etc!  Tip: I can't say enough good things about these bag holders! I use them ALL the time.
If this is all a new idea for you, you might be wondering what the heck you do with all that shredded chicken…oh my, there are so many possibilities! Here are some recipe ideas for you:
20 ONE DISH DINNERS to Make With Leftover Rotisserie Chicken
15 SOUPS to Make With Leftover Rotisserie Chicken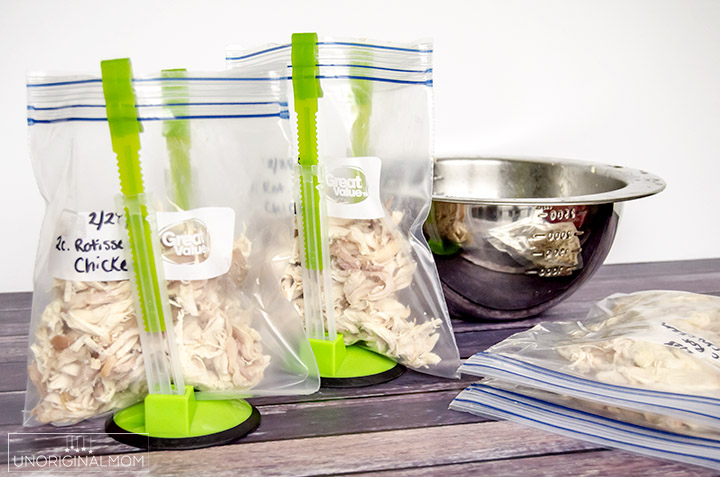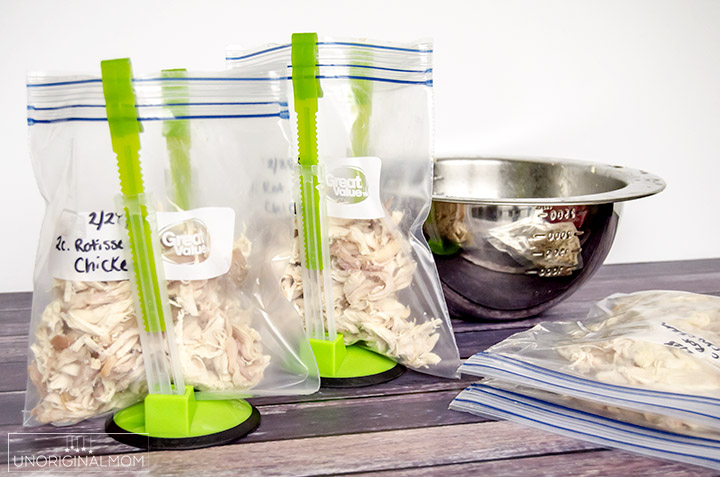 Tip #5: Throw the carcass in the crock pot overnight to make stock.
This is the BEST money-saving tip to really stretch your dollar with rotisserie chickens – as you're picking the meat off and shredding it, toss all the bones and skin into your slow cooker. Then add some veggies, cover with water, and turn it on to cook overnight. You'll end up with the most DELICIOUS chicken stock ever! Here's how I make my rotisserie chicken crock pot chicken stock.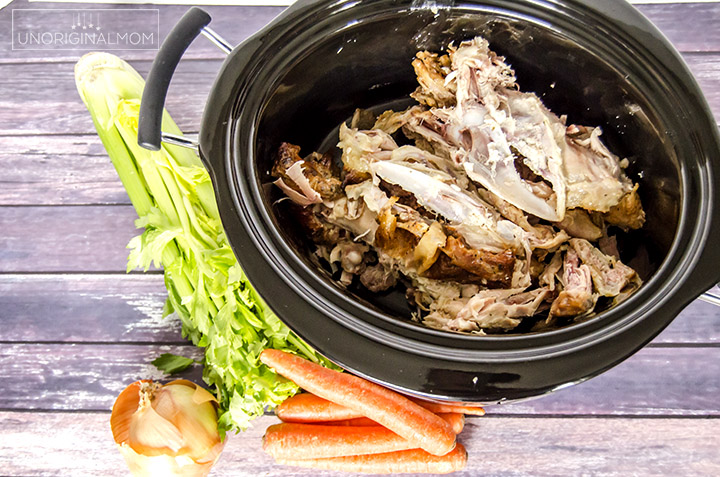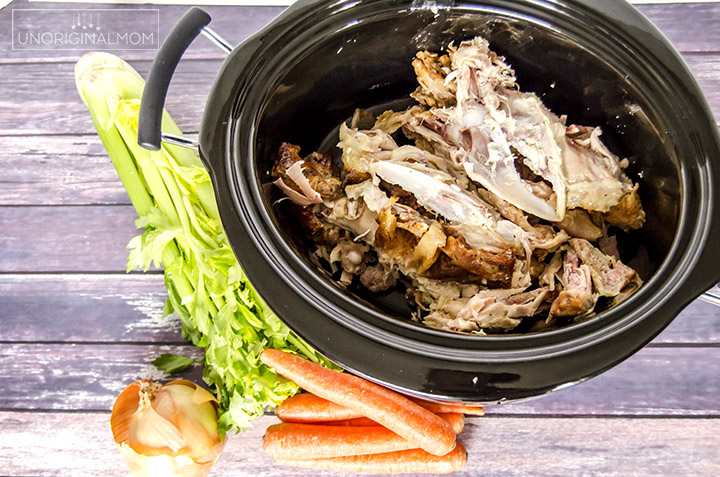 Out of two Sam's Club rotisserie chickens, I'm usually able to feed my family dinner and then get four 2 cup portions of shredded chicken to freeze for future meals – PLUS about 10 cups of amazing homemade chicken stock! All that for just $9.98! I have yet to discover an easier, cheaper, or more delicious way to feed my family and stock my freezer.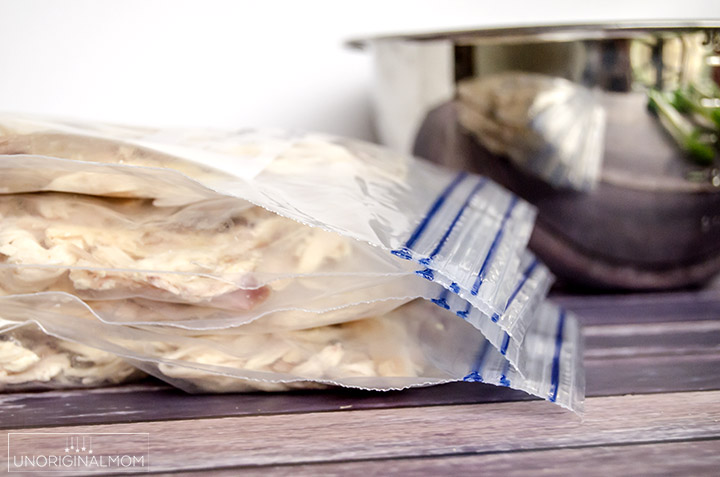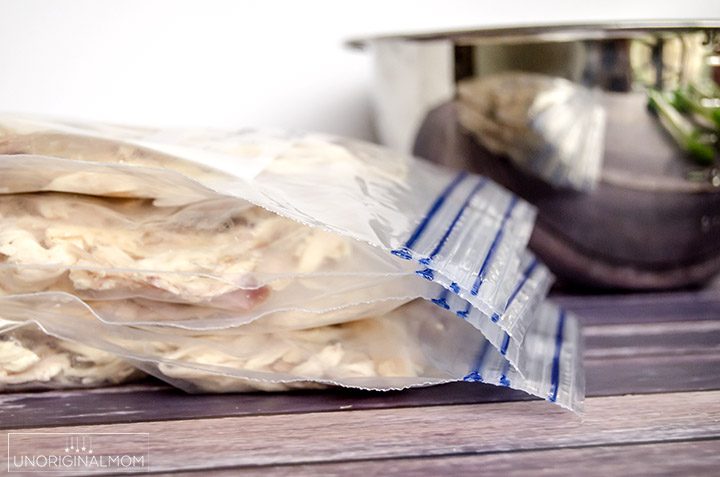 That's not all I have to share with you…I've put together a step-by-step guide to making delicious rotisserie chicken crock pot chicken stock plus lots of recipe ideas for using your shredded chicken!
How to Make Rotisserie Chicken Crock Pot Chicken Stock
20 ONE DISH DINNERS to Make With Leftover Rotisserie Chicken
15 SOUPS to Make With Leftover Rotisserie Chicken


What are your favorite ways to use leftover rotisserie chicken? I'm always looking for new ideas!


Get your copy of my FREE meal planning binder!
Sign up to get a free copy of my meal planning system - an 11 page printable meal planning binder, complete with a pantry inventory, shopping list, and more to help get on top of your menu each week!