Make the most out of your rotisserie chicken by making rotisserie chicken crock pot chicken stock! It's so much better than store bought chicken stock, and the best part is, it's practically free! Read on to see my tips and tricks for stocking your freezer with shredded rotisserie chicken and homemade chicken stock.
This post contains affiliate links – click here to read more about what that means.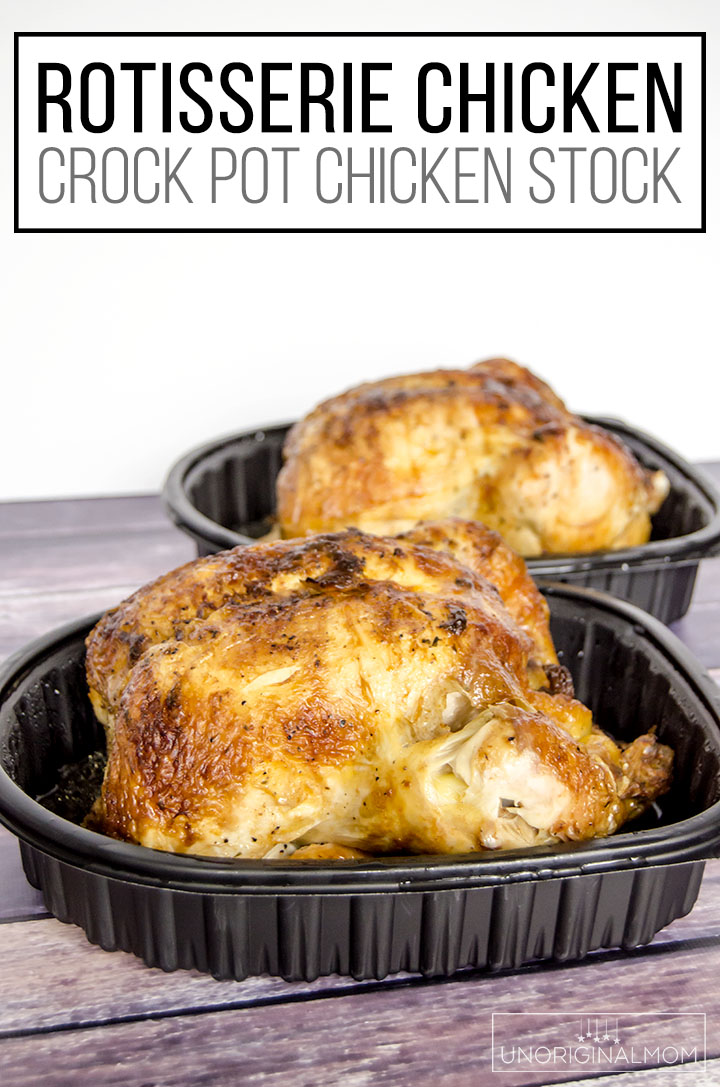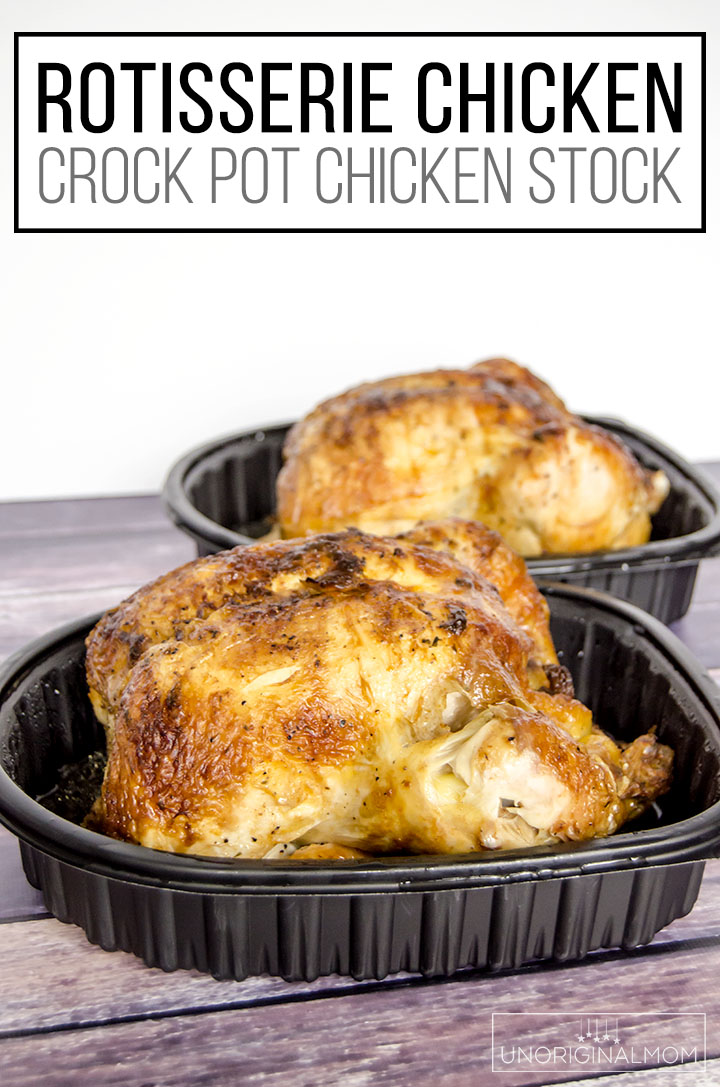 A few days ago, I shared my love of rotisserie chickens with you. They are my absolute FAVORITE way to stock my freezer with meal starters – so cheap, easy, and delicious! If you haven't read that post yet, you'll definitely want to hop over there to read my 5 tips for freezer meal prep with rotisserie chickens.
One of the tips I shared was making chicken stock out of the leftover rotisserie chicken carcass. It's the best way to really stretch your dollar and get the most out of your chicken, but even more importantly, it's the best chicken stock you'll ever taste!  When you're cooking with homemade stock, your meals will taste that much better – not to mention the health benefits of whole food, low sodium, slow cooked stock. You could even serve this broth up by itself as a comforting remedy for the flu. But the bottom line is – it is SO easy! Here's how I make our rotisserie chicken crock pot chicken stock.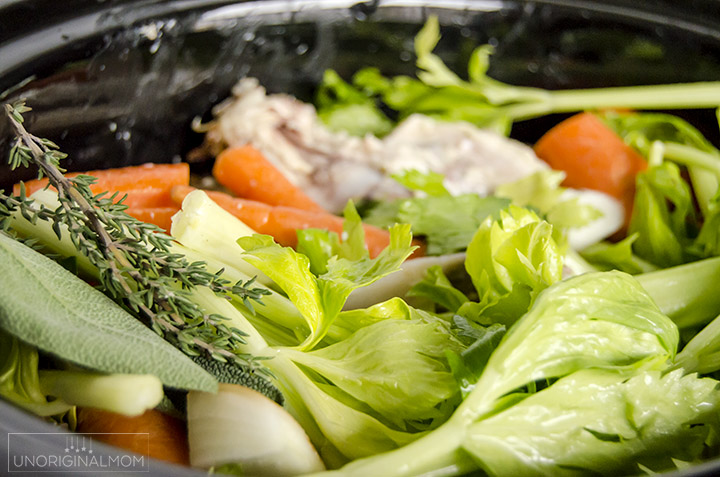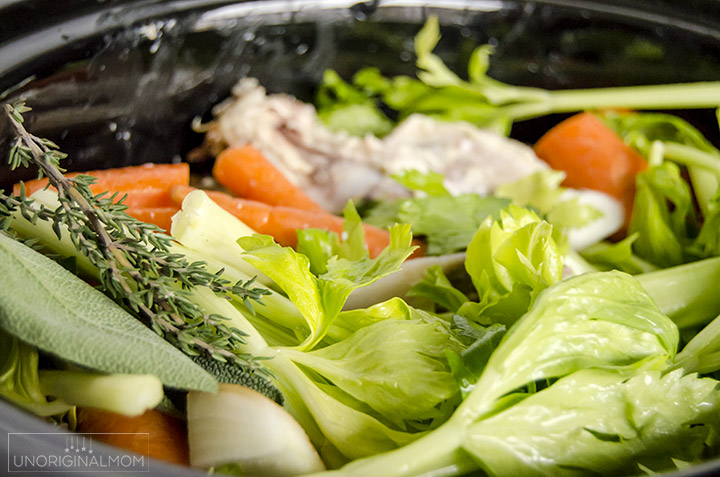 Pick all the meat off the bones.
Even if you've served the rotisserie chicken for dinner, chances are there's still a bit of meat left on there.  It's fine to throw it all into the stock, but not necessary…and that chicken is worth saving! I like to shred it up and freeze it in two cup portions for use soups, casseroles, appetizers, etc. (See how I do that in this post!) But even if you don't have that much left, stick it in the fridge to make a chicken salad sandwich or a chicken caesar salad for lunch the next day.(I recommend buying at least 2 rotisserie chickens at a time so you can make the most of your time prepping and freezing the shredded chicken and then making the stock.)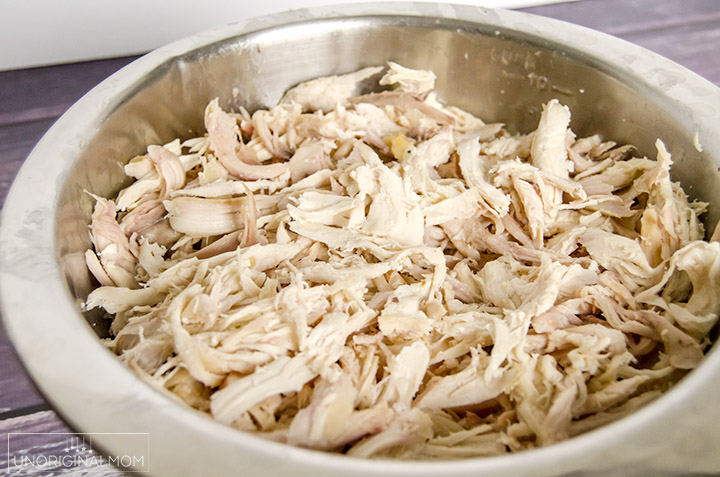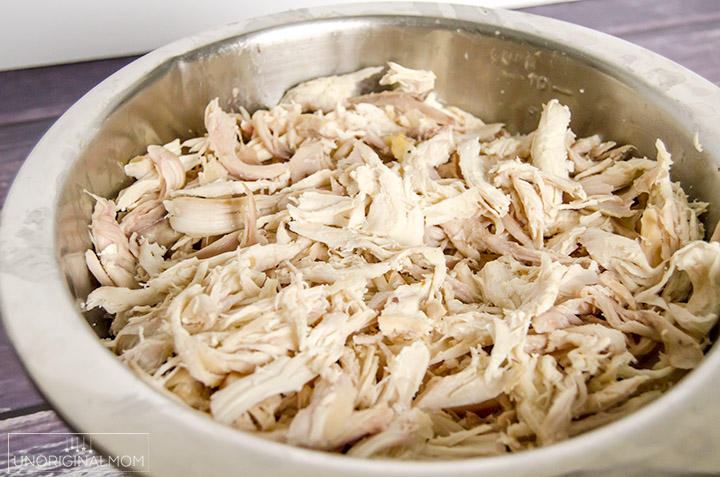 Toss it ALL in the crock pot.
Once you've gotten all the meat off the bones, throw the entire carcass plus any leftover skin/bones into your crock pot! I have a 6 quart slow cooker so I'm able to cook two carcasses at once, but if you have a smaller one you might only be able to fit one at a time. If you're like me and you buy two (or more) chickens at a time, you can throw the extra carcass(es) in the freezer and use it to make stock later.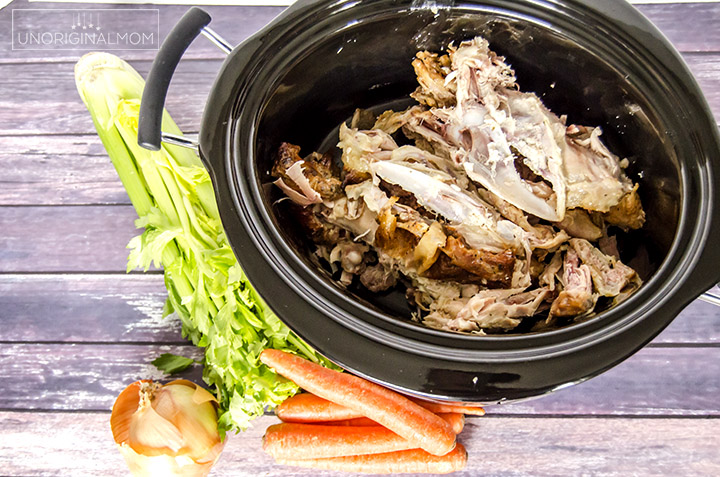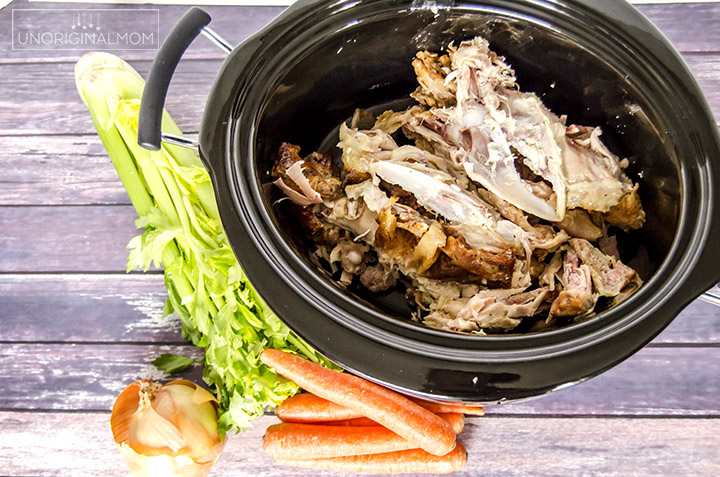 Add some stuff.
This is what I love about chicken stock – it doesn't really matter what you add! Even cooking just the chicken and water will yield some delicious broth. But if you've got some veggies on hand, make sure to toss them in for an even richer, nutrient-full stock that will be glorious for cooking with. Here are some ideas of what to add to your stock:
onion, quartered
carrots, washed but unpeeled and roughly chopped
celery (even the leafy tops are fine!)
garlic cloves (don't even bother peeling them!)
herbs like thyme or parsley
bay leaves
apple cider vinegar (just a tablespoon or two – this helps really get all the nutrients out of the bones!)
Tip: toss leftover fresh veggies in your freezer to use in chicken stock. Even carrot ends, leafy celery tops, etc – don't throw them away! Just keep a bag in your freezer for all those good stock vegetables and anytime you have some leftover veggies that will go bad before you use them, toss them in the bag for the next time you made chicken stock. Then you can pull them out and throw them in the crock pot – still frozen – with your chicken bones.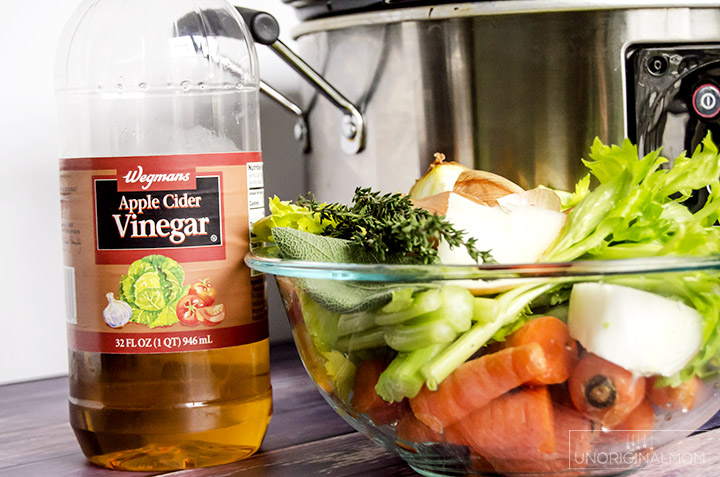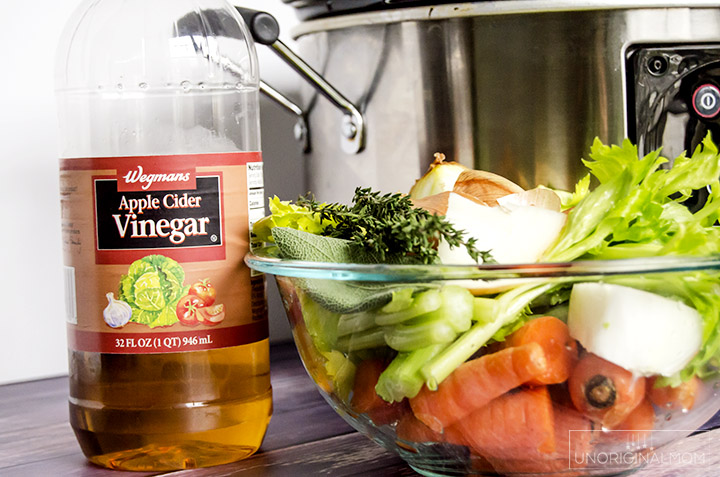 Cook it.
After you've loaded up your slow cooker with chicken bones, herbs and veggies, fill it up completely with water. Turn your crock pot on low and cook for at least 8 hours, but you can let it go for up to 24 hours! The beauty of this method is that you can turn it on after dinner and let it cook all night.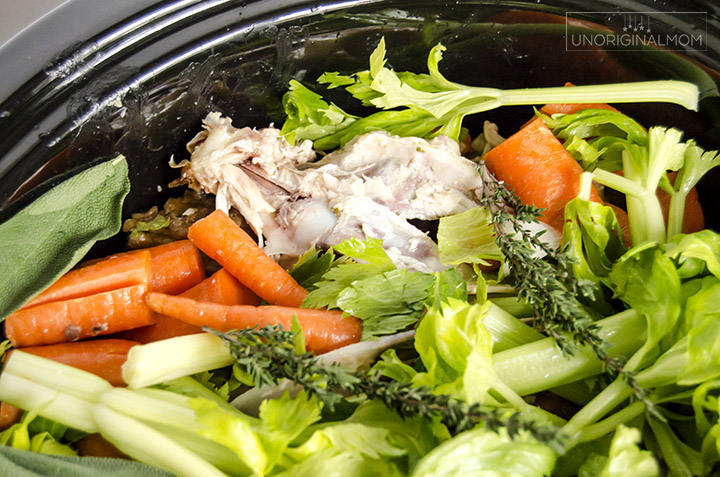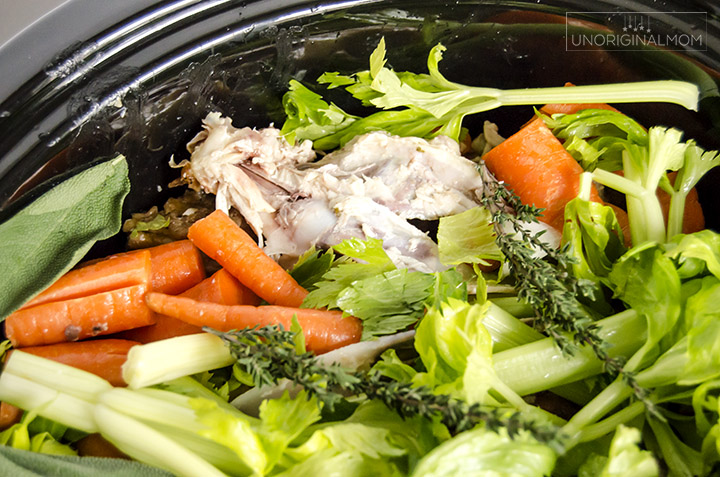 Strain it and package it.
First of all, you need to strain out all your veggies and bones and things so you're left with just the liquid stock. I use a big spoon or tongs to pull out all the big pieces, then run the broth through a strainer into a big bowl. You could use cheesecloth or even a coffee filter inside a strainer if you want a really clear broth. Let your broth cool (you could even refrigerate it) and then skim as much fat as possible off the top.
Finally, it's time to package up your stock – I like to freeze it in 2 cup portions in quart size freezer bags. (It's really worth it to invest in these bag holders to keep from making a mess when you're filling up your freezer bags – I use them ALL the time!) You may even want to freeze some of it in even smaller portions, like an ice cube tray. If you think you'll use it soon, you can just keep it in the fridge in mason jars.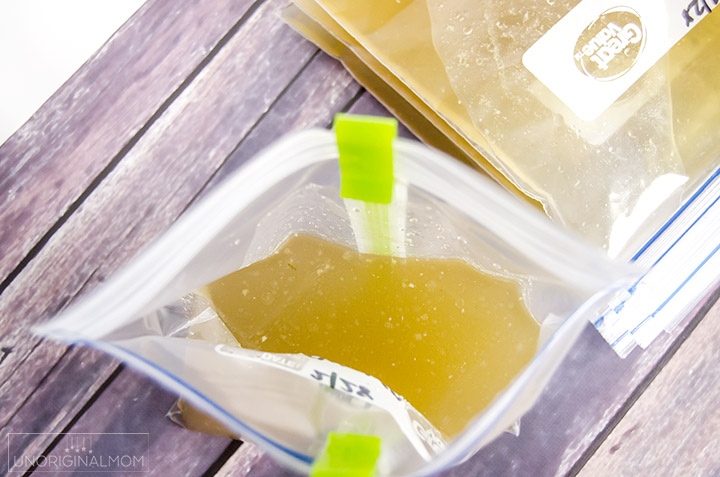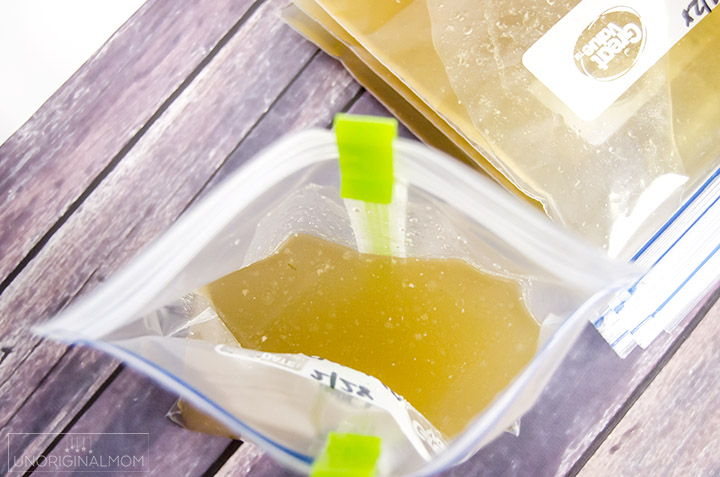 There you have it! Out of two Sam's Club rotisserie chickens, I was able to get dinner for my family of four, 8 more cups of shredded chicken, and 10 cups of delicious homemade chicken stock. All that for $9.98!!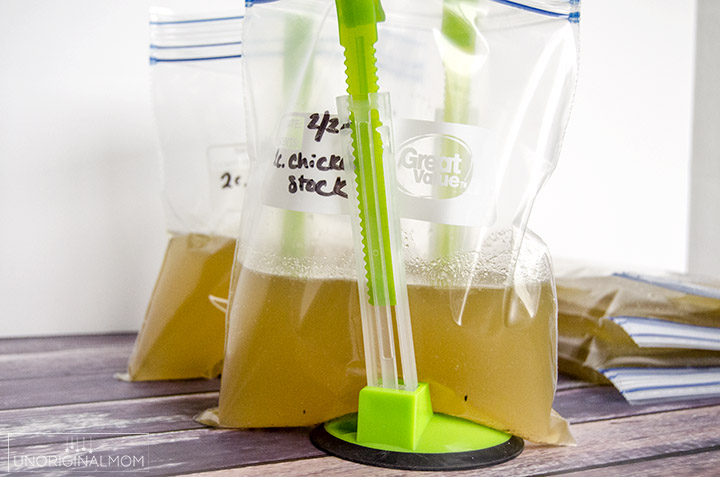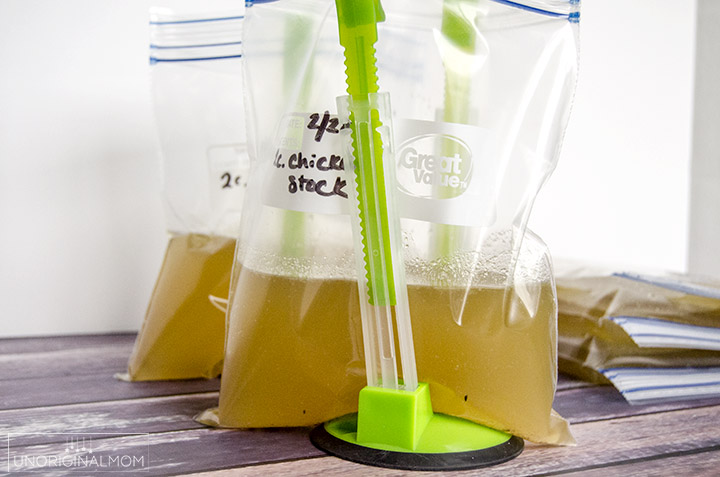 Here's a pinnable image so you can save this idea for later: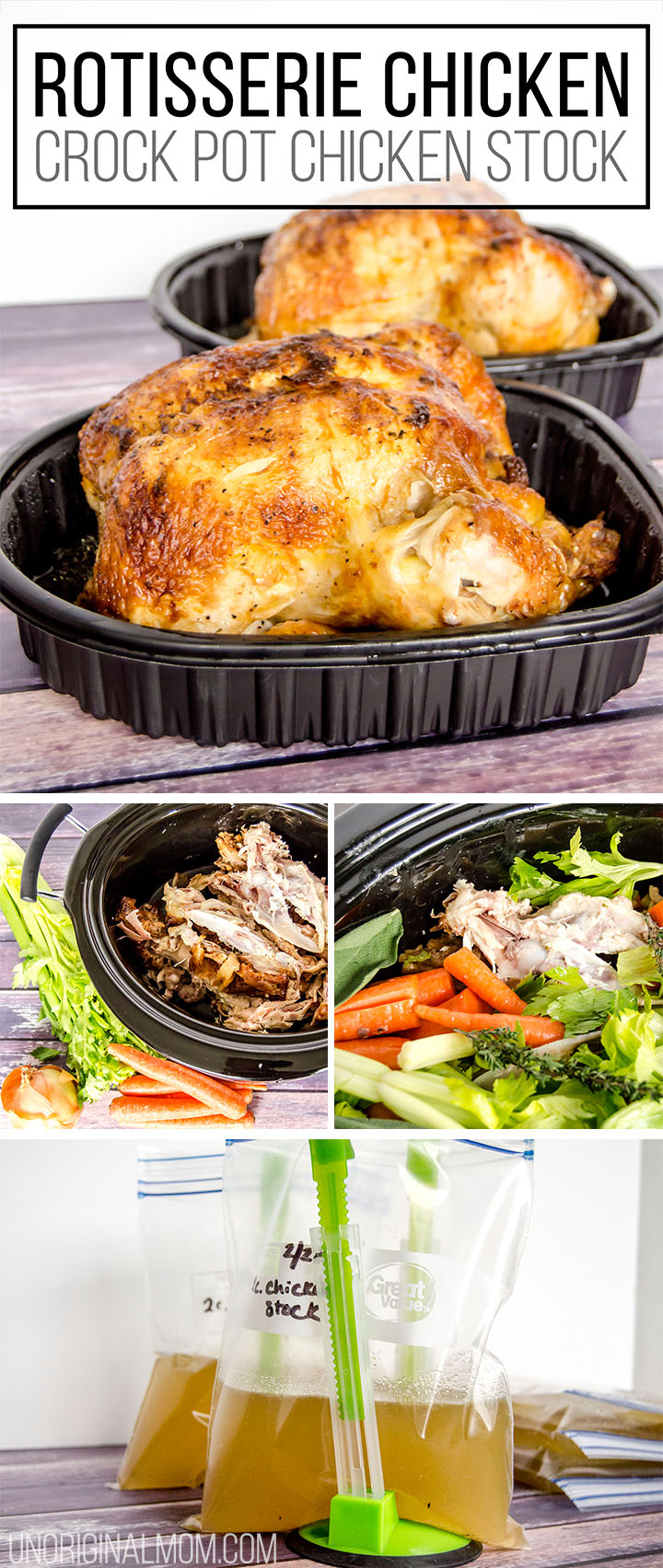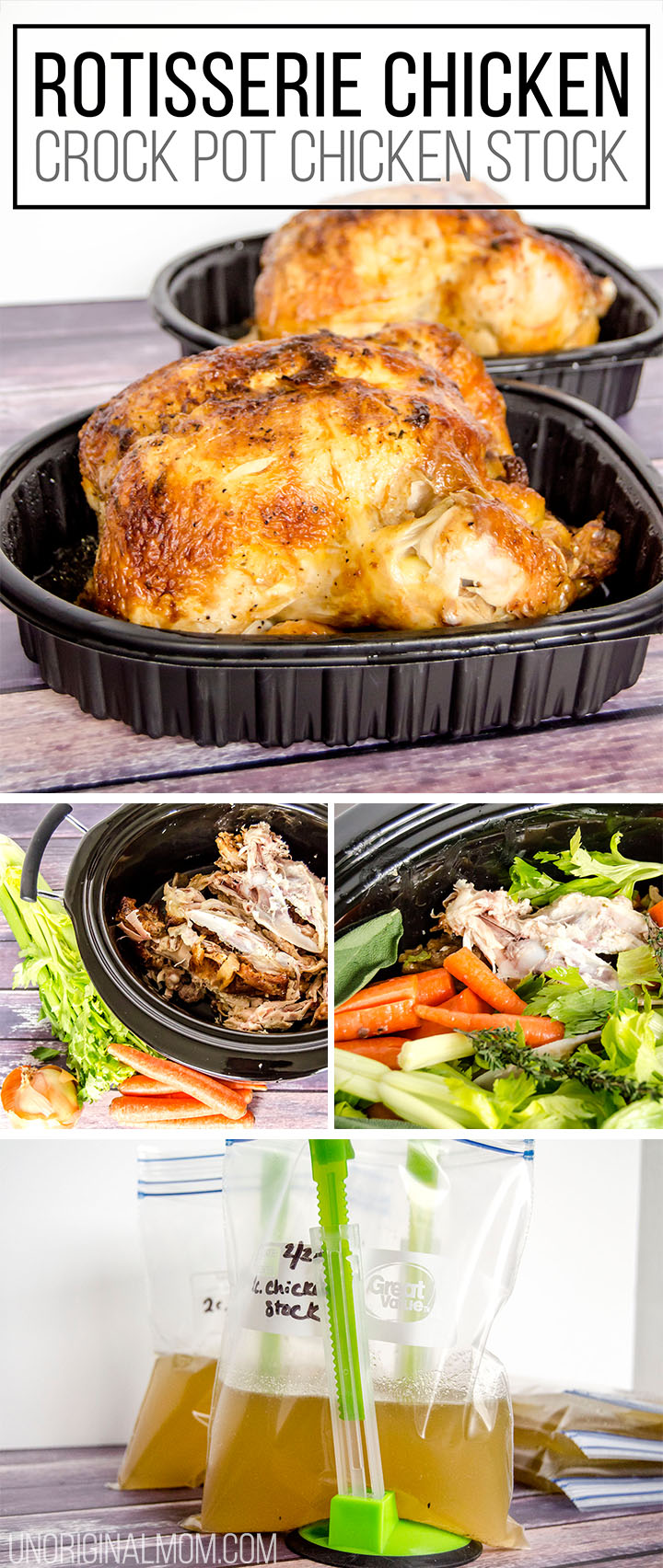 If this is all a new idea for you, you might be wondering what the heck you do with all that shredded chicken…oh my, there are so many possibilities! Here are some recipe ideas for you:
20 ONE DISH DINNERS to Make With Leftover Rotisserie Chicken
15 SOUPS to Make With Leftover Rotisserie Chicken


Get your copy of my FREE meal planning binder!
Sign up to get a free copy of my meal planning system - an 11 page printable meal planning binder, complete with a pantry inventory, shopping list, and more to help get on top of your menu each week!