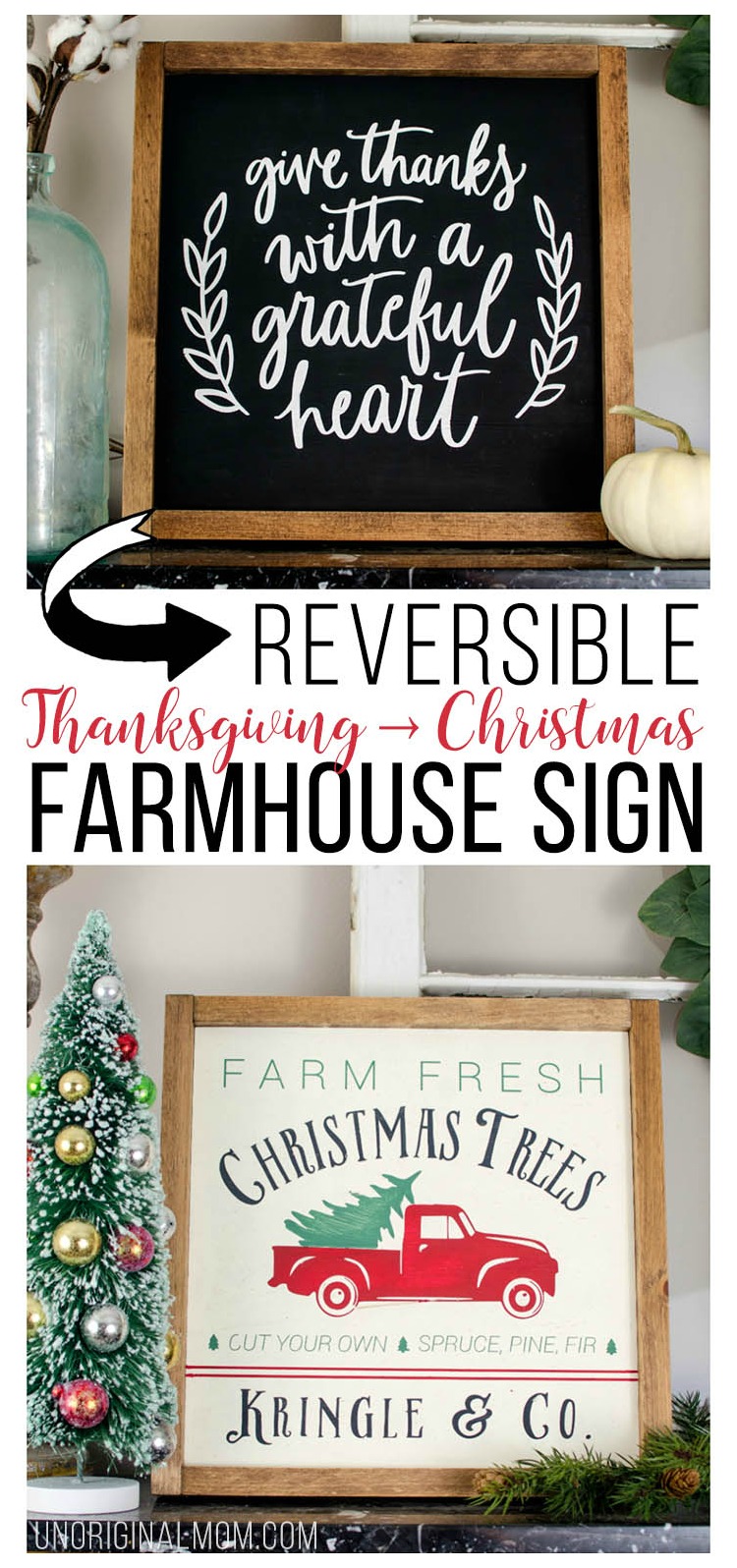 I wish there was more time between Thanksgiving and Christmas. It seems like no matter how hard I try, Thanksgiving always gets overshadowed by Christmas preparations and anticipation of the holiday season. As a blogger, I'm decorating for fall at the end of August and as soon as Halloween is over, it's time to break out the Christmas projects. Poor Thanksgiving just gets the short end of the stick!
That's why I decided to make a double-sided farmhouse style sign with a Thanksgiving sign on one side and a Christmas Tree farm sign on the other. It's sitting on my mantle, styled for fall – but even as I break out some Christmas decor, I can leave it set on the Thanksgiving side until after Thanksgiving Day – and then, all it requires is a flip of the sign and it's ready for Christmas! To give you a better idea of how truly terrific this sign is, I made my first-ever GIF to show it off!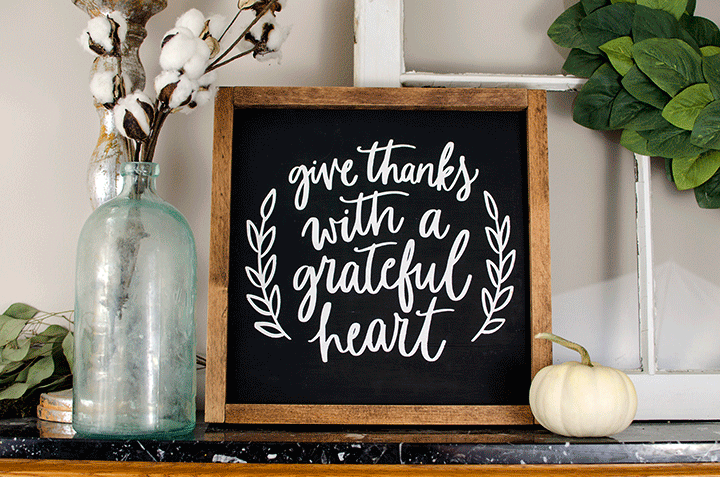 Practically speaking, this is a space saver as well. We are officially maxed out of Christmas decor storage space, so for every new decoration I get each year I have to get rid of something else…or come up with a creative solution like this, so I can store this sign with my fall decor instead of having to squeeze it into my Christmas stash ;-) Want to make your own? (Of course you do!) Here's the full "how to."
SUPPLIES: (This post contains affiliate links. Click here to read my full disclosure.)
1/2″ plywood, cut to desired sign size (mine was 12×12″)
1×2″s cut to frame lengths
designs – I used this Give Thanks with a Grateful Heart design from the Silhouette Design Store, and I created the Christmas Tree Farm design myself – free cut file available in my Silhouette Library
Fonts – just in case you're looking to customize your own sign for your personal use, the fonts I used were Roboto and Brilant Typeface. Remember, though, copying someone else's design to sell is unethical and illegal.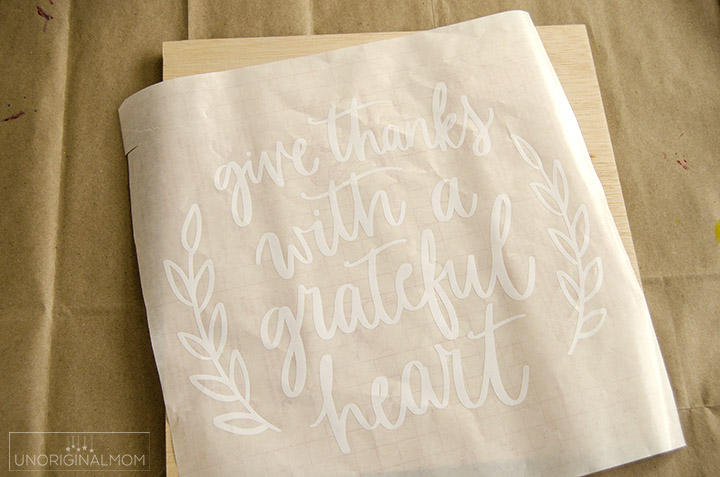 The first thing I did was to cut my stencil out of contact paper using my Silhouette Cameo. I used this design from the Silhouette Design Store. You could use vinyl if you'd like, but I find contact paper works well for stenciling and is much more inexpensive than vinyl.
I had pre-cut plywood and frames leftover from my sign painting party, so that made this process even easier. Once my sign surface was sanded and wiped down, I used the PVPP method to stencil and paint my sign (you can read a more detailed tutorial about that here).  For the "grateful" sign, I used a reverse stencil, so first I painted the sign the color I wanted my TEXT to be (white). I let that dry completely and then used transfer paper to apply my stencil. Then I painted the text color again OVER the stencil to make sure the edges were sealed – that way, any paint that bleeds underneath on this coat doesn't matter since it's the same color.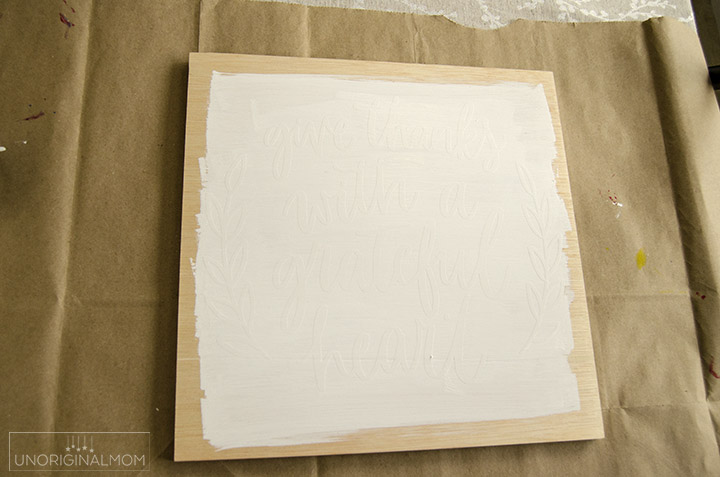 Once that was dry, I painted several coats of my BACKGROUND color (black) over the entire sign.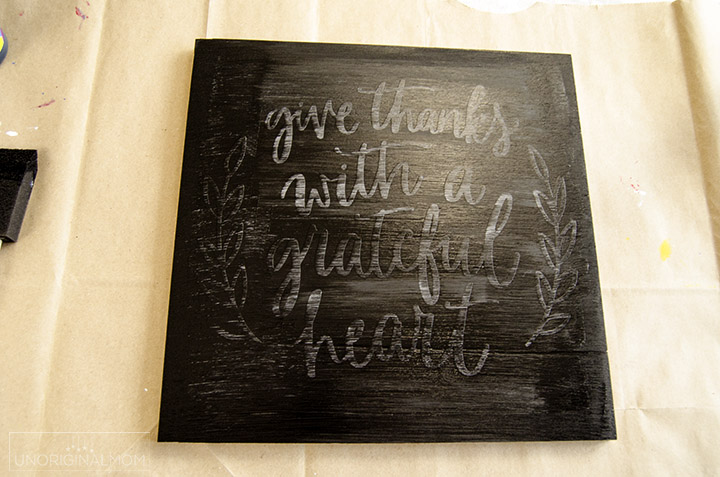 Then I peeled up my stencil to reveal crisp, beautiful lines!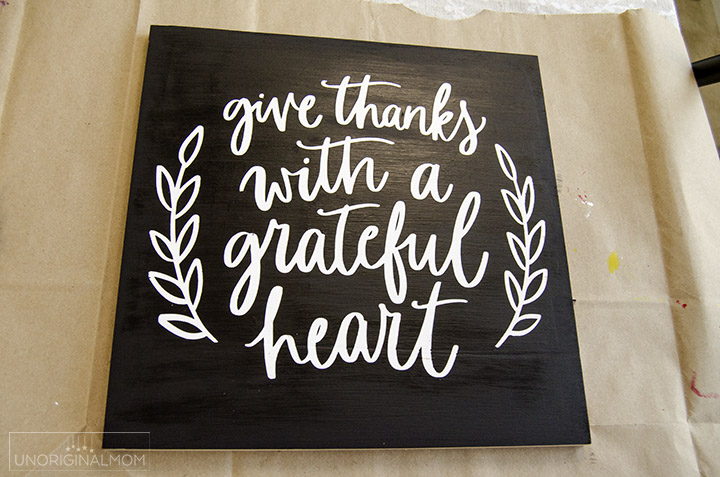 Once that side had a chance to dry, I flipped it over and started again with my Christmas Tree Farm stencil. This time, though, since I wanted multiple colors of paint, I weeded the text and image away and used the negative space as a stencil. That means I painted my sign the BACKGROUND color first (off-white), applied the stencil, and then painted over the stencil again with the background color. Then I painted my colors on, being careful to keep the colors separate.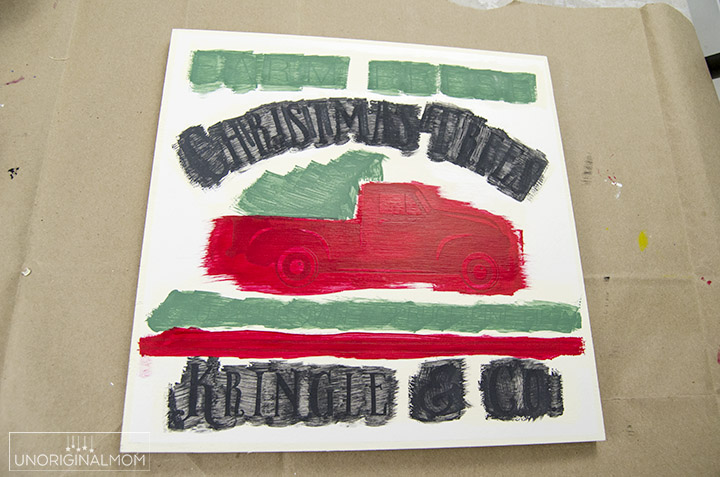 The frame is just made of 1×2 boards that I stained with Minwax Special Walnut. Then my husband used his nail gun to assemble them into a square, and pre-drilled two holes on the top and two on the bottom so I could nail the frame onto the plywood sign.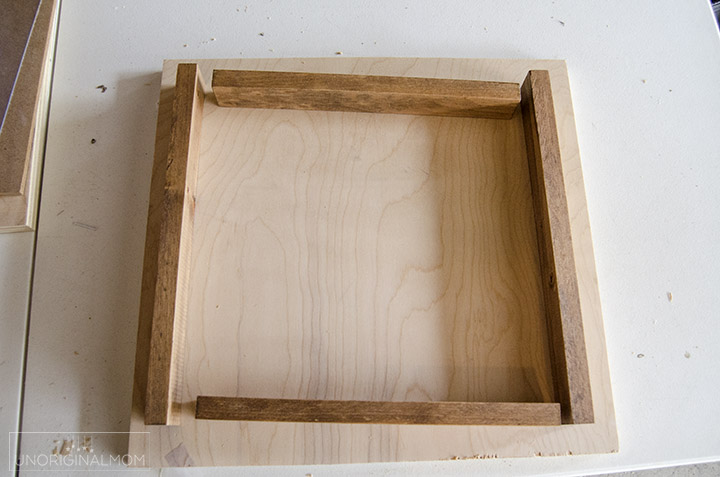 Here's how the Thanksgiving side looks, sitting on my mantel all styled for fall –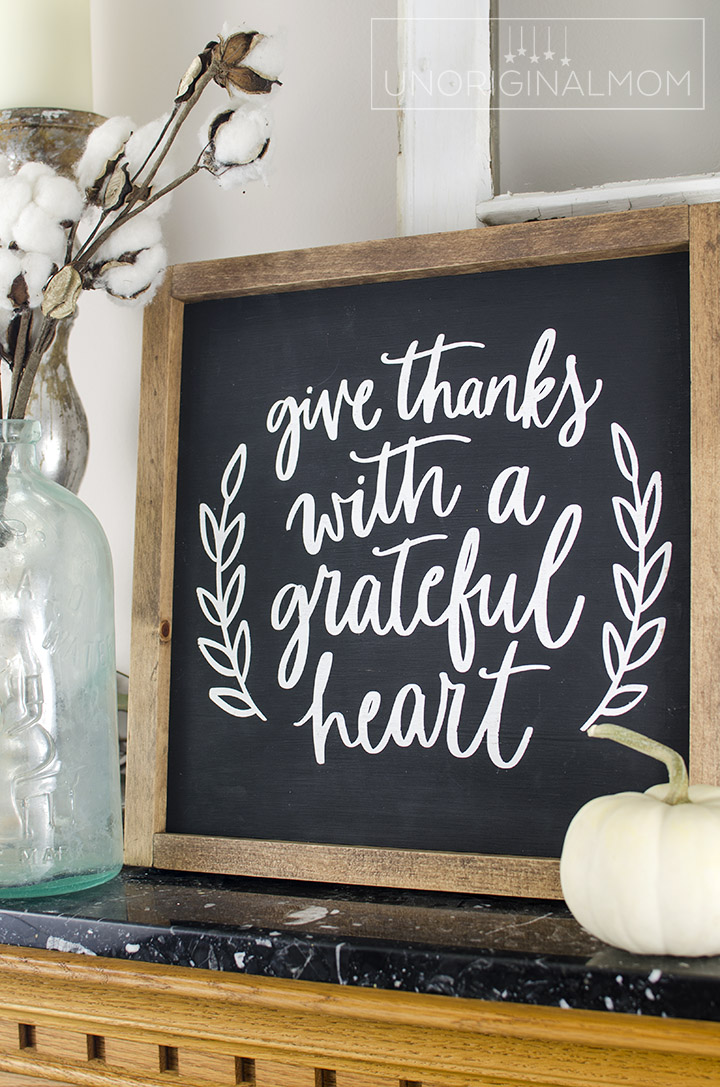 And here's how the Christmas farmhouse sign side turned out!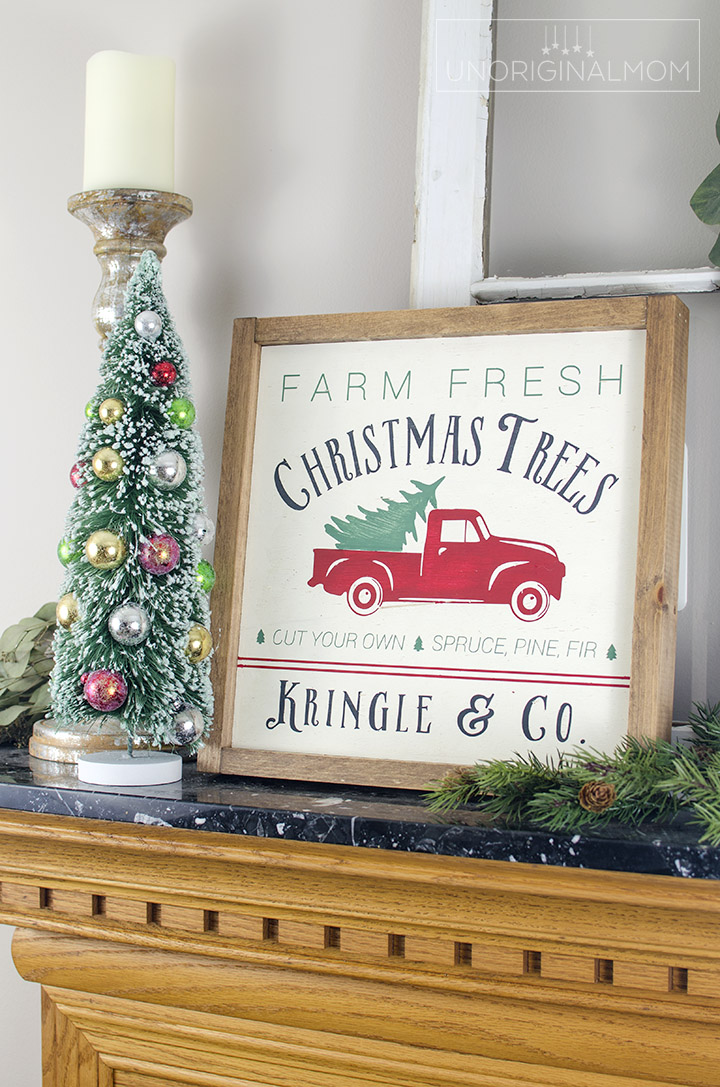 I created the Christmas Tree Farm sign design myself and I've added it to my Silhouette Cut File library, so you can have it – for FREE! Sign up below to get access.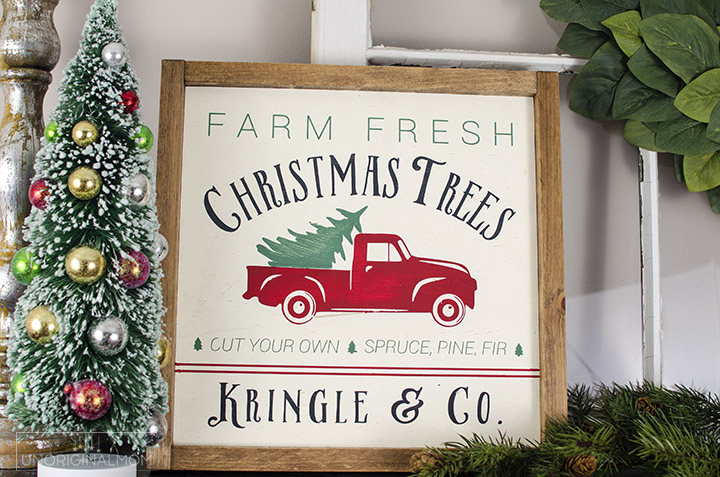 For you visual learners, here's a video of how I made the sign, start-to-finish!
Do you have a Silhouette – or Silhouette goodies – on your wish list this year? Take a look at my Ultimate Silhouette Gift Guide & Wish List!!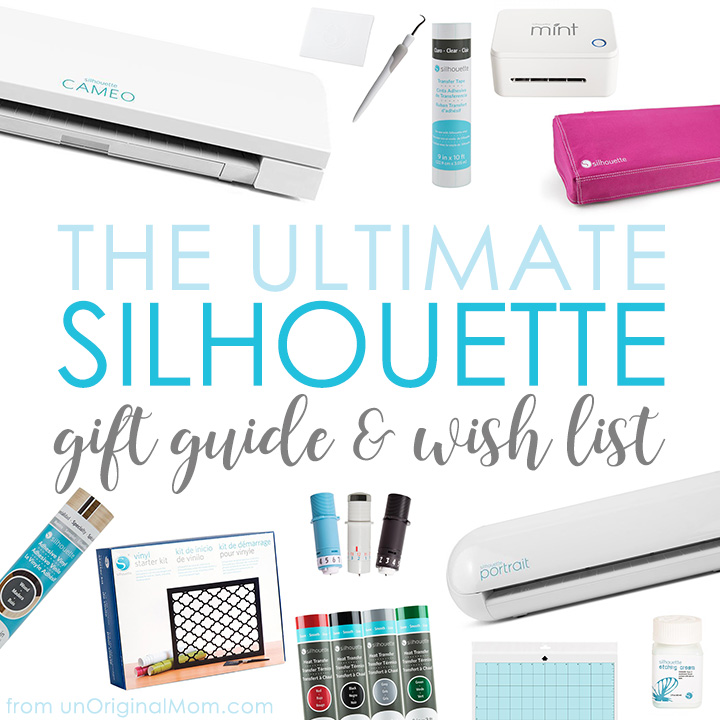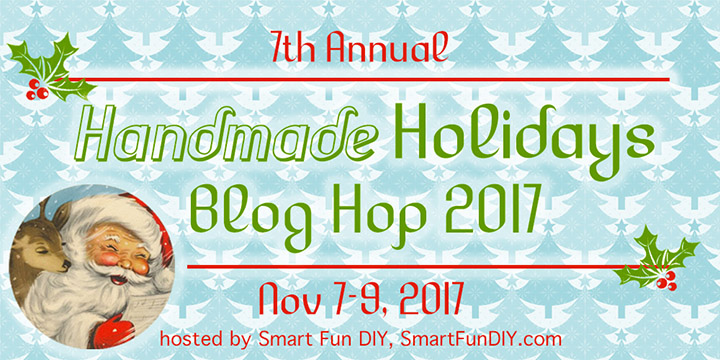 Looking for more handmade Christmas decor inspiration? Browse through these fabulous Holiday decor projects from other bloggers participating in the Handmade for the Holidays Blog Hop!
The fun doesn't end here, though…there's two more days of Handmade Holidays Inspiration!
Handmade Holidays – Gifts: Christmas Potpourri Jars + Free Printable Tags
Handmade Holidays – Recipes: Mint Chocolate Macarons



Subscribe to unOriginal Mom via email and get instant access to my library of FREE Silhouette Studio & SVG cut files - exclusively for email subscribers. Plus there's a new file added every month!