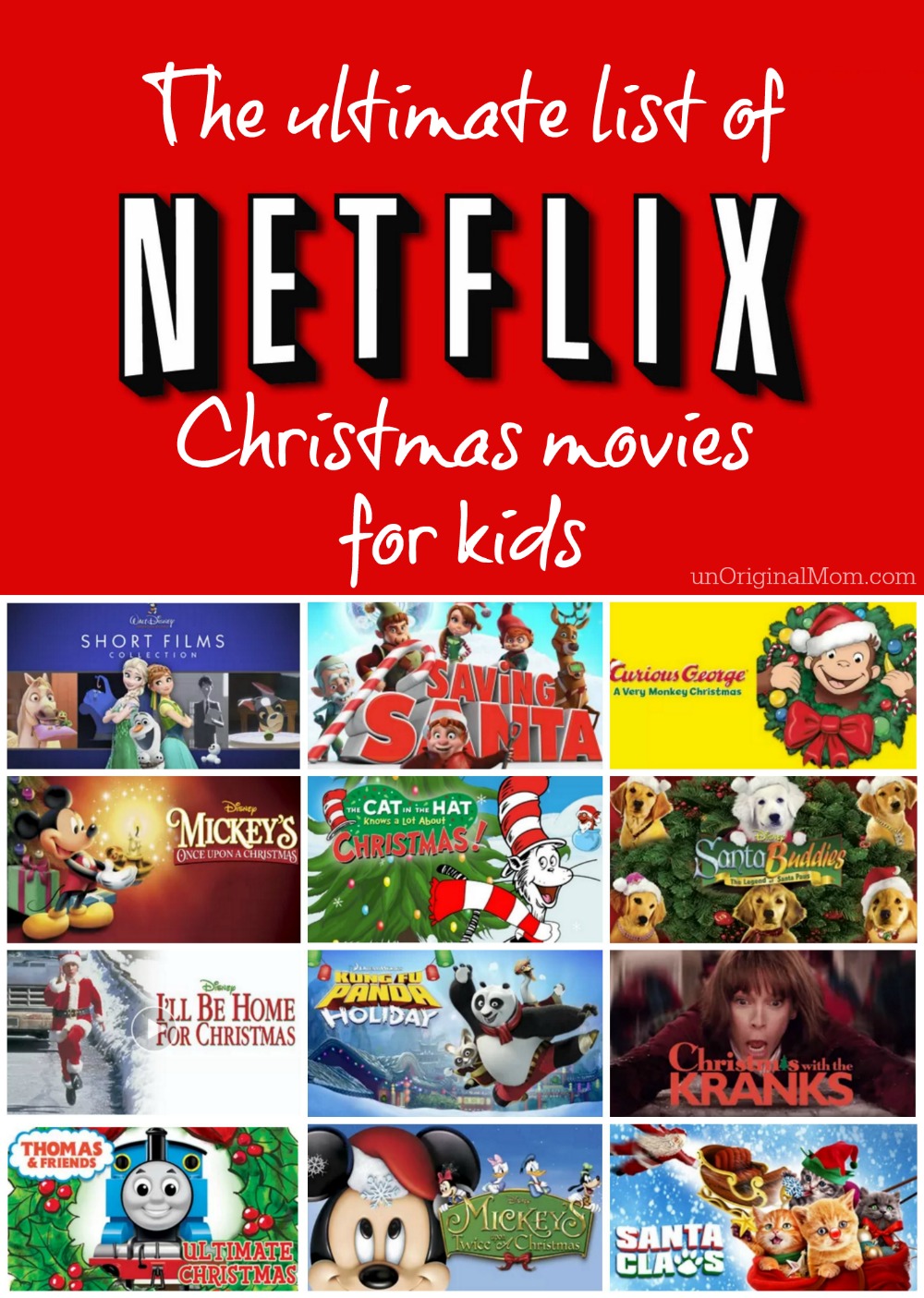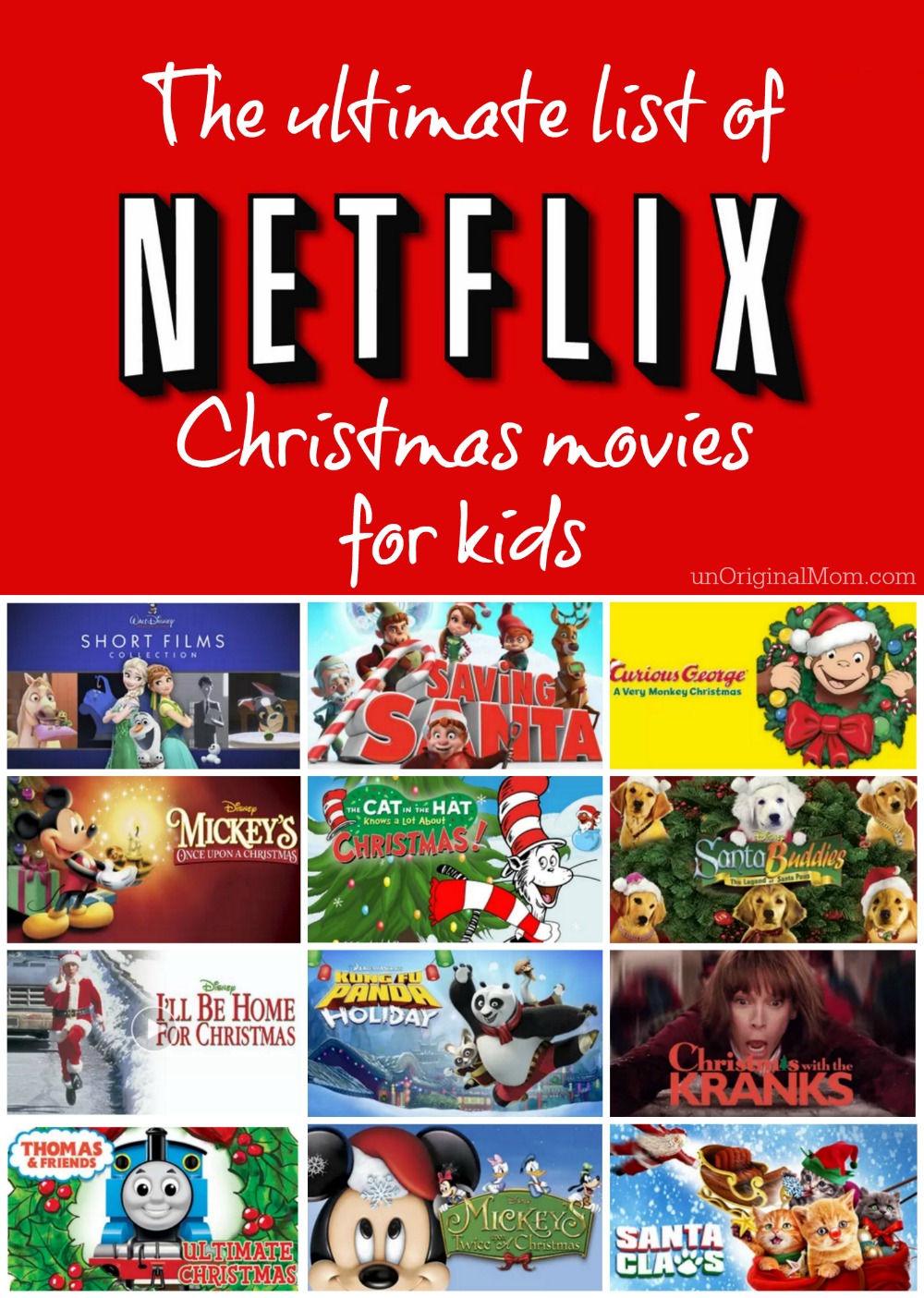 I'm a sucker for Christmas movies. Watching movies is a special treat around here for my 3 year old, but this time of year, I love putting on a good Christmas movie and snuggling up to watch it together. Unfortunately, she's still a little bit young to make it the whole way through my favorites (Miracle on 34th Street and White Christmas), but it's still fun to watch other Christmas movies with her.  I saw a picture floating around Facebook recently with this statement: "I used to think that being a kid at Christmas was the best thing ever…turns out, having kids at Christmas is." So true! Especially as we enter these final days before Christmas and kids are home on vacation from school, it's a great time to curl up on the couch as a family with some cookies and hot chocolate.
We don't own a terribly vast repertoire of Christmas movies (besides my two favorites, and the Rudolph/Santa Claus is Coming to Town box set of course!), so I've been turning to Netflix lately for some holiday entertainment. They've got a decent list of Christmas movies for kids – actually quite a few that are perfect for my preschool aged daughter – so I thought I'd put together a list of the ones I've come across! If I'm missing any, feel free to leave a comment and I'll add it to the list. Here are some great Netflix Christmas movies for kids, along with the summary from the Netflix site.
Fun animated movies:
Saving Santa – Bernard, a low ranking elf, dreams of the big leagues. When the workshop is revealed, Santa and Christmas are jeopardized. Can Bernard save them all?
Kung Fu Panda Holiday – As preparations for the winter feast build, Po is caught between his obligations as the Dragon Warrior and his family holiday traditions.
Walt Disney Short Films Collection – This collection of short films from Disney includes "Frozen Fever," the Mickey Mouse Short "Get a Horse," and Oscar winners "Paperman" and "Feast." (I added this to the list because there's a short with the characters from Disney's Christmas special "Prep and Landing" that is really fun!)
Live Action Family Movies:
Beethoven's Christmas Adventure – loveable, oversized Saint Bernard Beethoven tries to save the holidays when a wayward elf crashes Santa's sleigh and loses his bag of toys to thieves.
A Christmas Star – Born under the Christmas Star, Noelle says she can perform miracles. When trouble comes to town, it's up to Noelle to prove herself and save the day.
Journey to a Christmas Star – Courageous 14-year-old Sonja sets out to find the Christmas star and a missing princess to free the grief-stricken kingdom from a curse.
Mickey Mouse Christmas features:
Mickey's Magical Christmas: Snowed in at the House of Mouse – After being snowed in, Mickey and a host of his friends throw a party to help Donald Duck regain his holiday spirit.
Mickey's Once Upon a Christmas – The world's most famous mouse rings in the holidays with three charming stories: "The Gift of the Magi," "Duck Tales" and "A Very Goofy Christmas.
Mickey's Twice Upon a Christmas – Mickey, Minnie, Goofy and friends celebrate the spirit of the season while Scrooge McDuck humbugs the whole affair in this animated holiday feature.
Thomas the Tank Engine: (yes it gets its own category because there are so many!)
The Christmas Engines – It's Christmas time in Sodor, and while Thomas clears the snowy tracks on Connor's passenger line, Percy brings the holiday fun to Reg at the scrapyard.
Santa's Little Engine – In this wintry collection, Thomas guides Santa's sleigh, learns an important lesson about snow safety and gets decked out for the holidays.
Thomas & Friends Ultimate Christmas – In this holiday themed collection, Thomas encounters an avalanche while picking up a Christmas tree, James believes he's spotted Jack Frost and more.
A Very Thomas Christmas – Unwrap the holiday adventures with Thomas and his friends for a very Thomas Christmas filled with friendship, teamwork and fun!
Other movies for the under 5 crowd:
Curious George: A Very Monkey Christmas – George and the Man in the Yellow Hat are having a merry time counting down to Christmas. But neither can decide what to get each other. Will they find their answers before Christmas morning?
The Cat in the Hat Knows a Lot About Christmas! – When a young reindeer gets separated from his family after a Christmas Eve party, the Cat in the Hat and his friends help them reunite.
Bob the Builder: Bob's White Christmas – The gang wanted snow, but this is more than they bargained for! It's time to work some Christmas magic.
Christmas movies of the talking animal variety:
Santa Buddies – In this family-friendly North Pole adventure, the rambunctious Golden Retriever pups knows as the Buddies must save Christmas.
The Search for Santa Paws – In this prequel to Disney's holiday hit Santa Buddies, it's up to Puppy Paws to save the spirit of Christmas when Santa's memory fades.
Santa Paws 2: The Santa Pups – When the Santa Pups grant joyful wishes to Pineville's boys and girls, something goes terribly wrong: the Christmas spirit starts to disappear.
Santa Claws– When a gift sack full of kittens gives Santa a bad allergic reaction, the kitties have to take over and deliver the presents on time.
Live entertainment:
Radio City Christmas Spectacular (2007) – Singing, dancing, and sequins galore! Live from New York, the Rockettes bring it home for the holidays.
For the older kids:
Christmas with the Kranks – When Luther Krank and his wife opt to skip Christmas – no tree and no rooftop Frosty – can they handle the fallout from their friends and neighbors?
I'll Be Home for Christmas – Stranded in the desert with no car and no cash, a spoiled student on his way home for Christmas learns a thing or two about the true spirit of the season.
A classic:
White Christmas– Two war buddies fall for two sisters and follow the girls to a resort owned by their former commanding officer, who is in danger of losing the place
And one for you ;-)
Love Actually (one of my favorites to watch at Christmas time! But definitely not appropriate kids, so save this one for after bedtime.) – This ensemble comedy is a charming treatise on romance, telling 10 intertwining London love stories, leading to a climax on Christmas Eve.
Happy Christmas-movie-watching, friends!


Get your copy of my FREE meal planning binder!
Sign up to get a free copy of my meal planning system - an 11 page printable meal planning binder, complete with a pantry inventory, shopping list, and more to help get on top of your menu each week!