It's finally here – REVEAL DAY!! I've been working on making over our combination music room/office for over 6 weeks now (remember, I got a little bit of a head start before the ORC even started) and I'm so darn excited to share the results with you.


In case you missed any of the posts, here's the week-by-week update on the room projects and progress:
Week 1 – Design Plan and Mood Board
Week 2 – Paint and a New Layout
Week 3 – Industrial Farmhouse Pipe Shelves
Week 4 – Farmhouse Hymn Art
Week 5 – Cabinet Makeover

(This post contains affiliate links.)
This is the first time I've ever attempted a start-to-finish room makeover, and I'll admit, I wasn't exactly sure where to start. I ended up starting with a rug that I fell in love with, and then I did a LOT of Pinterest browsing and online window shopping to come up with a plan for the rest of the room. As a refresher, here's the design plan I came up with back in March: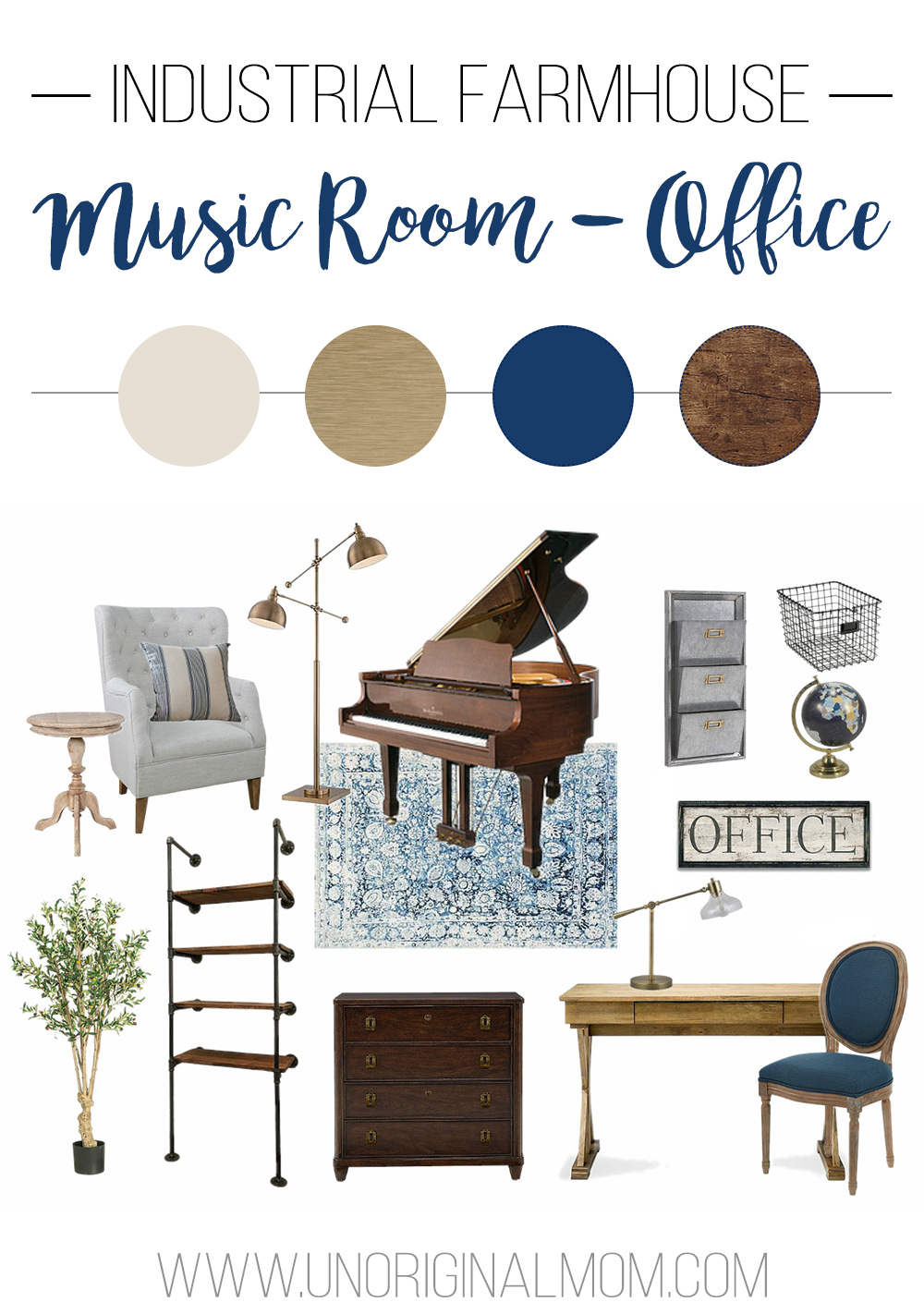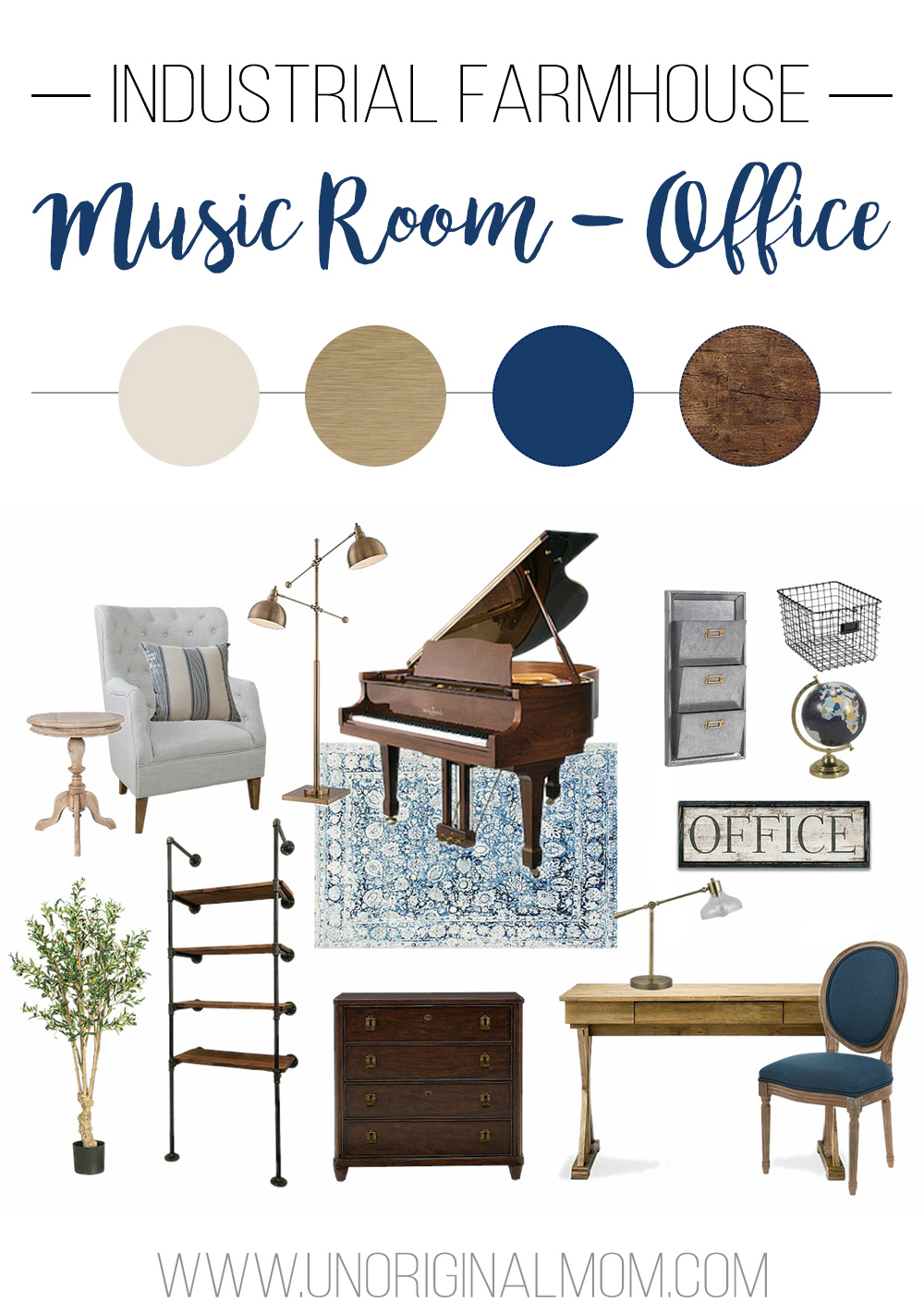 I was going for a traditional farmhouse "Fixer Upper" kind of look with a bit of an industrial flare. Of course, the best part of the space (which ended up also being the biggest challenge) was my great-Aunt's 1938 Steinway baby grand piano. I wanted to create a space that was comfortable, cozy, and welcoming for our family but also functional as an office space for bill paying and my husband's occasional work-from-home days. Finally, since this room is right off the foyer with a large cased opening and no door, it's the first impression guests have of our home. I wanted to include lots of personal, meaningful elements while sticking to a style that fit with the rest of the house.
Now…do you remember what the room looked like before I got started? It was a catch-all for lots of odds and ends with no really defined purpose and certainly no style or character to speak of.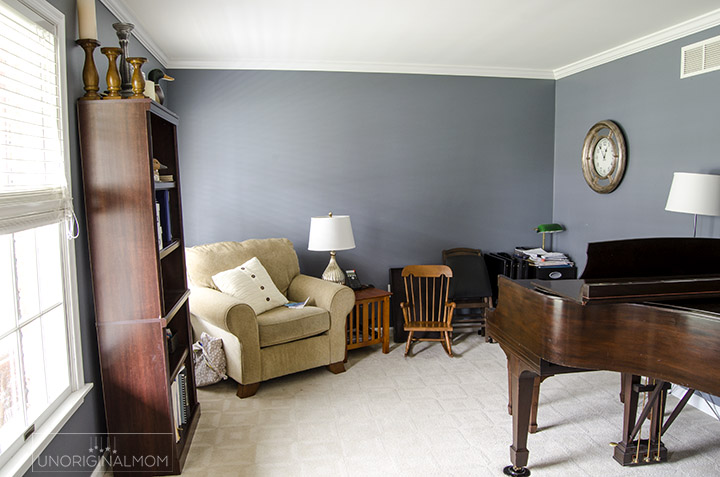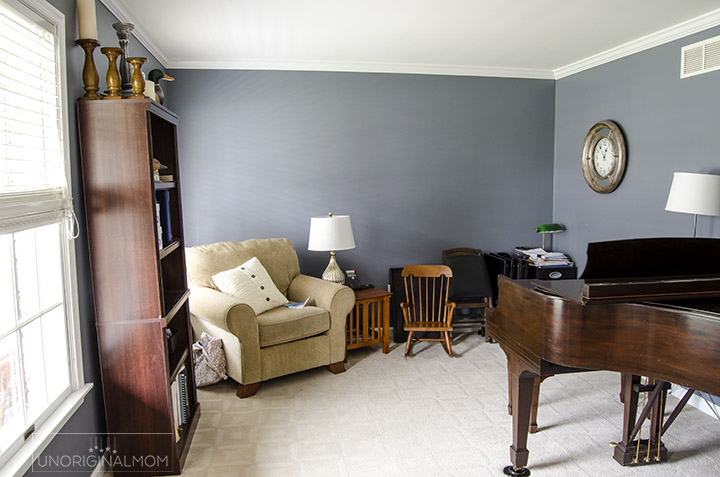 Ready for the "after?"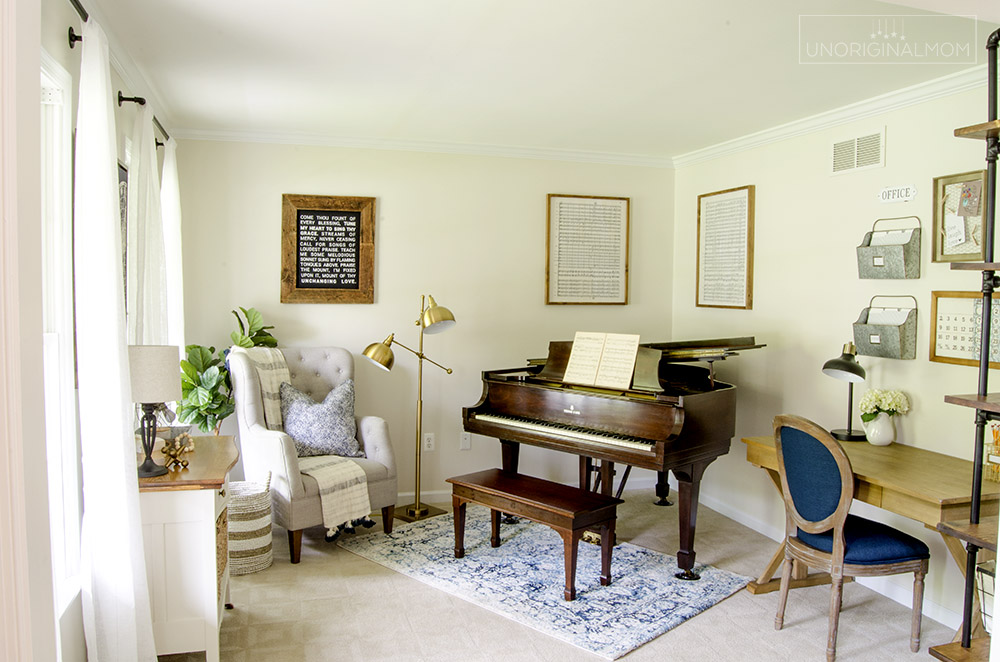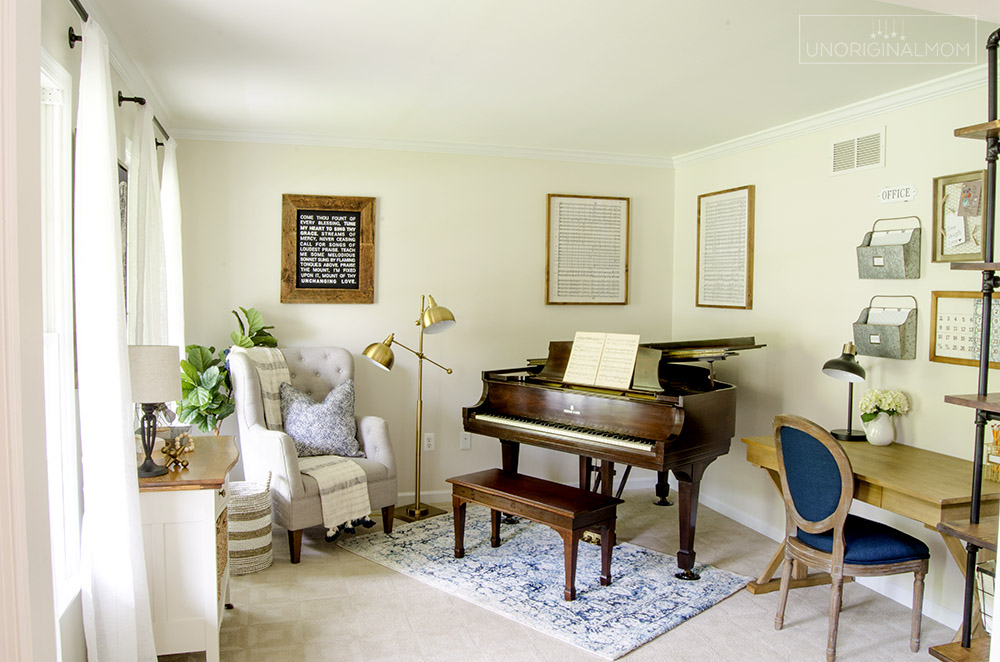 Quite the transformation, isn't it? I am really thrilled beyond words with how well each element of this space came together! Let's take a little tour.
It's hard to pick a favorite part of the room, but if I *had* to choose, I think these pipe shelves may be it. My husband built them for me and they just add so much style and character to the space! They're pretty and functional, too, as they hold all my music books and I was able to stash some other odds and ends in the baskets below. You can see more photos of the styled shelves in this post, or see a detailed step-by-step pipe shelving tutorial here.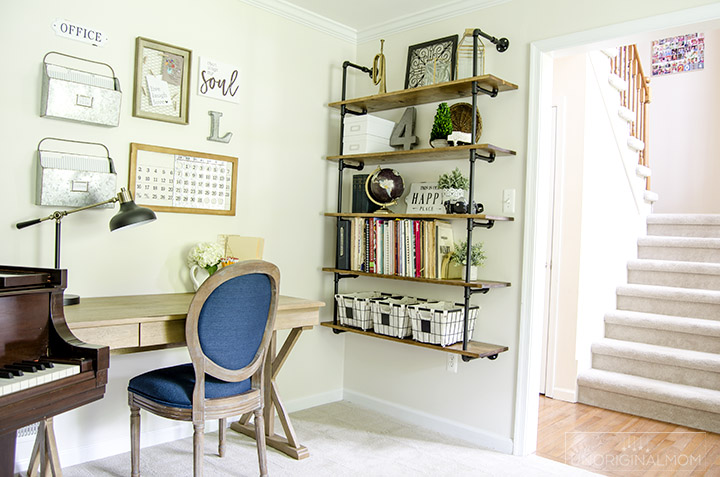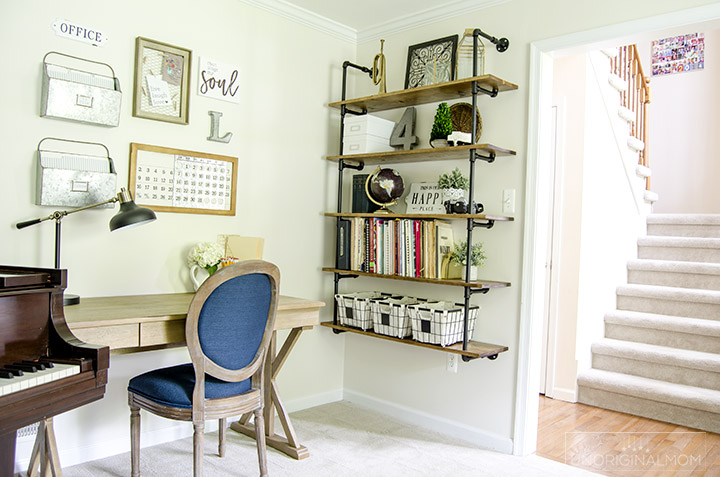 Functionally, I knew we needed a desk space in this room. We didn't have one before, but we recently reconfigured our basement office space into a craft corner and office nook solely for me, so my husband didn't really have any office space of his own. He just needed a space for bill paying, doing taxes, occasionally working from home, etc. (lots of fun stuff, right?) so a desk was a must. But I wanted it to fit in with the rest of the space and not look too much like an office, so I wasn't keen on the idea of a standard office chair. I searched for a long time and ended up finding the perfect option on Wayfair! (They were kind enough to provide product for my One Room Challenge room makeover.) It's an upholstered dining chair available in several colors, and this shade of blue (Klein Azure) ended up matching the rug spot on. You can find the Lilian Oval Back Dining Chair here.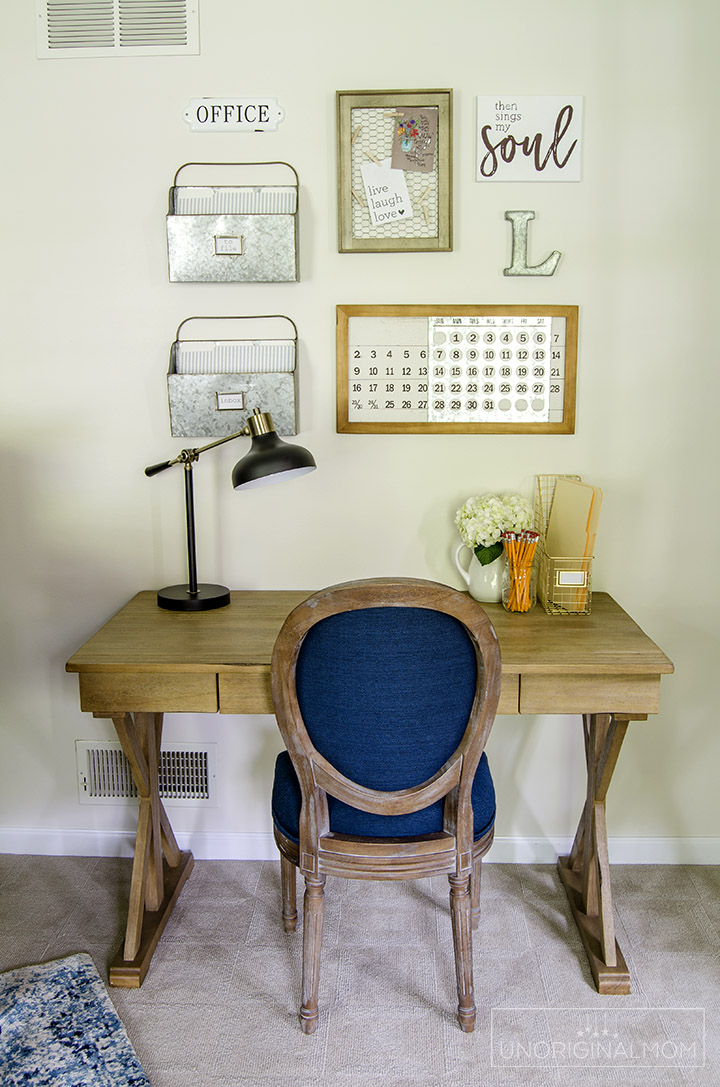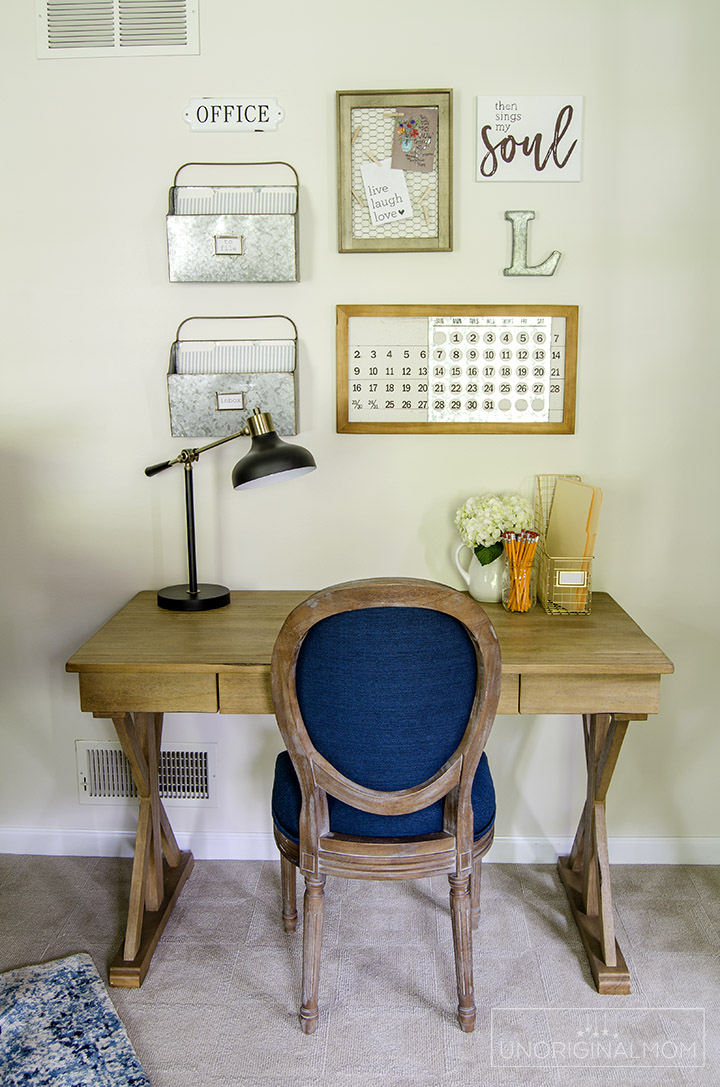 I added a little gallery wall above the desk with a really neat farmhouse calendar from Decor Steals, galvanized wall organizers I found at Kohl's, a chicken wire memo board from Walmart, and a DIY black and white canvas that I drew with a sharpie as a reference to a favorite hymn.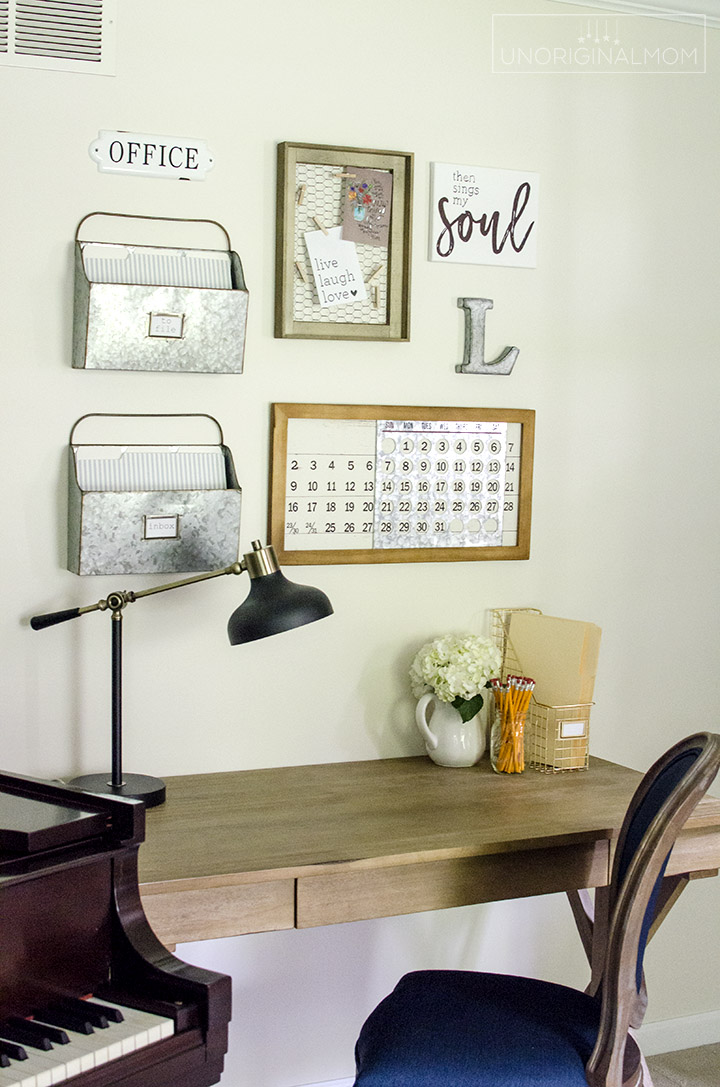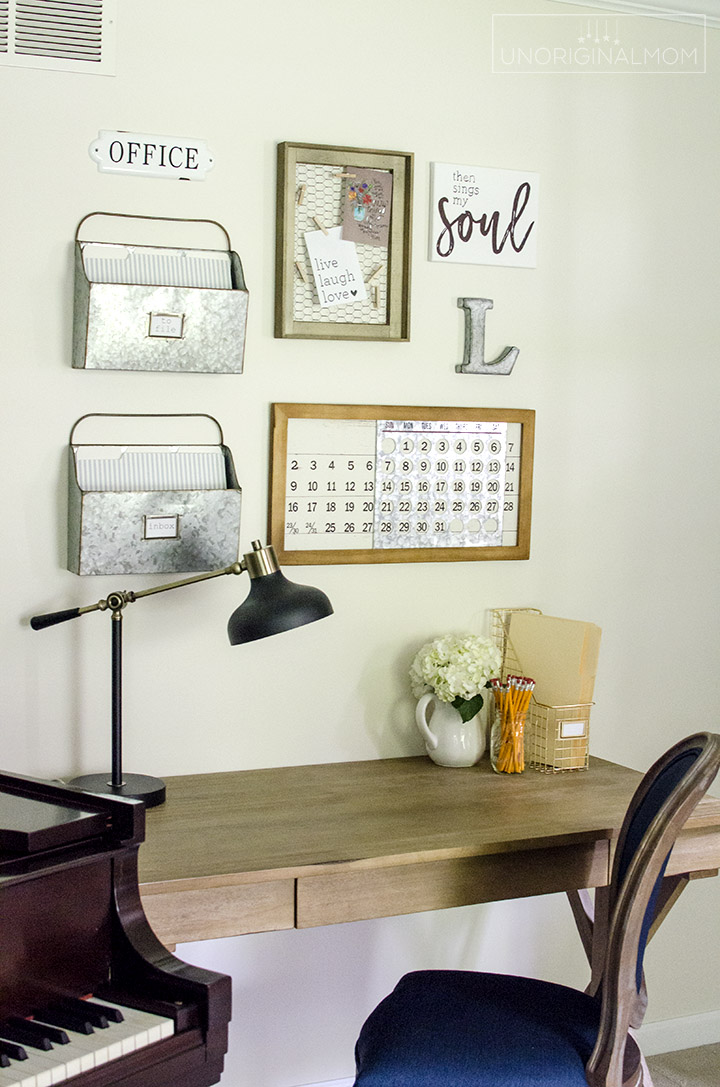 Moving on to the pièce de résistance, here's the corner where our beautiful piano now lives!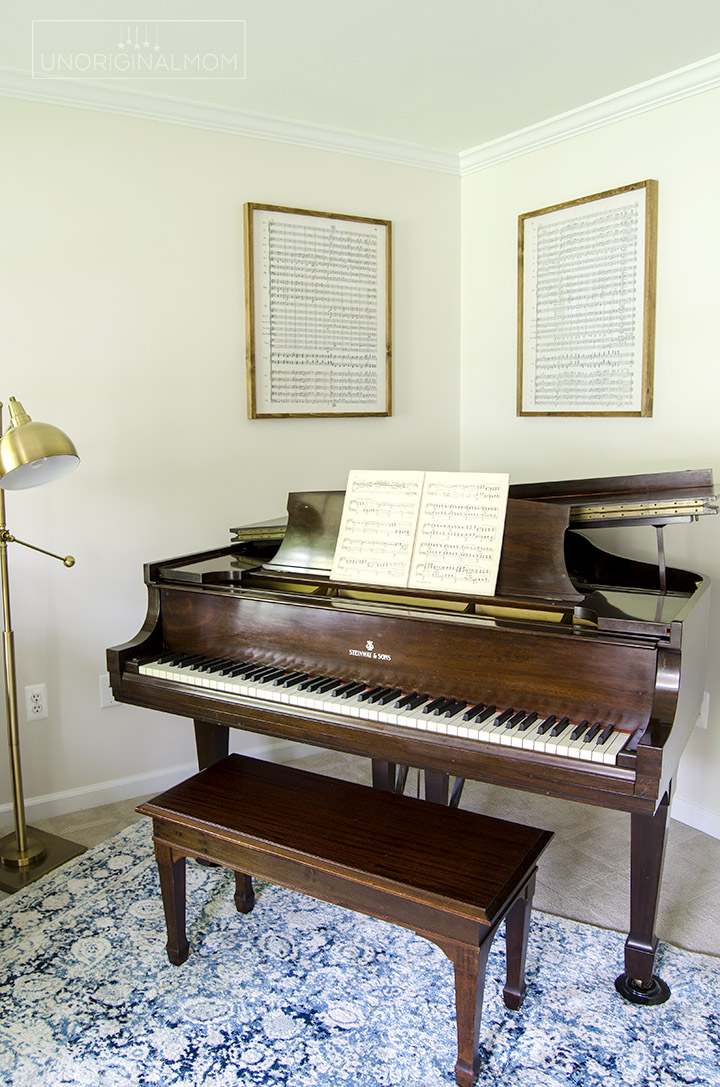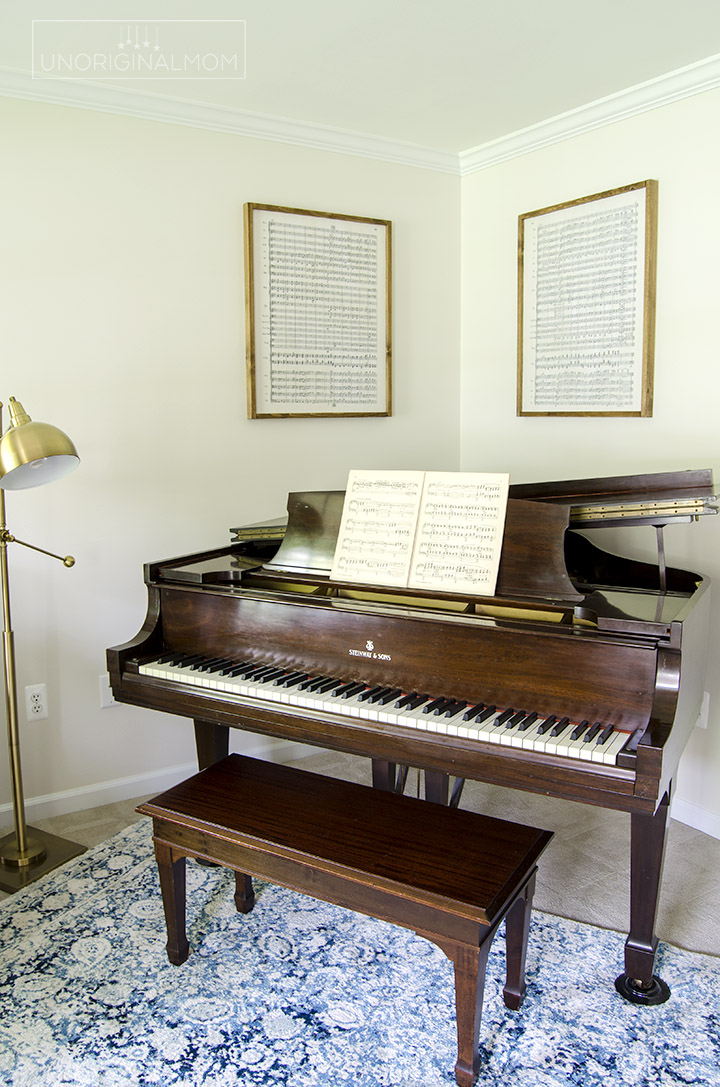 I created some sheet music wall art to hang above the piano and I'm SO thrilled with how they turned out. They were completely inspired by this amazing idea on Bless'er House – I followed her tutorial almost exactly, though I used smooth plywood instead of particle board, and my husband added the frame in a similar style to the farmhouse canvas frame we did before.
The sheet music itself is two pages from an orchestral score of one of my favorite pieces of music – the Jupiter Hymn section from "Jupiter the Bringer of Jolity," a movement from a suite by Gustav Holst called The Planets. I've loved it since I played it in on trombone in 8th grade band, and ended up walking down the aisle to it at our wedding! It's one of the most beautiful melodies ever written.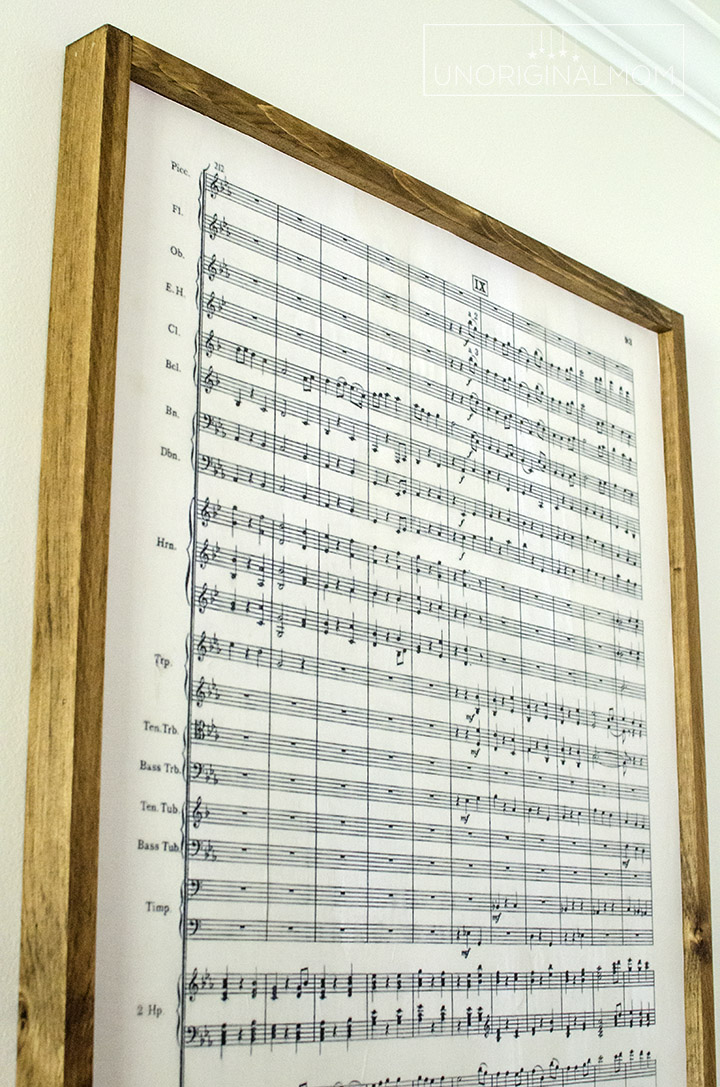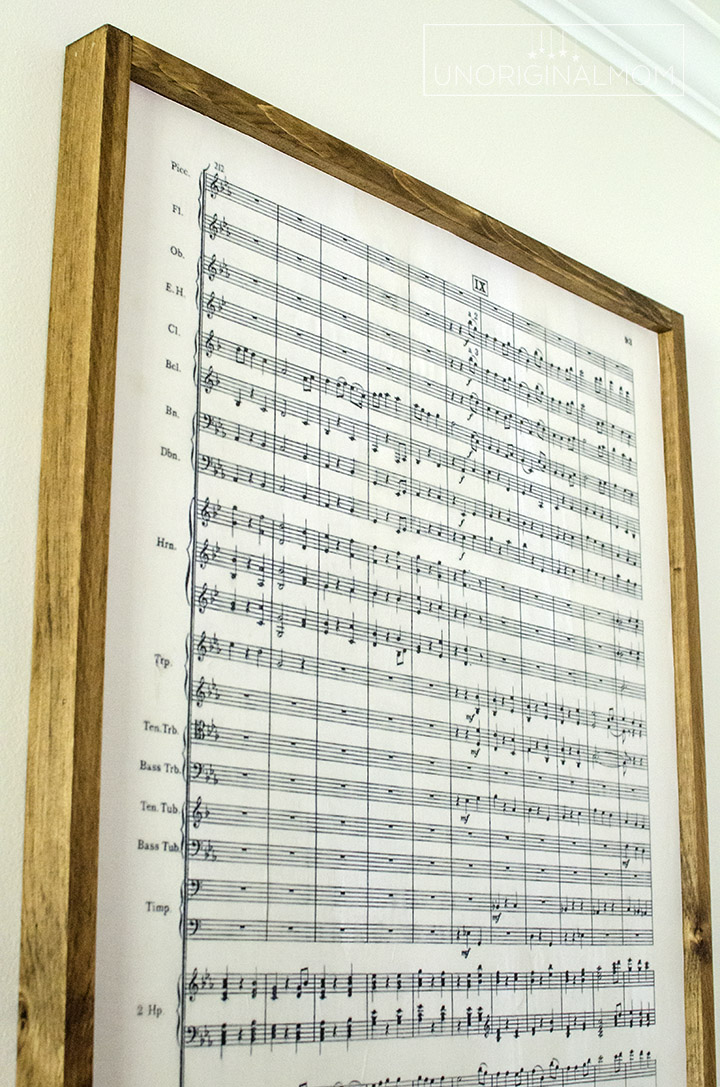 I can't get over how much I love these oversized sheet music prints! I think you'll be seeing another project like this soon ;-)
Continuing on our tour, how about another look at how the reading nook used to look in this room…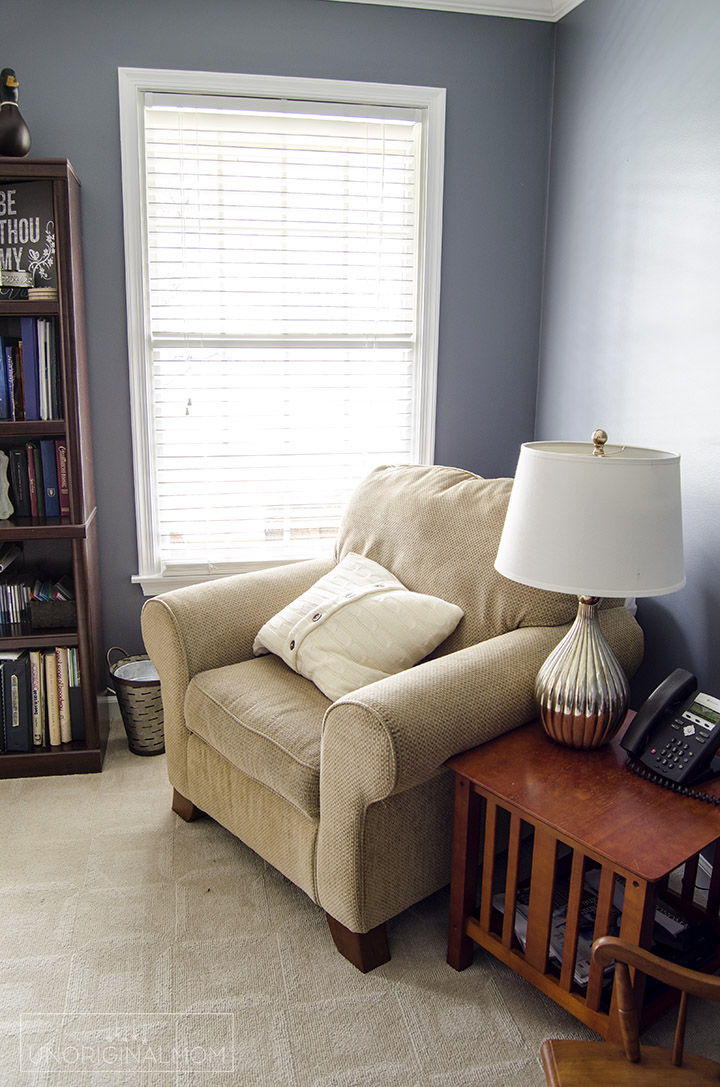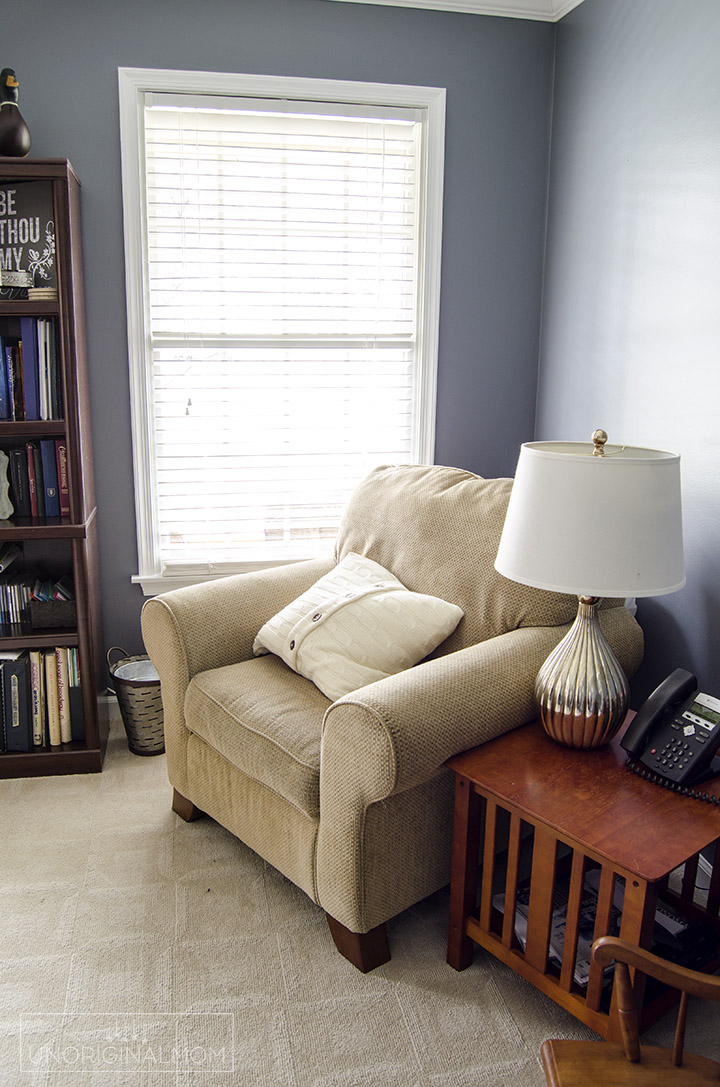 …and a view of how it looks now: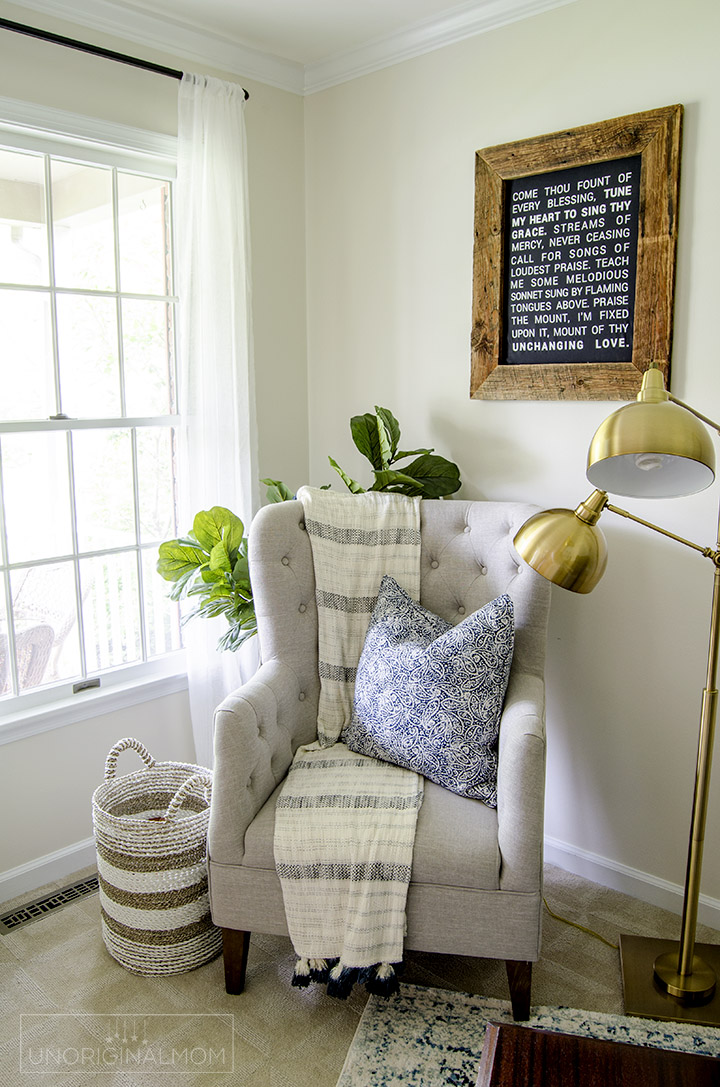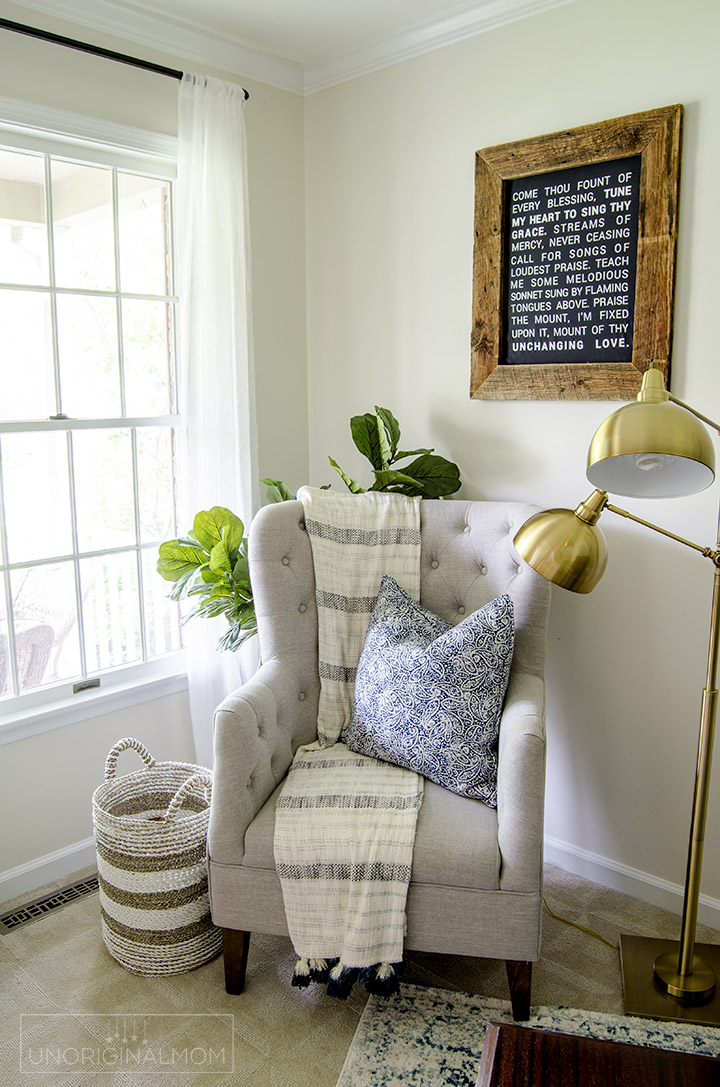 Isn't that lamp gorgeous?? Lamps Plus generously sent it to me for the room makeover, and I'm pretty sure it was designed just for me and this room. They have a really amazing selection of all kinds of lighting and even some furniture and decor – check them out here!
The "Come Thou Fount" wall art above the chair was a DIY project with an upcycled barn wood frame from Goodwill! I wrote all about it in my week 4 post.
This beautiful cabinet made an appearance on the blog last week…you won't believe what it looked like before! Check the full post with the before-and-after here.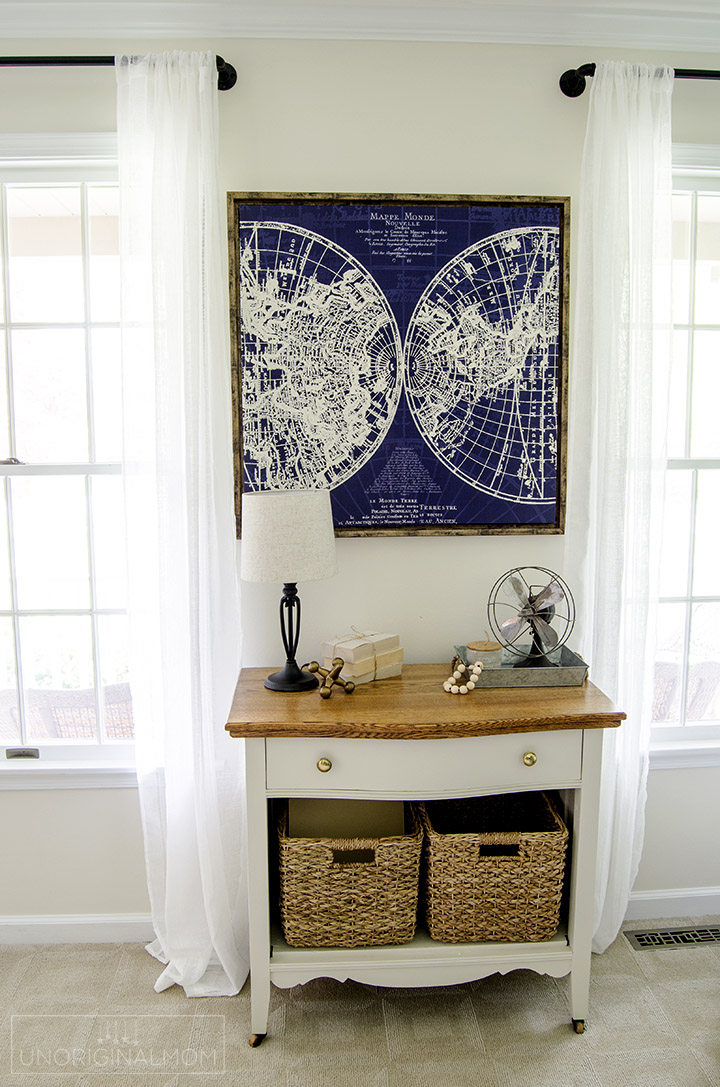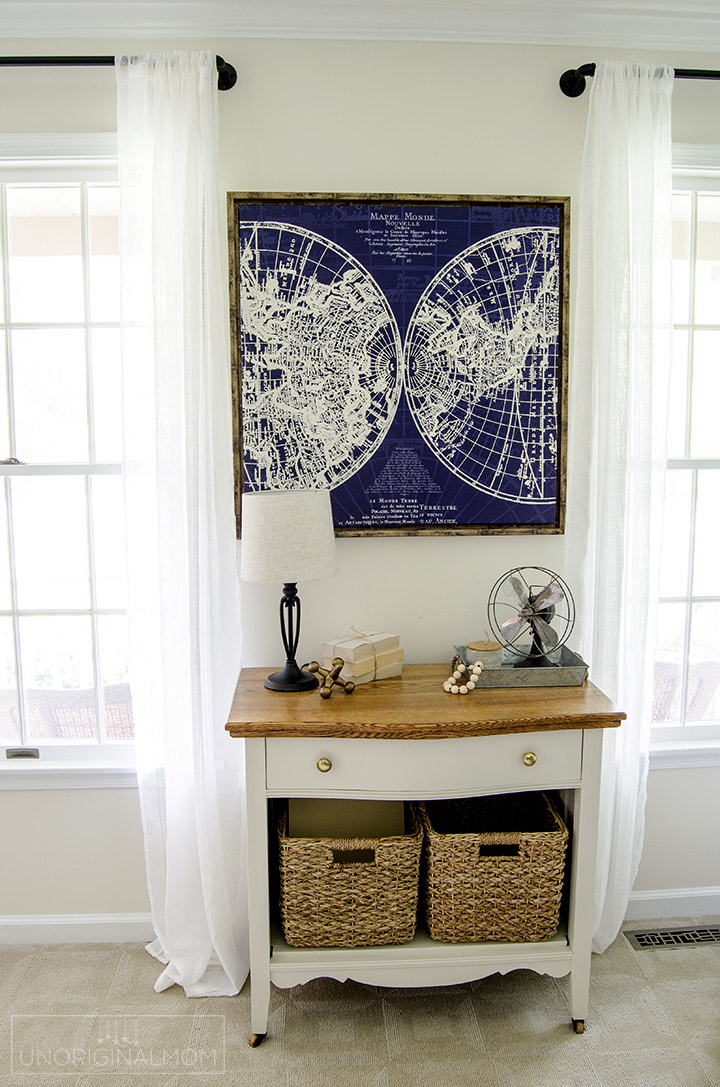 And isn't that map just stunning? It was such a great find from Decor Steals!
One last DIY project – the curtain rods! I liked the idea of pairing the industrial pipe with the soft white curtains, and it ended up being cheaper to build our own pipe curtain rods rather than buying them. Tutorial coming soon :-)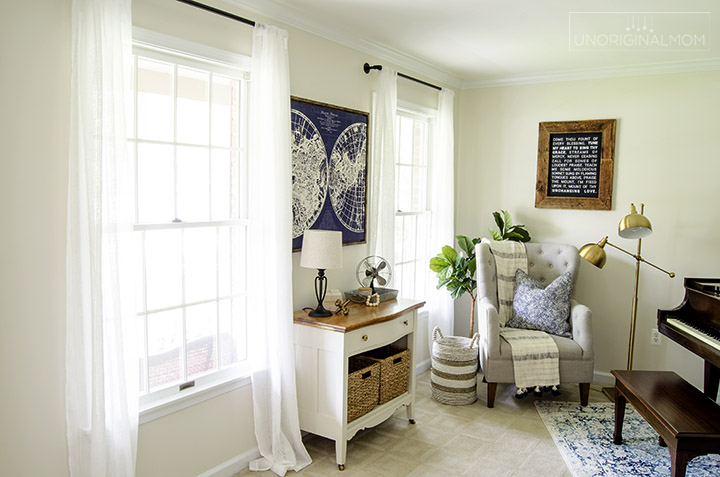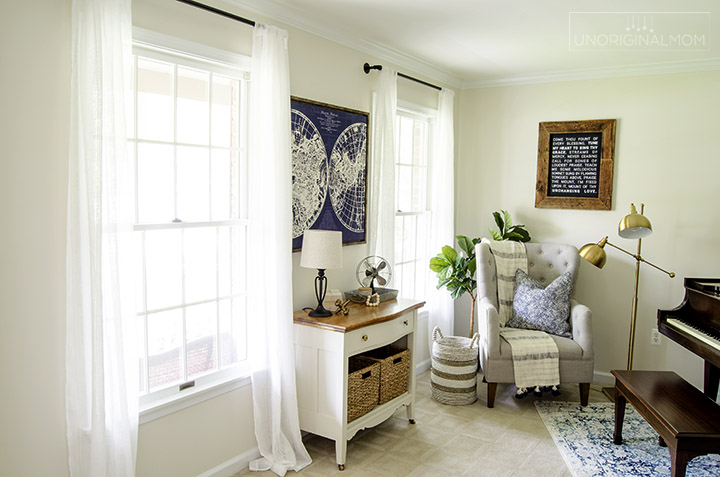 Now, I didn't want this to be one of those rooms that the kids are afraid to use or be in. This should be a room where we make music together! Our kids have a ton of toy musical instruments, so I decided to encourage them to actually use this room by putting all of their instruments in here in the basket next to the chair.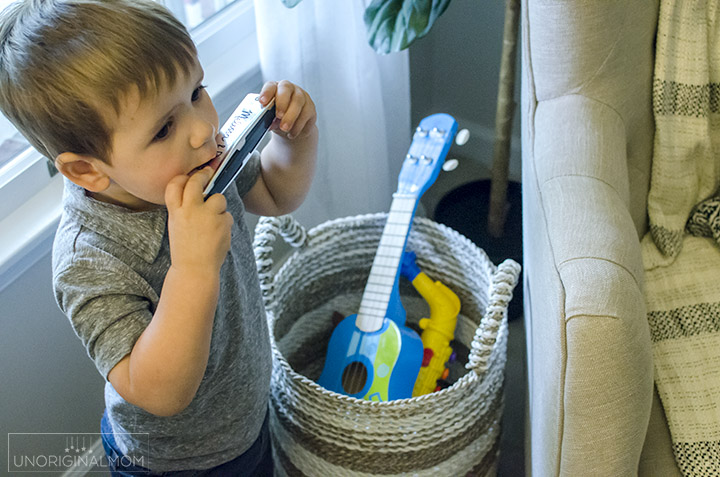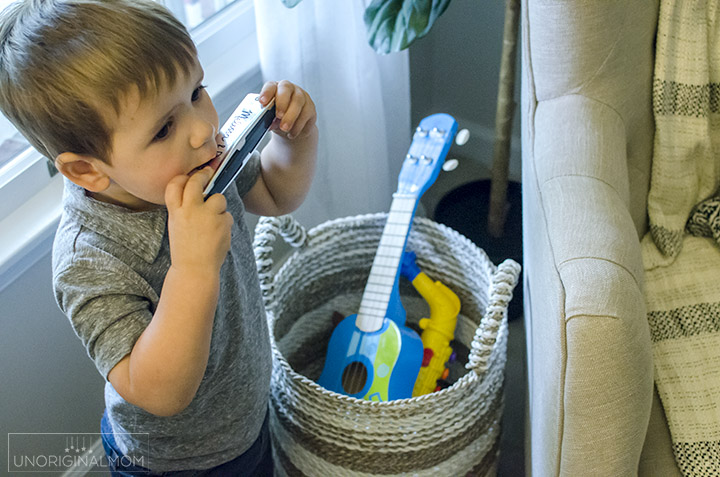 So far, it's been working. :-)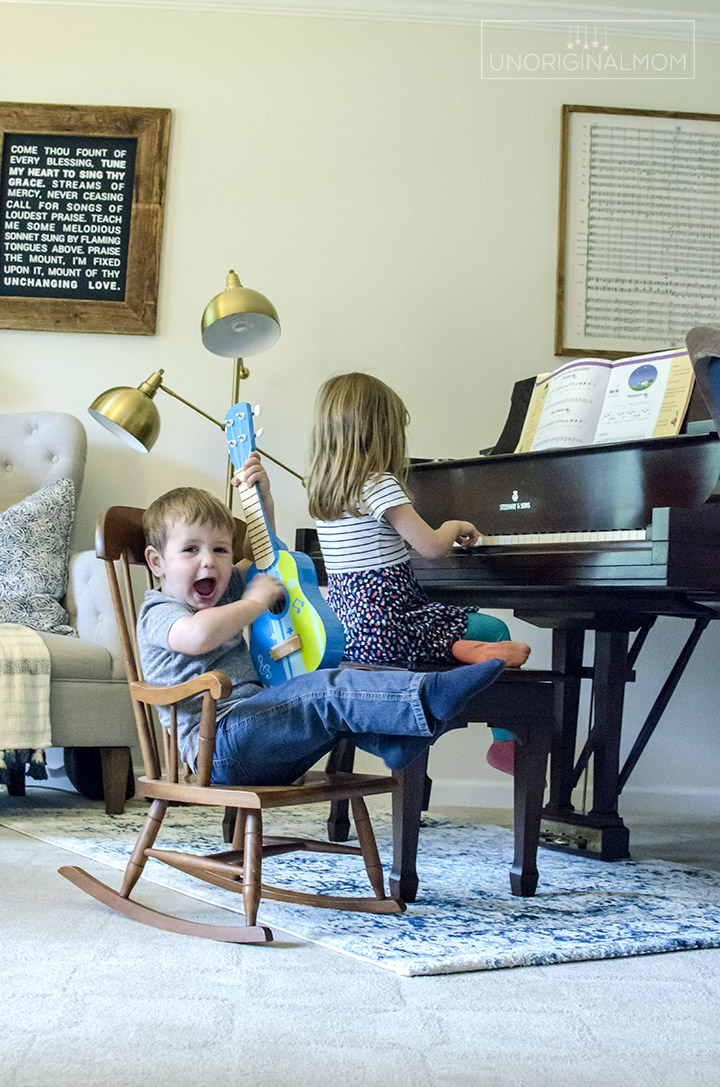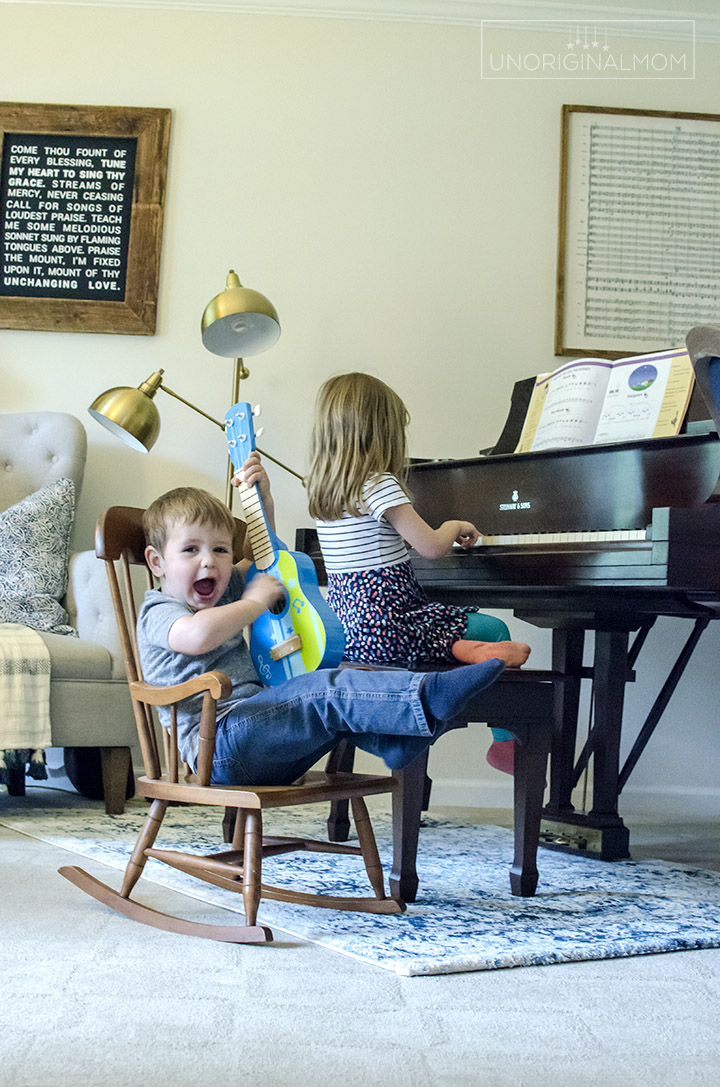 I can't tell you how good it feels to have a room "finished" and decorated the way I like it! I was really unsure going into this process how the final product would actually turn out, since I still feel like a decorating novice. I'm not sure if it was beginner's luck or I've actually learned a bit along the way, but I am just SO happy with how this room turned out! And now I can't wait to start another room. (But shhh, don't tell my husband ;-)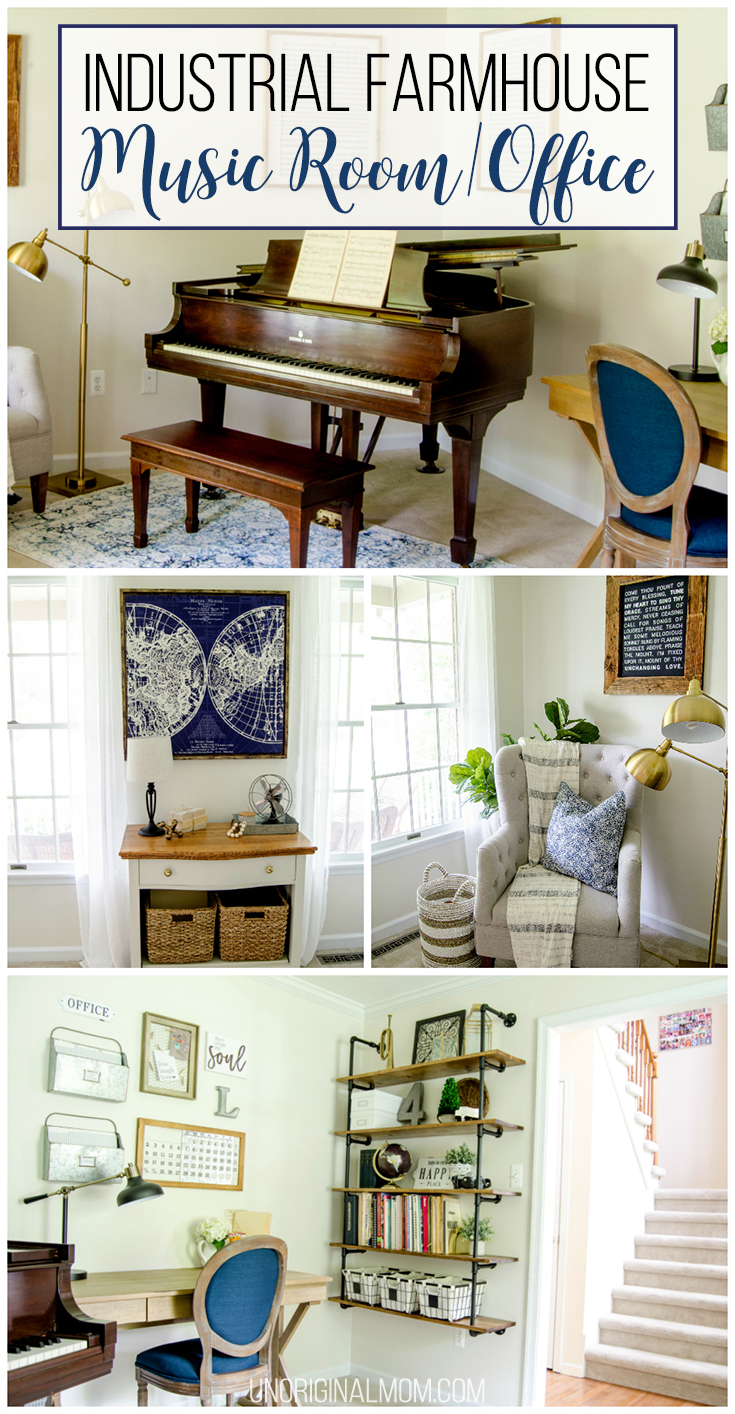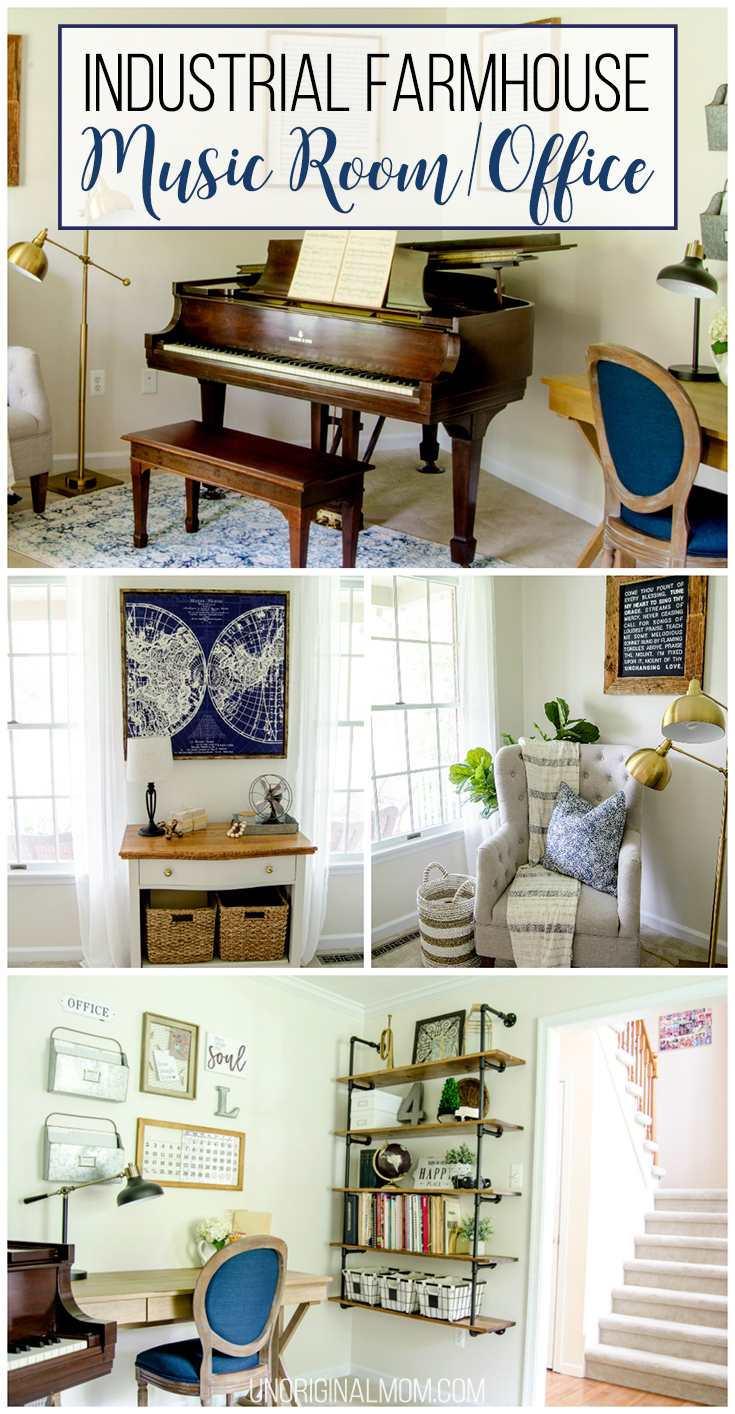 If you're looking for more decor inspiration and amazing before-and-afters, browse through the rest of the One Room Challenge guest participants reveal posts!
Sources:
Fabric Lined Baskets – Walmart
Desk – Target
Desk Chair – Wayfair
Desk Lamp – Target
Wire Magazine Holder – Target
Galvanized Wall Organizers – Kohl's
Memo Board – Walmart
Farmhouse Calendar – Decor Steals
Arm Chair – Joss & Main
Brass Lamp – Lamps Plus
Rug – Rugs USA
Map Wall Art – Decor Steals
galvanized tray – Walmart
Faux Fiddle Leaf Fig – Ross's
Curtains – HomeGoods
Thanks to Lamps Plus and Wayfair for providing product for this room makeover!


Get your copy of my FREE meal planning binder!
Sign up to get a free copy of my meal planning system - an 11 page printable meal planning binder, complete with a pantry inventory, shopping list, and more to help get on top of your menu each week!