It is week FIVE of the One Room Challenge, and our industrial farmhouse music room/office is *almost* done! I'm so excited with how it's all coming together. I've got a great before-and-after of a furniture makeover for you today!


Here are the links to my other ORC posts so you can track my progress:
ORC Week 1: Industrial Farmhouse Office/Music Room Design Plan
ORC Week 2: Music Room Paint and a New Layout
ORC Week 3: Industrial Farmhouse Pipe Shelves
ORC Week 4: Farmhouse Hymn Art
…and you can browse the Week 5 progress of the rest of the guest participants here!
Ok, now to the furniture makeover. In my original design plan and room layout, I had planned for a lateral filing cabinet to go between the windows.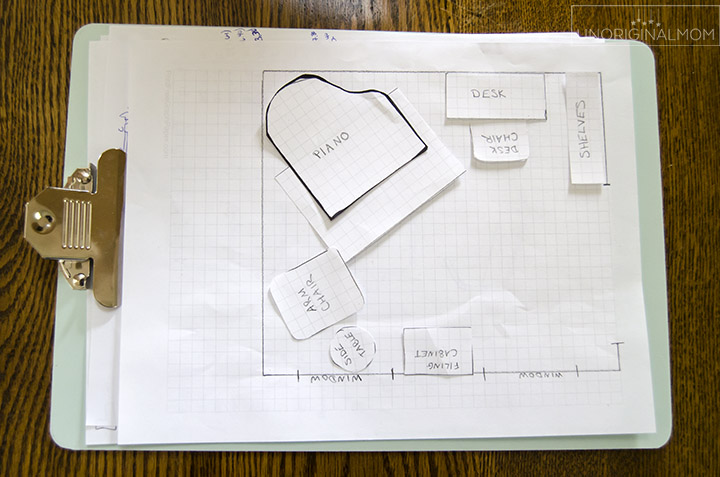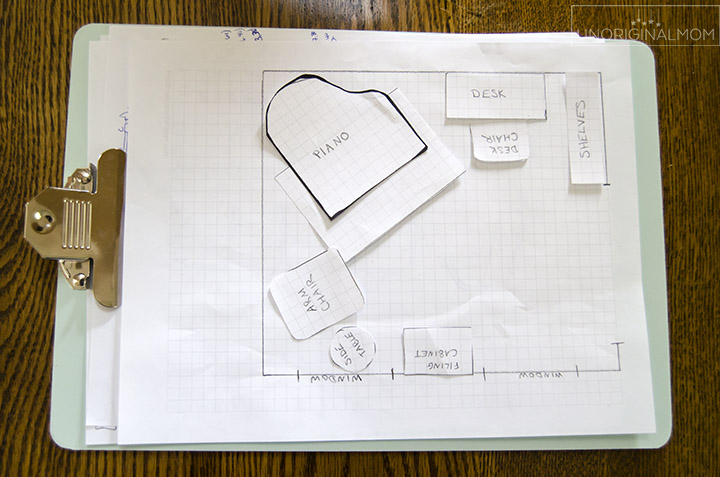 Previously, we had an old metal filing cabinet in this room and I was concerned about making sure we had a space to put our files and organize our paperwork, especially since I recently commandeered the basement office space for my craft corner ;-) I searched and searched for a 2 drawer lateral filing cabinet that didn't actually *look* like a filing cabinet. Unfortunately, the only ones I could find that I liked were around $1,000 which was definitely out of our budget, so I went back to the drawing board. When I really thought about it, I realized we don't actually have that much paperwork to keep track of – a file box or a couple of magazine files on a bookshelf would probably suffice to contain it all. So I re-thought our need for an actual file cabinet and decided to keep an eye on Craigslist for a side table or cabinet we could put in that space instead.
I found this little cabinet on Craigslist for $60 – the dimensions were perfect, and even though it was missing cabinet doors I thought the space on the bottom would be great for file boxes or baskets to hold paperwork.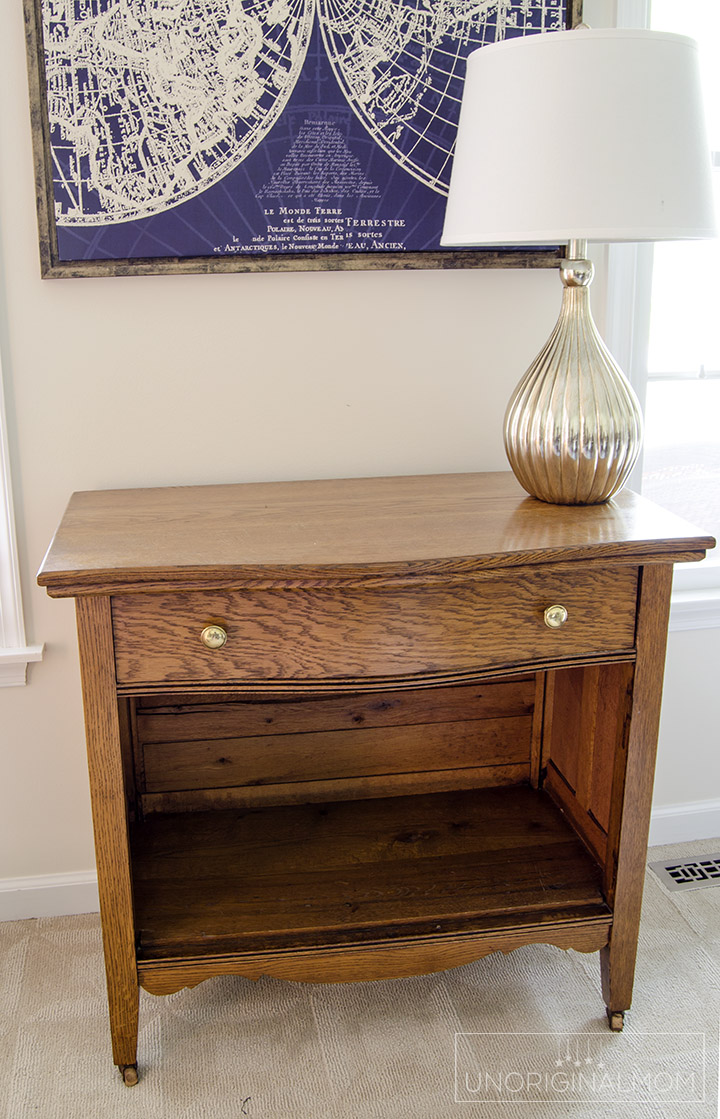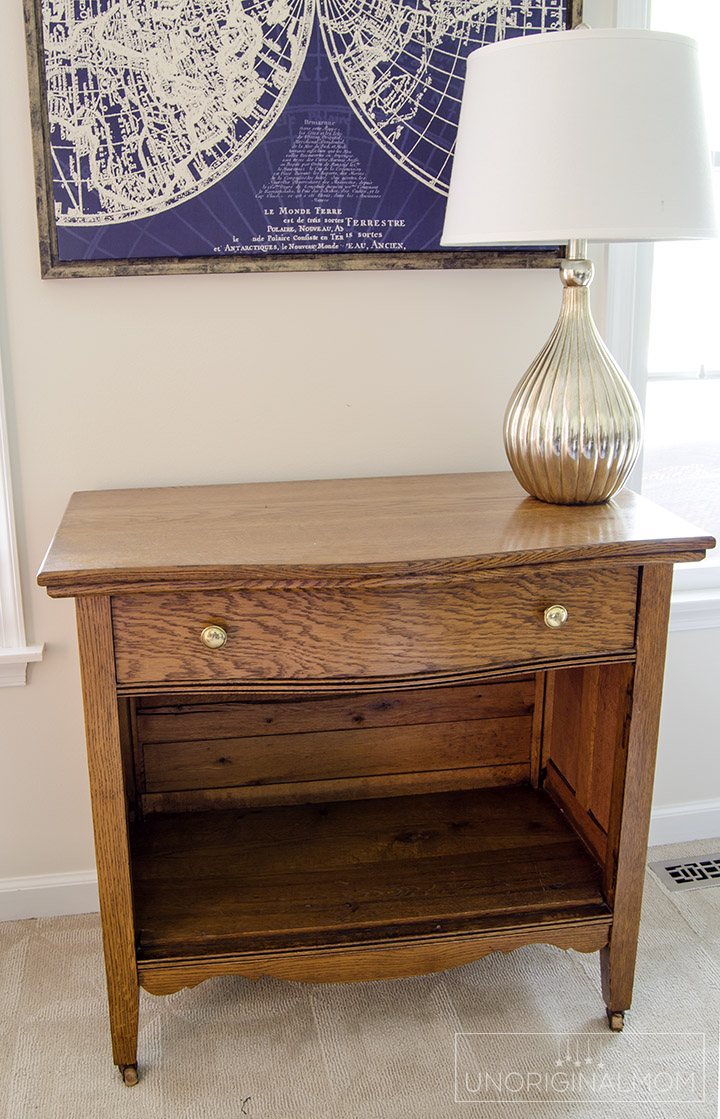 So we got to work refinishing this beauty!
SUPPLIES WE USED: (affiliate links)
The wood was actually already really beautiful, but a little bit too orange-y to fit with the rest of the room. I decided to strip and sand the top to stain it, and paint the rest white. My husband was a trooper and did the dirty work (stripping the varnish and stain) and I did the sanding, until we were left with beautiful raw wood.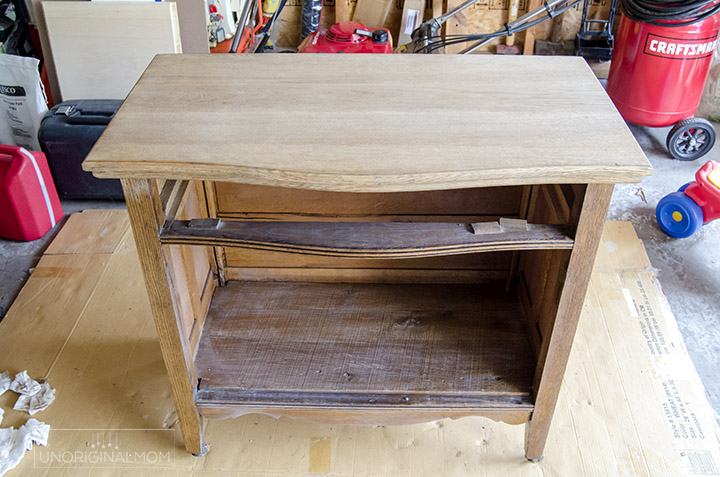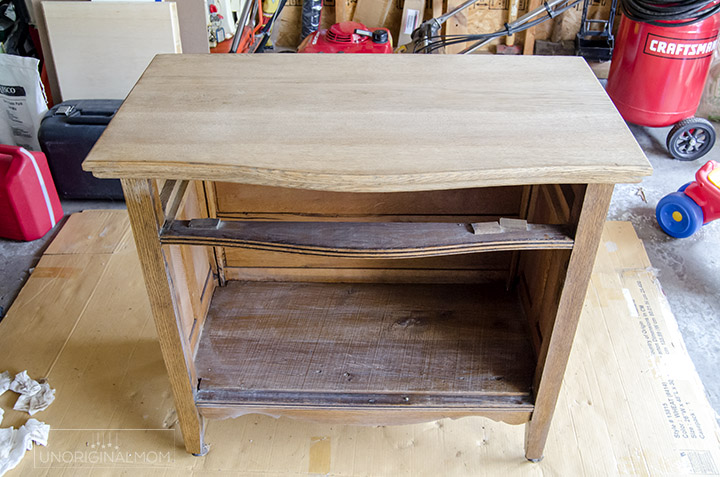 We used Minwax Weathered Oak on the top, then sealed with satin polyurethane.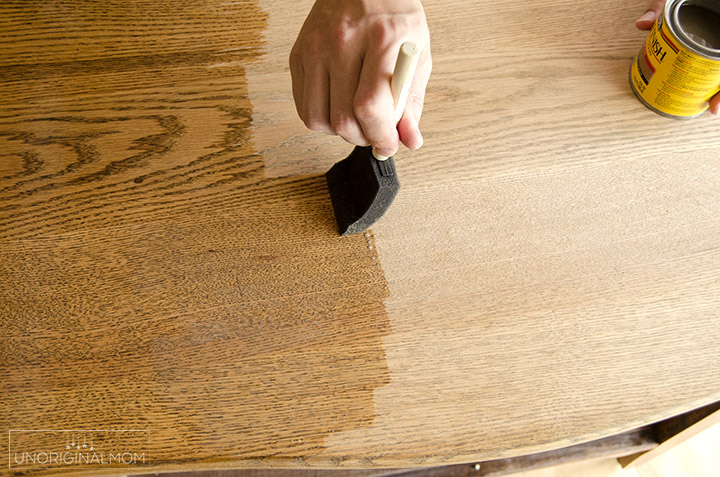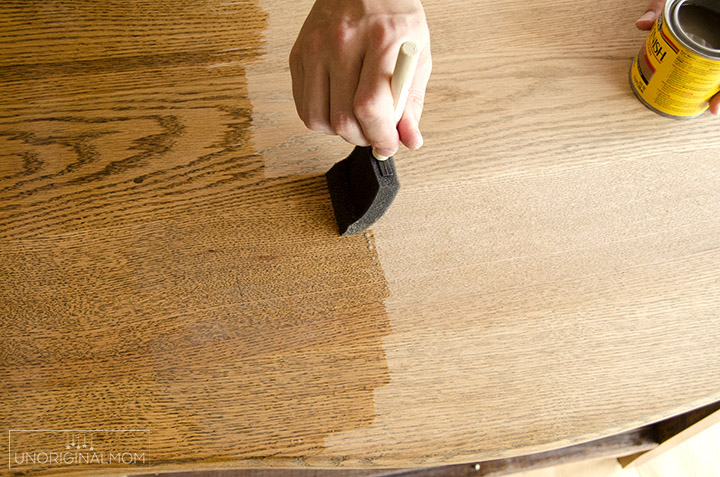 For the rest of the cabinet, I used Fusion Mineral Paint in Champlain. This was my first time trying out Fusion Mineral Paint, and I loved it! It covers well and goes on SO smoothly.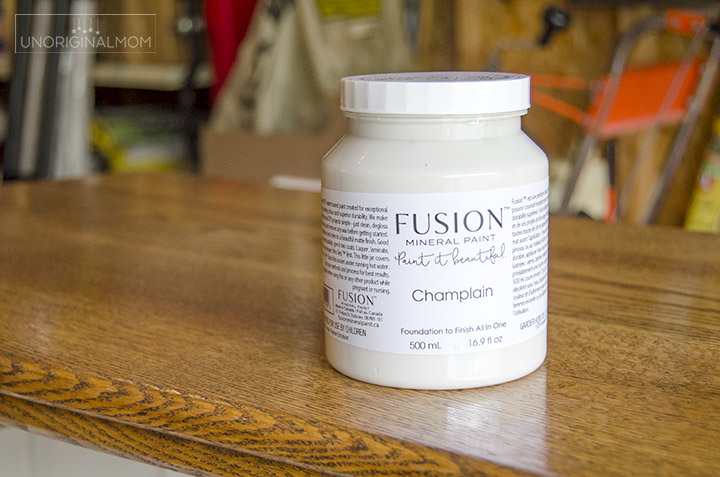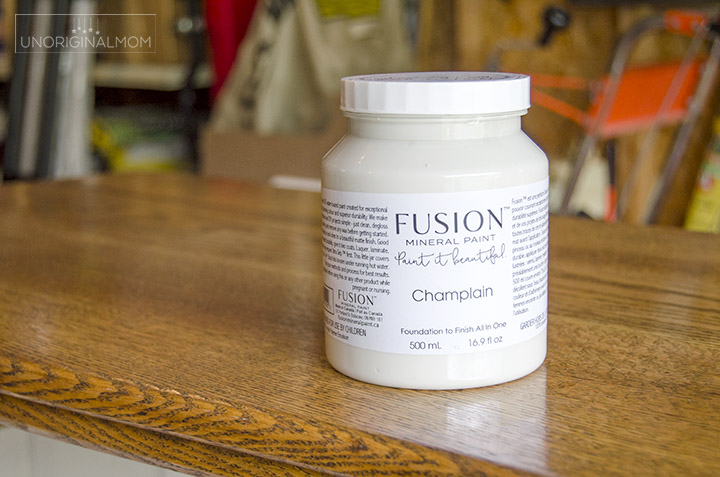 Supposedly it dries hard enough that it doesn't need any kind of wax or protective top coat, so I can just leave it as is. We'll see how it holds up, but I just love the color and finish. Here's how it looked after one coat (I did a total of two coats):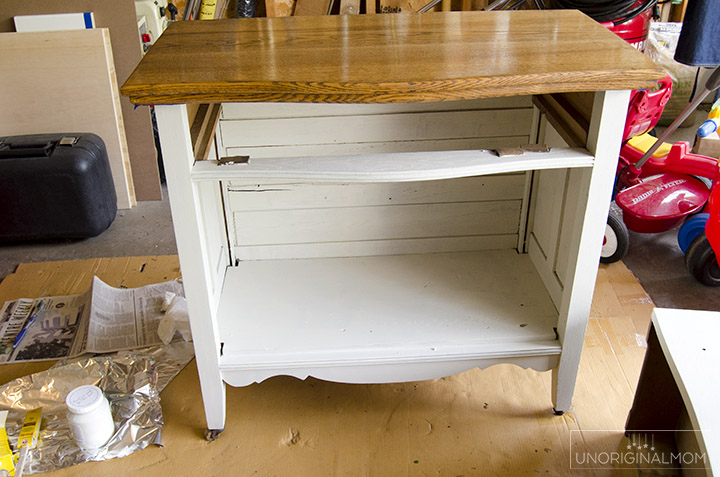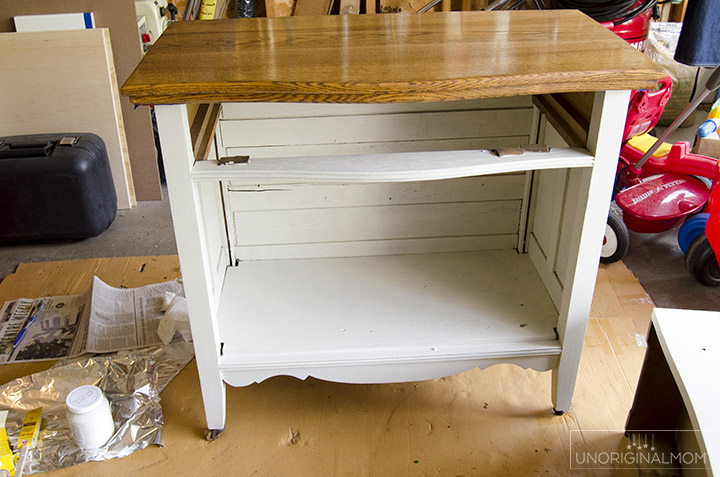 And finally…here's how she's looking now!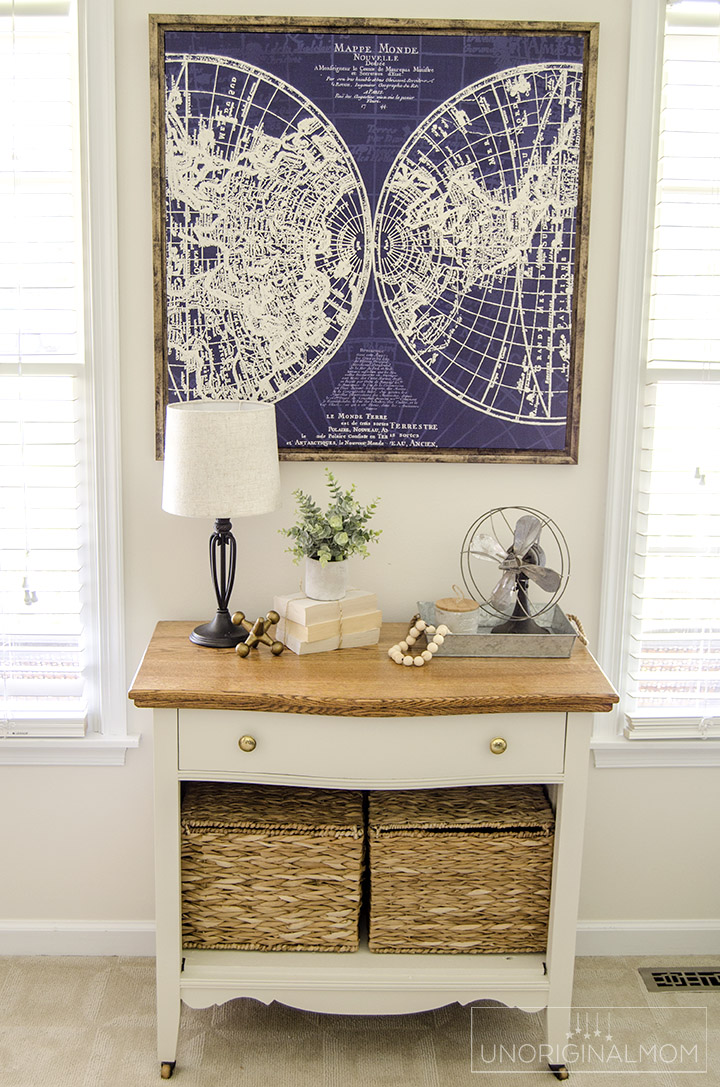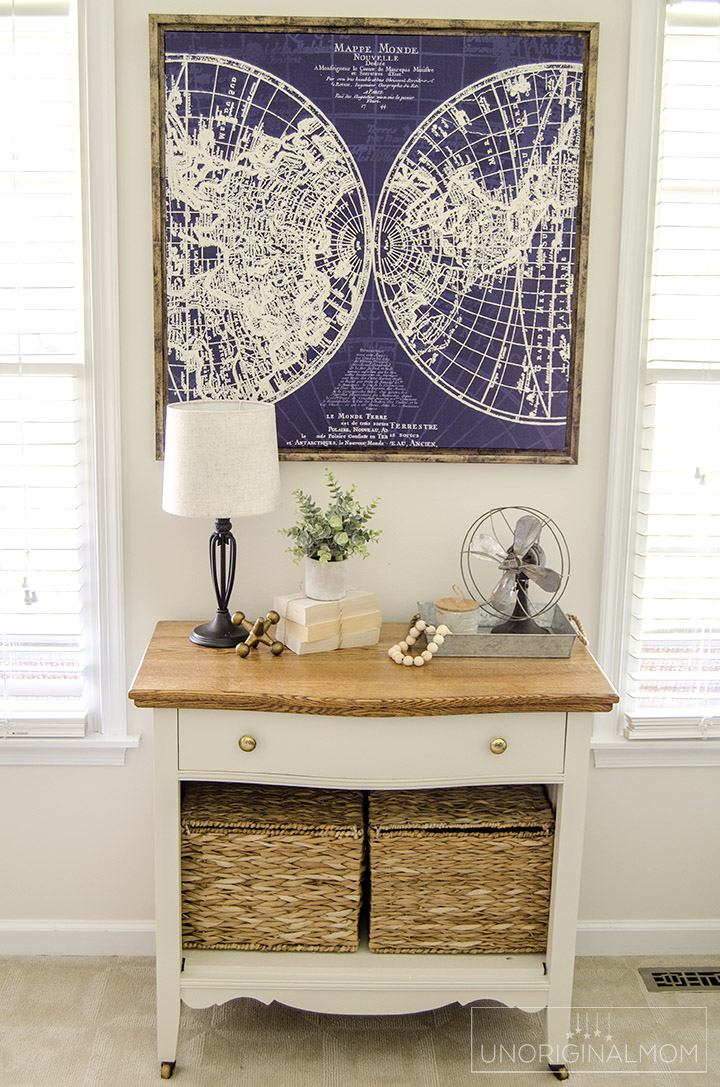 What a transformation, huh?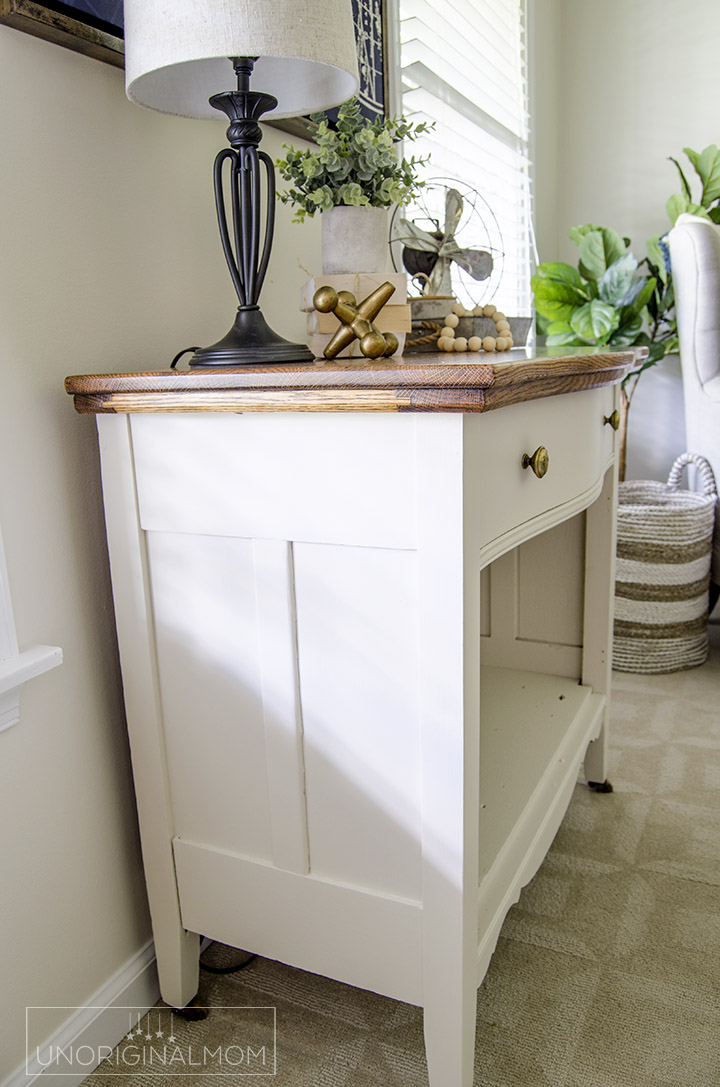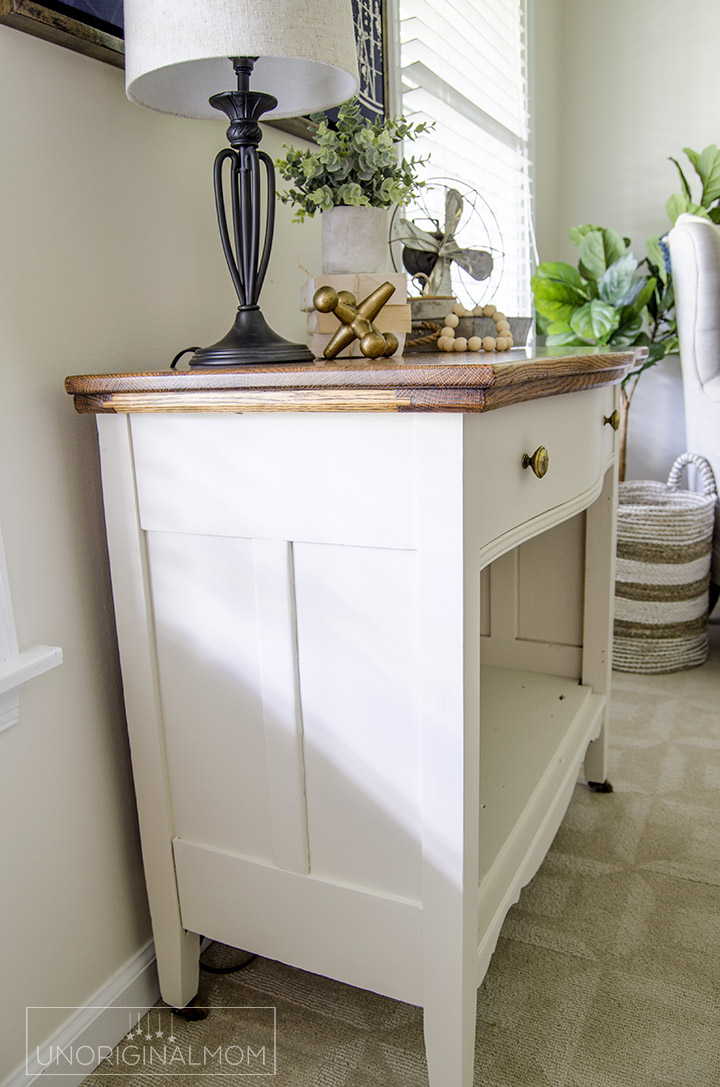 I love the two-toned look with the refinished wood and the white paint – so farmhousey!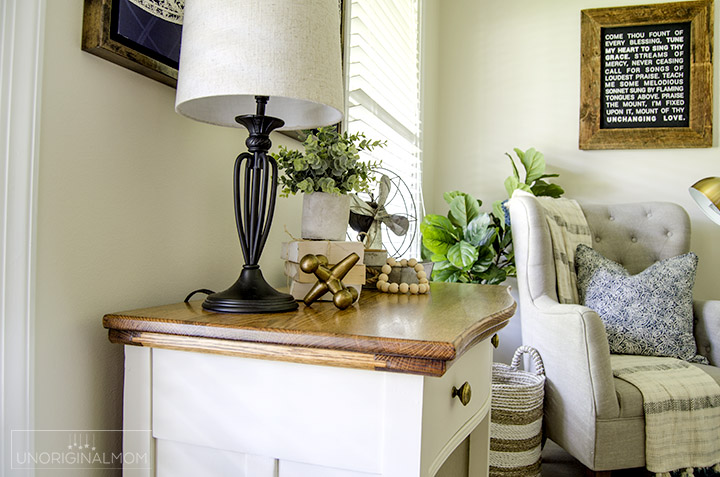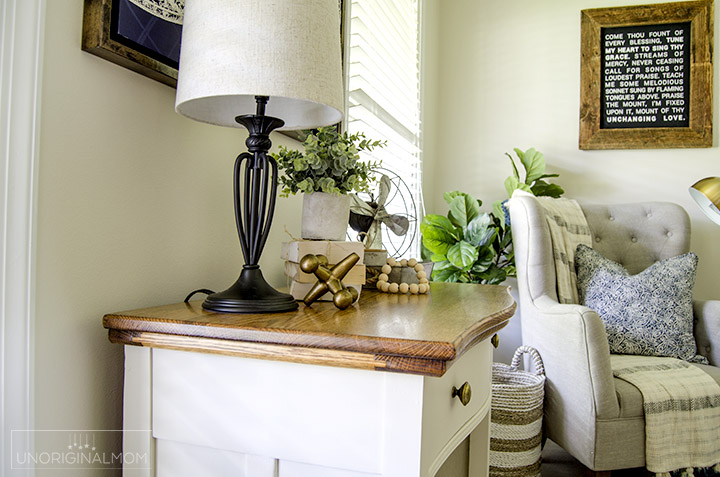 The inside of the cabinet reminds me a little bit of shiplap, don't you think?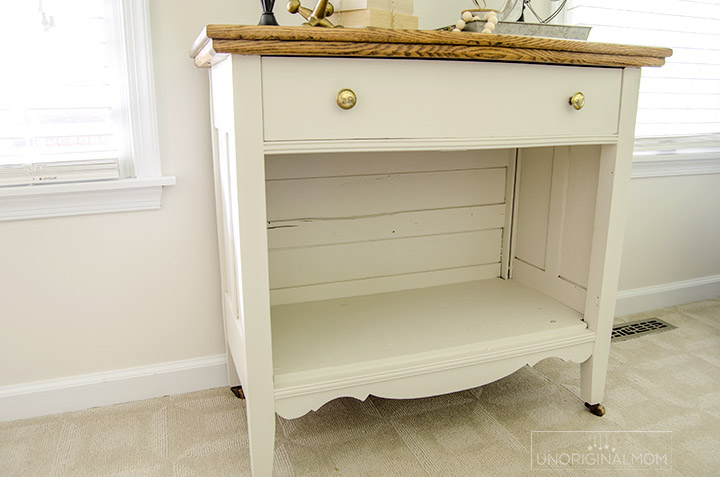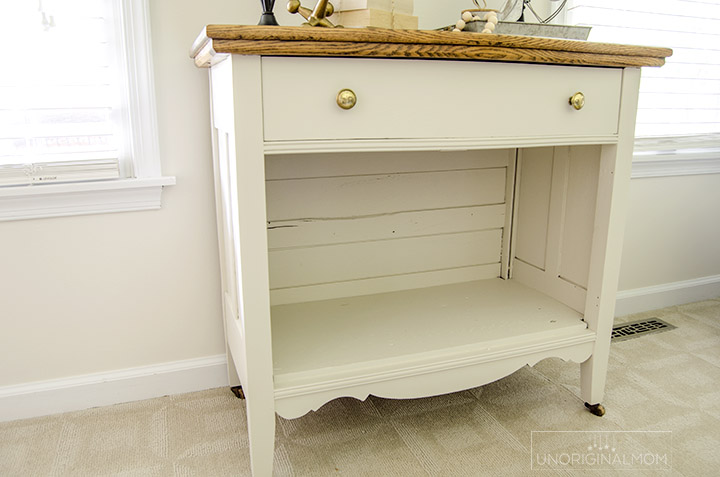 I put some lidded baskets in the bottom that will work well for stashing some file folders or any other odds and ends.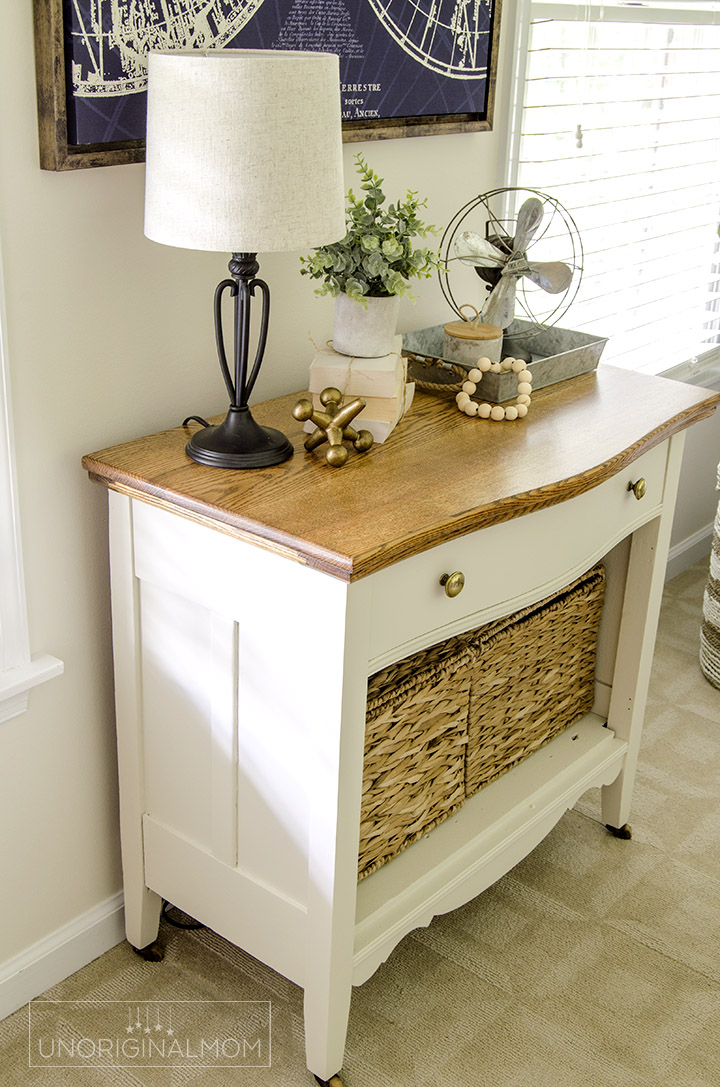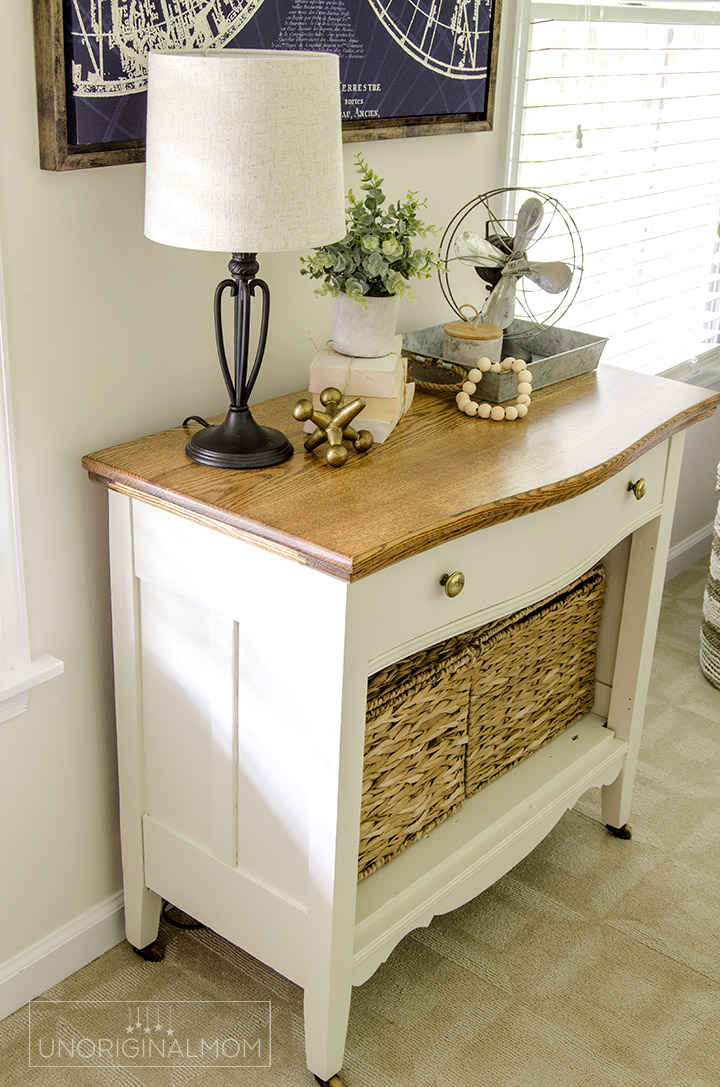 One more time…here's the before and after of this pretty farmhouse cabinet makeover: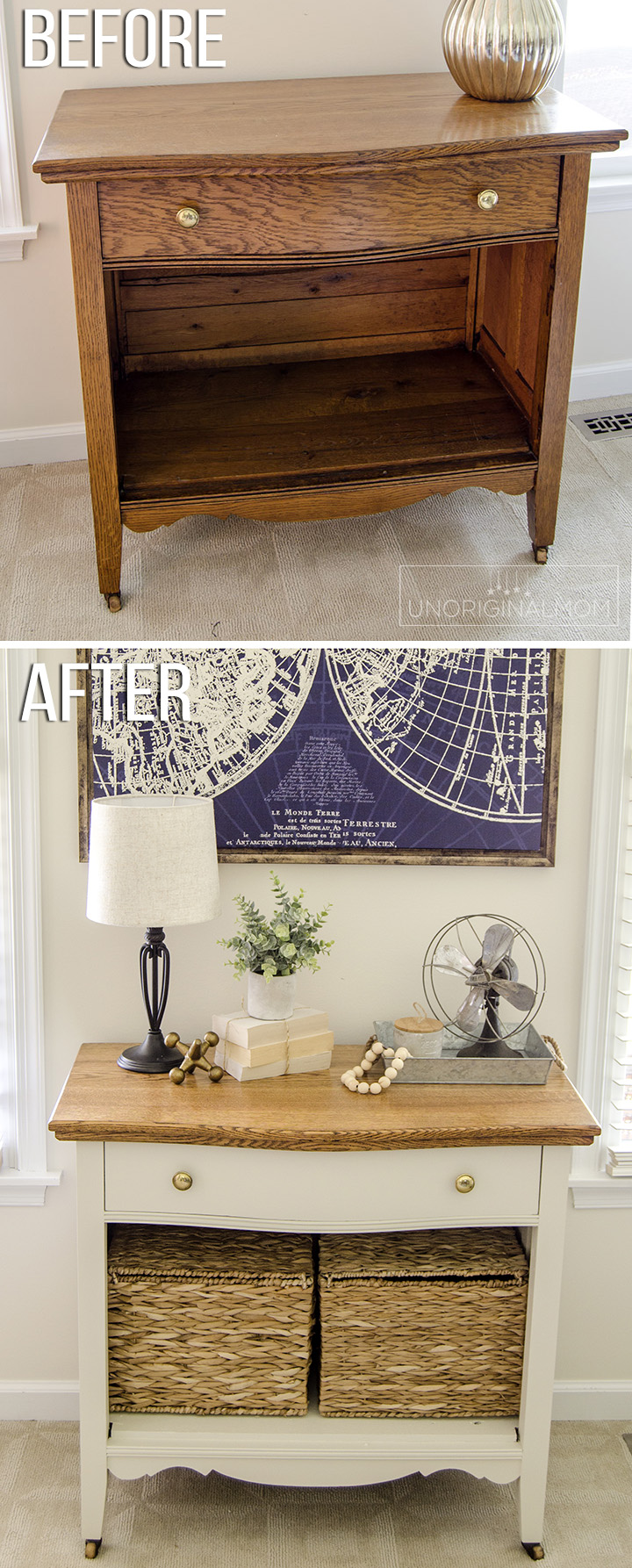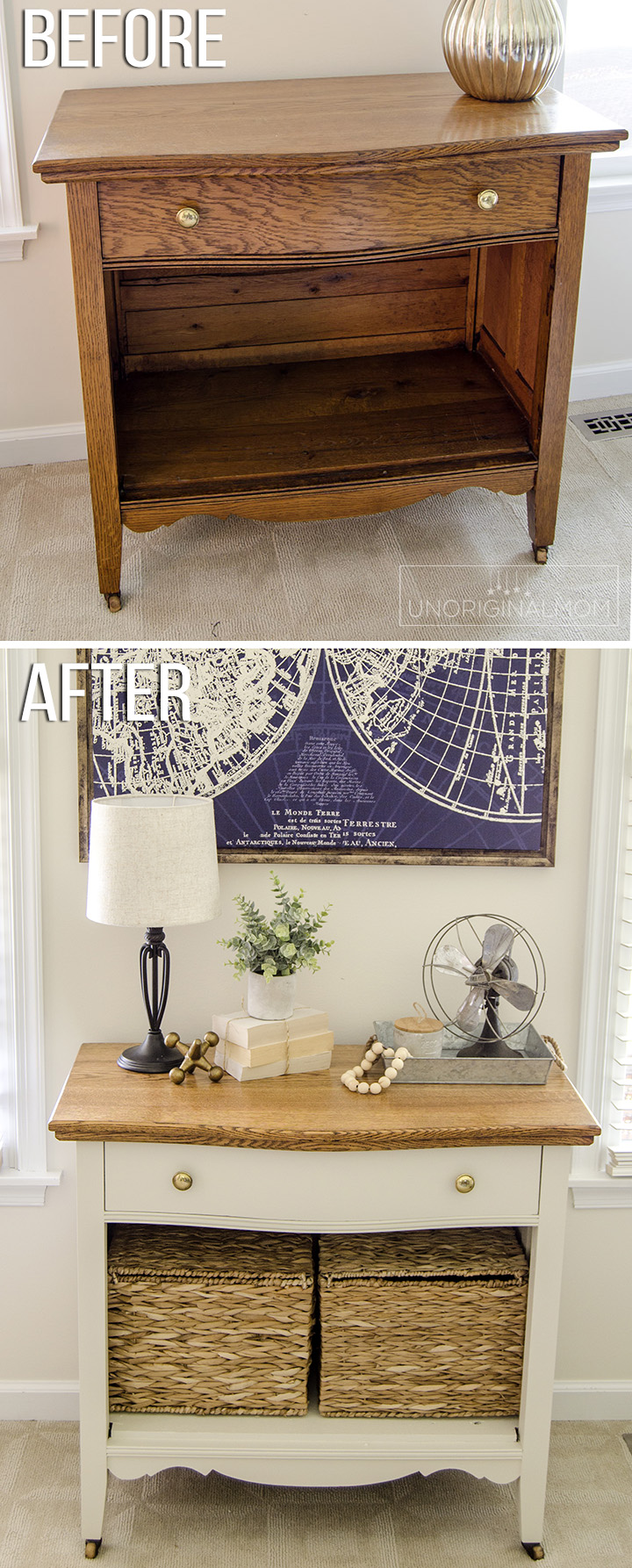 And here's a peek at how it's looking with the rest of the room!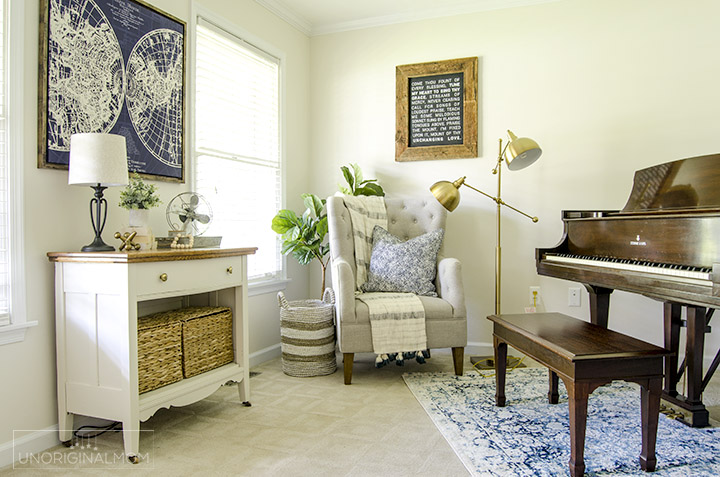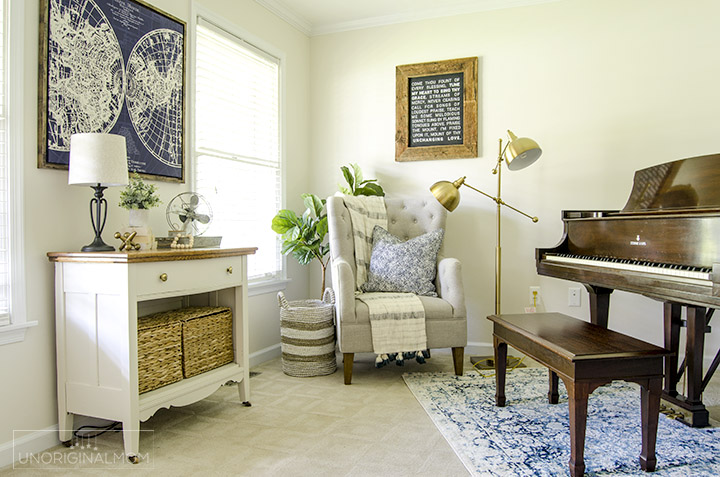 The last "to-dos" are curtains, some sheet music wall art, and a little office gallery wall above the desk…then this room will be DONE! I can't wait to reveal it next week. Make sure you're subscribed via email so you don't miss it!
In the meantime, browse around the rest of my One Room Challenge posts to see the progress of our music room:


Get your copy of my FREE meal planning binder!
Sign up to get a free copy of my meal planning system - an 11 page printable meal planning binder, complete with a pantry inventory, shopping list, and more to help get on top of your menu each week!