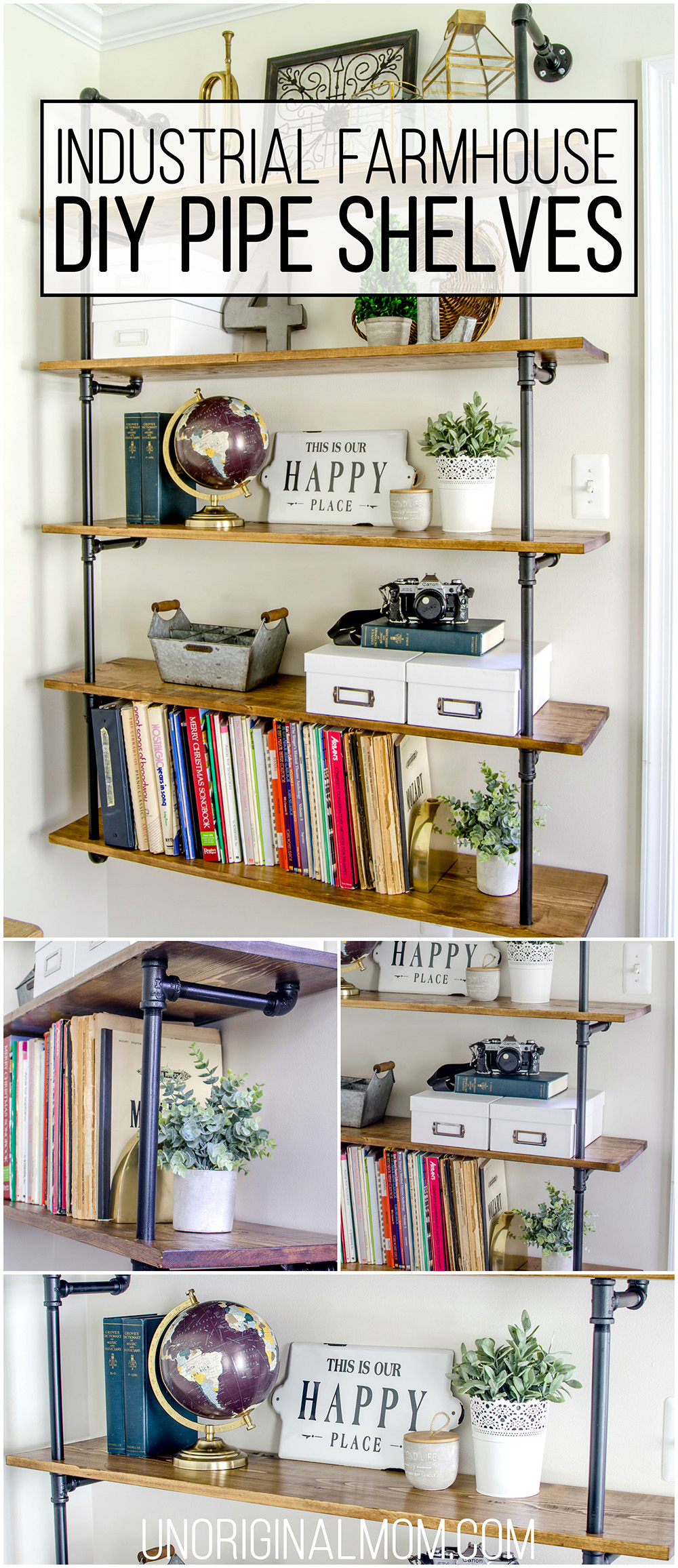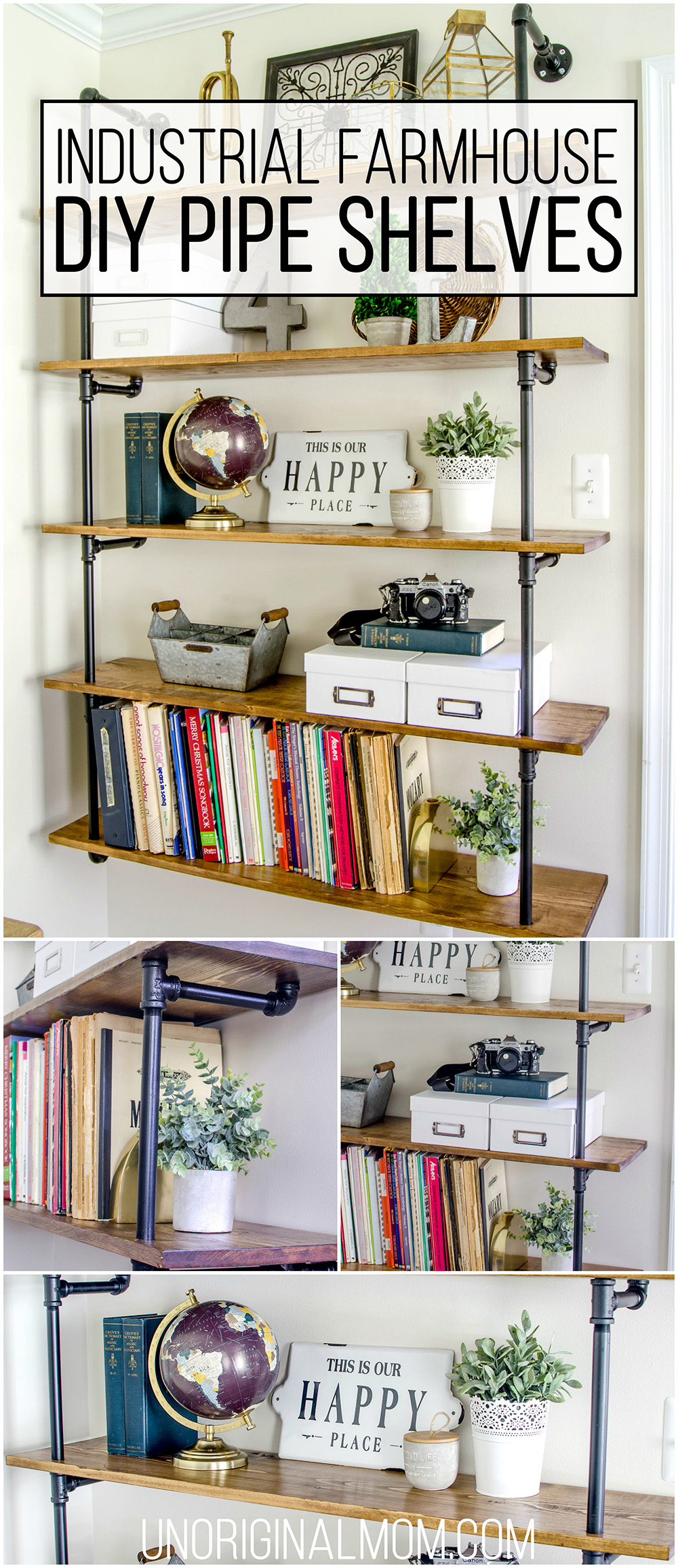 It's week THREE of the One Room Challenge, and today I'm showing off the AMAZING industrial farmhouse pipe shelves that my husband built for our music room/office! (Can you believe we're halfway through this challenge already??) If you're visiting for the first time, you'll want to start with my Mood Board and Room Design and then check out the Paint and New Layout.


Originally, I was planning on including a step-by-step tutorial on how we built them in this post, but that just got to be insanely long! So today I'm just sharing the finished product…but I won't leave you hanging, I'm sharing the tutorial next week, pinky swear! (UPDATE – see our full pipe shelf tutorial here!)
If you remember the way this room used to look, we had a big bookshelf in between the two windows. It was very functional for us, as I used it to store all my music books, our Bibles and other Bible Study books, and several other odds and ends. But the style of that shelf wasn't going to fit with the new room, plus I really wanted to open that wall a bit more.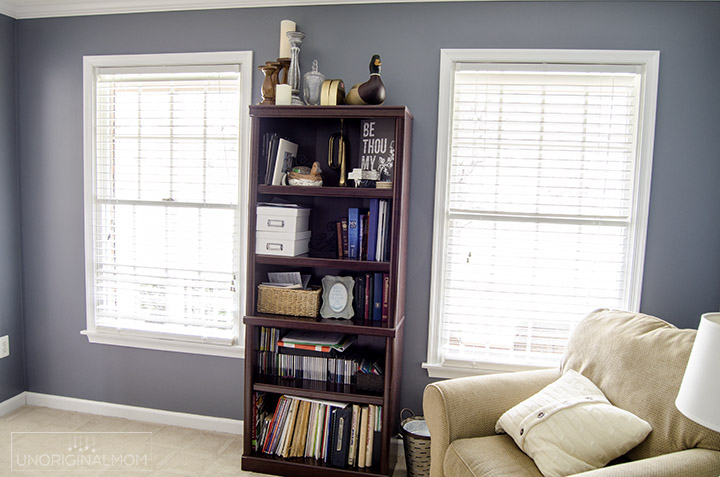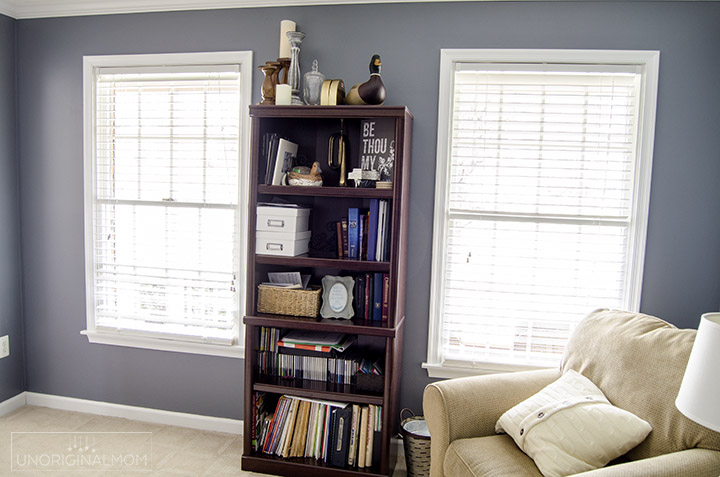 I knew from the beginning of this room design that I wanted pipe shelves, though I wasn't exactly sure how to configure them in this space with the piano and all. I toyed with the idea of just doing a few shelves above the desk, but we needed more space than that, so I settled on a full set of floor to ceiling shelves on the short wall next to the doorway, where the piano used to be: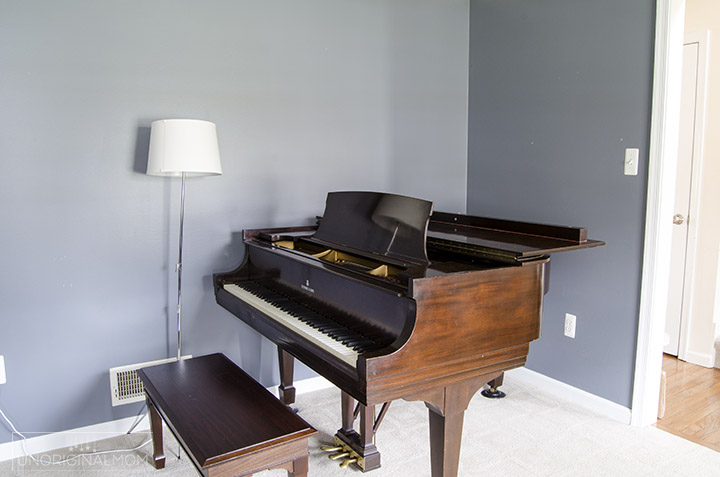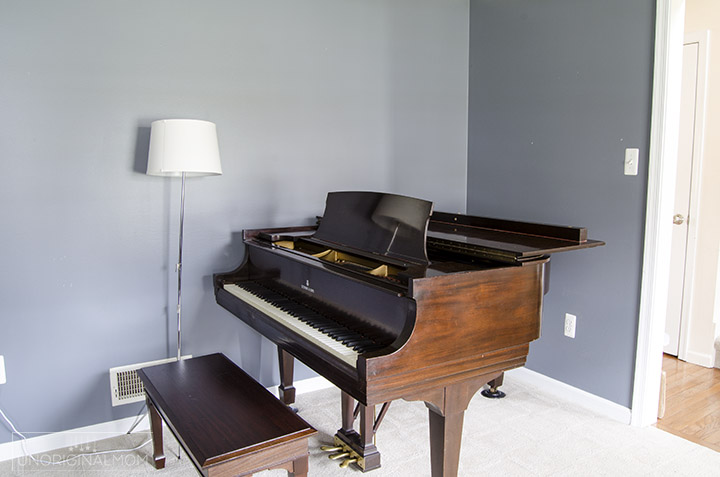 And here's how they turned out!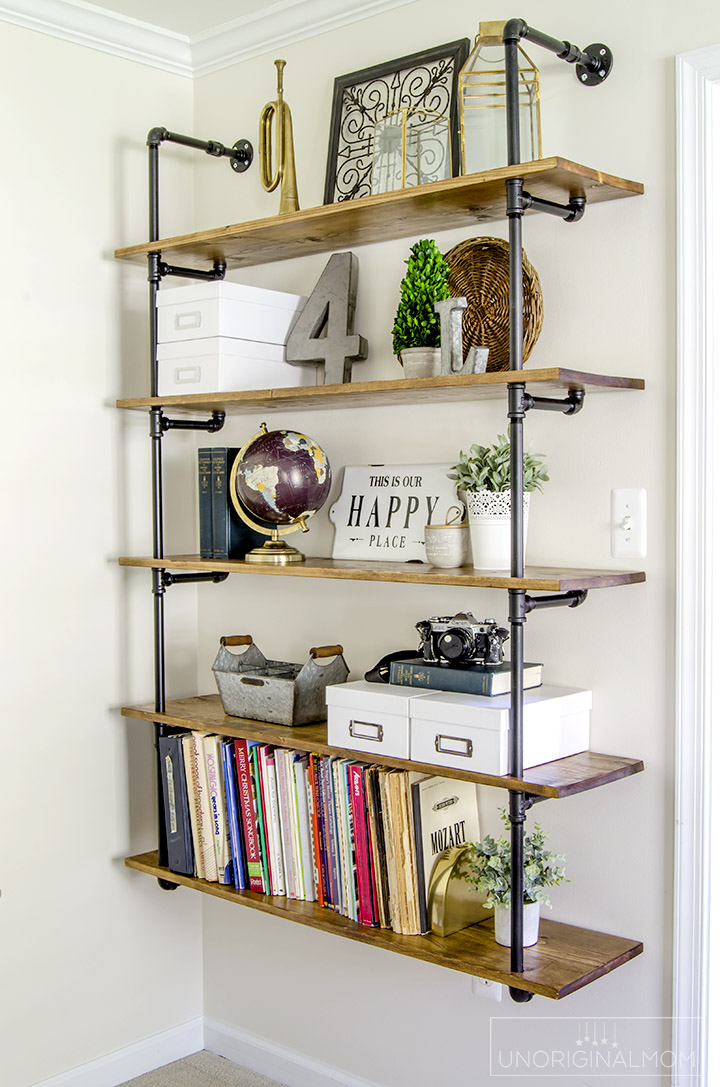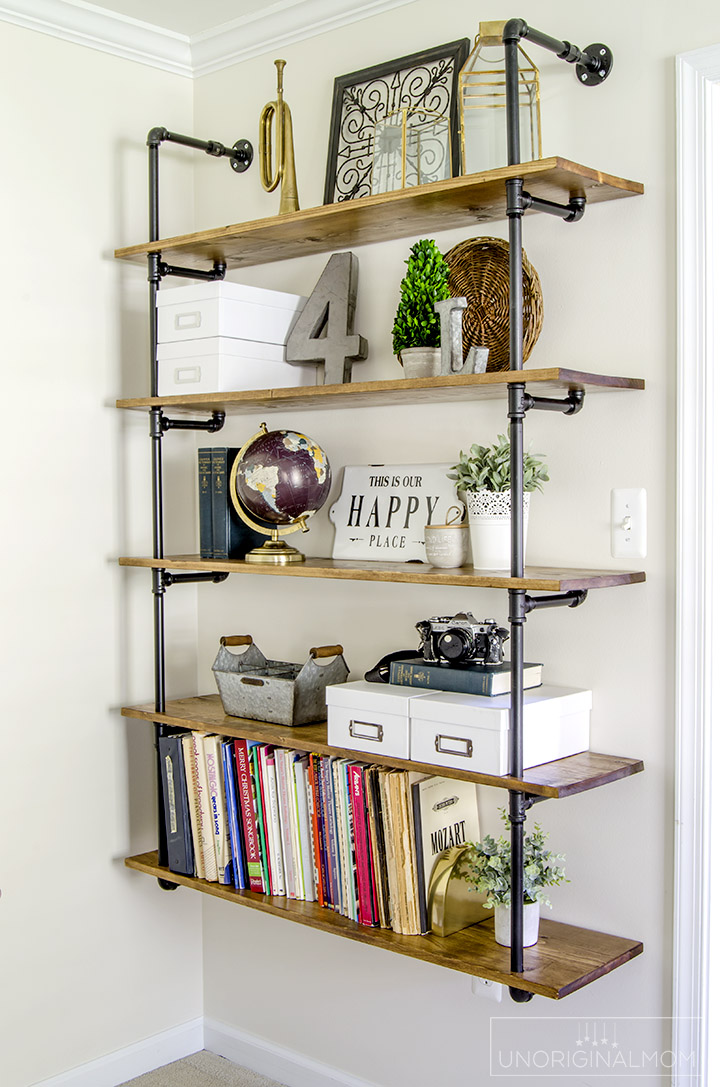 I wanted to leave room at the bottom underneath the shelves for easy vacuuming/cleaning, and also for the possibility of putting some crates under there for more storage if we need it. Visually, not having the shelves go all the way to the floor really makes it feel more open and spacious in that corner.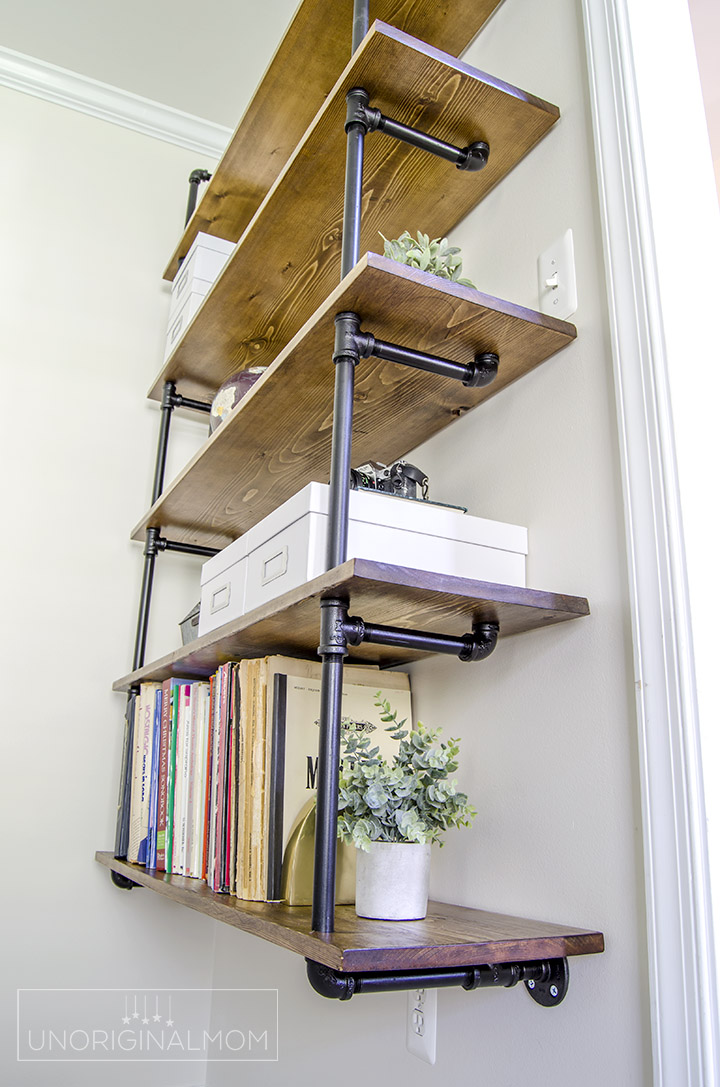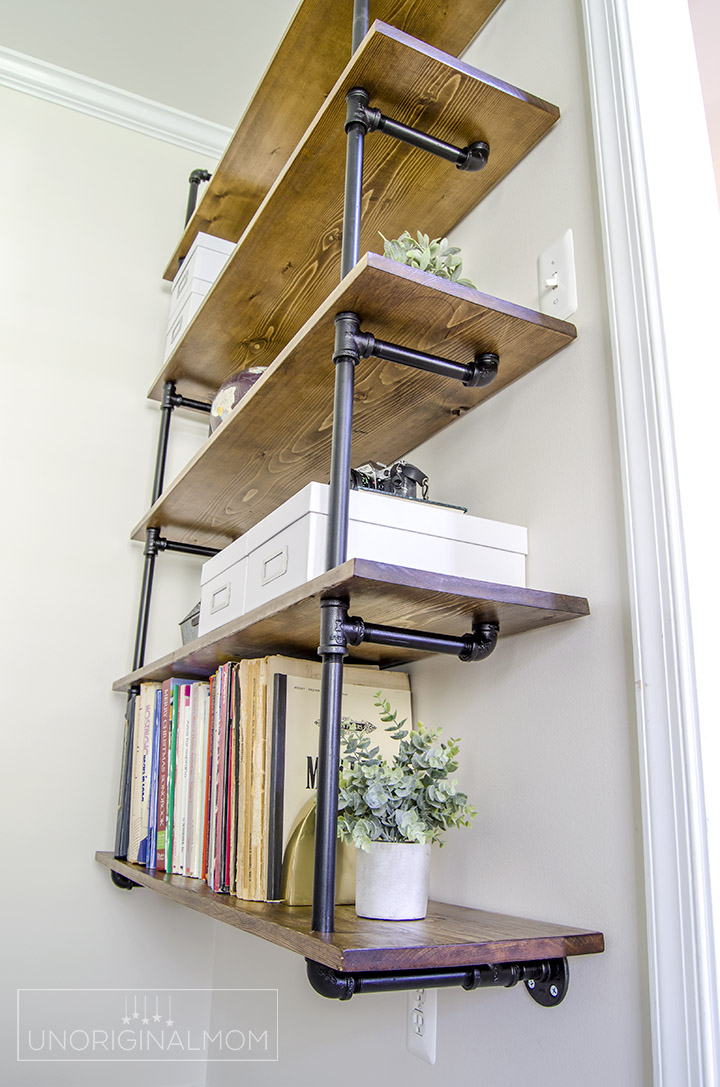 I don't think this is the final version of how I'll style these shelves, but it's pretty close. I tried to mix some more industrial elements – the concrete planters and candle, plus the galvanized elements – with some more farmhousey type things, like the wicker tray and vintage books.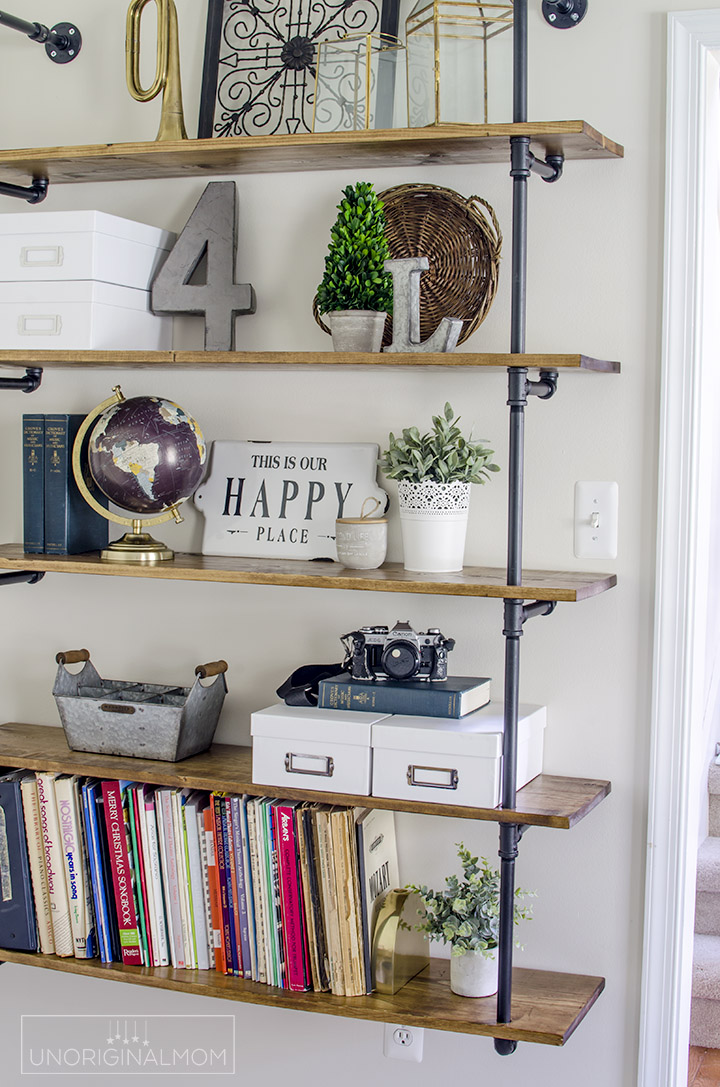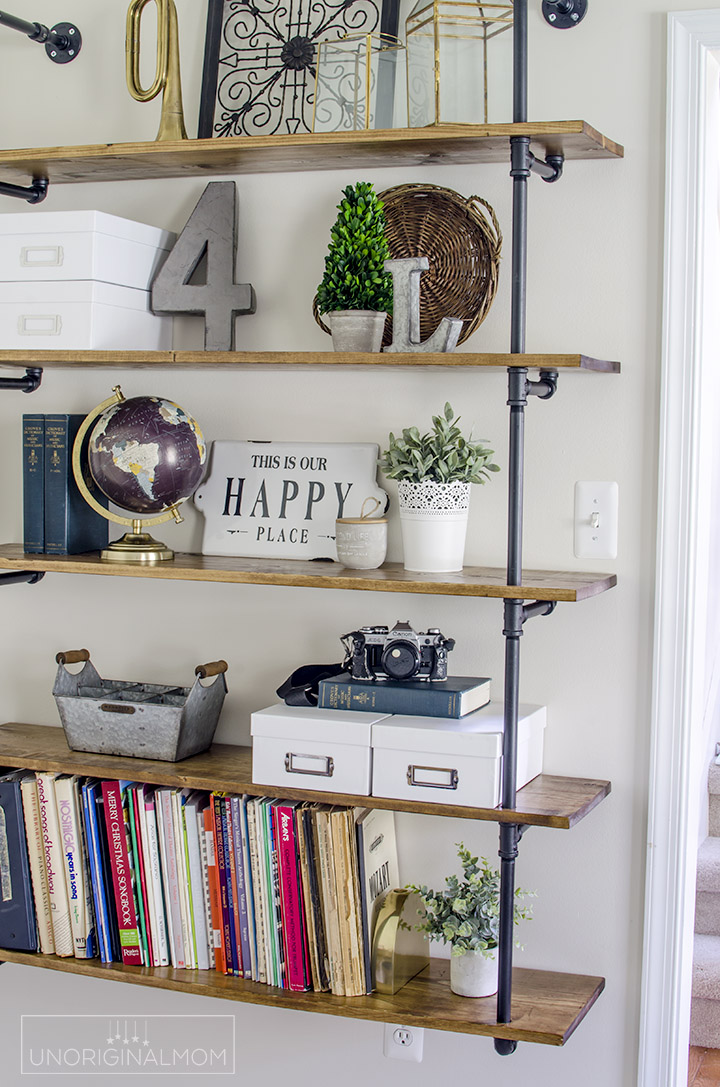 I love having all my music books displayed, too. The really old sheet music came from my great-aunt's house when we got the piano. It's not just for show, either – I have gotten it out to play a few times! There's also a mix of vocal music from my voice study in college and other songbooks from my teaching days.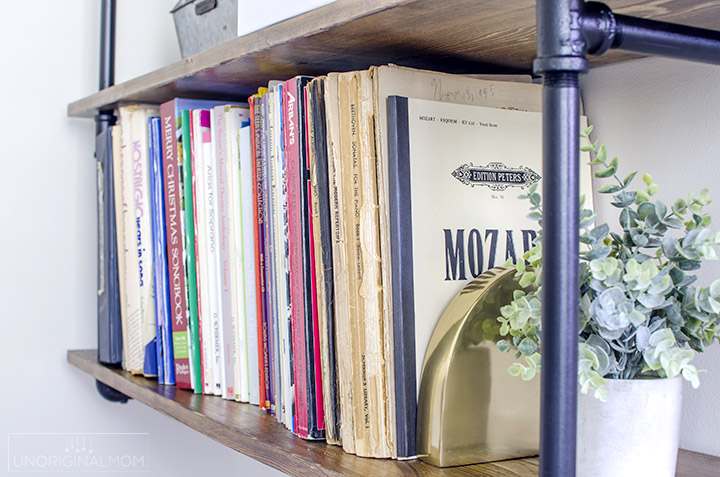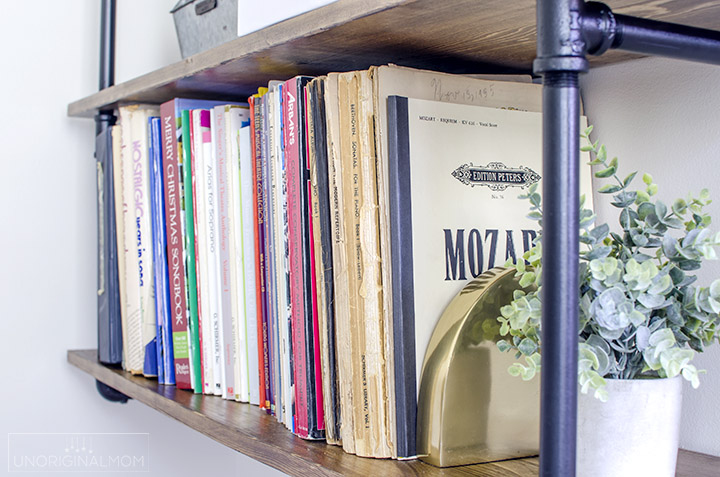 It was quite the project…there were no studs even close to where we needed them to be, so my husband actually had to cut holes in the drywall and attach blocking to the studs so we'd have something to anchor the shelves into. More on that in the tutorial post, but it was definitely worth all the hassle. These shelves are super sturdy, that's for sure!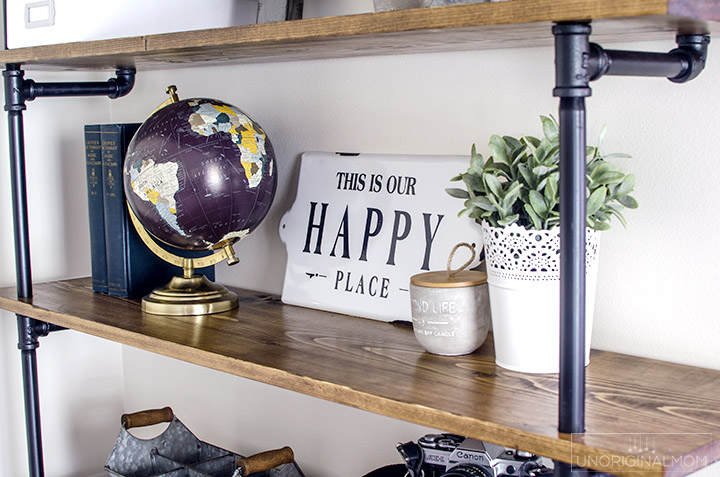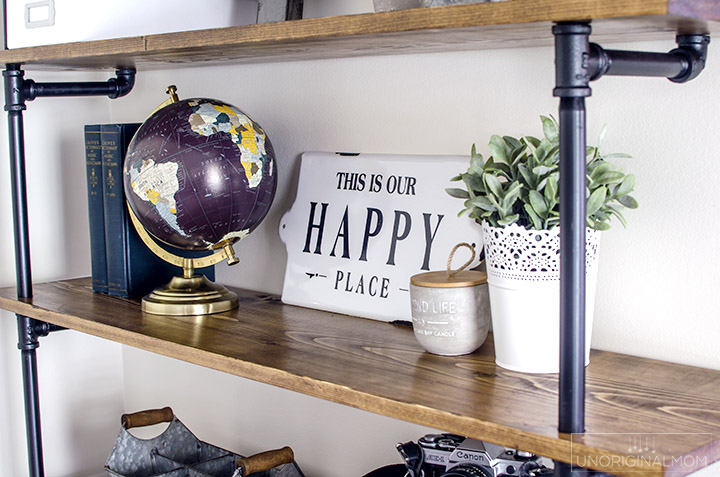 And so you can peek at the progress of the room, here's how this corner is looking right now: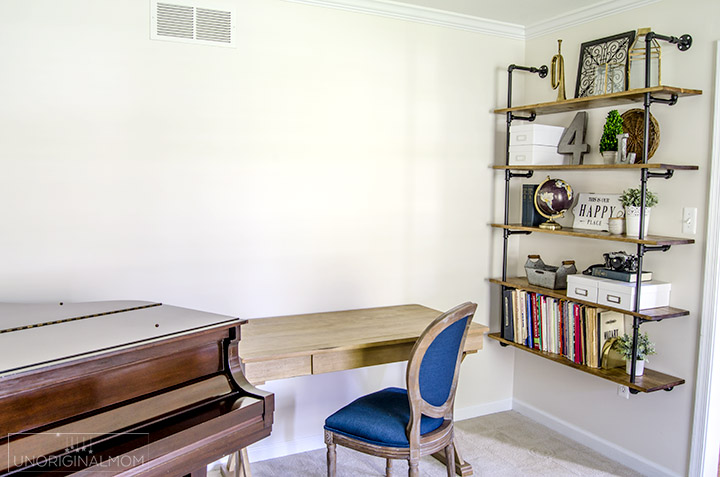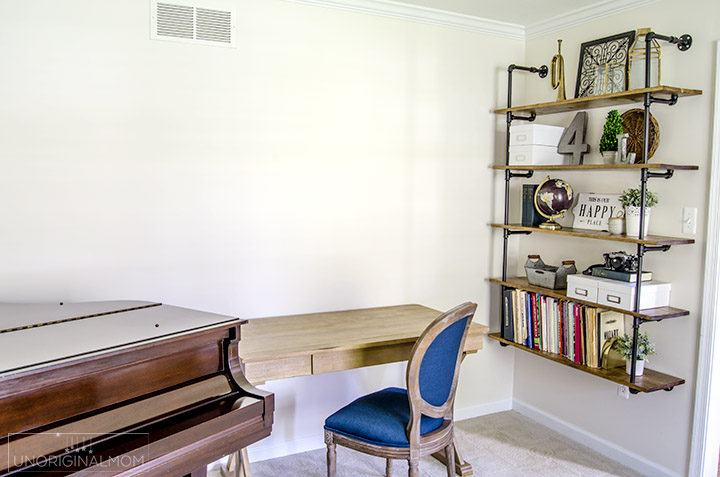 Of course, I have big plans for that big empty wall above the desk! I've got some galvanized wall organizers, a neat farmhouse style perpetual calendar, and an "office" sign, plus a few more little elements that will go together in on the wall there. I'm trying to decide if I just want a desk lamp or if I want to attempt a wall sconce there above the desk, like this one…what do you think? Too much? Hmmmm…
Be sure to stop by again next Thursday for another room update! (And don't forget to browse through the rest of the One Room Challenge Week 3 room updates for even more inspiration!)


Get your copy of my FREE meal planning binder!
Sign up to get a free copy of my meal planning system - an 11 page printable meal planning binder, complete with a pantry inventory, shopping list, and more to help get on top of your menu each week!