Are you a fan of Hocus Pocus? Use this Sanderson Sisters Brewery cut file to whip up a quick reverse canvas Hocus Pocus Halloween Sign or t-shirt!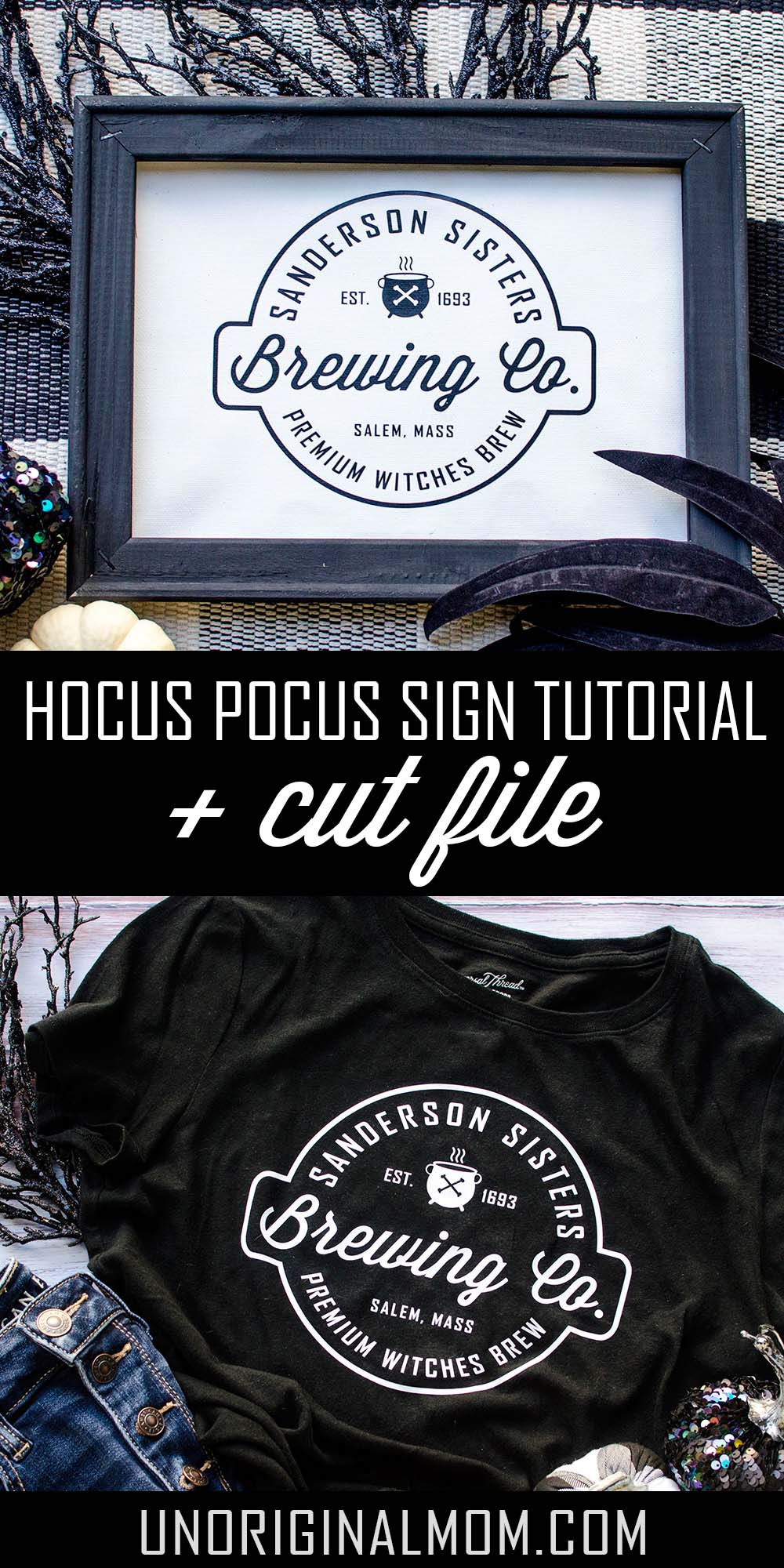 I'm a child of the 90s, so naturally I grew up with Hocus Pocus. While I was a little young to see it in theaters when it first came out (I think I was 7 or 8?), once I was a little bit older I remember watching it on network television every year around Halloween. There's something about that movie that makes it fun for all ages…it hit the perfect combination of fun, fright, story, and pop culture to become a Halloween classic!  I love that it's been having a bit of a comeback lately.  I feel like I completely forgot about it for ten years of my life, but now as an adult I love it even more. What makes it even better is even though the Sanderson sisters are the "bad guys," they're the very best part of the movie!
Confession – I actually designed this Hocus Pocus cut file without knowing exactly what I wanted to do with it. I'd seen a few variations of "Sanderson Sisters" tees with lots of different designs – movie quotes, puns, bed and breakfast logos, etc. – so I decided to create my own version. I love it so much I decided to use it to make a sign AND a T-shirt!
I didn't have any blank wooden signs on hand (and didn't really have the time or motivation to make one), so I just used a cheap 8×10 canvas from the craft store I had laying around to make a reverse canvas. If you've never made one before…what are you waiting for?? They're cheap and super easy, especially if you have a Silhouette or Cricut and use heat transfer vinyl for your design. (I used this same technique to make a "Life is Better at the Beach" summer decor sign here!)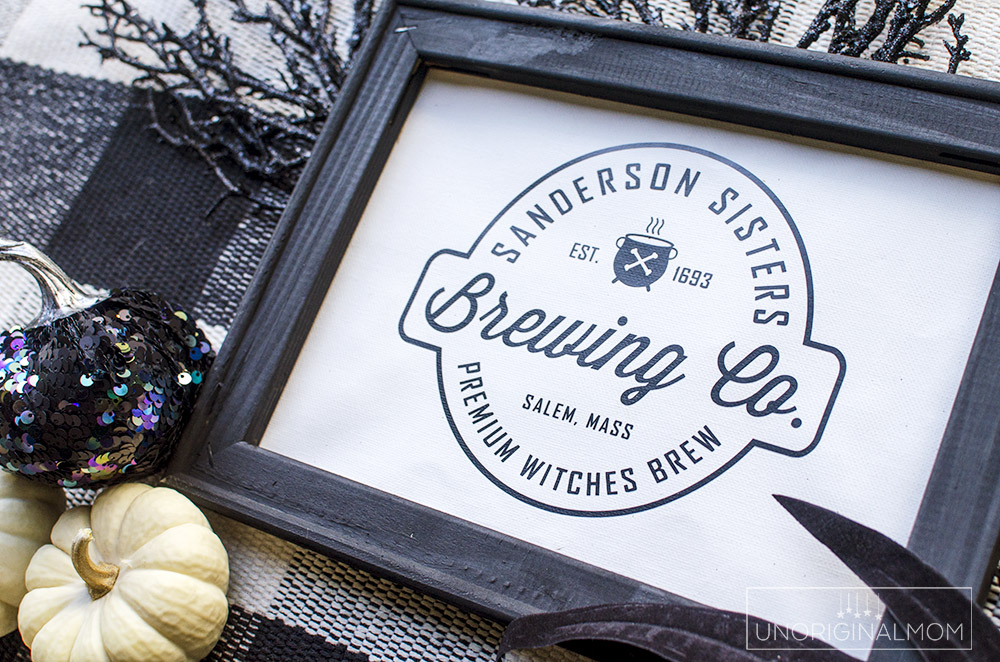 Full disclosure, the frame that's hiding inside a craft canvas isn't super high quality – it has staples holding it together as well as some slots and things in the frame. But, for quick DIY seasonal decor like this Hocus Pocus Halloween sign, it's perfect.
HOCUS POCUS HALLOWEEN SIGN – REVERSE CANVAS TUTORIAL
SUPPLIES:
This post contains affiliate links. Click here to read my full disclosure.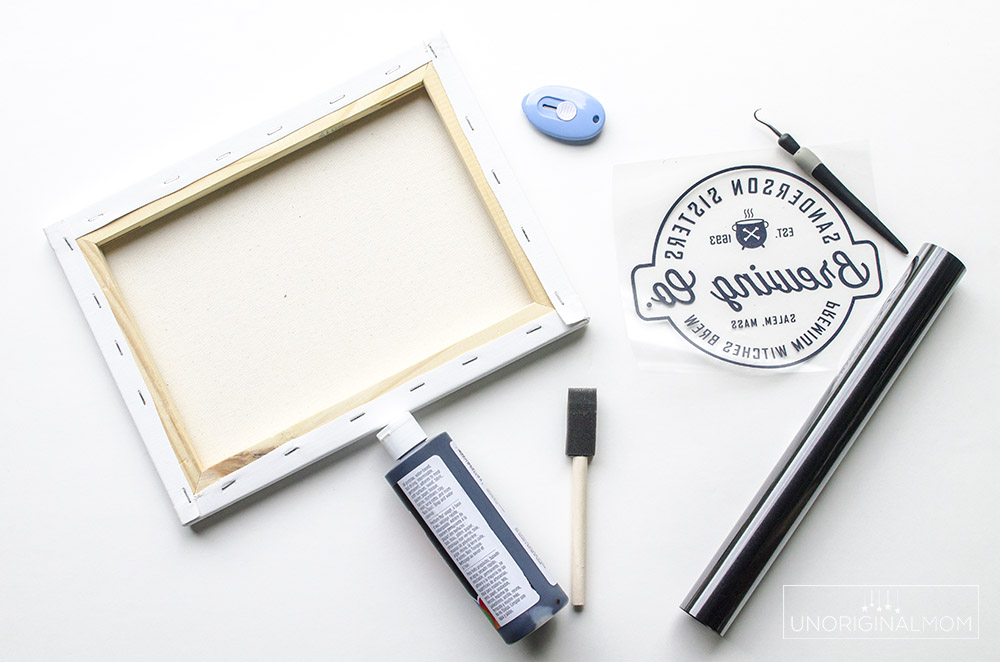 In case you've never made one before, here's a step-by-step reverse canvas tutorial for you!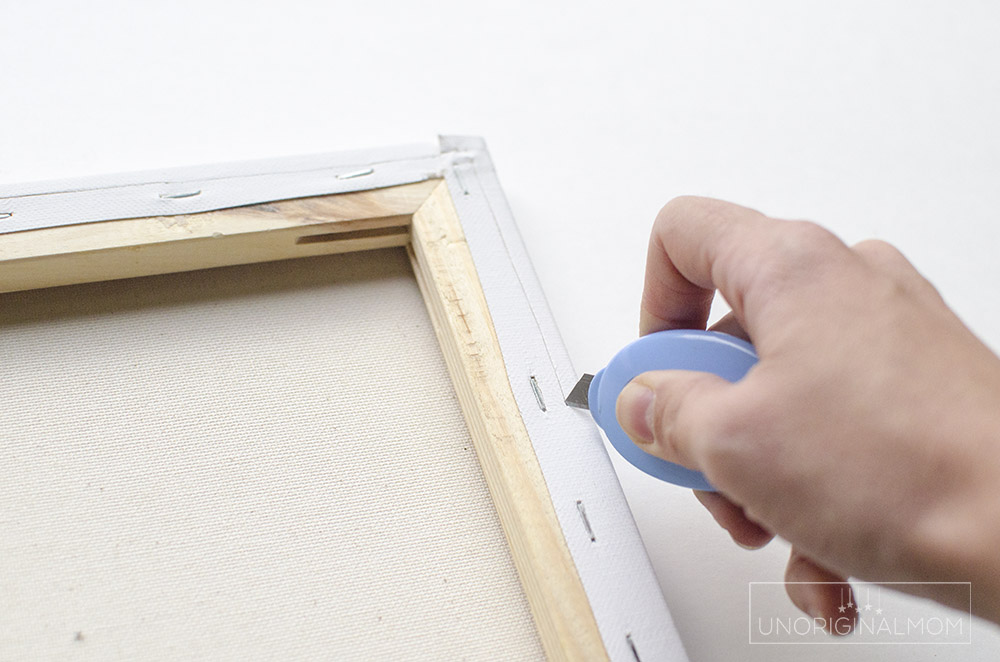 1. Using a box cutter or X-acto knife, carefully cut the canvas off of the frame from the back side. Pull the scraps of canvas off from around the staples. You can use pliers to remove the staples if you want, but I usually just leave them.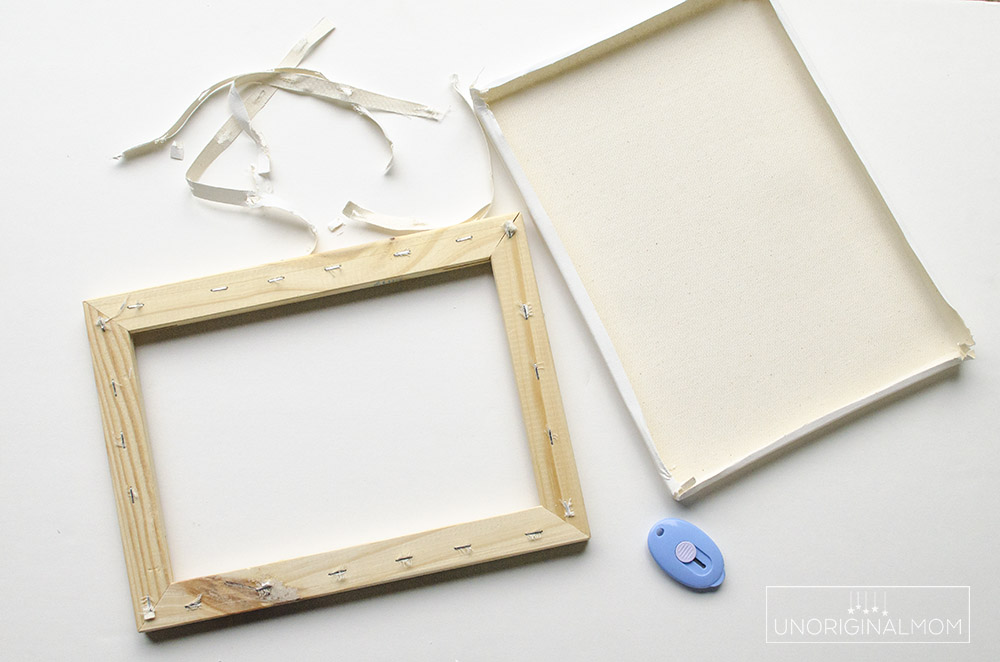 2. Trim the edges off your canvas so it fits inside the frame with some overlap around the edges. (I usually take a pencil and trace the outside edge of the frame onto the canvas, then cut slightly inside that line.)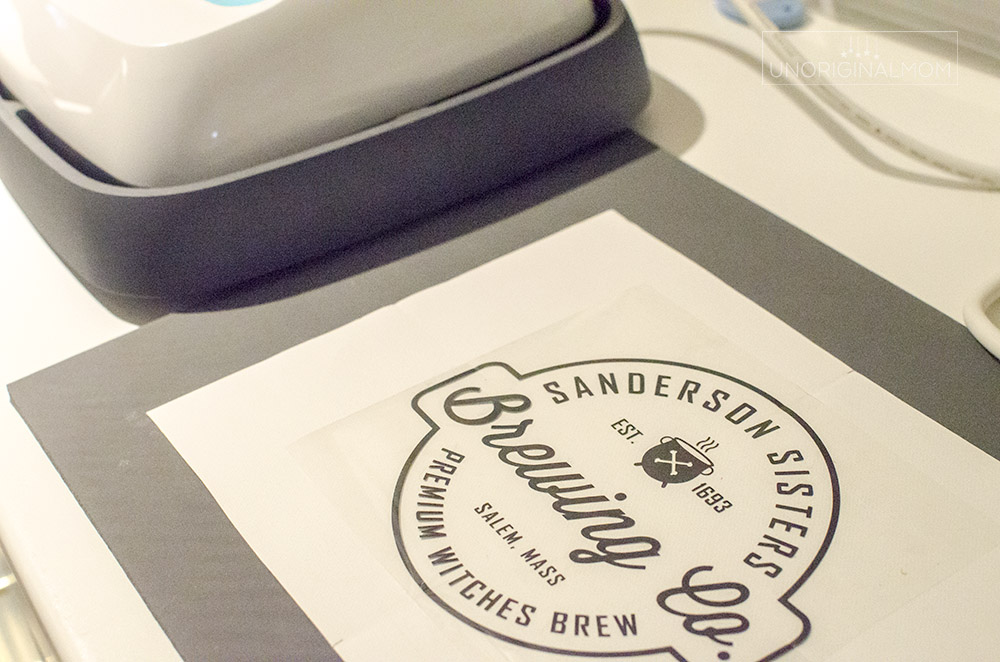 3. Use your Silhouette or Cricut to cut the design out of heat transfer vinyl (don't forget to mirror your design before cutting!). Weed the excess material, then use an iron, heat press, or EasyPress to iron your design onto the canvas.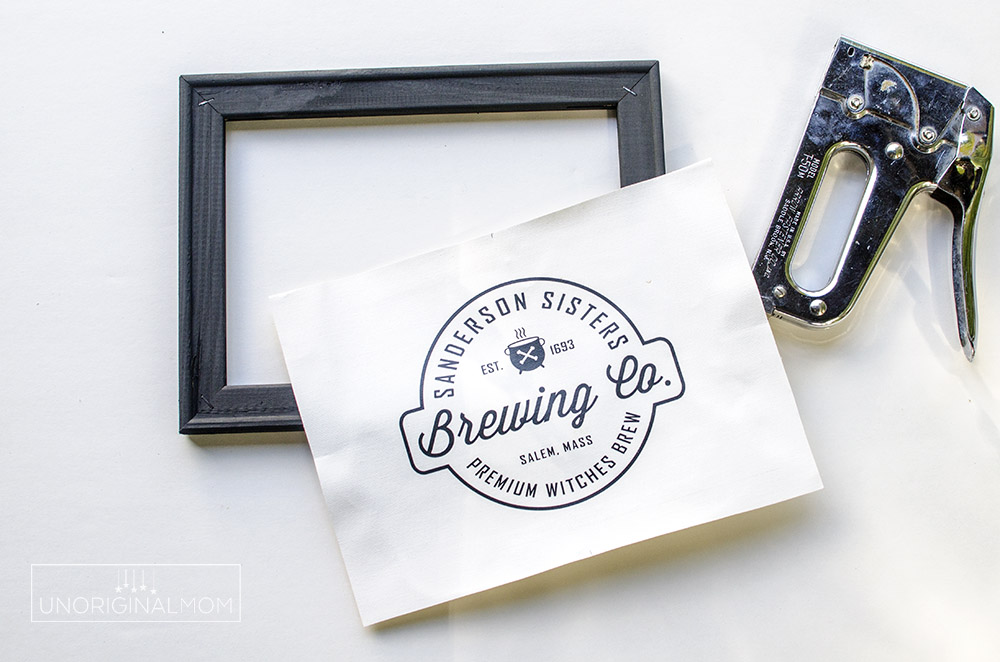 4.  Paint (or stain) your frame and let it dry. I painted mine black, but you could do white, gray, brown, purple, or even bright Halloween orange if you want!
5. Staple your canvas to the back side of your frame. Make sure it's centered and pulled tight as you staple it.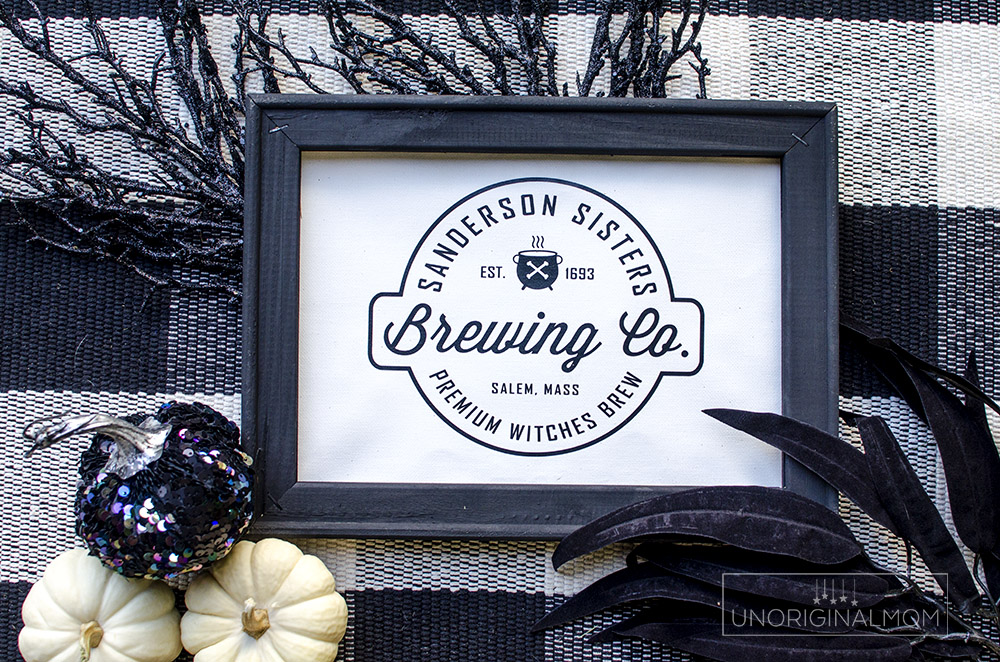 Ta-da! There you have it – a quick and easy Hocus Pocus Halloween sign. Of course, you could make a sign like this using any kind of Halloween SVG you want to! (I've got a list of 25 free Halloween cut files here)
Of course, I couldn't stop there.  I thought this Sanderson Sisters Brewing Co. logo would look great on a black t-shirt with white HTV, so I decided to whip one of those up, too. I love that at first glance, it looks like a normal trendy hipster brewery logo – until you really read what it says. I'm going to wear this at least once a week between now and Halloween!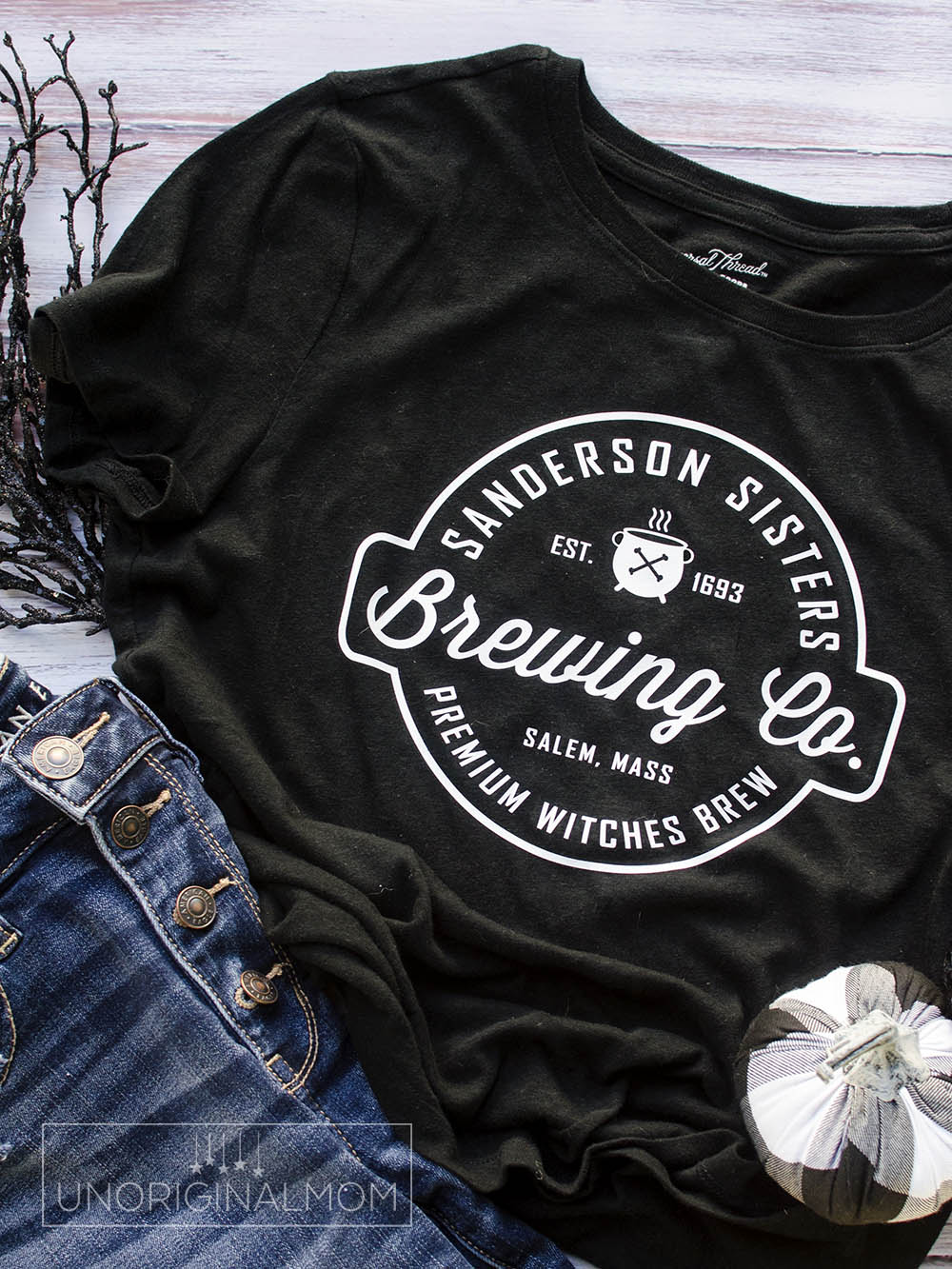 I can't decide which version I like better…the sign, or the t-shirt! What do you think???
SANDERSON SISTERS BREWING CO. SVG
If you want to make your own sign or shirt, I'm offering this as Sanderson Sisters Brewing Co. design as a FLASH FREEBIE in my Silhouette Library for a limited time, as a gift for my email subscribers.  After that, it will be moving to my Etsy Shop – so don't wait! Head over and download it now before it disappears! It's available in .studio and SVG format. Sorry, you missed this flash freebie! But there are still dozens of FREE cut files inside my Silhouette Library. Make sure you don't miss future freebies by subscribing below. If you're looking for the Sanderson Sisters Brewing Co. SVG, you can purchase it here.

Looking for more Halloween freebies? Here's a list of 25 FREE Halloween Cut Files, and great project ideas to go along with them.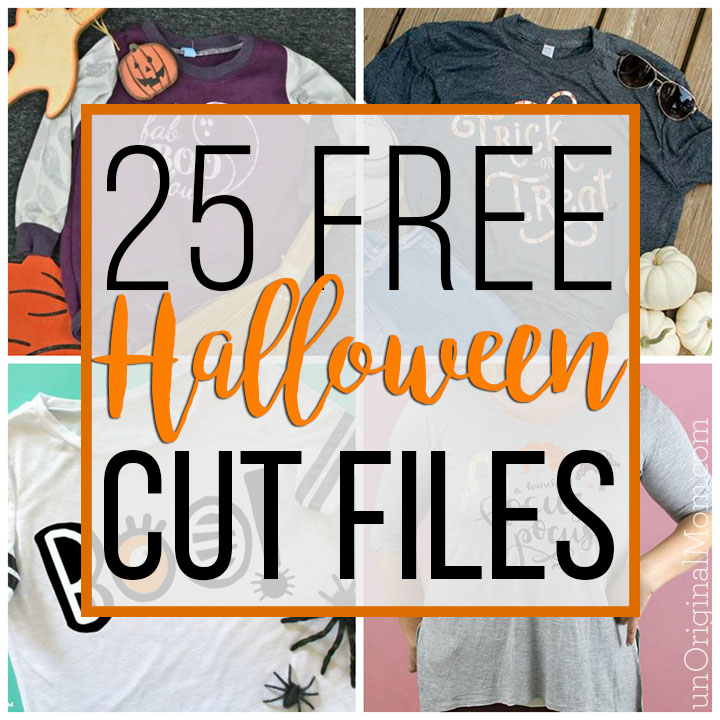 Happy Halloween-crafting!



Subscribe to unOriginal Mom via email and get instant access to my library of FREE Silhouette Studio & SVG cut files - exclusively for email subscribers. Plus there's a new file added every month!