I'm SO thrilled to have Lora from Craftivity Designs on board as a guest contributor this fall. She'll be sharing some fun printables with you each month, and you will LOVE her creativity and beautiful designs! I know you'll enjoy this free printable colorful Halloween banner for your Halloween parties and decor.
– Meredith
*************************************************
What's the best thing about September? That October is less than 30 days away! **wink** No disrespect to September, but October is one of the most pleasant months of the year. In Kentucky, it actually starts to feel like fall during October (whereas, September is still a bit toasty) and, of course, there is Halloween! It's the perfect holiday for a fun — and spooky — party, decorated with a colorful Halloween banner.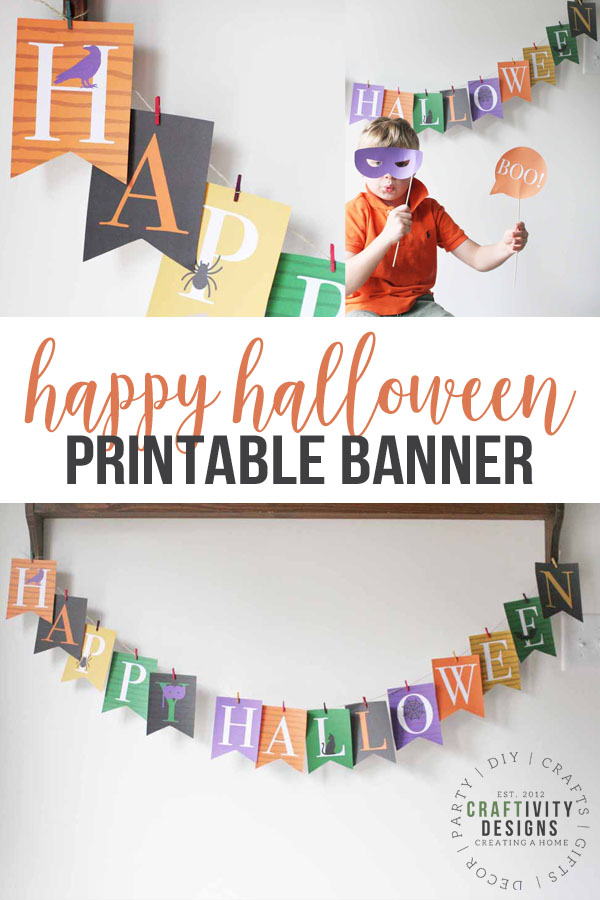 I'm Lora from Craftivity Designs, where I share colorful scavenger hunt games and fun family activities. This printable banner is part of our Halloween party goodies, which include photo booth props and a scavenger hunt.
Are you hosting a Halloween party? Are you looking for a darling photo backdrop to photograph your child dressed in their Halloween costume? In either case, this printable banner is a must-do! It's colorful, happy, and not-so-scary, perfect for younger and older kids, alike.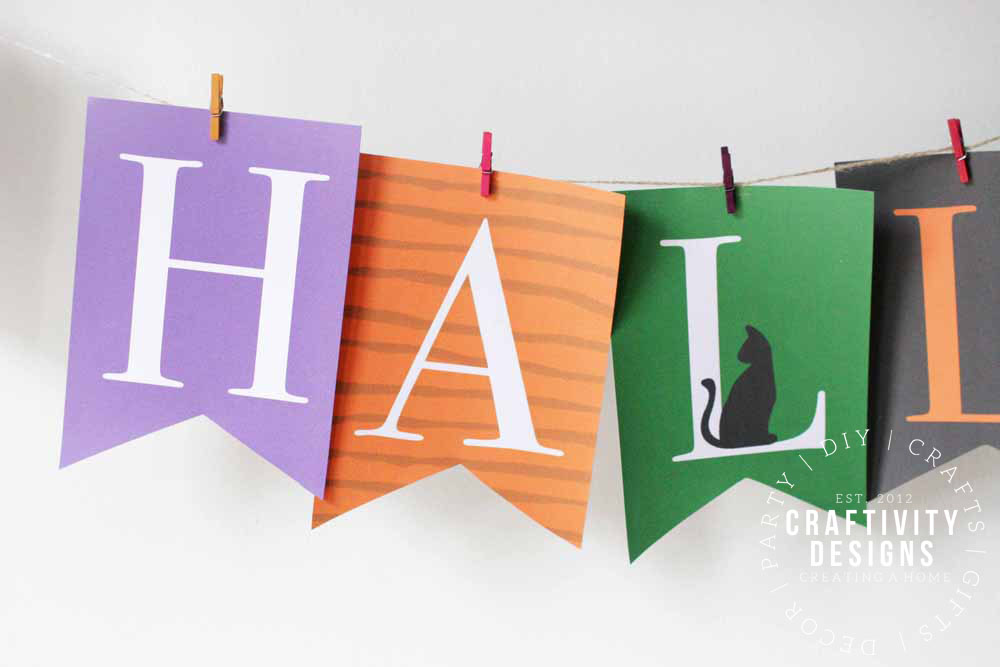 Printable Banner Supplies
white cardstock
printer + ink
scissors
12″ paper cutter (optional)
mini-clothespins
twine
How to Make a Printable Banner for Halloween
First, download and print the Halloween banner on white cardstock. When printing, make sure to print full size or 100% to scale and choose the best print quality in order to maximize color.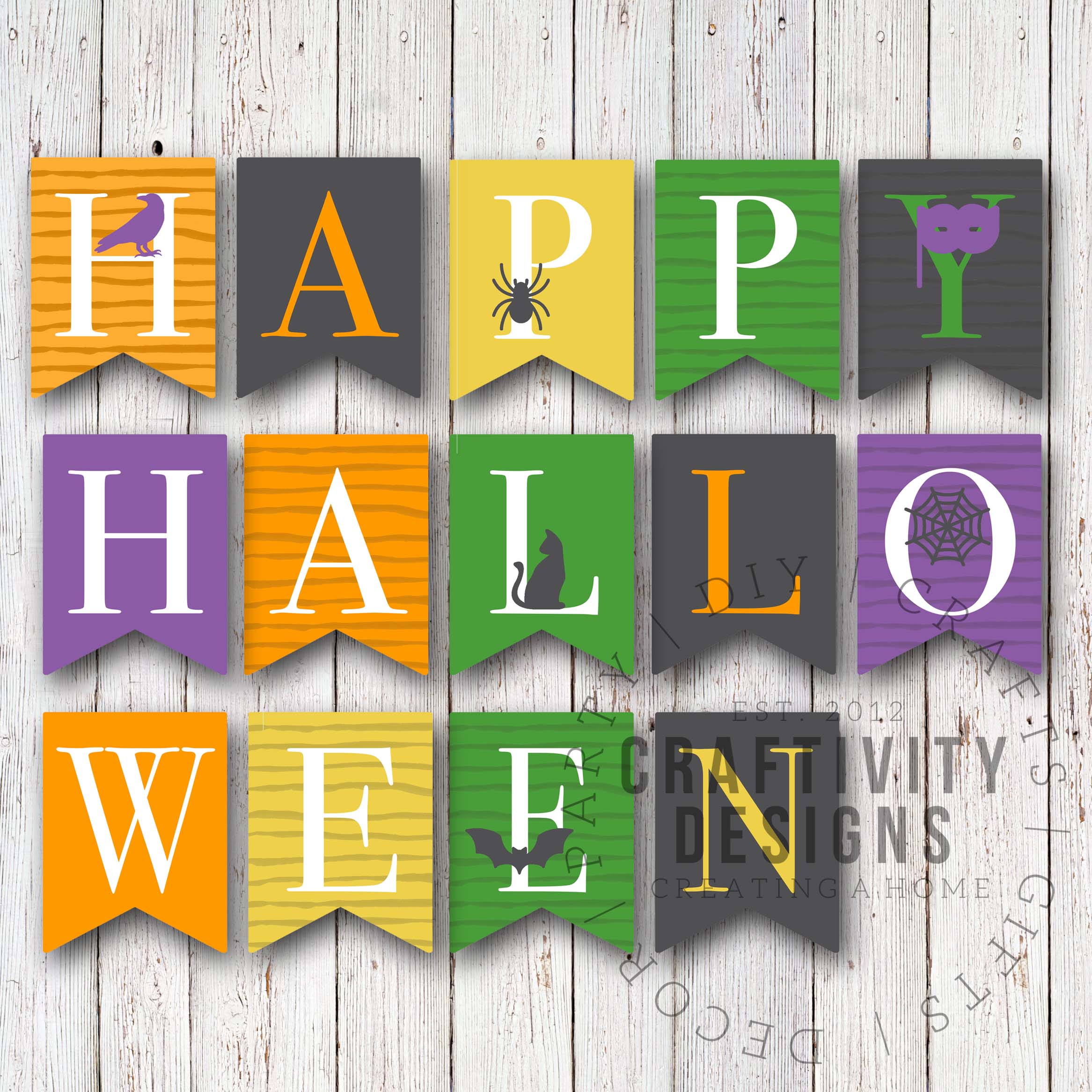 Next, cut out the banner. It is easiest to cut the long straight edges of each flag with a 12″ paper cutter. However, if you don't have a paper cutter, scissors will work just fine! You'll need scissors, anyhow, to cut the angled bottom of each flag.
Once the banner is cut out, attach the flags to twine with tiny clothespins. I like to collect mini-clothespins in a variety of colors for occasions just like this. Often, you can find the clothespins in clearance bins at craft stores, especially during after season sales. They are handy for a variety of small projects, such as displaying family photos and wrapping pretty gifts.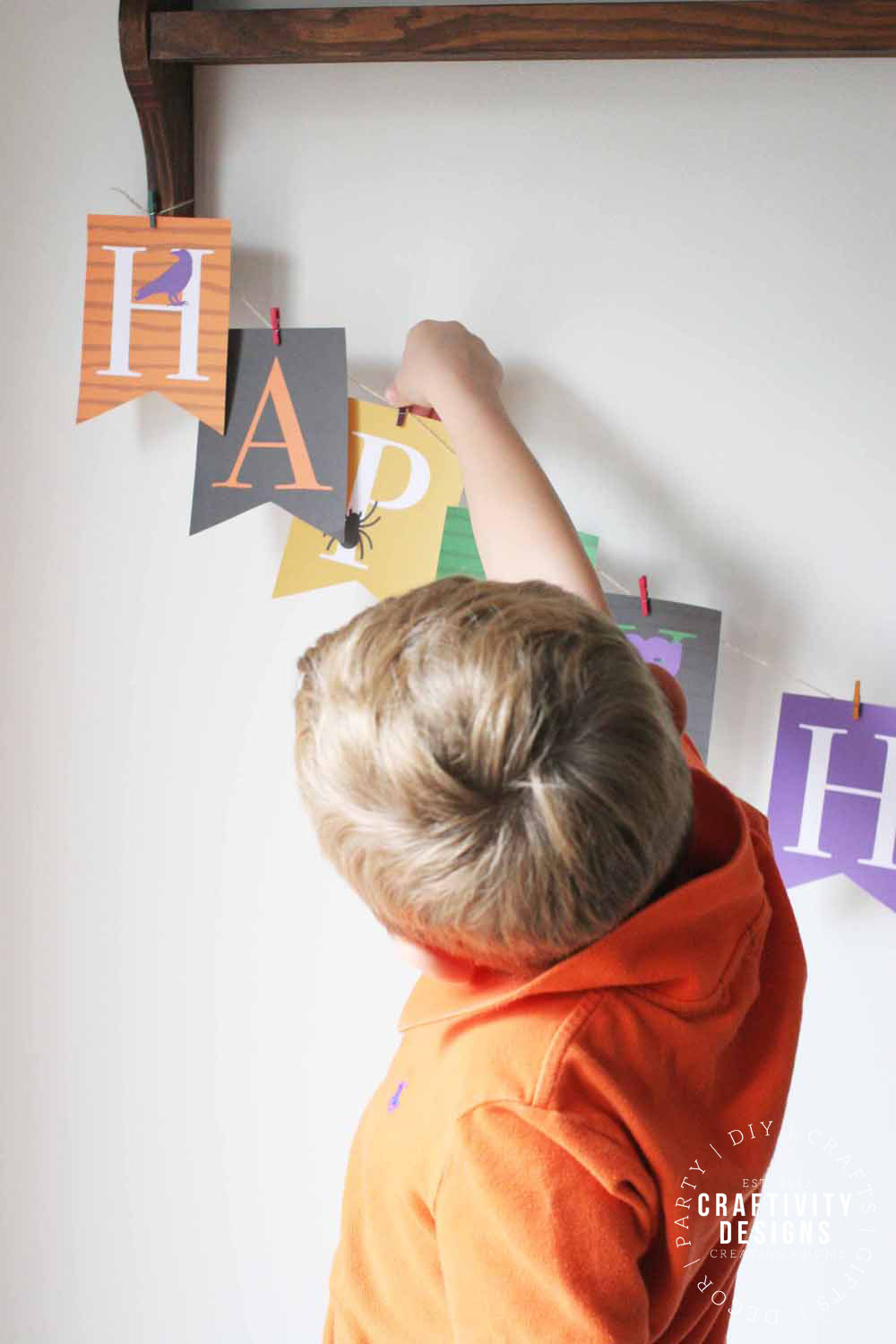 Of course, regular sized clothespins would work, too. If you don't have any clothespins on hand try one of these ideas:
hole punch the top 2 corners of each flag and weave the twine through the holes
use coordinating washi tape to attach the banner to the twine
punch a single hole in the center of the banner flag and hang it from the twine with small pieces of colorful ribbon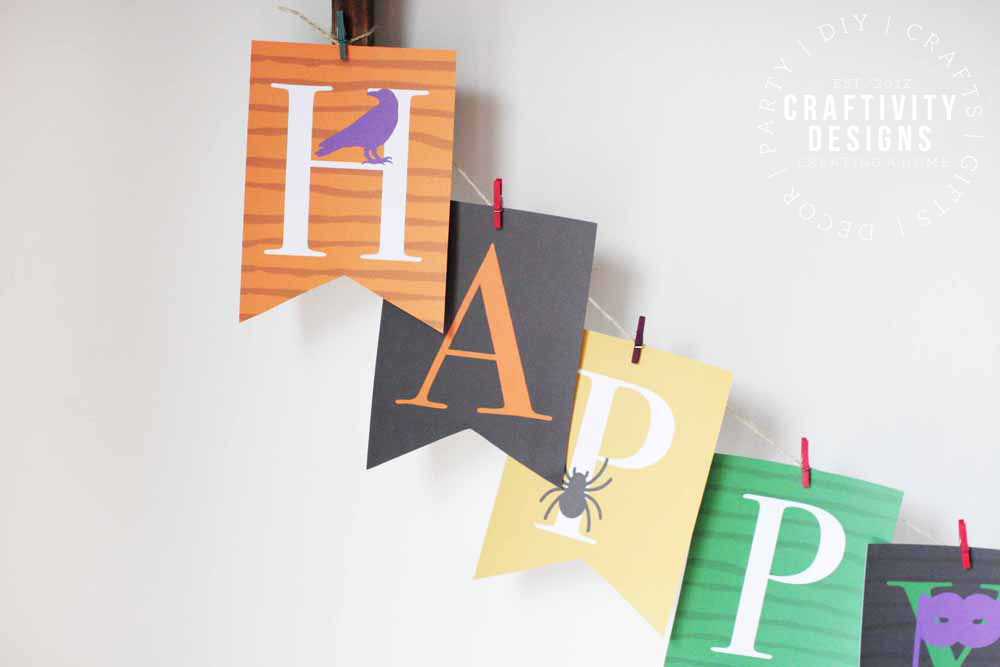 Now, you're all set! Snap some fun photos of the kids in their costumes, or grab free photo booth props for a Halloween party.
For natural lighting, we hung the banner on the wall next to a large window. Then, my kids had a blast making silly faces for the camera; and I loved documenting their unique personalities and funny expressions.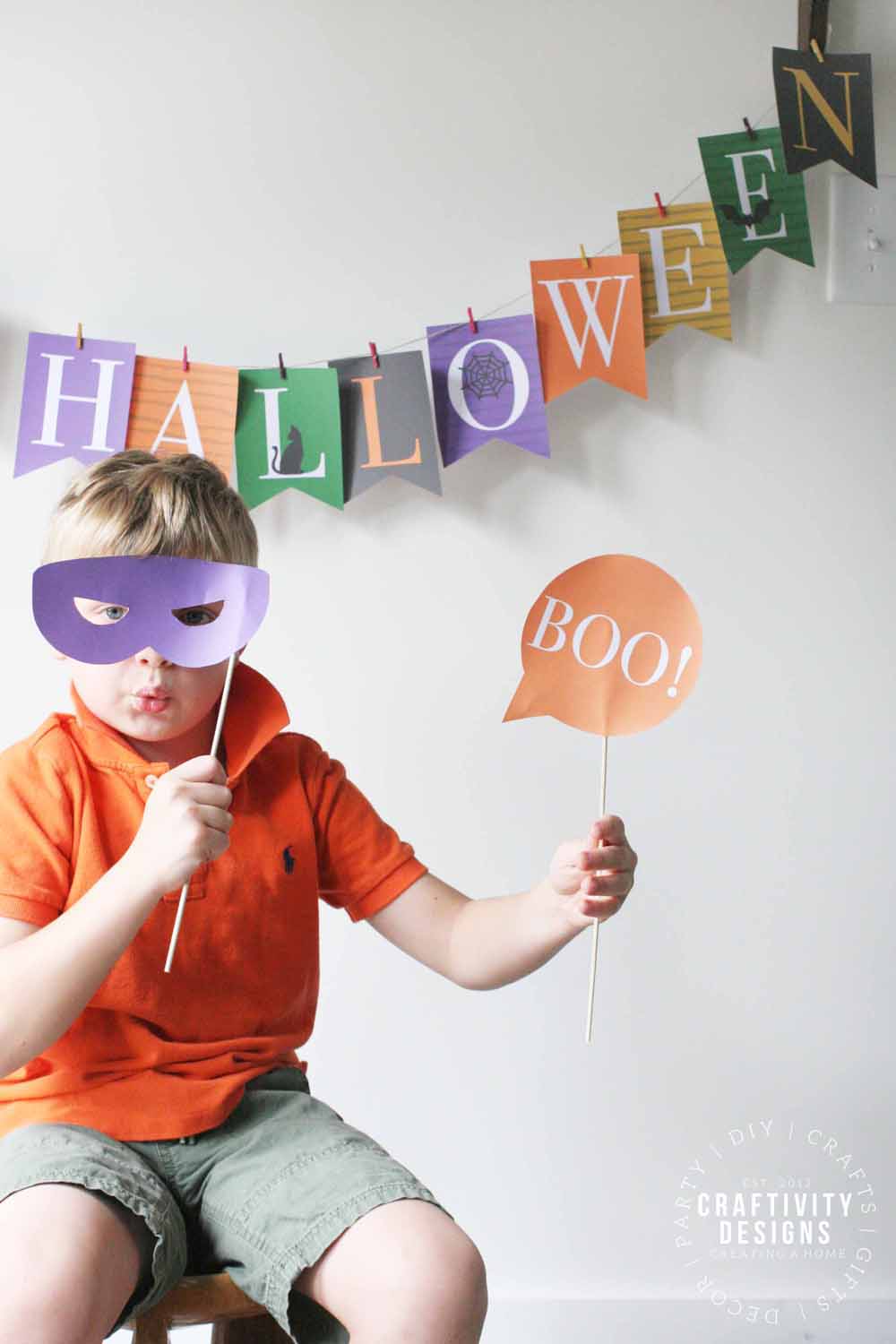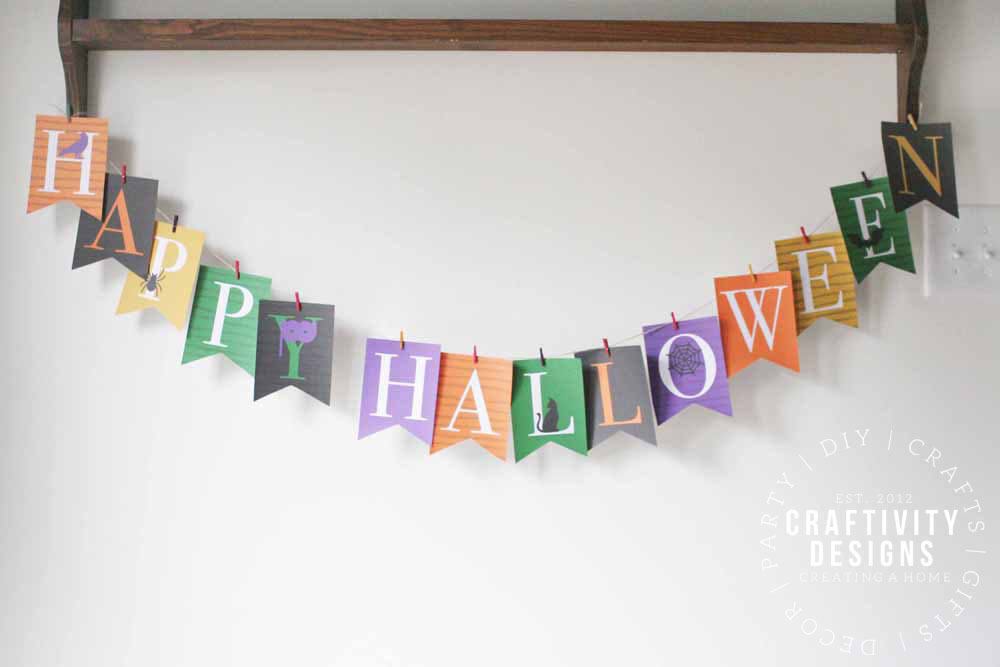 So, Happy (early) Halloween to you! I hope your family has a blast with this festive colorful Halloween banner printable, just like we did.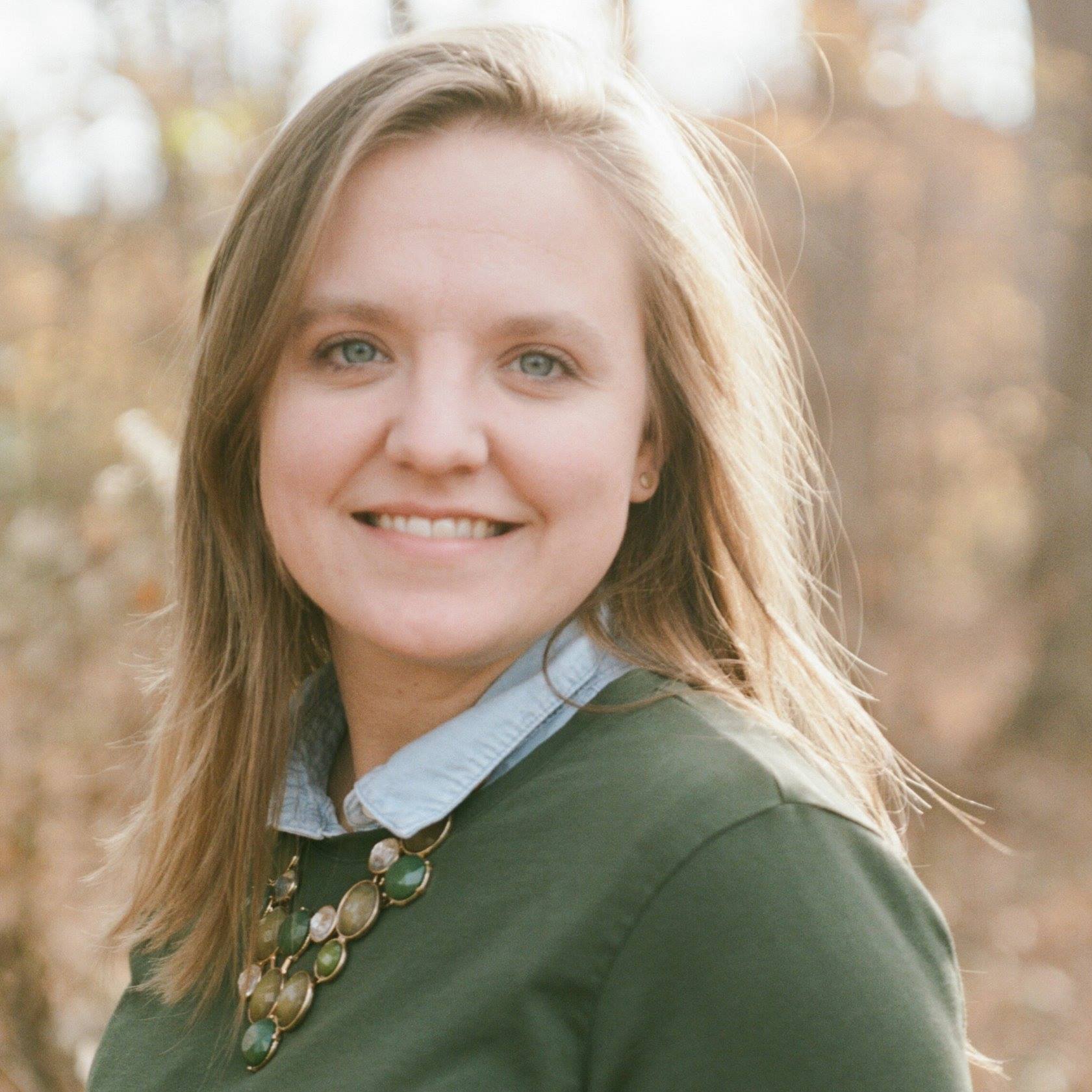 Lora is the Owner and Creative Director of Craftivity Designs, where she seeks to Create a Home that is simple, functional, and beautiful. With an eye for practical solutions, she designs multi-purpose rooms which pack a storage punch. As a busy mom of 2, she shares crafts that are quick and easy, without sacrificing style. For fun, she loves to go on a homemade scavenger hunt and plan trips to Disney.
Go follow Lora for more crafty inspiration!
Facebook | Instagram | Pinterest
*************************************************


Get your copy of my FREE meal planning binder!
Sign up to get a free copy of my meal planning system - an 11 page printable meal planning binder, complete with a pantry inventory, shopping list, and more to help get on top of your menu each week!