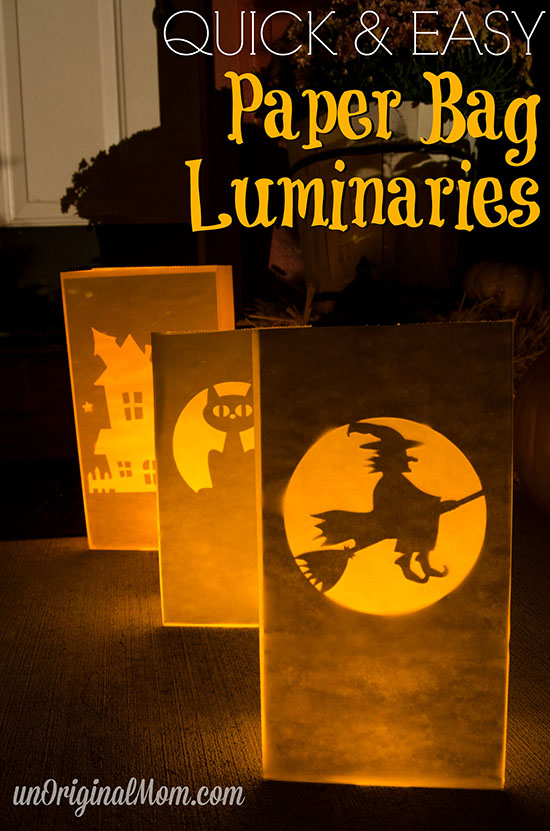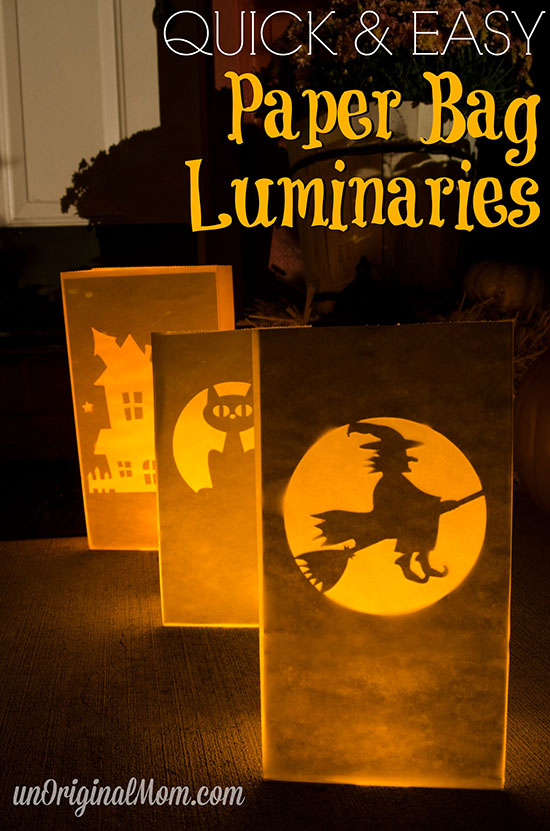 This post contains affiliate links – click here to read my full disclosure.
It's been almost 11 months since we moved into our house…so this is our first Halloween with a "real house" and, from what we hear, LOTS of trick-or-treaters!  I've decorated our front porch for fall with "pretty" decorations (mums in pretty planters, a straw bale, a wooden crate, our glitter monogrammed pumpkin, plus and a few other pumpkins) but I'm not usually one to go all-out with spooky Halloween decor.  (Though that reminds me, I do have our Ping Pong Ball Ghost Lights to put out!)
So, in searching for some simple and inexpensive decor for Trick-or-Treat night, I decided to try make some quick and easy Halloween Paper Bag Luminaries with my Silhouette.  Don't you remember making these when you were little – cutting pumpkin faces out of a paper bag, filling the bottom with sand, and putting some tea lights inside?  It's just like that…only a little bit fancier, because, well, we can :-)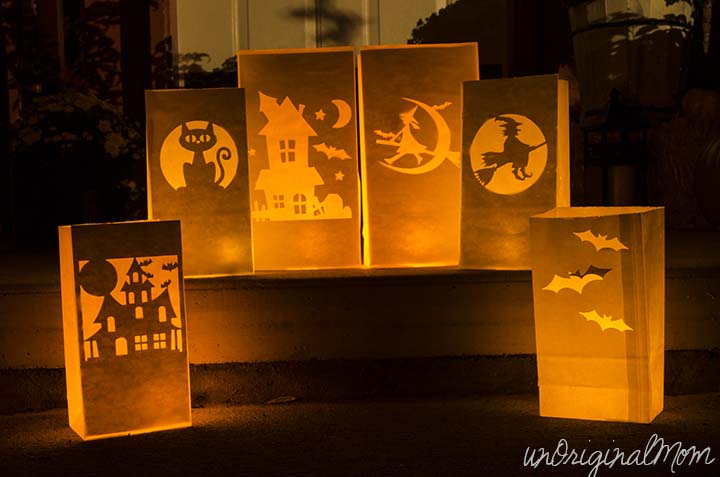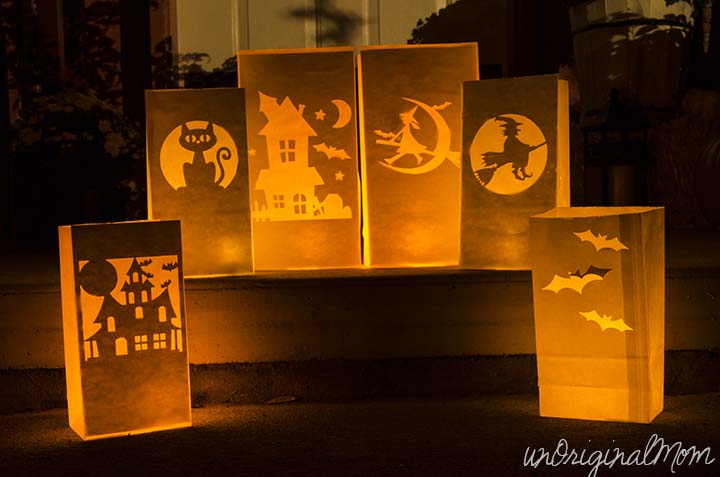 I picked up these white paper bags from Michael's and then experimented a bit to find a technique that would give the best ratio of quick & easy to best final product, and came up with a few different methods for making luminaries with your Silhouette.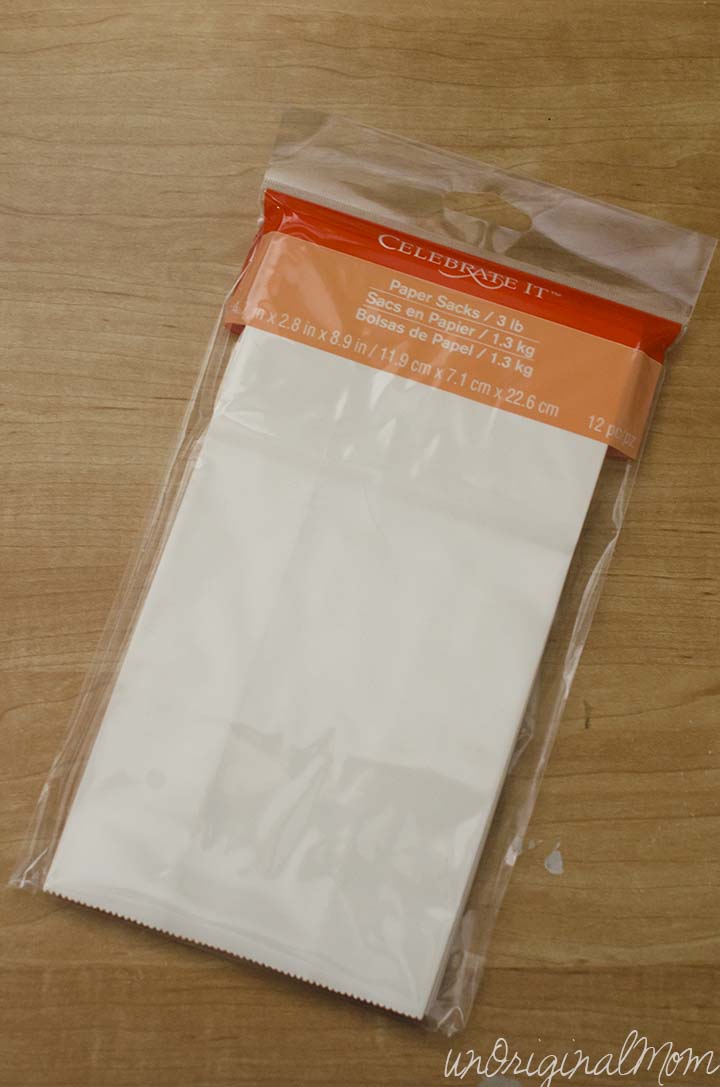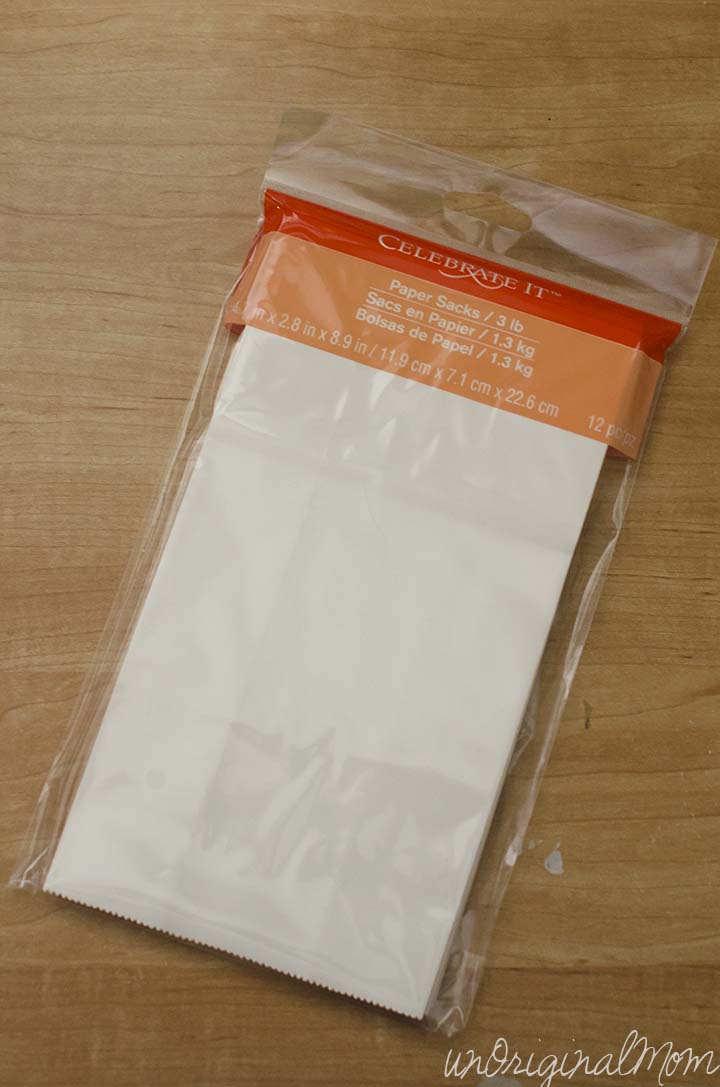 The first way I tried ended up being the winner – cut a silhouette of a Halloween shape from white card stock.  The trick is to make sure the shape is all connected, so you don't have extra little pieces to be attaching separately.  I found three shapes in the Silhouette Store that worked really well for this – a witch, cat, and haunted house.  A simple "release compound path" in Silhouette Studio allowed me to delete the outside border so I was left with a silhouette that would cut all in one piece.  Then I added a rectangle the same size as the front of my paper bag, horizontally centered the shape inside of it, and cut out of plain white card stock.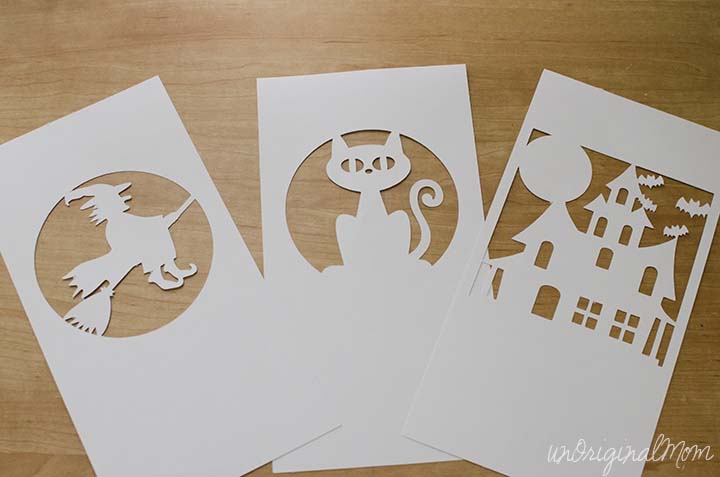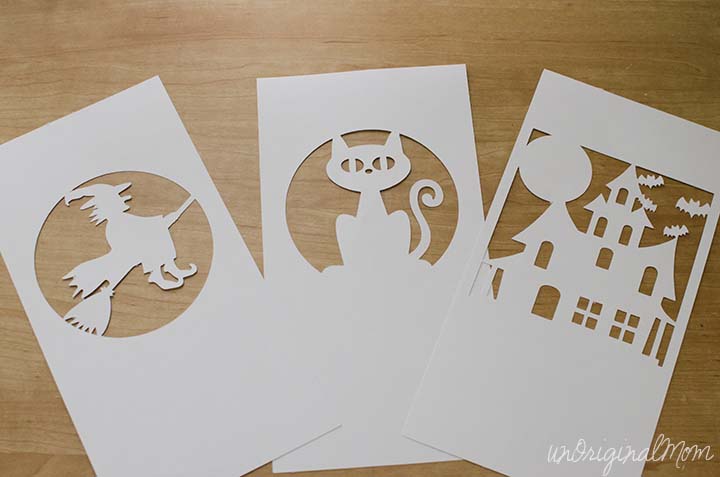 Then I just used a gluestick to glue the FRONT of the design to the inside of my paper bag.  (Do you know the magazine glue stick trick?  Use an old magazine as background scrap paper when you're gluing…then simply turn the page when you're done with that shape so you're not setting your next shape down in half-dried glue!  Life changing, I know!)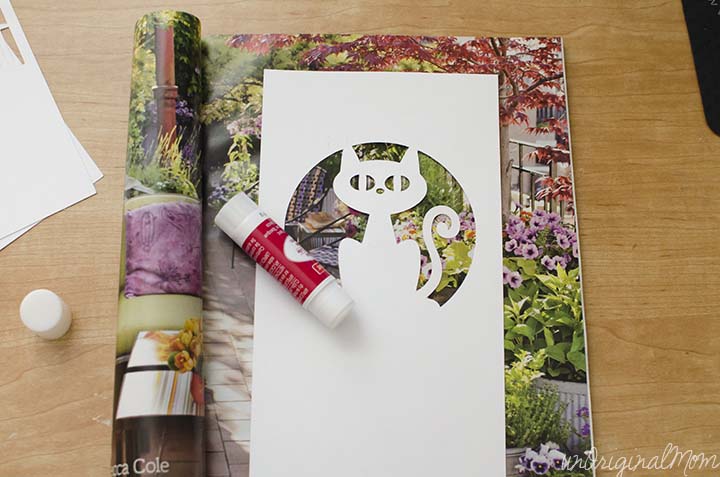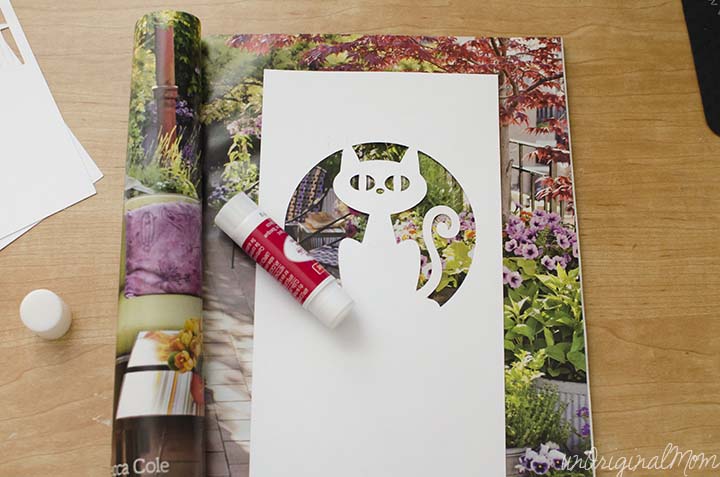 I did try a few other techniques to cut the bag directly with mixed results.  Laying your paper bag on the mat and cutting it directly DOES in fact work on the regular card stock cut settings (cutting through both sides), especially with basic shapes.  But you've got to fold the edges of the bag outward so that the cut goes through the front and back of the bag. The issue becomes getting your design perfectly centered on the bag…the PixScan mat worked well for that, though it was a bit time consuming with the extra bag folding, picture taking, importing the photo into the software, and placing the design – all that just for ONE bag.  In that time, I could have made 2 or 3 of the other bags.  (I used this technique on the bat bag, below.)  The other method I tried was "dissecting" the paper bag to be completely flat by cutting down one long side and around 3 sides of the bottom, then placing it on the mat to cut, and reassembling with scotch tape.  That way the design only cut through one side of the bag.  (That's how I did the spider web bag, below.)  But again, lots of extra steps for essentially the same result.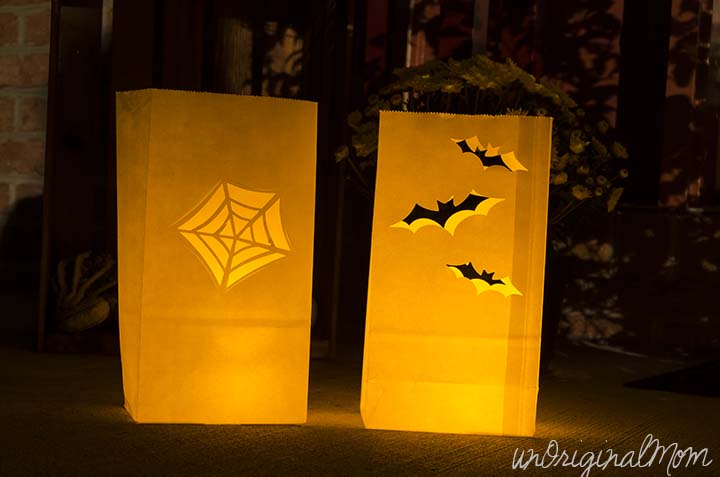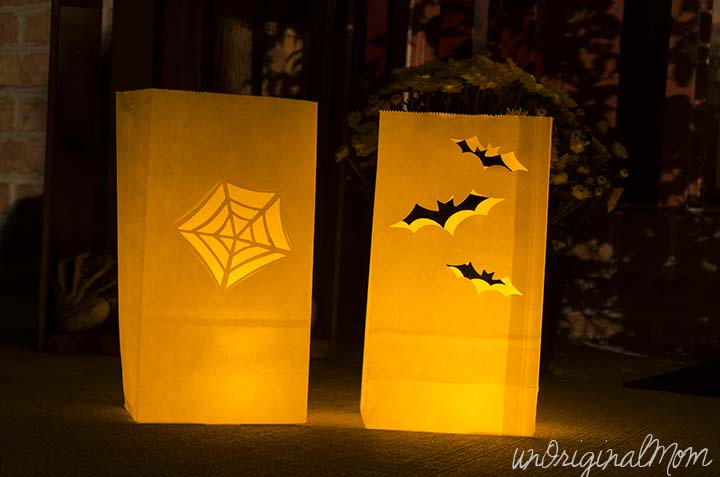 I also tried a few more complicated designs in reverse silhouette that involved gluing extra little pieces inside the bag (see all those little window pieces in the big haunted house?), and it definitely wasn't worth the extra effort compared to the other haunted house shape I found.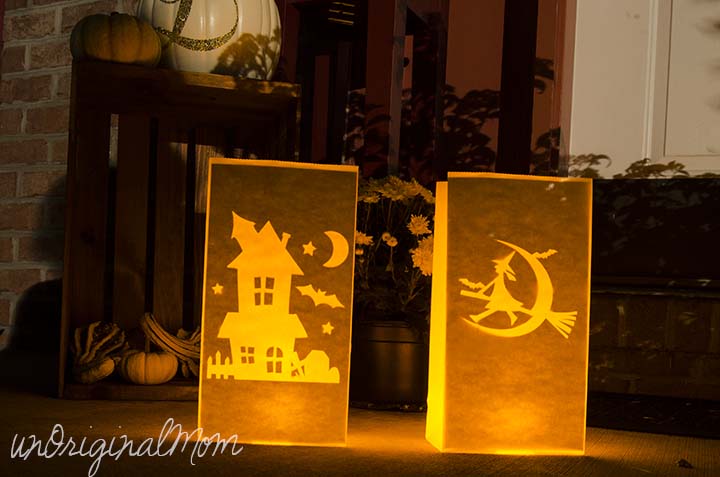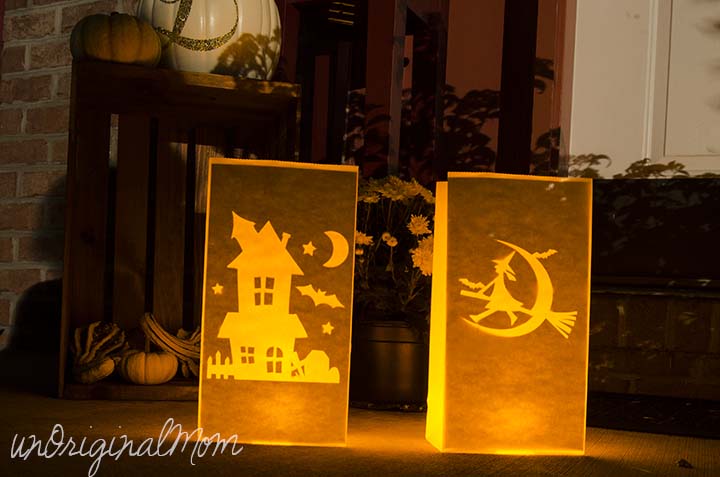 Even though all the bags ended up looking great (and of course, I'll be using them all!), the simplest method was definitely the winner!  I stuck some battery operated tea lights in them, and they look terrific on the front porch and sidewalk.  You could whip up a few of these for your own porch in just a few minutes!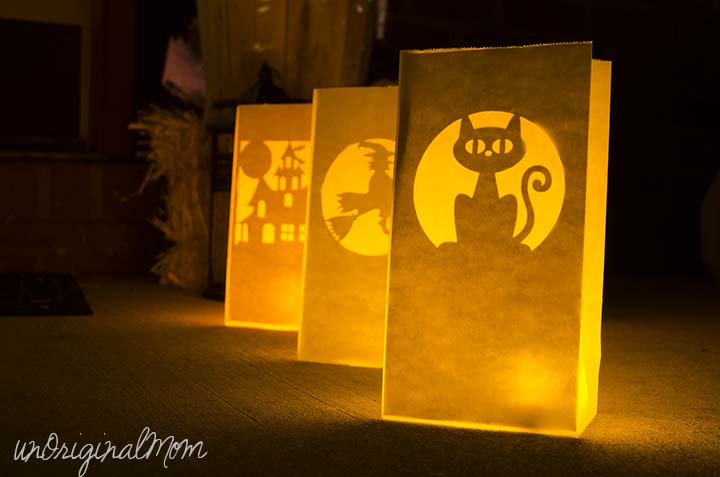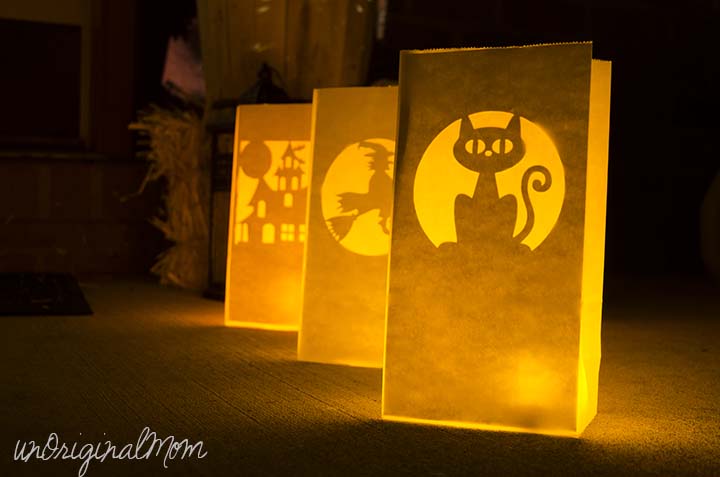 Want some more great Silhouette Inspiration?
It's Silhouette Challenge Day!  That means a bunch of other fabulous fall Silhouette projects on display by 24 other bloggers today…click on the images below or scroll down to the blog names to browse through them all!
1. Create & Babble // 2. Lil Mrs. Tori // 3. unOriginal Mom // 4. Zanaree // 5. The Kim Six Fix // 6. One Dog Woof // 7. Cupcakes & Crowbars // 8. Living My Given Life // 9. Architecture of a Mom // 10. Put A Bird On It // 11. Just Add Paper // 12. Weekend Craft // 13. Silhouette School // 14. Minted Strawberry // 15. My Paper Craze // 16. McCall Manor // 17. Chicken Scratch NY // 18. Mama Sonshine // 19. Creative Ramblings // 20. From Wine to Whine // 21. Please Excuse My Craftermath… // 22. Dragonfly & Lily Pads // 23. The Thinking Closet // 24. Simply Kelly Designs // 25. Sandpaper & Glue //
Do you have any favorite quick & easy ideas to decorate for Trick-or-Treaters on Halloween?
This post contains affiliate links – click here to read my full disclosure.



Subscribe to unOriginal Mom via email and get instant access to my library of FREE Silhouette Studio & SVG cut files - exclusively for email subscribers. Plus there's a new file added every month!