This post contains affiliate links – click here to read my full disclosure.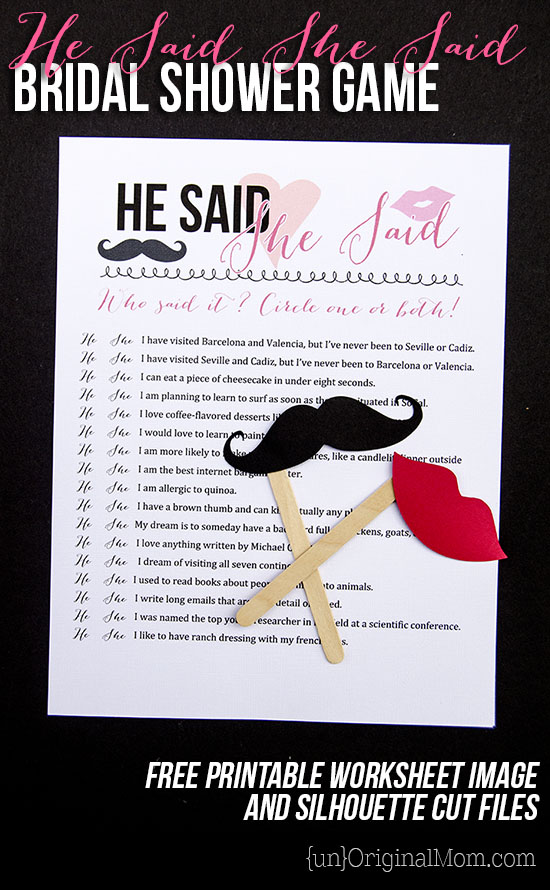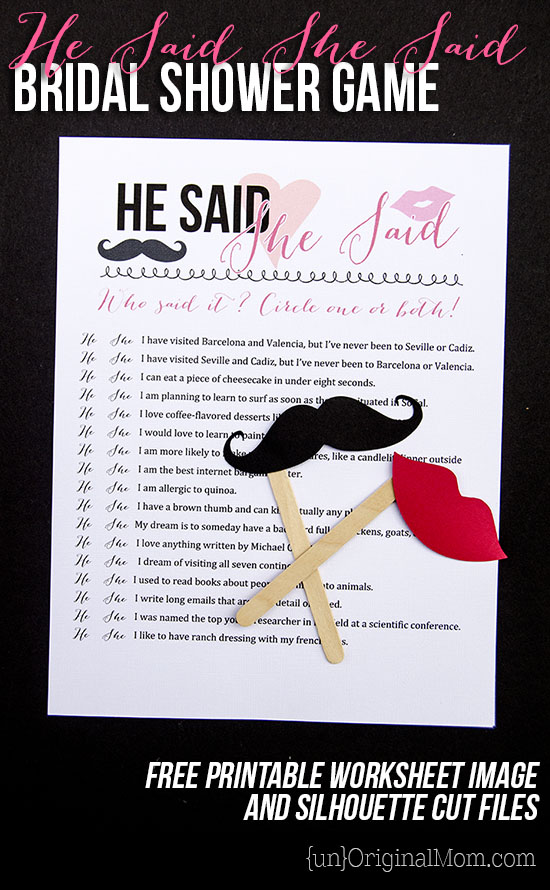 This has become one of my favorite shower games, both for bridal showers and baby showers.  It's such a fun way to find out some more about the bride and groom (or baby's mommy and daddy)!  You can easily whip up the lips and mustaches with your Silhouette, if you have one – but it's definitely not a necessary element for this game.
I first did this at a baby shower I hosted last year with a slightly different variation – we called it "Daddy or Mommy?"  I had the mommy and daddy come up with a list of interesting facts about each of them and mixed them all up in a list together.  They came up with some really fun bits of personal trivia and stumped even their closest friends and family on a few of them!
Are you planning a baby shower?  Grab a FREE Baby Shower Planning Checklist to help you with each step along the way!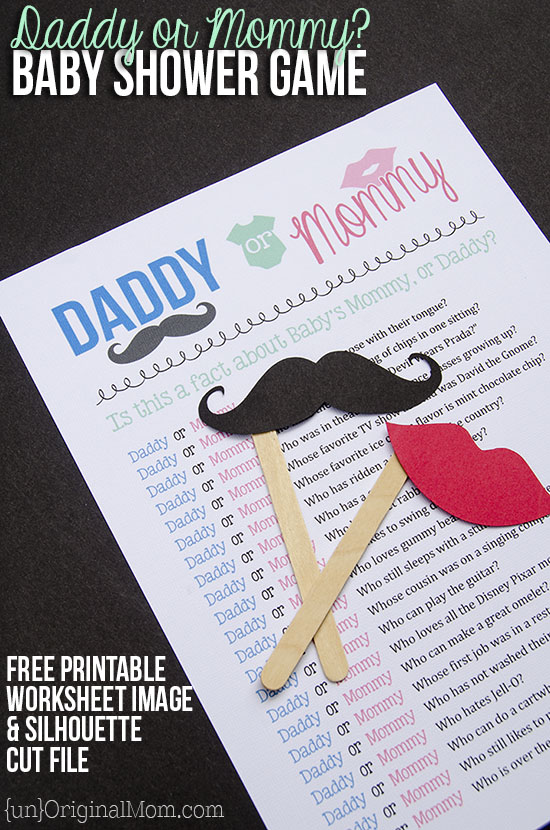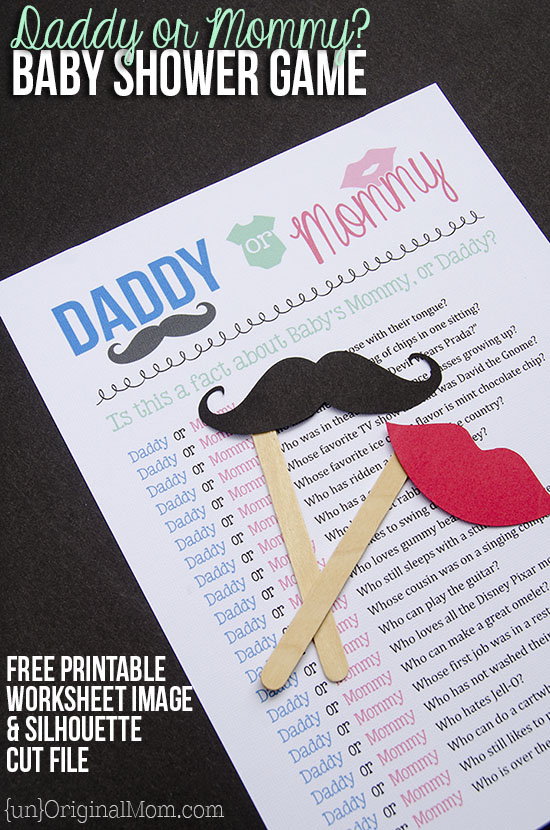 We did the "He Said, She Said" variation at my sister's bridal shower a few weeks ago.  My other sister compiled some statements about the bride and groom and typed them out with generic pronouns.  Then the guests had to decide who made the statement – did he say it, or did she say it?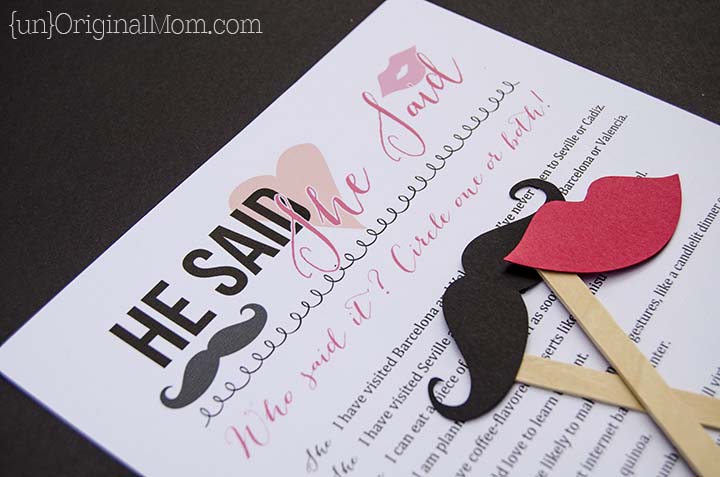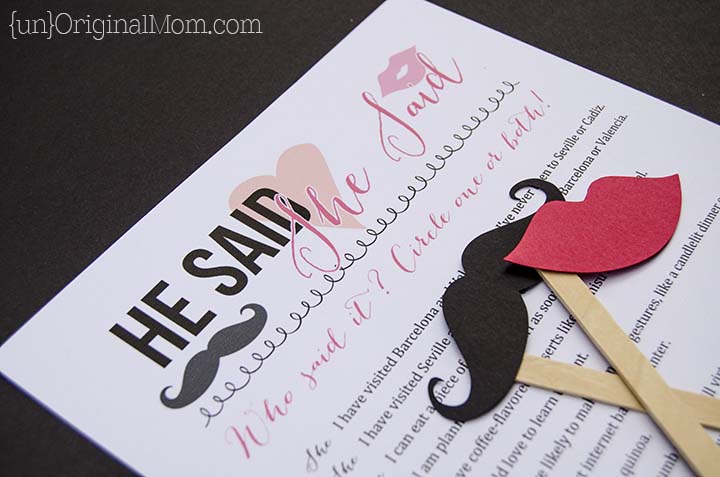 Of course, the game is made much more entertaining when each of the guests has their own set of lips and mustaches.  Then, as you're going over the answers, everyone has to hold one up to their face depending on if they thought it was a "he" or "she" statement!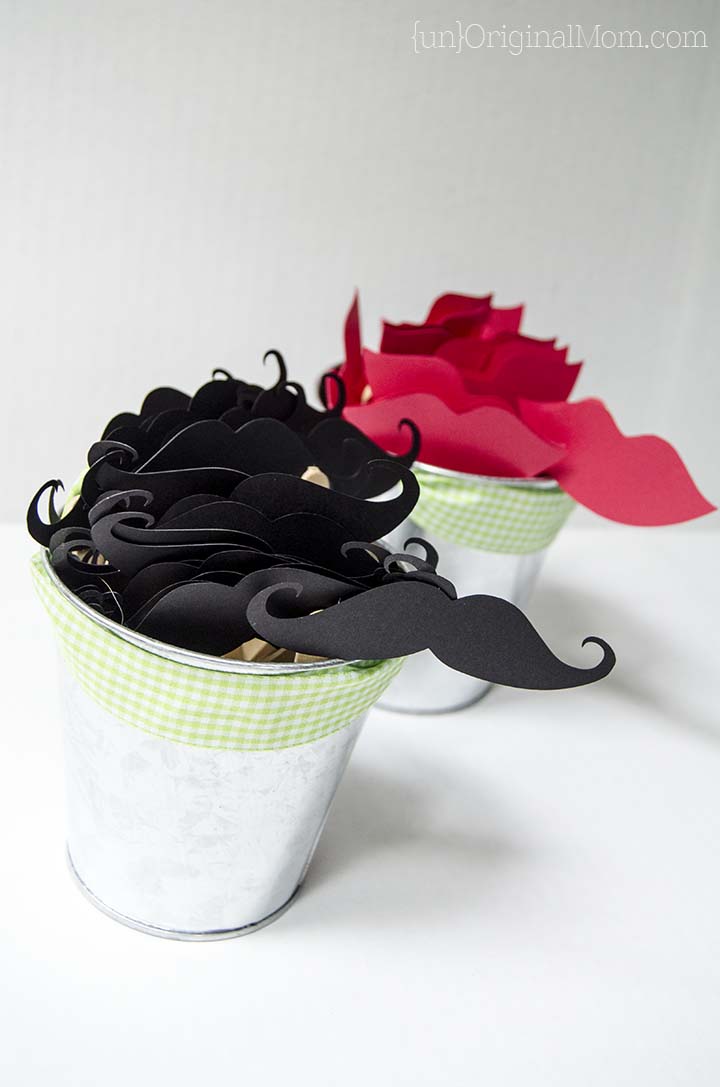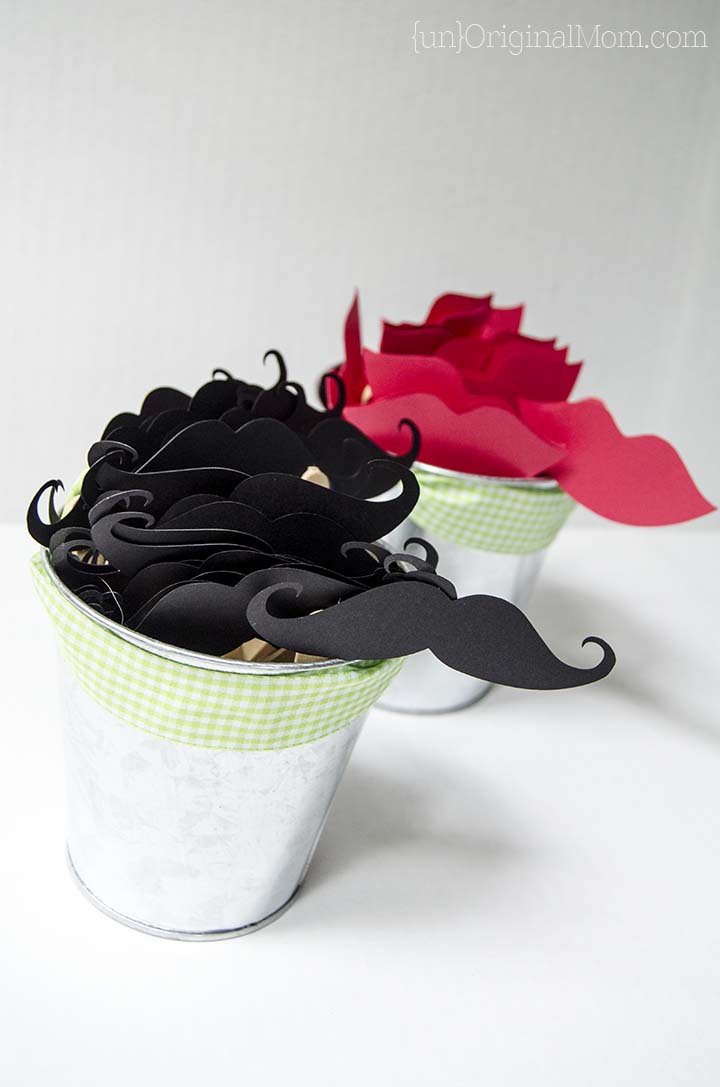 They were SO easy to make with my Silhouette machine – I just cut a set of lips out of red card stock, then a set of mustaches out of black card stock, then I used a dab of hot glue to attach each of them to a popsicle stick. (If you don't own a Silhouette to make your own, you buy a set of lips and mustaches instead.)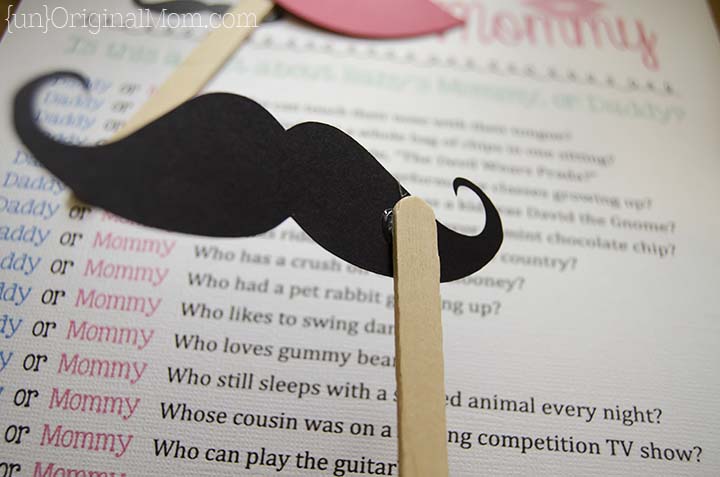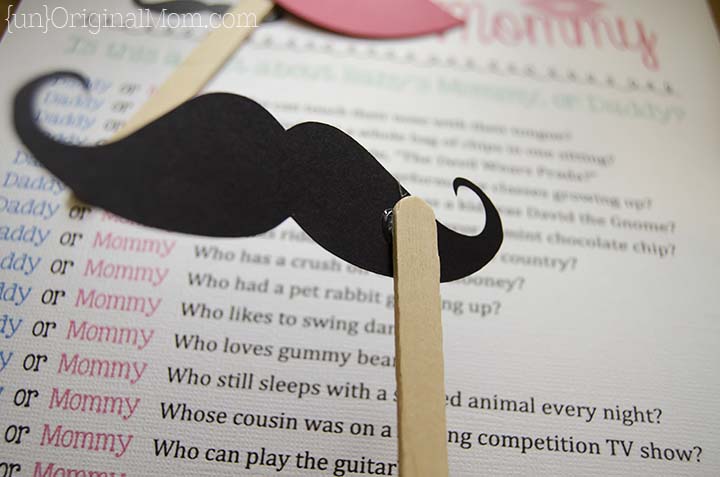 Ta-da!  They've been through two showers now, and have held up wonderfully.  I anticipate getting a few more uses out of them!
 
So, here's how to do it yourself:  First, get a list of statements from the bride/groom or mommy/daddy.  Give them a list of prompts, like: How many children do you want? Where is the most exciting place you've traveled?  What is your favorite movie? What is the strangest thing you've ever eaten? Who does the cooking? Who does the cleaning? Who is the most romantic? Who is the most adventurous?  What is your biggest pet peeve about your spouse/fiance? What is something you dream of doing? Who is your favorite author? What is your favorite dessert? Do you have any unique/special skills or talents? What was your first job? What is a food you hate? What are some things people may not know about you?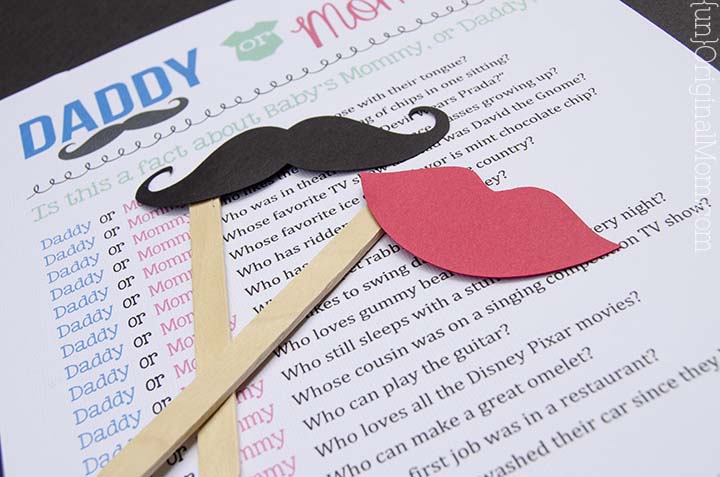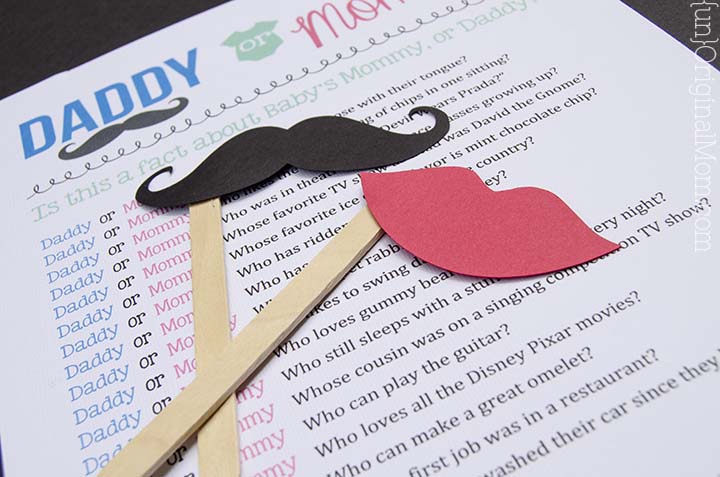 Then, compile your list of he said/she said statements into a worksheet to hand out at the shower.  You can create your own…or make life easier by using the image headers that I've already created!  (Links to download are at the end of this post.)  Just insert the image into the top of your document, then type your statements on the bottom.  Be sure to put something for the guests to circle on each line (use "He Said She Said" for the bridal shower version, and "Daddy or Mommy" for the baby shower version.)
PLEASE NOTE: I am not providing the entire worksheet for you…that would be silly, since you have to type in all your own questions, anyway!  The freebies linked below are just for the image header for your own document.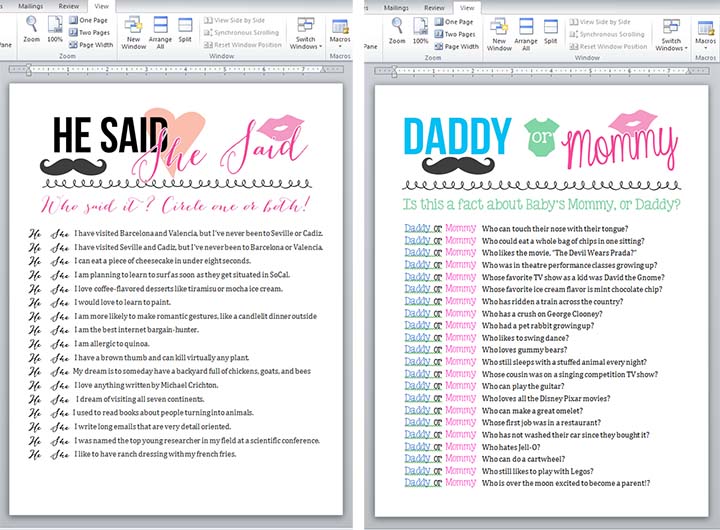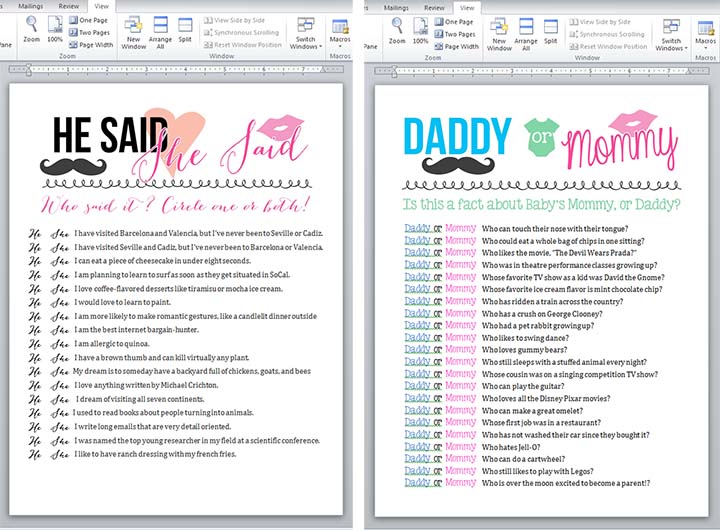 At the shower, pass out the worksheets and give your guests time to think through them (as they chat and enjoy their food and drinks, of course!).  When it's time to go over the answers, make sure everyone has a lip and mustache in hand – as you read each question, have the guests show their guess by holding up the lips or the mustache to their faces – then, have bride (or mommy) reveal the answer by doing the same!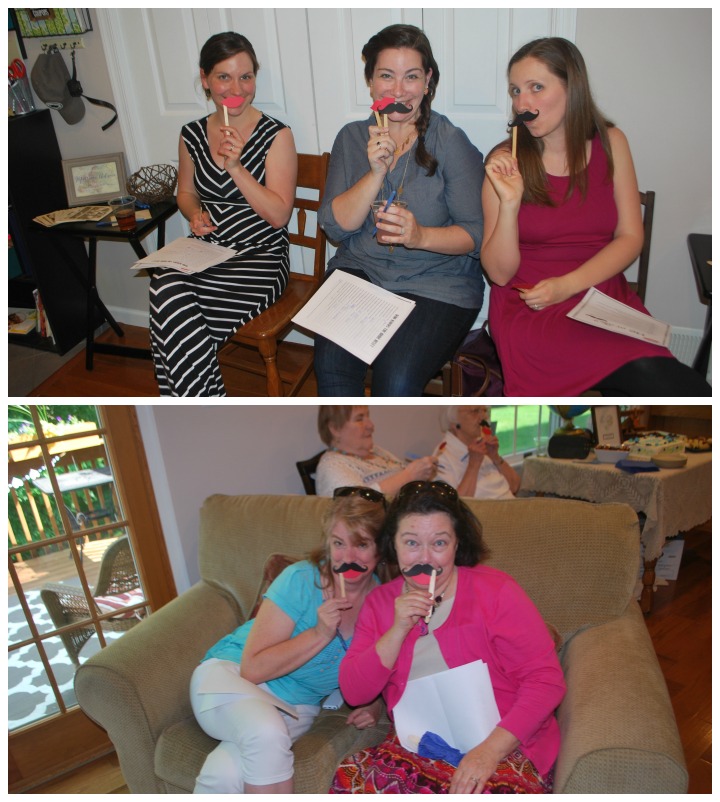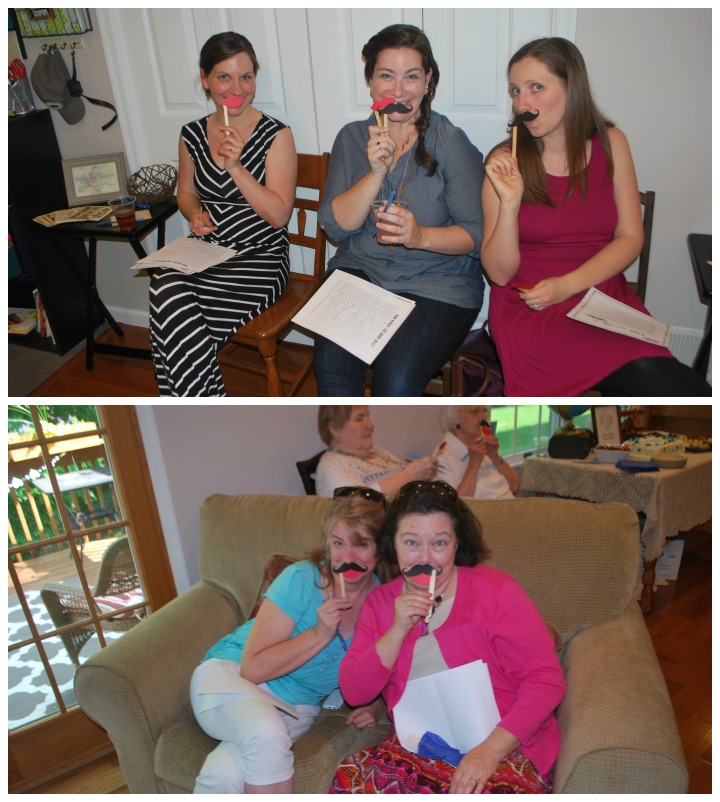 Want some freebies to make your own?  Of course you do! A bit of fine print, first…these images/files are for personal use only.  In exchange for the download, I'd love for you to subscribe via email (more freebies!) or follow via Facebook, Pinterest, or Instagram – not mandatory, of course, but very much appreciated!
"He Said She Said" Image Header
"Daddy or Mommy?" Image Header
Lips and Mustaches cut file
(for use ONLY with Silhouette machines – sorry, I don't have it in any other format)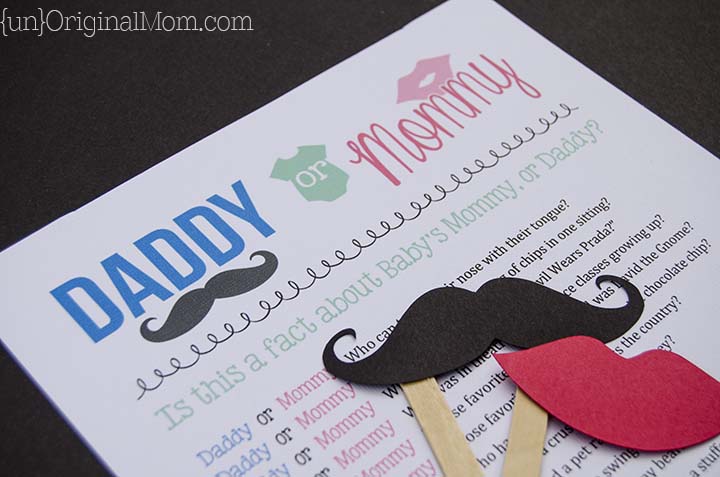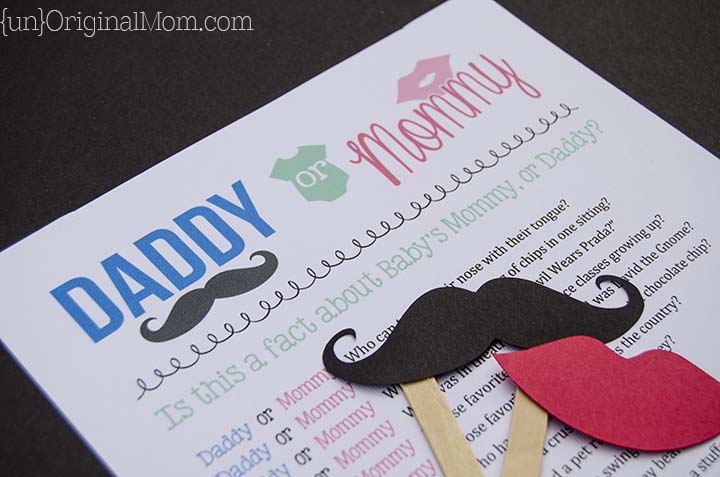 ARE YOU PLANNING A BABY SHOWER? This "Mommy or Daddy" game is one fun activity that you can play with your guests…but how about TWENTY more to choose from? Plus a Baby Shower Planning handbook, complete with a printable toolkit, organizing tips, and lots of crafty inspiration? Look no further than The Baby Shower Book, your all-in-one guide to hosting the perfect baby shower! I've also got individual printable games for sale in my Etsy Shop.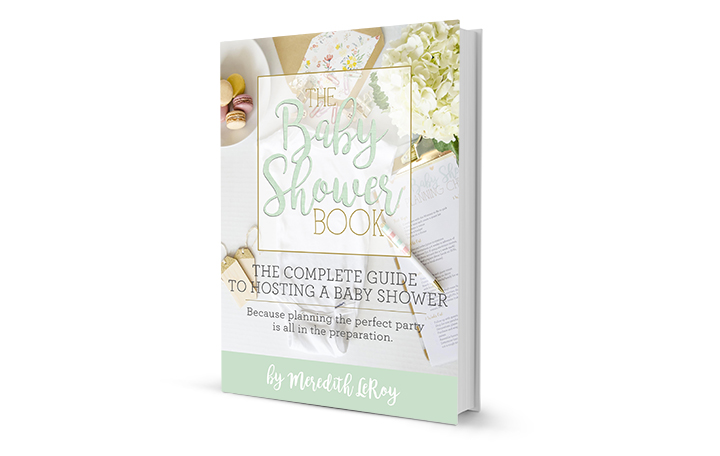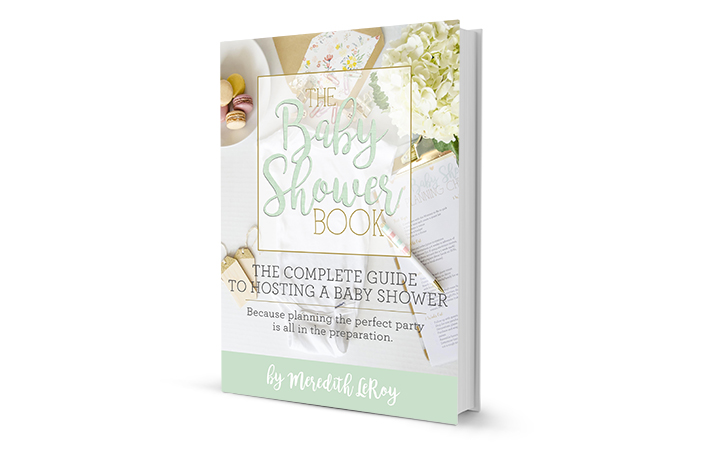 I hope you'll stop over to check it out and take a peek at all of the amazing printables that are included along with the eBook. I promise it will make your planning much smoother – and your end result simply wonderful!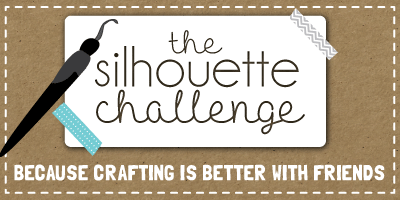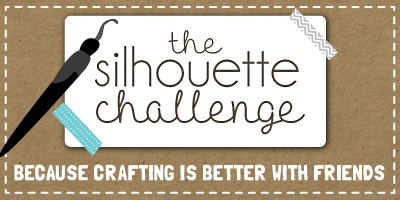 One of my FAVORITE uses of my Silhouette is for parties…banners, buntings, cupcake toppers, invitations, decorations, favors, thank you cards…the possibilities are endless! This month's challenge theme is all-things-party – check out these terrific projects for some fun party inspiration, or pin for later!  
1. Two Purple Couches // 2. Practically Functional // 3. Crafty Bonds // 4. Dragonfly & Lily Pads // 5. From Whine to Whine // 6. Simply Kelly Designs // 7. unOriginal Mom // 8. MamaSonshine // 9. Get Silvered // 10. Made in a Day // 11. Weekend Craft // 12. Little Blue's Room // 13. The Stamp Doc // 14. The Thinking Closet // 15. Cupcakes&Crowbars // 16. Where The Smiles Have Been // 17. DIYJustCuz // 18. My Paper Craze   Happy partying!  

This post contains affiliate links – click here to read my full disclosure.


GRAB YOUR FREE BABY SHOWER PLANNING CHECKLIST!
The perfect party is all in the preparation. This complete baby shower planning checklist will help you with every step along the way!