Four free printable travel quotes – perfect for a travel themed shower or as a gift for a travel lover!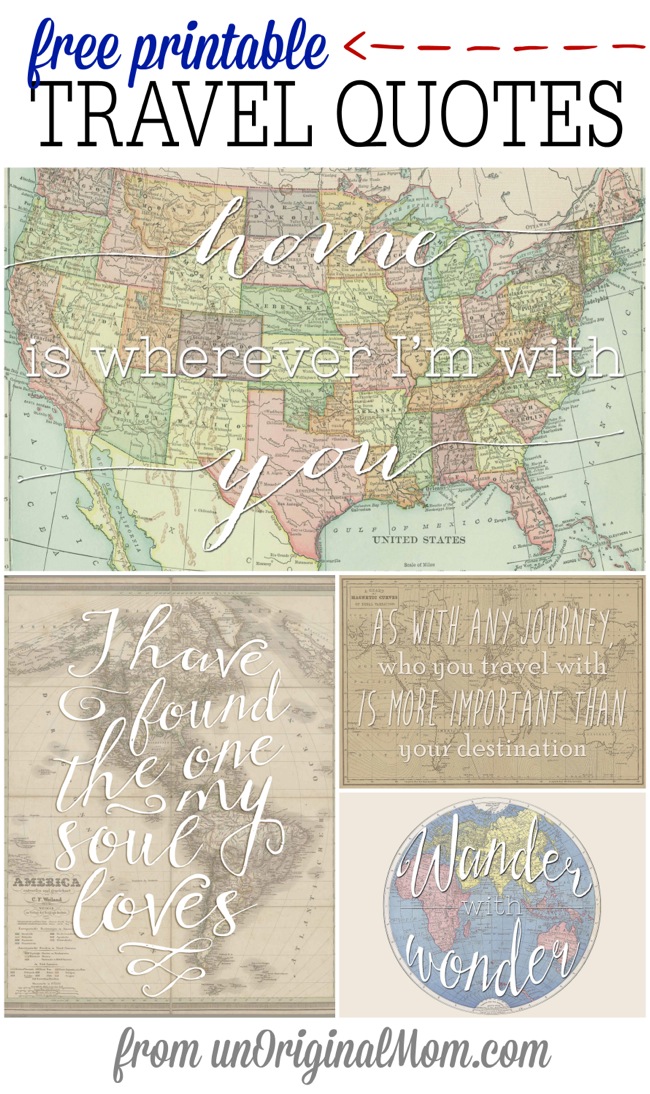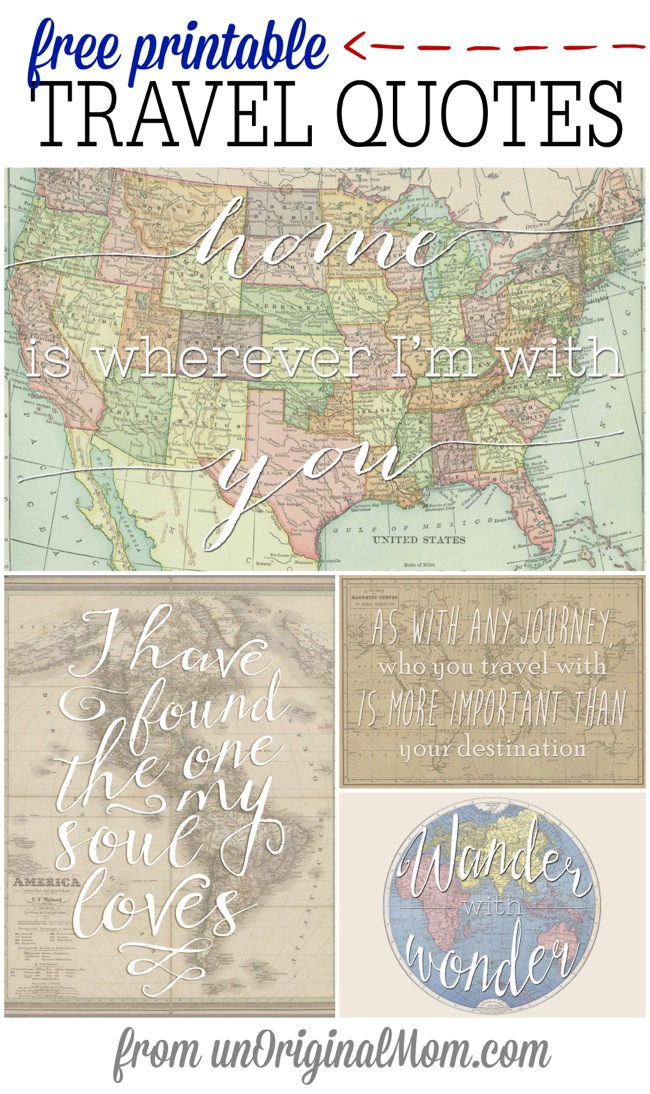 The Sunday that I hosted my sister's bridal shower was INSANELY busy.  And by busy, I mean BUSY – I helped to coordinate a 200+ person weekend long retirement celebration/reunion-type event for my high school choir director that was months and months in the making!  I actually had just two and a half hours between the conclusion of the last retirement weekend event and the beginning of the bridal shower at my house.  (See what I meant by insane??)  So as I was planning for this shower, I knew I needed simple decor ideas that I could have prepped and ready way ahead of time.  These printable travel quotes were perfect!  I actually started working on them back in March.  Once they were designed, it was easy to have them printed in advance and ready to go.
I love printables for any kind of party – they are such an easy and effective way to decorate!  If you are pressed for time and can't or just don't want to/know how to make your own, you can usually find some great ones that fit your theme very inexpensively – or even free – on Pinterest or Etsy.  It's so simple to have them printed and throw in a frame to display.  For the shower, I placed these on the gift table, the mantle, the dessert table, the food table, and a few other places.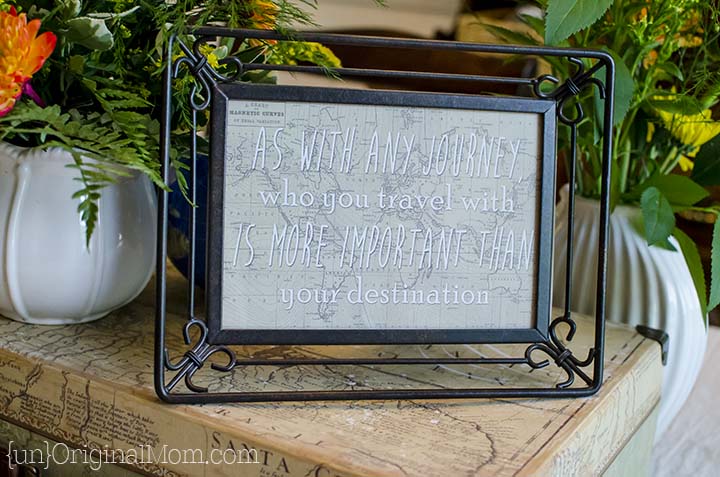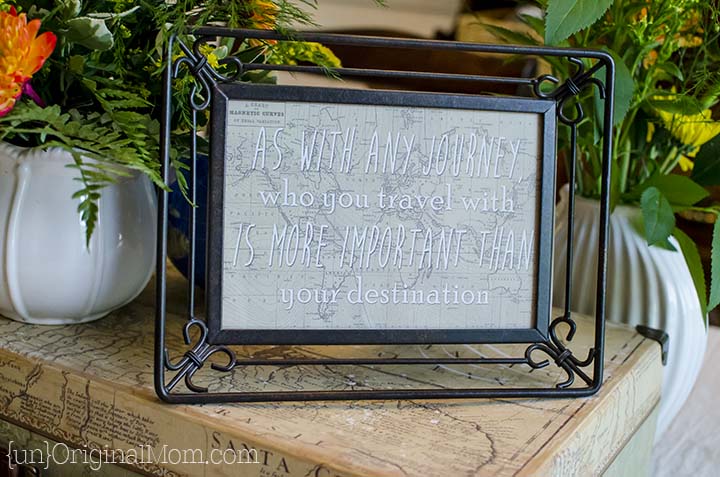 To create my own travel-themed printables for the shower, I first scoured the internet for some good travel quotes that were not only in keeping with a bridal shower, but also fit my sister's personality.  There are a bunch out there, but I landed on 5 that I really loved.  (I made 4 into printables that I just had printed a copy shop and put in a frame for the shower – the 5th you'll be hearing about later!)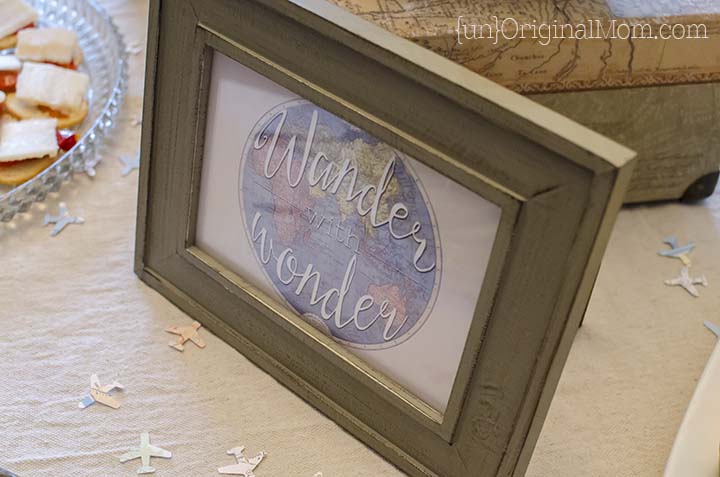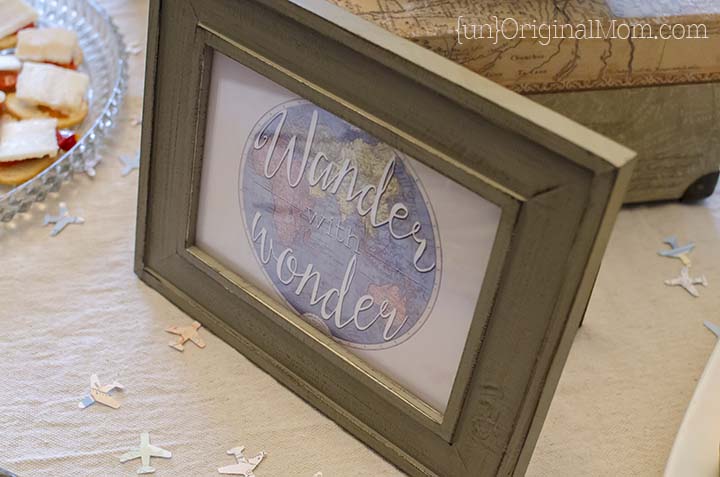 After I had decided on the quotes, I searched for some vintagey map backgrounds that I could use to create the printables.  I found most of the vintage maps on this site, and a round map of the world from The Graphics Fairy.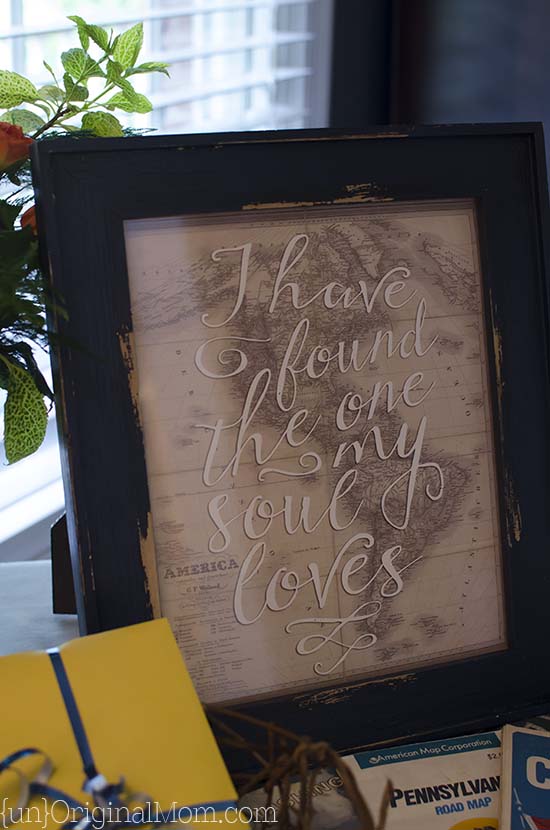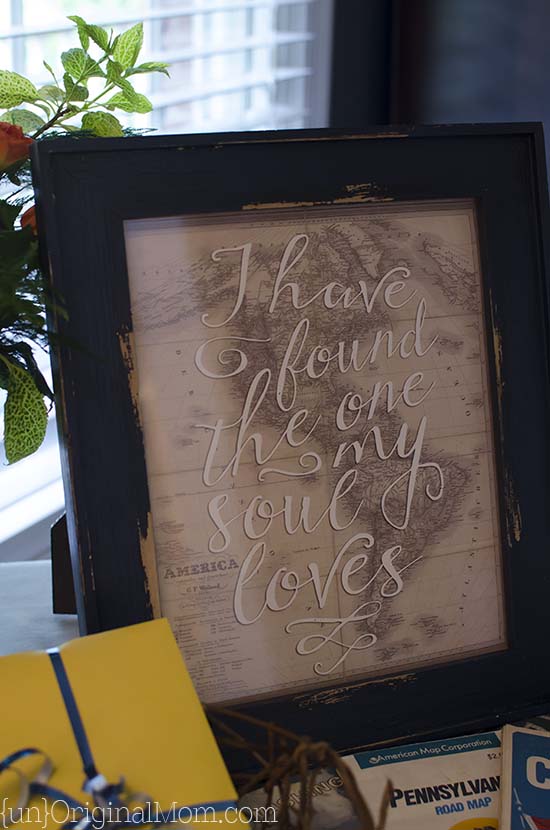 If you don't want to reinvent the wheel, I'm happy to share these free printable travel quotes with you for your personal use!  Each file is sized to be printed on a regular 8.5×11 paper, so you can just print, trim, and throw in a frame.  Presto, shower decor!
Here are the download links:
Fine Print:  These printables are for PERSONAL use only.  Please do not modify them in any way.  If you'd like to share them on your blog, please link to this post (do not link directly to the download or host the files on your own blog.)  Thanks!

– Page 1: 5×7 prints (2 on one page): "Wander with Wonder" and "As with any journey, who you travel with is more important than your destination."
– Page 2: 8×10 print, "I have found the one my soul loves."
– Page 3: 8×10 print, "Home is wherever I'm with you."
In exchange for the download, I'd love for you to subscribe via email (more freebies!) or follow via Pinterest, Instagram, or Facebook.
Margaret's Vintage Travel Bridal Shower & Woodland Wedding!


Get your copy of my FREE meal planning binder!
Sign up to get a free copy of my meal planning system - an 11 page printable meal planning binder, complete with a pantry inventory, shopping list, and more to help get on top of your menu each week!