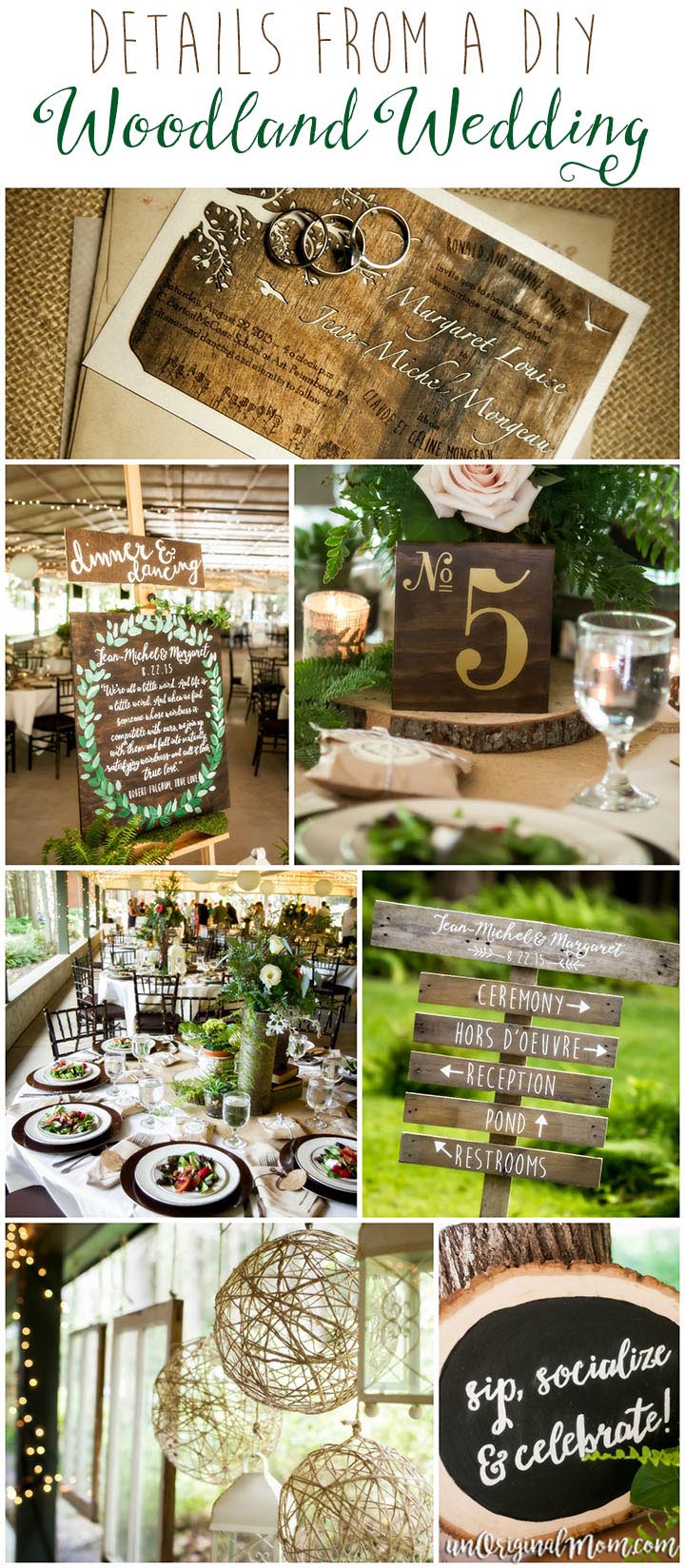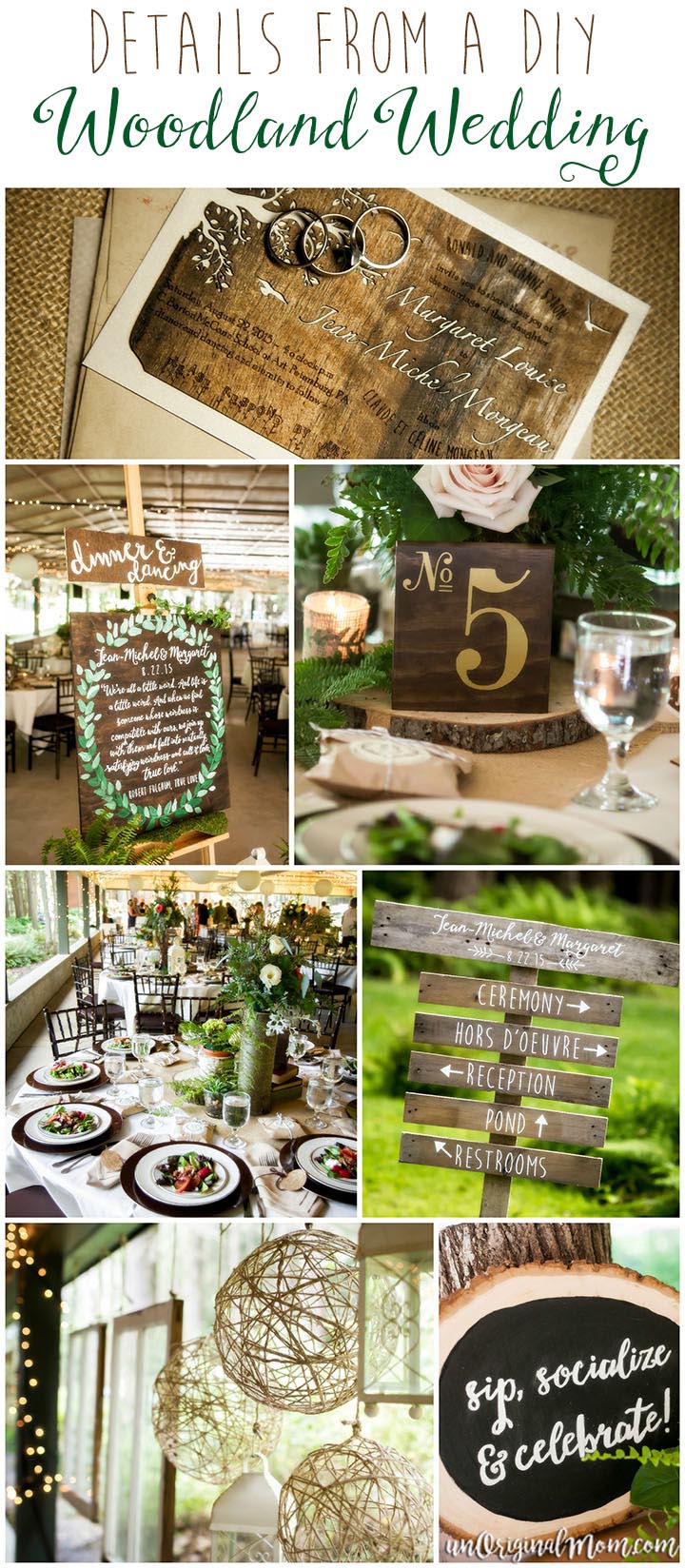 This post contains affiliate links – click here to read my full disclosure.
My sister Margaret got married this past August, and her "woodland wedding" was absolutely beautiful. I'm talking magazine worthy beautiful. The weather was postcard-perfect, the venue was breathtaking, the bride was stunning, the groom was handsome, the food was delicious, the party was joyous, and every moment of the day was filled with love. It was everything a wedding should be, and so much more!
The creative elements of the wedding itself were a joint effort between myself, my sister, and some dear family friends – Lisa Hackman and her daughters Stephanie and Julie of Sandpiper and Co. We began pinning and planning a year beforehand – see our "Enchanted Forest" Pinterest Board here.  I posted about several of the DIY elements earlier this fall, but the photographs (by the amazingly talented J&A Photography) turned out so beautifully that I just had to share them with you. Prepare yourself for some major eye candy!
Believe it or not, these incredible invitations were DIY, created by the bride herself. My sister used the laser cutter in her lab (she and her husband are both academics, they met as engineering grad students at UC Berkley) to engrave sheets of wood veneer and then mounted them to card stock using spray adhesive. Aren't they amazing??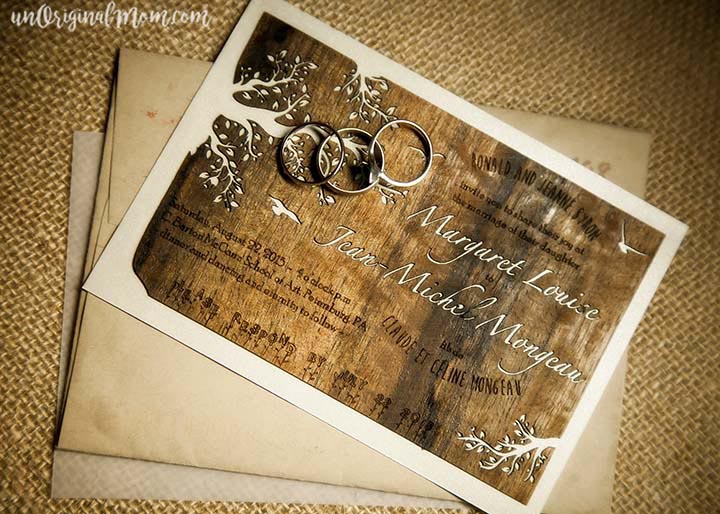 The wedding itself took place at the C. Barton McCann School of Art in Petersburg, PA, which is a beautiful art school in the middle of the woods. The ceremony was held in a lovely sculpture garden.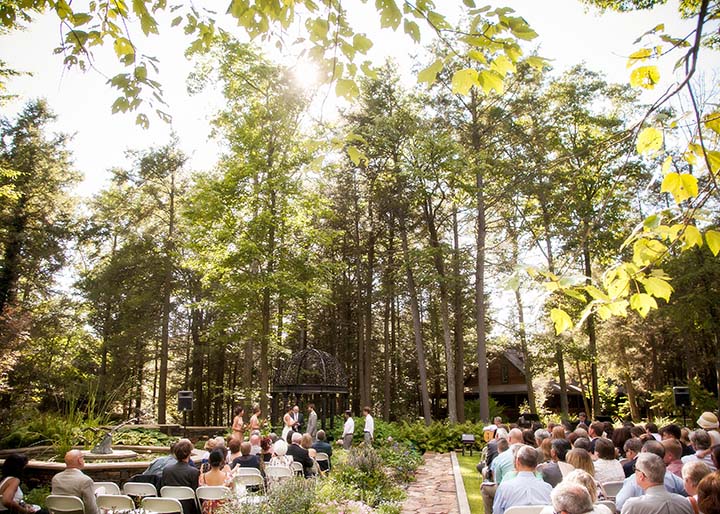 My youngest sister and I were the only bridesmaids, so we pretty much got free reign to pick out our dresses. After MUCH deliberation on color and style, we chose peachy-pink lace dresses from ModCloth and they ended up being perfect (sorry, they're no longer available). We got so many comments on them!  (And yes, I actually will wear it again!) My mother-in-law MADE the flower girl dress for my daughter – she looked and felt like a princess. The earthy, woodsy bouquets were created by our dear friend Lisa Hackman and they captured the "essence" of Margaret so well.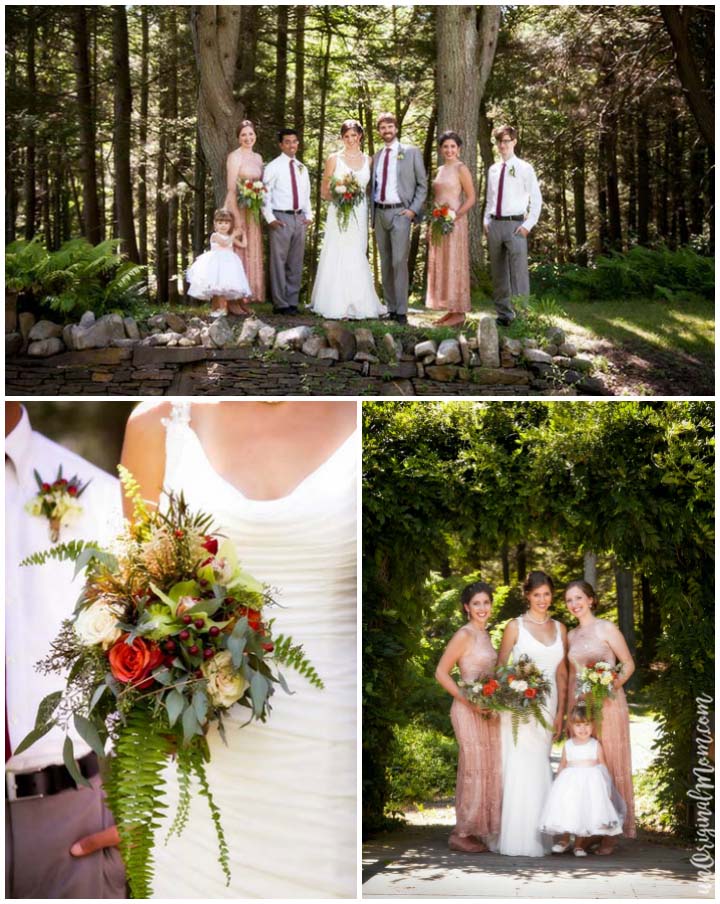 Because the grounds were large and the ceremony, cocktail hour, and reception were in 3 different places, I created a direction sign out of pallet wood. It was a practical and pretty addition to the decor.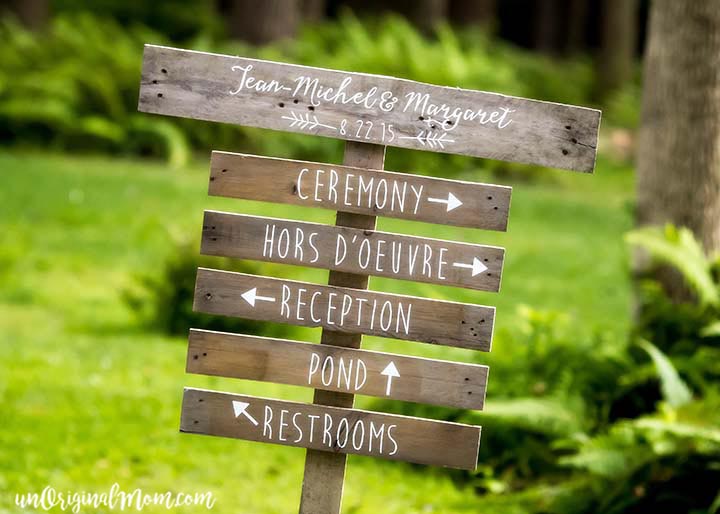 The reception began with a cocktail hour in the art gallery, and then moved to the outdoor pavilion for dinner. This is where the magic happened. Guests were greeted by a beautiful hand lettered sign with a "weird" quote that Margaret picked out – a true work of art by the talented Julie Murphy.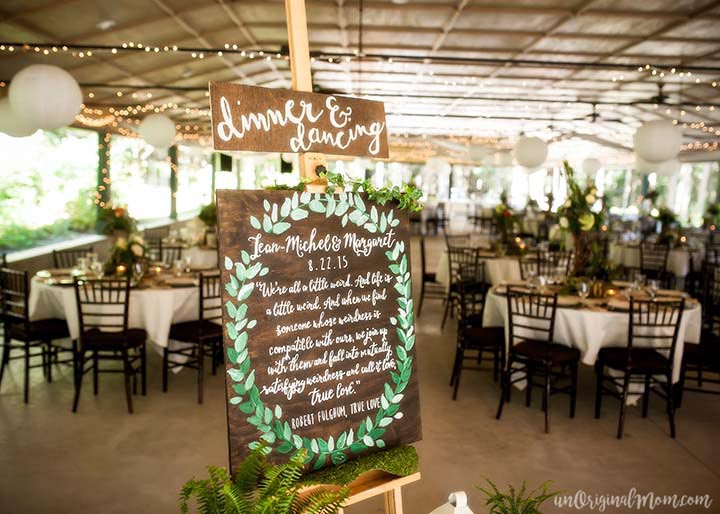 Lisa, Stephanie, and Julie worked together to create absolutely amazing tablescapes with old books, wood stumps, lanterns, succulents, and flowers.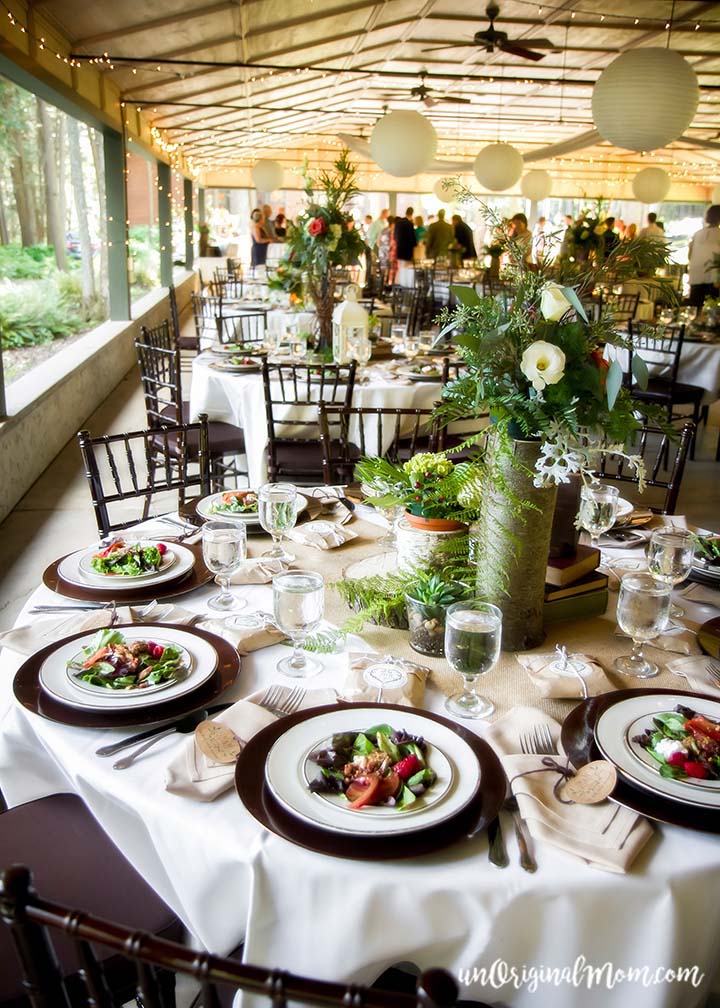 You might recognize those wood table numbers and burlap wrapped votives – I posted about them a few months ago. You can find the table number tutorial here, and the instructions to make the votives here.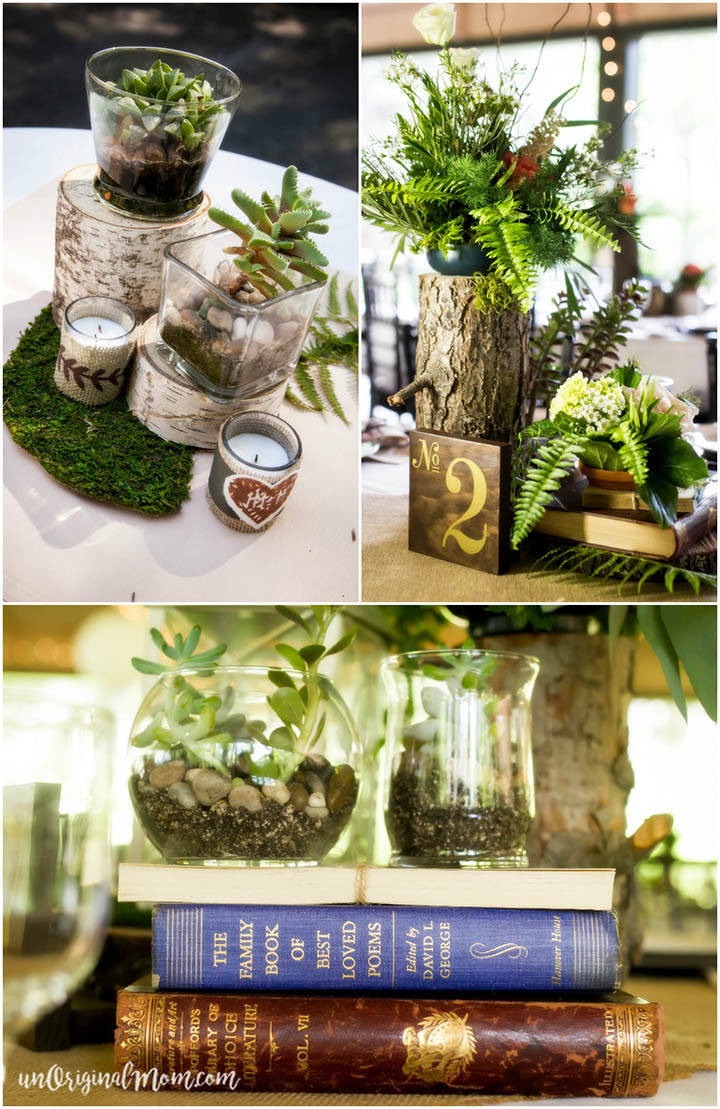 The ceiling was beautiful with paper lanterns, gossamer, and twinkle lights. Another one of my DIY projects was transforming a Re-Store chandelier into a dance floor centerpiece with a few coats of spray paint.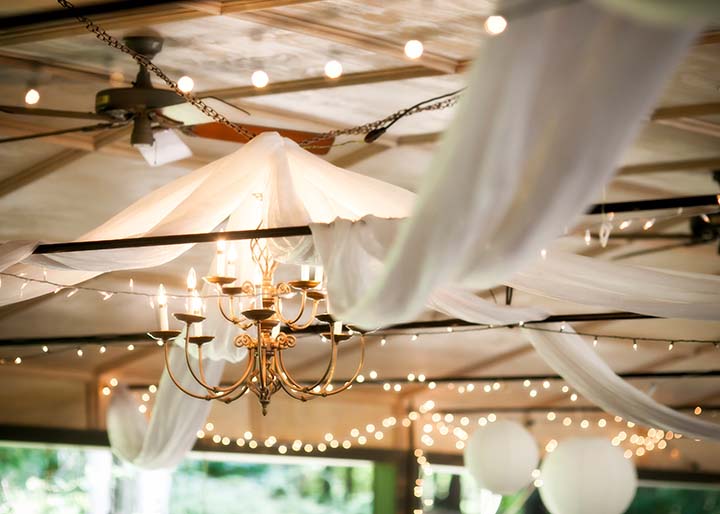 The gift/card/guestbook/escort card tables were kind of combined into one corner of the pavilion. Instead of a typical guest book, Margaret wanted a "bucket list" – her guests wrote down items to add to their married life bucket list on cards and then put them in a bucket. I created the bucket list cards to be 4×6 so they could easily be saved and put into a small photo album. (The spinning photo frame card holder is actually a DIY project from MY wedding 6 years ago – pre-Pinterest! I'm glad it was able to be used again.)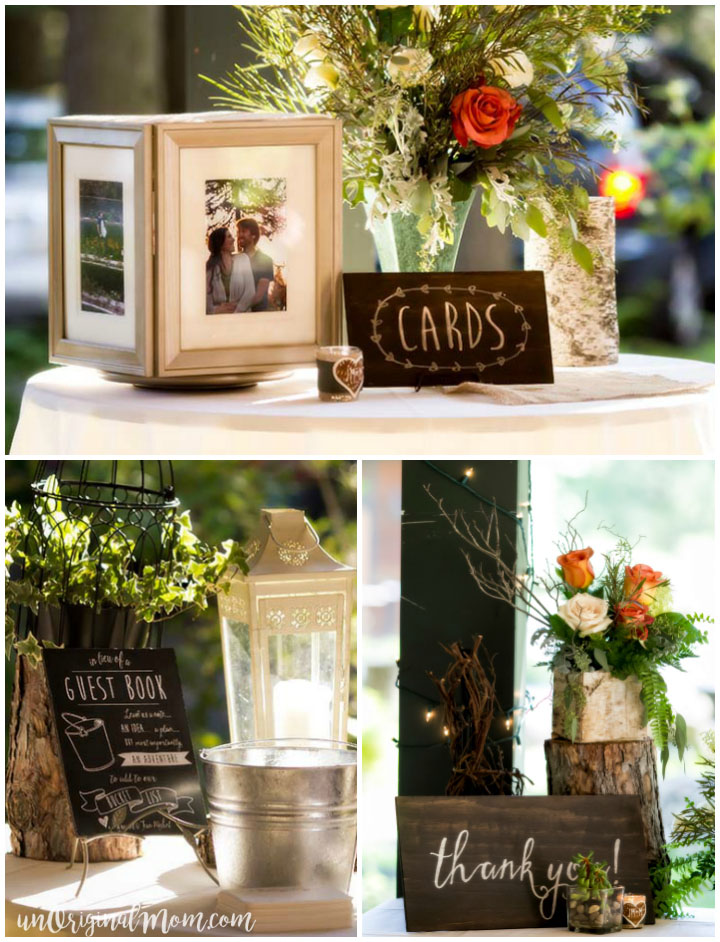 The escort cards were displayed in rustic window boxes filled with moss. (And Julie added a hat tip to one of Margaret's favorite books as a child with the "no admittance except on party business" quote – how clever and fun!)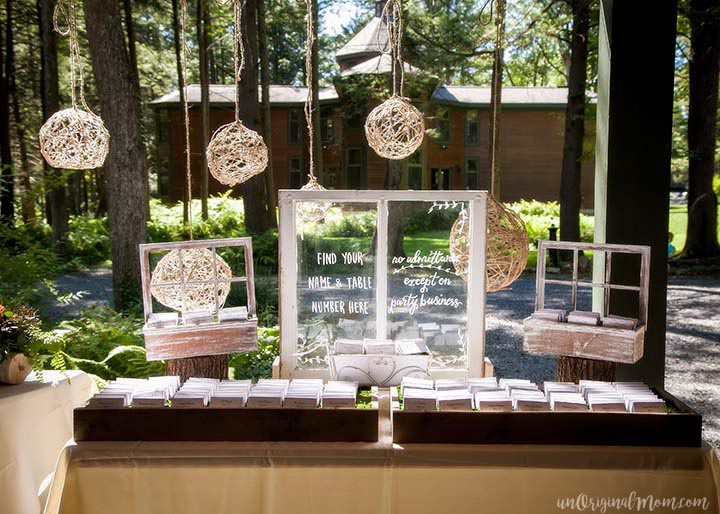 The focal point behind the sweetheart table was a suspended "wall" of windows, lanterns, and twine balls. (Those twine balls were a labor of love made by Margaret and my mother – they turned out really neat but gosh were they a pain in the butt to make!) It was hard to see the lettering on the windows in the daylight, but once it started getting dark it was clearly visible and a really neat effect. (Yes, that's a DIY "Dr. & Dr." burlap banner on the sweetheart table!)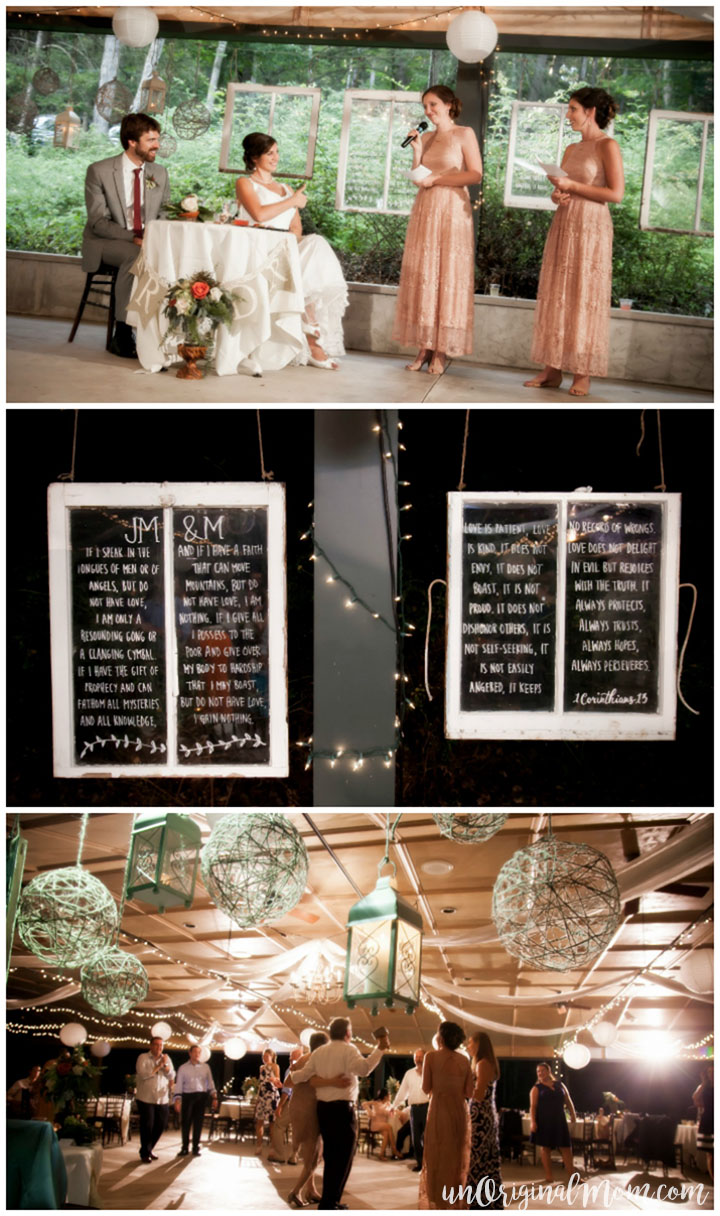 Dinner was catered on-site by Down to Earth Catering (can't say enough good things about them!), but Margaret – the BRIDE – decided she wanted to hand make all of the desserts. We told her she was crazy, but she did it anyway. And they were scrumptious. I used my Silhouette to create food tags that were in keeping with the theme and other typographic elements of the wedding. (Yes, that says "Coconut Kahlua Fudge"…oh em gee it was SO good!)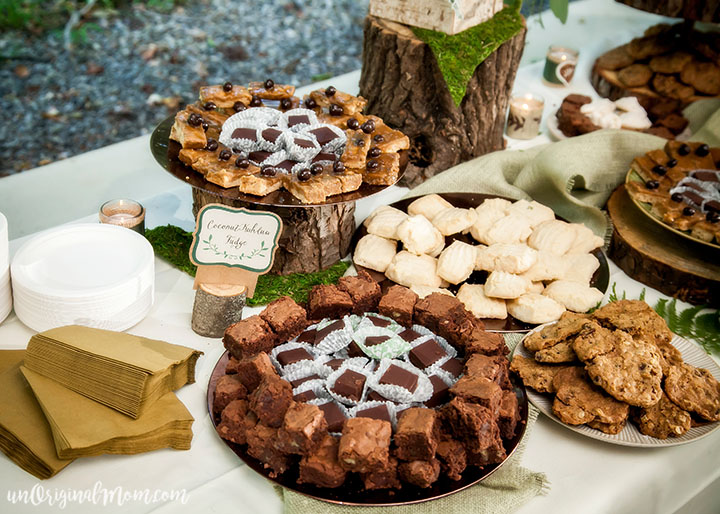 Some other DIY elements included napkin tags tied onto each place setting, favors pre-set on the tables (each bag contained homemade granola made by the bride), and fan programs for the ceremony.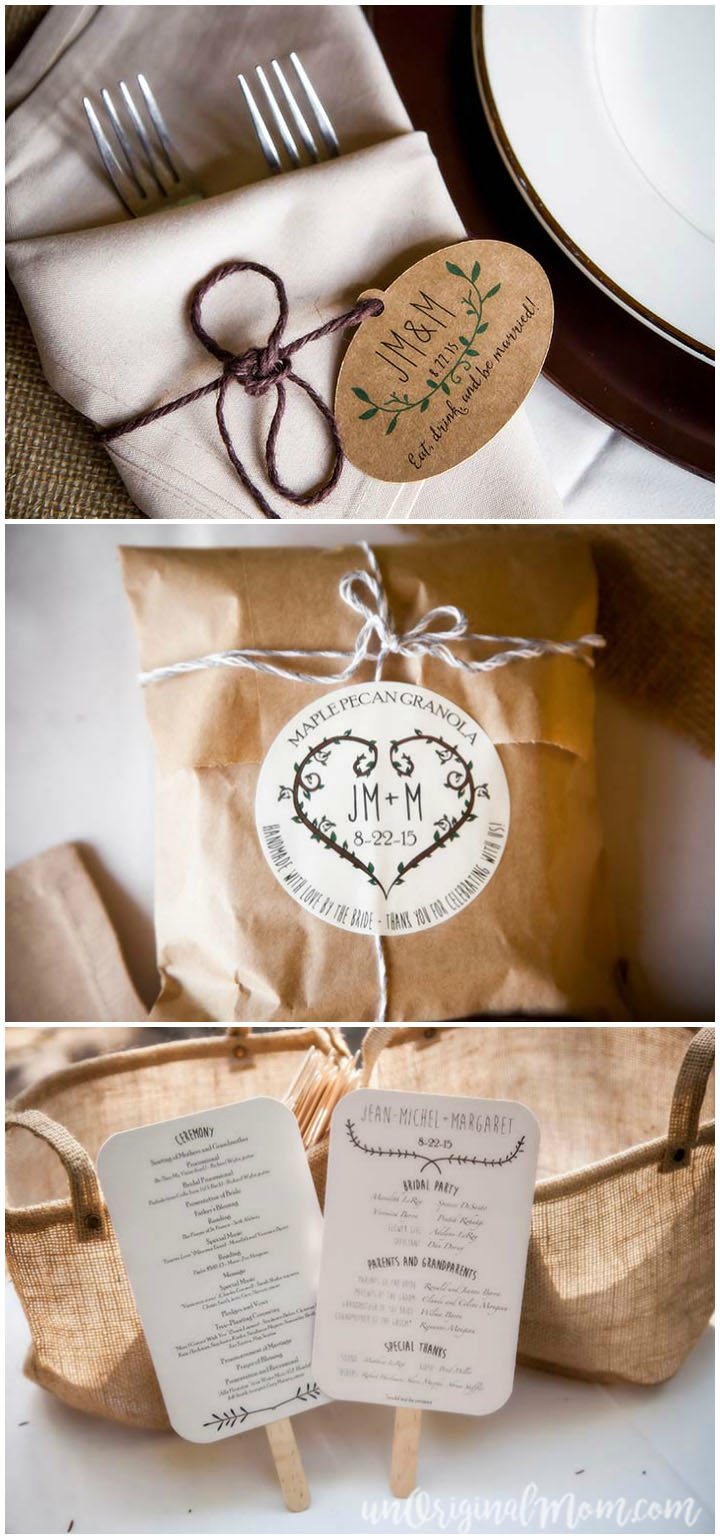 It was a truly magical day full of love and laughter…as beautiful as these photos are, they don't even do it justice. We'll all remember that day forever. Congratulations, Margaret and Jean-Michel!
Vendors (State College, PA):
Photography: J&A Photography
Location: McCann School of Art
Caterer: Down to Earth Catering
Flowers: designed by Lisa Hackman, flowers from Woodrings Floral Garden
Rentals: (tables and place settings) Hoag's Catering & Event Rentals
Bridal Gown: MB Bride
Bridal Alterations: Restitch Studio
Bridesmaids dresses: ModCloth
Reception Decor and signage: Sandpiper & Co

All photos in this post were taken by J&A Photography. If you live in the State College area, I would highly recommend them for wedding and family photos!
Margaret's Vintage Travel Bridal Shower & Woodland Wedding!
This post contains affiliate links – click here to read my full disclosure.


Get your copy of my FREE meal planning binder!
Sign up to get a free copy of my meal planning system - an 11 page printable meal planning binder, complete with a pantry inventory, shopping list, and more to help get on top of your menu each week!