My friend Lora from Craftivity Designs is back again with another fun printable – this time, it's a free printable Christmas Charades game! This is perfect for Christmas parties with kids OR adults, and would even be great for playing at home with your family. And the cards are so cute! I hope you enjoy this great printable Christmas game.
***************
Does your family like to play Charades? If so, this set of free printable Christmas Charades will be a hit during the holidays. It's an easy activity to have on hand for Christmas parties or a Friday night home with the kids during December.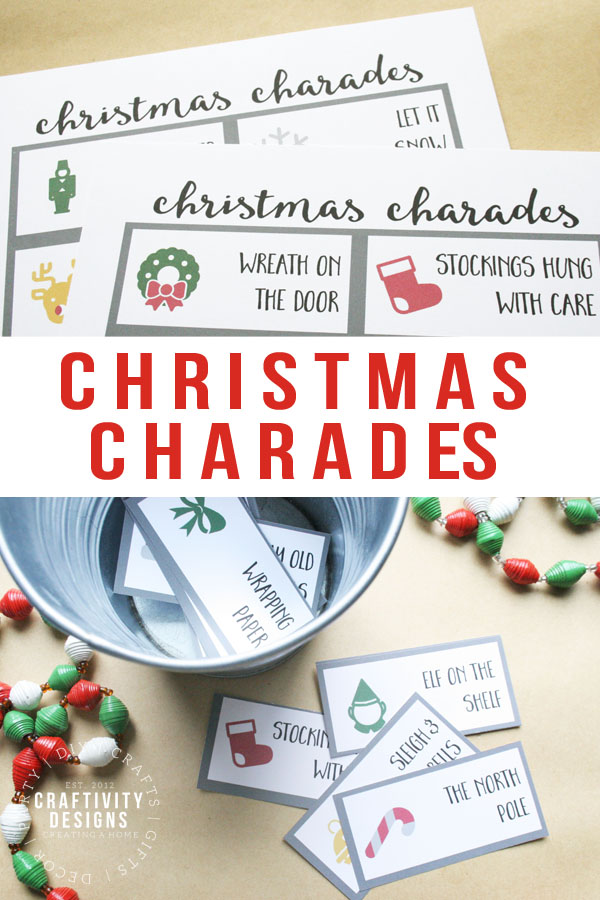 I'm Lora from Craftivity Designs, where I share colorful scavenger hunt games (like the Christmas Scavenger Hunt which matches this set of Christmas Charades) and engaging family activities (like how to make a Nature Kit and take your kids on an outdoor adventure).
What You Need for Christmas Charades
white cardstock
printer + ink
scissors
12″ paper cutter (optional)
small container (bowl, basket, etc.)
How to Make Christmas Charades
First, download and print the free printable Christmas Charades file on white cardstock. When printing, make sure to print full size or 100% to scale and choose the best print quality in order to maximize color.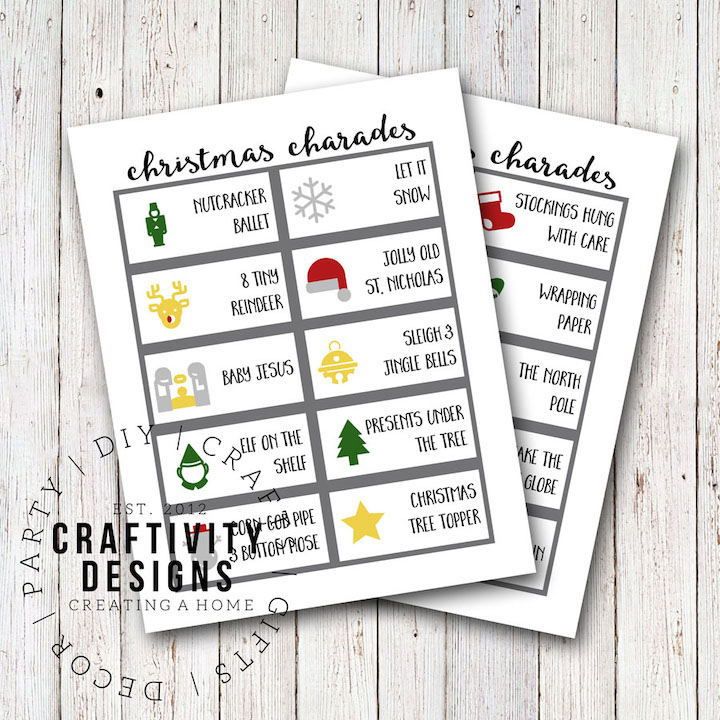 Next, cut out the free printable Christmas Charades Cards. It is easiest to cut straight edges with a 12″ paper cutter. However, if you don't have a paper cutter, scissors will work just fine.
If you'd like to use this game year after year, consider laminating the card for durability.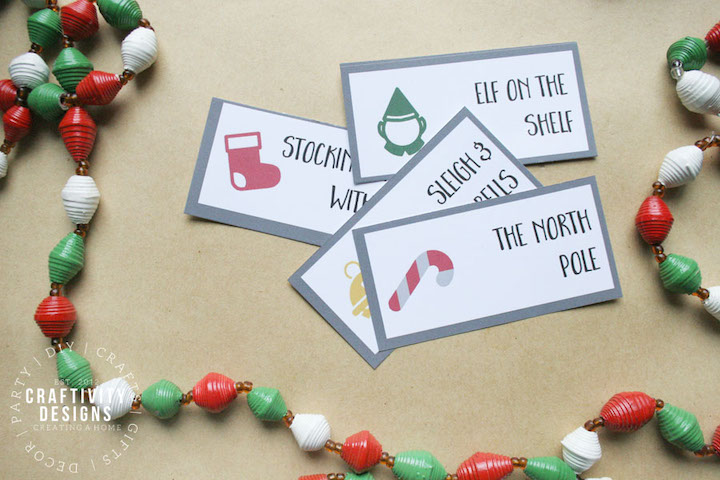 Once the game is cut out, place all of the cards into a small container such as a bowl, basket, etc. I like to keep our game within reach throughout the season so that we can play when we have a few moments to spare.
After all, you don't have to throw a party in order to play a game of Charades. It makes for quick and easy family time — and the kids will love the spontaneity!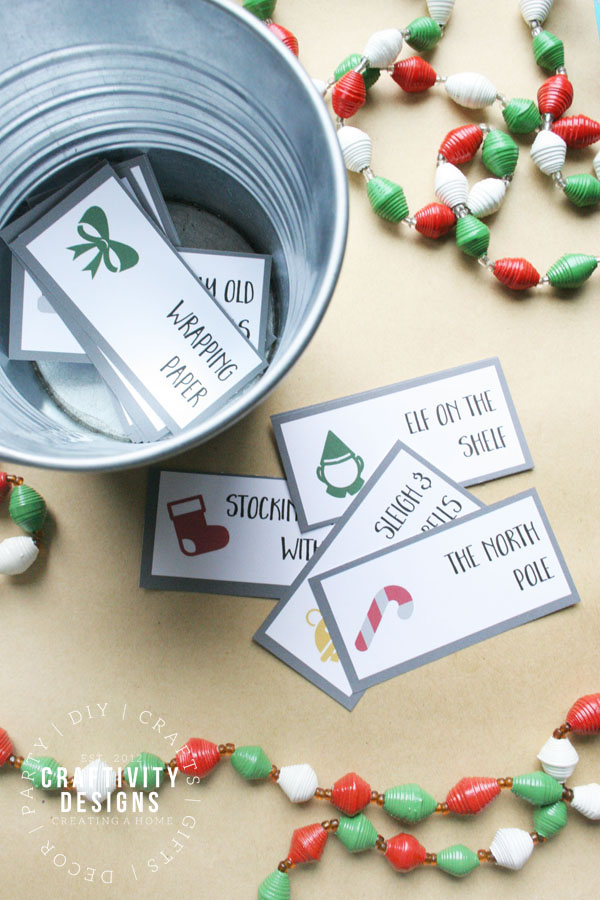 Playing Christmas Charades
The Charades Cards feature holiday-themed phrases. If you are playing with older children and adults, use classic Charades "tricks" such as:
note the total number of words in the phrase with your fingers (i.e. 5 words)
sign the easy words (i.e. subjects and actions) and note which word it is in the phrase with your fingers (i.e. 3rd word)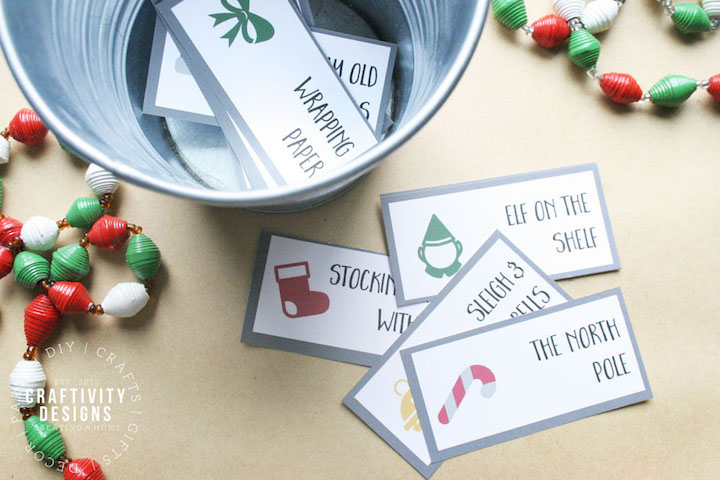 If you are playing with younger children, skip the phrases altogether. This might include kids who:
haven't learned to read,
kids who are early readers,
or kids who can read but are still too young to play full-blown Charades and need a beginner version.
Since each card includes both a phrase and an icon, the younger children can simply act out the image. No need to read act out advanced phrases!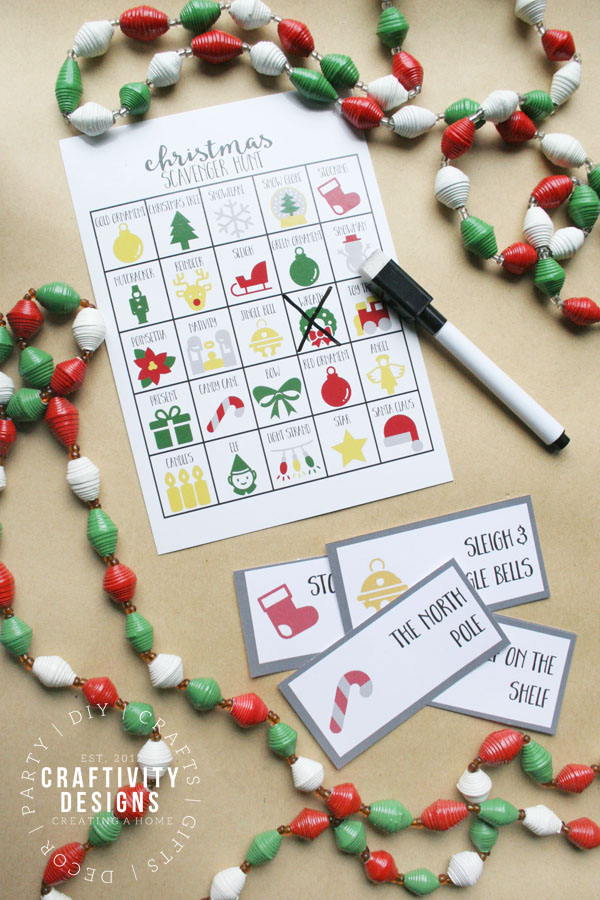 If you like this family activity, you might also enjoy my Christmas Scavenger Hunt. The colors and icons coordinate with Christmas Charades, making it perfect for a party. As a family activity, we love to use our dry-erase Christmas Scavenger Hunt cards when we head out to look at Christmas lights!
**************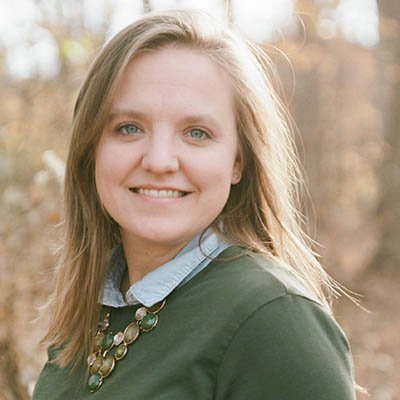 Lora is the Owner and Creative Director of Craftivity Designs, where she seeks to Create a Home that is simple, functional, and beautiful. With an eye for practical solutions, she designs multi-purpose rooms which pack a storage punch. As a busy mom of 2, she shares crafts that are quick and easy, without sacrificing style. For fun, she loves to go on a homemade scavenger hunt and plan trips to Disney.
Go follow Lora for more crafty inspiration!
Facebook | Instagram | Pinterest


Get your copy of my FREE meal planning binder!
Sign up to get a free copy of my meal planning system - an 11 page printable meal planning binder, complete with a pantry inventory, shopping list, and more to help get on top of your menu each week!