Do you ever wonder what styles of furniture or decor will be the ones that we look at in 20 years and say, "what were we thinking??" The "orange" stained wood furniture from the 90s definitely falls under that category. Stained wood can be so beautiful…but orange? Really, folks? That's just not natural. It's like orange self-tanner. Does anyone really think that looks good? Of course, I say this knowing full well there will be things that are currently in my living room that people will say the same things about in another 15 or 20 years. Ha.
Have you seen coffee tables like this around Craigslist and buy and swap pages?  Or maybe you even have one in your house right now! We found this guy on Craigslist for $10, and decided to try to refinish it for my parent's surprise living room makeover. (I also refinished this side table with beachy blue chalk paint!) Since we were on a budget of about $300 for the whole room (which had to buy paint, curtains, curtain rods, pillows, lamps, picture frames and wall decor!), the price on this coffee table was right, even if nothing else was.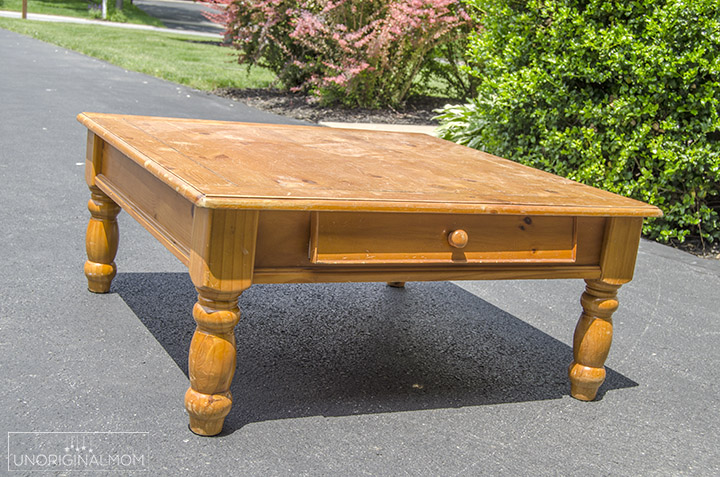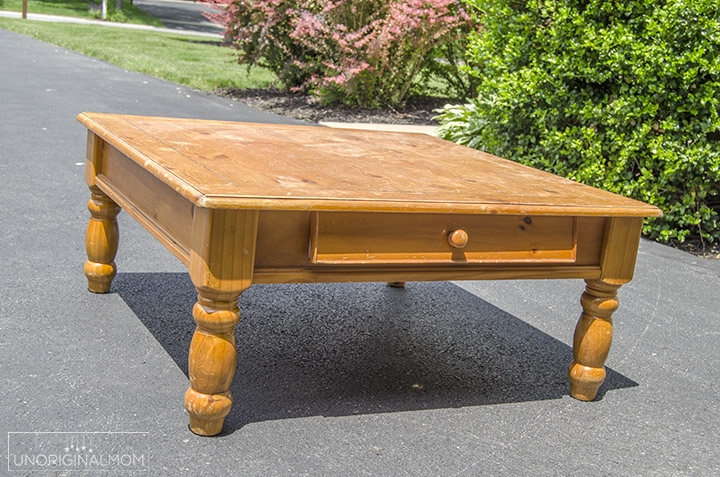 It was dated, beat up, and the drawer was broken – but it was solid and had good bones, I knew the size was right to fit in the room, and I had a vision for a rustic farmhouse coffee table makeover that would give this thing a second life.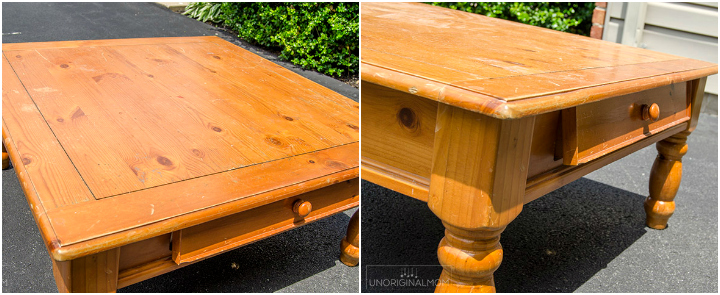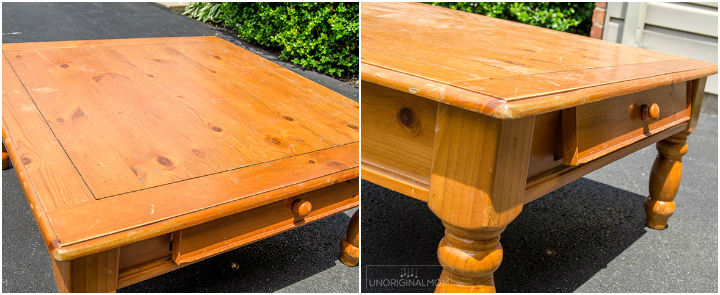 This post contains affiliate links. Click here to read my full disclosure.
I wanted to make this into a two-tone coffee table – strip and stain the top, and paint the bottom white. So the first thing I did (okay, okay, you got me, my husband did this part) was strip the top of the coffee table using wood stripper. It worked well on the clear coat, but didn't quite get all the stain off, so I went to work with the palm sander until the top was raw wood.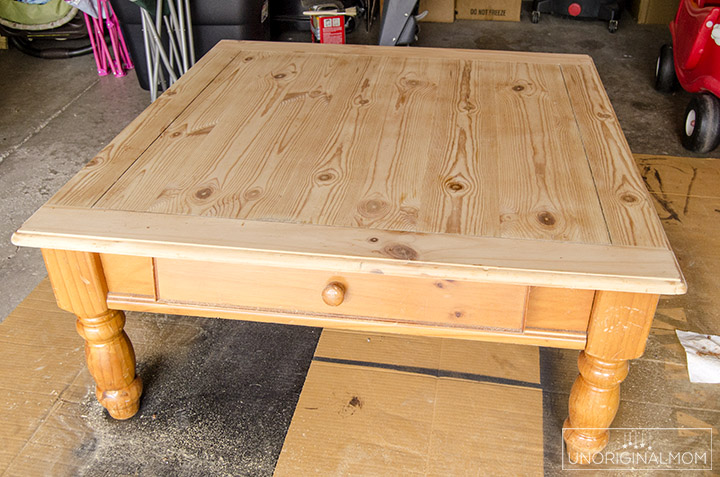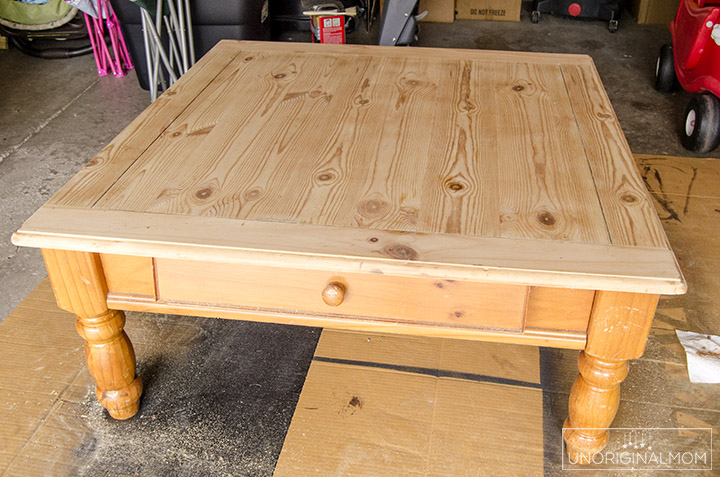 Then I used some Minwax Pre-Stain Wood Conditioner on the top, followed by two coats of Minwax Special Walnut.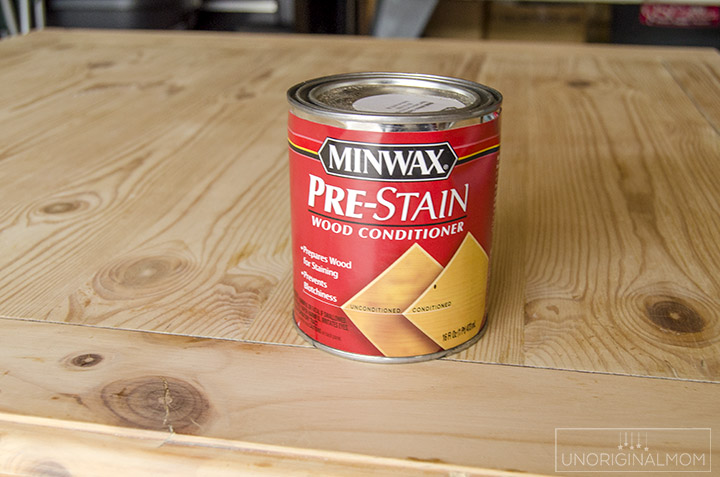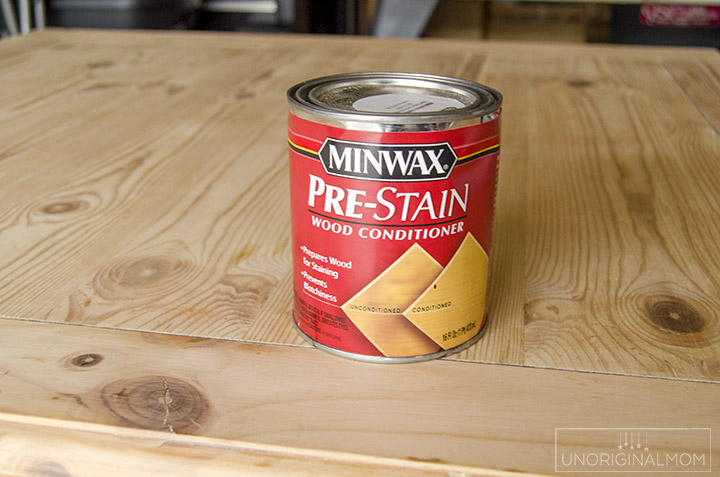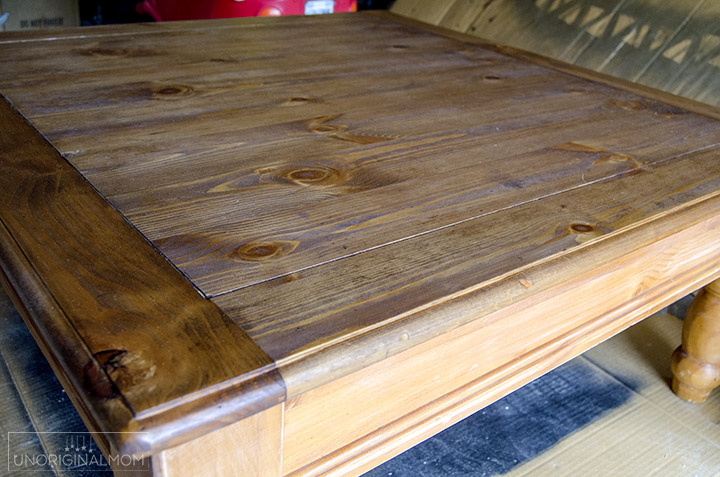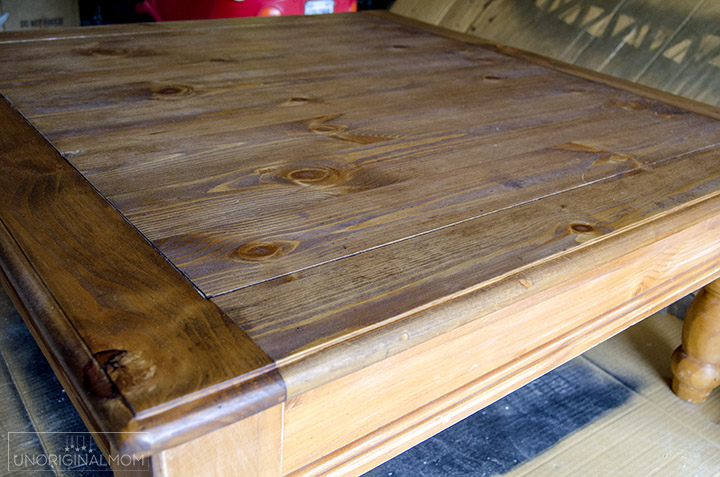 I had some Fusion Mineral Paint in Champlain leftover from my farmhouse cabinet makeover, so I decided to use that on the bottom of the coffee table. I LOVE this paint! It flows so smoothly and looks so pretty. I only wish I had a distributor nearby so I could see all the colors in person. But I do recommend this color as a good creamy white with just a hint of beige. It works so well for two toned farmhouse furniture like this! I sanded down the legs and apron, wiped it clean, and then applied two coats of paint.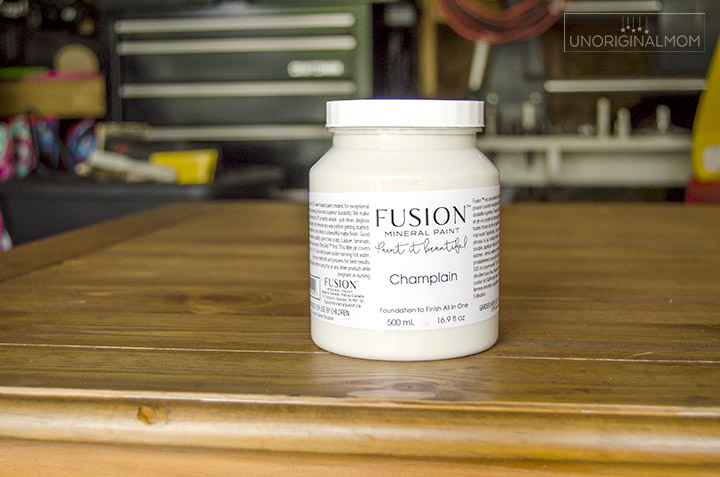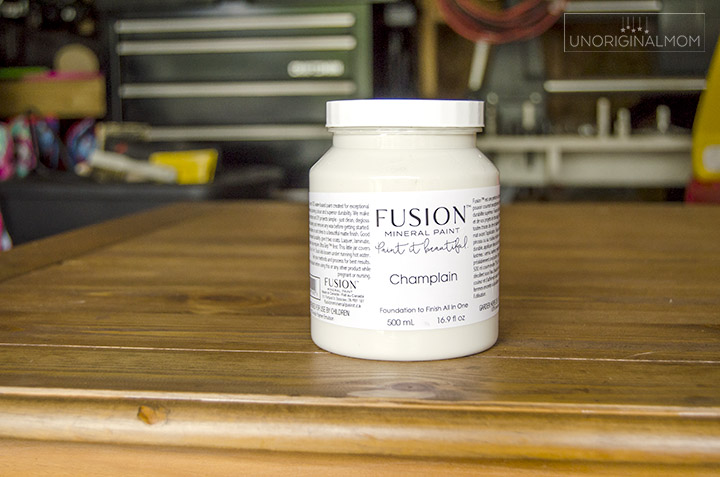 The last step was wiping on about four coats of satin finish polyurethane to the table top to make it a nice, durable surface. Want to see how it turned out?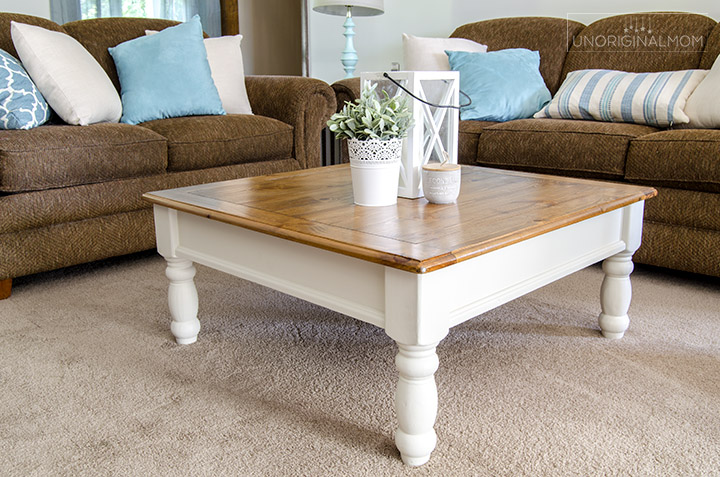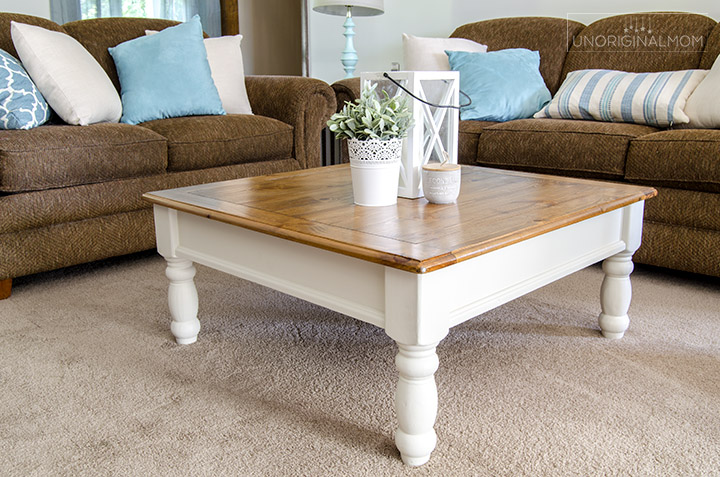 What a transformation, huh?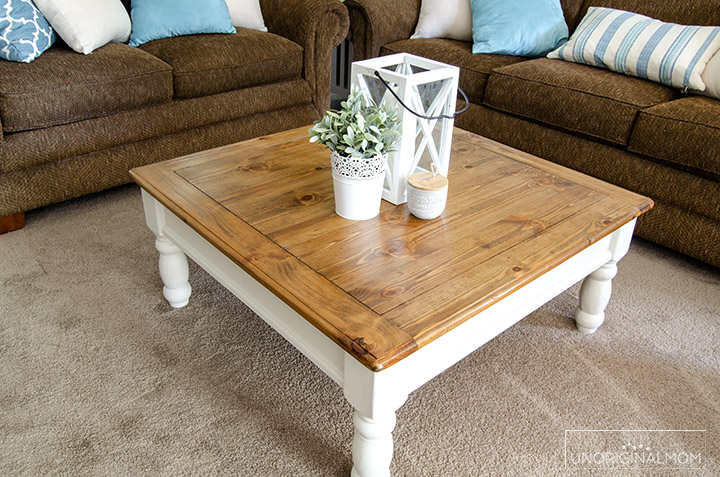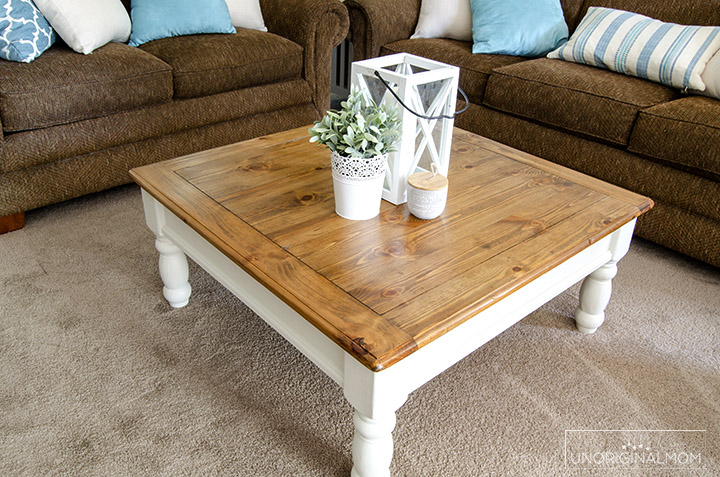 Oh, right, and my husband fixed the broken drawer with a new drawer slide, and we gave it a new knob, too.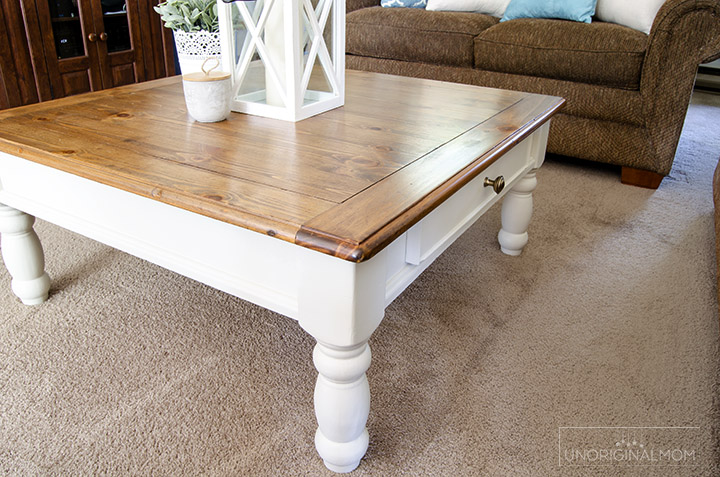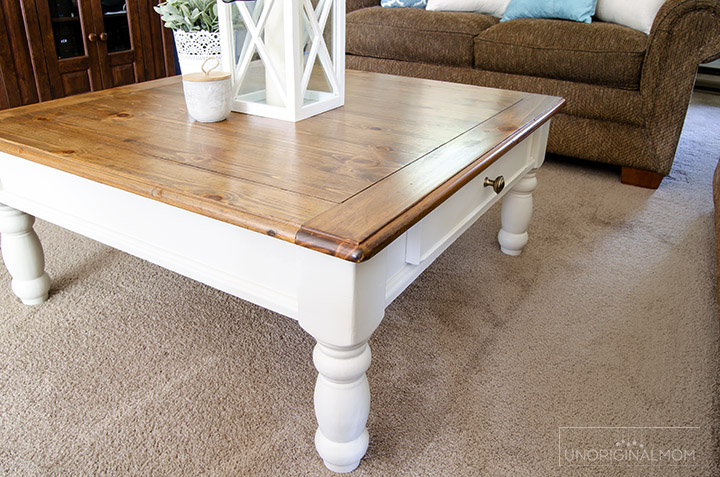 It's beautiful in the new space, but still rustic enough that you'd feel fine putting your feet up on it – right? ;-)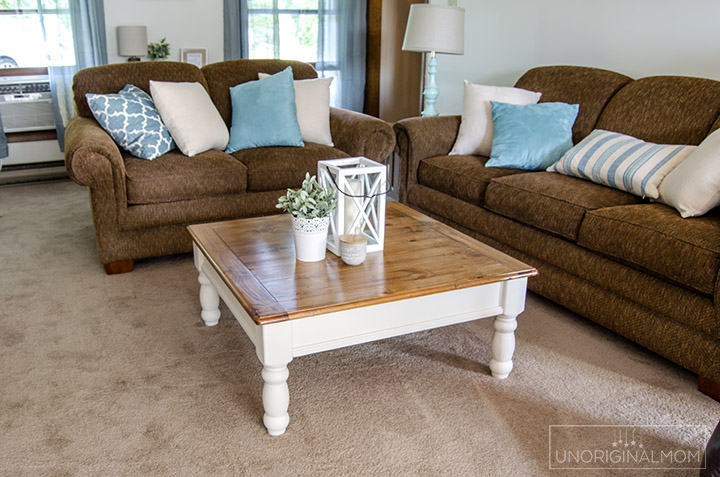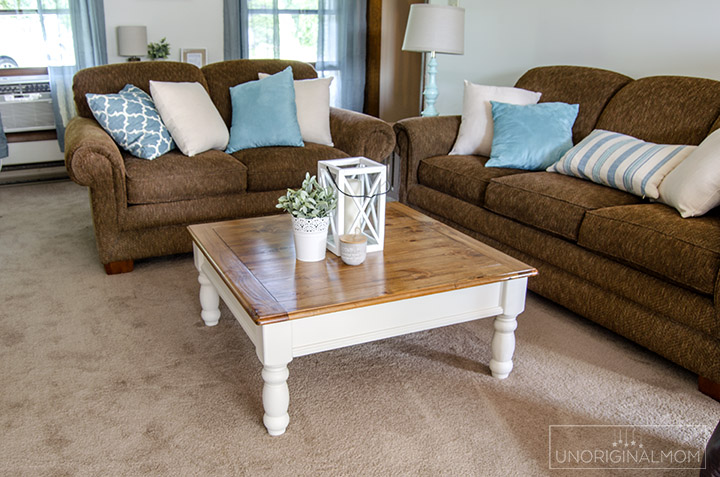 Let's see this farmhouse coffee table makeover before-and-after one more time, just in case you already forgot what it looked like…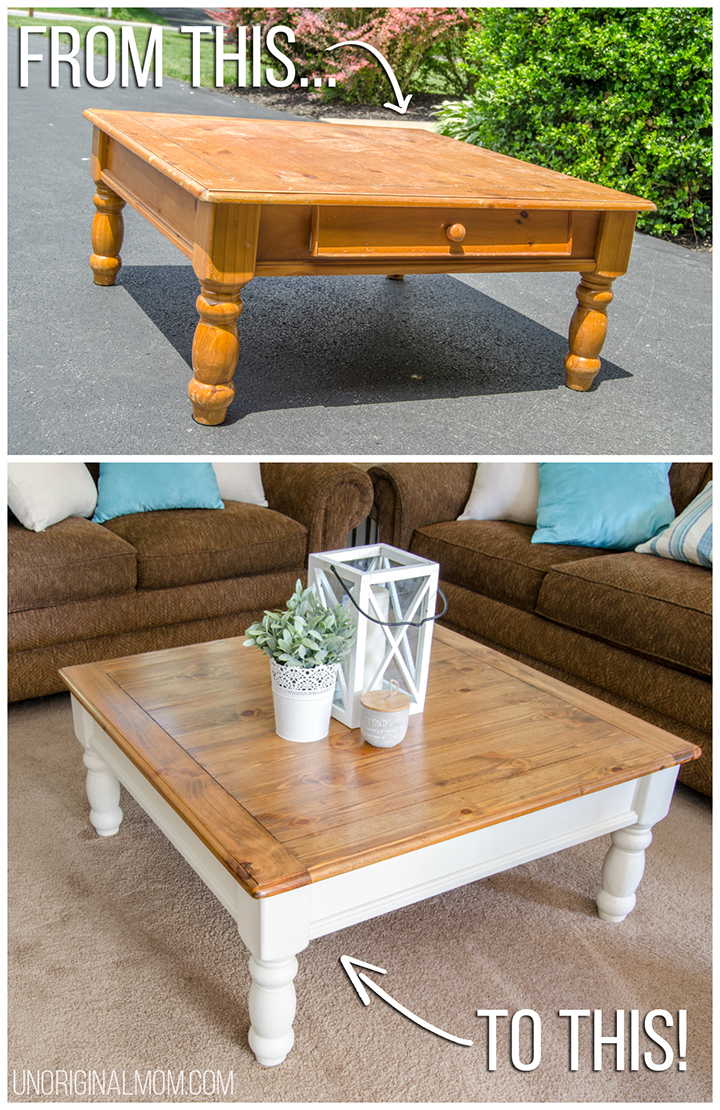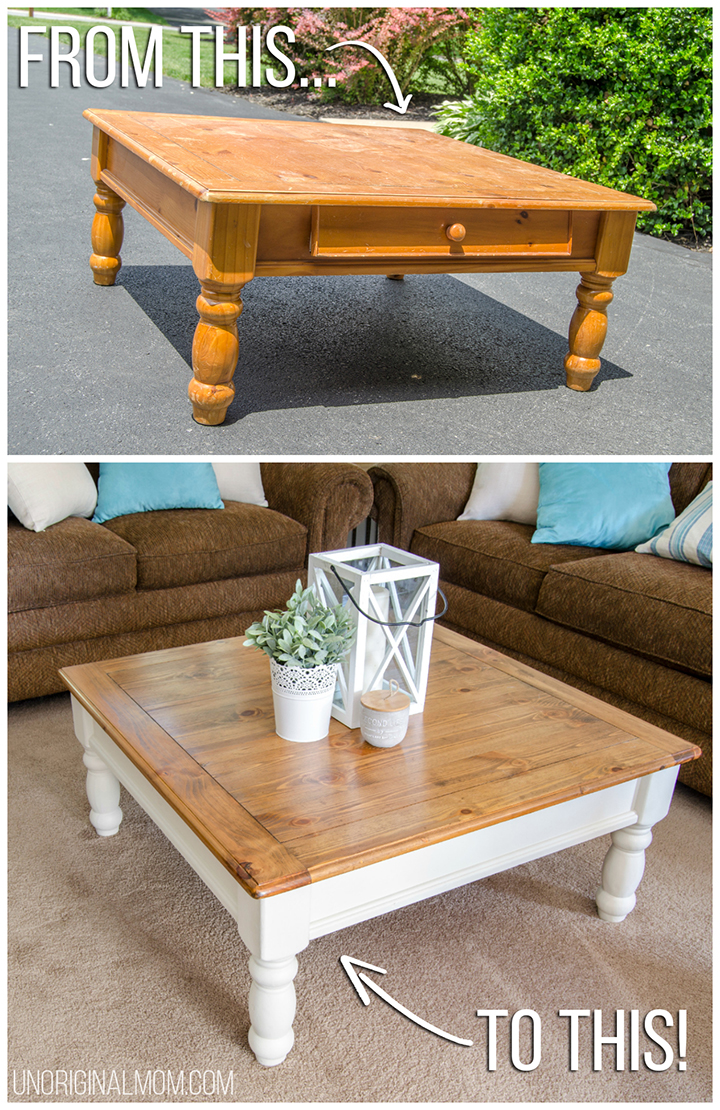 Can you believe that thing was only $10?? Never underestimate the power of paint, stain, and a little elbow grease. This farmhouse coffee table makeover was totally worth it!
If you liked this transformation, you'll love seeing how I transformed a dark wood side table into some beachy blue furniture for this space, too!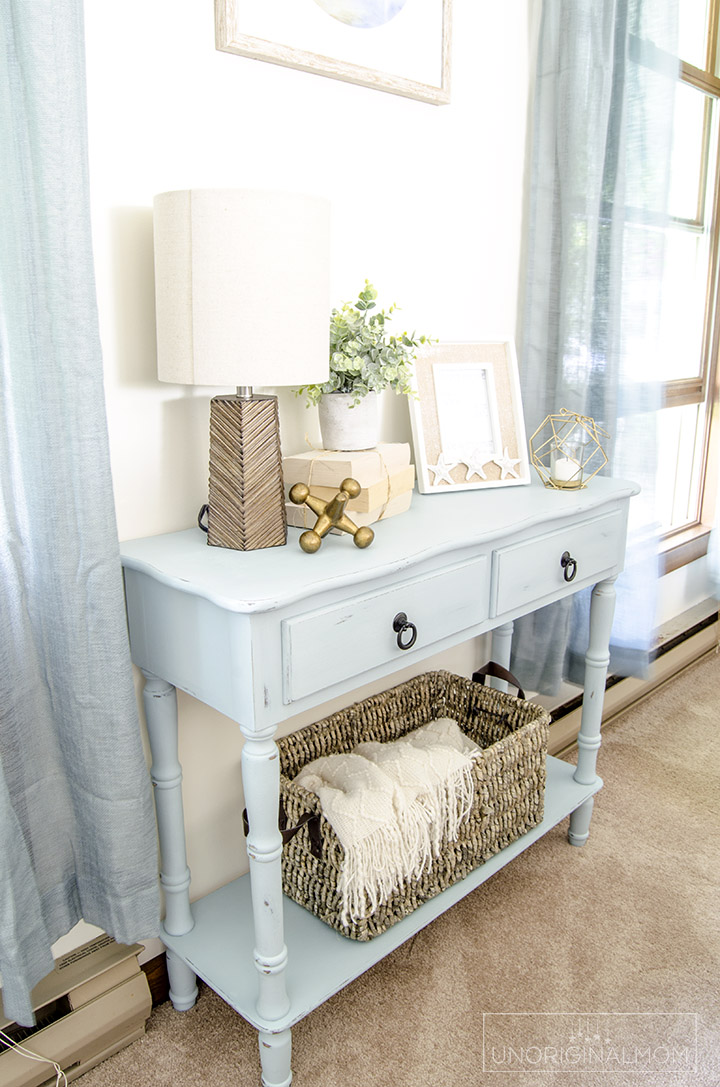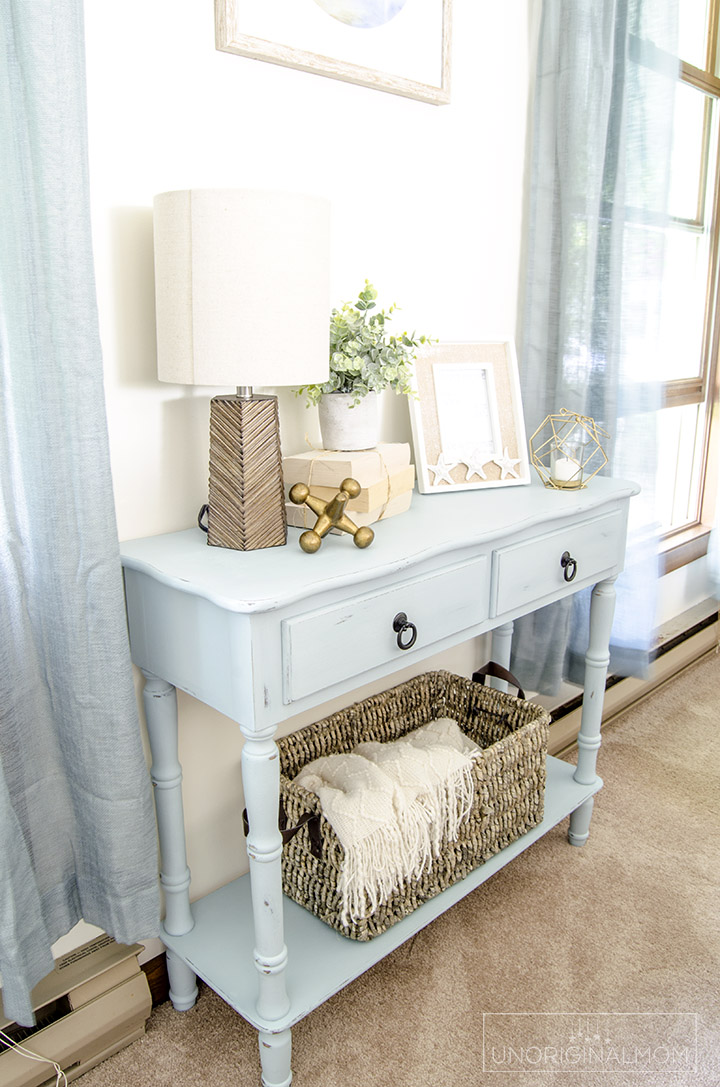 Get your copy of my FREE meal planning binder!
Sign up to get a free copy of my meal planning system - an 11 page printable meal planning binder, complete with a pantry inventory, shopping list, and more to help get on top of your menu each week!