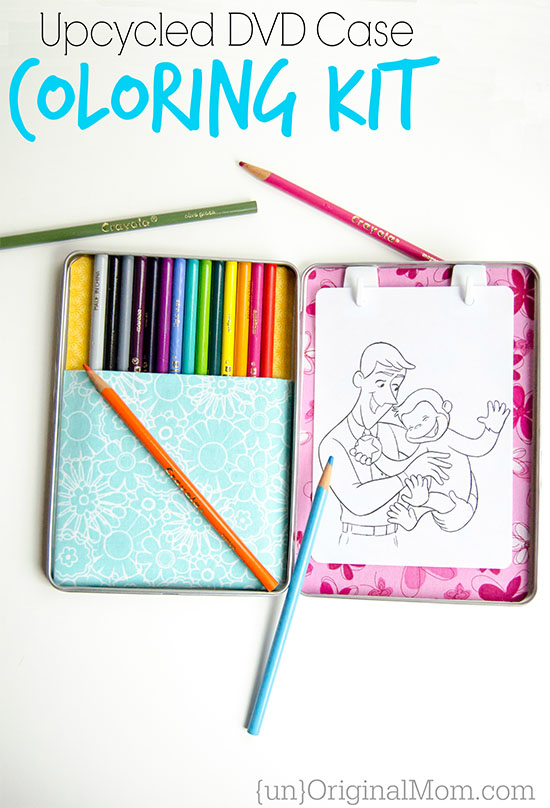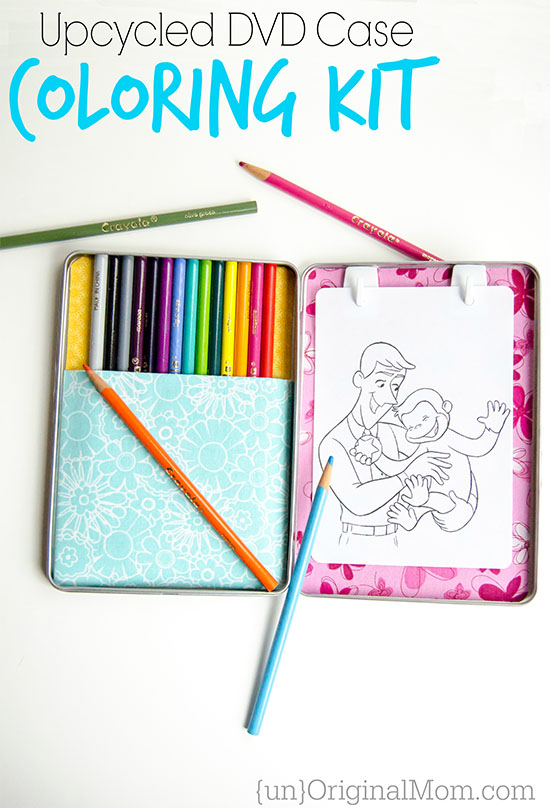 You can never have enough "quiet" activities on hand for your toddler or preschooler.  This DVD Case Coloring Kit is perfect to toss in the diaper bag to entertain your little one while you're on-the-go!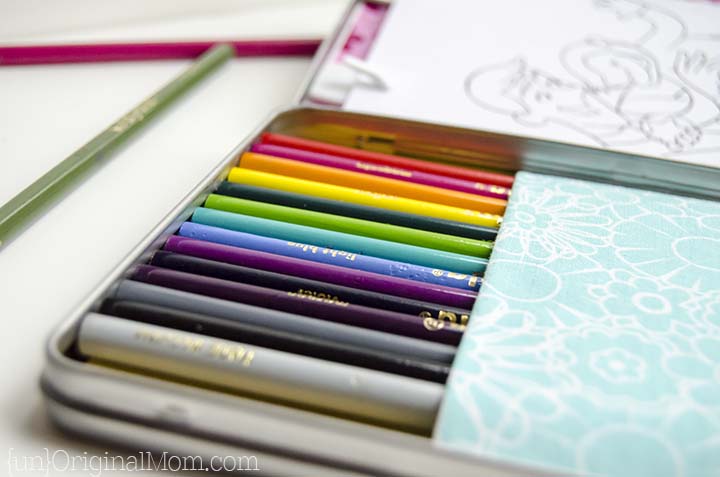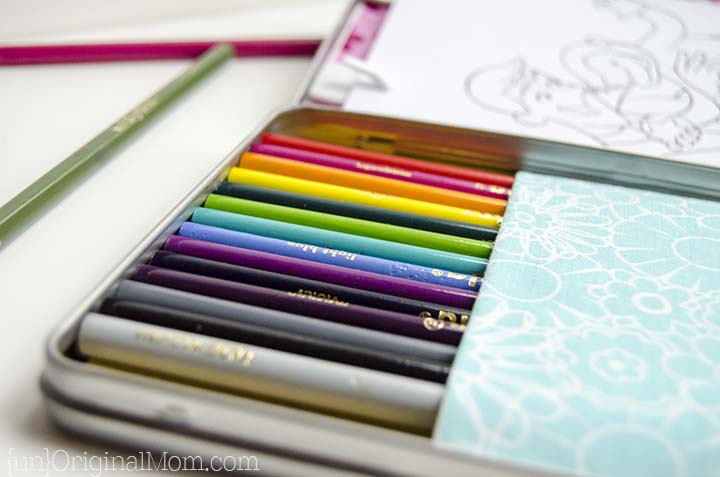 This post contains affiliate links – click here to read my full disclosure.
About 6 months ago, I made 20 of these fun Magnetic Traveling Farms for a busy bag swap out of tin DVD cases.  They were a big hit!  But I bought a box of 50 on Amazon (it was the best price I could find after endless searching – and unfortunately they're no longer available so if you find out where to order them in a decent quantity and price please leave a comment!) thinking I'd use them up eventually.  I've made a few more for gifts, but I still have a bunch of blank ones sitting in a box in the basement, waiting for more inspiration to strike.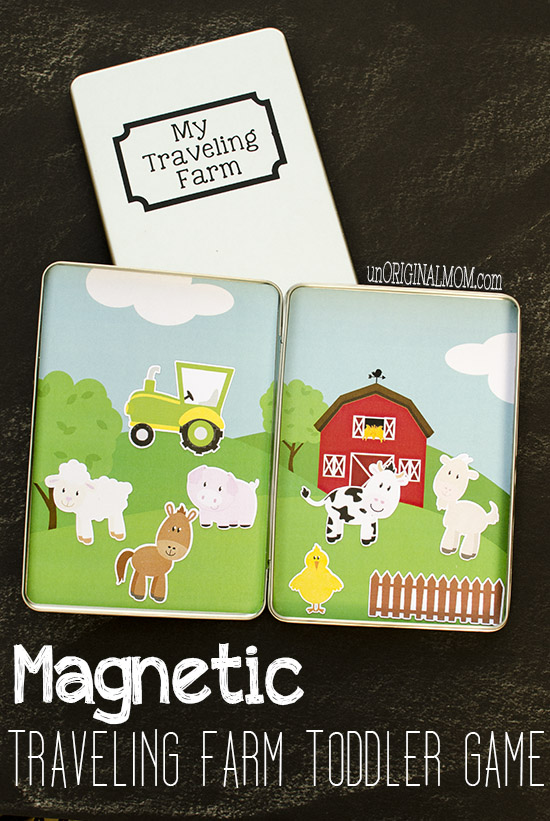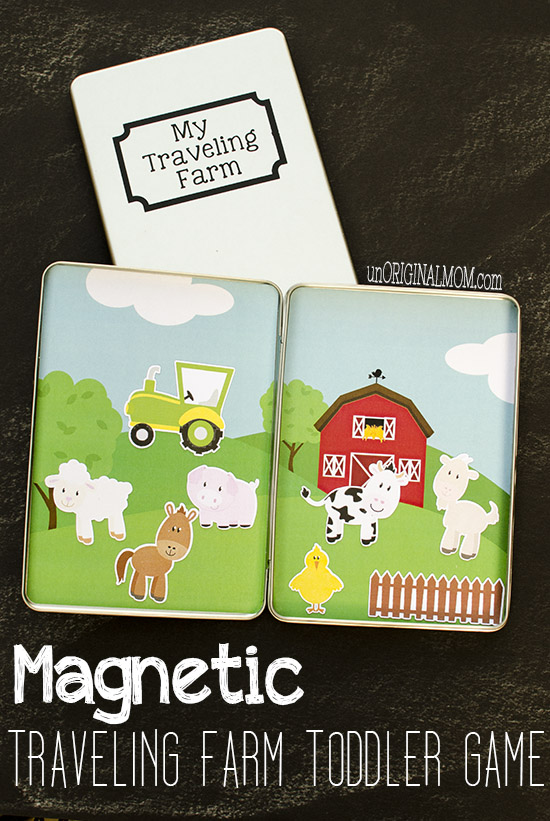 Then I bought one of these Frozen On-the-Go coloring kits for my daughter's Easter Basket, and she absolutely loved it.  The design is just so smart!  We have a few other coloring books with a top fold that keep closing on her when she's working on a page in the middle of the book, and it's so frustrating for her to hold the pages up with one hand while she colors with the other – so I thought the little hooks that hold the coloring pages in were brilliant!  That way she can pick whatever page she wants to color and put it on top, without having the rest of the pages fall down on her.  I decided I could make my own similar version of a coloring kit with a blank DVD case, and personalize it with some of her other favorite characters.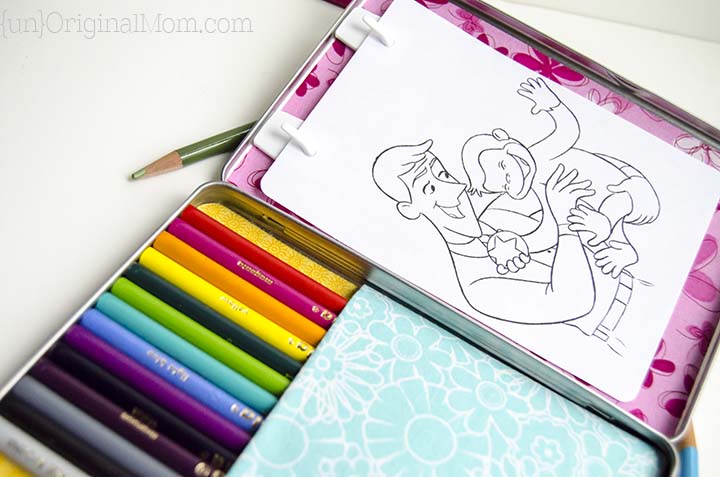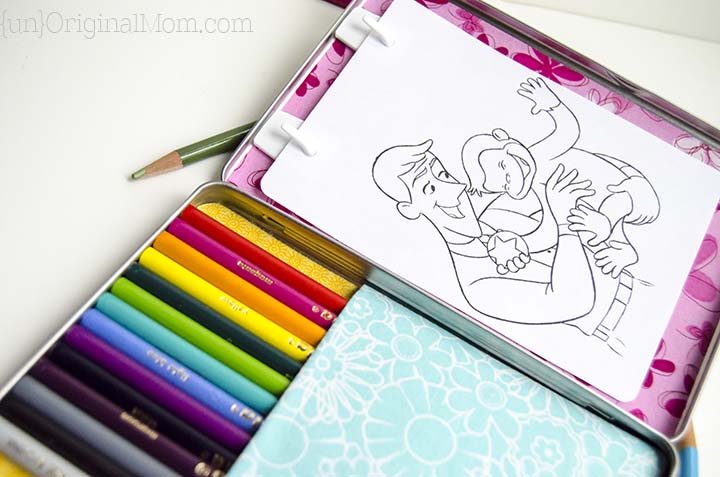 First, I found some hooks that were the perfect size – these mini 3M hooks.  I tested them to make sure the DVD case would close, and they fit!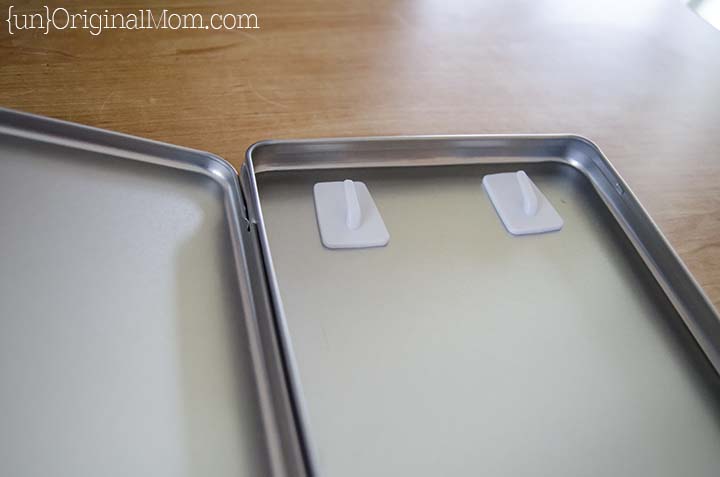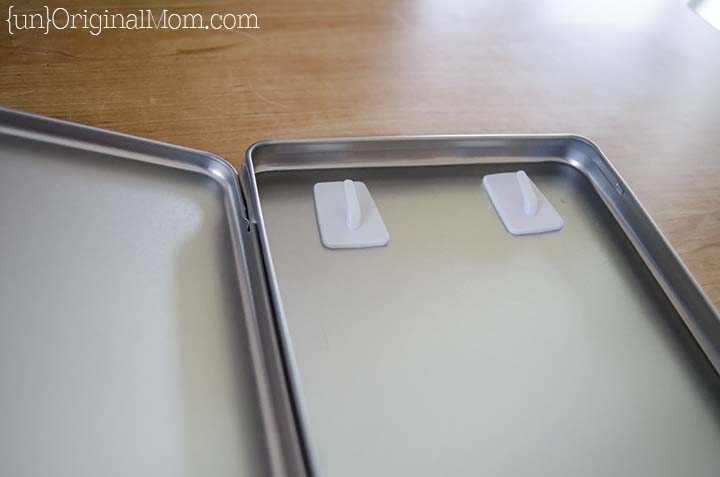 Then, I cut some fabric with my Silhouette to use as the backing for the coloring side.  That  was pretty simple.  First I created a rounded rectangle the same size as the DVD case in Silhouette Studio.  Then I picked some fabric from my stash, ironed on a piece of interfacing, peeled off the backing, and loaded it on my mat to cut.  I adhered it to the inside of the DVD case with some spray adhesive.
The colored pencil pouch was a little bit trickier, but not too difficult to figure out.  First I cut that same rounded rectangle out of chipboard.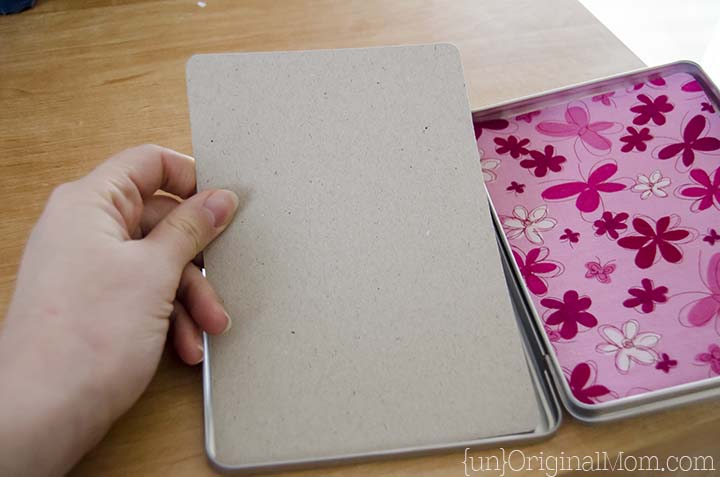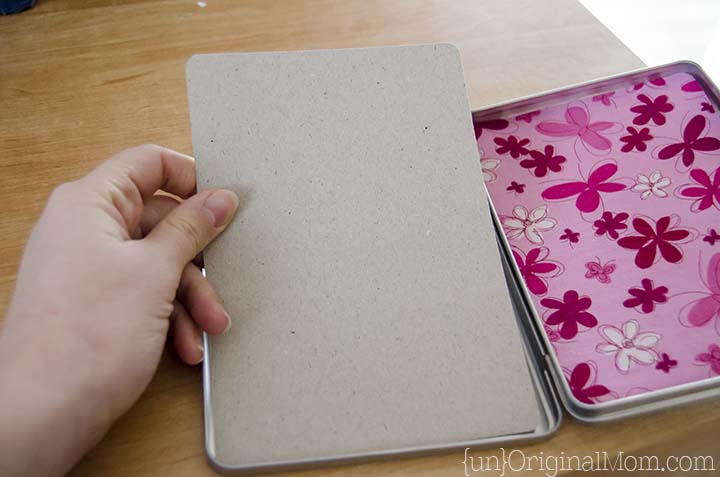 Then I used spray adhesive to attach some fabric to it and tucked the edges around the backside with some more adhesive.  The pouch was another piece of fabric I had folded in half and ironed – I actually used another piece of interfacing inside the fabric to make it a bit stiffer.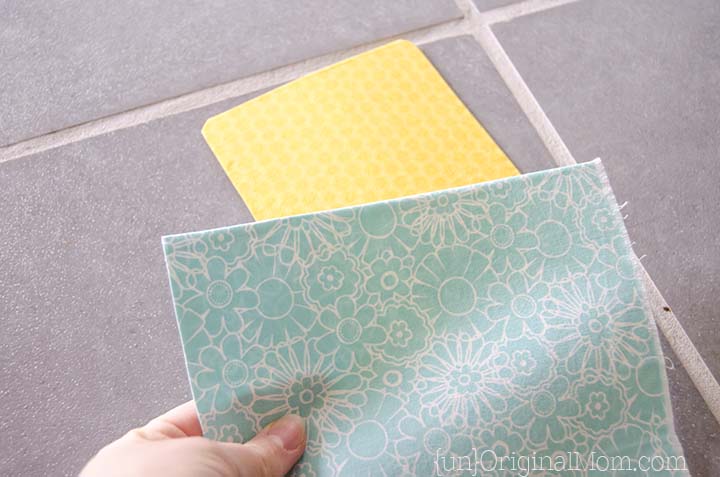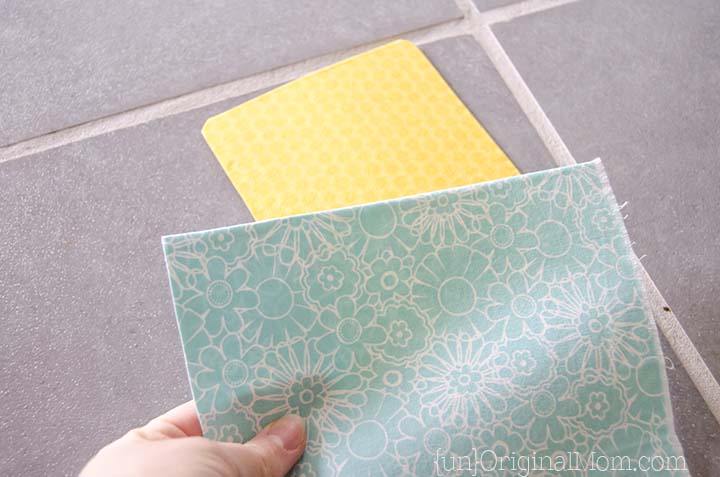 Then I folded it around the backing (with a few colored pencils tucked between the pieces to make sure they'd fit) and used spray adhesive again to attach the edges to the back.  To really secure the edges and give me a nice flat surface, I used some masking tape on the back.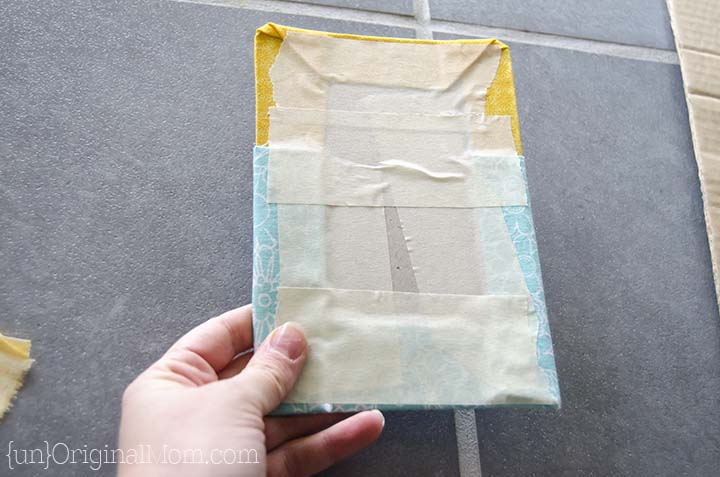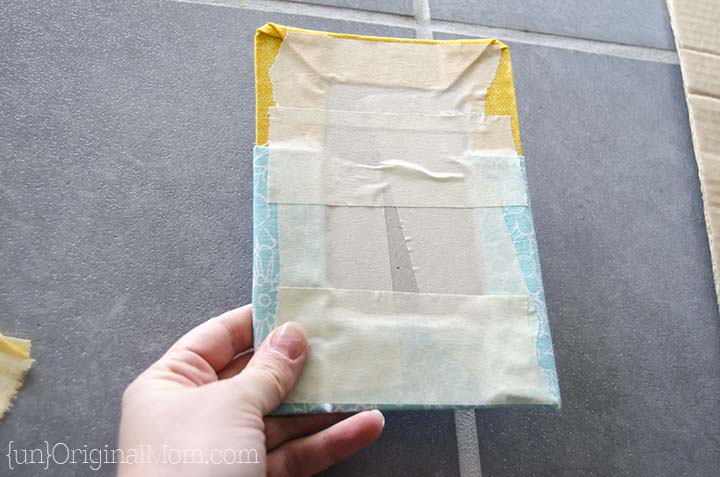 Then I used my trusty spray adhesive one last time to attach it to the inside cover of the DVD case.  (Note: double check that your pouch side and your hook side are going in the correct places…I accidentally switched them and put the hook side on the left, so it wouldn't have been able to close, but luckily I realized it within seconds and was able to peel them up and stick them again on the correct sides!!)
Here's where the Silhouette really comes in handy, but you could certainly just cut out coloring pages by hand and use a hole punch.  I used Silhouette studio to create a cut file for the coloring pages – a slightly smaller rounded rectangle with holes to line up with the hooks.  Then I just downloaded a few free cut files, opened them in Silhouette Studio, and resized them to print inside my cut lines.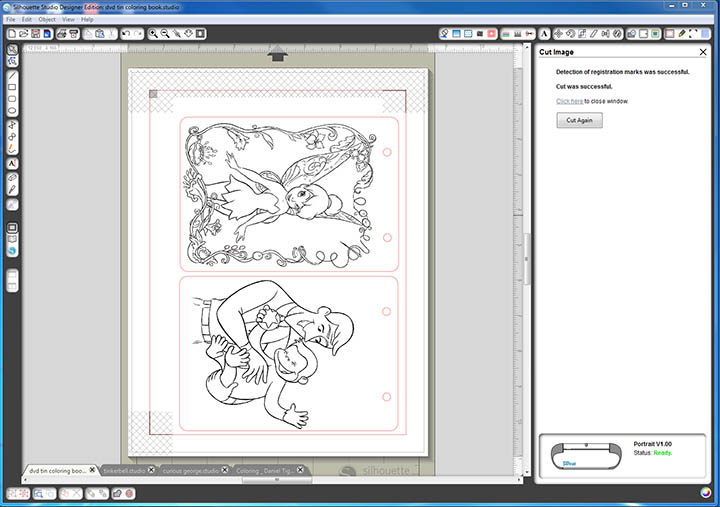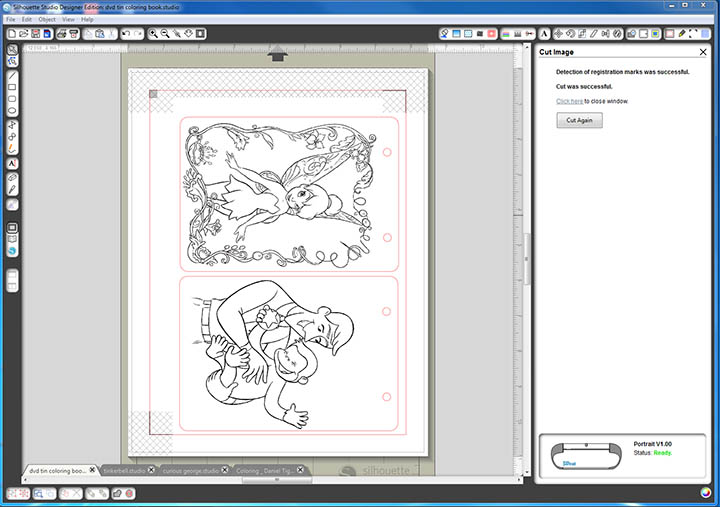 From there, it's really easy to "print and cut" the design!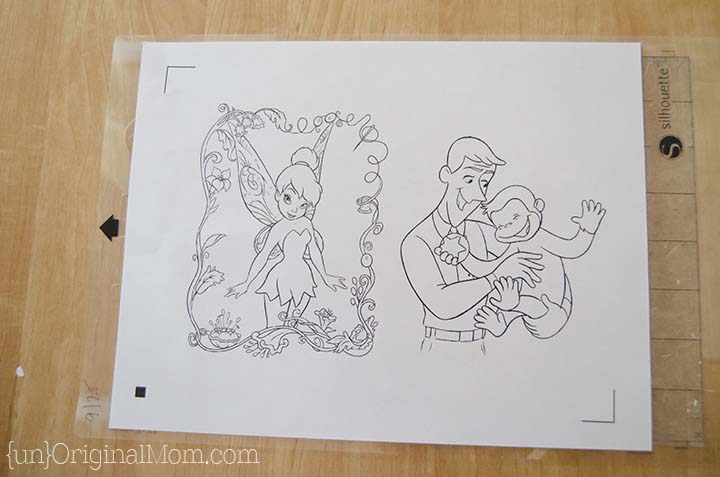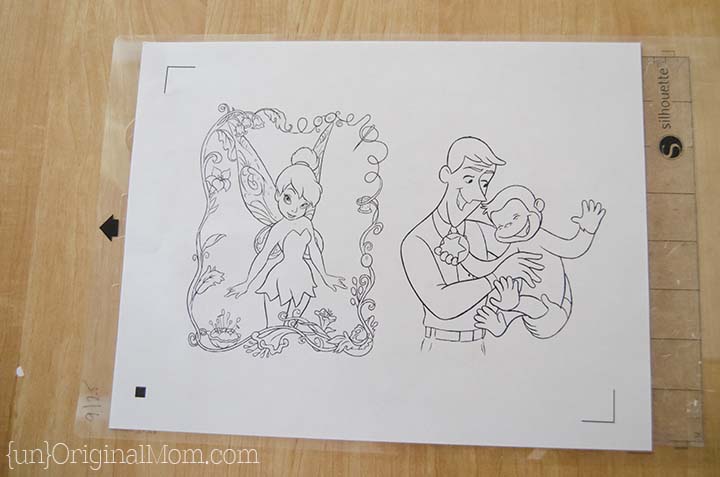 I went ahead and made several pages to get started with, but I love how easy it is to create more once they're used up – especially since it seems like my daughter has a different favorite character every week!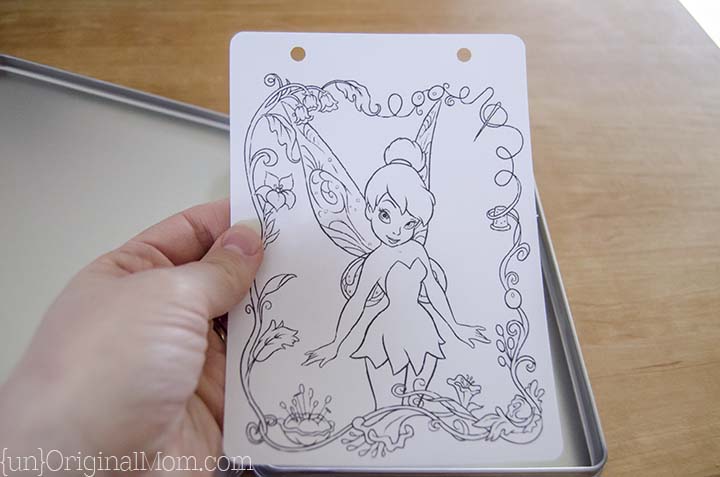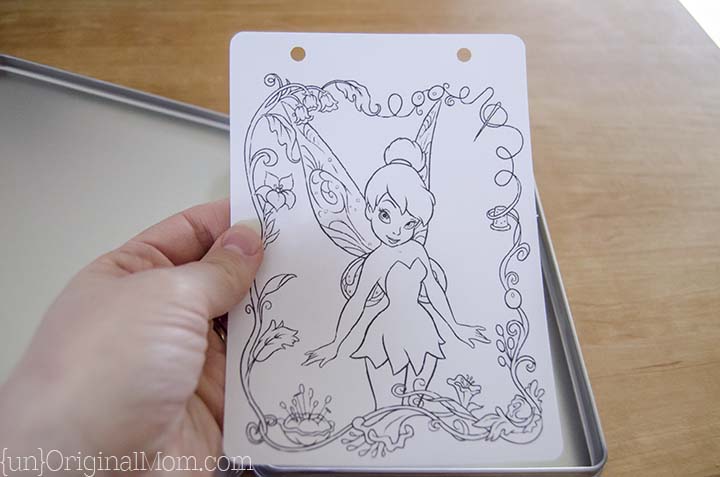 She loves it!!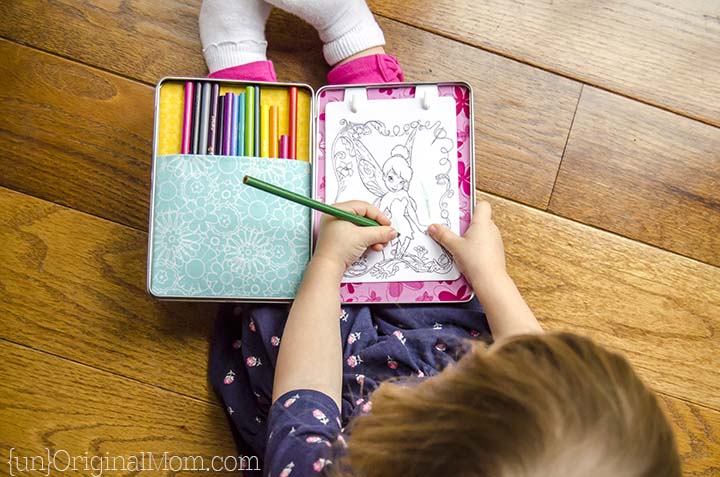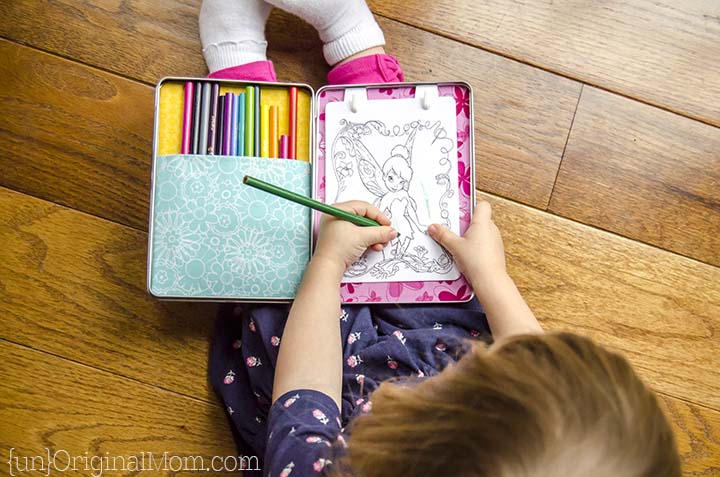 I have a feeling this will get a LOT of use around here!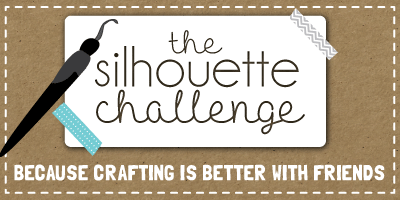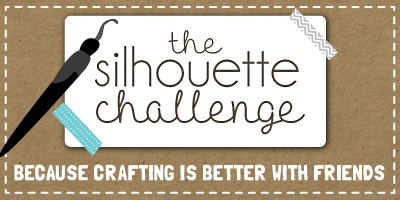 It's a small-but-mighty crew of bloggers for this month's Silhouette Challenge – and they are serving up some creative and fun kid's crafts to make with your Silhouette!  Be sure to click through them all via the collage below, or pin for later.
1. unOriginal Mom // 2. Architecture of a Mom // 3. Crafty Bonds // 4. Simply Kelly Designs // 5. Weekend Craft // 6. Cutesy Crafts // 7. DIYJustCuz // 8. My Paper Craze // 9. Where The Smiles Have Been // 10. From Whine to Whine
I've still got a few DVD tins left…any other inspired ideas on what I can do with them?
This post contains affiliate links – click here to read my full disclosure.


Get your copy of my FREE meal planning binder!
Sign up to get a free copy of my meal planning system - an 11 page printable meal planning binder, complete with a pantry inventory, shopping list, and more to help get on top of your menu each week!