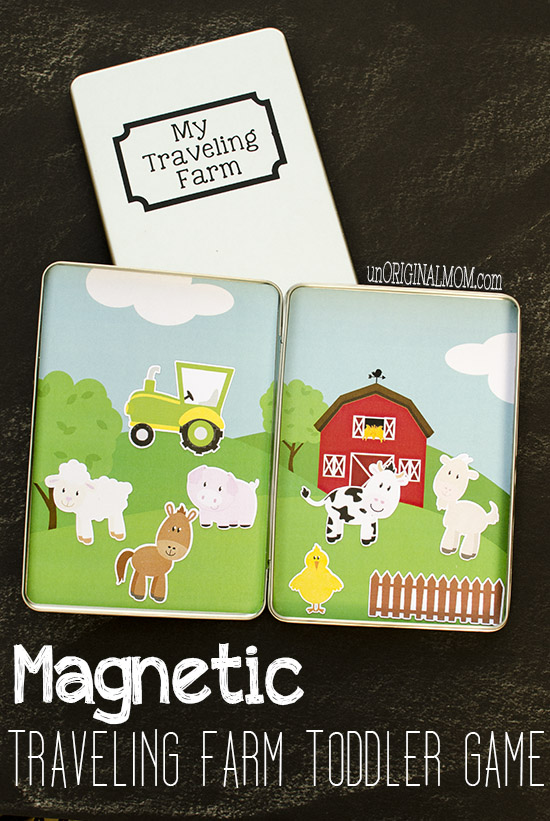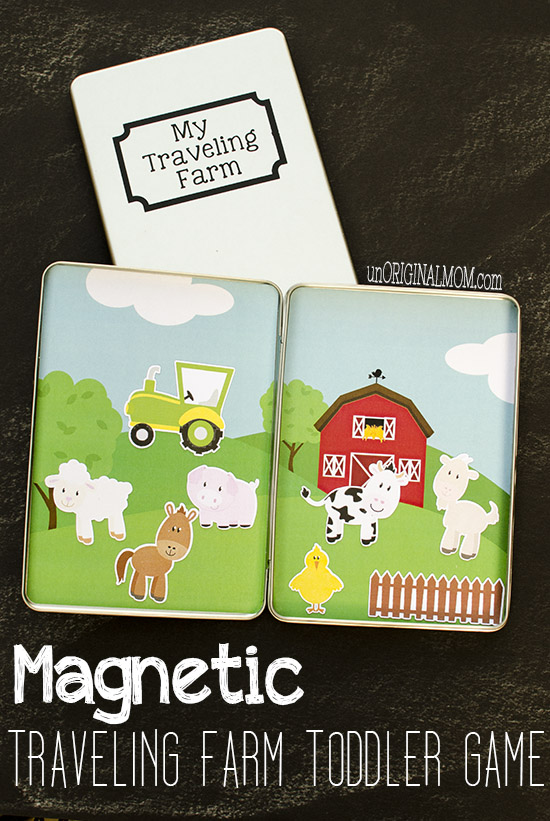 I recently participated in a "Toddler Busy Bag Exchange" with 19 other local moms…we got together in a Facebook group and each signed up to make 20 identical busy bags by ourselves, then got together and exchanged bags to take home a bounty of 20 different busy bags for our kiddo!  (I photographed each bag I received and compiled them all into a blog post on it's own HERE!)
This post contains affiliate links – click here to read my full disclosure.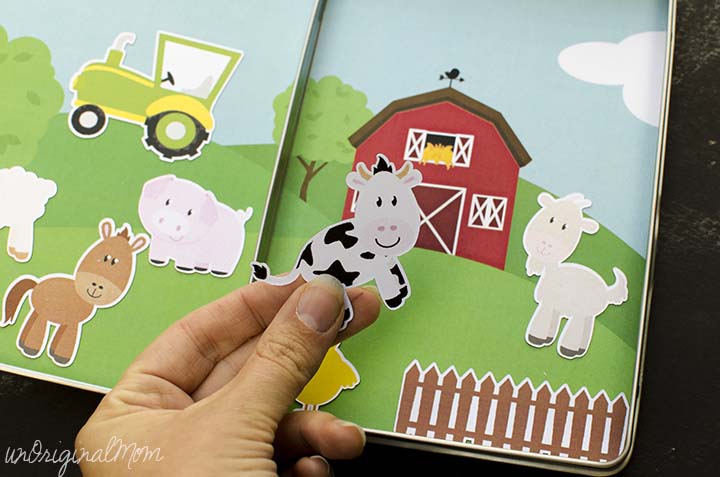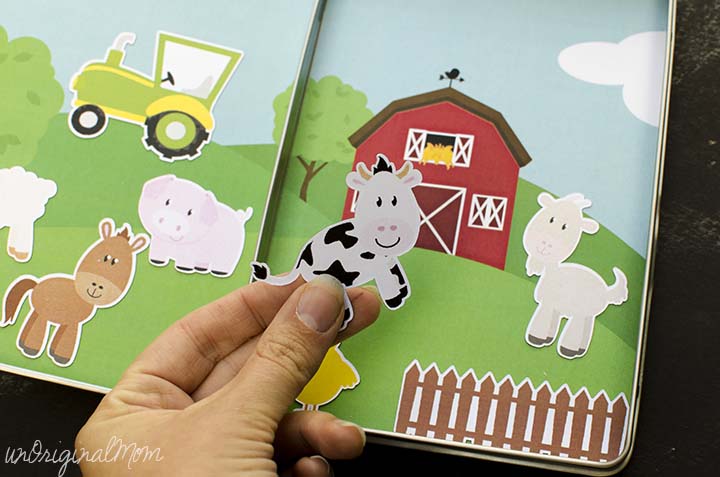 My contribution for our Toddler Busy Bag Exchange were these Magnetic Farms Toddler Activity Books, using printable magnetic sheets of paper, my Silhouette, and DVD tins.  I was inspired by some magnet boards (like this one) I had seen on Pinterest, but A) purchasing 20 small cookie sheets for the exchange was going to be cost prohibitive, and B) I wanted something that was a little more self contained (like this one).  So I began searching the internet for something magnetic that was "close-able" and under $2 each.  That took a while.  Eventually I stumbled upon tin CD cases, which I thought would be a little too small for what I wanted, but realized that DVD cases would be the perfect size!  Of course, then I couldn't find those at a reasonable price for the number I needed…but I was so excited about the idea that when I found a bulk order for 50 cases on Amazon that came out to under $2 per case, I decided to spring for them.  (Unfortunately they're no longer available on Amazon, sorry!) My plan is to make more of these magnetic traveling farms to sell locally and give some away as gifts to other kiddos as birthdays and Christmas rolls around.
So after I had the project all planned out, in my process of scouring the internet for DVD tins I happened upon this post from A Crafty B and discovered my "original" idea wasn't so original after all!  There's truly nothing new under the sun, is there?  Ah well.  So if you are looking for another variation of these magnetic farm toddler activities, be sure to hop over and see a different take on the same idea (along with an "ocean" themed tin as well!)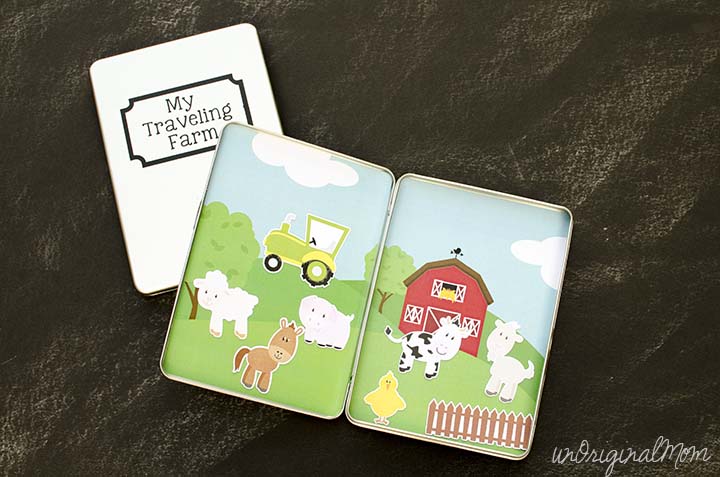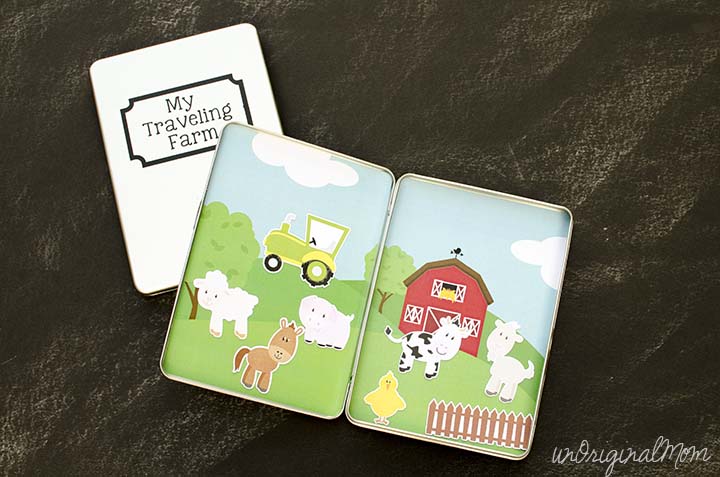 Ok, now for the "how-to" if you're looking to make your own.  I bought two packages of Avery Printable Magnetic Paper from Amazon.  Silhouette also makes Printable Magnetic Paper that is great, but I had procrastinated (as usual!) and needed to take advantage of our Amazon Prime 2-day shipping :-)
UPDATE: I've made some more of these farms for gifts and used Silhouette Adhesive Magnet Sheets, and it worked wonderfully!  I actually got my animals printed at a copy shop on high-gloss paper and then adhered the whole paper to the magnet sheets before cutting – this way the animal magnets are shiny and a even bit more durable than the printable magnetic paper sheets.
I found this farm animal clip art on Etsy for just $6 and knew that the animals and the background would be perfect for my little magnetic traveling farm.  The tracing process was a little bit tricky for some of the animals with lighter colors…so I took the images into Photoshop and filled them with black first, traced the filled images in Silhouette Studio to get the cut outline, and then pasted in the original animal shape.  Finally, I used the offset tool to get a cut line a little bit larger than the animal itself to allow for a bit of forgiveness if the print and cut was slightly off.  After a bit of maneuvering, I was able to get two full sets of animals on each paper, so the design looked like this: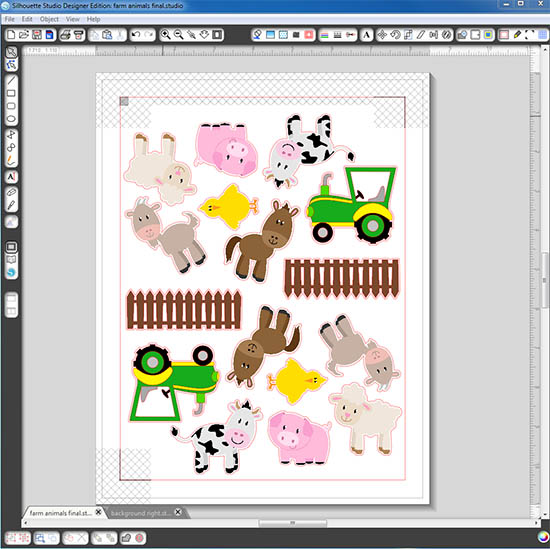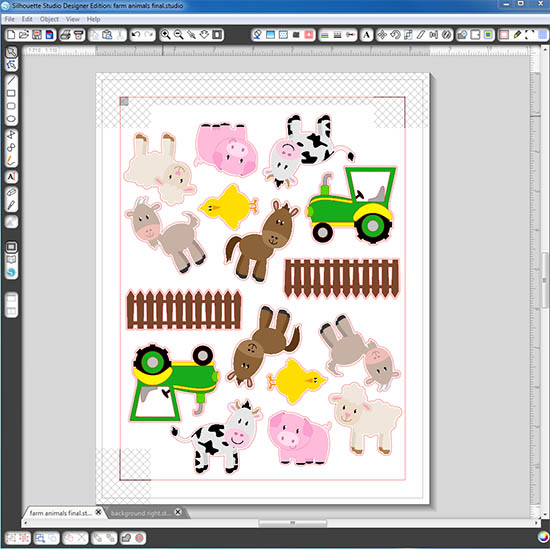 I "printed" my Studio file to PDF (see this post for a tutorial on printing to PDF from Silhouette Studio) so I was able to have my color prints done elsewhere.  Then, using the recommended cut settings in the Silhouette Studio software, I cut out 10 sheets of magnets!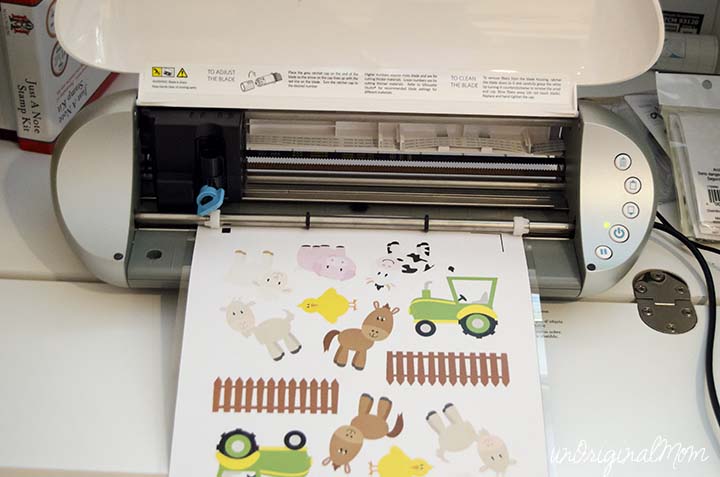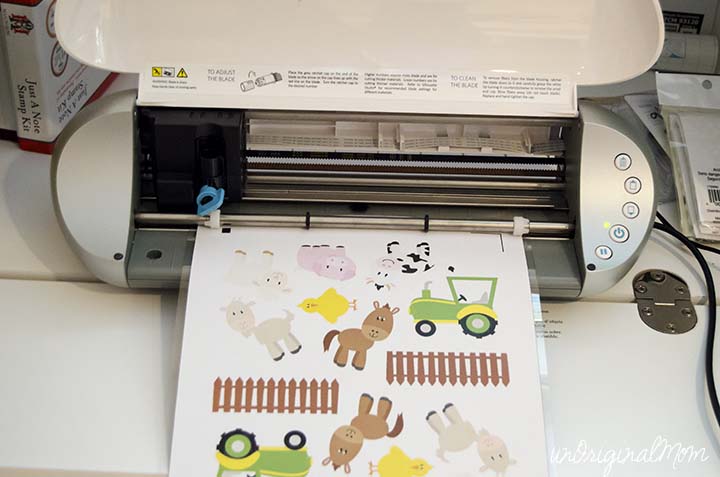 I found it best to use a really sticky mat, then once it's cut, peel up the excess magnet paper first so you're left with just the animal shapes on the mat.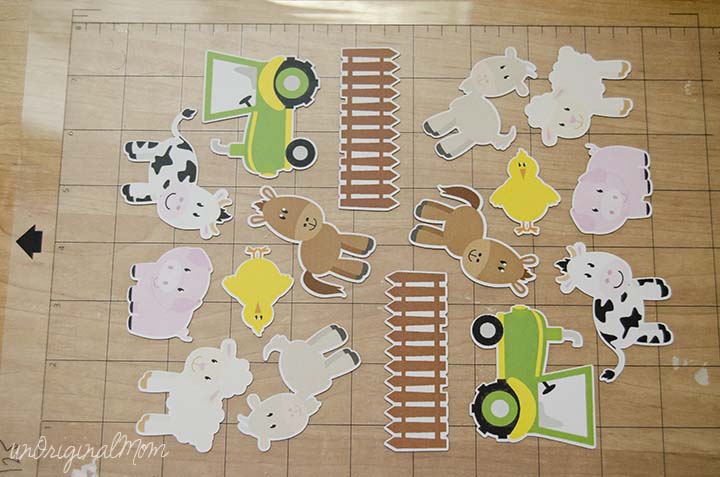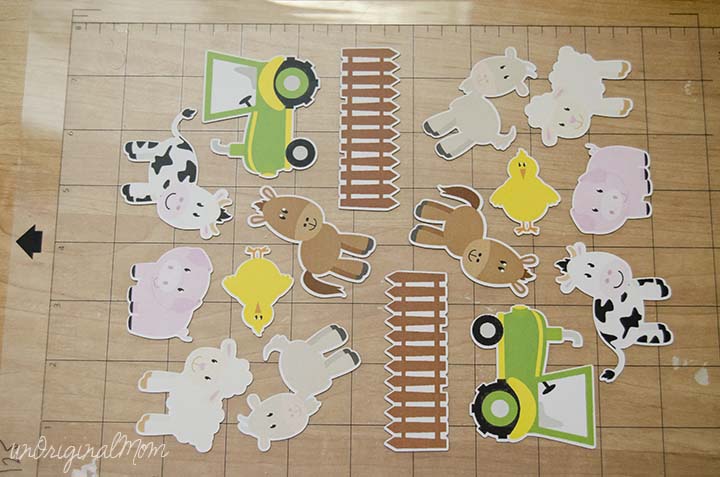 Then, turn the mat over and peel the mat away from the shapes rather than the other way around…that prevents you from accidentally decapitating an animal or losing a tail, since the magnet paper can rip easily on the super-sticky mat.  I found that cutting magnet paper really does a number on your blade, so I wouldn't use a new blade for this.
I used Photoshop to crop the background into right and left pieces that would fit inside the dvd tin, then created a print and cut file for them as well, making the image slightly larger than the rounded rectangle cut shape.  In hindsight, I could have just printed them 2 to a page sideways and used a paper trimmer and a rounded-corner paper punch to conserve paper (and not have to cut 40 of them individually with the Silhouette!) but they still turned out great.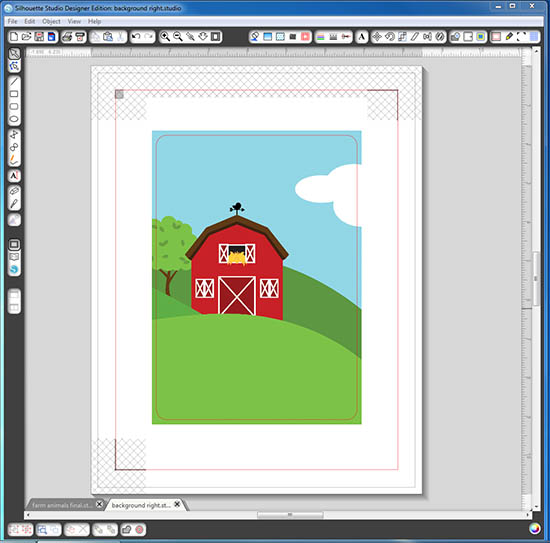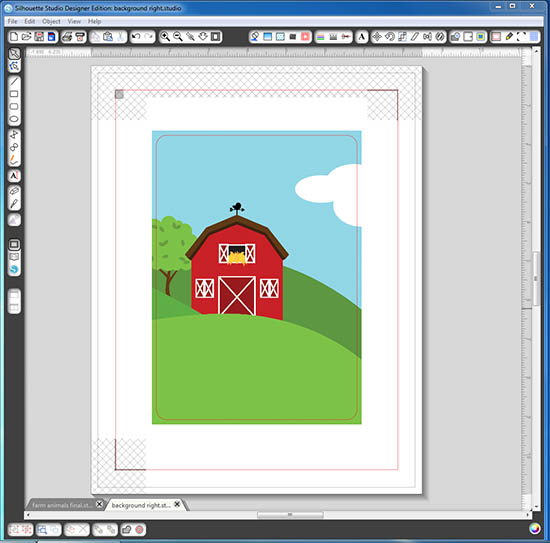 The backgrounds are just printed on plain white copy paper.  I used spray adhesive and my Silhouette scraper tool to attach them inside each tin.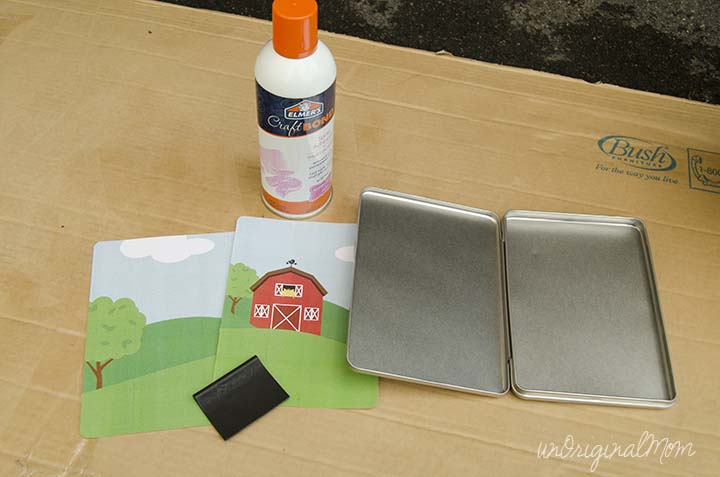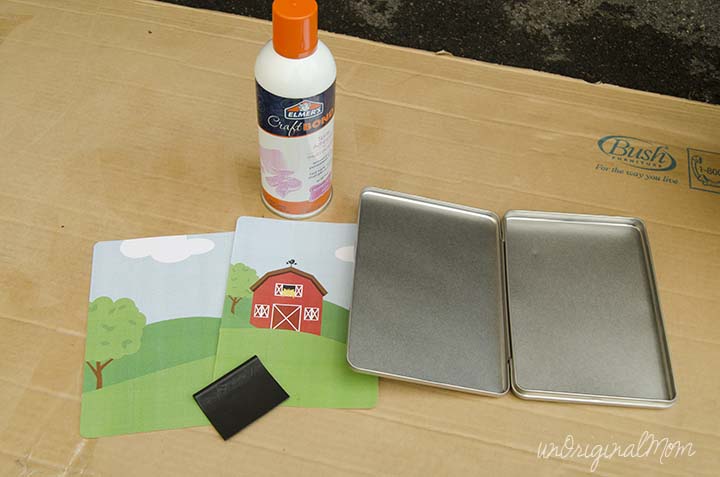 Finally, I created a simple label design and cut it out of vinyl to adhere to the front of each tin!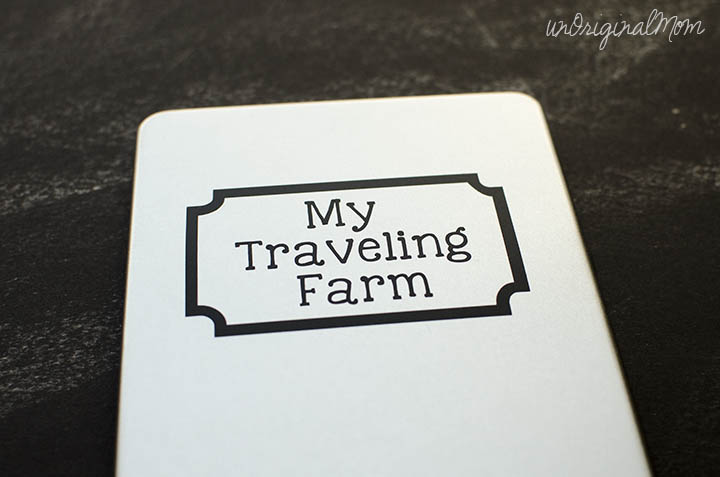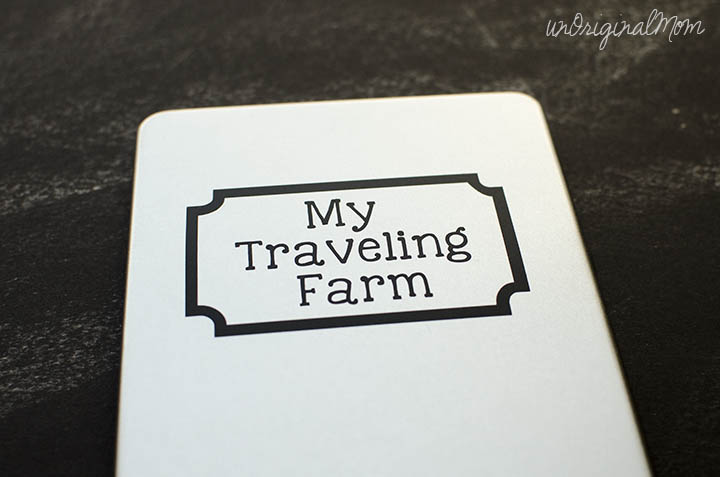 Of course, I personalized Addy's :-)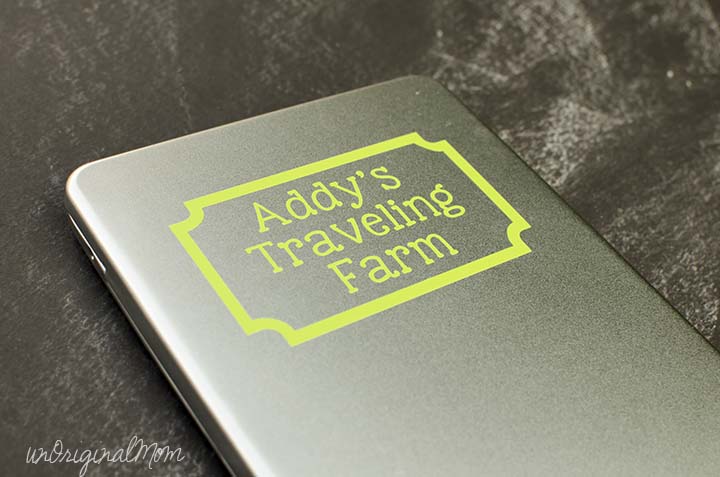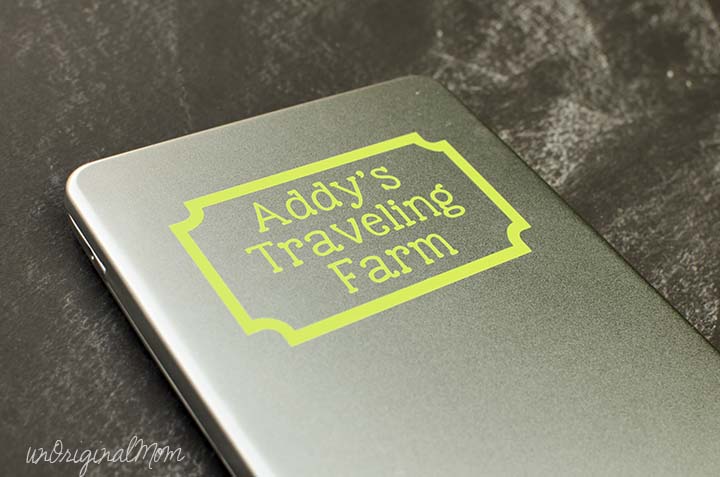 Aaaaand they're done…all 20 of them!  Beyond the designing process, the assembly really wasn't difficult at all – just a little time consuming.  But considering I will be getting 20 unique toddler busy bags in exchange for these, it's totally worth it!
Of course, now my wheels are turning…I think these DVD tins have so many possibilities! Under-the-sea, zoo animals, build-a-monster, letters & numbers, a seasons tree, dress-a-doll, build a snowman, decorate a Christmas tree, fill an Easter basket…you may be seeing a few more variations on this magnetic activity case in the future!
And honestly, you don't even need a Silhouette to make something like this!  You can print your own background and cut it out by hand, and then buy some small animal magnets like these to fill up your case!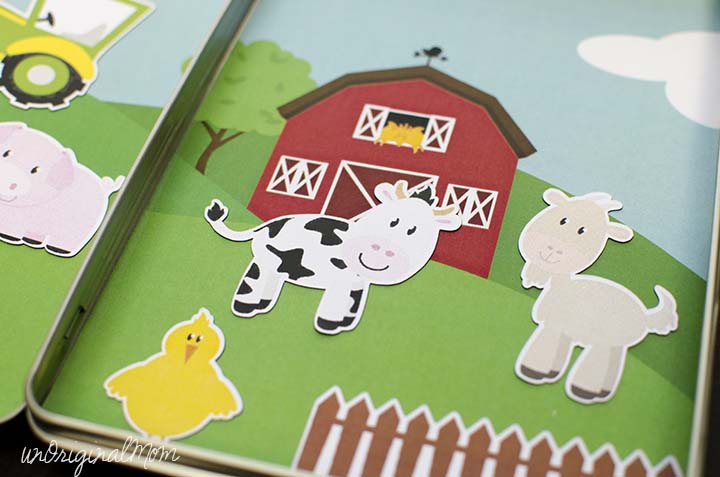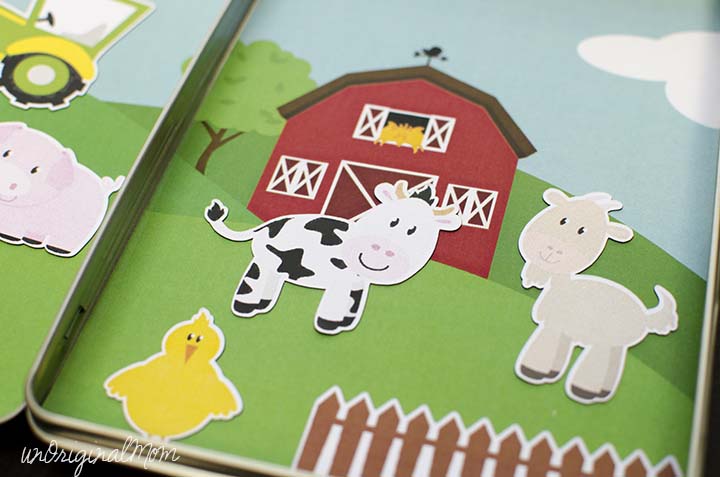 Be sure to stop by again next week for a post about the entire Toddler Busy Bag Exchange – I can't wait to show you the other 19 bags I brought home!  (UPDATE – you can view that post HERE!)
Like this project?  Come see another fun idea I had for these DVD tins – a DVD Case Coloring Kit!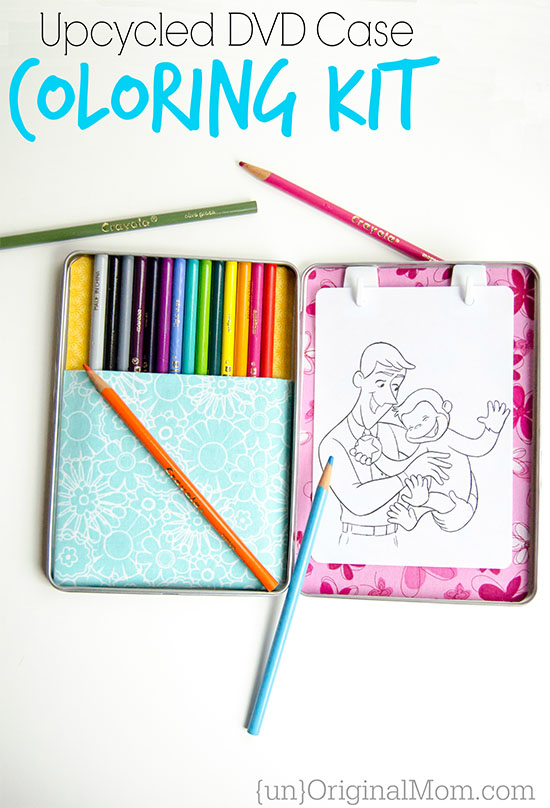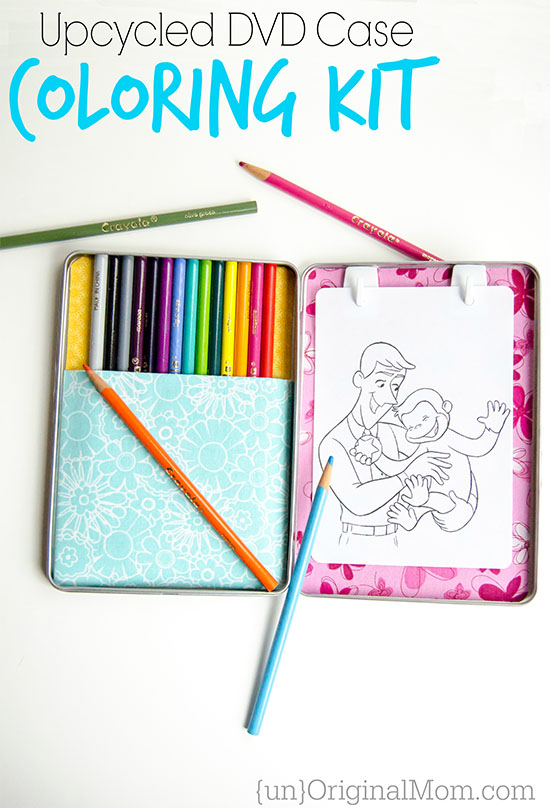 This post contains affiliate links – click here to read my full disclosure.


Get your copy of my FREE meal planning binder!
Sign up to get a free copy of my meal planning system - an 11 page printable meal planning binder, complete with a pantry inventory, shopping list, and more to help get on top of your menu each week!