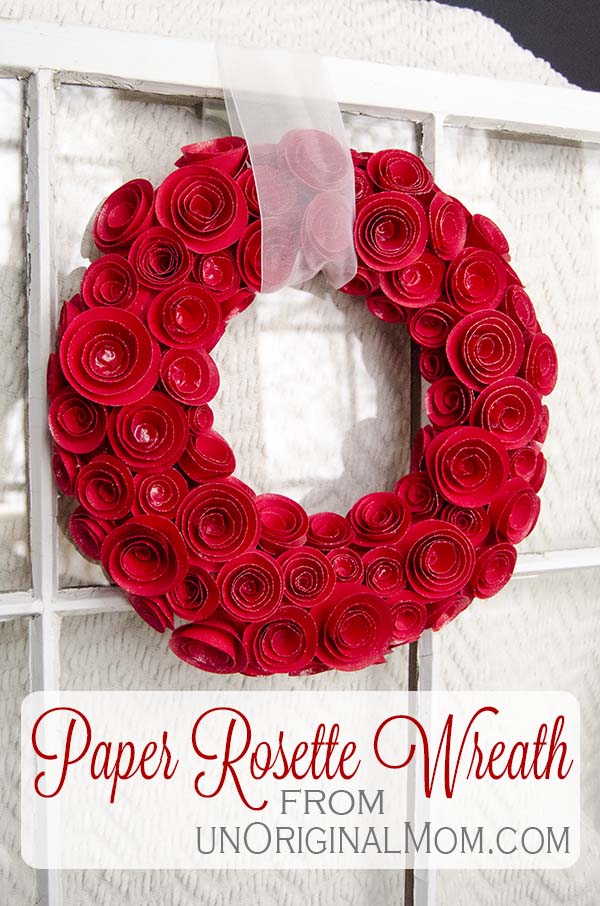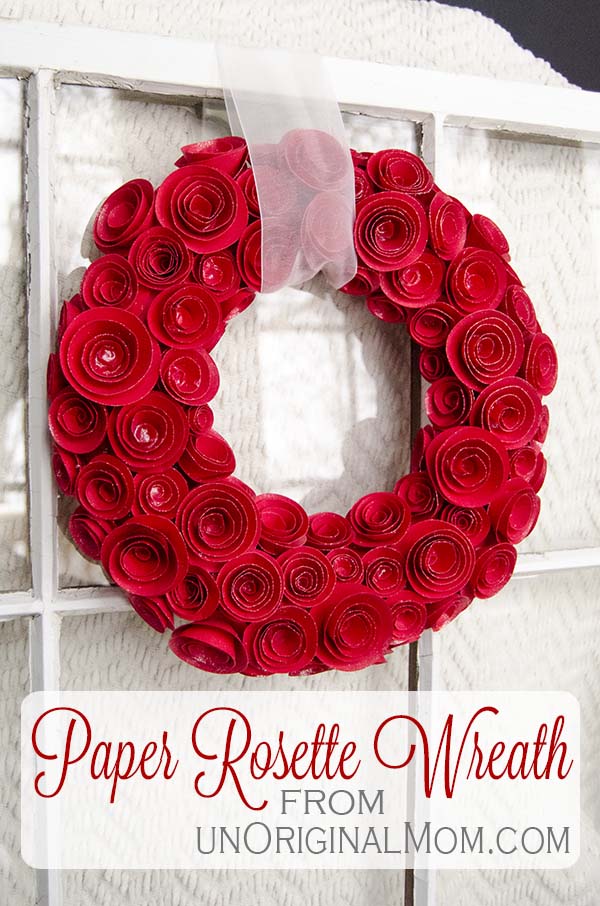 This idea was completely and 100% inspired by this breathtakingly beautiful wreath created by I'm a Yarner.  She's got a great step-by-step tutorial on how to make a wreath like this completely by hand, so be sure to stop on over and check it out!
I've made felt rosettes before, but never tried paper…and I knew I certainly didn't have the patience (or time!) to cut out all those rosettes by hand!  Now, if only there was a machine that would cut all that paper for me… ;-)
You guessed it, I used my trusty Silhouette Portrait to cut out over a hundred paper rosettes for my wreath!  There are several designs in the Silhouette Store that you could use, but since it was such a simple design, I made my own cut file.  Would you like to have it?  Here you go!
Fine print:  This design is for personal use only.  I'd love for you to follow me via Facebook, Pinterest, or Twitter in exchange for the download…of course, it's not mandatory, but very much appreciated!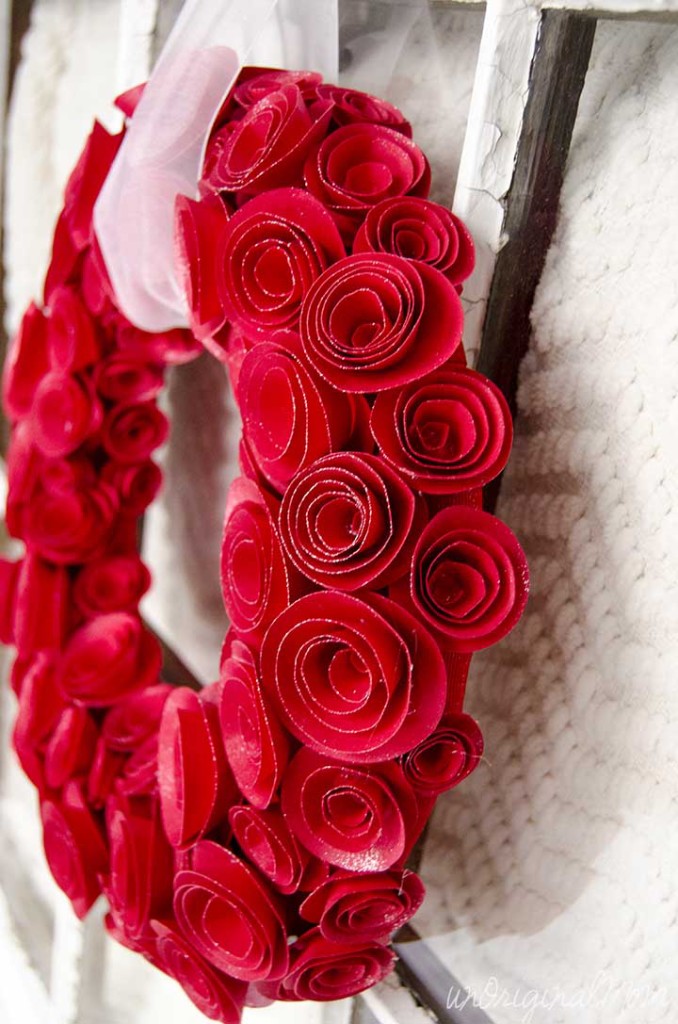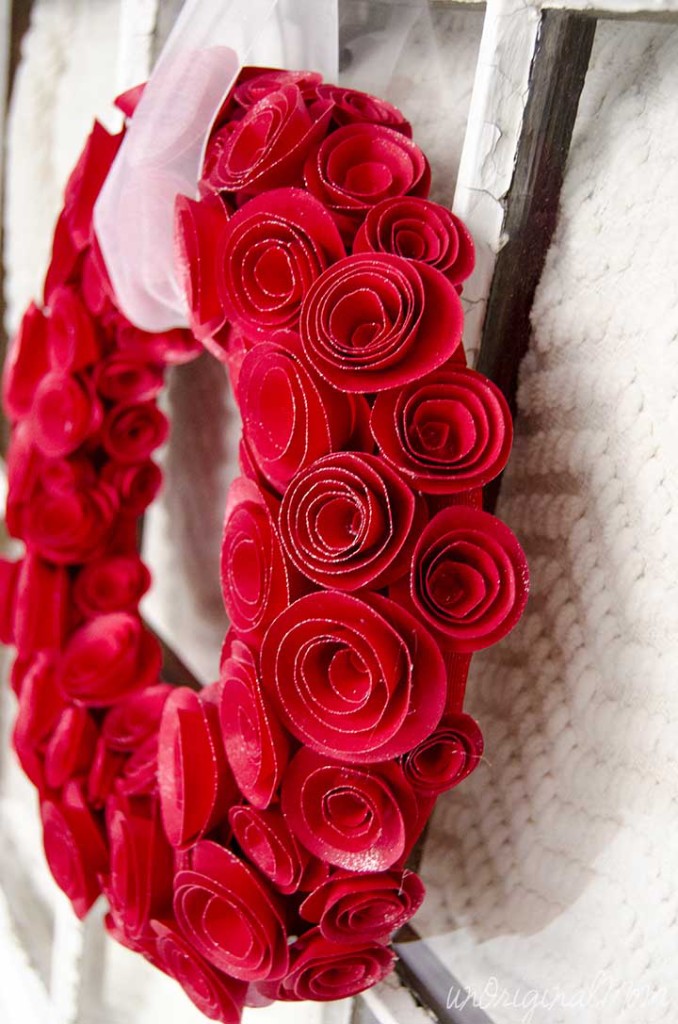 You can visit I'm a Yarner for the full tutorial on how to assemble your roses once they're cut, but here's a quick photo-tut for you: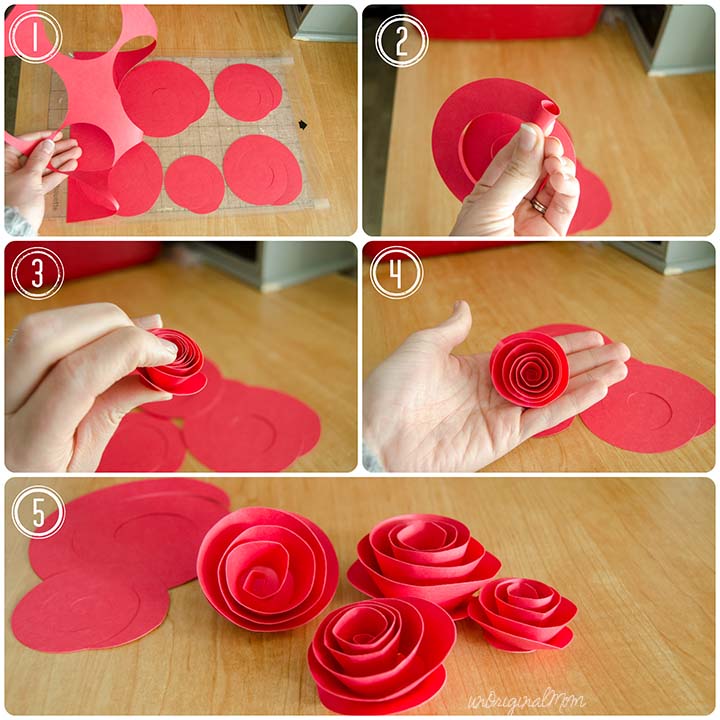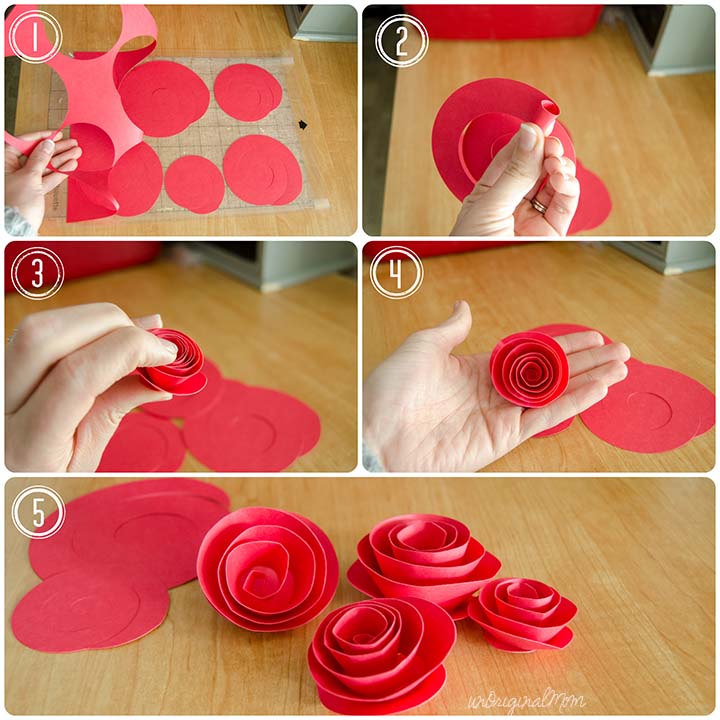 By re-sizing the file, I created several different sizes of rosettes to work with.  I used about 16 or 17 pieces of card stock to create this many rosettes: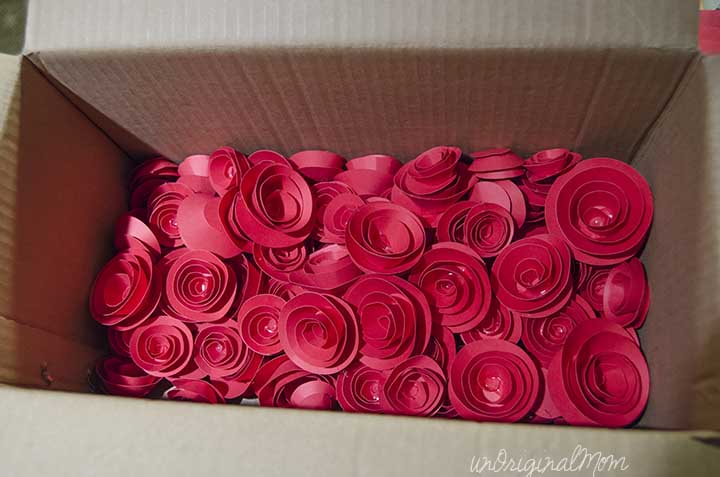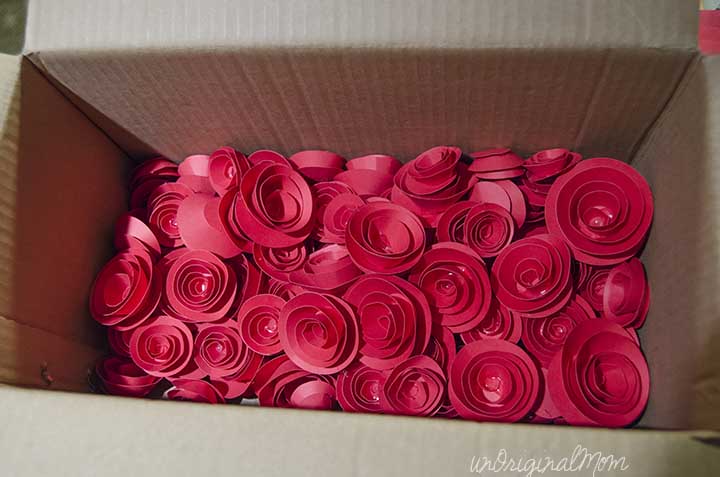 (Sorry, I didn't count them…and I didn't always cut 6 to a sheet like in the photo above…but I'd guess there are about 120ish there, and I used almost every one of them!)
Yes, it was a bit time consuming to create all the rosettes, but since the Silhouette did all the work to cut them, I just had to roll them up and glue them together.  You can roll a bunch at one time and glue them later (even the next day, if you want), so I spent an episode of Downtown Abbey just rolling rosettes :-)
I used a 12″ foam wreath wrapped in red ribbon as my base.  I'm SO glad I decided to wrap it in ribbon first so I didn't have to worry about bits of the white styrofoam showing through.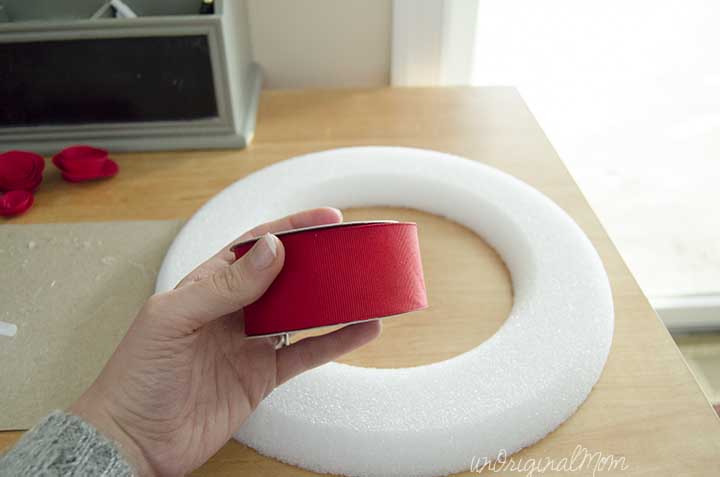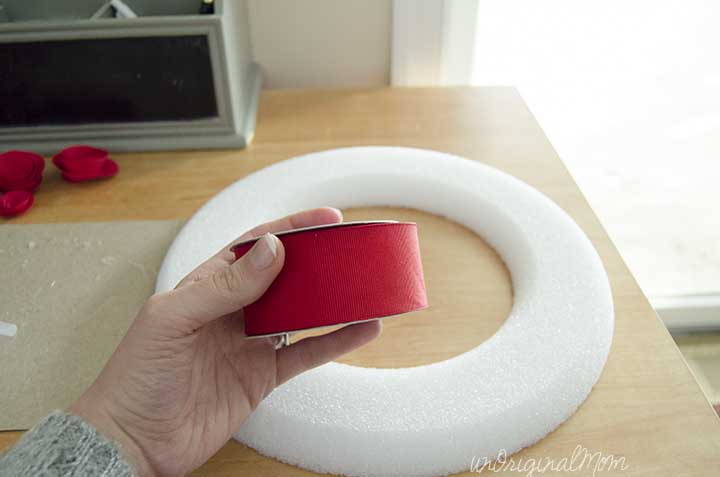 There wasn't much rhyme or reason to gluing on the rosettes…it was just like putting together a puzzle, trying a bunch of different pieces until you find the one that fits perfectly!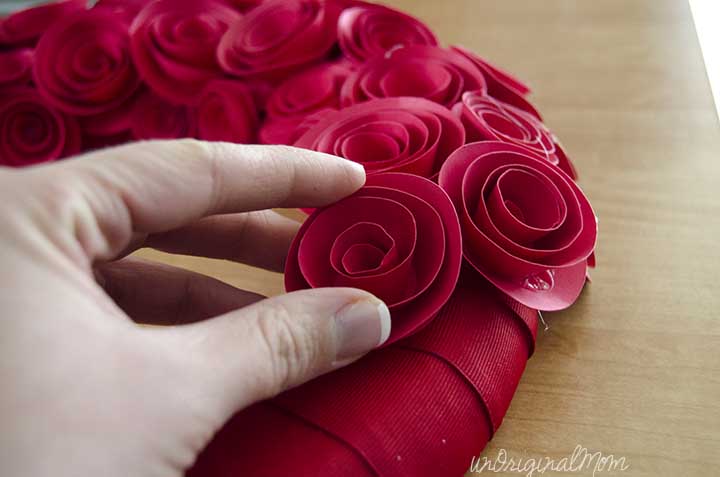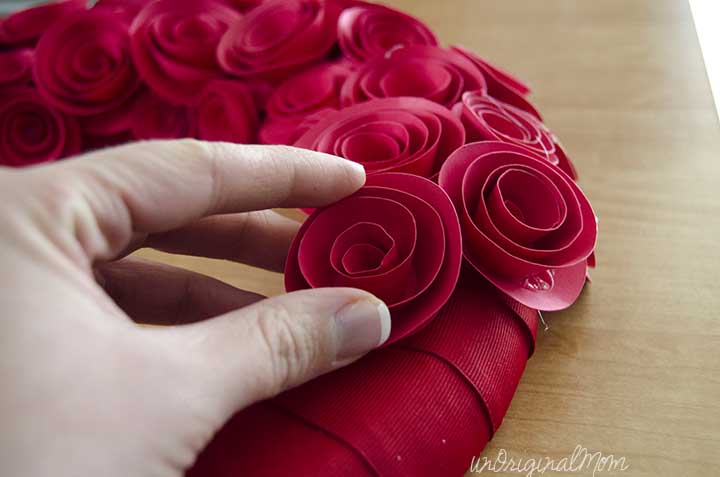 I didn't try to roll my rosettes super tightly, just for sake of time and sanity.  I do like the look of the tightly rolled rosettes, but it probably would have taken twice as many to cover my wreath and I simply didn't have the patience for that.  Because of that, you could see the hot glue in the center of my rosettes after they were assembled, which I wasn't a huge fan of…not to worry, though, I found the PERFECT solution!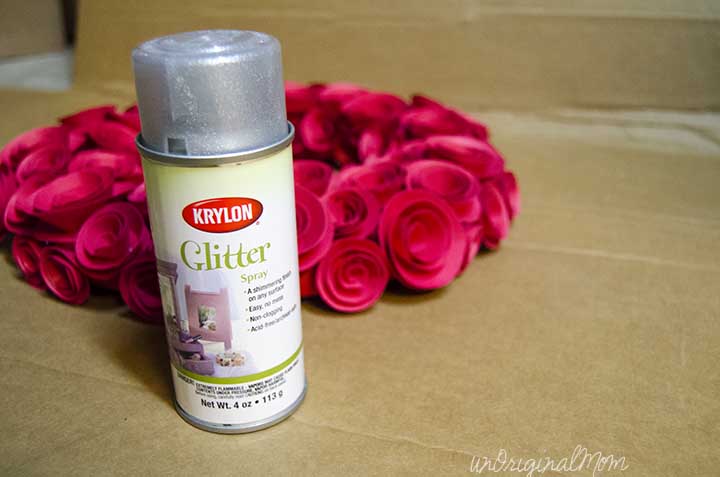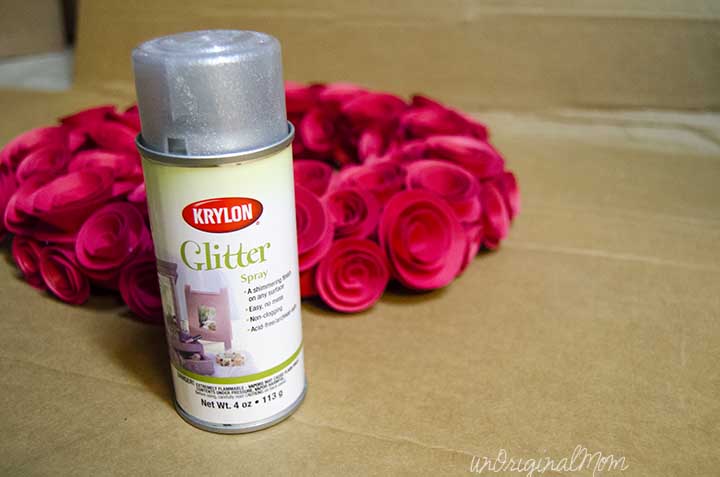 Glitter spray! This is the first time I've tried it, and I am in LOVE.  It's basically just like a can of spray paint, only it's glitter!  It added the perfect layer of sparkle without looking overly glitzy.  And the best part – it totally disguised the hot glue!  You can see it if you're up close and looking for it, but otherwise you'd never notice it at all.  (It's actually even more visible in these photos than it is in person!)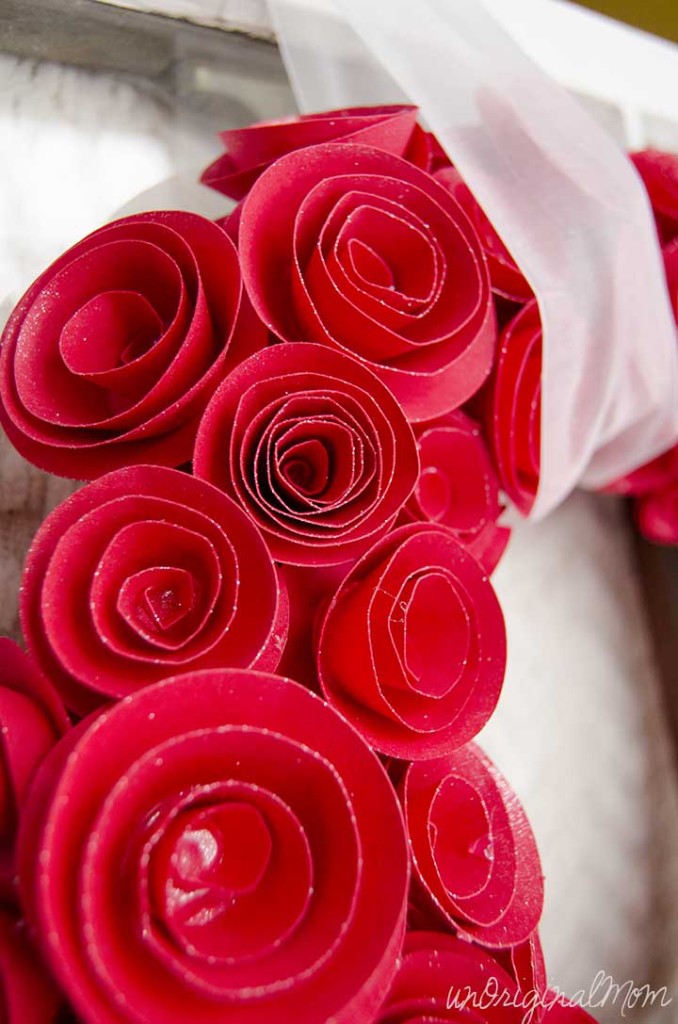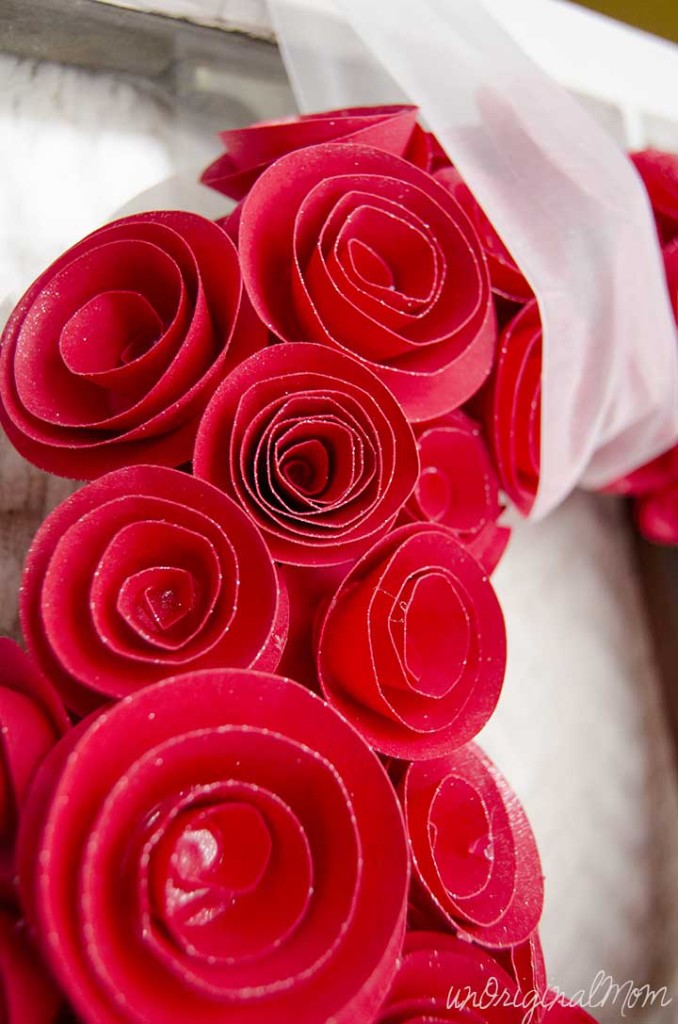 The wreath looks lovely on my antique window pane, and will be living on my mantle for the next month!  I've got several other pieces to my Valentine's mantle display that you'll be seeing pop up over the next week, so stay tuned to see how this lovely wreath fits into all of that!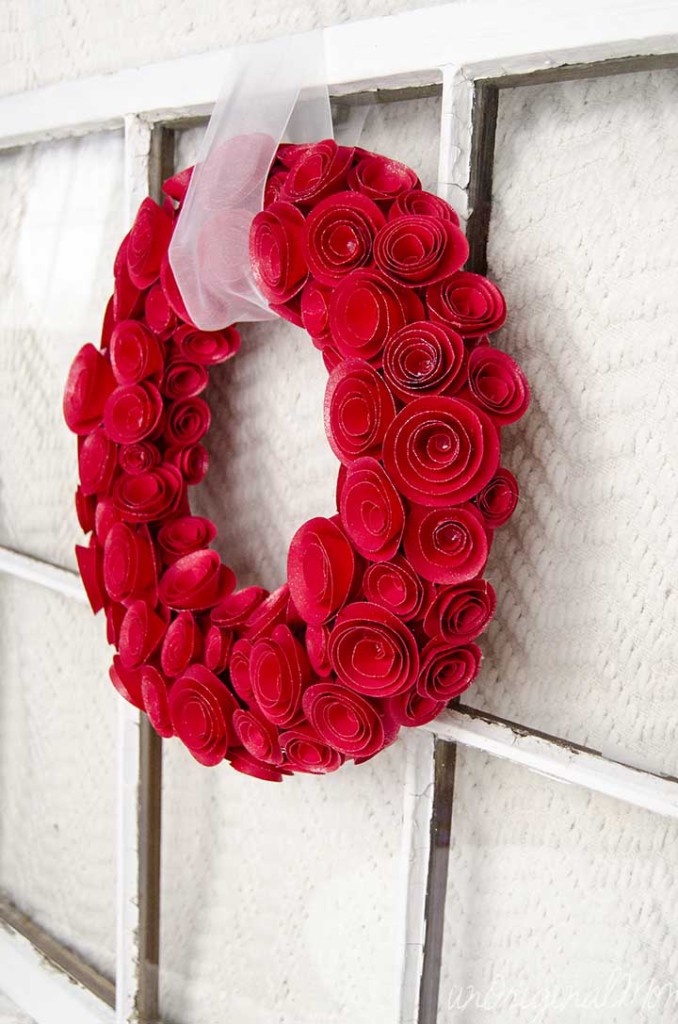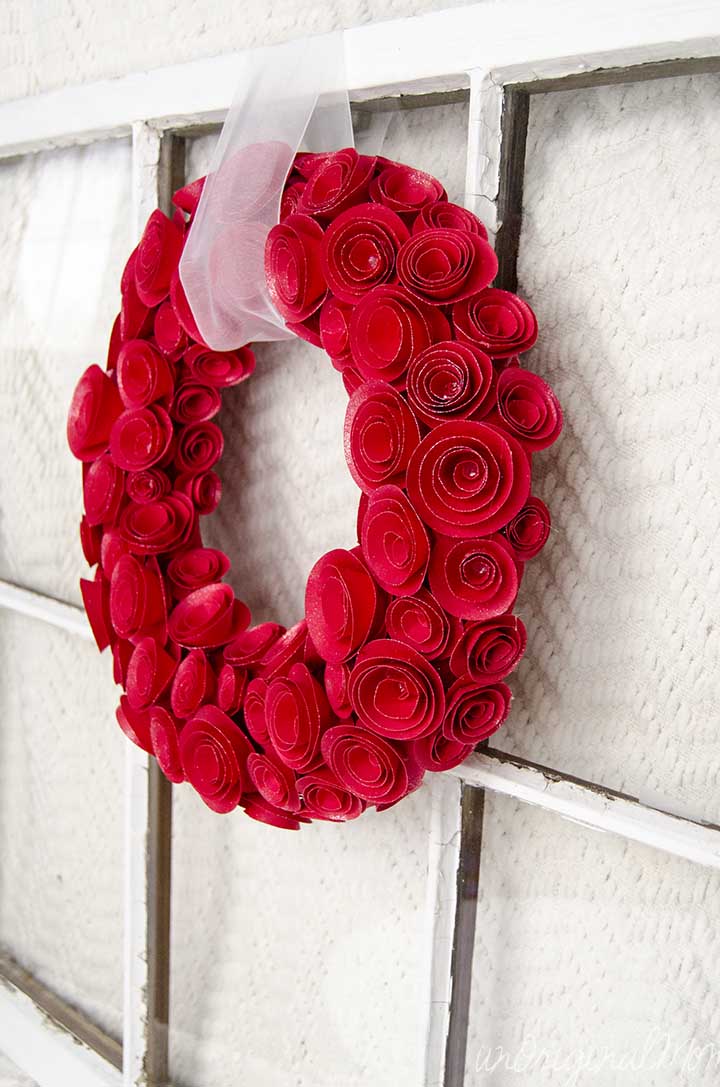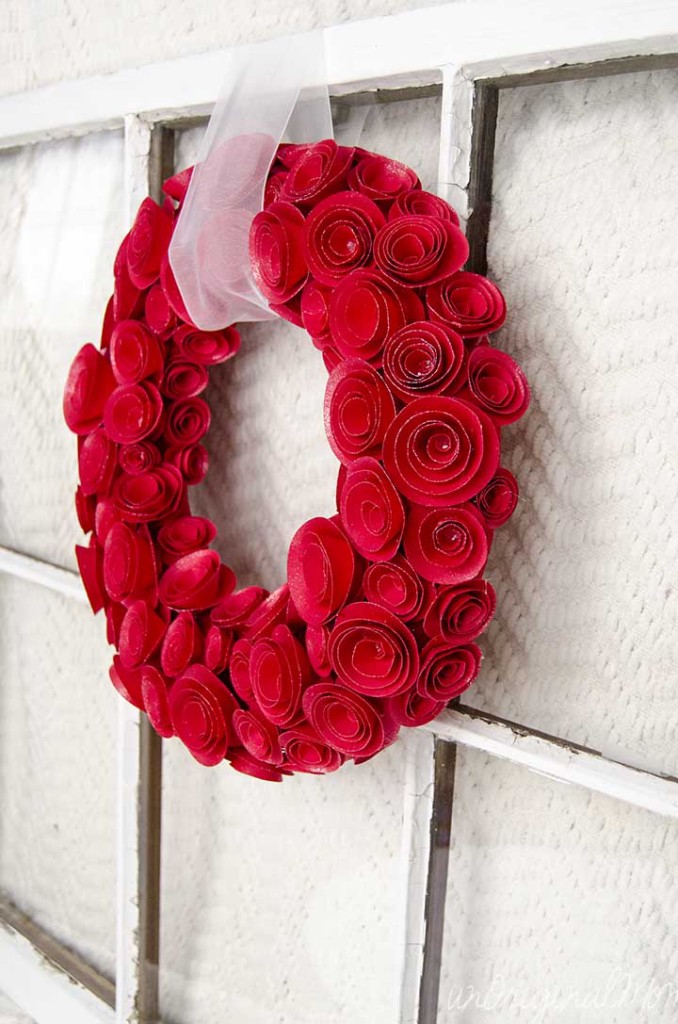 Are you doing any decorating for Valentine's Day?  I'll be honest, this is the first time I've ever done it…but it's fun to have something to replace the Christmas decorations! ;-)


Get your copy of my FREE meal planning binder!
Sign up to get a free copy of my meal planning system - an 11 page printable meal planning binder, complete with a pantry inventory, shopping list, and more to help get on top of your menu each week!