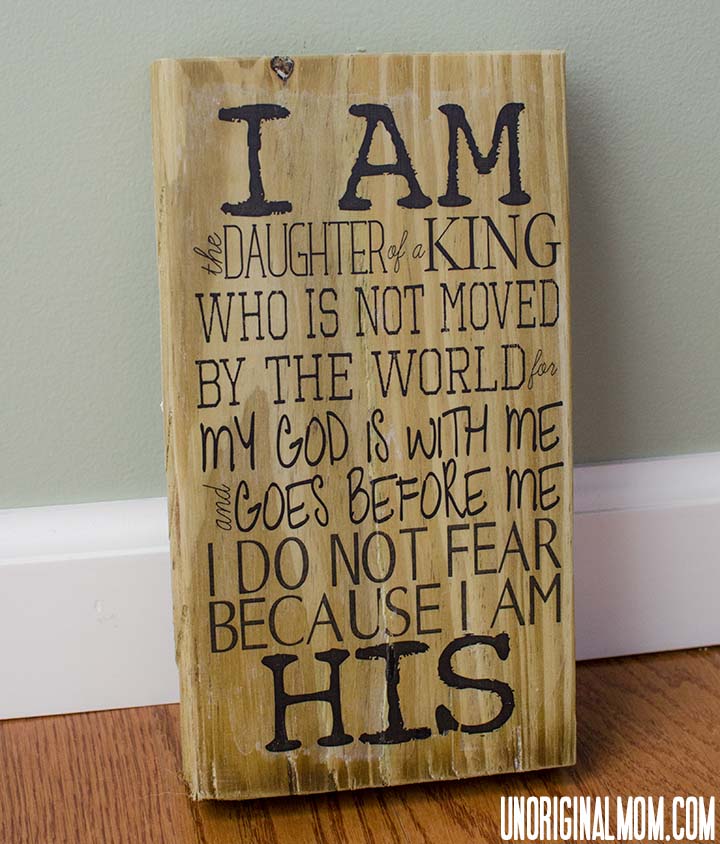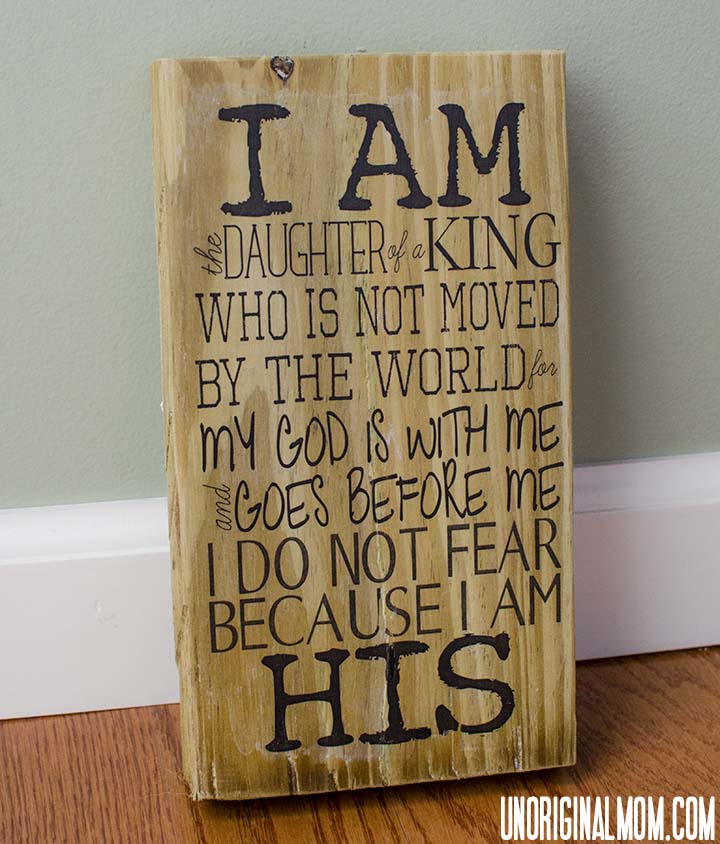 Last week, I shared with you a free printable declaration called "I am His," and I told you I was working on a special way to display it…here it is!
This was an easy DIY image transfer to wood using gel medium and sealing with Mod Podge.  I'd been wanting to try this technique for a while after seeing it on Pinterest.  This is the video tutorial I followed.
Here is what you need: (This post contains affiliate links – click here to read my full disclosure.)
Gel Medium – I found it at Michael's with the artist acrylic and oil paints – not with the craft acrylic paints.  (FYI, the Mod Podge photo transfer stuff is not transparent, it will leave a white background, so don't use it on wood unless you want a white background. I found that out the hard way…)
Brush
An image –

printed with a laser printer as a mirror image

on regular paper so it's reversed (if you don't have a laser printer, use a photocopier to make a copy of your image and use that! An inkjet image will NOT work!)
A piece of wood, cut to the size you want, or whatever material you're transferring the image to.  (If you're painting the wood first, make sure it has dried completely.)
Sponge & water


Step 1:  Gather your materials.
Step 2:  Generously cover the wood with gel medium.  (I covered the image…but it would have been much easier to just cover the wood.  Plus I don't think I would have ended up with the cloudy smudge looking things around the edges of where the paper was.  But that's ok, I think it gives it some character!)
Step 3:  Carefully place the image face down on the wood.  Smooth out all the bubbles and press it down firmly!
Step 4:  Let it dry for at least 24 hours!!
Step 5:  Using a damp sponge, wet the surface.
Step 6:  Rub off the wet paper with your fingers.  I had to repeat this step a few times to get all the paper off.
Step 7:  Cover with Mod Podge and let dry.
You're done!  Find a great spot to display your artwork.
This is a really neat technique – I'm excited to try it with photos, and on other mediums as well!
In case you'd like to try this technique with the "I am His" printable, HERE is the mirror image version I used to make mine, so you don't even have to flip it – just print and get going!
UPDATE: Since trying this image transfer to wood technique several years ago, I discovered another amazing way of putting a design onto wood – you can paint it on using water and ammonium chloride! It gives a really neat, branded look…kind of like wood burning, but faster and easier. Check out the video "how-to" below, and then head to this blog post for the full tutorial.
Here are a few other fun wood projects I've tried over the years.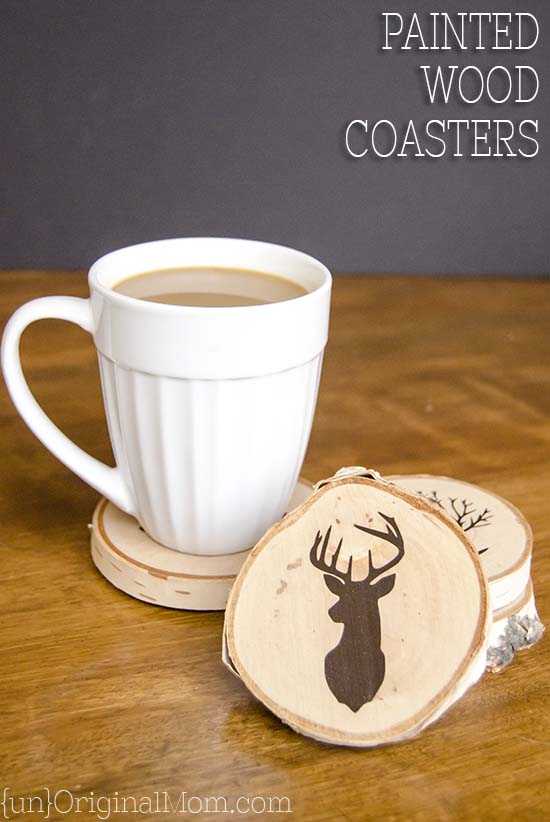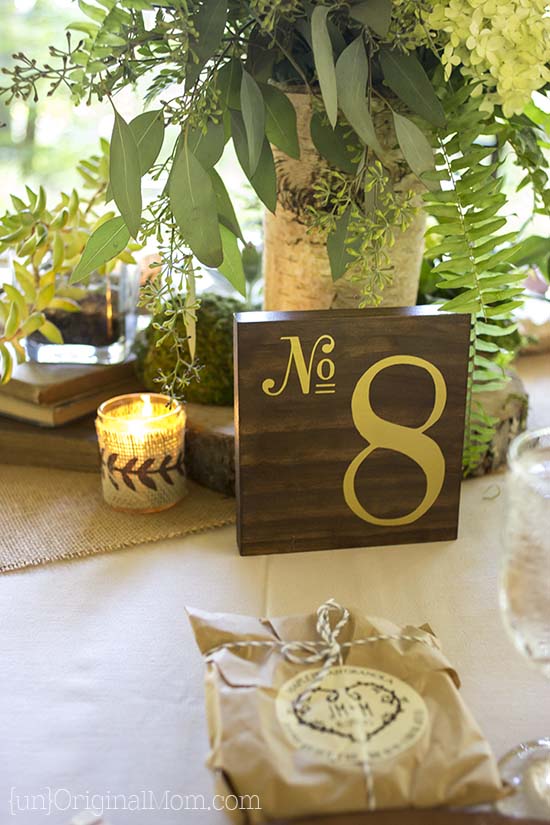 DIY Wood Table Numbers with Vinyl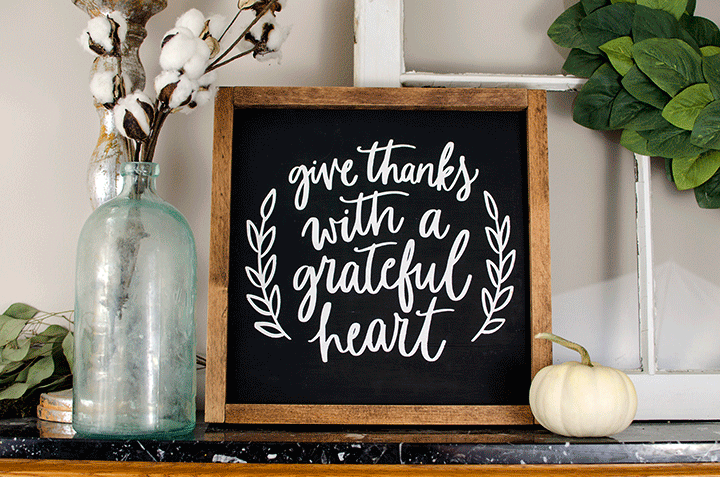 Reversible Thanksgiving-Christmas Farmhouse Sign
Inspired? I'd love for you to subscribe to my email list for even more inspiration!
This post contains affiliate links – click here to read my full disclosure.


Get your copy of my FREE meal planning binder!
Sign up to get a free copy of my meal planning system - an 11 page printable meal planning binder, complete with a pantry inventory, shopping list, and more to help get on top of your menu each week!