Are you a fan of The Greatest Showman? Here are all the details on our DIY Greatest Showman Costumes, including the pattern I used to make the PT Barnum tailcoat for my 4 year old son.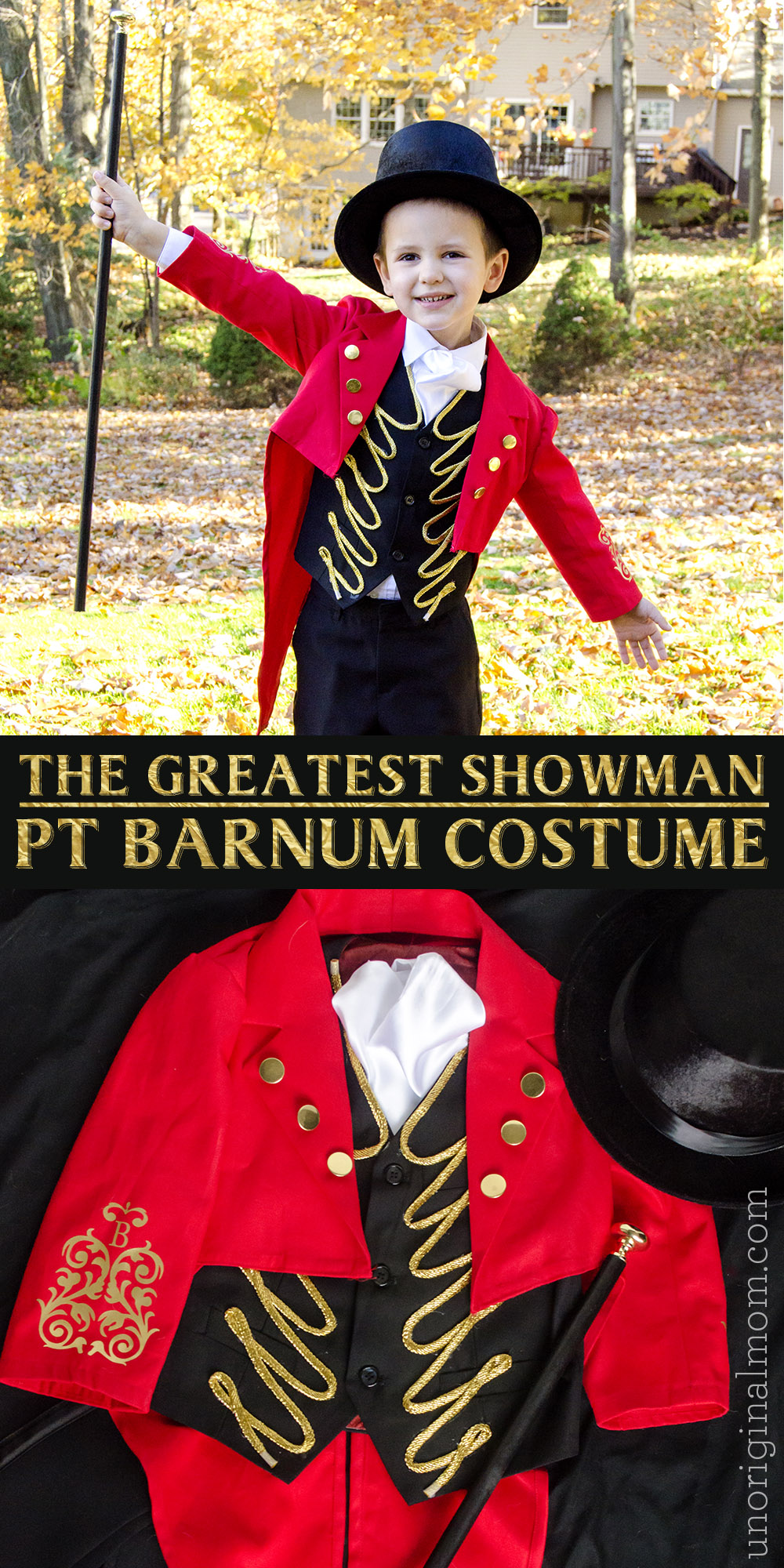 My kids both adore the movie, The Greatest Showman – in fact, it's one of very few movies that they both genuinely love. My husband and I really like it too, so I was thrilled when they agreed on coordinating Halloween costumes from that movie!  Yesterday, I shared my daughter's DIY Anne Wheeler costume, and today I'm sharing all the details on my son's DIY PT Barnum costume with you.
DIY GREATEST SHOWMAN COSTUMES: PT BARNUM COSTUME SUPPLIES
this Tailcoat pattern in the appropriate size
red fabric (amount depends on size – see pattern)
gold buttons
gold heat transfer vinyl + Silhouette machine
black vest (we purchased this one)
gold trim for vest
hot glue gun
white satin fabric for ascot
white dress shirt
black dress pants
dowel rod + decorative knob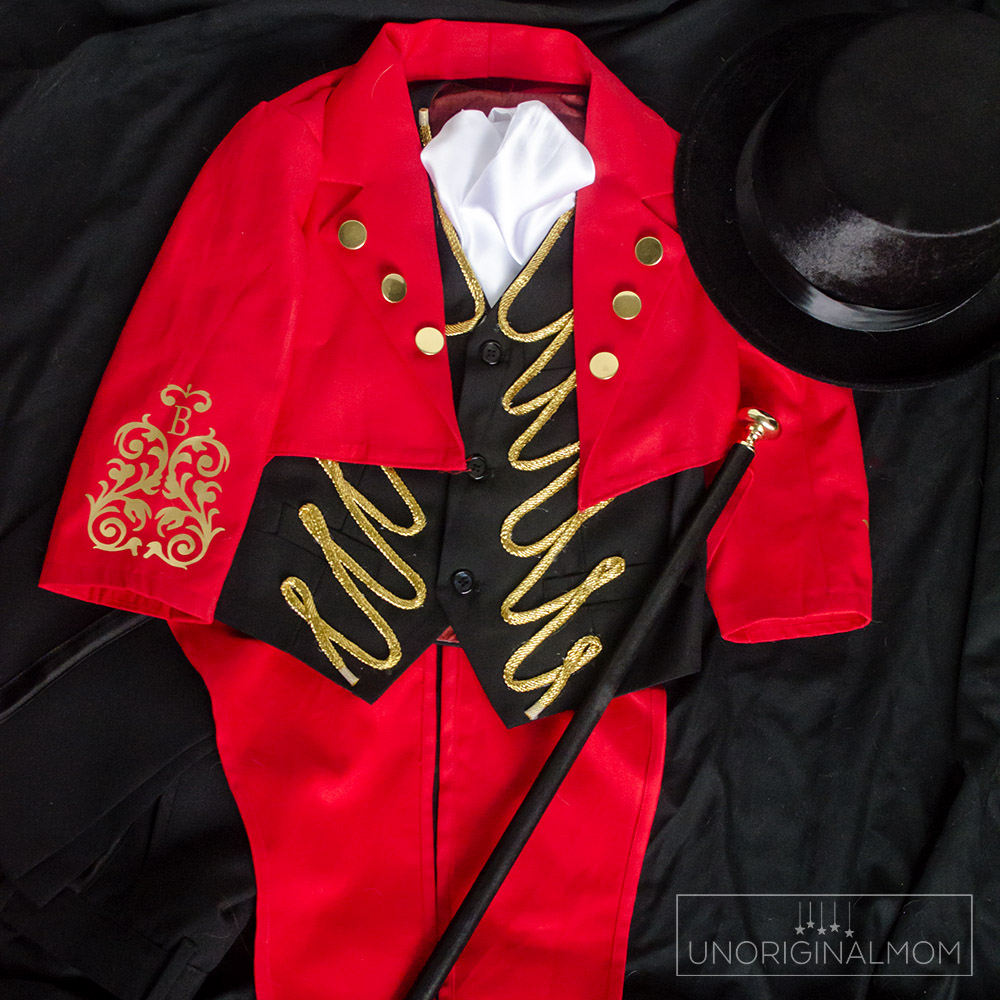 DIY GREATEST SHOWMAN COSTUMES: PT BARNUM RED TAILCOAT
Originally, I planned to purchase all the pieces of the costume separately and doctor them up to look more like the PT Barnum costume from the movie…but it was virtually impossible to find a decent child sized red tailcoat at any affordable price. Then I set out to look for a Circus Ringmaster sewing pattern so I could sew one myself, but couldn't find one of those, either! Finally, I came across this McCall pattern that includes a tailcoat pattern and comes in kid sizes, so I went with it. My sewing skills are VERY basic, and while I did have a bit of trouble with some of the pieces, I was able to do it myself and it didn't turn out too terribly! Good enough for a Halloween costume, for sure.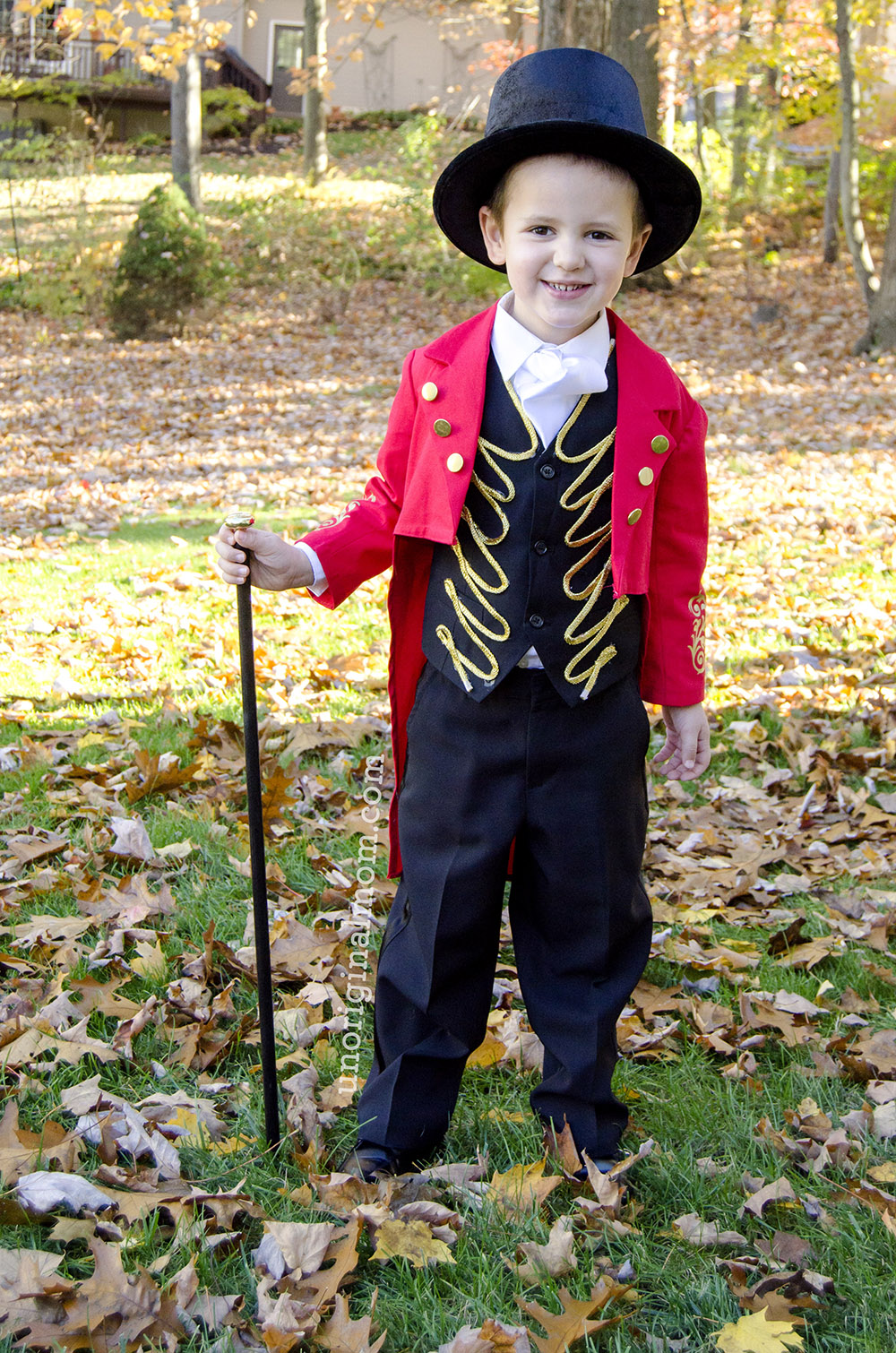 In hindsight, I could have used black fabric for the lapel pieces and it would have turned out more like the actual tailcoat he wears in the movie. But the solid red tailcoat works fine, too!  I hand sewed on gold buttons to the lapels to make it look more like the red coat Barnum wears at the end of the movie.  And for an extra touch, I used my Silhouette machine to cut some gold heat transfer vinyl to mimic the embroidery on the sleeve. (For reference, I used this flourish from the Silhouette Design store to create the design.)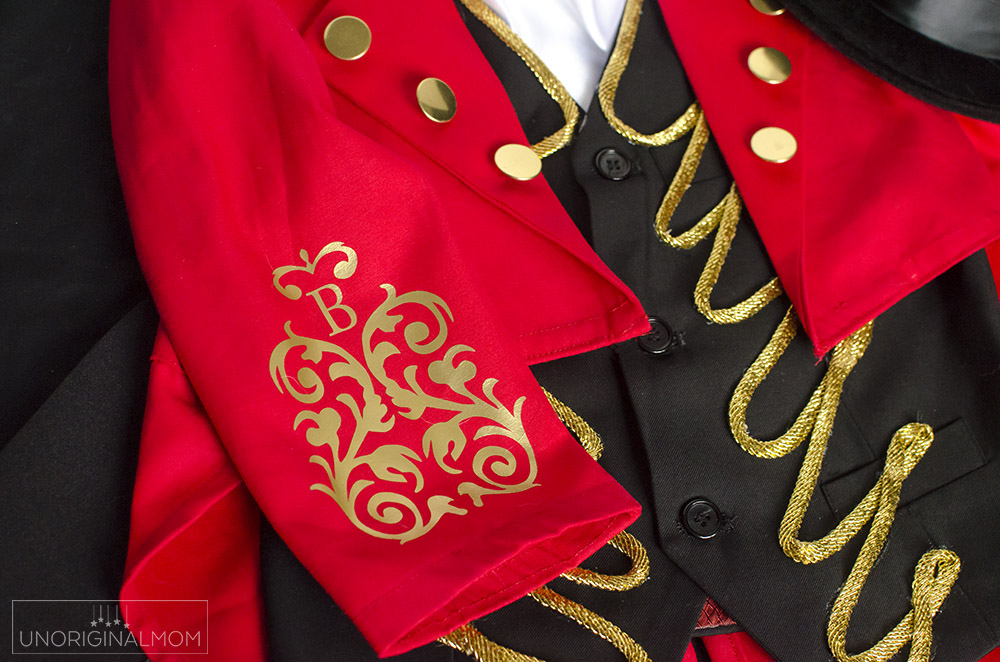 DIY GREATEST SHOWMAN COSTUMES: PT BARNUM VEST & CRAVAT
Once the tailcoat was done, the rest of the costume was pretty straightforward! I ordered this black vest from Amazon and hot glued on some gold trim. But even with the tailcoat, vest, and a tux shirt underneath, the ensemble just didn't look complete – it needed a tie. In the film, he wears a white satin ascot (or a cravat? I can't figure out what the difference is between those two terms), and I couldn't find any cheap child-sized ones to purchase anywhere, so I made my own! It was really straightforward. I followed this YouTube tutorial, but scaled her pattern down by 2/3 and it worked out well. It ended up being a really important part of the costume to make it look more authentic!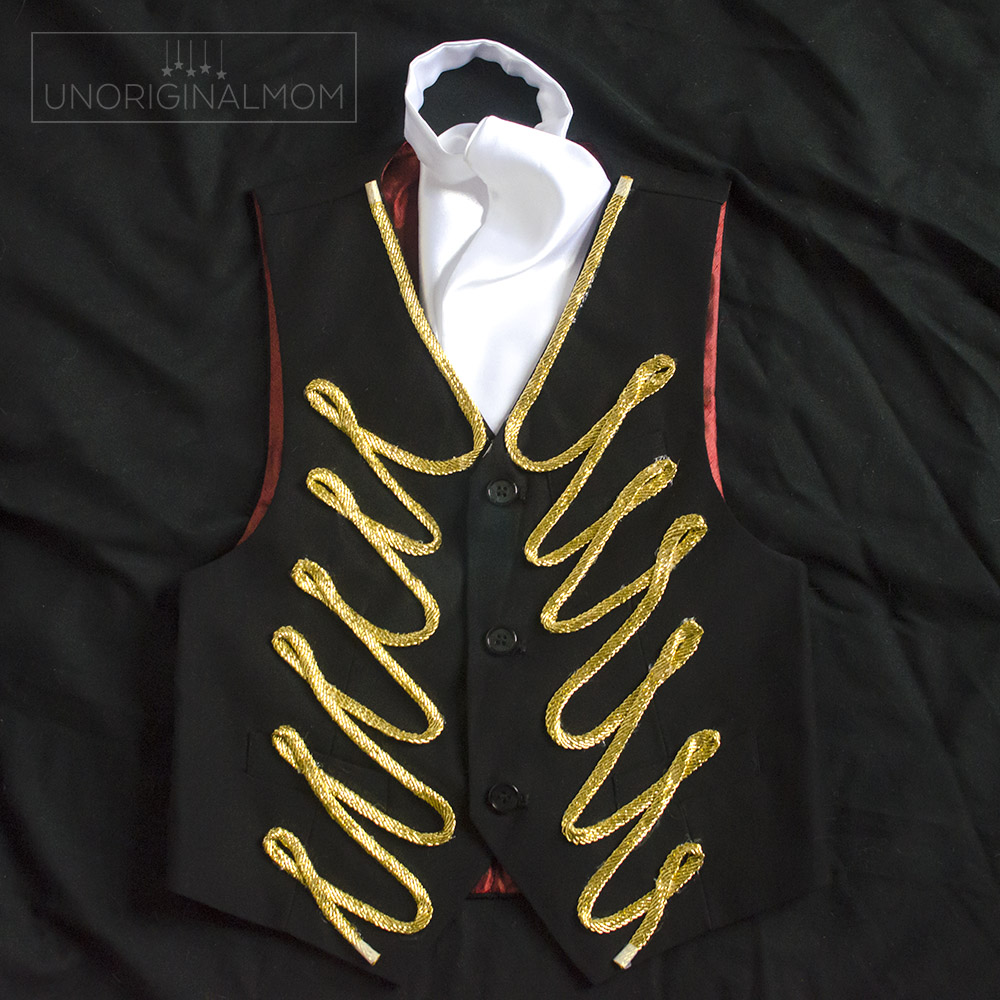 DIY GREATEST SHOWMAN COSTUMES: PT BARNUM COSTUME ACCESSORIES
The rest of the costume consisted of a hand-me-down tuxedo shirt and pants, a top hat from the Halloween section at Target, and finally – my son's favorite part – the cane. It was a super simple DIY – just a 1/2″ dowel rod spray painted black + a decorative brass knob from the hardware store + a hanger bolt to attach them together.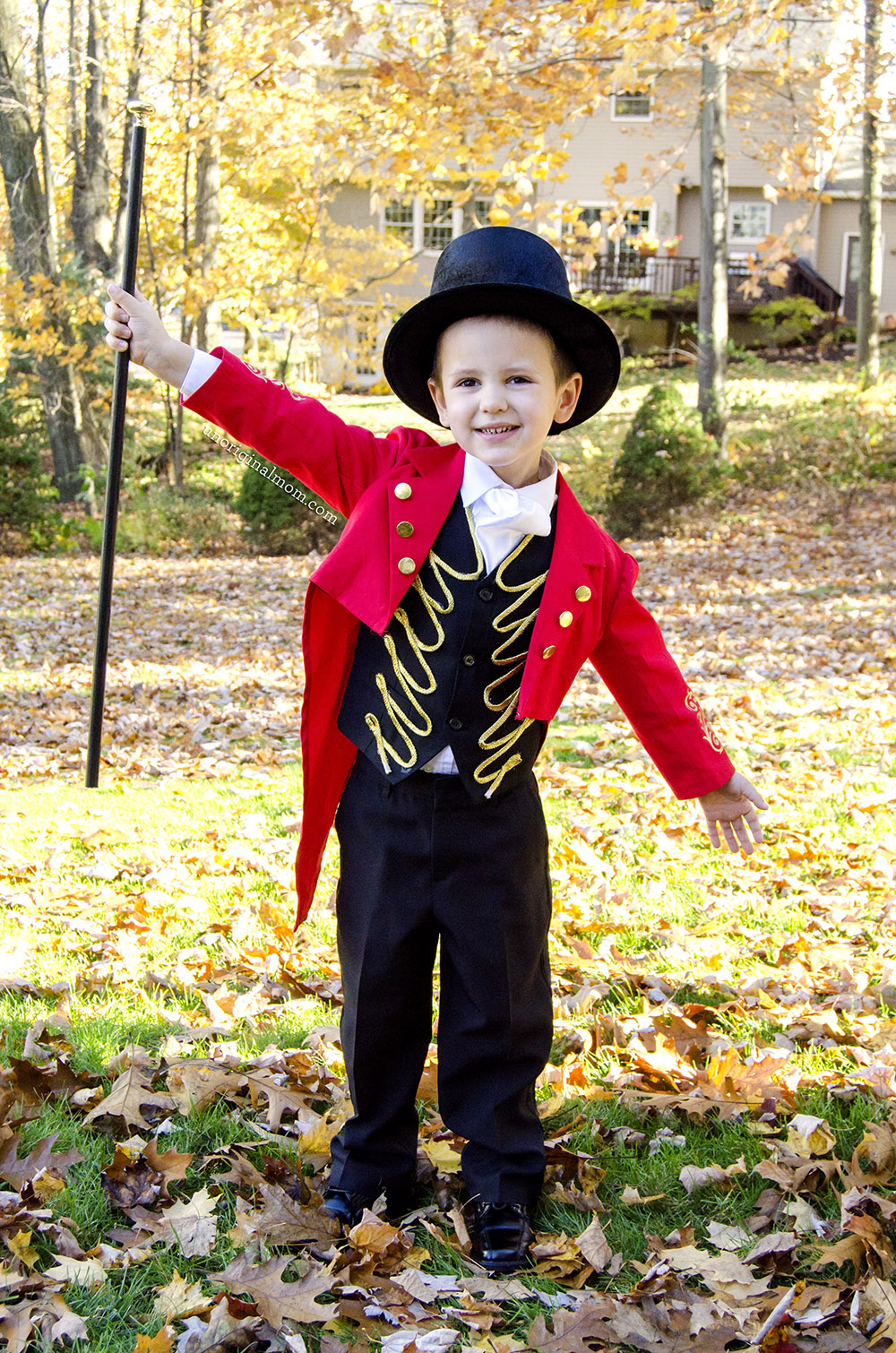 Here's a look at our PT Barnum with Anne Wheeler. Don't they look great together? You can see the full DIY Anne Wheeler Costume here.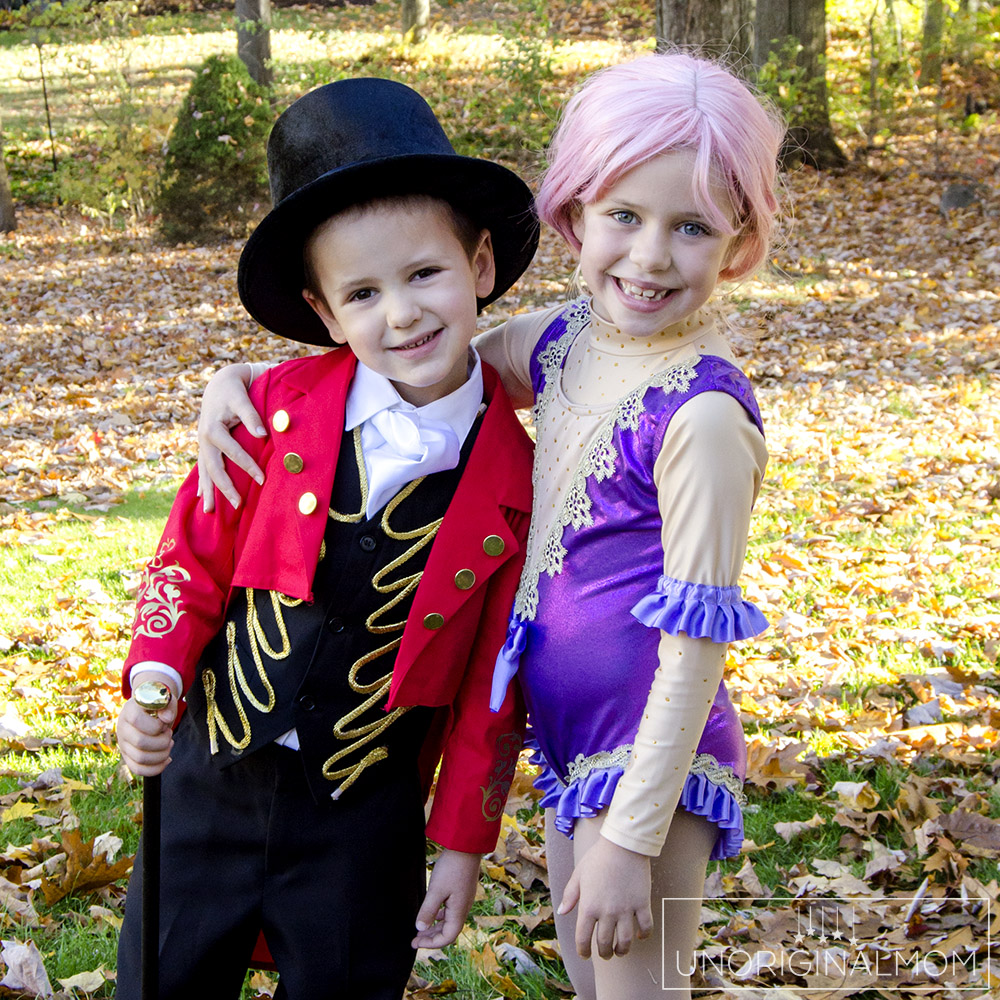 Happy Halloween!


Get your copy of my FREE meal planning binder!
Sign up to get a free copy of my meal planning system - an 11 page printable meal planning binder, complete with a pantry inventory, shopping list, and more to help get on top of your menu each week!