DIY Greatest Showman Costumes: transform store-bought purple leotard into a beautiful Anne Wheeler costume for Halloween or cosplay!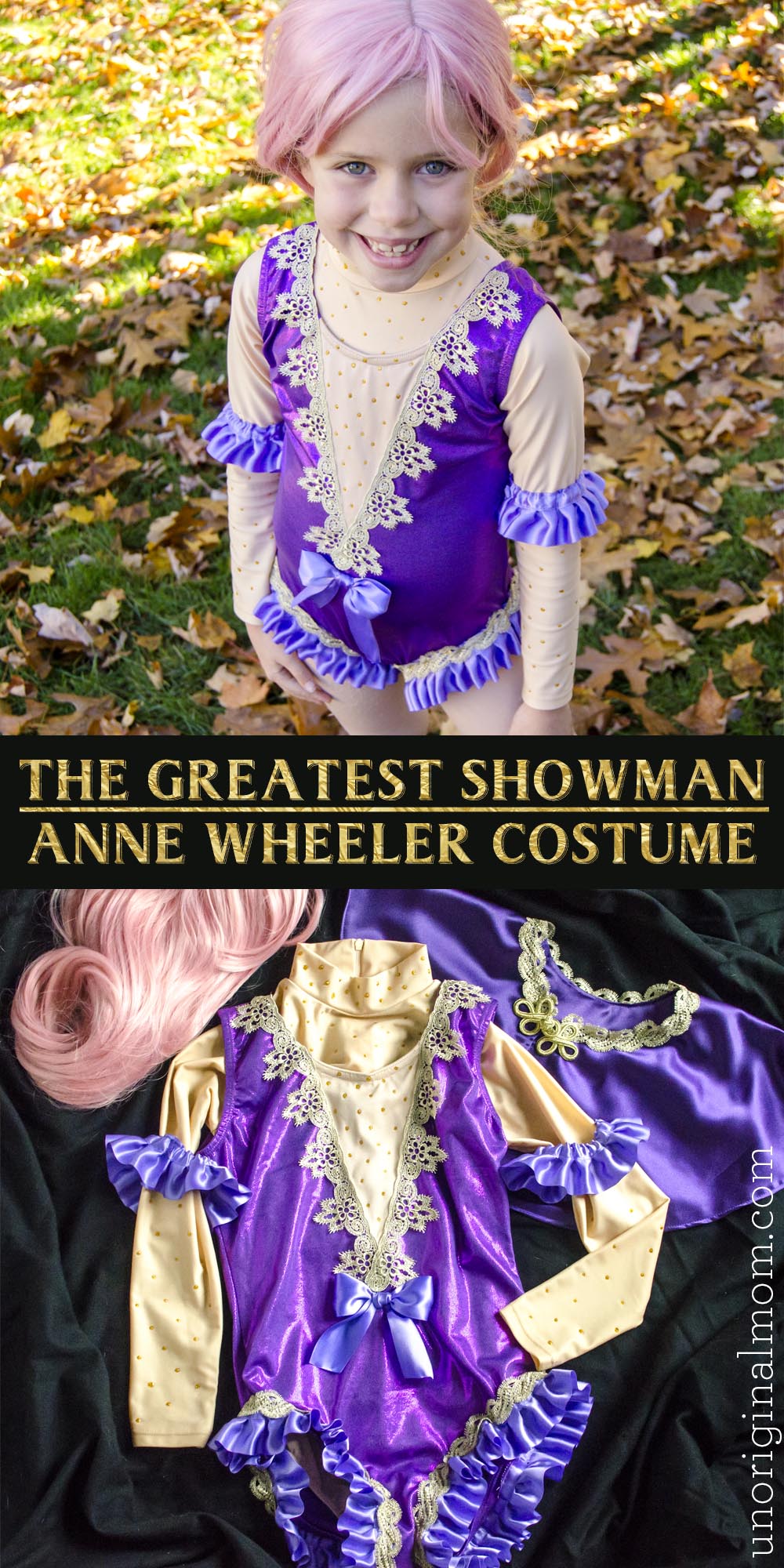 Here we are again, sharing details of our DIY Halloween costumes a few days before Halloween. Plenty of time for you to recreate this costume, right? Ha. Every year, I have grand dreams of getting costumes finished a month out so I can blog about them in plenty of time…but every year (except last year, when I was due with our third baby at the beginning of October so I had a little more pressing deadline to get costumes finished early), I'm not putting the finishing touches on costumes until the week of Halloween. Sigh. Hopefully you'll enjoy browsing these posts anyway…and maybe pin them for next year!
My kids miraculously decided to coordinate costumes this year and go with characters from one of their very favorite movies – The Greatest Showman. My daughter wanted to be the trapeze artist, Anne Wheeler, and my son wanted to be PT Barnum himself. I decided their baby sister needed to get in on the action as the bearded lady. So much cuteness…be still my heart!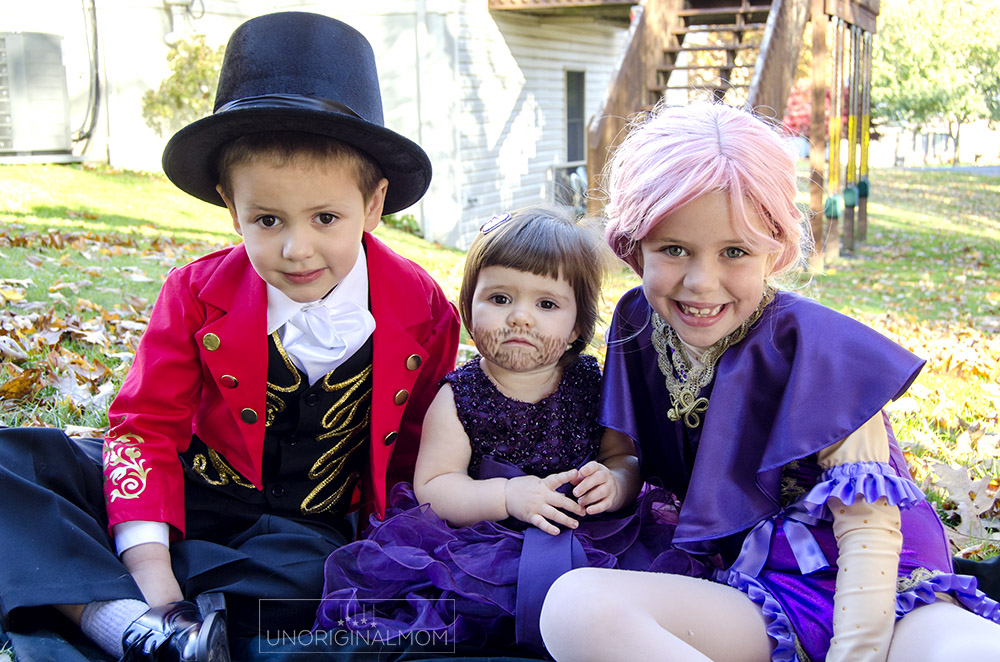 I'll be back to share the details of the PT Barnum costume tomorrow (and the bearded lady was just this dress from Amazon plus a beard drawn on with eyebrow pencil), but today I'm going to walk you through the process of creating my daughters DIY Anne Wheeler costume. It really wasn't as difficult as it looks!
DIY GREATEST SHOWMAN COSTUMES:  ANNE WHEELER COSTUME SUPPLIES
This post contains affiliate links – click here to read my full disclosure.
purple or lavender leotard (I used this one)
long sleeved nude mock turtleneck leotard (I used this one)
nude tights
purple ribbon ruffle trim for leg trim and armbands
thin elastic for armbands
gold lace trim for leg openings
gold lace trim for faux V-neck
nude swimsuit lining fabric for faux V-neck
For cape: 1.5 yds purple satin fabric, frog closure, gold lace trim (I used the same trim as the leg openings)
Gold puffy paint for faux rhinestones
pink wig (I bought this one)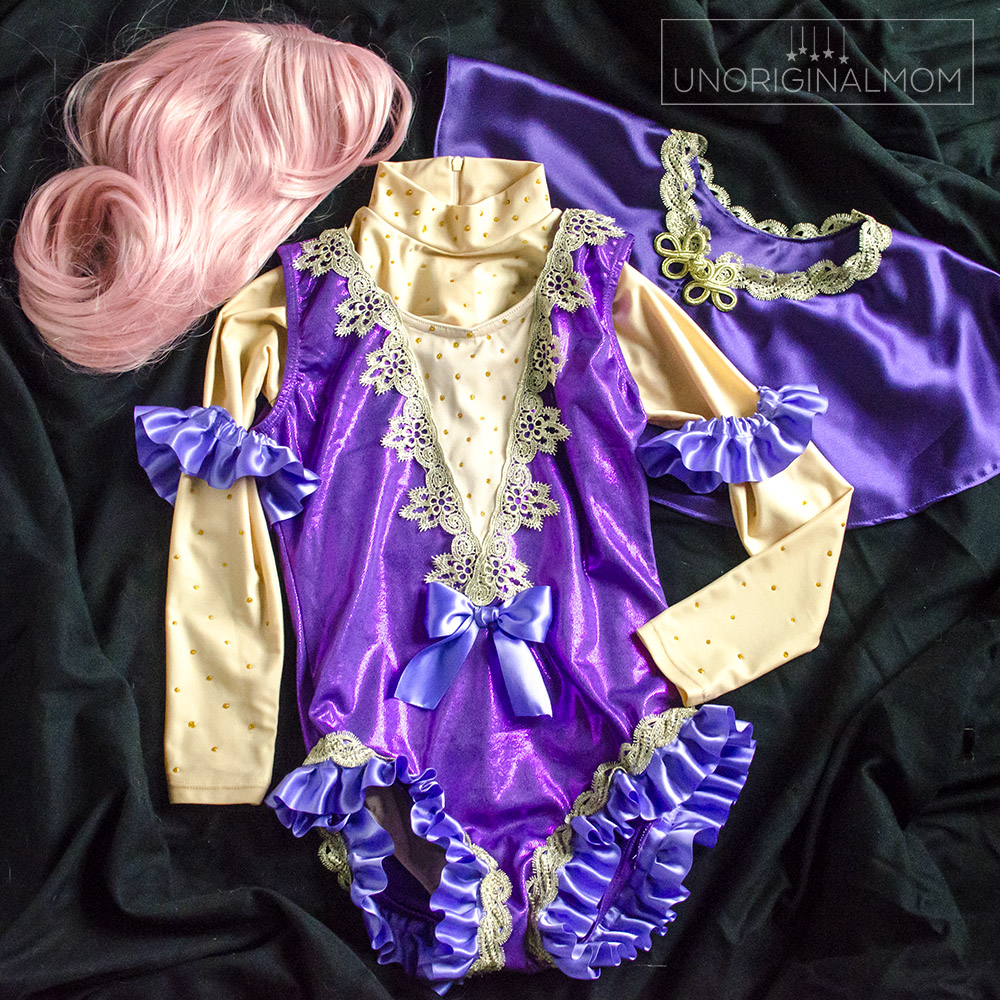 DIY GREATEST SHOWMAN COSTUMES: ANNE WHEELER COSTUME DETAILS
I didn't take step-by-step photos as I was making this…partly because I wasn't sure how it would turn out, and partly because stopping to stage and take photos at each step makes the whole process take twice as long! Most of the elements are pretty self explanatory, though, as long as you have some basic sewing skills. (Trust me, my sewing skills are VERY basic, so if you can sew in a straight line you can do this!)
First of all, sewing onto stretchy fabric like this leotard isn't exactly best sewing practice…but for a Halloween costume, it worked out just fine. You'll want to make sure the leotard you get doesn't fit too tightly, because as soon as you sew over the leg holes the front neckline/V-neck, those places will lose their stretch.
The first thing I did was sew the ruffles onto the leg openings. Originally, I was planning to make my own ruffle trim by cutting strips of purple fabric and hemming and gathering it myself, but I was lucky enough to stumble across some lavender ribbon trim at JoAnns. It worked perfectly! I sewed it around each leg opening, stretching the leotard just slightly as I sewed around. Then I sewed some gold lace overtop.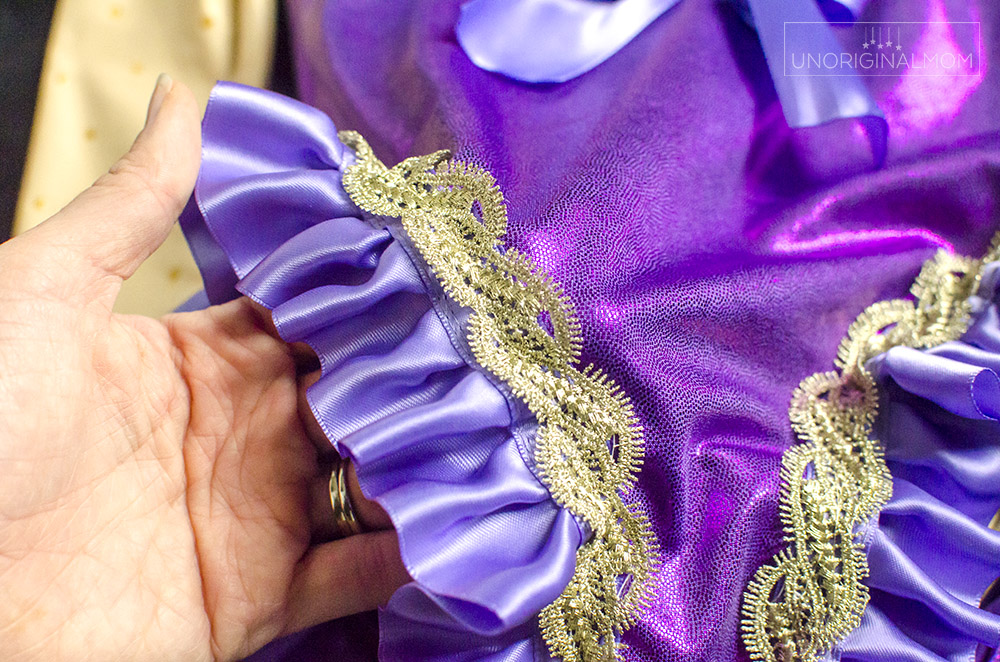 The v-neck was a little bit more involved, but still not too difficult. I created a faux V-neck by cutting a triangle out of some swimsuit lining fabric (purchased at JoAnns) and topstitched it to the leotard. I actually found a woman on Instagram who had done something similar and saved the step-by-step tutorial to her Instagram Story highlights, so I followed her instructions on making the pattern for the triangle and sewing it on. Then I sewed on some gold lace trim. It really wasn't that hard!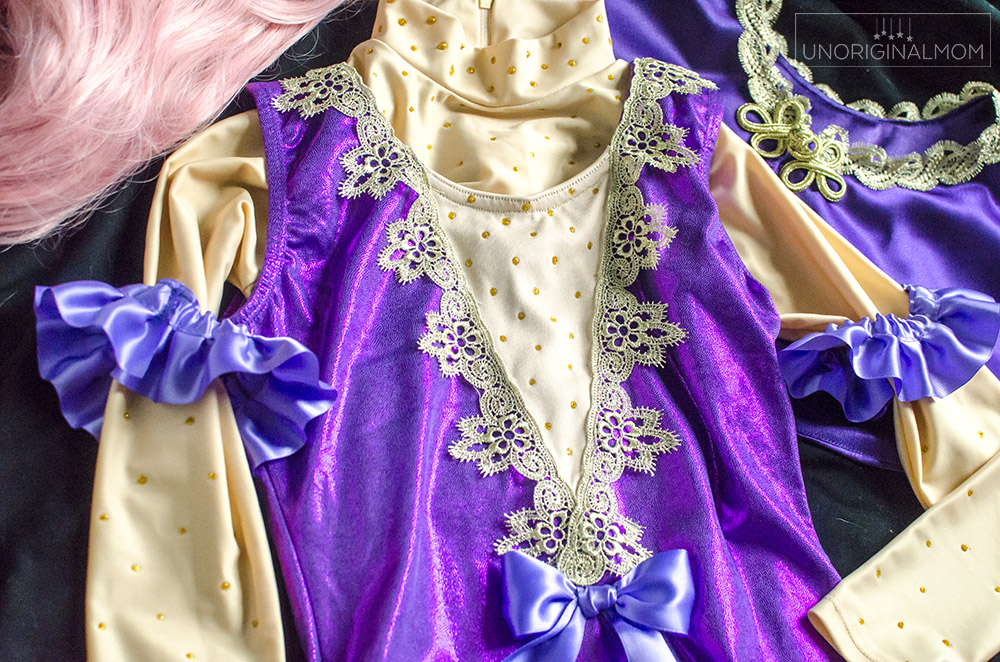 Finally, I added a purple bow at the bottom of the faux V-neck (I just hand sewed it on) and the leotard was done!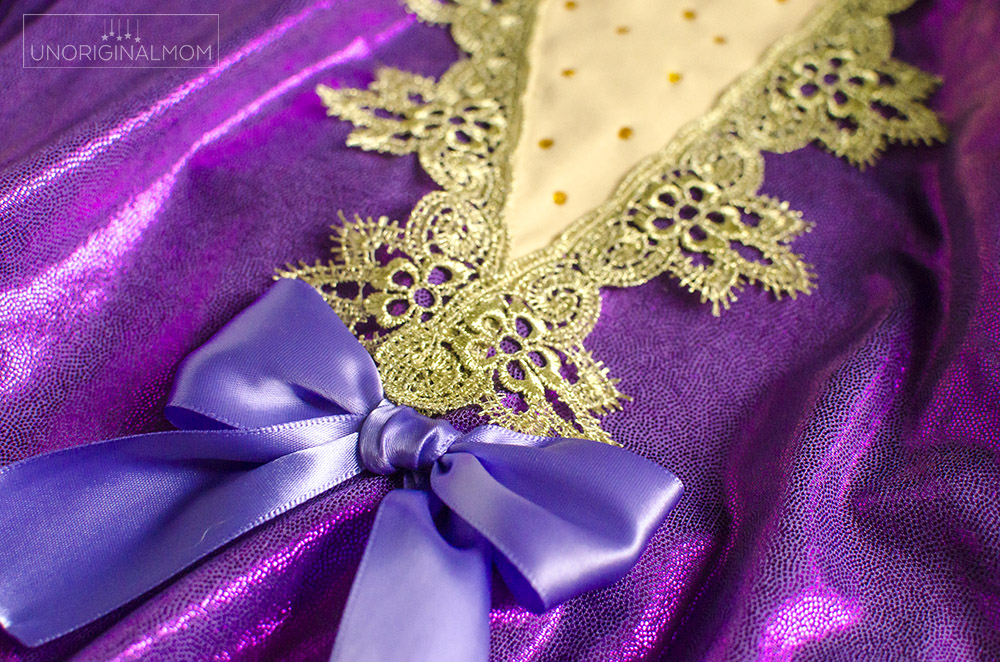 Anne Wheeler's costume has rhinestones all the way up to a mock turtleneck top, and since we live in central PA (it can be COLD for Halloween) I decided to get a long sleeved mock turtleneck to put underneath the leotard to mimic that look.  That gave me something to use to bring the rhinestone look all the way up to her neck. It also meant I didn't have to make separate "gloves" to put the rhinestones on her forearms – I just sewed elastic into the ruffle ribbon trim to make little arm bands she can pull on overtop of the long sleeved leotard.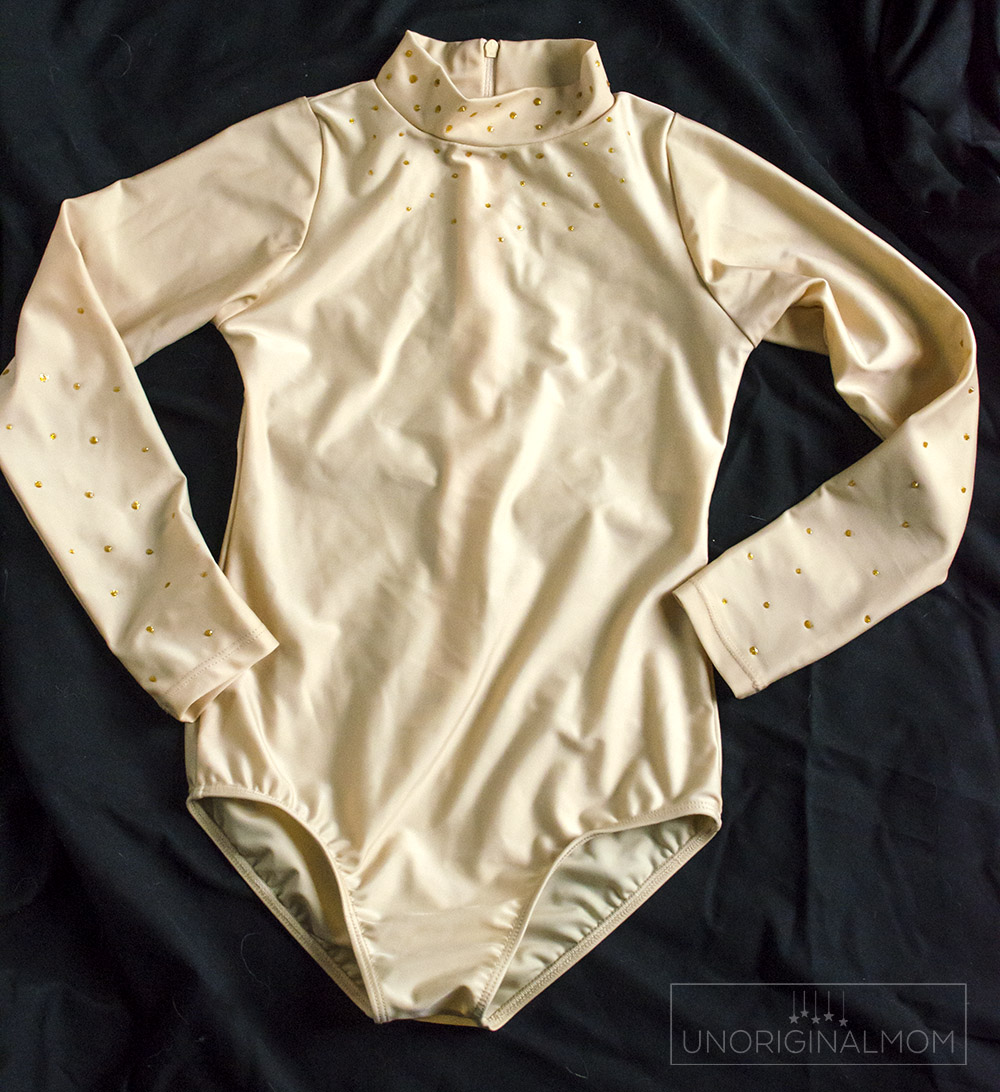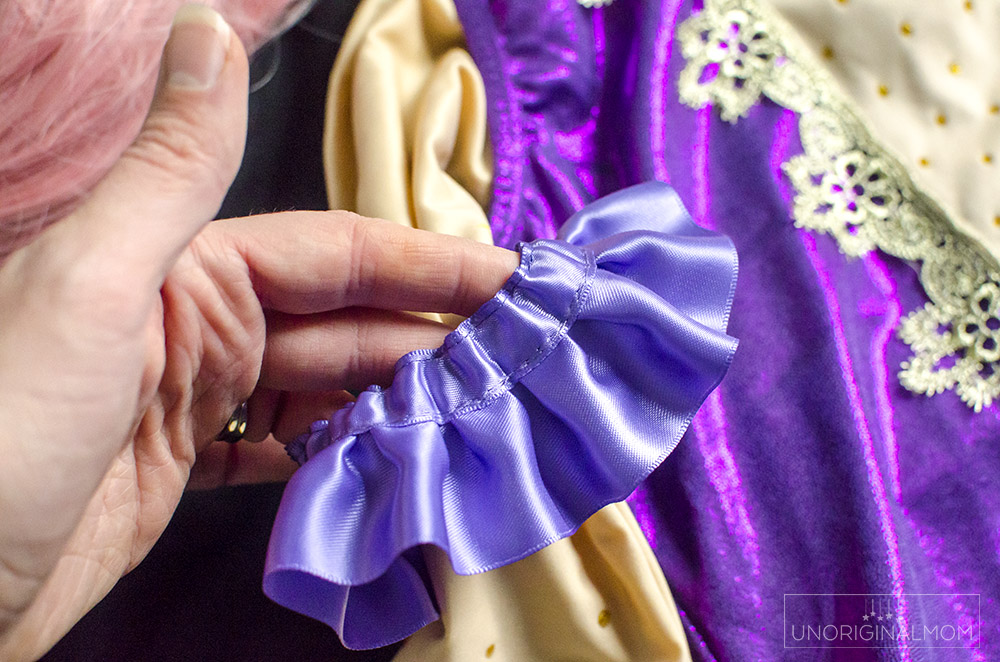 Speaking of rhinestones…there ain't no way I was going to put on a hundred little rhinestones onto a Halloween costume. I just used glitter puffy paint instead!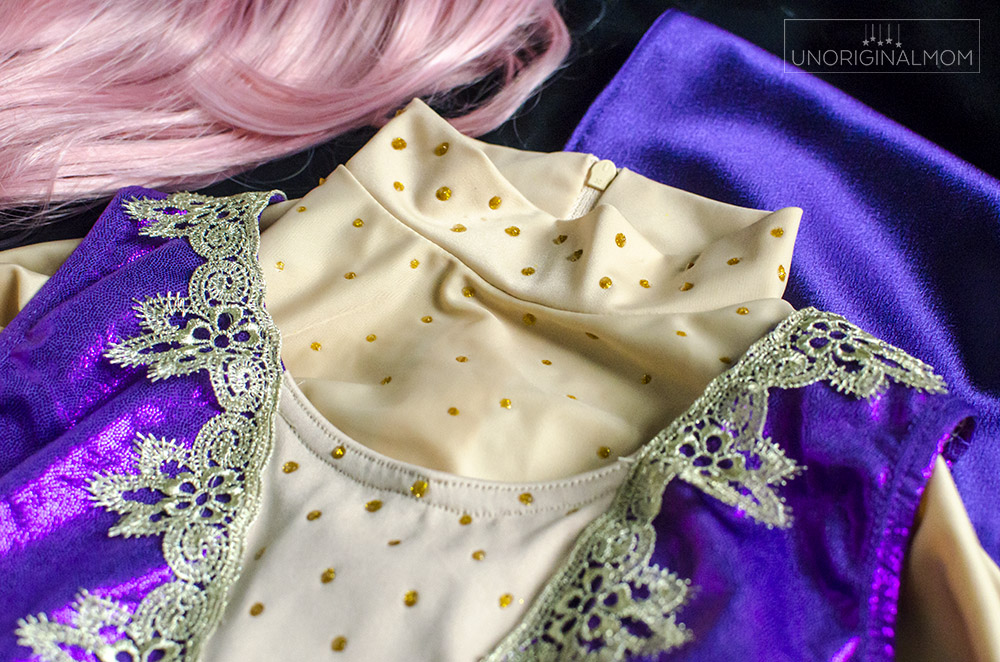 Finally, as a little bit of an afterthought (since the rest of the costume went together faster than I expected!) I decided to whip up a circle cape as a final addition to the costume. I followed this tutorial (I used about 1.5 yds of purple satin fabric and lined it with itself) but instead of ribbon ties I hand sewed on this frog closure that I picked up at JoAnns. I also sewed on some gold lace trim around the neck (the same trim I used for the leg ruffles).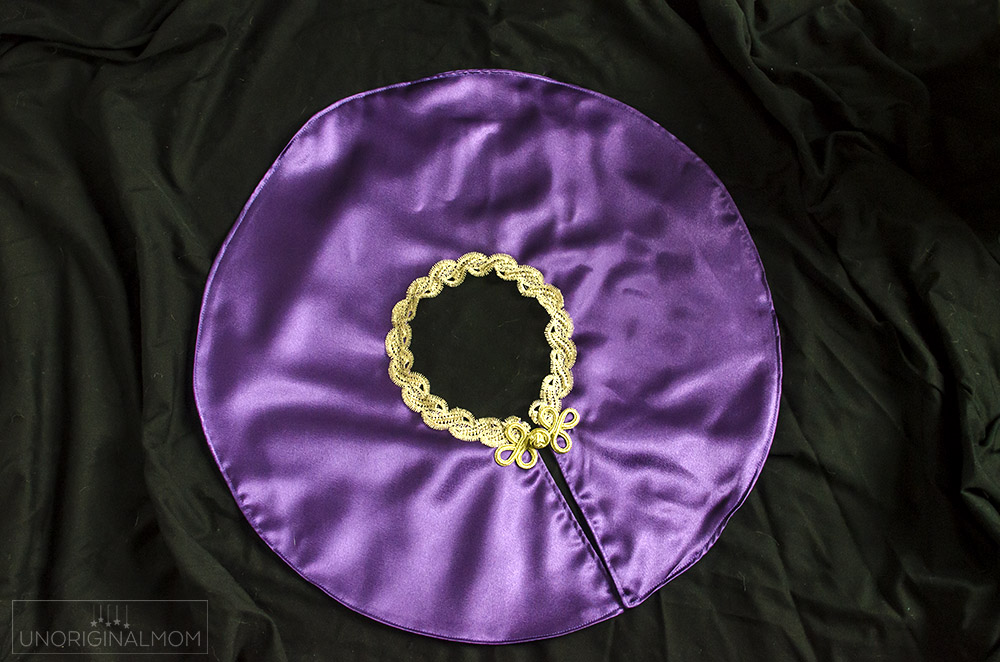 The finishing touch was a pink wig!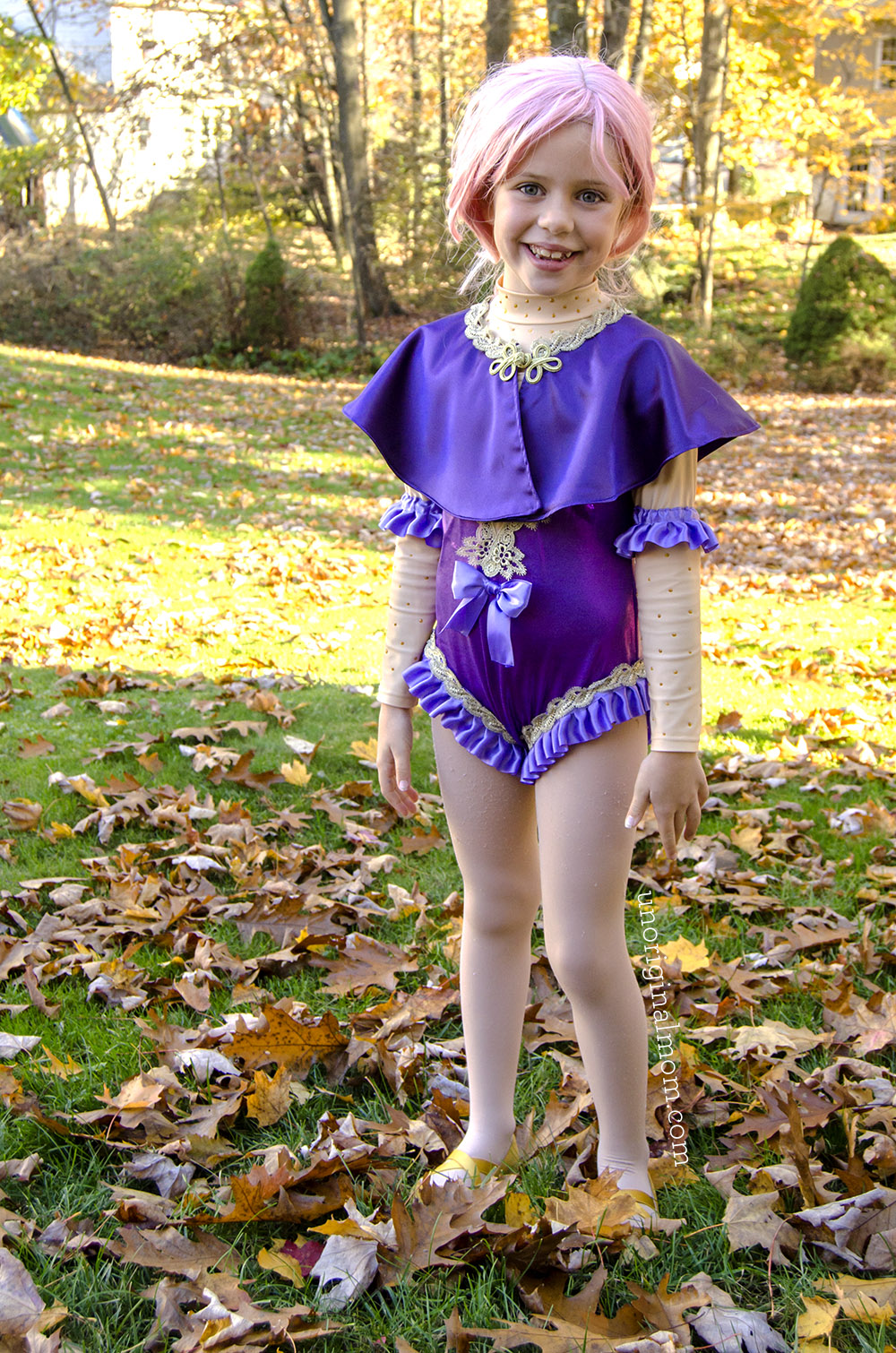 I am so pleased with how this DIY Anne Wheeler costume turned out…especially since I was mostly just piecing it together myself without following someone else's complete tutorial. And the best part is, my daughter absolutely loves it!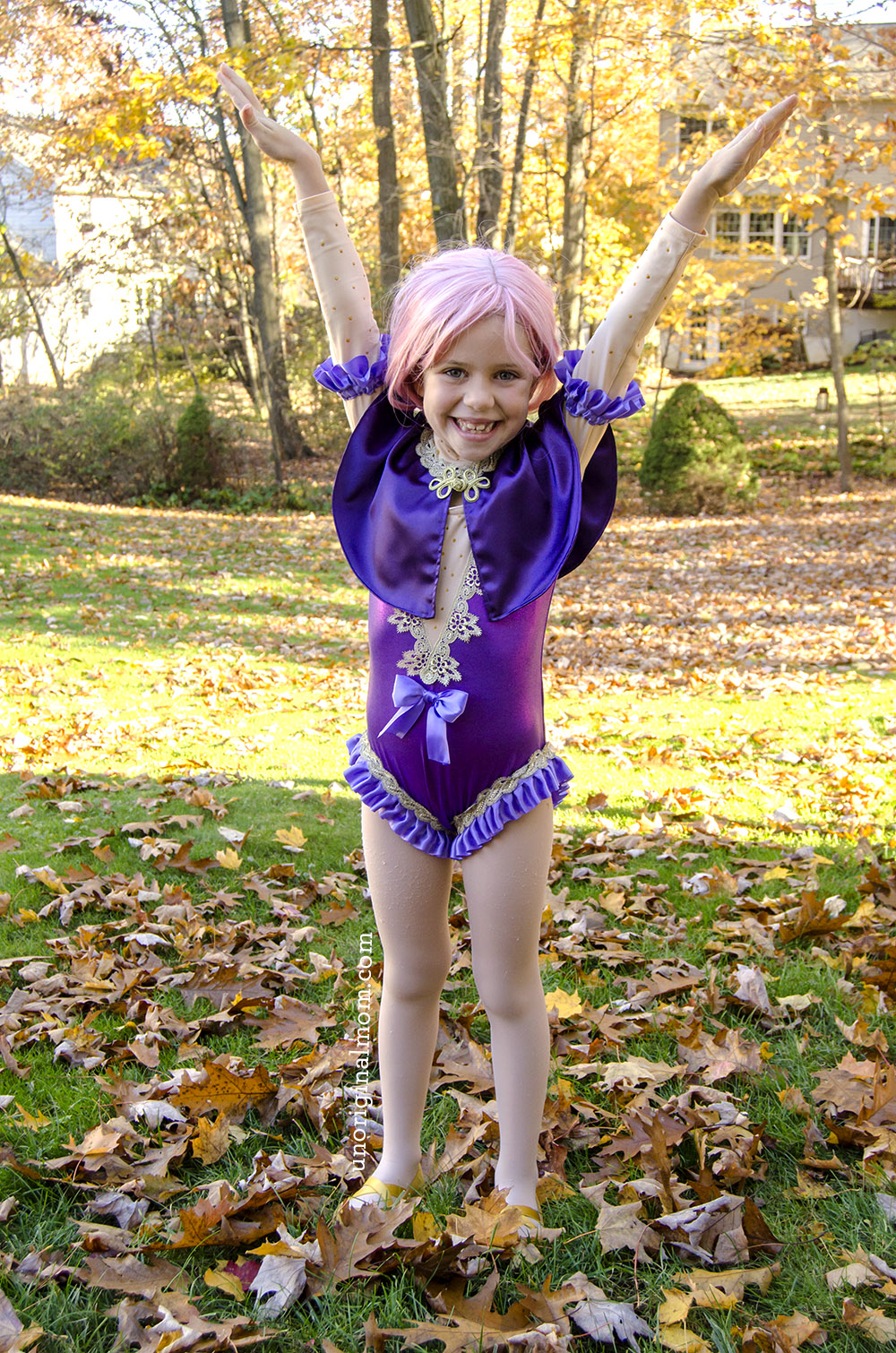 I'll be back tomorrow sharing all the details of my son's DIY Greatest Showman costume!


Get your copy of my FREE meal planning binder!
Sign up to get a free copy of my meal planning system - an 11 page printable meal planning binder, complete with a pantry inventory, shopping list, and more to help get on top of your menu each week!