Looking to lessen the holiday stress load a bit this year? Try some of these delicious Make Ahead Christmas Cookies! These freezer friendly Christmas cookie recipes are a perfect way to get a lot of variety on your cookie plate, without spending an entire weekend in the kitchen.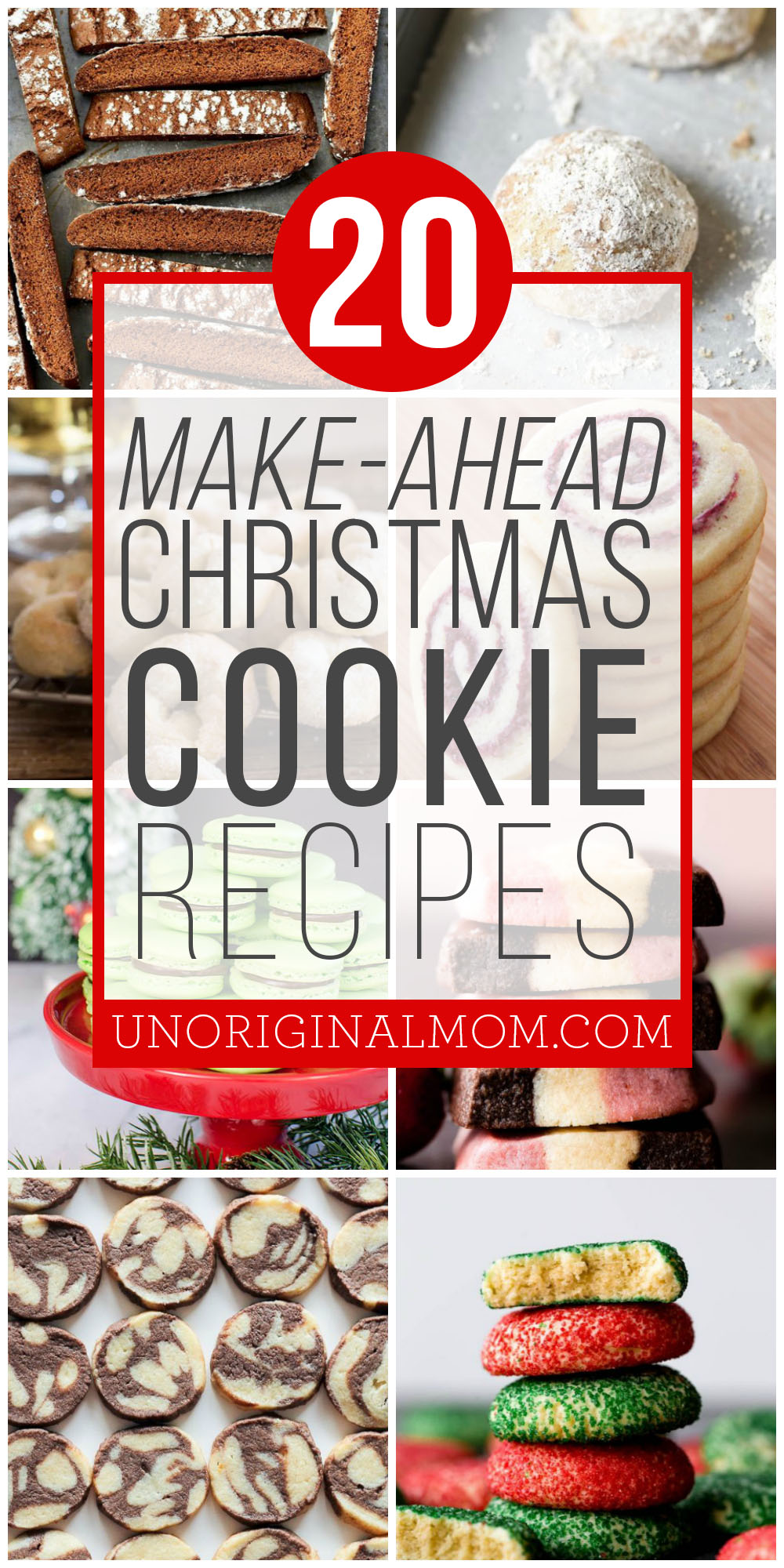 I think it goes without saying for all of us that the month of December is pure craziness. I mean, most of it is good crazy – lots of time with friends and family, parties, concerts, shopping and wrapping, church events, etc – but I always have trouble finding time to squeeze in any holiday baking. I'm not someone who enjoys spending an entire day in the kitchen making 5 different kinds of Christmas cookies.  But even if you DO spend an entire day in the kitchen baking cookies, it's nearly impossible to place that day in the perfect place on the calendar so that you'll have fresh and delicious cookies to take to all your holiday events. There's nothing worse than stale Christmas cookies. Well, that's a lie, there are a lot of things that are worse than stale Christmas cookies…but it is really sad to spend all that time baking and then to have to throw out stale cookies!
In any case, I am a big fan of doing all the holiday preparations I possibly can before December hits – and that includes baking! It's so nice to have a freezer stocked with cookies to be able to pull out throughout the holiday season as you need them. Less stress, less waste, and more cookies! Win-win-win. So, I thought I'd do a little round-up of Make Ahead Christmas Cookies to share with you.
TIPS FOR MAKE AHEAD CHRISTMAS COOKIES
I am no baking expert by any means, but I did do a little bit of reading to gather some tips and ideas for what makes good make ahead Christmas cookies. Here's what I found out!
Most cookies freeze well – all you have to do is bake them as directed and freeze them in an airtight container. Although the general rule seems to be that cookies with a liquidy batter don't do as well in the freezer – think thin, delicate cookies like pizzelles, florentines, and tuiles. Also, "cakey" cookies don't freeze very well either. The best kinds of cookies to bake and freeze are drop cookies, bar cookies, undecorated sugar cookies, and biscotti. Let the cookies cool completely and then freeze them individually on a baking sheet (not touching). Once they're frozen solid you can stack them in airtight containers or bags to keep in the freezer. When thawing, take them out of the containers to sit at room temperature (otherwise condensation can make them soggy). You can even reheat cookies in a warm oven to give them more of a "fresh-baked" taste.
Sometimes frozen cookies can get a bit of a "leftover" taste, though, so given the choice I would rather make and freeze cookie DOUGH instead. It's easy to pull out what you need and bake them so they're super fresh…plus, who doesn't love a house that smells like fresh-baked cookies? Cookie doughs with a lot of butter/fat freeze well, like shortbread, gingerbread, drop cookies, sugar cookies, and ice box cookies. I included a lot of those kinds of cookies in this list! To freeze drop cookie dough, go ahead and form them into balls and flash freeze on a baking sheet (make sure they're not touching), before transferring them to freezer bags. You can bake the dough balls directly from frozen, just add an extra minute or two to the bake time. With icebox cookies, form the dough into logs, wrap tightly in plastic wrap, then put the logs in freezer bags to freeze. When you're ready to bake them, let them sit out at room temperature for a few minutes before slicing and baking your cookies.
MAKE AHEAD CHRISTMAS COOKIE RECIPES
Without further ado, here's a great list of make ahead Christmas cookies that look delicious AND freeze especially well. I'm going to have trouble narrowing it down to decide which ones I want to fill my freezer with this month!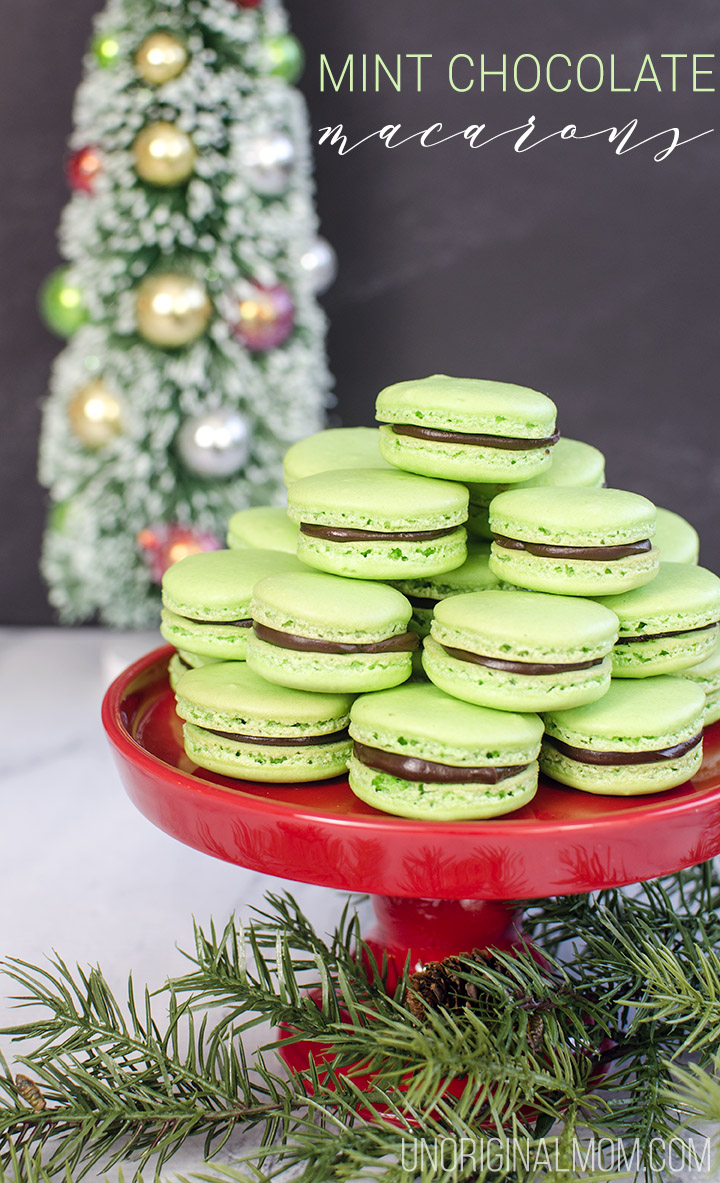 Mint Chocolate Macarons from unOriginal Mom – Macarons can be tricky to make, but they're so delicious! And they freeze beautifully. The flavor combinations are endless, but these mint chocolate macarons are perfect for Christmastime.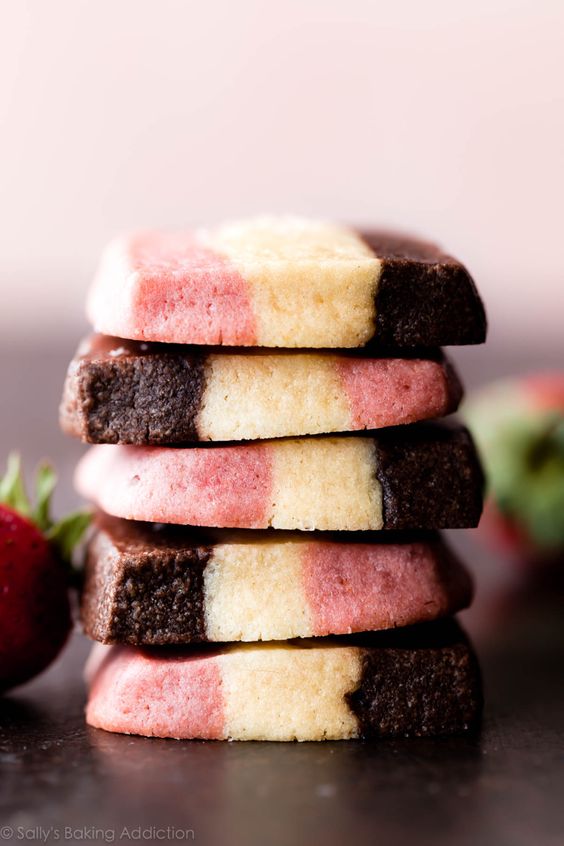 Neapolitan Cookies from Sally's Baking Addiction – These cookies are so pretty! And all three flavors are made from the same dough base. Bake and then freeze, OR freeze the dough in a loaf pan and then thaw to bake cookies fresh.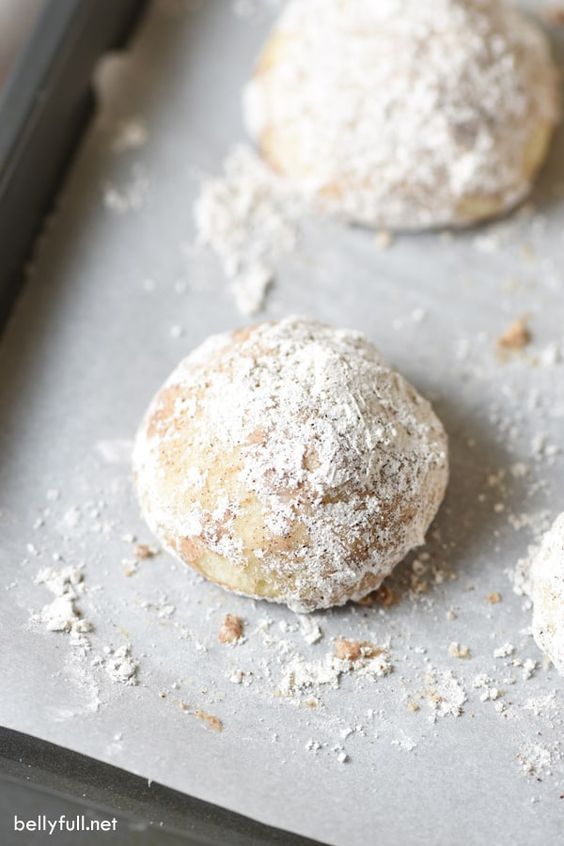 Chai Spiced Snowball Cookies from Bellyfull – This variation on classic snowball cookies sounds delicious! To freeze ahead, form the dough balls without the powdered sugar spice mixture, flash freeze on a baking sheet, then transfer to freezer bags. When it's time to bake, let the balls defrost while you preheat the oven, then roll them in spice mixture right before baking.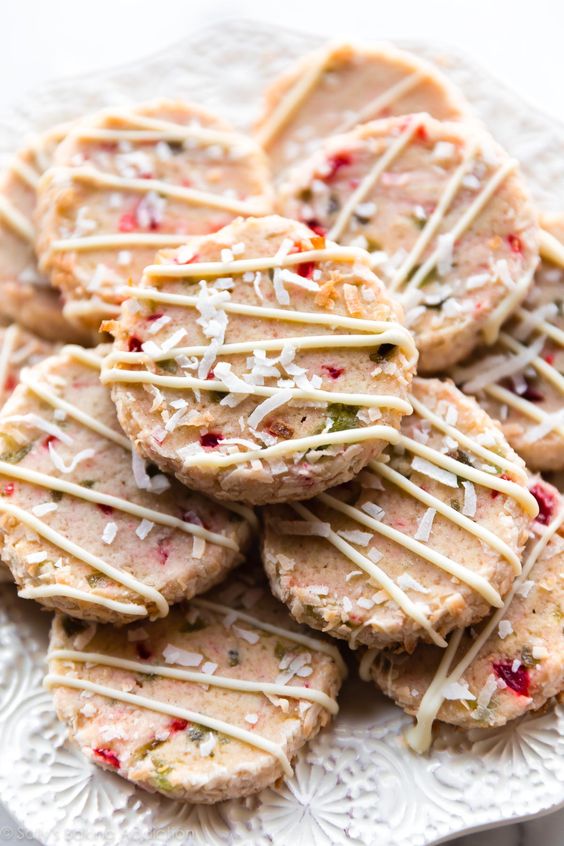 Santa's Whiskers Cookies from Sally's Baking Addiction – These almond flavored slice-and-bake cookies are so festive! Freeze baked cookies OR assemble dough logs and freeze ahead to thaw later and bake fresh cookies.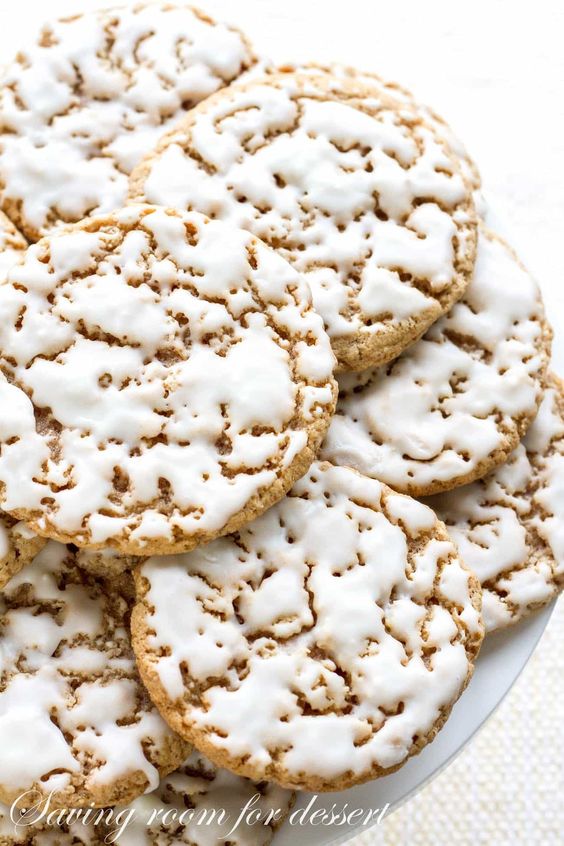 Old Fashioned Iced Oatmeal Cookies from Saving Room for Dessert – This one is a crowd pleasing classic. They're probably best to make completely (bake and ice them) and then freeze.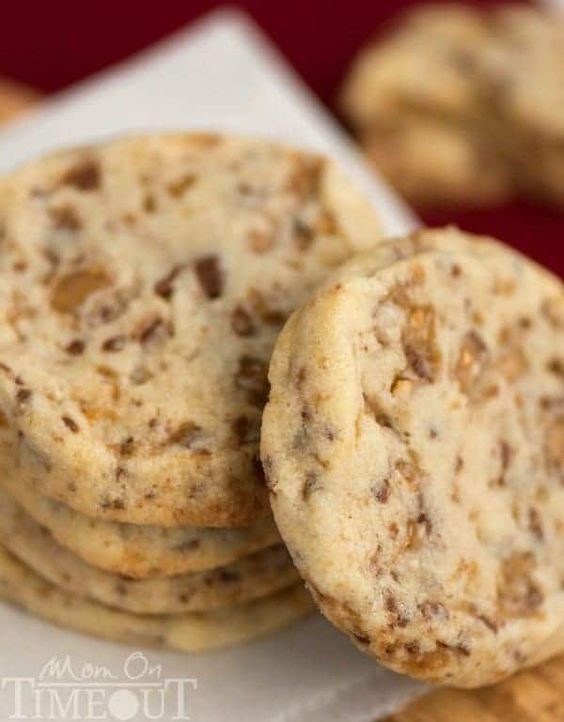 Toffee Butter Icebox Cookies from Mom on Timeout – I am a sucker for toffee flavored desserts, and these cookies sound delicious! You could freeze the baked cookies or freeze the dough logs, then thaw and bake them fresh.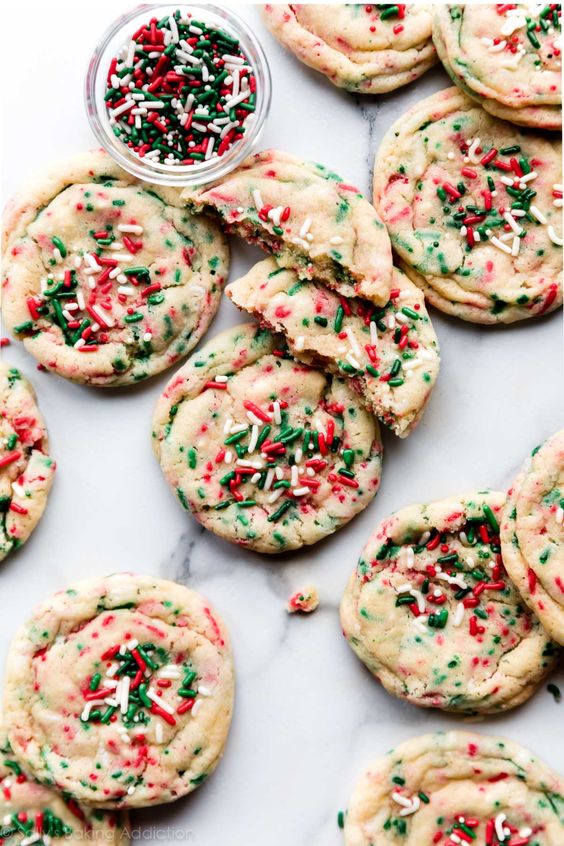 Drop Style Christmas Sugar Cookies from Sally's Baking Addiction – There's nothing fancy about these cookies, but the sprinkles would add such a colorful and festive touch to your cookie plate! Freeze unbaked cookie dough balls to pull out and bake straight from frozen (great for impromptu get togethers!), or freeze baked cookies.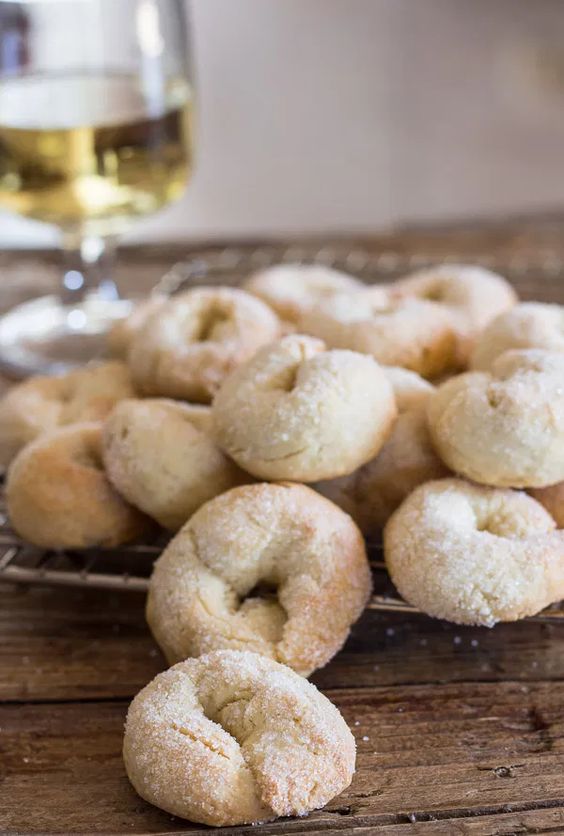 Wine Cookies from An Italian in My Kitchen – I'd never heard of these cookies before, but a friend recommended them as easy and delicious cookies that freeze really well. I'll be honest, she had me at WINE cookies! ;-) Bake and freeze in an airtight container.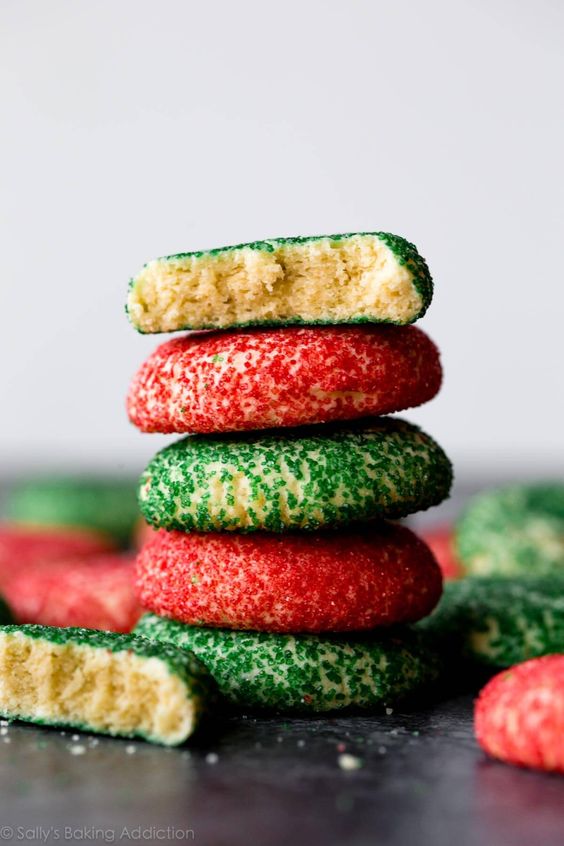 Christmas Cookie Sparkles from Sally's Baking Addiction – Here's another cookie that is easy to make and will look fantastic on your cookie trays! They're just soft sugar cookies rolled in baking sparkles. Freeze baked cookies, or freeze unbaked cookie dough balls without sanding sugar coating. Thaw for 30 minutes, then roll in sanding sugar and bake.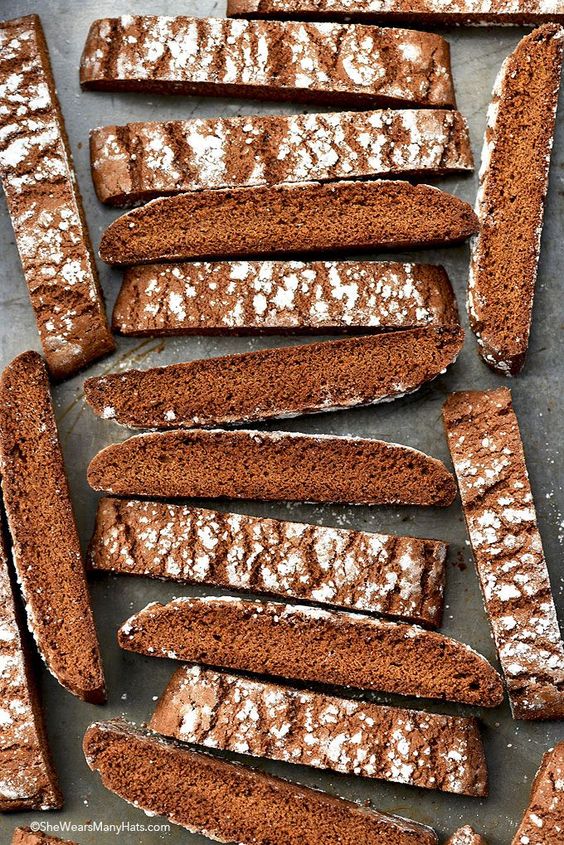 Gingerbread Biscotti from She Wears Many Hats – Biscotti is another type of treat that freezes well, and there are endless varieties. These gingerbread biscotti is perfect for Christmas. Bake and freeze in an airtight container.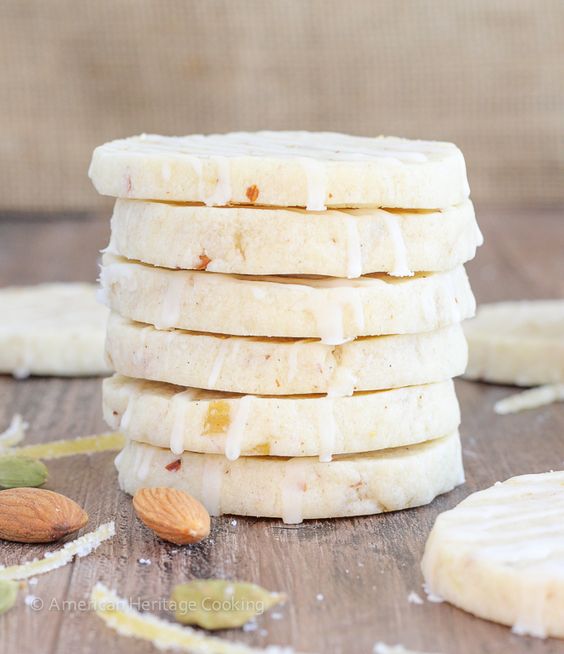 Rum Refrigerator Cookies from American Heritage Cooking – this is a classy cookie that you can freeze before or after baking.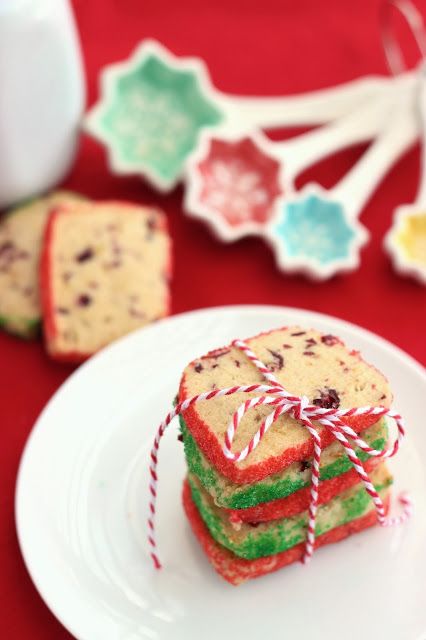 Cranberry Orange Spice Cookies from Cooking on the Front Burner – These cookies look beautiful and I'm betting they taste even better. Freeze the dough or bake and freeze the cookies.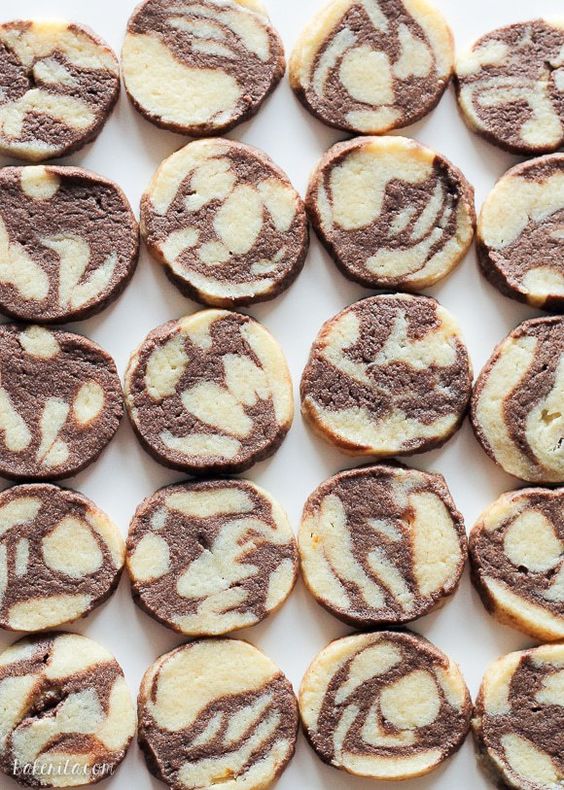 Chocolate Vanilla Swirl Icebox Cookies from Bakerita – The swirl in these cookies looks so pretty! Bake them and then freeze, or freeze the dough roll to slice and bake later.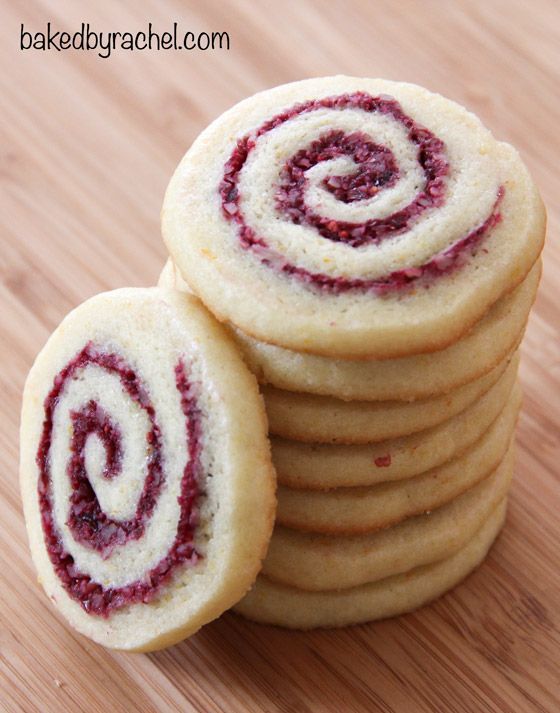 Cranberry Orange Pinwheels from Baked by Rachel – Speaking of swirl, these pinwheels are perfect. She doesn't have any freezing instructions but I bet you could either freeze the dough roll or bake and then freeze.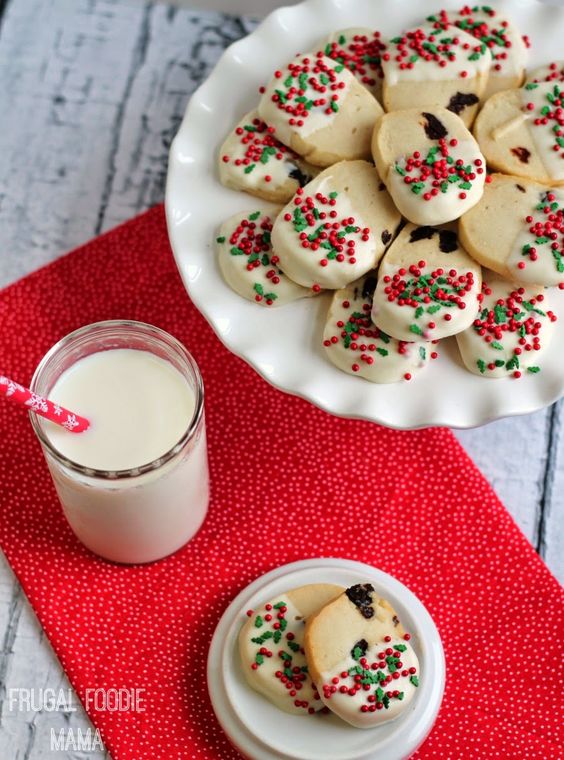 White Chocolate Dipped Cherry Shortbread Cookies from Frugal Foodie Mama – Here's another unique and festive cookie! You can freeze the dough log – just let it thaw at room temperature for about 45 minutes before slicing and baking fresh.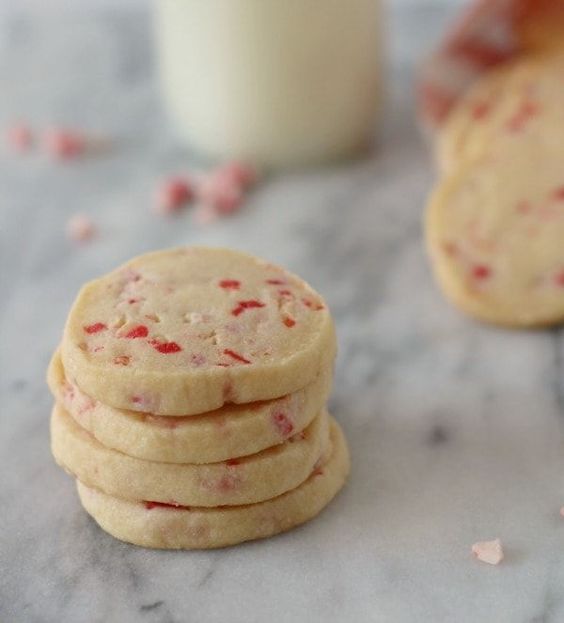 Peppermint Shortbread Cookies – Here's another variation on shortbread cookies that are perfect for Christmas. Freeze the dough log or freeze the baked cookies.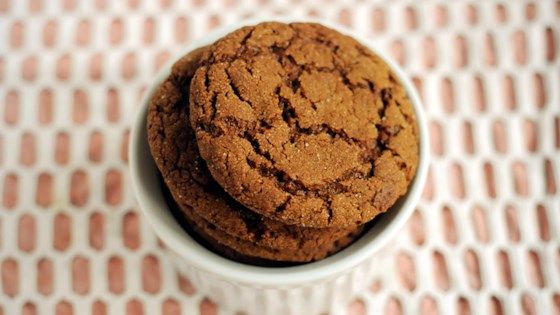 Big Soft Ginger Cookies from AllRecipes – This is one of my go-to cookie recipes any time of year, but especially around the holidays. I've never tried freezing the dough, but I almost always double the batch, bake them all (and end up with 5-6 dozen cookies!) and then freeze half of them. They're just as good after being frozen as they are fresh!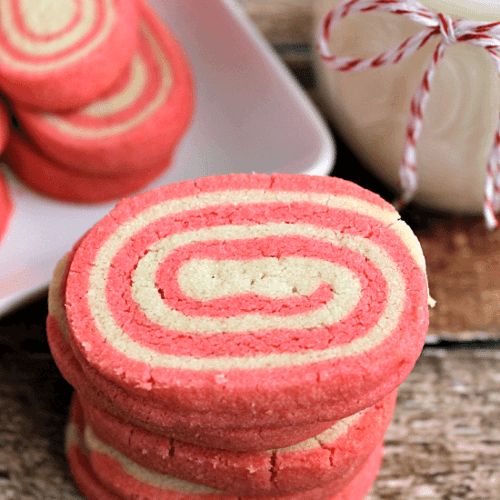 Peppermint Pinwheels from Julie's Eats and Treats – Yet another slice-and-bake recipe! Freeze the dough log or freeze the baked cookies.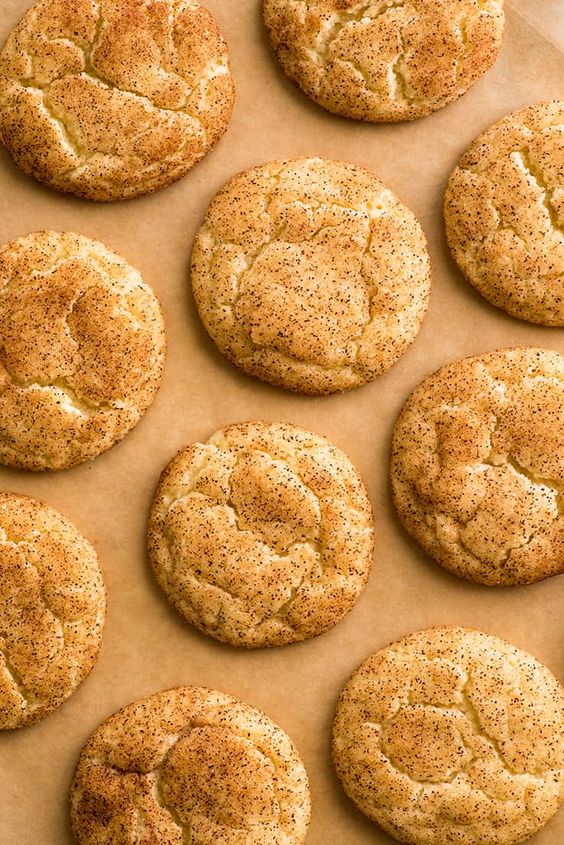 Snickerdoodles from Baking Mischief – Don't forget about this classic crowd-pleaser! She's even got great freezing tips to freeze the dough or the baked cookies.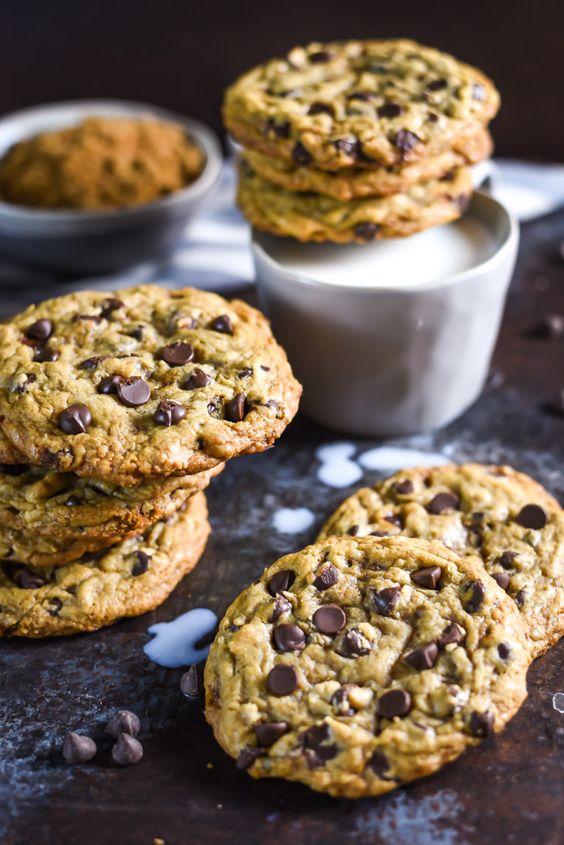 The Best Chewy Style Chocolate Chip Cookies from Host the Toast – Finally, you can't go wrong with a big ol' batch of chocolate chip cookies! A friend recommended this recipe as her go-to (I haven't had the chance to try it yet but it's on my list for sure!), and you can either freeze the dough or bake the cookies and then freeze.
If you have any other favorite recipes for make ahead Christmas cookies, share a link in the comments! I'd love to try them. Happy baking!




What if you MADE your Christmas gifts this year instead of buying them? Find out how to set yourself up for success in your Handmade Christmas journey - plus get a free printable gift list planner!