Create beautiful and unique DIY fabric covered pumpkins to match your decor using faux pumpkins, fabric strips and Mod Podge!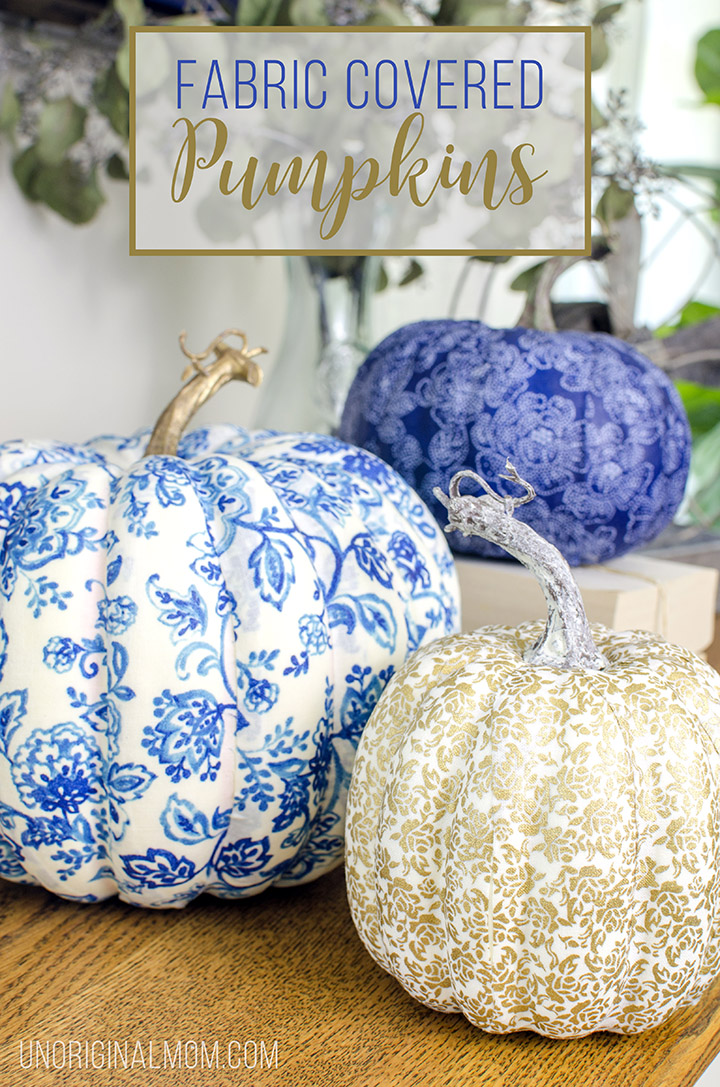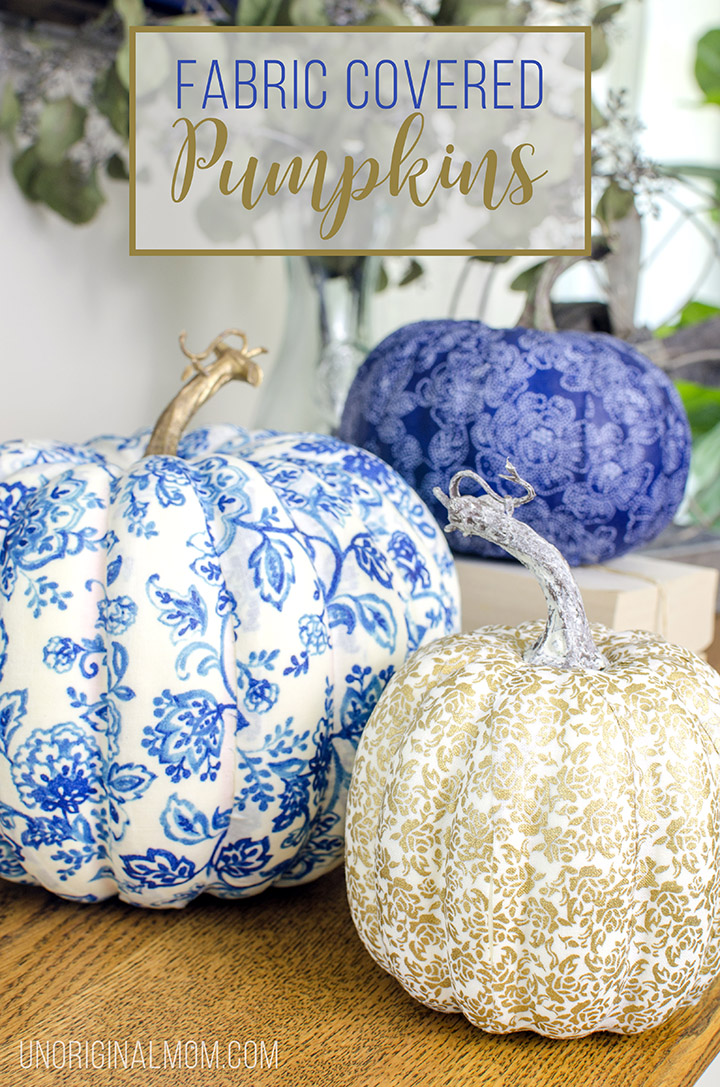 I have such mixed feelings about the change of seasons from summer to fall…on one hand, I *love* all-things-fall and can't wait for crisp clear autumn days, sweaters with leggings and boots, football games, fall festivals, and pumpkin spice flavored everything! On the other hand, it's sad to say goodbye to the warm sun, cook-outs, evenings on the deck and lazy summer days. I think for that reason, my transition from summer to fall decor is a very gradual one. Partly because I don't do much "summer decorating" in the first place, and also because I find myself layering more and more fall decor in my home all the way up until Thanksgiving. I like to begin in September with lots of neutral colored elements and add more traditional fall colors in October and November. All that to say, I think these DIY Fabric Covered Pumpkins are a perfect way to let fall just begin to creep into your home – they're subtle and tasteful but they definitely qualify as fall decor!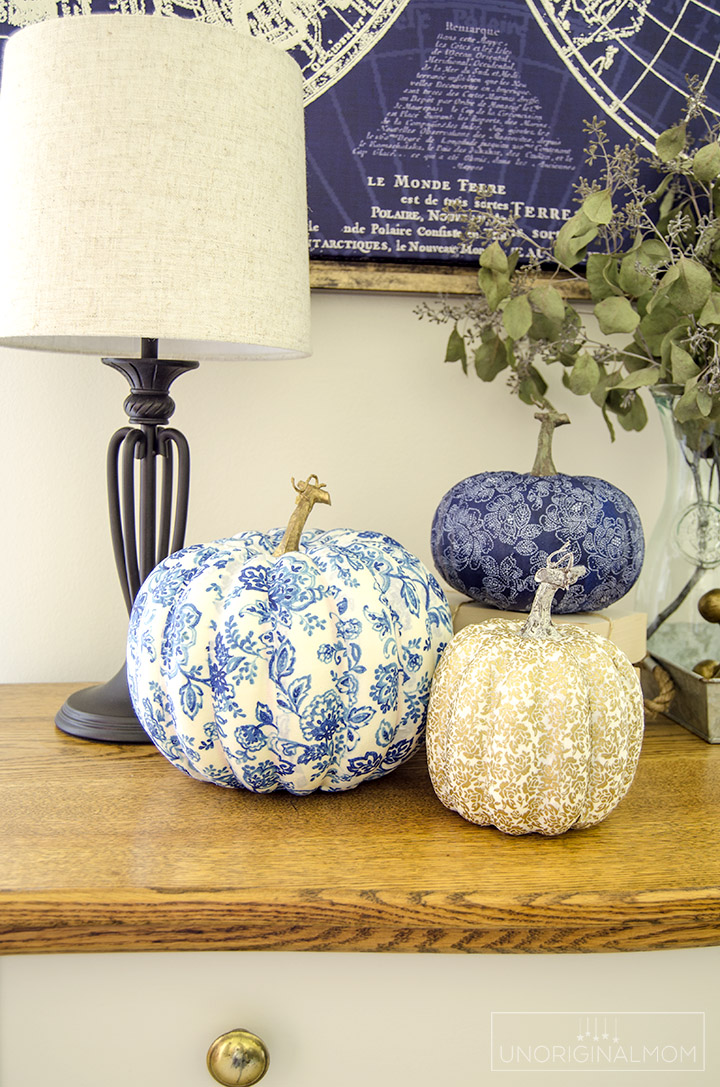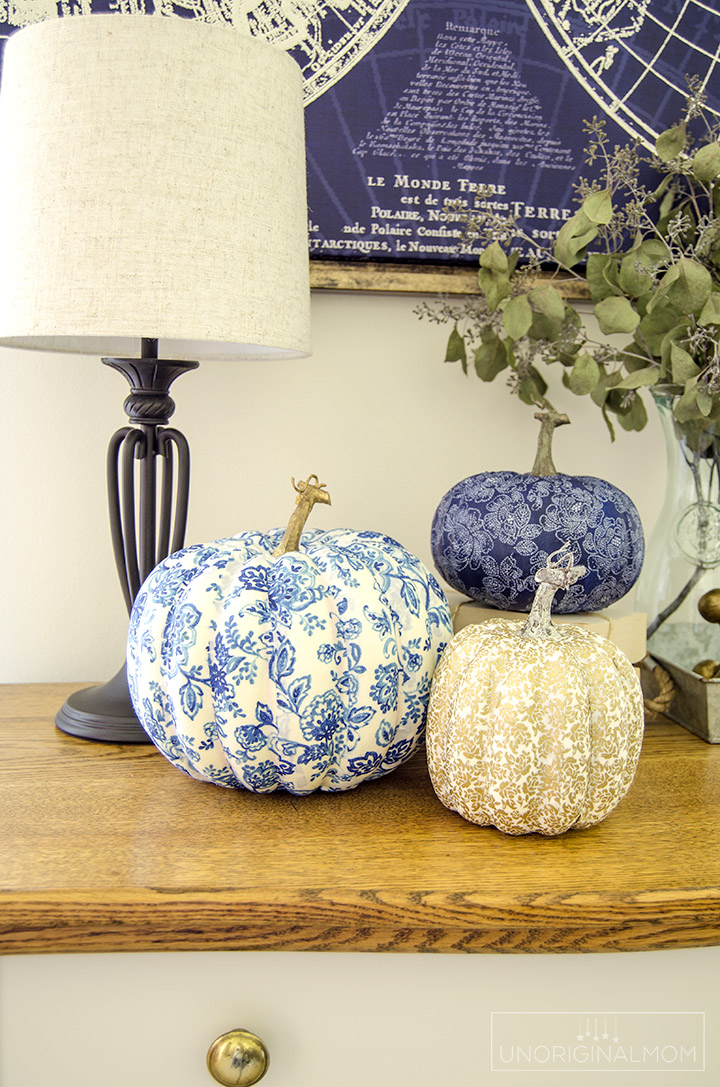 SUPPLIES:
(this post contains affiliate links. Click here to read my full disclosure.)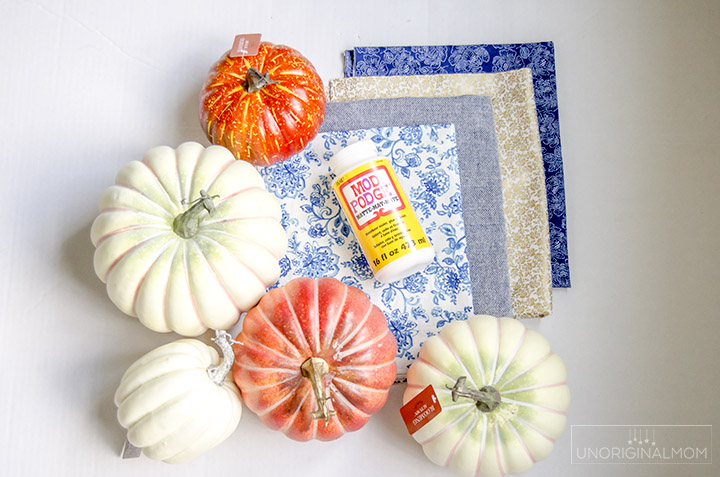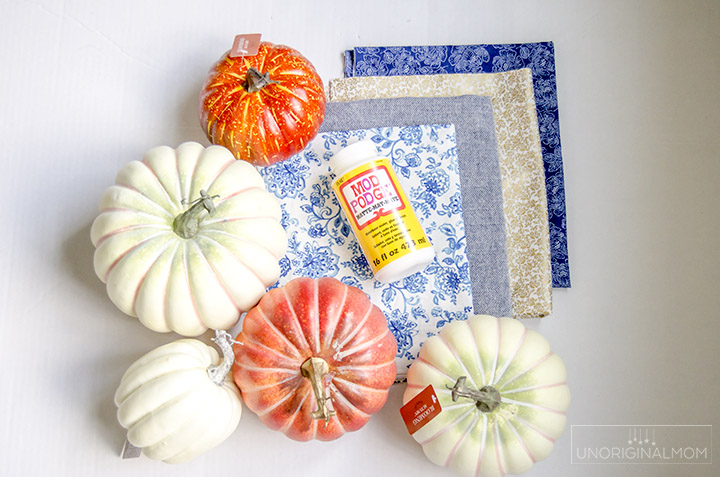 I headed to my local JoAnn's to browse the fabric selection and pick up some faux pumpkins. Since it's still August, I decided to go the opposite direction from the typical browns, oranges, and reds of fall and try something a little different – blue! Isn't this fabric just to die for? SO pretty! I threw the gold in there for a little accent but ending up loving that just as much as the blue, too.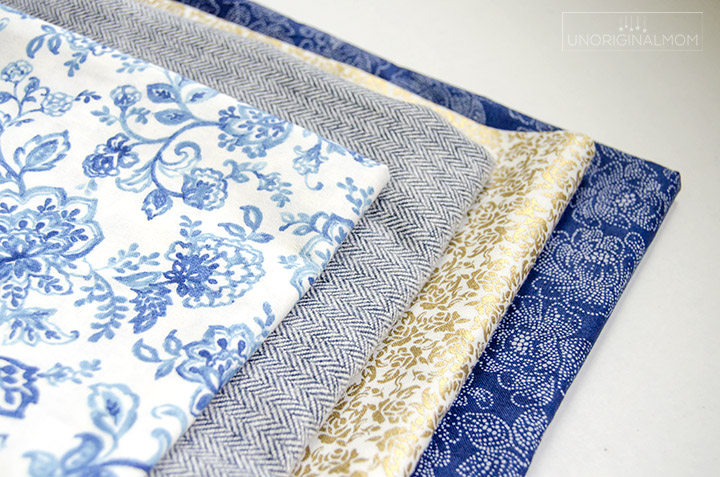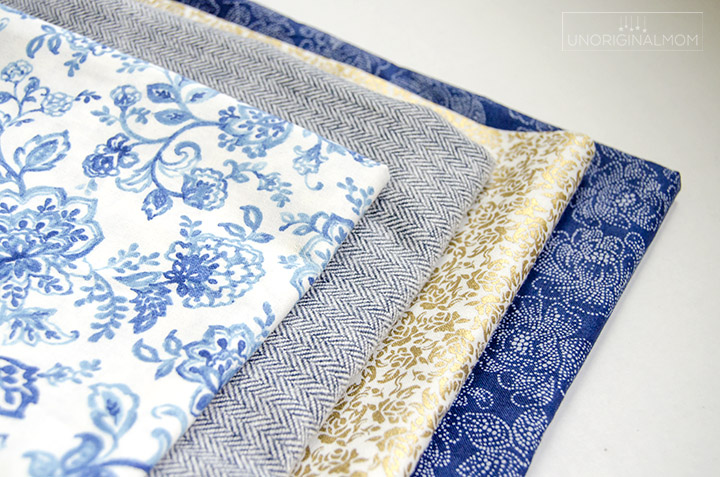 Before I started applying the fabric strips, I needed to get the stem out of the way – it would have been really hard to try to apply the fabric around the stem. I was able to just pull the stem out without too much trouble by rocking it back and forth and firmly pulling up. (Though on another one of the pumpkins I did this and the stem pulled out a big chunk of the top of the pumpkin along with it – oops! It ended up being totally fine, though, as I covered with the fabric and you can't even tell! So don't worry if that happens to you too.)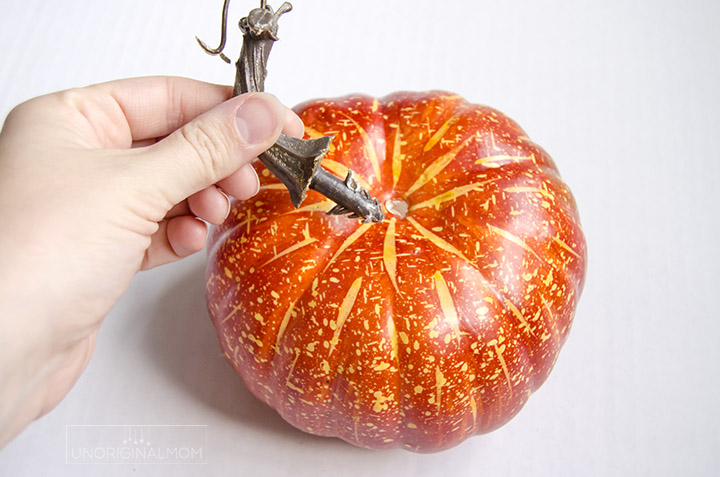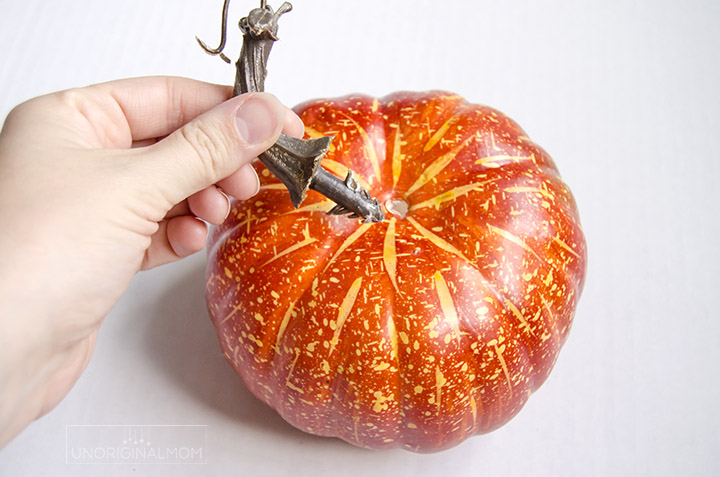 I started by cutting strips by hand, but that was taking too long…so I cut 1.5-2″ strips (depending on the size of the pumpkin) using my rotary cutter. The length will depend on the size of the pumpkin, too. I bought a half yard of each kind of fabric and ended up not using more than 1/4 yard of any of them, but again – it totally depends on the size of the pumpkin and how many you're covering.
After I had a big pile of strips cut, I used fabric scissors to cut points at both ends – that helps the fabric lay better on the top and bottom of the pumpkin.
To apply the fabric strips to the pumpkin, paint the back side of the fabric generously with Mod Podge and then smooth them onto the pumpkin, top to bottom. It helps if you stretch the fabric a little bit and then use your fingers to smooth out the wrinkles. (It's okay if you end up with some wrinkles on the bottom.) Continue to apply each strip, overlapping them slightly. Then, either immediately after applying each strip or at the end after you've applied them all, coat the top of the fabric with more Mod Podge.
(TIP: If you're using a very thin/loosely woven, light colored fabric, you may want to give your pumpkin a quick coat of white or gray paint first so that the color of the pumpkin doesn't show through your fabric!)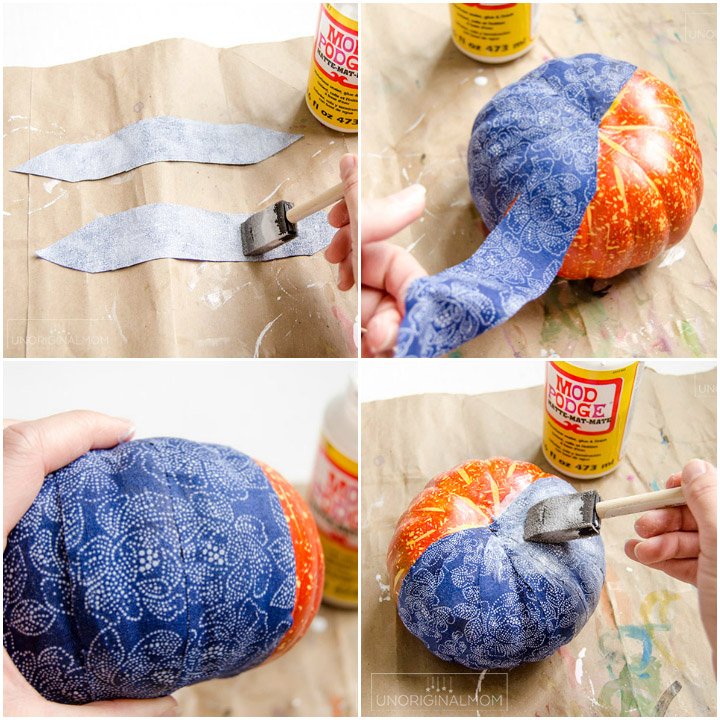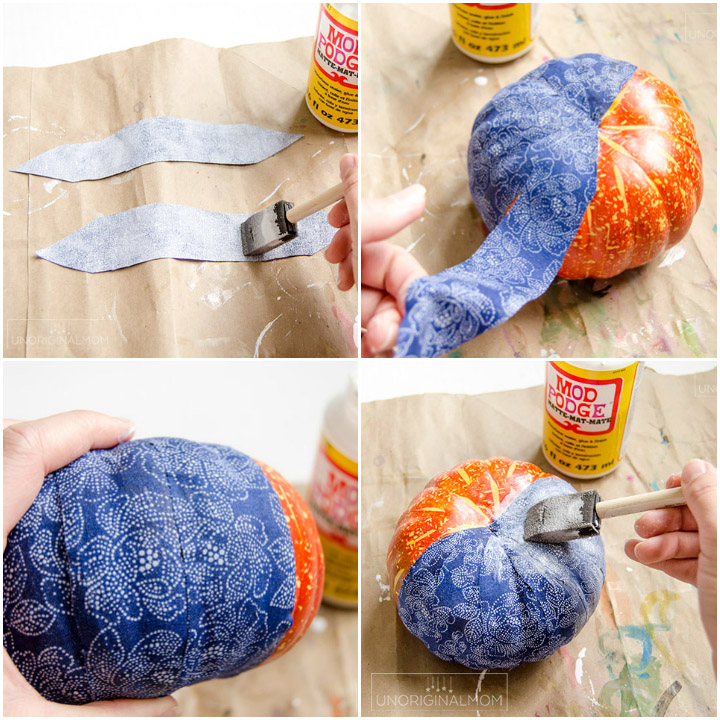 Let it dry, reattach the stem (I poked a hole for the stem in the middle of the pumpkin with a pencil first), and add some embellishments, if you want – I used a brown paper leaf and some twine. Then, make a few more with some different fabric!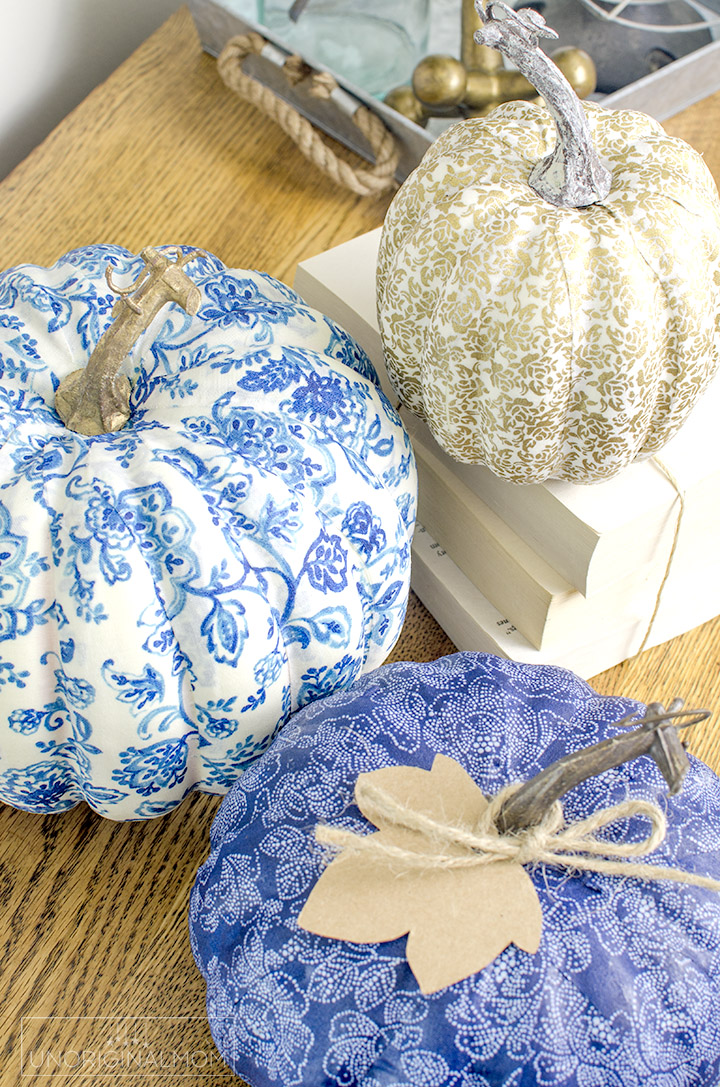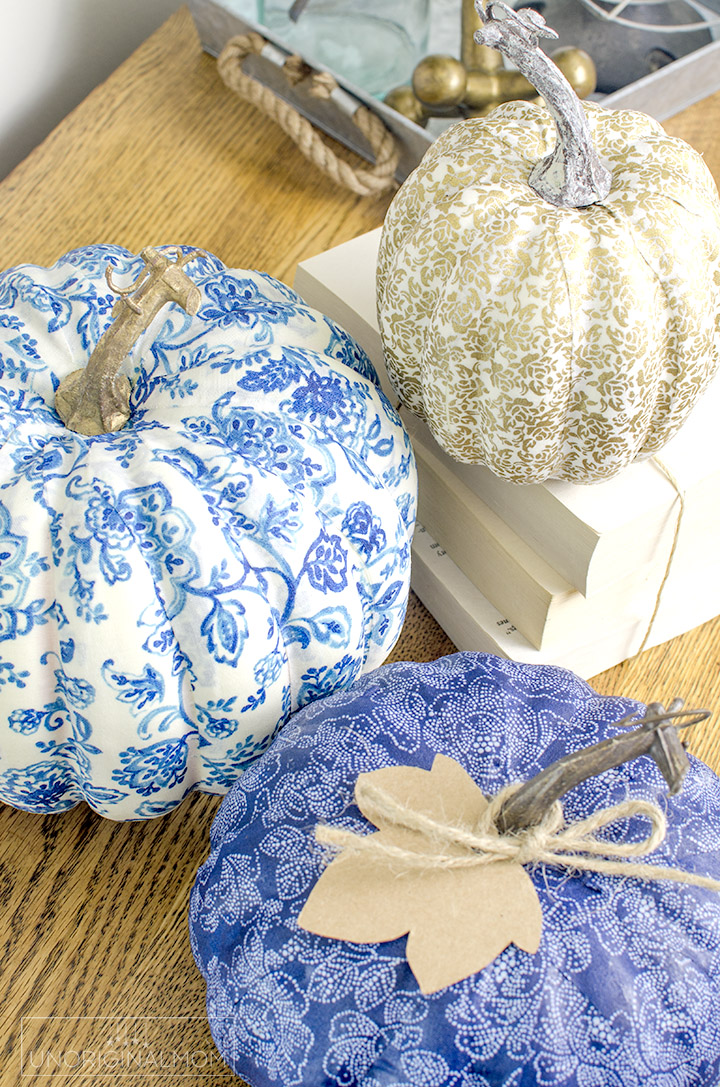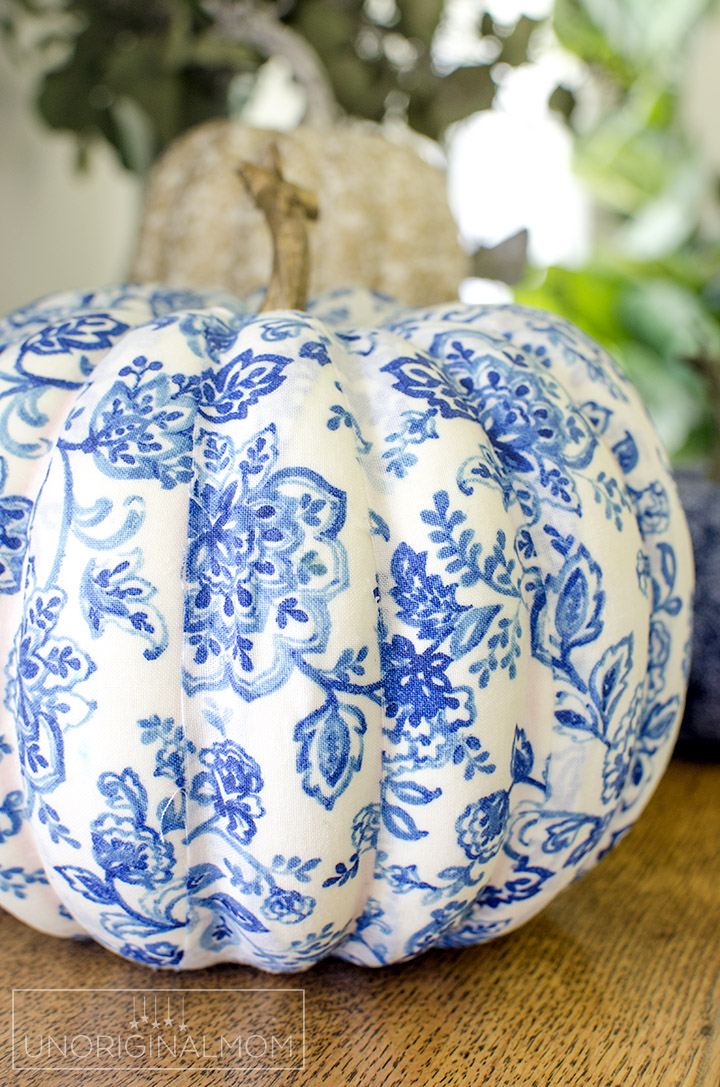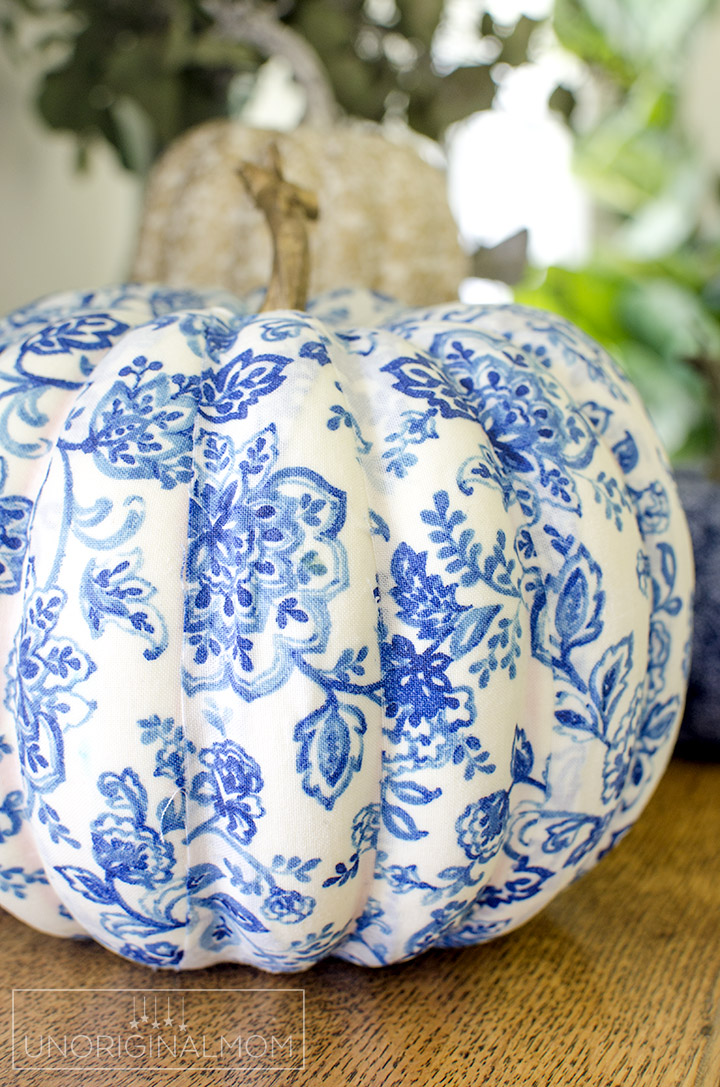 I found that medium-light weight fabric without geometric patterns works best. If I'd tried this with a plaid fabric, or something like that, it would be very easy to see each individual strip of fabric. (I ended up not even trying the herringbone fabric that I got, because it was a little heavier weight and I didn't think it would lay very well.) But with the fabric I used, once you take a step back you can't even tell that it's made out of fabric strips!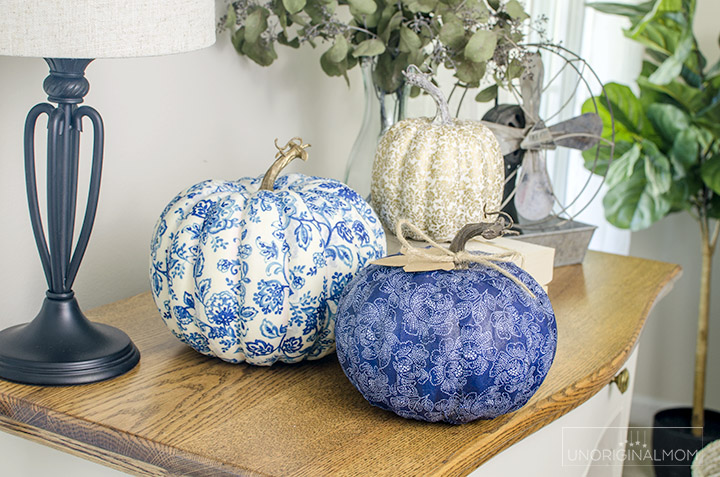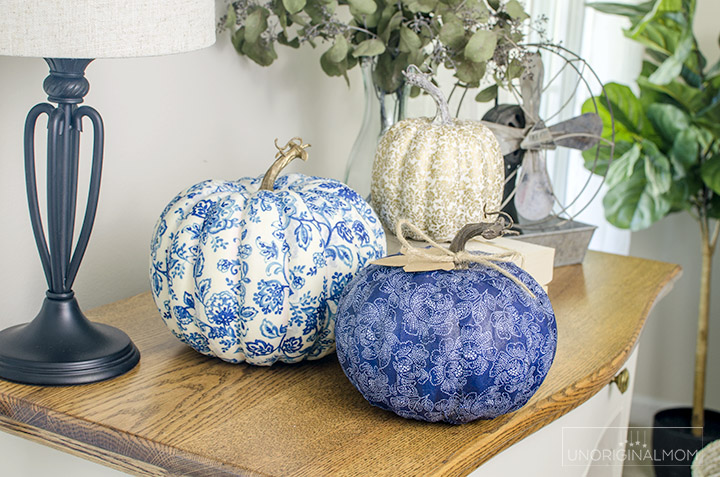 They go perfectly in my piano room with that blue map, don't you think? Just a little subtle suggestion of fall.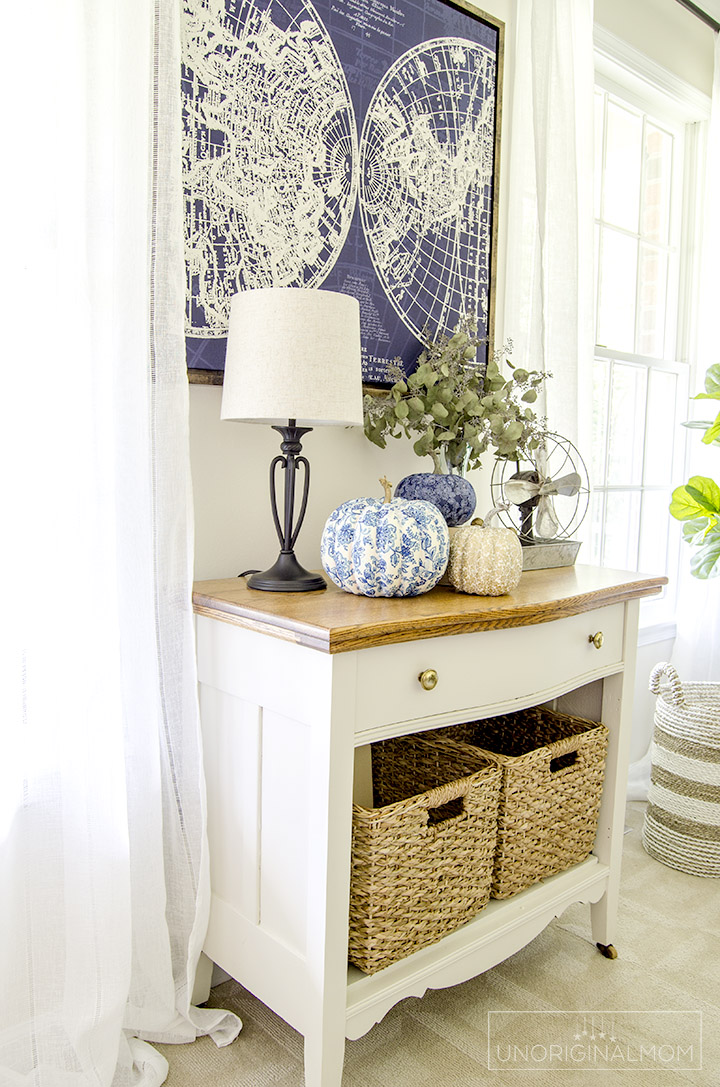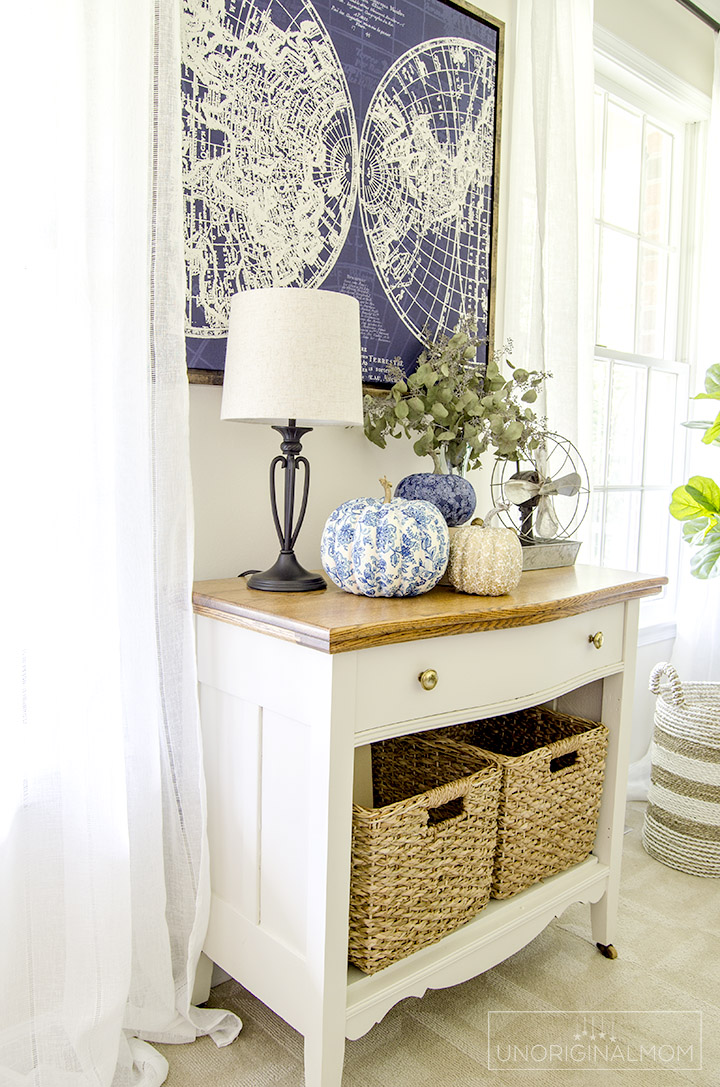 Here's a quick video so you can see how easy it is to put together these fabric covered pumpkins:
Looking for some more pumpkin crafting ideas? Take a look at this rustic glam Glitter Monogrammed Pumpkin…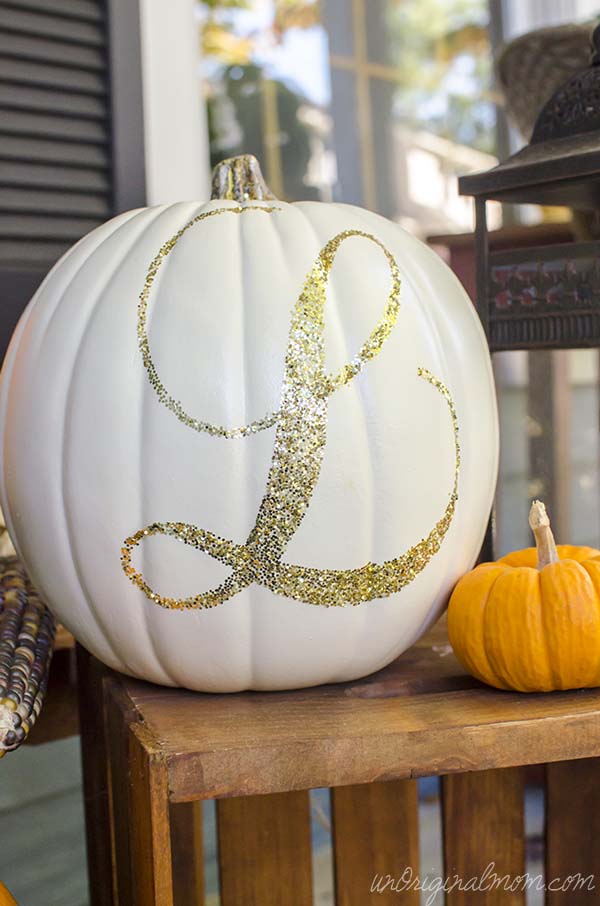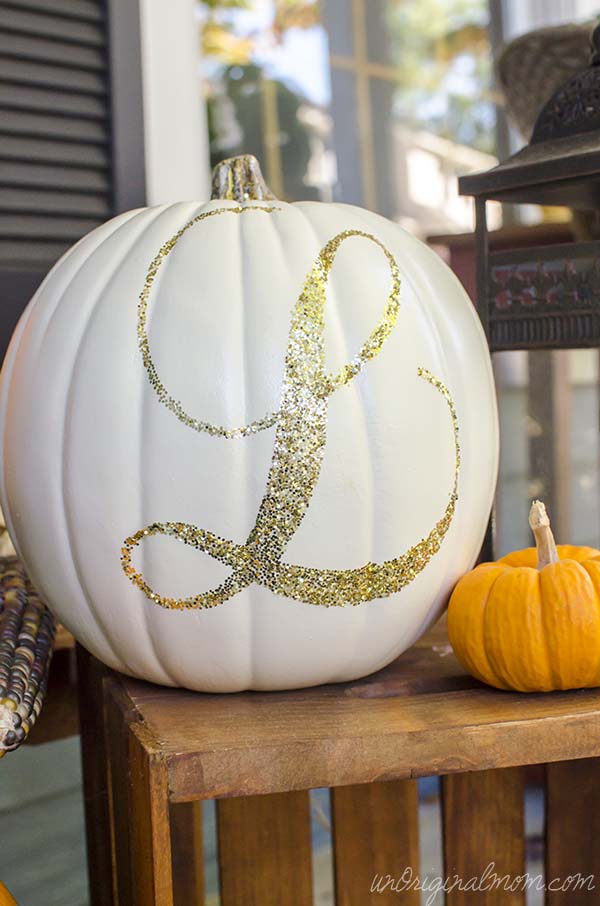 …or these chalk-painted pumpkins I made into a simple and beautiful fall centerpiece.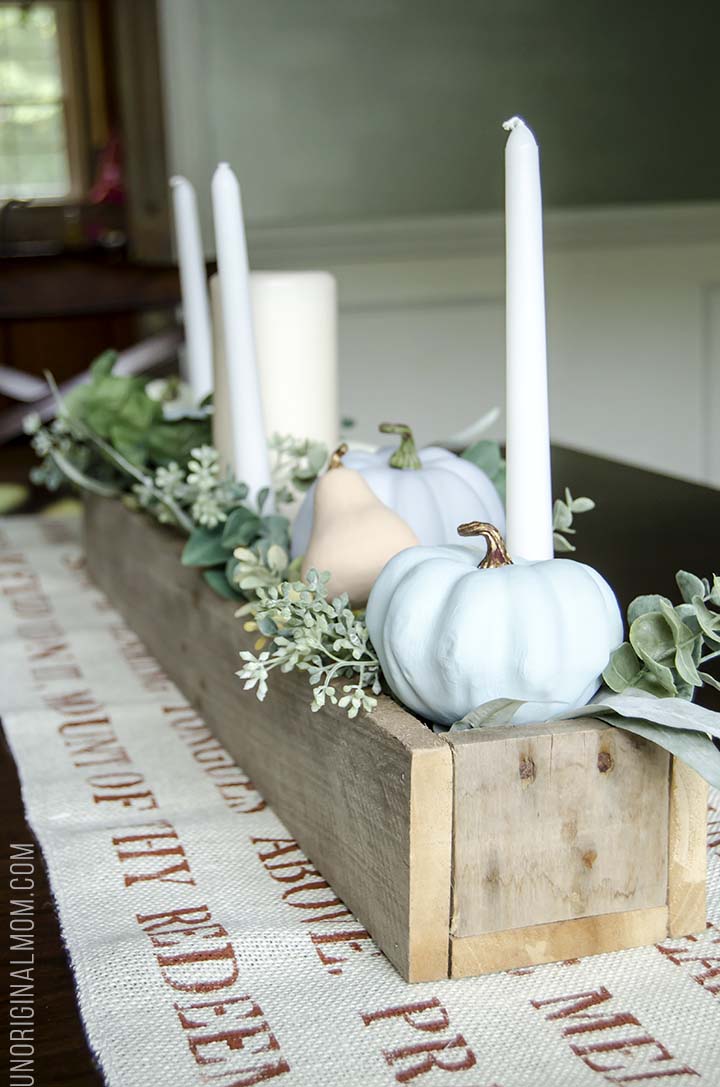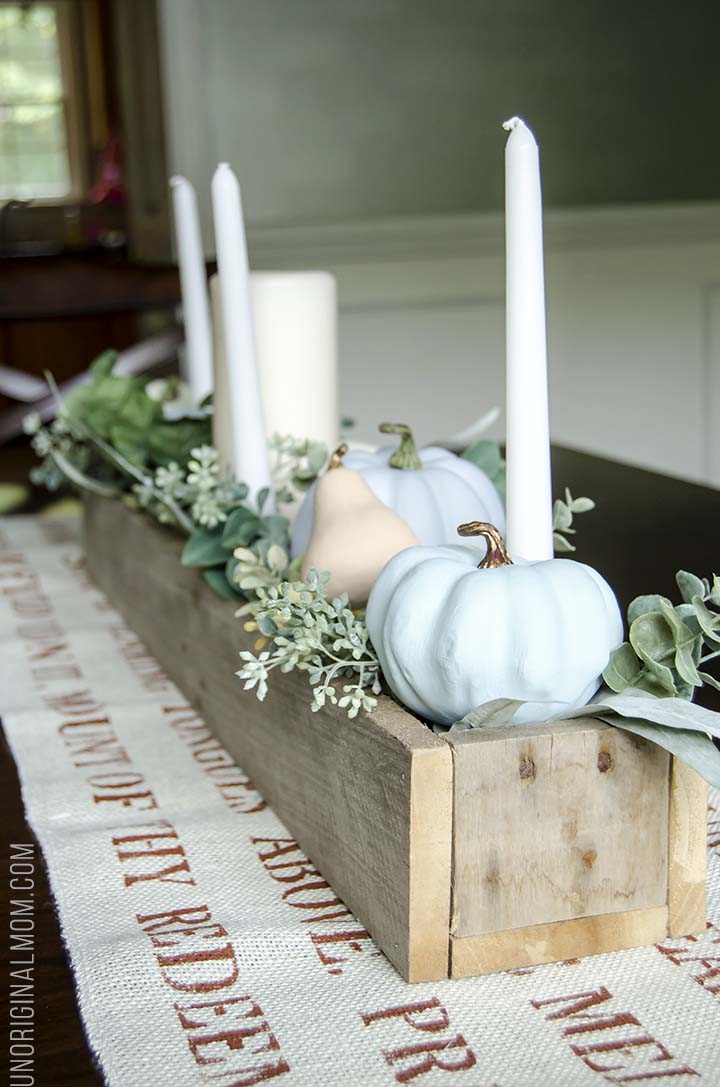 Happy crafting!


Get your copy of my FREE meal planning binder!
Sign up to get a free copy of my meal planning system - an 11 page printable meal planning binder, complete with a pantry inventory, shopping list, and more to help get on top of your menu each week!