Here it is…the big reveal of our beautiful DIY backyard playhouse! Based on the "Handmade Hideaway" plans, we made several adjustments and customizations to our version, including a tube slide and rock wall.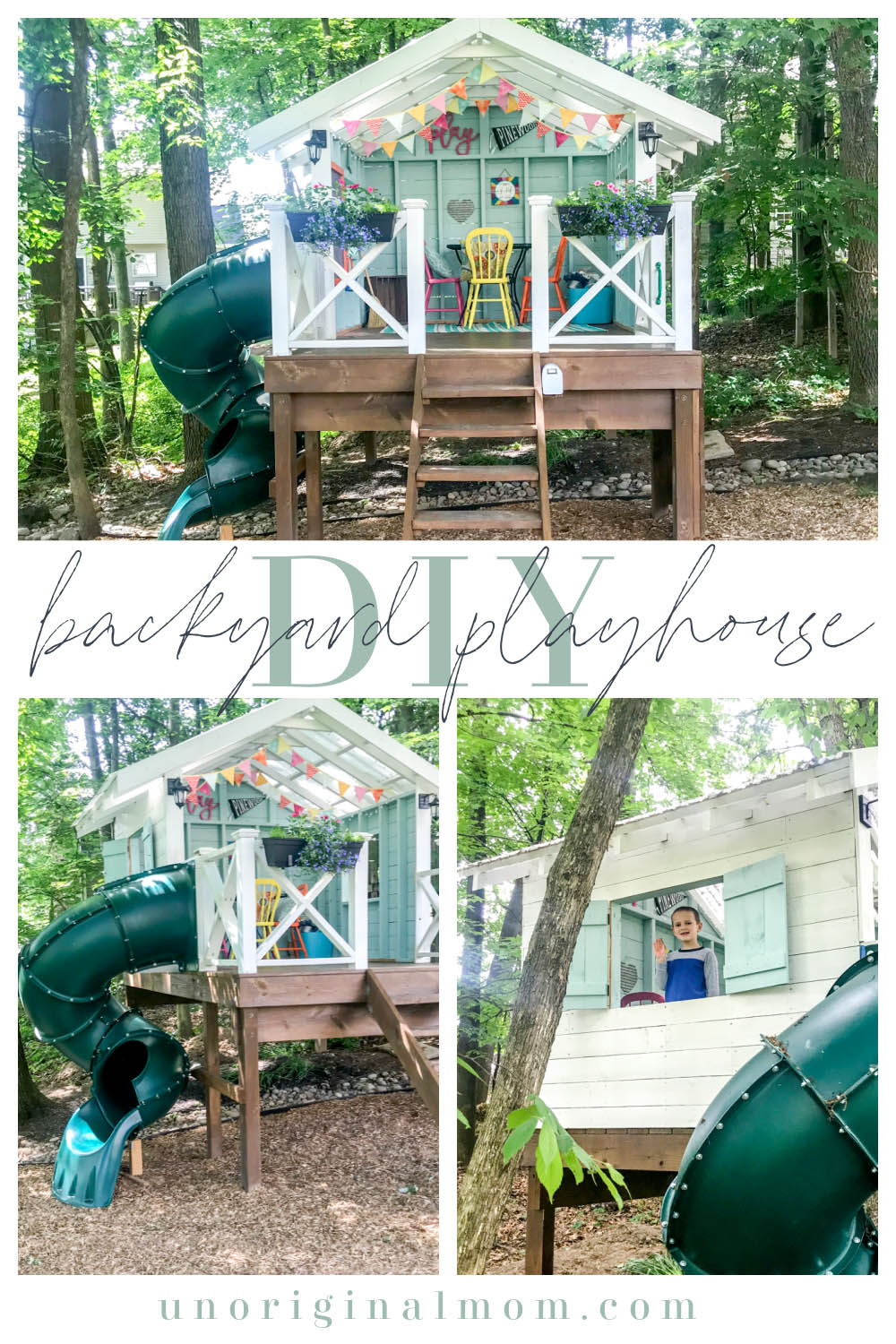 This post contains affiliate links. Click here to read my full disclosure.
We built a playhouse! This is by far the biggest and most drawn out DIY project my husband and I have ever tackled but it was completely worth all of the hard work. We actually started it at the beginning of July 2019 and had the structure part done by September, but we didn't finish the final touches until the beginning of the following summer.  Then we still had quite a bit of landscaping work to finish up around it. By the time we completed all that, I just didn't get around to taking the final "after" photos before winter arrived! I had been holding off on publishing this post until I could get more photos taken, but I realized that we're quickly approaching "playhouse planning season" and I wouldn't be able to get photos until after many people have finished researching their DIY playhouses and have started to build them this spring.  All that to say…I'll be updating this post with more photos in a few months, but I wanted to go ahead and get it out there so people can see and maybe even be inspired by our version on the Handmade Hideaway.
DIY BACKYARD PLAYHOUSE WITH SLIDE – THE DECISION & DESIGN PROCESS
Let's start at the beginning of the process.  We knew we wanted to get some kind of play structure for our kids, but our backyard is sloped and backs up into a small wooded area, which means a typical swing set wasn't really an option for us. Here's a look at the spot in the backyard we started with. It's not terrible sloped, but it is on more of a slant than it looks in this photo.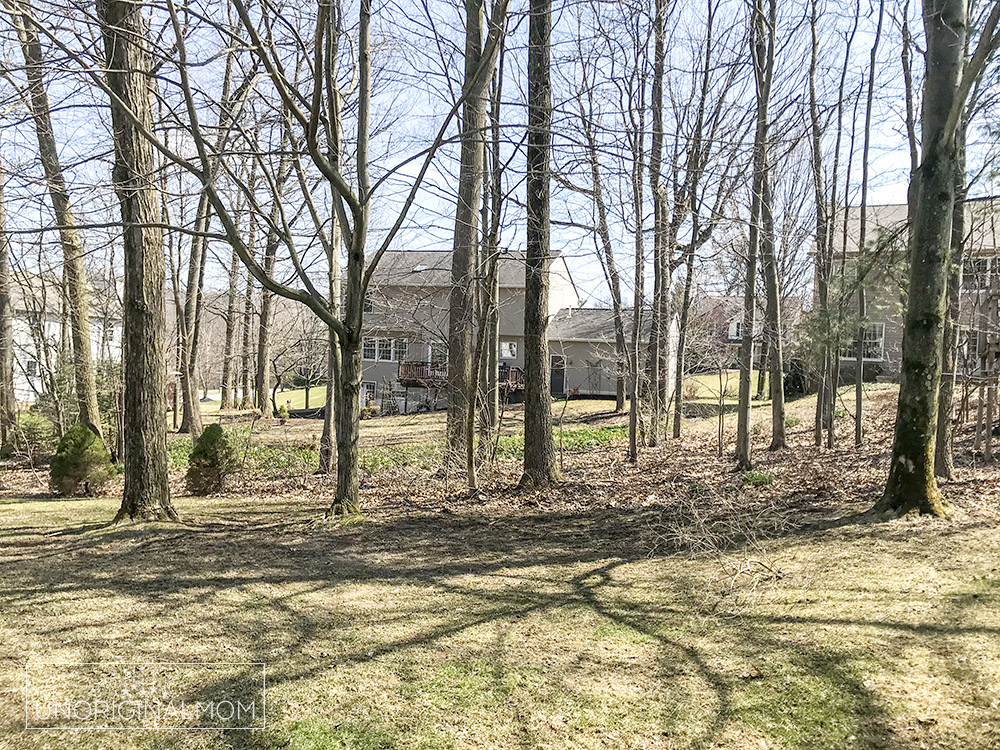 We already have swings mounted under our deck, so what we really wanted was some kind of stand alone climbing/sliding/play structure. Our kids are ages 8, 6, and 2, so it was important that whatever we built could work for a variety of ages and last for a long time. Originally, I was looking at playhouse kits like those pictured below, thinking we could use them without the swing set bar – but even getting a flat enough spot for them to sit would have required a significant amount of regrading in our yard. My husband was also concerned that the kit swing sets don't typically last nearly as long as a custom built swing sets made out of pressure treated wood. Our biggest concern though, was that prefab swing sets and playhouses like this are almost always geared towards ages 3-6, so our kids would quickly outgrow it.

So we shifted to looking at the DIY backyard playhouse route and came across a quite few options. Originally we were going for more play "structure" instead of a true playhouse, and we really liked this basic and adaptable plan for more of a "fort" with slide and fun climbing walls and things. I also fell in love with this adorable two story DIY Clubhouse from Her Toolbelt, but since it's two stories with a roof, the height limit meant our kids would outgrow it too quickly.
Finally, I discovered the Handmade Hideaway Playhouse by Jamin and Ashley over at The Handmade Home. It's a very no-frills playhouse plan – just a deck, 3 walls, a roof, and a porch, but it was absolutely perfect for us! First of all, since it's raised playhouse, we could put it in our yard on posts without having to worry about regrading the slope. It could also sit partially back into the wooded area of our backyard and not take up as much space in the yard. And the most exciting part was we could easily take the basic plans and completely make it our own!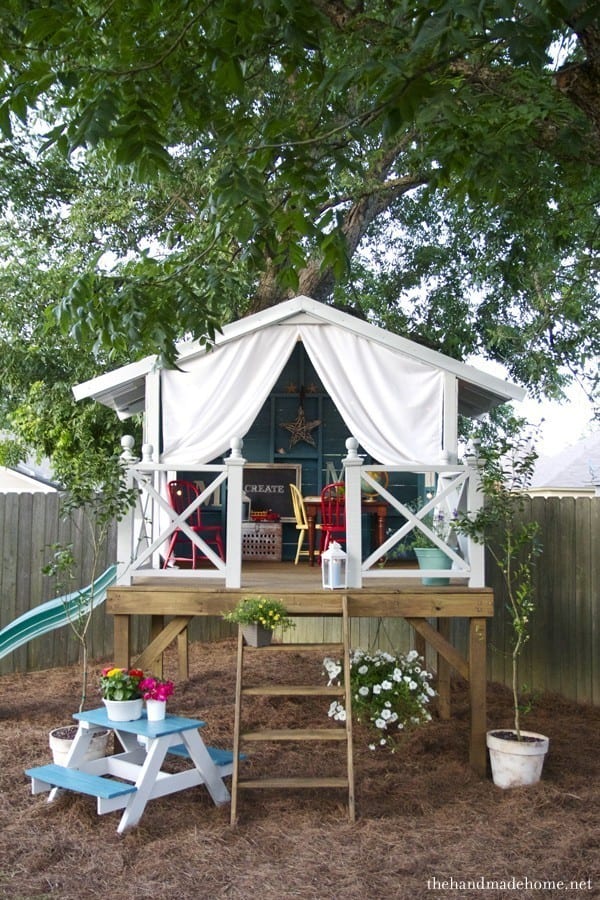 OUR DIY BACKYARD PLAYHOUSE WITH SLIDE
Words just don't do this thing justice. My hubby is a rockstar, don't you think?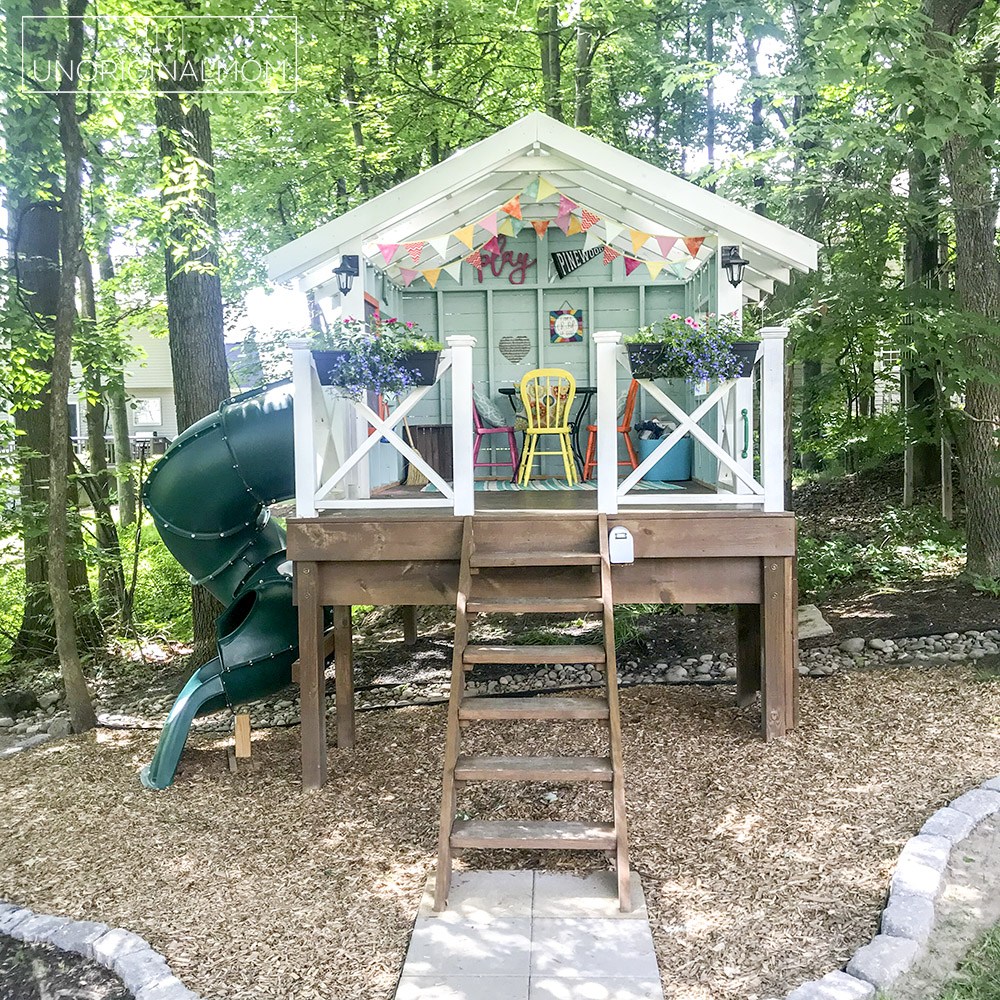 The basic concept of the design is brilliant – it's just a raised platform with 3 walls and a roof! Unlike the original Handmade Hideaway plans, we did sink our posts in concrete. We also built more of a traditional deck platform to make it sturdier and a bit more substantial. This thing is SOLID!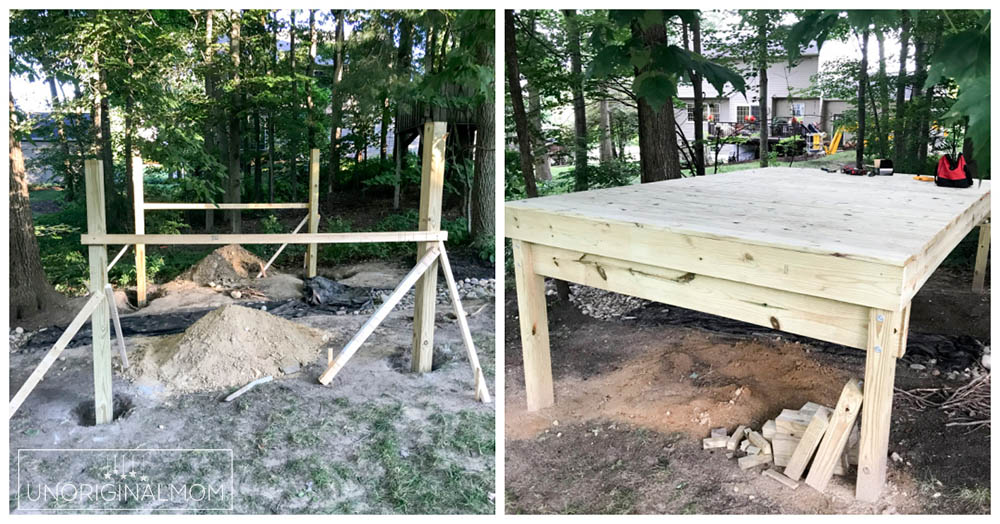 Before we built the playhouse, we added a dry creek bed at the edge of the wooded area along the back of our property. It helps with drainage a little bit, but also provides a pretty and natural looking border between our lawn and the woods. Then we built the playhouse over the creek bed so it's set back in the woods, but the steps of the playhouse lead into the yard.
After the playhouse was complete, we edged the play area with edging stones, dug the ground inside down by about 3″ (that was NOT fun), and filled it with playground mulch. It's such a shady area that grass doesn't grow around it anyway, so the mulch keeps the kids from tracking through mud/dust while they're playing. Since this is at the bottom of a hill, we ended up digging a small swale around the edging to keep rain from running in and washing away the mulch. We replanted the grass to grow all the way up to the edge of the stones. The edging and mulch really makes the whole backyard look nicer!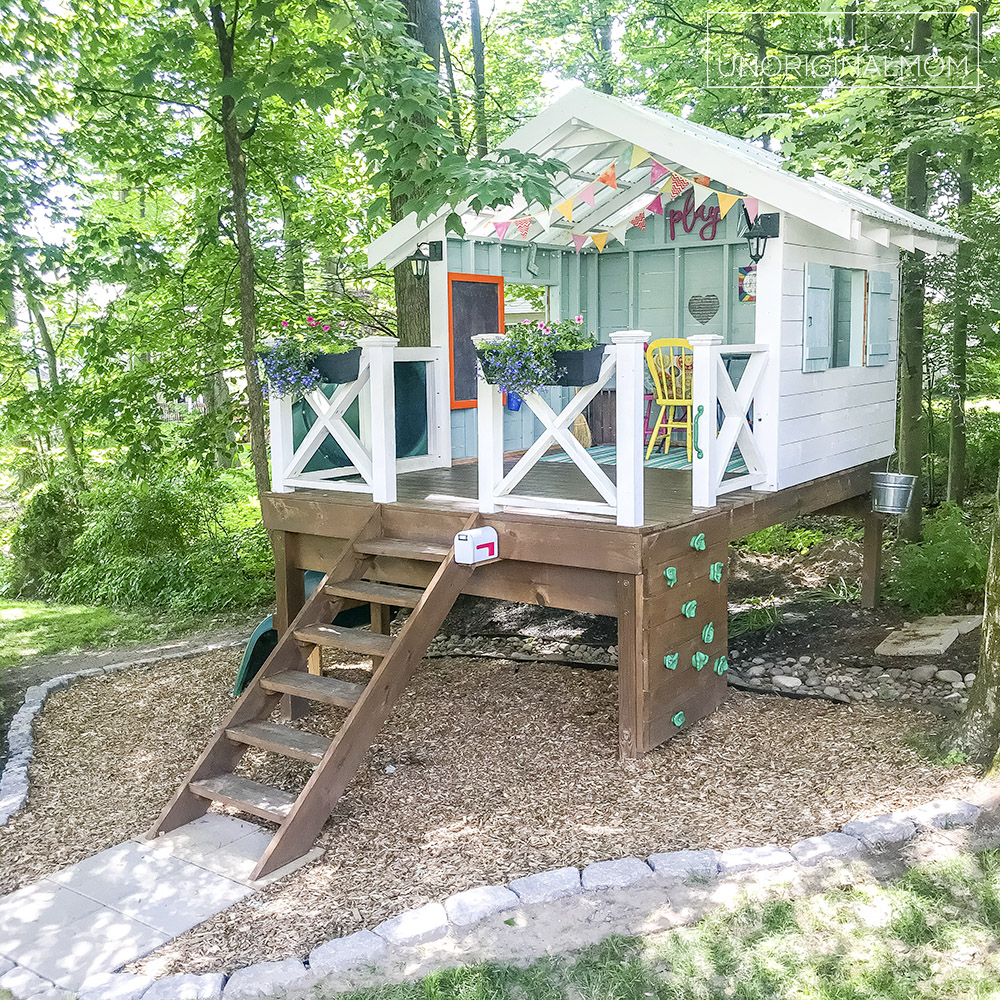 One of the kids' favorite parts of the playhouse is the tube slide! We knew we wouldn't really have the space for a traditional straight slide, so the footprint/landing space of the curly slide was perfect.  We actually bought it from Amazon (and it was kind of a beast to assemble) but ended up being SO worth it.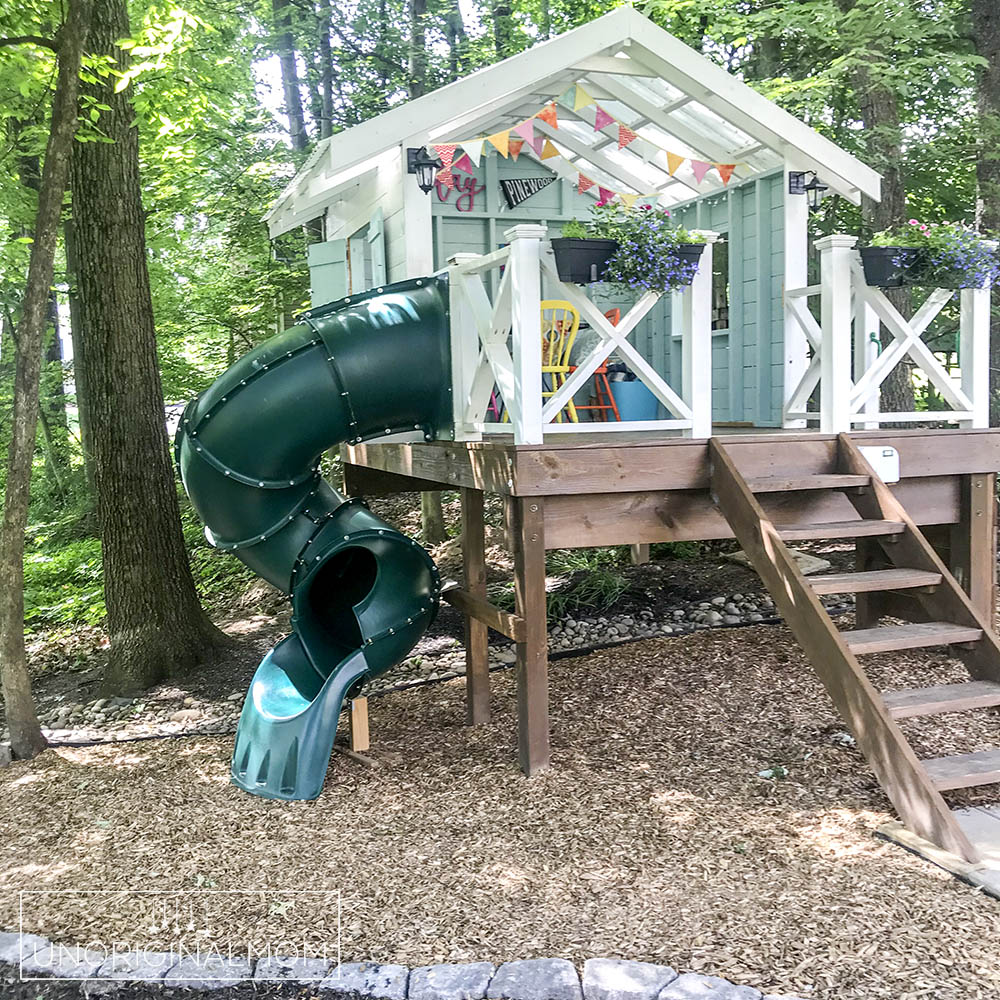 Our backyard has become the center of the neighborhood, with sometimes as many as 8 or 9 kids playing out there at one time! And it's big enough for several kids to be running through the slide-stairs-climbing wall loop while others are playing inside the house.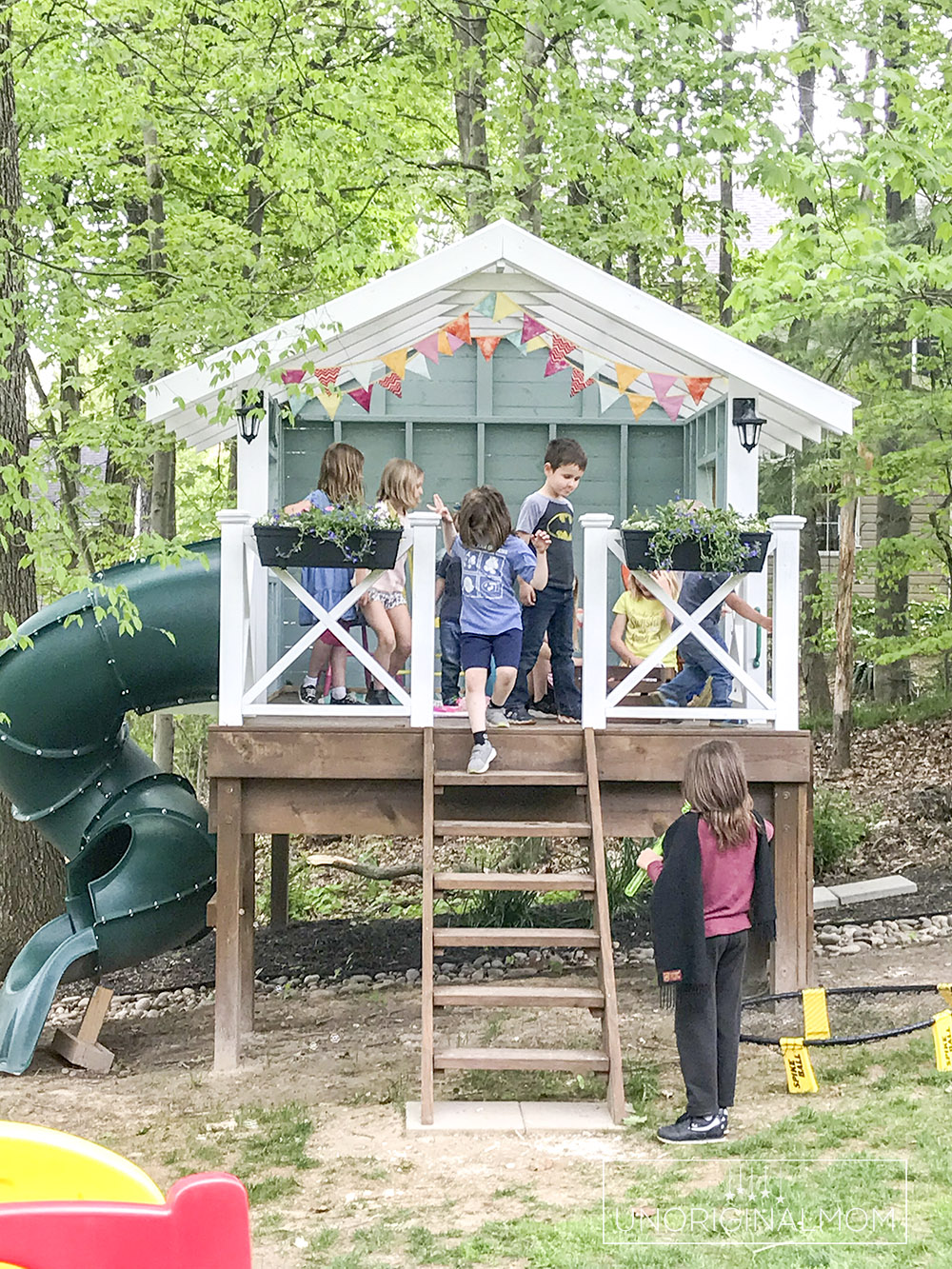 Once I get more photos taken, I'll put together another post with more of the specifics, like what we changed from the original Handmade Hideaway plans, plus more info on all of all the little DIY details we added – the rock wall, shutters, porch lights, window boxes, bucket & pulley, chalkboard, decor, etc.
BUILDING YOUR OWN DIY BACKYARD PLAYHOUSE?
You can see ALL the "behind-the-scenes" details of our DIY backyard playhouse over on my Instagram Stories – I've got an entire highlight devoted to the process of building and decorating the playhouse. Those videos have a lot more of the building details and "how to" that would be really helpful if you're building your own. You can also browse the hashtag #handmadehideaway to see hundreds of photos from people who have built their own versions. There are so many creative ideas out there!
DIY BACKYARD PLAYHOUSE – SUPPLIES
We purchased our lumber at Lowes and Home Depot (we're lucky to live 3 minutes away from both stores!) but here are links to some specific supplies we used besides lumber:
Roof – SunTuf Polycarbonate panels

The whole family (and neighborhood!) absolutely loves the playhouse. Every time I look out at it in the backyard, it makes me smile!  It was completely worth all the hours and hours of preparation and hard work. I know our kids will enjoy it for years to come.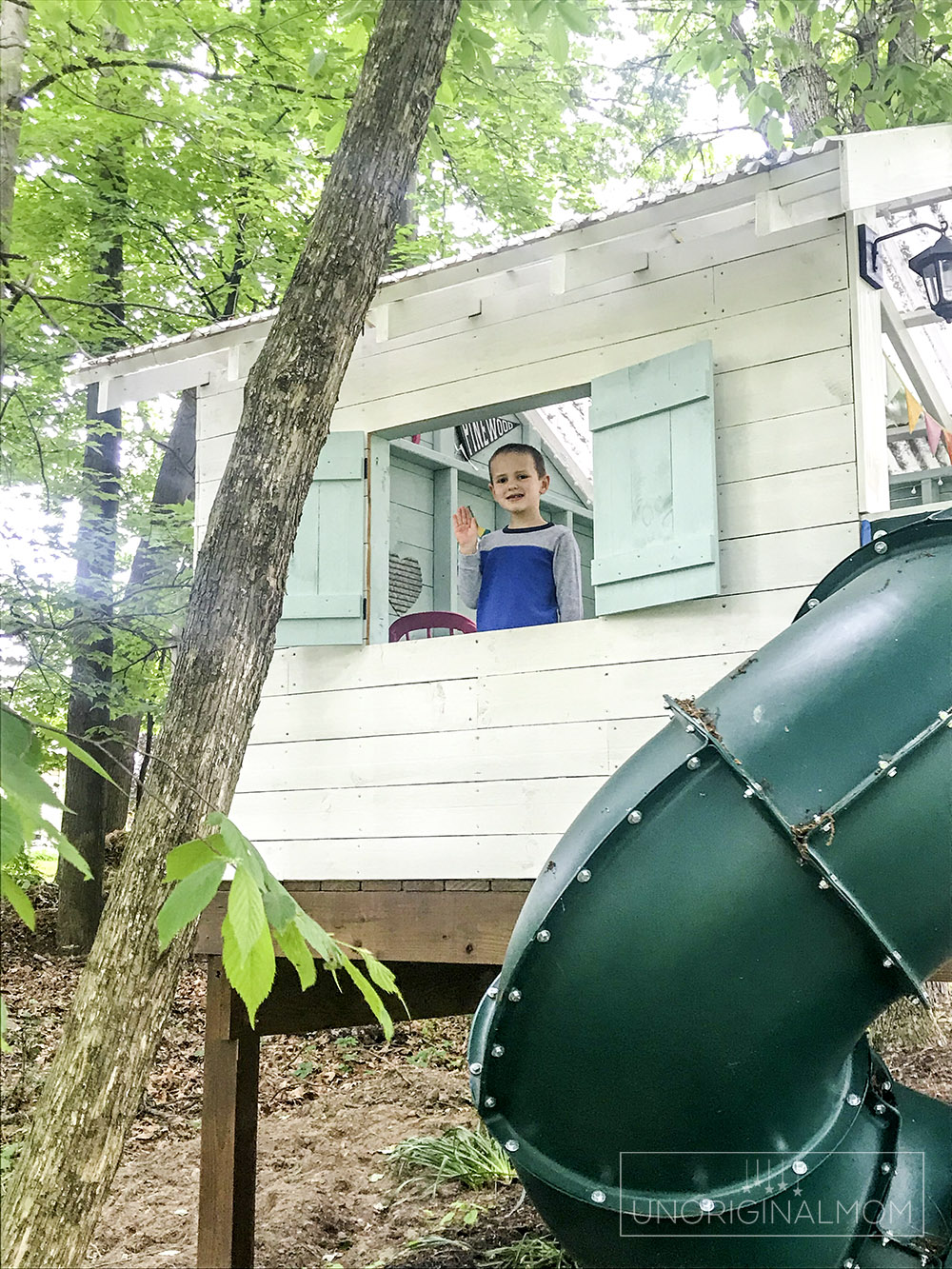 Questions about our playhouse? Feel free to leave a comment, and I'll do my best to get you an answer!



Subscribe to unOriginal Mom via email and get instant access to my library of FREE Silhouette Studio & SVG cut files - exclusively for email subscribers. Plus there's a new file added every month!