I made these fun cupcake cones for my daughter's first birthday party last weekend!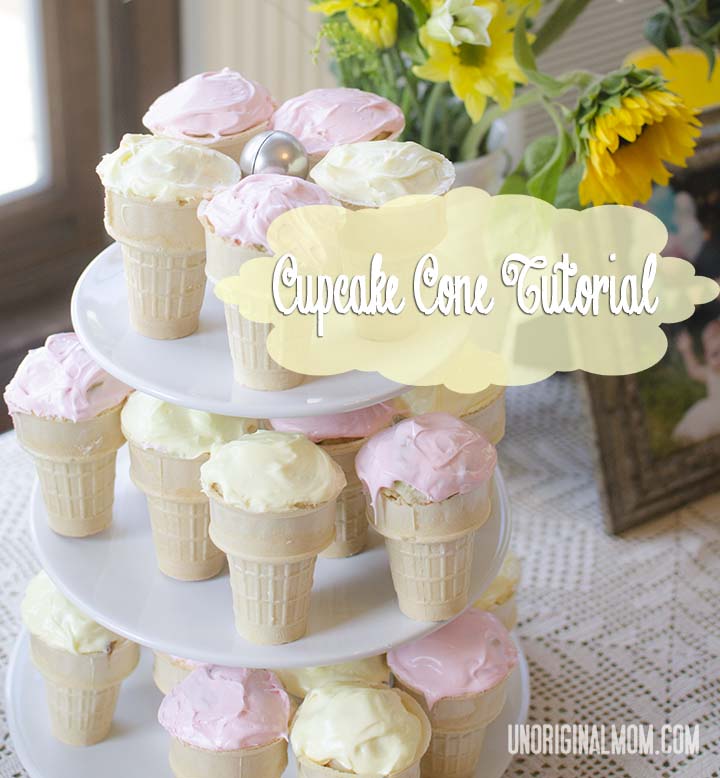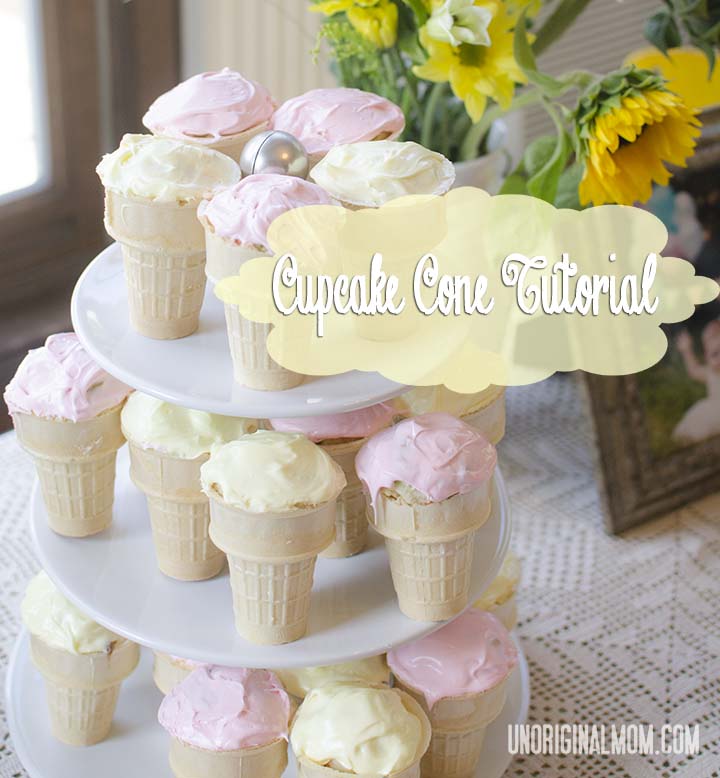 After seeing these all over Pinterest, I decided to give them a try.  I found some tips and tricks that worked well for me, so I thought I'd share them with you in a Cupcake Cone Tutorial!
Essentially, you are using ice cream cones as your cupcake papers – you just put them right in a muffin tin and pour in the batter!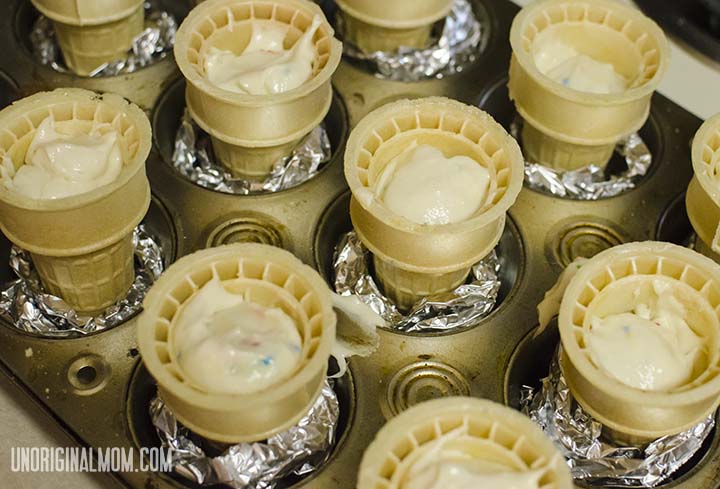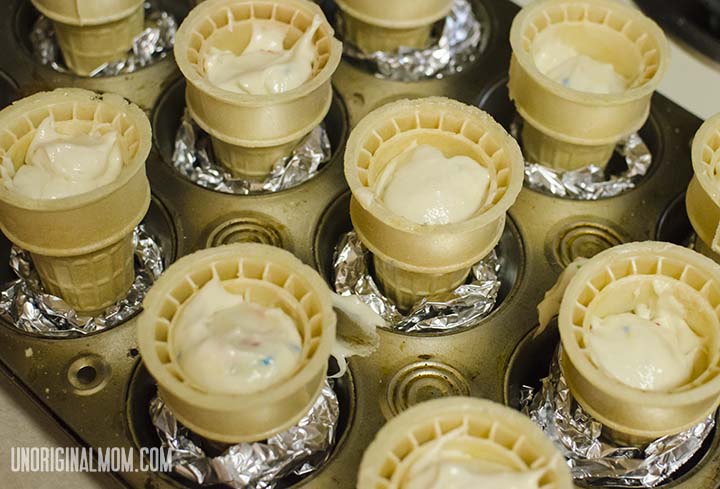 I found that 1-2″ strips of aluminum foil crinkled and wrapped around the base of the cones helped to make them sturdier in the muffin tins.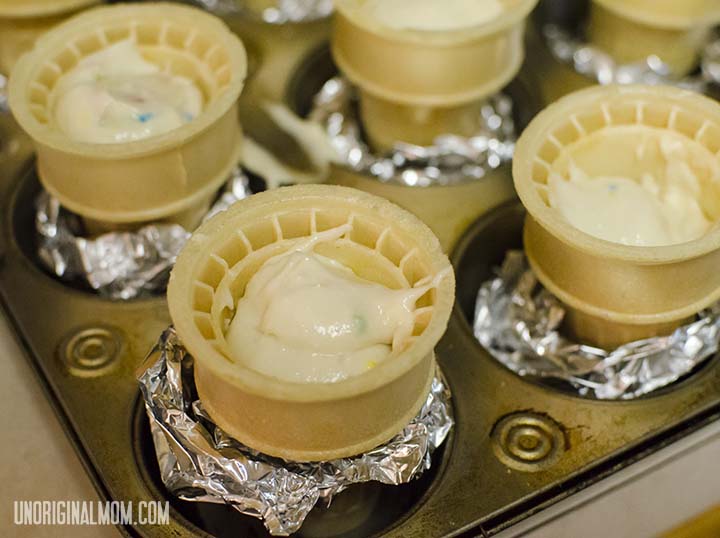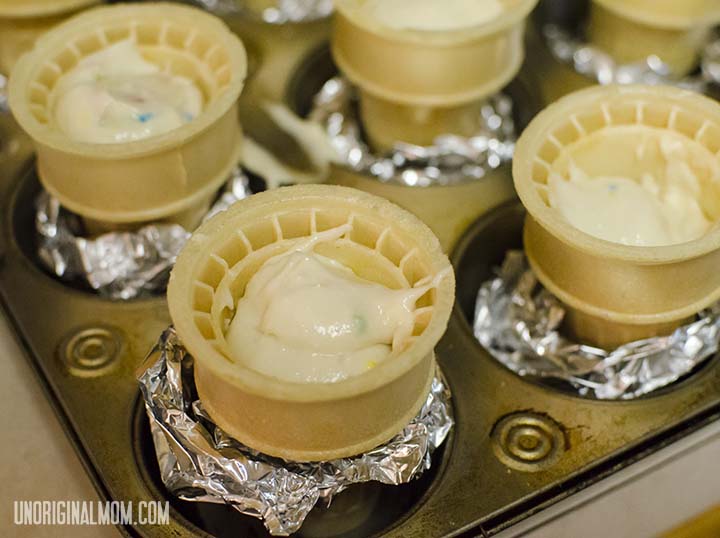 Don't fill them up completely…you can see that I stopped the batter before those square holes in the cone, and when it baked, it rose to a perfect little mound above the cone.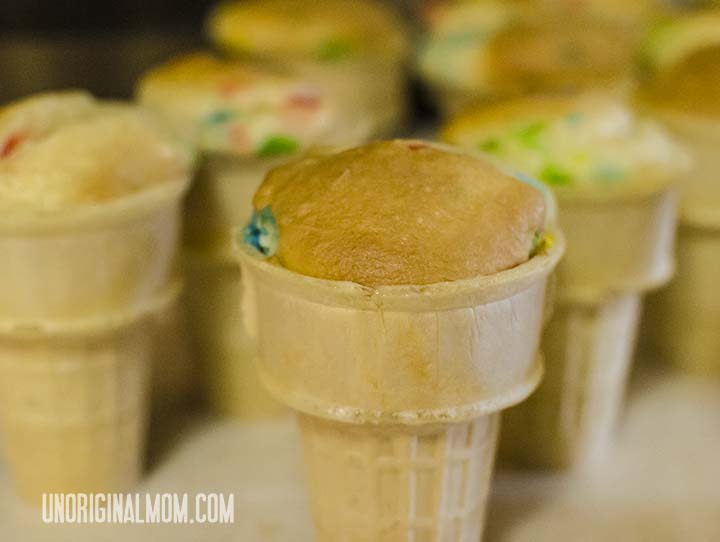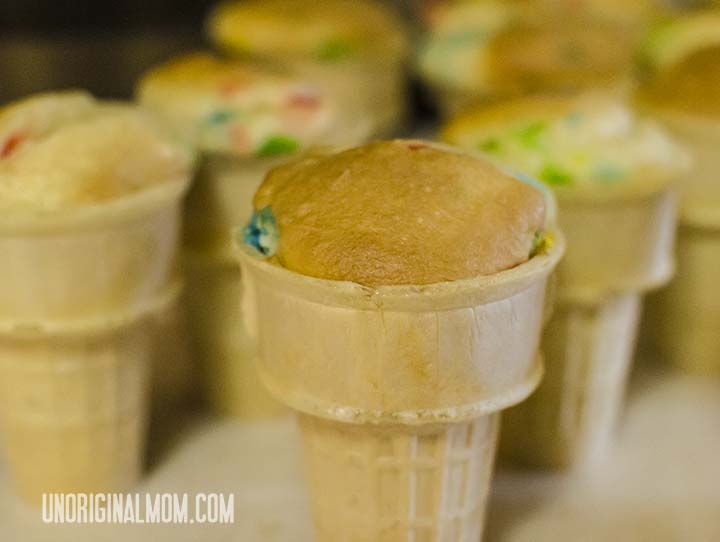 (Take my word for it, if you fill it any higher, you will have overflowing cupcake cones on your hands!)
I wanted to make sure they were actually cooked-through on the inside (I cooked them for about 3 minutes longer than the recommended cupcake-cooking time listed on the box), so I cut one in half to see what it looked like.  Perfect!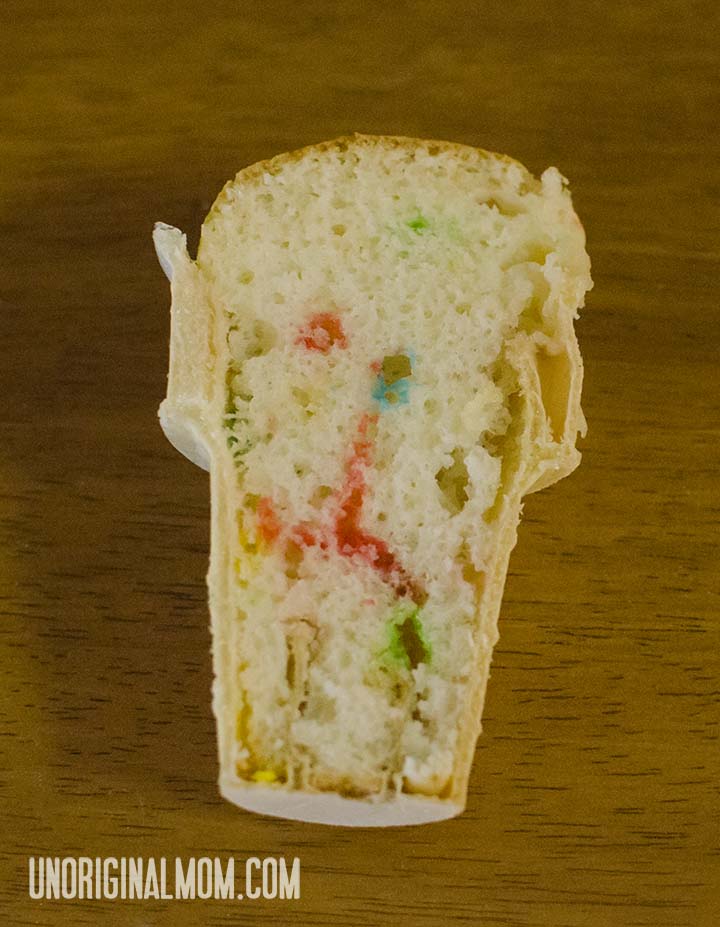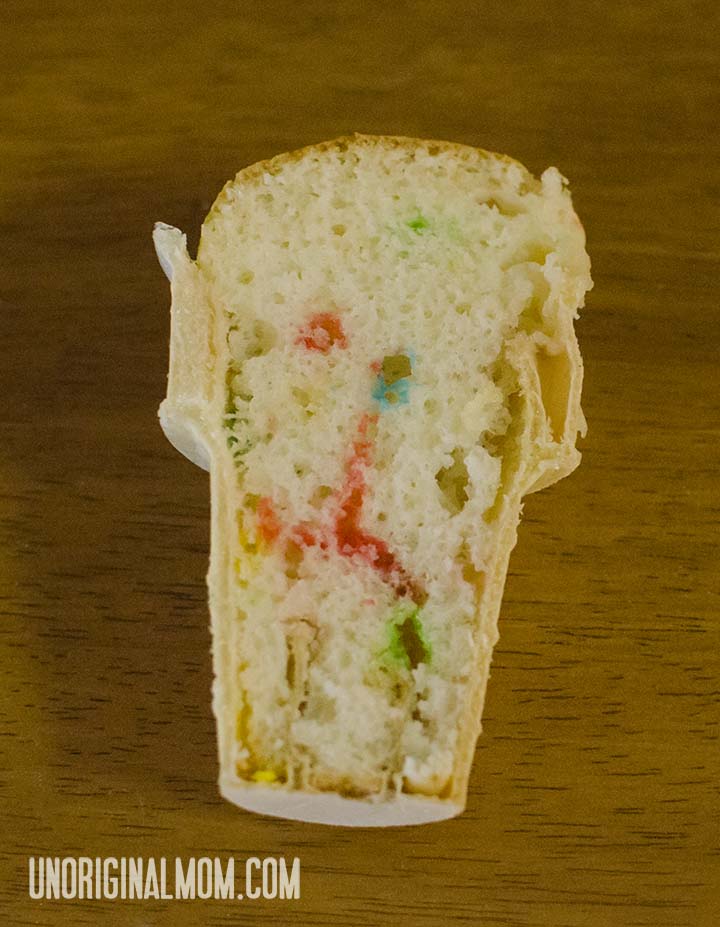 I used Funfetti cake mix (to me, there is no other kind of birthday cake!) and one cake mix made 24 cupcake cones.  I'm sure you could use any kind of cake you want!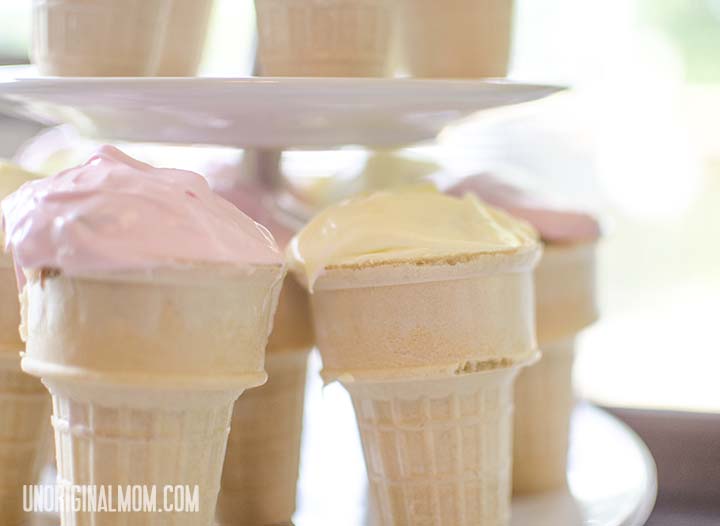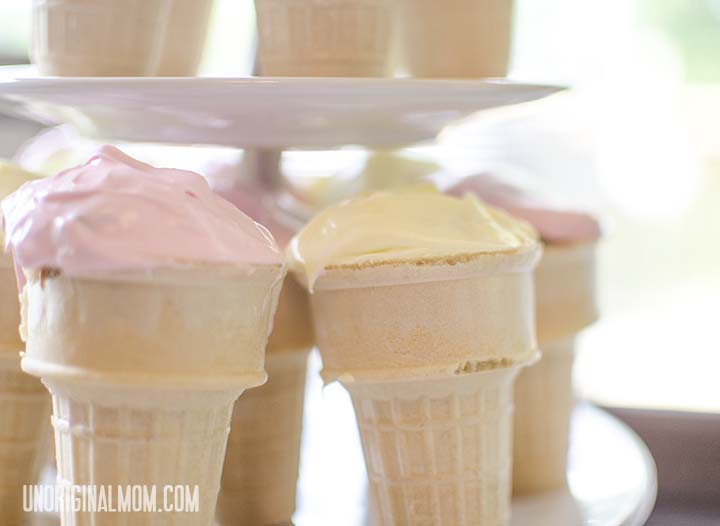 I had grand aspirations of piping the icing on to make it look like whipped cream…but I was using store-bought icing, and it was a royal mess.  So we just used a knife to ice the cakes…not as fancy as I was hoping, but I think they still turned out great!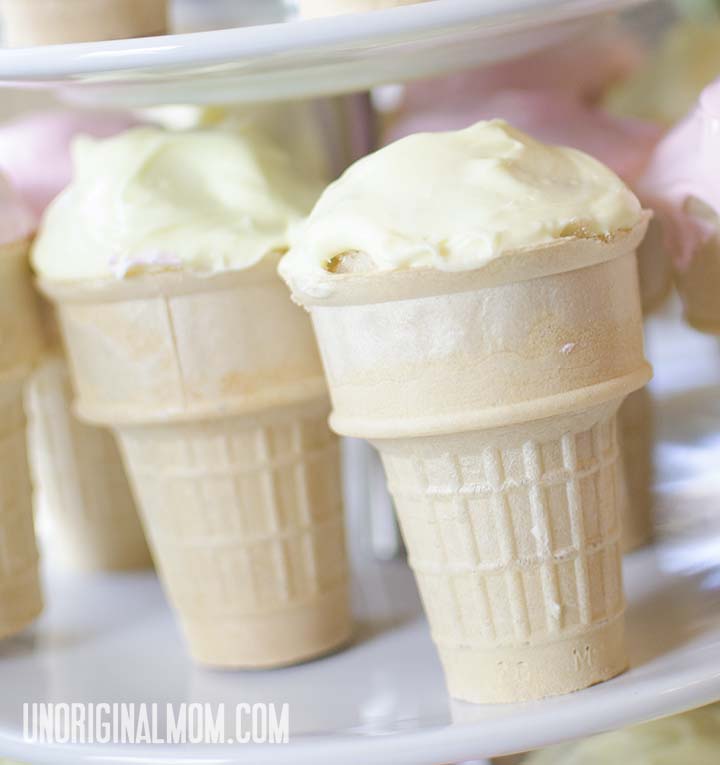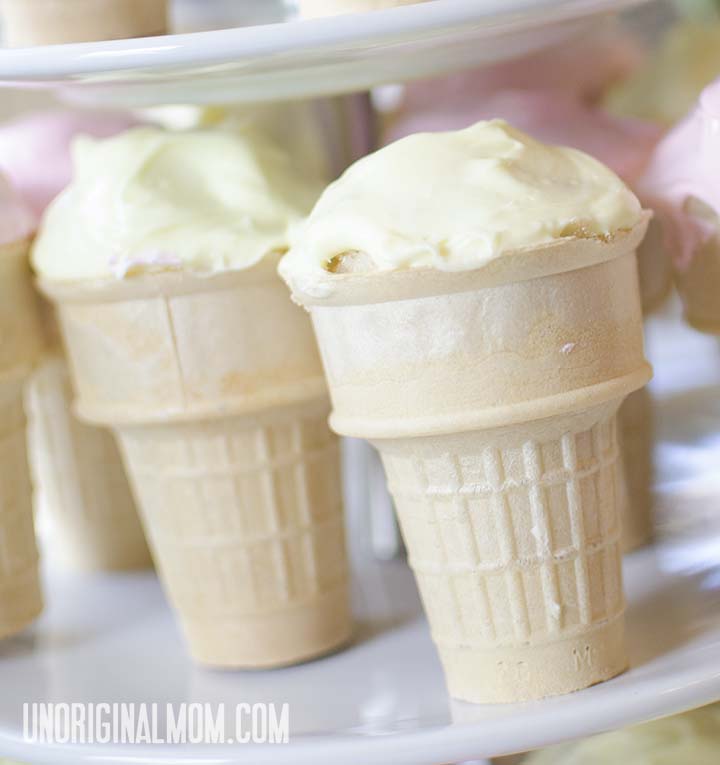 Since the party theme was "You Are My Sunshine," I made little sunshine cupcake-toppers with my Silhouette and also added some washi tape flag toppers.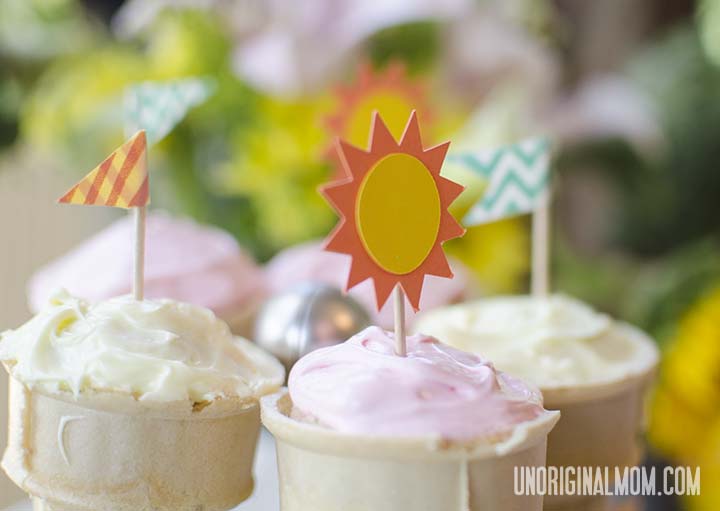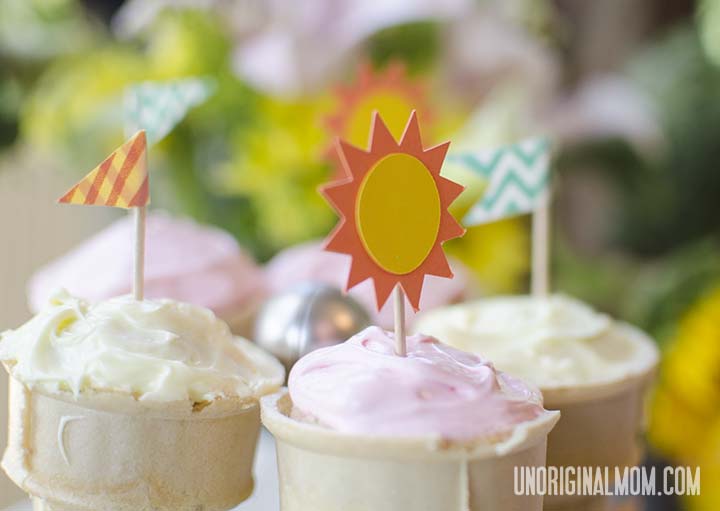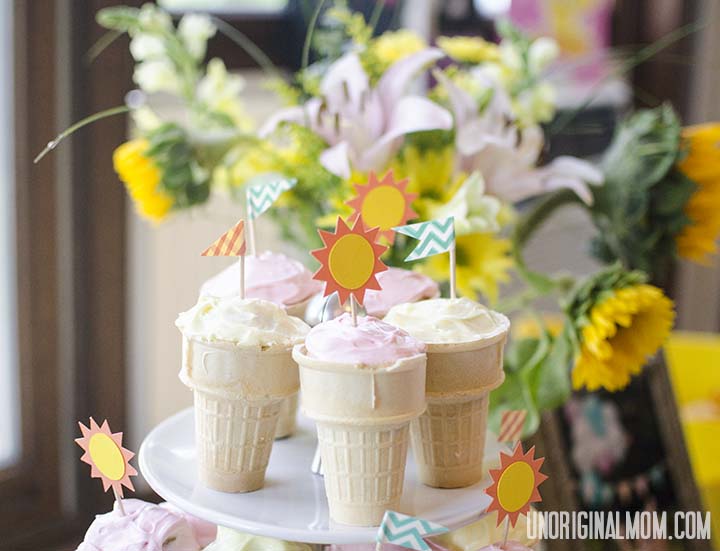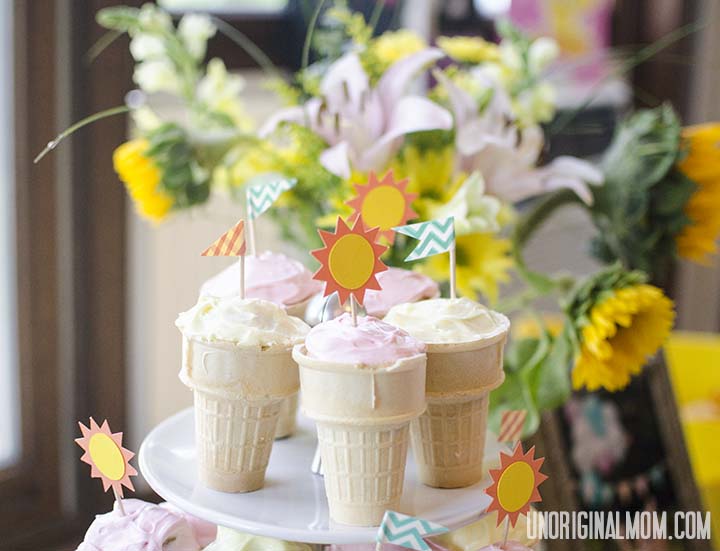 They were a fun, colorful, and delicious addition to the party!
WARNING:  these cupcake cones do NOT keep well!  I made the mistake of making them the day before (without frosting them) and storing them overnight in airtight containers, thinking I would save some time…but the next day, they were soggy and ruined, and I had to make more!  (Actually, my sister Ronnie made them while I attended to other party details – thanks Ronnie!)  So be sure to make and serve these in the same day…and eat them all up :-)
If you're interested in seeing more of the You Are My Sunshine First Birthday Party, be sure to stop by again in the coming days as I recap details from the big day!  I'd love to have you follow along via Facebook, Pinterest, or Blog Lovin' so you don't miss anything!


Get your copy of my FREE meal planning binder!
Sign up to get a free copy of my meal planning system - an 11 page printable meal planning binder, complete with a pantry inventory, shopping list, and more to help get on top of your menu each week!