This post brought to you by Breyers. The content and opinions expressed below are that of unOriginal Mom.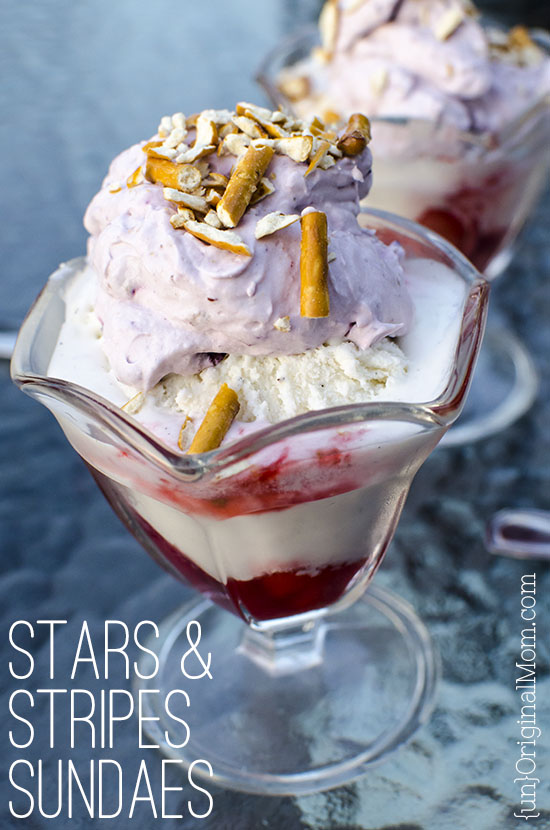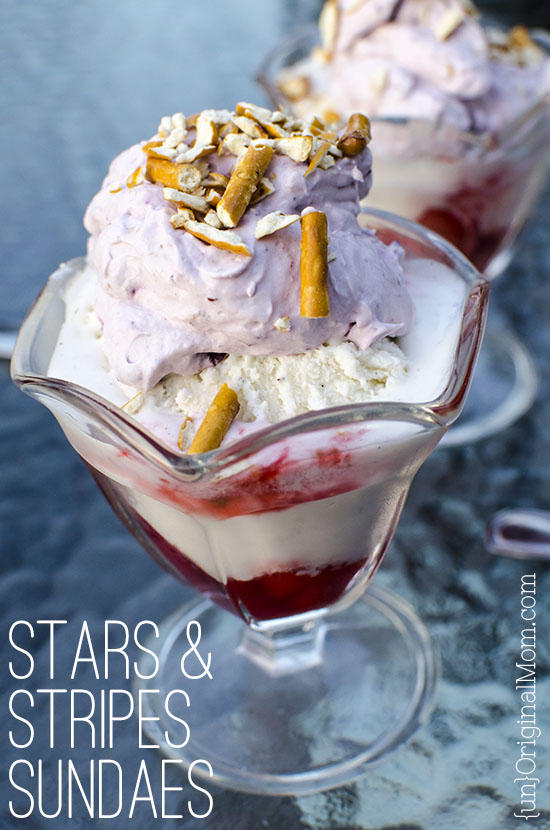 I know that many of you are already deep in the throes of back-to-school and summer is slipping away…here in central PA school hasn't started yet and we've had a bit of a rise in temperatures from an August that started cooler than normal, so it still feels like summer – at least to me!  So if you're looking to have one final "hurrah" of summer cookouts (perhaps a Labor Day BBQ is in your plans?), these amazingly delicious and beautiful Stars and Stripes Sundaes need to be on your menu.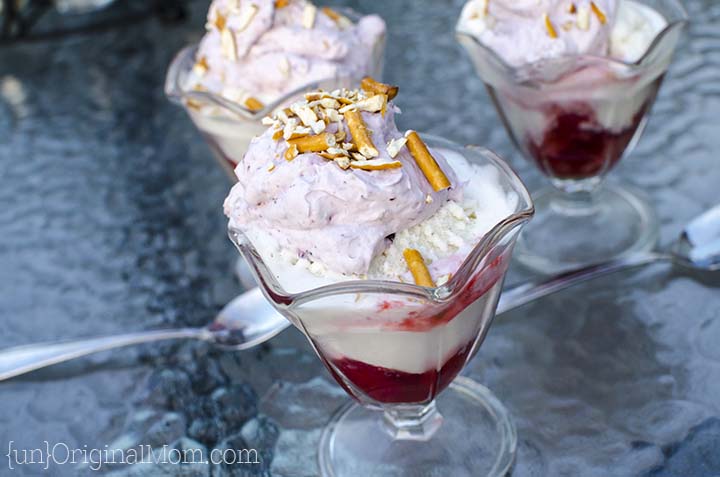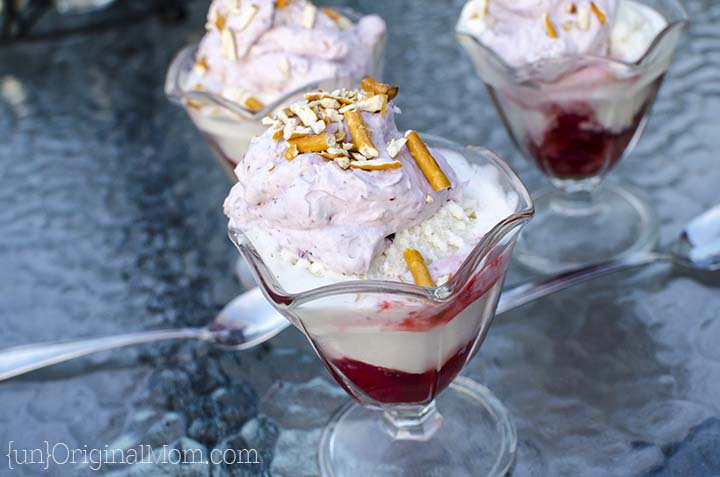 The bottom layer of our colorful red, white and blue Stars and Stripes Sundae is a layer of warm sautéed strawberries – 2 tablespoons of water, 2 tablespoons of sugar, and a cup of sliced strawberries heated together until it begins to make a thick syrup and the strawberries start to break down.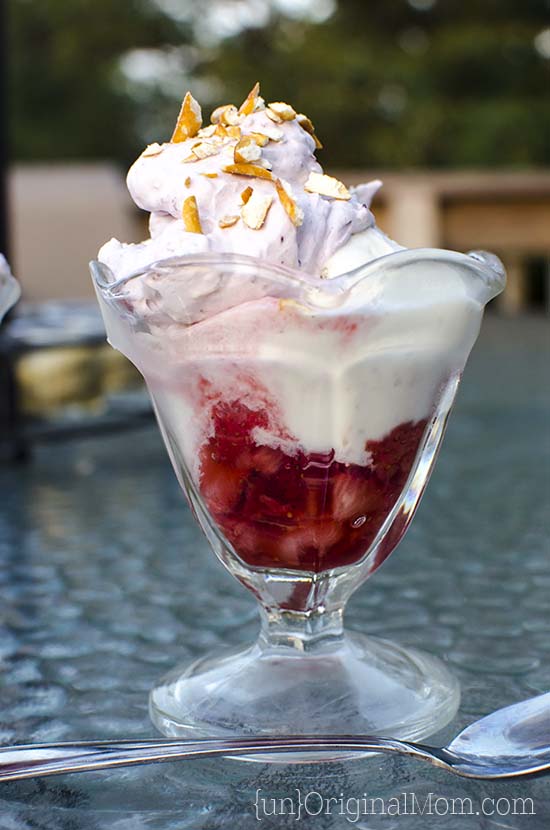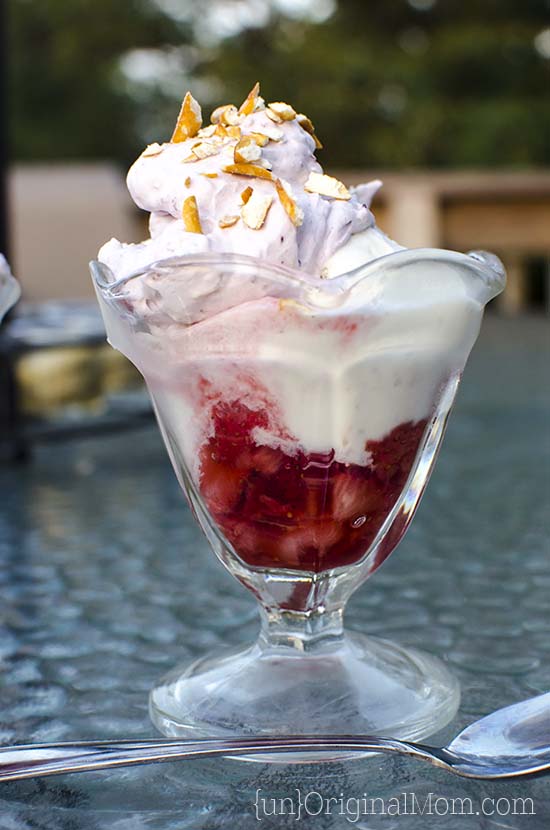 The white layer of the sundae is, of course, the Breyers ice cream!  It's not just any ice cream, though – I used Breyers Natural Vanilla.  I've been better about actually reading labels, lately, and trying to pay better attention to the kinds of ingredients I'm feeding my family on a regular basis.  I appreciate that Breyers now sources milk and cream from cows not treated with artificial growth hormones. (Suppliers of other ingredients such as cookies, candies & sauces may not be able to make this pledge. The FDA states that no significant difference has been shown between dairy derived from rBST-treated and non-rBST-treated cows.)  Breyers Natural Vanilla is also made with fresh cream, sugar and milk – and ALL Breyers Vanilla is from real and sustainably farmed Rainforest Alliance Certified™ vanilla beans.  Breyers Natural Vanilla is America's #1 vanilla ice cream for good reason, and now parents have additional reasons to feel good about serving it their family.  But the best part is, it's delicious. :-)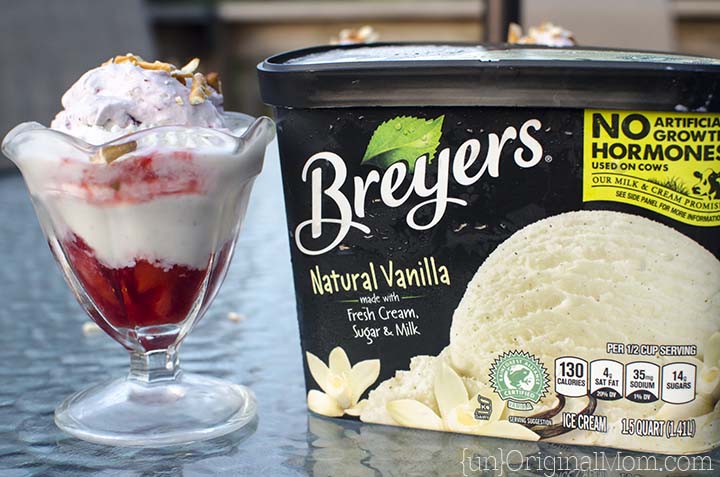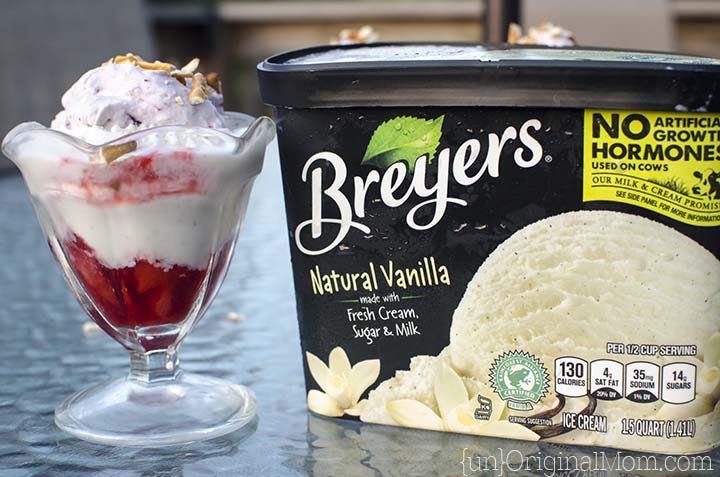 The top layer is ah-mazing – blueberry whipped cream.  Yes.  Crushed fresh blueberries, heavy cream, and powdered sugar all whipped together to perfection.  I mean, come on.  Blueberries and whipped cream – together?!?  It really doesn't get much better.  I will definitely be making that again!!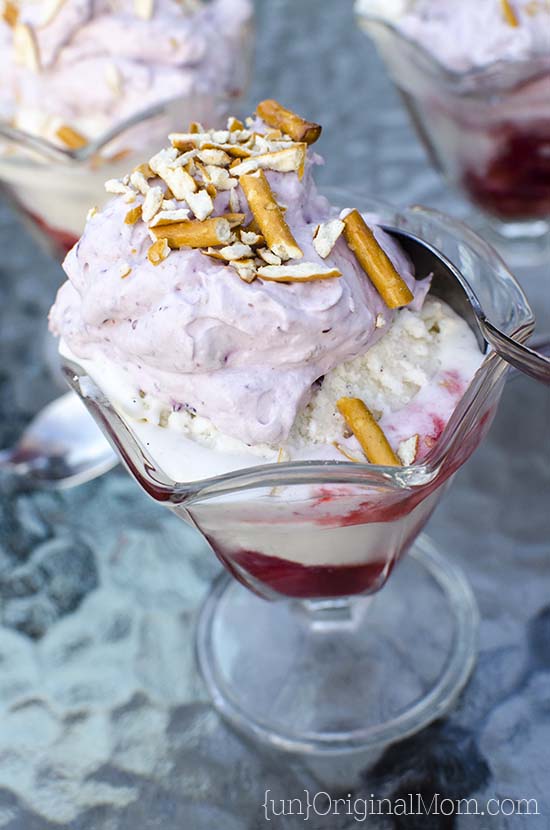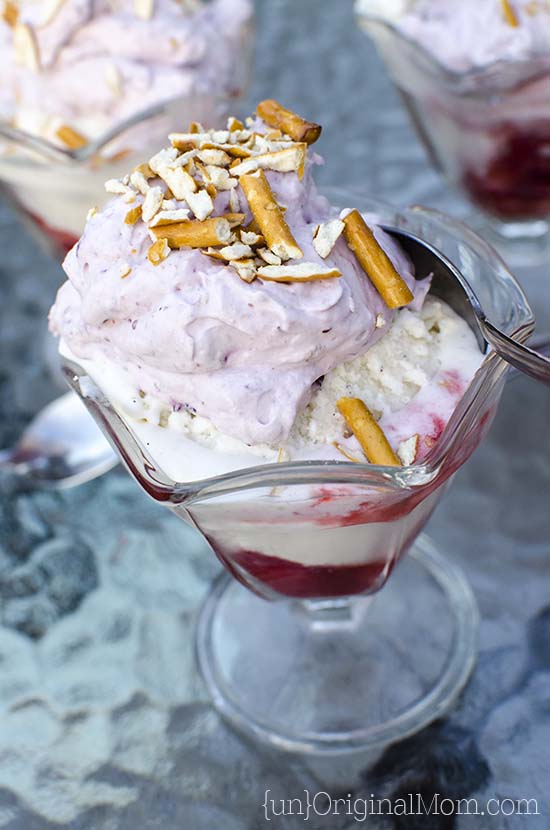 Top with a sprinkle of crushed pretzels for something slightly salty.  Yummmmm….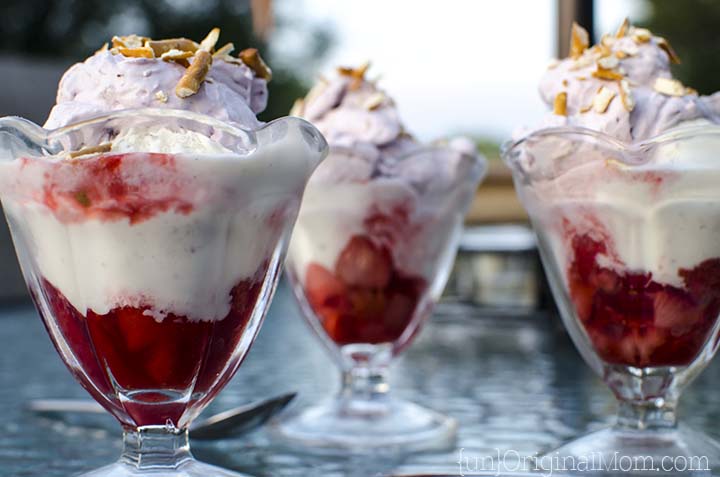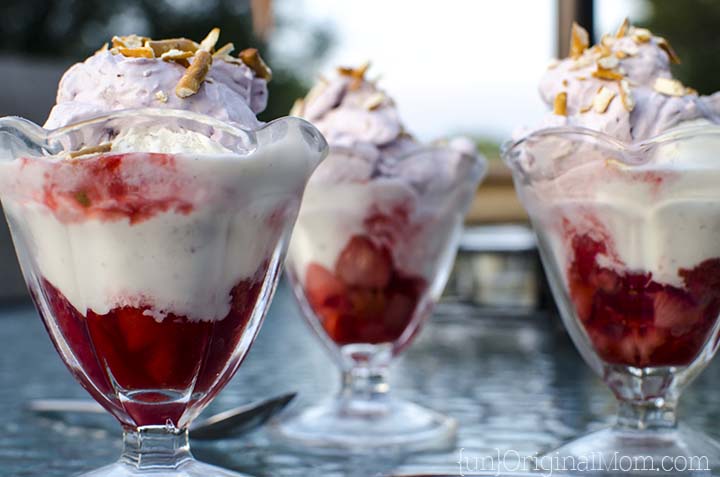 The result is *almost* too beautiful to eat.  Isn't it preeeeetty??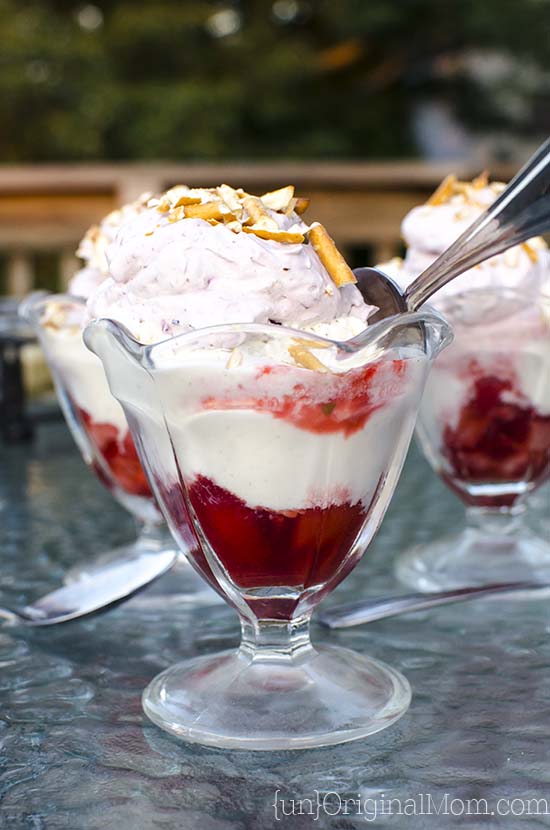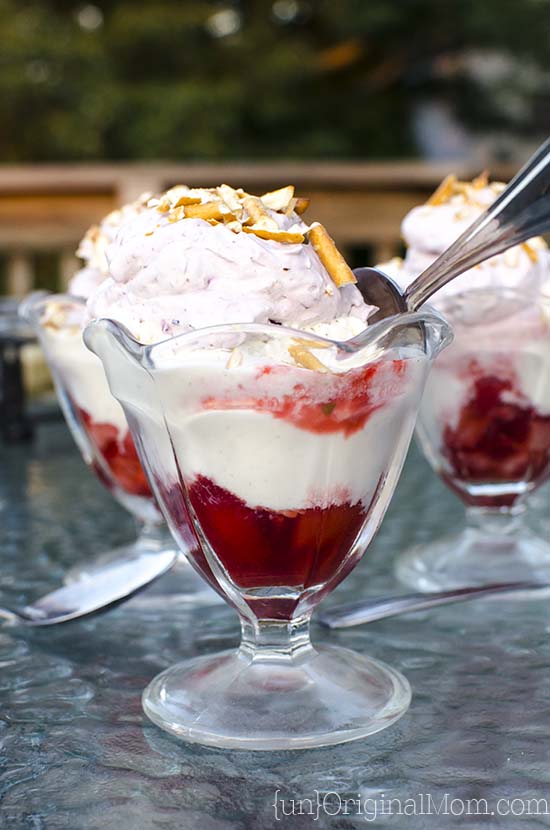 Here's the recipe for Chef Antonia Lofaso's Stars and Stripes Sundae so you can make your own – for a patriotic occasion, or just because!  
Stars and Stripes Sundae
Author:
Chef Antonio Lofaso
Prep time:
Cook time:
Total time:
Ingredients
¾ cup heavy cream
1 cup crushed blueberries
2 Tbsp. confectioners sugar
2 Tbsp. water
2 Tbsp. granulated sugar
1 cup roughly chopped strawberries
2 cups Breyers® Natural Vanilla Ice Cream
2 Tbsp. crushed pretzels
Instructions
To make blueberry whipped cream either by hand or with a stand mixer fitted with a whisk attachment, whisk cream, crushed blueberries and confectioners sugar until soft peaks have formed, about 5 minutes by hand and about 3 minutes with stand mixer.
In an 8-inch sauté pan, combine water and granulated sugar with strawberries and cook on medium to high heat for about 5 to 6 minutes, until water and sugar create a syrup and strawberries begin to slightly breakdown.
To make each sundae, spoon the warm sautéed strawberries onto the bottom of a small bowl. Top with ½ cup scoop of Breyers® Natural Vanilla Ice Cream. Add a small dollop of blueberry whipped cream and sprinkle with pretzels.
Want to whip up your own batch?  Pick up a tub of Breyers in a grocery store near you for a suggested retail price of $3.99-5.99.  They've got lots of other delicious ideas and recipes – so be sure to follow Breyers on Pinterest, Breyers on Twitter, and/or Breyers on Facebook for more inspiration!
Do you have any other favorite summer recipes you're trying to squeeze in one last time?


Get your copy of my FREE meal planning binder!
Sign up to get a free copy of my meal planning system - an 11 page printable meal planning binder, complete with a pantry inventory, shopping list, and more to help get on top of your menu each week!