Here's an easy way to make a fun decoration for any occasion – a simple scrapbook paper bunting!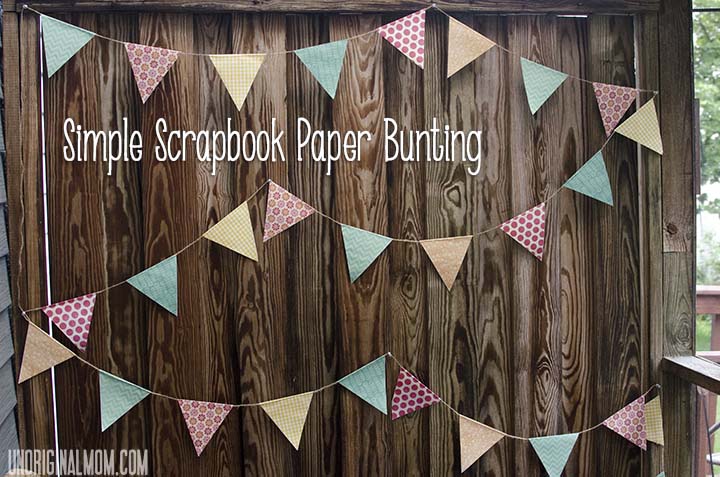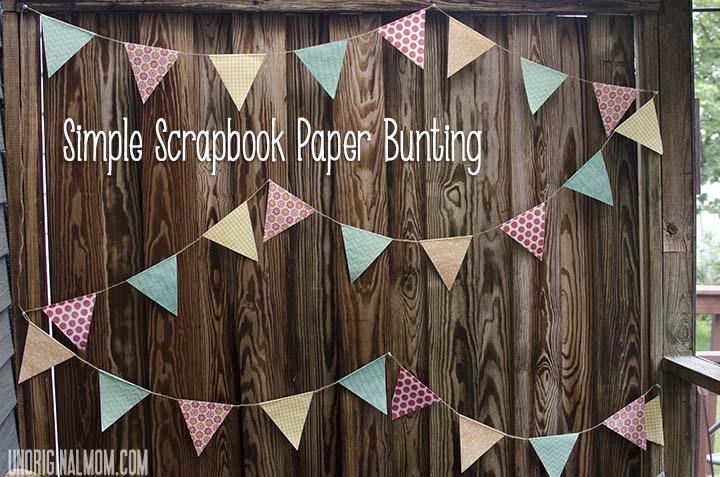 Bunting is all over Pinterest and blog-world…in party decorations, holiday decorations, vignettes, patios, mantles, even cake toppers!  I've wanted to try one for a while, and my baby girl's first birthday is coming up, so I decided to attempt an easy bunting out of scrapbook paper for some party decor.
The colors for her party are yellow, pink, and teal…so I found some 12×12 scrapbook paper  and cut it all in half to make a bunch of 6×12″ pieces of paper.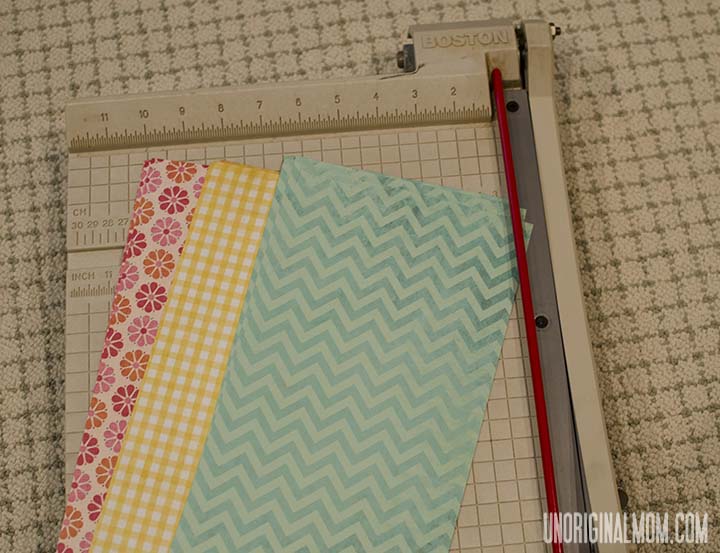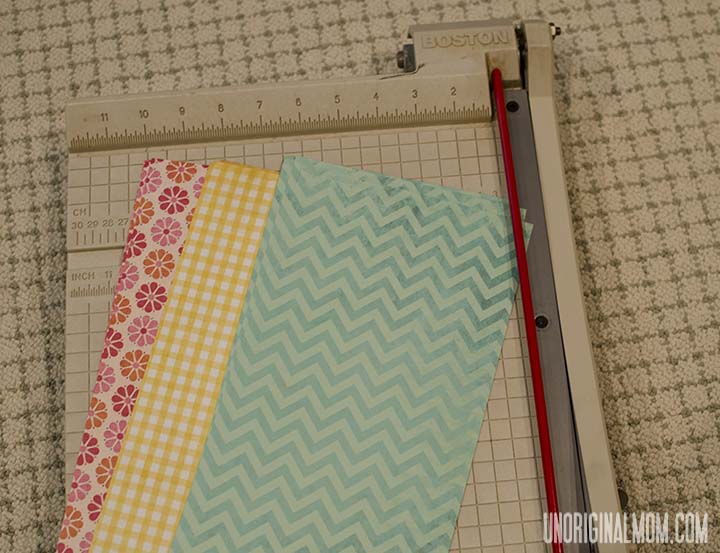 Then I used my Silhouette to cut out 36 diamonds out of my 6×12″ papers.  I could have probably done this by hand or with a paper cutter, but I am a little Silhouette-obsessed and use it every chance I get :-)
I glued it onto some jute string using scrapbook glue.  I figured out a good method – put a healthy amount of glue on the fold (make sure you've pre-folded your diamonds so you've got a crease to work with) and place the string on it.  Then put glue all over one side of the diamond.  Be sure to get the edges and the tip.  Then – here's the key to getting it lined up right – fold it over, but line up the tip FIRST – then smooth backwards towards the crease. If you start folding from the fold and smooth to the tip, since the string is in the way, you may not get it to line up perfectly.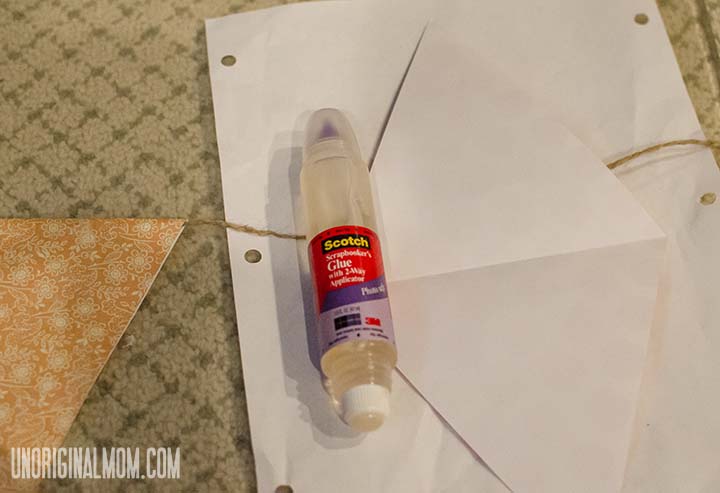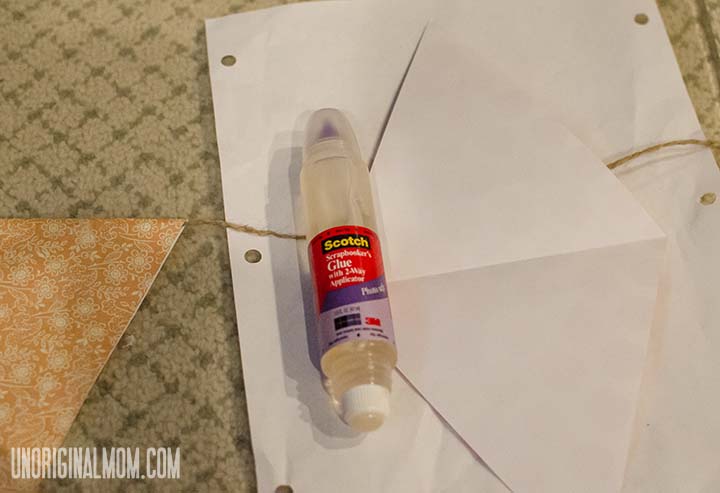 I used a spacer that I cut out of cardboard so I didn't have to measure between each flag.  (They are 3″ apart).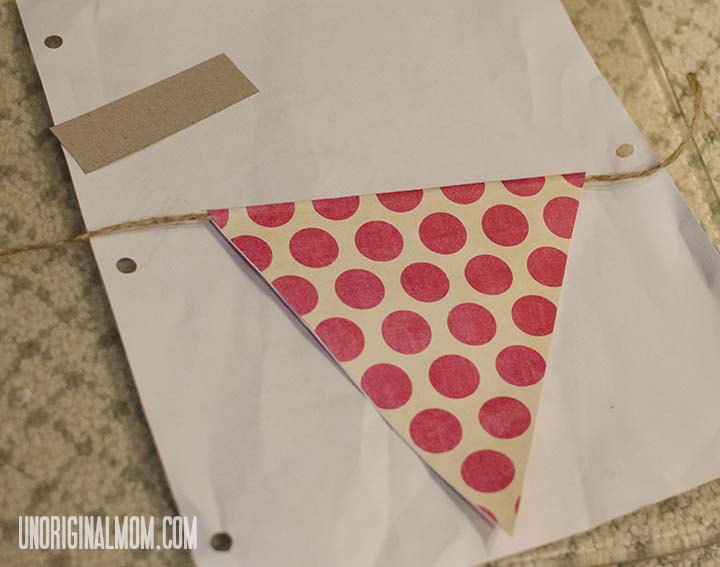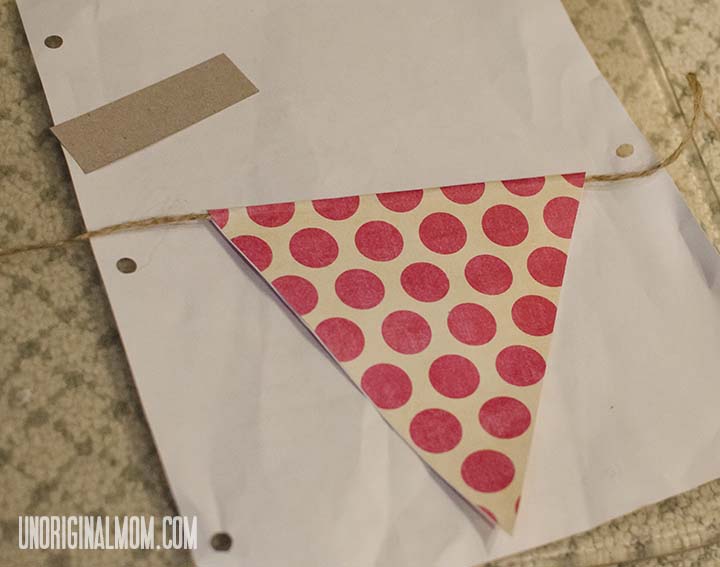 And the result – a very versatile decoration!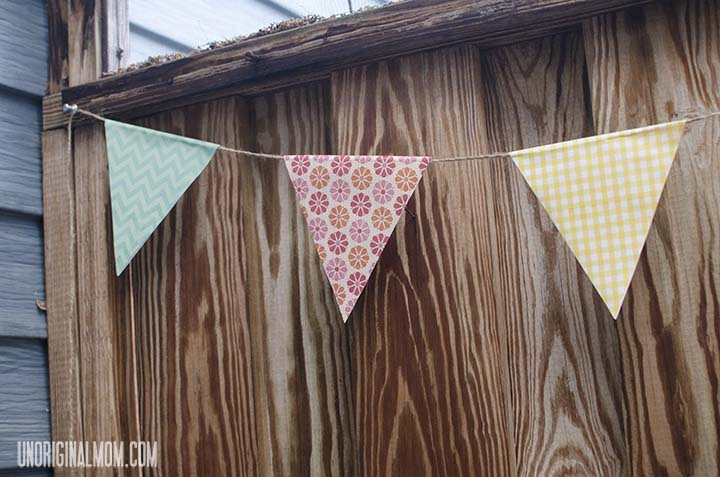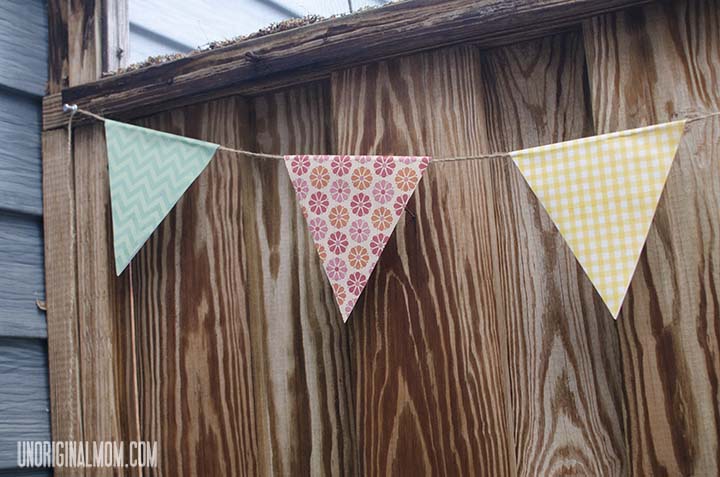 I think for the party, it's going on a deck railing…but for photo-taking purposes (and because it was raining) I hung it on our screened-in porch.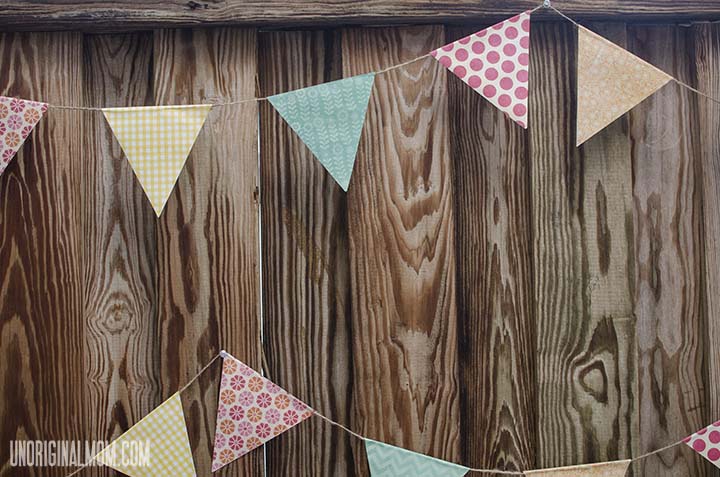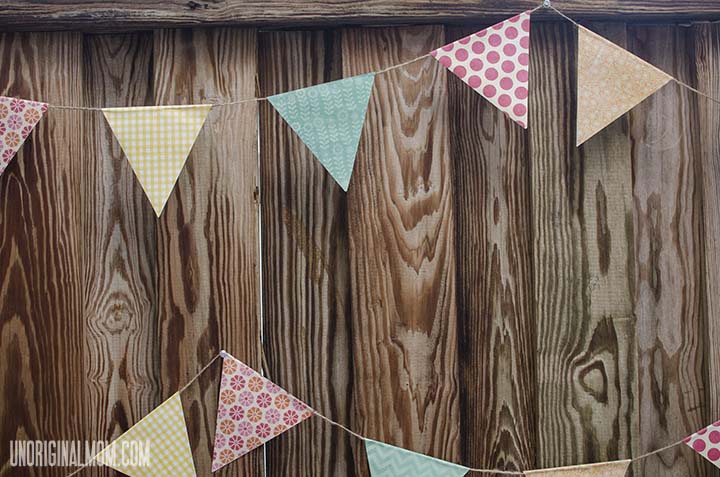 I love how it turned out…and how simple it was to make!
We had an "almost-one-year-old" photo shoot last night for Addy with a dear friend and very talented photographer, Amber of Amber Roy Photography.  I brought the bunting along to use as a prop in the background…and I thought you might enjoy seeing a sneak peak of one of the images: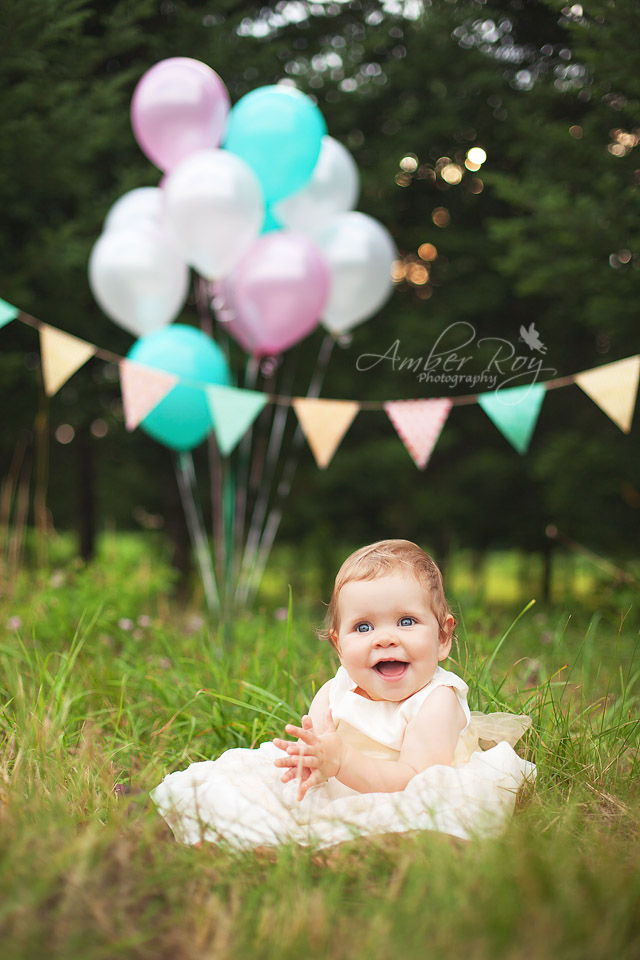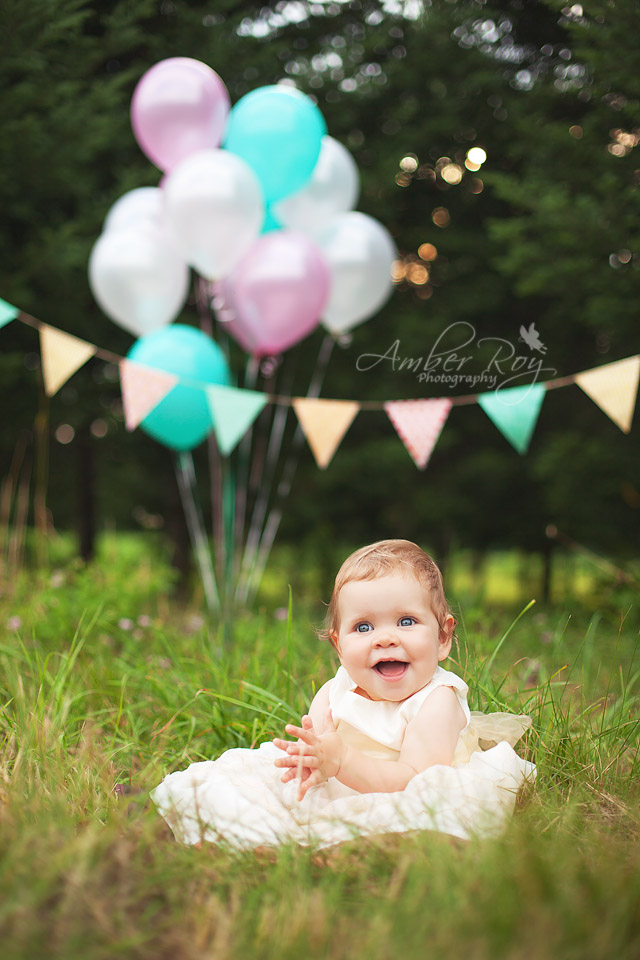 (If you live in the central PA area, I would HIGHLY recommend Amber!  She takes absolutely stunning lifestyle images, from newborn and maternity photography to candid family photos.  You can visit her Facebook page here!)
Be sure to stay tuned for more birthday party decorations in the coming weeks!




Get your copy of my FREE meal planning binder!
Sign up to get a free copy of my meal planning system - an 11 page printable meal planning binder, complete with a pantry inventory, shopping list, and more to help get on top of your menu each week!