Planning a Circus Baby Shower? I threw the cutest DIY Circus themed baby shower for my sister and her twin babies, and am sharing all the DIY elements in this post!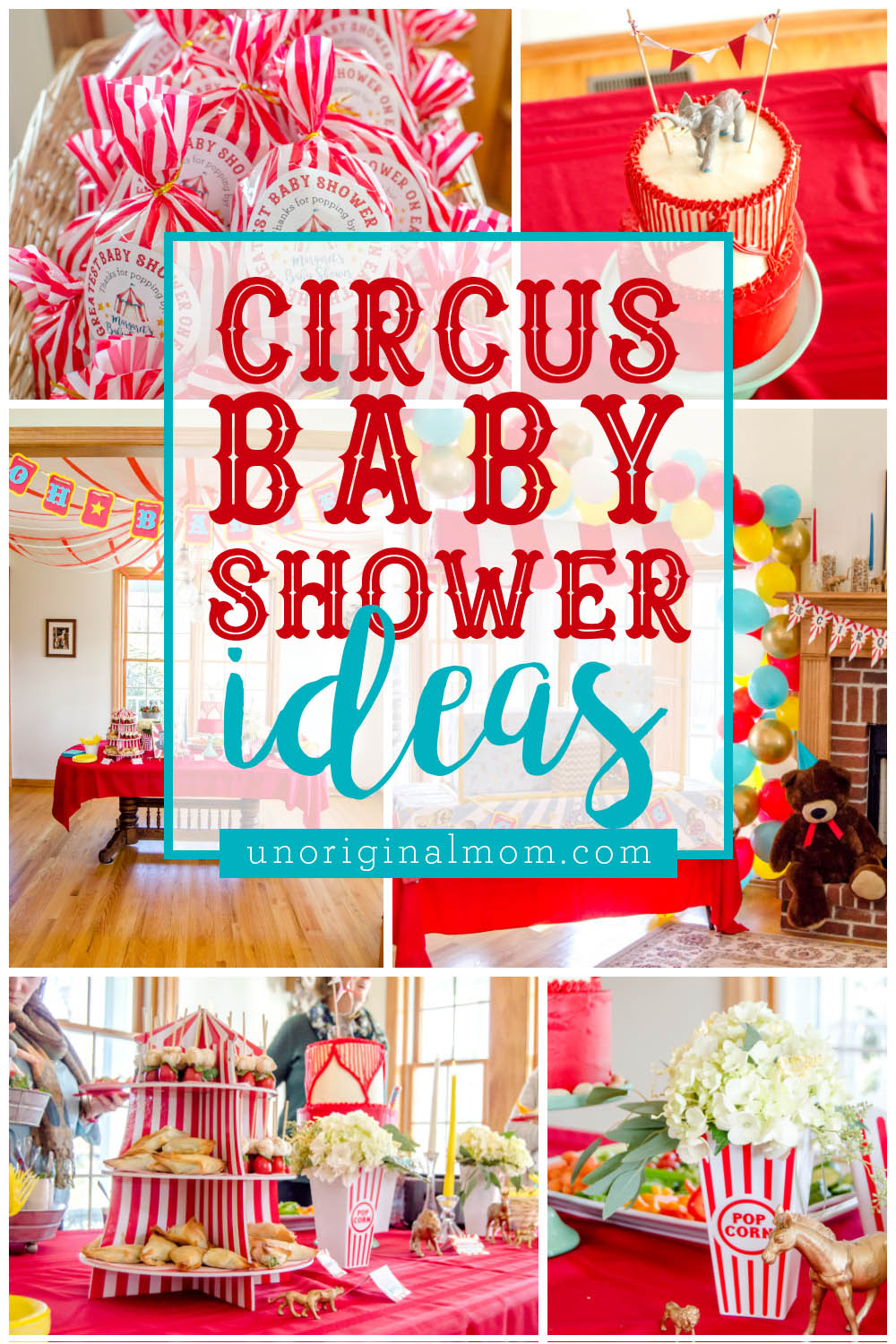 Thanks to my friends at Silhouette America for sponsoring this post. As always, all thoughts and opinions are completely my own! This post contains affiliate links – click here to read my full disclosure.
Right before the holiday craziness began to hit, I helped throw a baby shower for my little sister. Of course, I used my Silhouette for TONS of the details and had to share them here with you! A lot of these ideas will work for any kind of party, so read on for lots of Silhouette inspiration.
We decided to go for a circus themed shower immediately after I learned my sister was expecting TWINS! My three kiddos were the first grandchildren on our side of the family, and I have to say I'm very excited to have nieces/nephews (they don't know the genders) that I can love on on and play with and then give them back :-) As I said to my sister, "not my monkeys, not my circus." And then…"that can be the baby shower theme! A Circus!" Ha. It seemed just too appropriate, don't you think? And since my sister's husband is French-Canadian, we got fancy and named it "Le Cirque des Mongeau." (Mongeau is their last name.)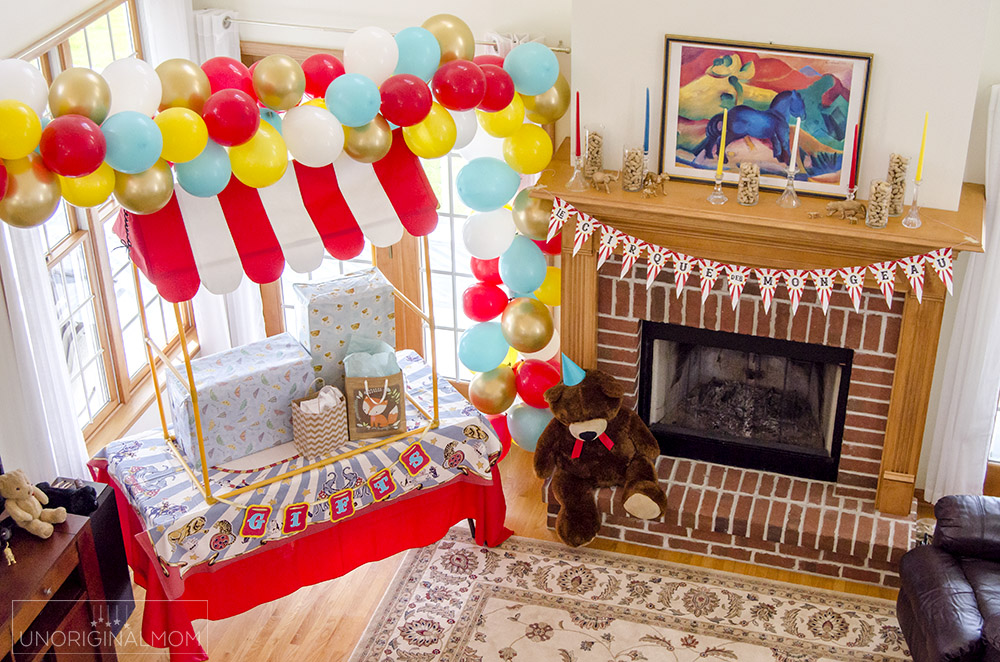 The Silhouette is the ultimate party-crafting machine! I used it for almost every DIY element in this Circus baby shower. The great thing about Silhouette is that not only is it easy to cut out things like banners or even iron-on decals for onesies, the Silhouette Studio software makes it possible to design things like favor tags, food tags, labels, and even invitations that are professional looking and perfectly on-theme. Read on for all the crafty details about this Circus baby shower!
TIPS FOR DIY PARTY DECOR WITH YOUR SILHOUETTE
Here are some basic tips for creating cohesive themed party elements with your Silhouette:
1. Pick 2 or 3 fonts to use through all the elements. This will help bring your theme together! I used the same two fonts on the invitations and all the party decor elements – games, banners, favor labels, food tags, etc.
2. Along those same lines, find some graphics/clip art to include throughout the printed party elements as well. I purchased a pack of watercolor Circus clip art from Etsy to use on the invitations, but them brought them back for several other printed party elements as well.
3. Pick your color theme and stick to it! It's super inexpensive to use card stock (banners galore!) and balloons to pull your theme colors through the whole space. Of course, for a Circus baby shower we had to go with red and white, but I also decided to add accent colors of turquoise and yellow/gold. So, I headed to the craft store to make sure I had plenty of card stock in those colors. I also created a custom color palette in Silhouette Studio so I knew I was using the same shades in all my printed decor.
If you want to see more behind-the-scenes crafting, I shared a bunch of these Circus Baby Shower projects on my Instastories and then saved them to my highlights! So head on over to my Instagram and look for the "Baby Shower" highlight to watch more.
CIRCUS BABY SHOWER IDEAS
Okay, on to all the DIY elements! I'll give you a quick run-down of everything I made for the Circus baby shower. Pretty much everything I made was either a card stock creation or a print-and-cut project with my Silhouette.
I made two different banners in the same style – one for the gift table and a bigger "Oh Babies" banner to hang over the dining room doors. They're both just made out of card stock! I cut the letters out of blue, and used the "offset" tool in Silhouette Studio to get a slightly larger letter to cut out of white and layer behind it. I glued those together with a glue stick and them used foam adhesive squares to adhere them to the frames behind it which gives it some great dimension. (Tip: when you're designing your banners in Silhouette Studio, don't forget to include small circles for threading it onto string or ribbon!)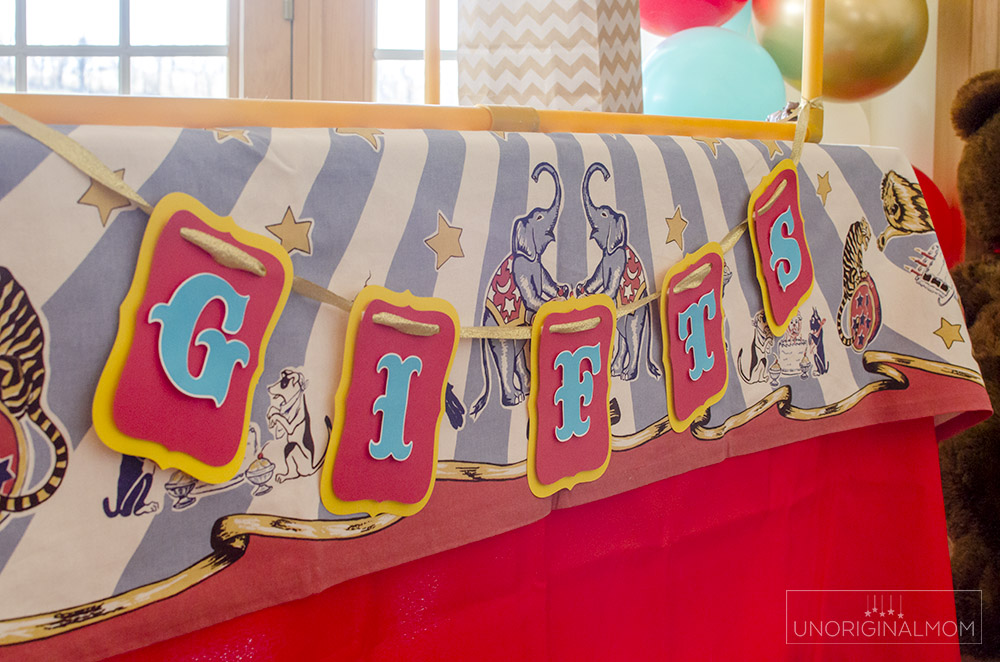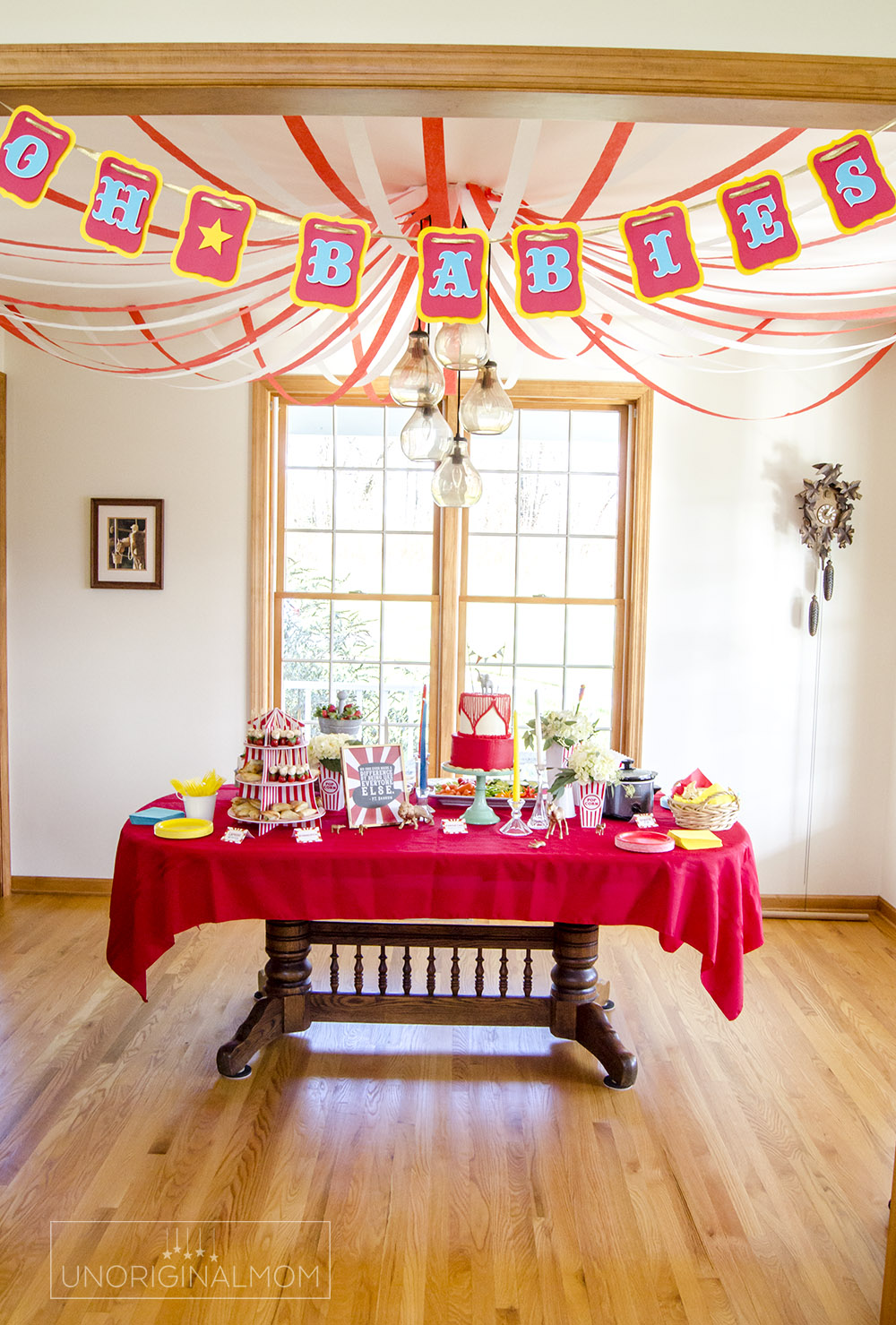 Another banner for over the fireplace – this one was a print-and-cut. I realized at the last minute that I had forgotten to make any banners or elements with our "Le Cirque Des Mongeau" title on it, so I whipped this banner out in about 15 minutes the morning of the shower!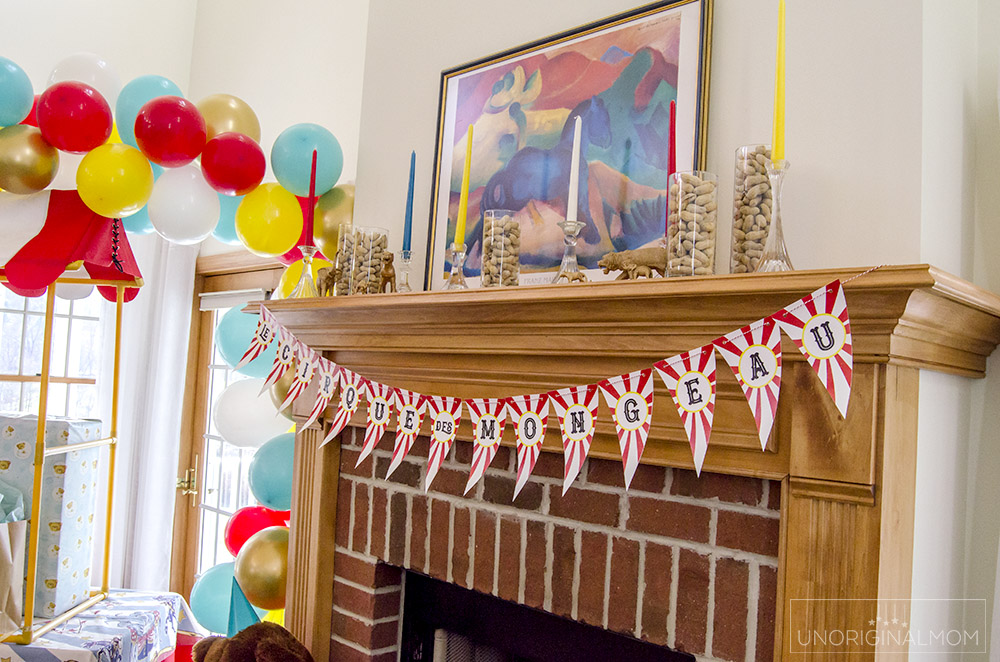 Now on to some of the activities at the shower. We requested that guests bring books to fill the babies' library, so we had a "book signing station" at the shower. I created custom book plate labels with my Silhouette by doing a print-and-cut on plain white sticker paper.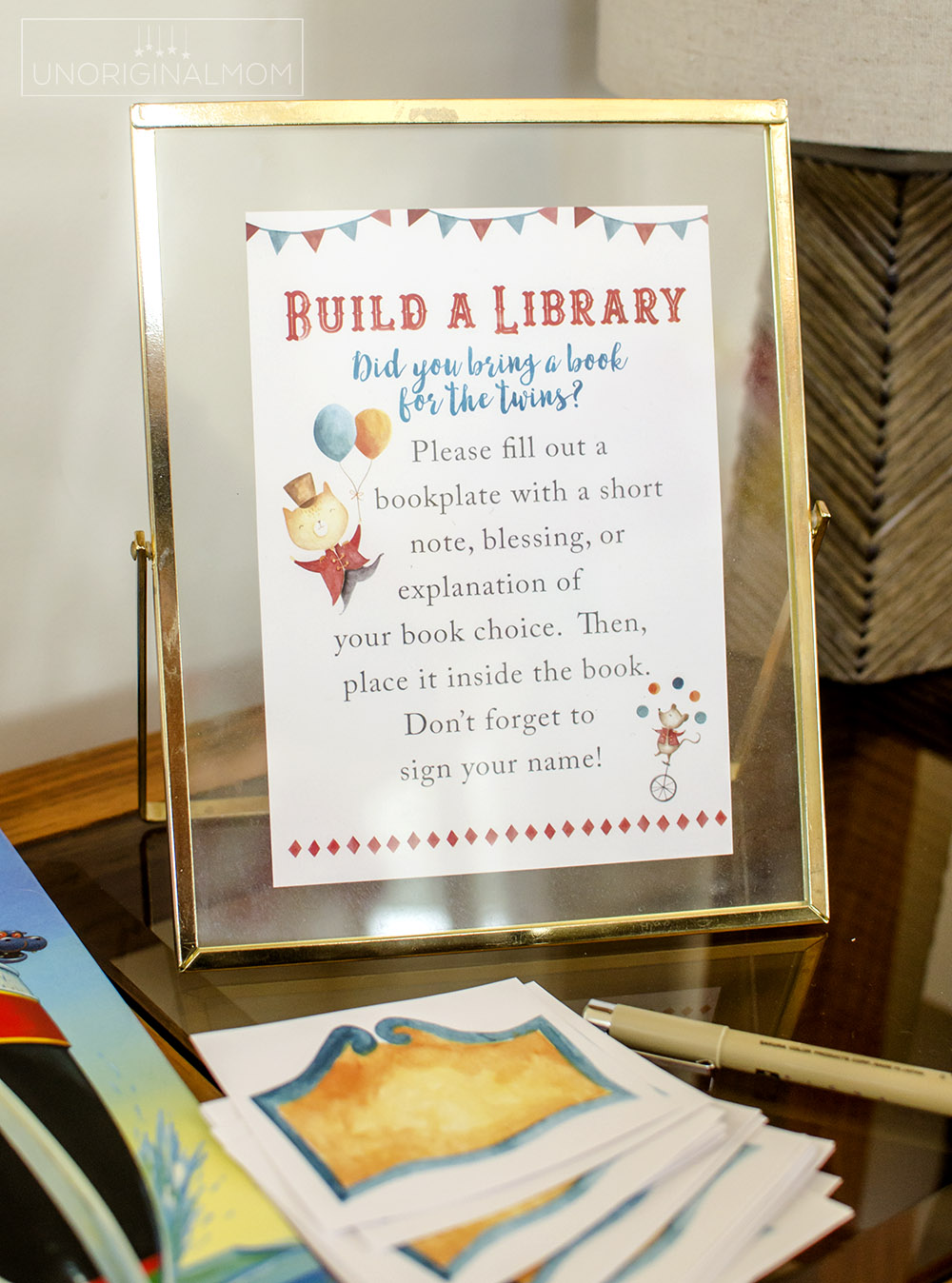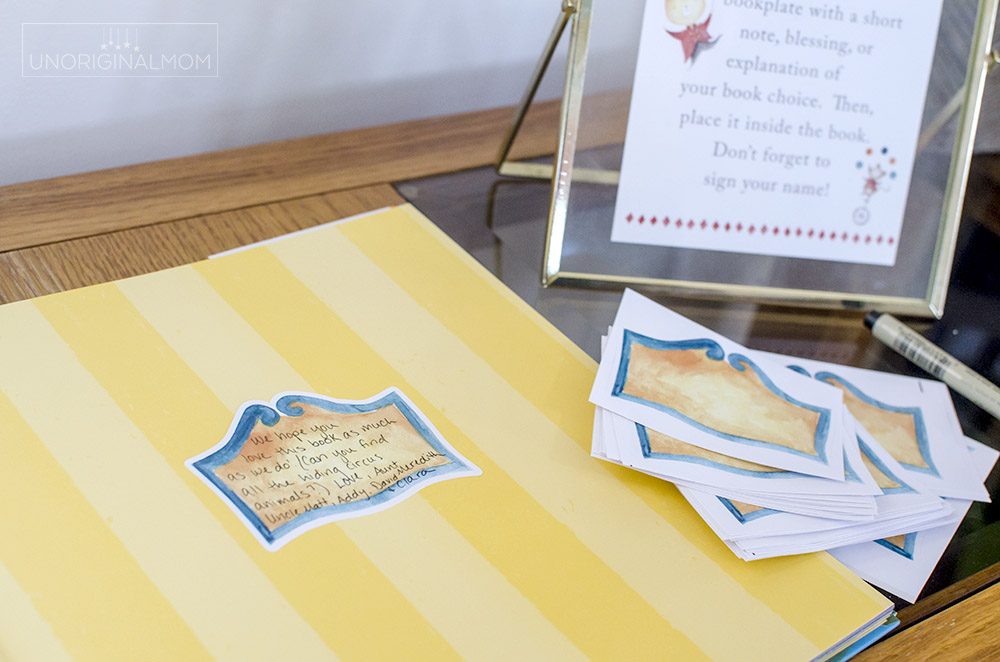 This is a game I always like to play at Baby Showers. In fact, I have an entire blog post devoted to it – you can read more about the Mommy or Daddy Baby Shower Game here! I used my Silhouette to cut out lips and mustaches from card stock and then just hot glued them onto popsicle sticks to make the props for the game. The rest of the games I used were all from the Printables Pack of my eBook, The Baby Shower Book.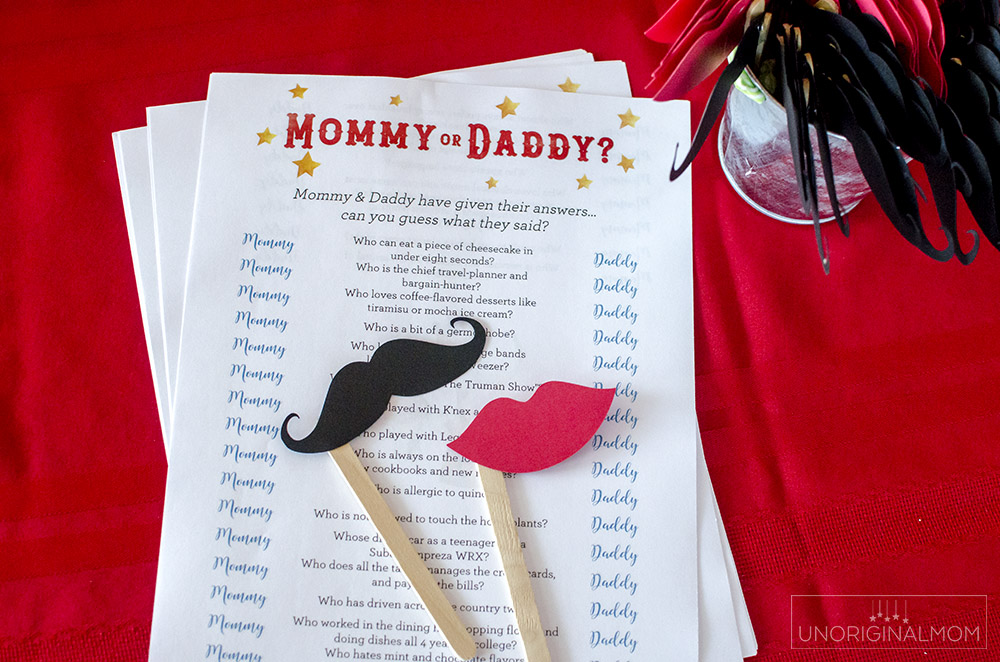 Another quick project with sticker paper were these fun labels for the favor bags!  My mom made a huge batch of caramel corn that we portioned into red and white striped cellophane bags for guests to take with them.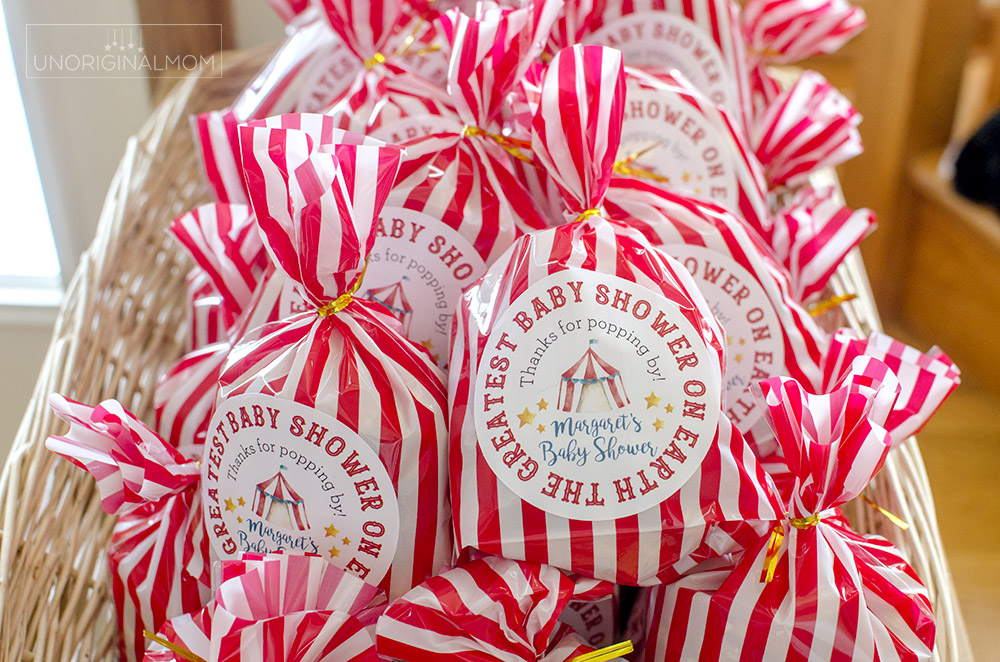 I think my favorite decor element were these adorable trapeze artists! I purchased the graphics from this seller on Etsy and traced them in Silhouette studio to do a print-and-cut (SO much easier than cutting by hand!). Then I created little trapezes by cutting skinny dowel rods into small pieces. I used bakers twine to hang them and then hot glued the little card stock trapeze artists onto the trapezes. So fun, right?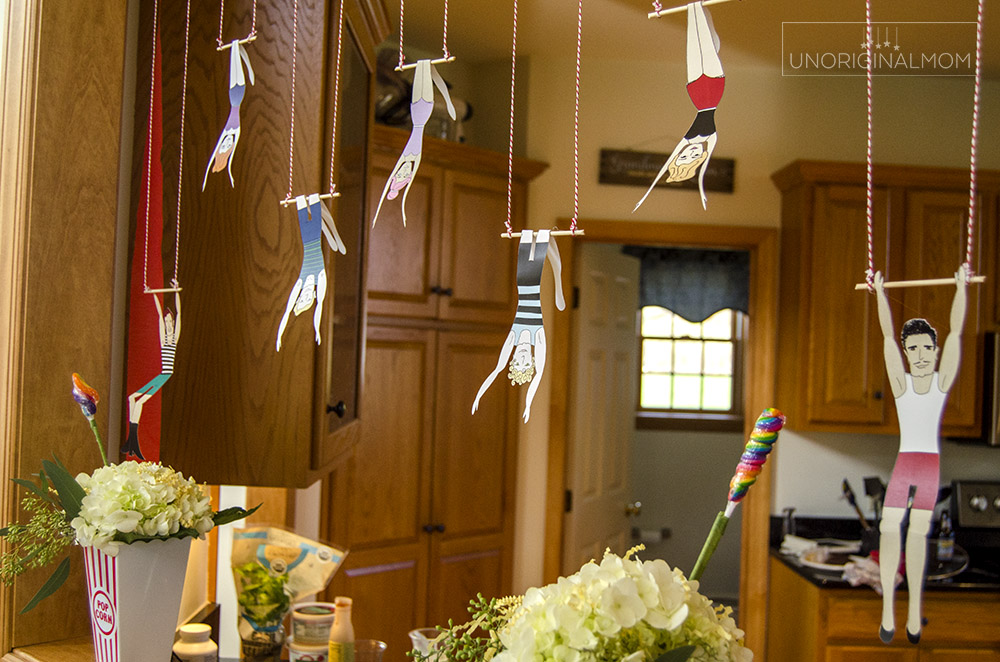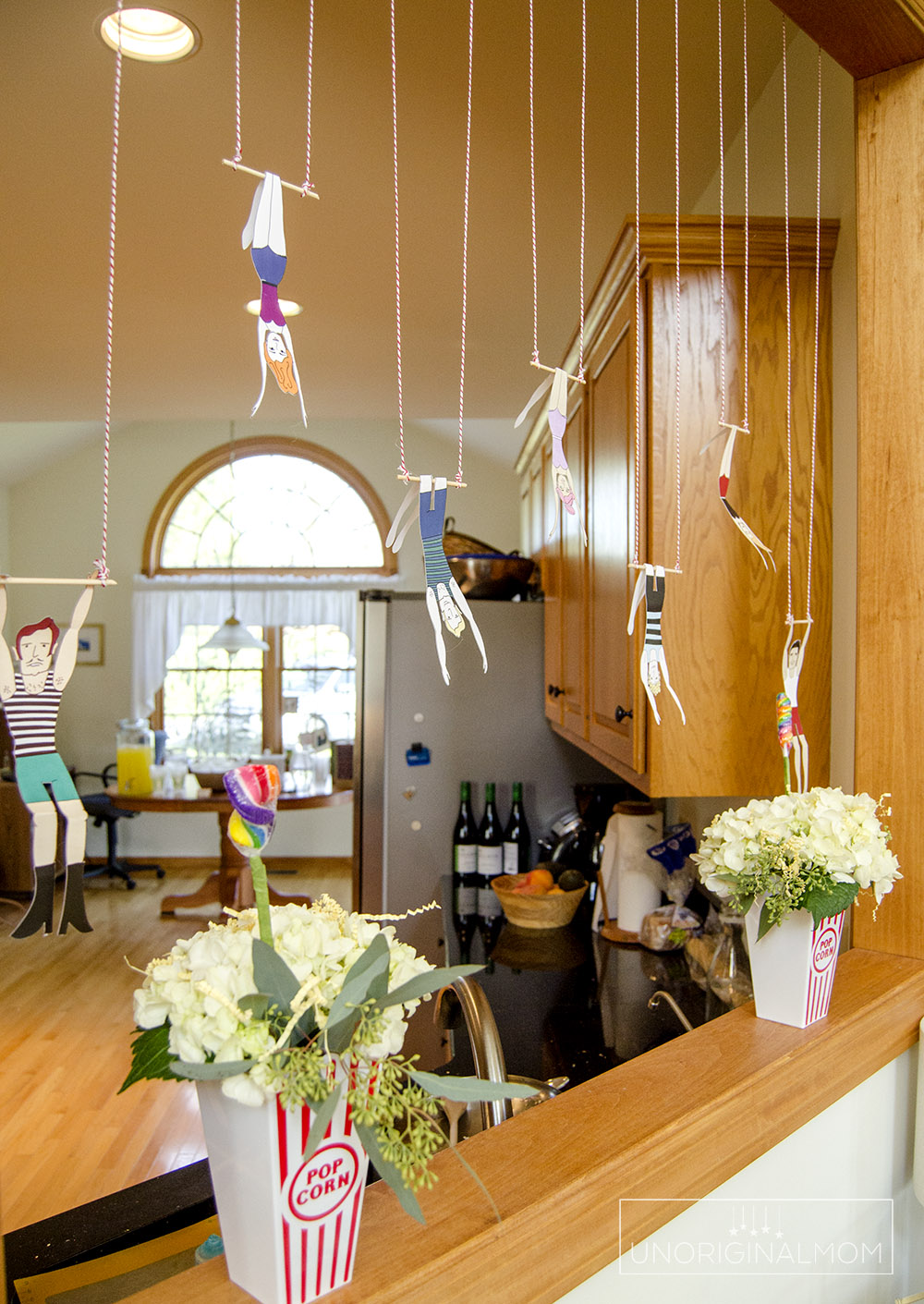 Finally, over to the food! I added a few more printed elements to continue the theme on the food table. Food labels, and a printable PT Barnum quote that was too perfect for my sister – "No one ever made a difference by being like everyone else."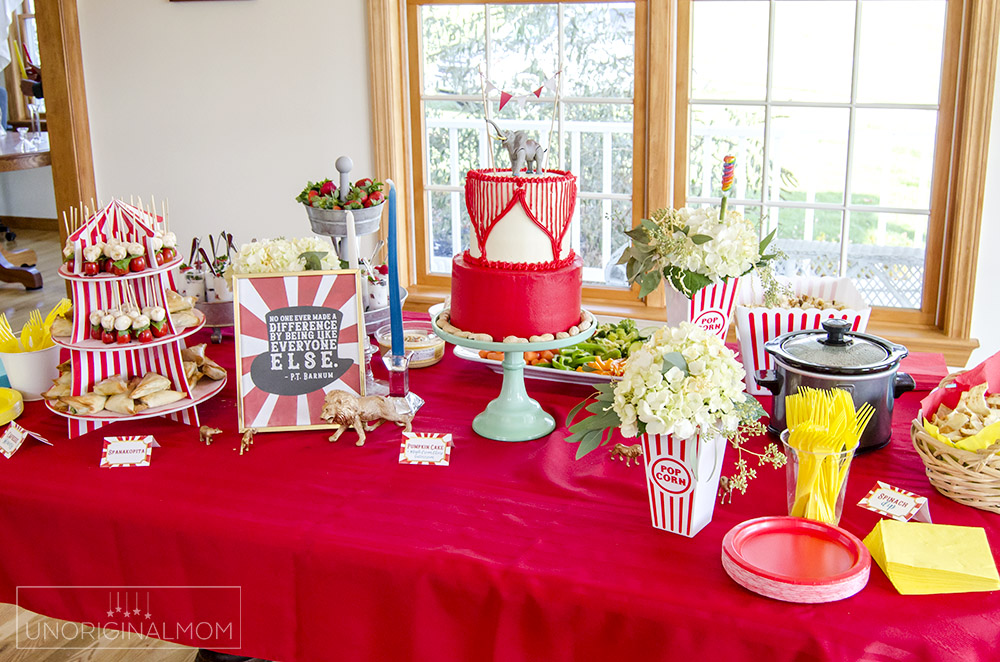 My youngest sister made this amazing cake – isn't it the most amazing centerpiece to the table? (And it was DELICIOUS.)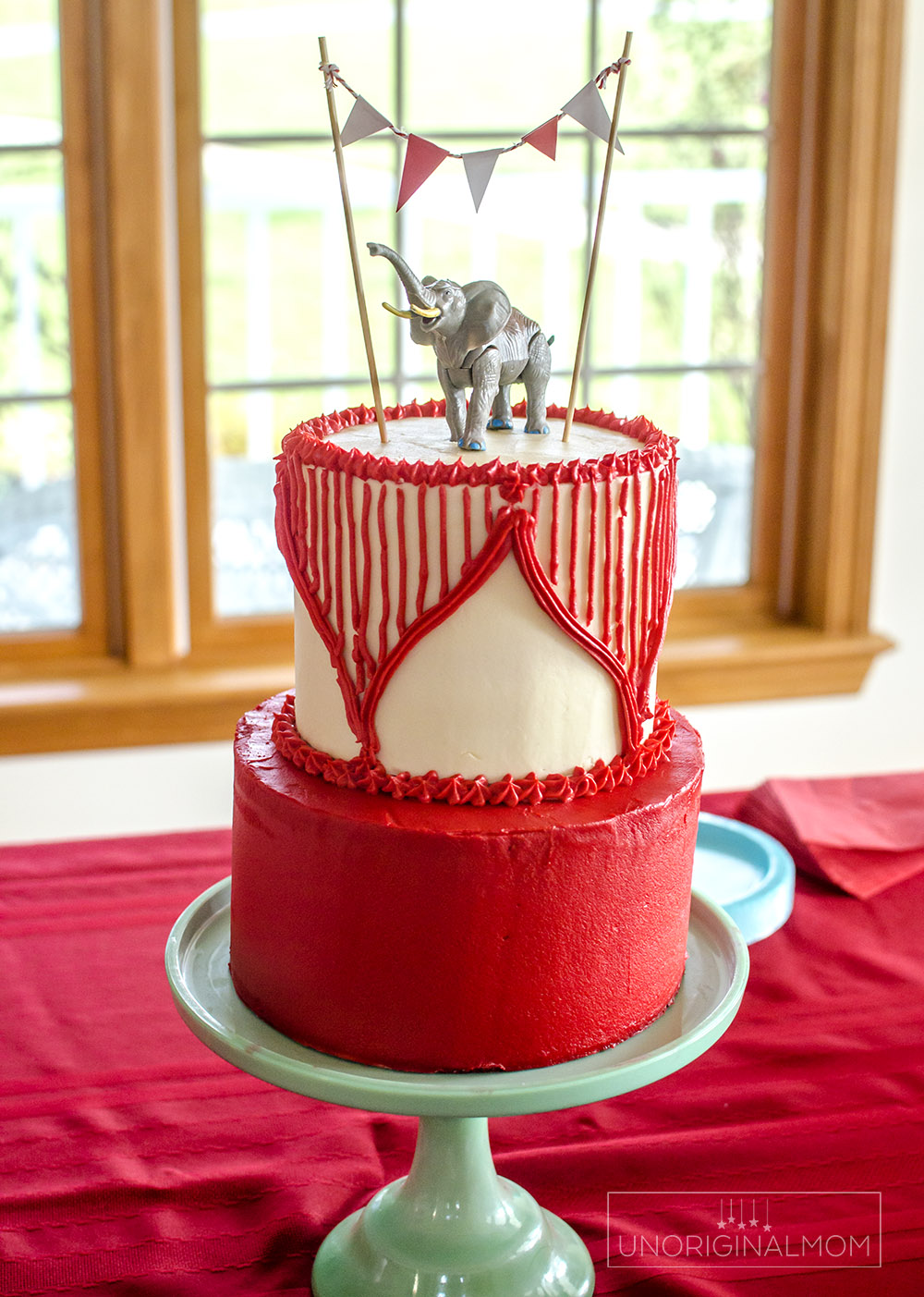 A family friend did the flowers – she picked up some plastic popcorn holders from the dollar store to use as vases for hydrangeas. Perfect! Another friend spray painted some plastic animal figures gold, and they made such fun accents around the party.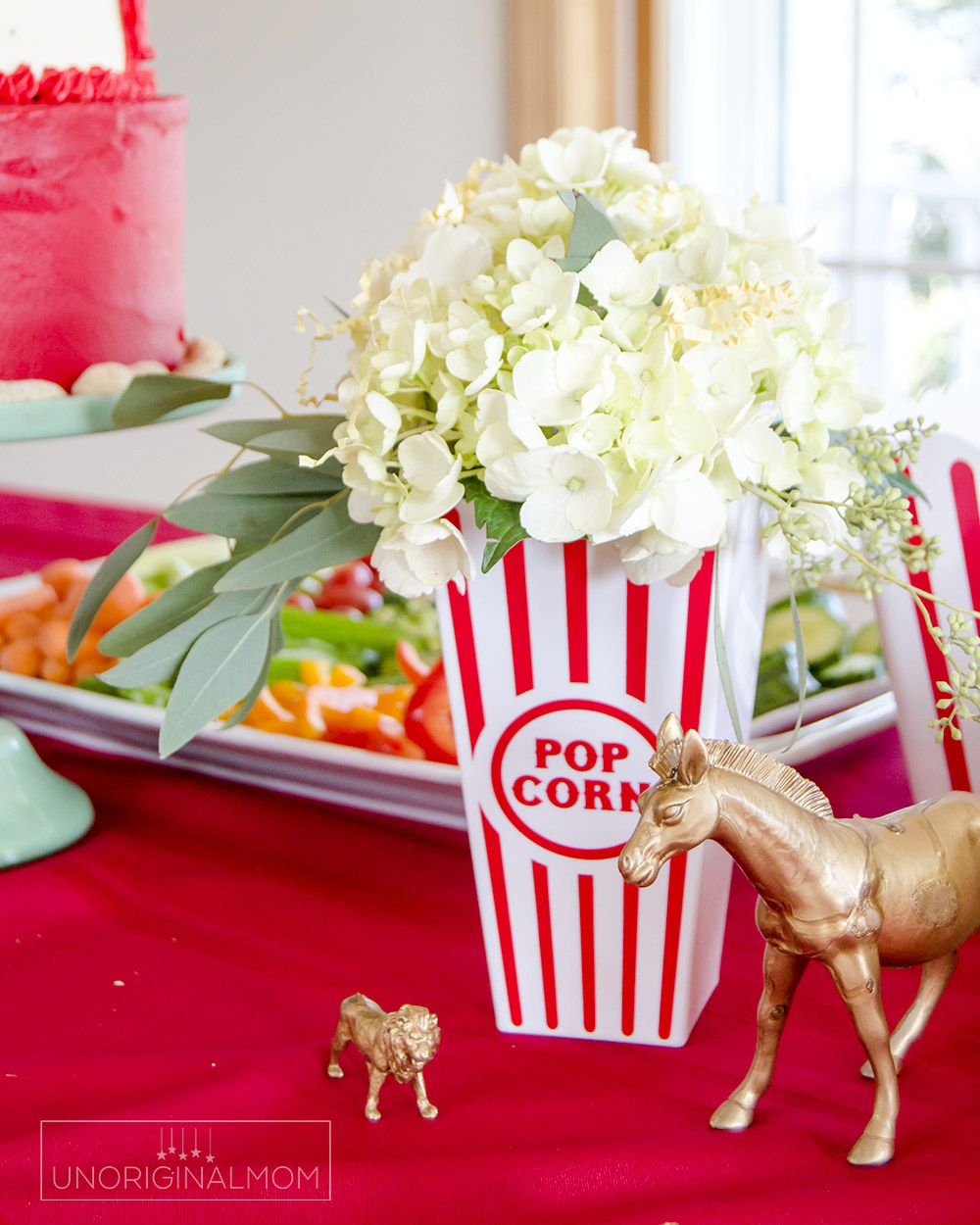 Lastly, the main focal point of the party was definitely this balloon garland around the gift table. I've never made a balloon garland before, but it was really pretty easy! My mom and aunt went to town inflating balloons with this balloon inflator while I tied them onto a string to make the garland. It's so fun and festive! I see many more balloon garlands in my party planning future ;-) It looked terrific around the tabletop circus tent that we used on the gift table.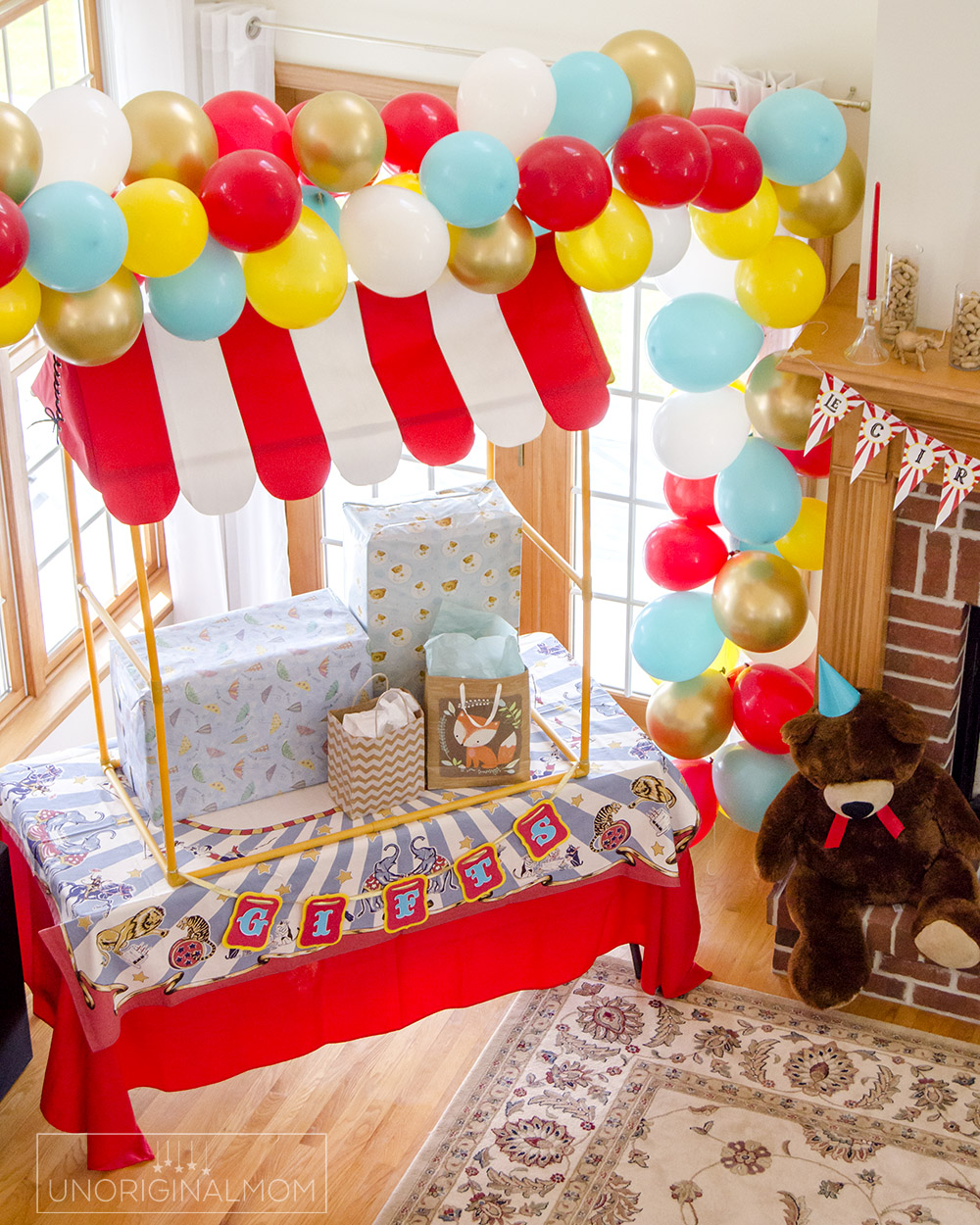 One more thing that I forgot to get photos of…we also set up a onesie making station in another room! I've blogged about that idea before (and how you can use your Silhouette for that, too!) – so head over to this Onesie Making Station blog post to read more.
Can you tell why I love using my Silhouette for parties?? :-) I hope you got some good crafty inspiration to use for the next party you host!
CIRCUS BABY SHOWER SUPPLIES:
Looking for something specific? Here's a list of the supplies and other items I used for this Circus baby shower:


GRAB YOUR FREE BABY SHOWER PLANNING CHECKLIST!
The perfect party is all in the preparation. This complete baby shower planning checklist will help you with every step along the way!