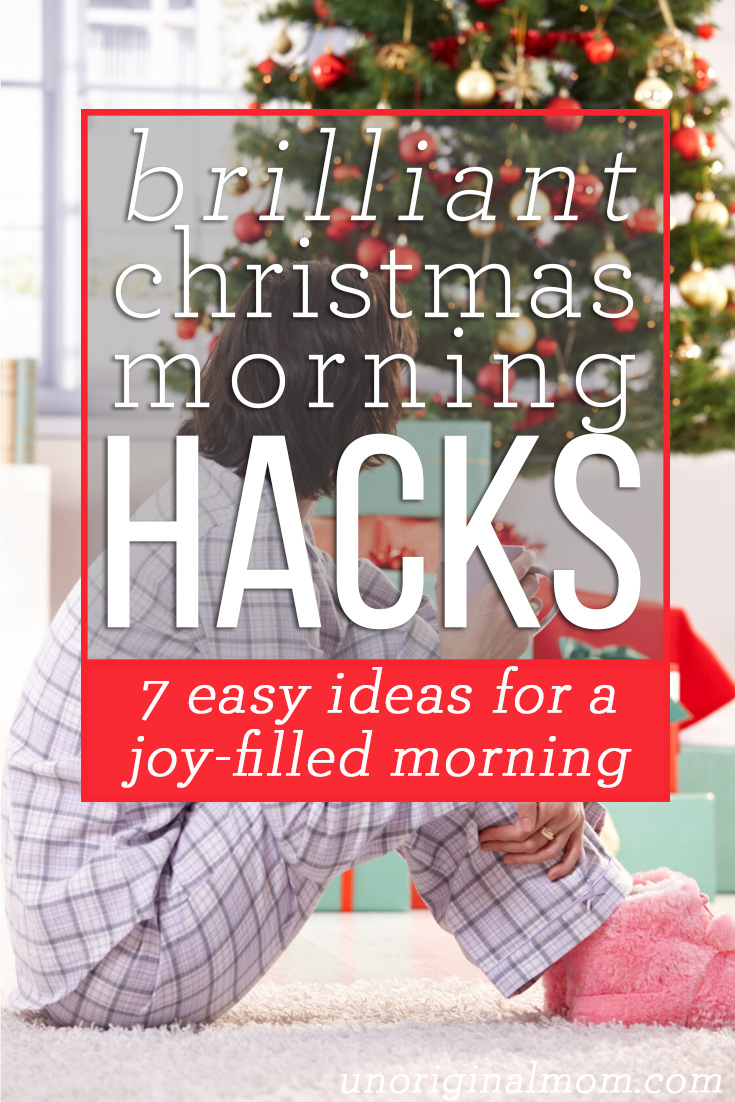 As a kid, I always loved Christmas morning (what kid doesn't?), but as an adult, I think I love it even more. The season of preparation leading up to Christmas morning are full of moments of joy, but it's pretty stressful too.  The gift-buying and wrapping, the decorating, the baking, the scheduling, the entertaining, the budget-keeping…it can be pretty overwhelming and stress-inducing for sure.  Christmas morning, though, all of that fades away and we can just be together as a family, relax, and enjoy the day. I'm able to see more clearly the blessing of the day and the Reason for celebrating. I'll work my you-know-what off the rest of December, but on Christmas morning I don't want to have to do ANYTHING other than sit on the couch and enjoy the gift giving and receiving with my family, make memories and soak in the absolute joy on my kid's faces.
Christmas morning can easily turn into another stressful element of the season, though, if you're not careful. You could be running for the scissors, tearing apart the house for batteries, yelling at your husband for not charging the video camera, spending hours in the kitchen making and cleaning up a fancy breakfast, or searching through the piles of wrapping paper for a single Barbie shoe. That doesn't sound like a very restful or joyous morning to me! (We've all been there, haven't we?) No, I want to prepare for all the stress-inducing possibilities that I can in advance!
Over the years, through experience and Pinterest browsing, I've accumulated a bit of a checklist of "Christmas morning hacks" that help to minimize – and in some cases completely eliminate – the most common Christmas morning problems and conflicts. I figured it was about time that I wrote them all down to share with you! So here are 7 Christmas Morning Hacks that will help you relax and enjoy the day.
This post contains affiliate links – click here to read my full disclosure.
CHRISTMAS MORNING HACKS – #1. Make ahead breakfast.
Unless spending hours in the kitchen cooking and cleaning brings you joy, consider planning a simple breakfast menu that can be made the day before. My go-to is some kind of an egg casserole (our favorites are this one and this one) – it's easy to mix up anytime the day before, cover and refrigerate overnight, and bake in the morning. Then I either make our favorite upside-down sticky buns before bed on Christmas Eve, or buy a frozen Trader Joe's Cinnamon Roll Wreath. To top it off I make a fruit salad (you guessed it, also prepped on Christmas Eve), and splurge on some expensive orange juice and a bottle of champagne for mimosas for my husband and I. I'll even set the dining room table the night before, so literally all I have to do on Christmas morning is bake the egg casserole and sticky buns.
CHRISTMAS MORNING HACKS – #2.  Put together an "Elf Basket" for Christmas morning
This is the BEST way to make sure you can stay parked on the couch all morning while your kids open and play with their gifts – put together a Christmas Morning Basket with all the necessities! I like to call it my "elf basket." Here's what you should put inside it:
Scissors
Box cutter
Hand-crank can opener (this cuts open blister packaging much easier than scissors do!)
batteries (I try to put batteries in toys before they're wrapped, but if that's not possible or you forget, best to have a stash on hand!)
small screw driver for battery compartments
sandwich-size ziplock bags and a sharpie to label them – for toys with tiny parts that might get lost
empty trash bags for wrapping paper
CHRISTMAS MORNING HACKS – #3. Have an empty laundry basket on hand for each child
This is the BEST way to keep your living room from looking like a bomb went off on the days following Christmas! After kids open their gifts, have them each put them in their own laundry basket. It's an easy way to keep everything contained and sorted. We like to leave the new toys out in the living room for a of those lazy days after Christmas before they get dispersed to their more permanent homes, so this really helps lessen the mess and chaos with that…and then, when it's time to put them all away, each kid can carry their laundry basket to their room to put their things away.
CHRISTMAS MORNING HACKS – #4. Prepare a trash bag/box
All that wrapping paper and packaging needs to go somewhere! You can grab a trash bag or two and stick them with your Elf Basket ahead of time…or, if you're a little more ambitious, make a "wrapping paper box!" I don't remember where I saw this idea, and I'll admit I haven't had enough time or energy left on Christmas Eve to get one ready (maybe this will be the year!) but I think it's brilliant. Basically, you take a large empty box and cut the top off (or tape the flaps up to make the box even taller) and the wrap the sides with wrapping paper. You can either line it with a trash bag or use it as-is to hold your used wrapping paper and packaging on Christmas morning. It looks much nicer than a trash bag in all of your photos, plus it's much easier to toss the paper into! (Or, if you'd rather purchase something ready-to-go, these disposable trash cans look neat!)
On a related note, if you have any ribbons/bows/gift tags that you want to save, have a separate labeled gallon ziplock bag or shoe box ready to put them in – that way they don't get lost in the trash with the wrapping paper.
CHRISTMAS MORNING HACKS – #5. Set out the cameras.
In the age of the iPhone, we don't use our actual video camera or DSLR camera as frequently as we used to…so I often forget to make sure they're charged and empty the memory cards. That can make for a difficult, whine-inducing delay for kids who are itching to open up presents! It's worth adding a step to your Christmas Eve checklists to pull out your cameras and make sure they're ready to go for Christmas morning.
CHRISTMAS MORNING HACKS – #6. Make a Christmas morning playlist.
Instrumental Christmas music is a beautiful and calming way to set the mood for Christmas morning.  Plus, it's the stuff of memories – all of my Christmas morning memories are accompanied in my head by a soundtrack of Manheim Steamroller Christmas albums! Whatever your music style preference and musical playing device is – a CD player, Amazon Echo, bluetooth speaker, etc. – figure out your plan for Christmas morning music in advance. Then go ahead and start it before the kids get up in the morning. I find that instrumental background music actually makes everyone a little bit calmer and even quieter!
CHRISTMAS MORNING HACKS – #7. Prep the coffee maker.
This is so simple, but for me it makes a big difference. If you're a coffee drinker and your pot has an auto-start feature, prep your coffee maker and set it to brew on it's own before you wake up. There's something so pleasant and almost luxurious about being able to pour a nice hot cup of coffee right away in the morning! And then I can settle right down on the couch and not get up for anything ;-)
One more thought…
This last "tip" isn't really a material thing you can add to your basket or make-ahead the night before…but it's worth saying. Prepare your heart. Yes, something is going to come up – the kids will find something to argue about, a new toy could break, the sticky buns won't rise, or maybe someone will end up in tears over something they didn't get. With all of the lead-up to Christmas (it seems like it gets bigger every year!), there is simply no way that a single earthly day can live up to all the expectation. There is, however, a someONE who can live up to the expectation, and He's the reason we celebrate it in the first place. Center your heart and your expectations on Christ – not your kids, not your husband, not the gifts or the decorations or the food. He is the true source of all peace, hope, and joy! That's really my biggest piece of advice for experiencing a joy-filled Christmas morning – the rest is just extra ;-)
Merry Christmas to you and yours! Wishing you a joy-filled season with those you love.




What if you MADE your Christmas gifts this year instead of buying them? Find out how to set yourself up for success in your Handmade Christmas journey - plus get a free printable gift list planner!