Tired of spending $$$ on fresh wreaths every year? Make your own DIY farmhouse Christmas wreath with faux florals and a grapevine wreath to reuse year after year. The best part is there's no glue involved, so you can change it up with different accents each year, or leave it as-is!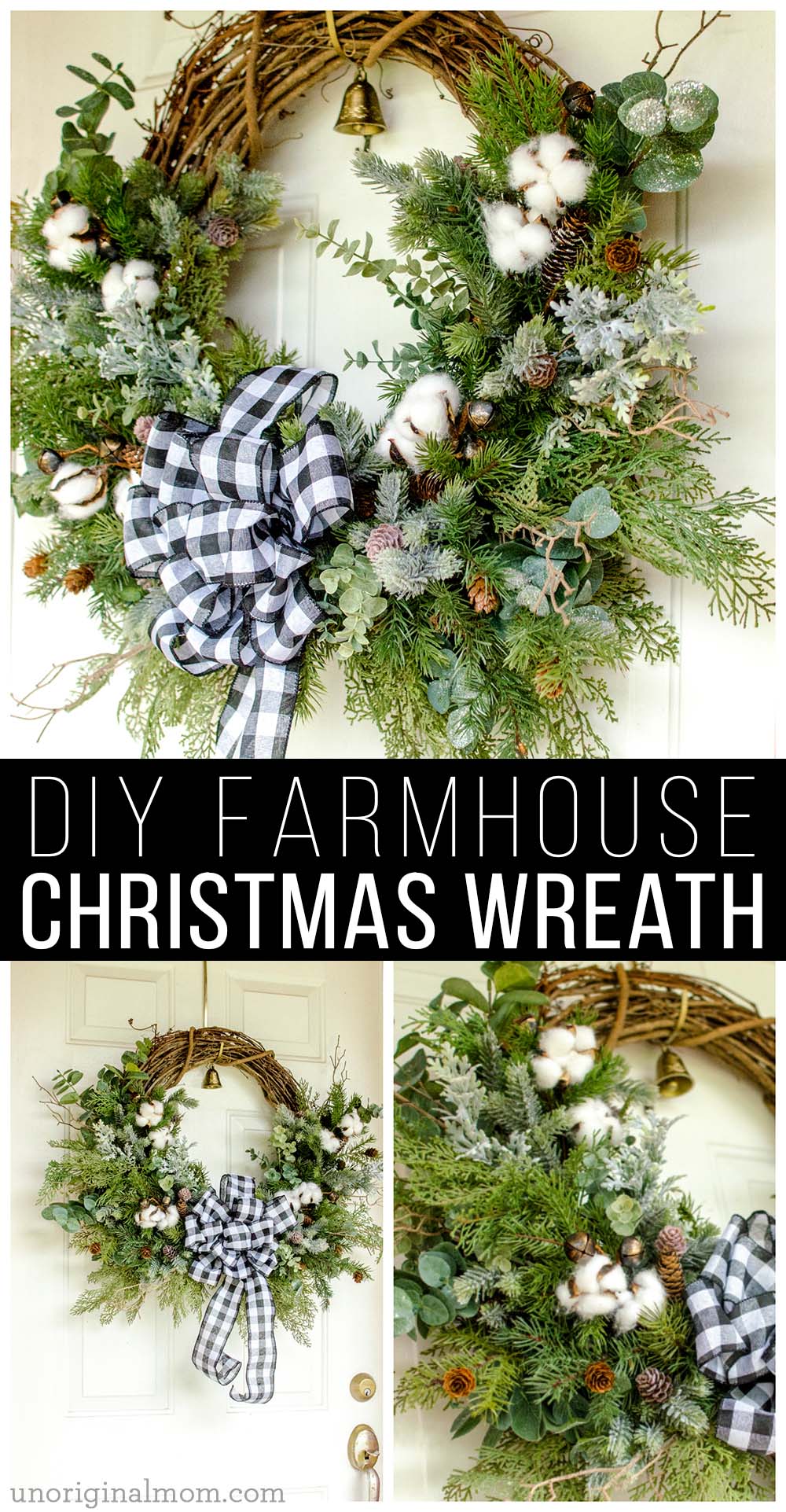 Okay, fellow crafters. You know when you get an idea in your head of a project to make, but you're not exactly sure *how* to go about creating it…so you just get supplies together and start creating, without any idea how it's going to turn out? Most of the time the final product just doesn't live up to the image you had in your head to start with…but every once in a while, you just NAIL it and it turns out as good or even better than what you'd pictured! This was one of those rare "NAILED-IT!" projects! I think I actually did a real happy dance in my basement when I finished it.
All that to say, when I set out to put together a DIY farmhouse Christmas wreath for myself, I wasn't expecting it to be a "blog worthy" project, so I didn't take any in progress photos to share here. I just started playing around with faux florals and a grapevine wreath in my horribly lit and messy basement, and it wasn't until I was finished and had it hanging on my door that I thought I should share this with you here on the blog. Because if I can do this, I promise you, anyone can!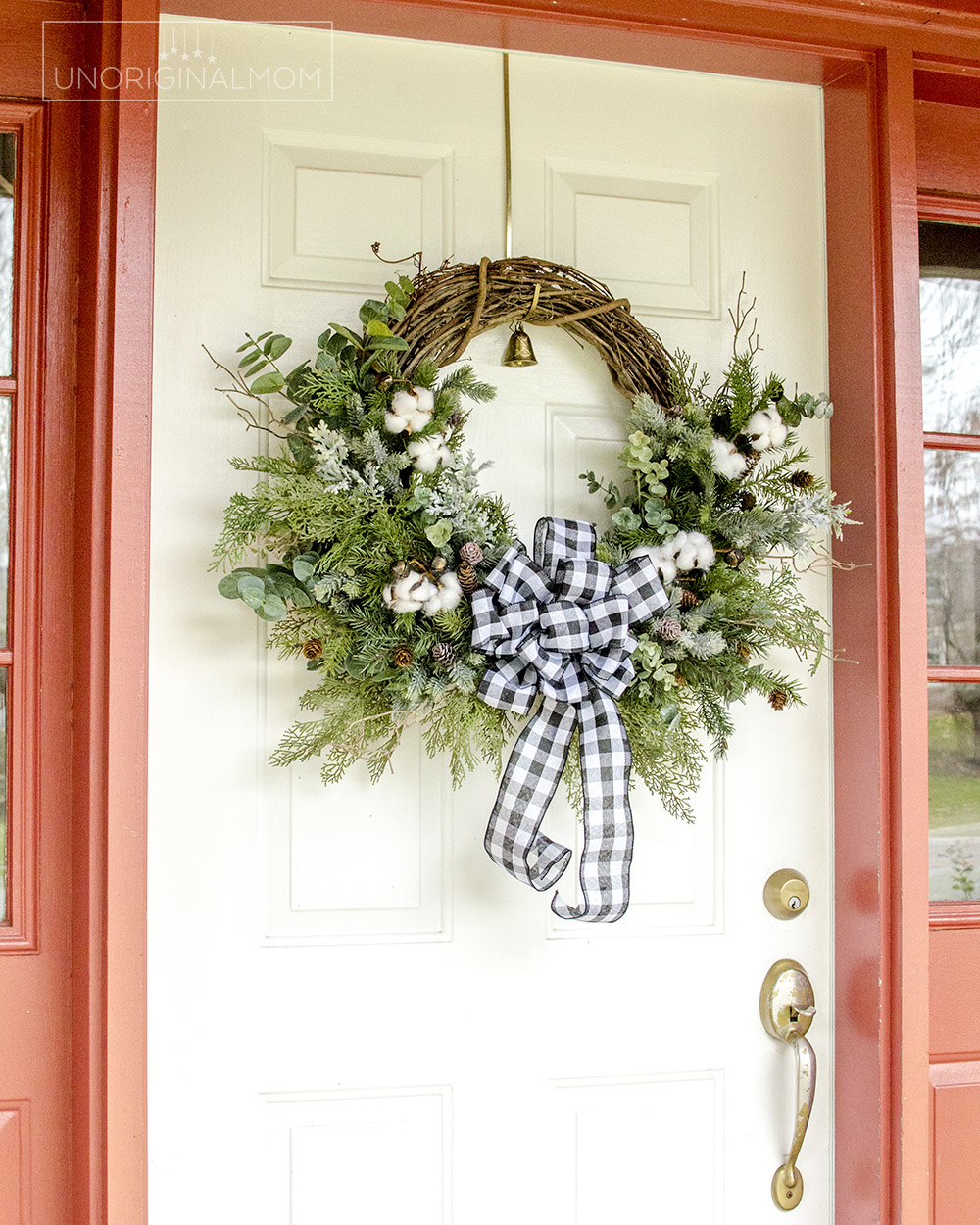 DIY FARMHOUSE CHRISTMAS WREATH – SUPPLIES
>span class = "disclosure">This post contains affiliate links – click here to read my full disclosure.
To get a natural, "farmhousey" kind of look, go for natural evergreen stems. I looked for a mix of larger stems and smaller wreath picks in cedar, pine, eucalyptus, and accents of curly twigs, cotton, and natural pinecones. I purchased all my florals at Michael's, but waited until Christmas florals were on sale and stacked them with a 25% off your total purchase…because faux florals are super pricey! I ended up spending probably around $40 on all the faux florals I used, but given that I had been spending $20-25 on a fresh evergreen wreath every year, this wreath will pay for itself in just two years!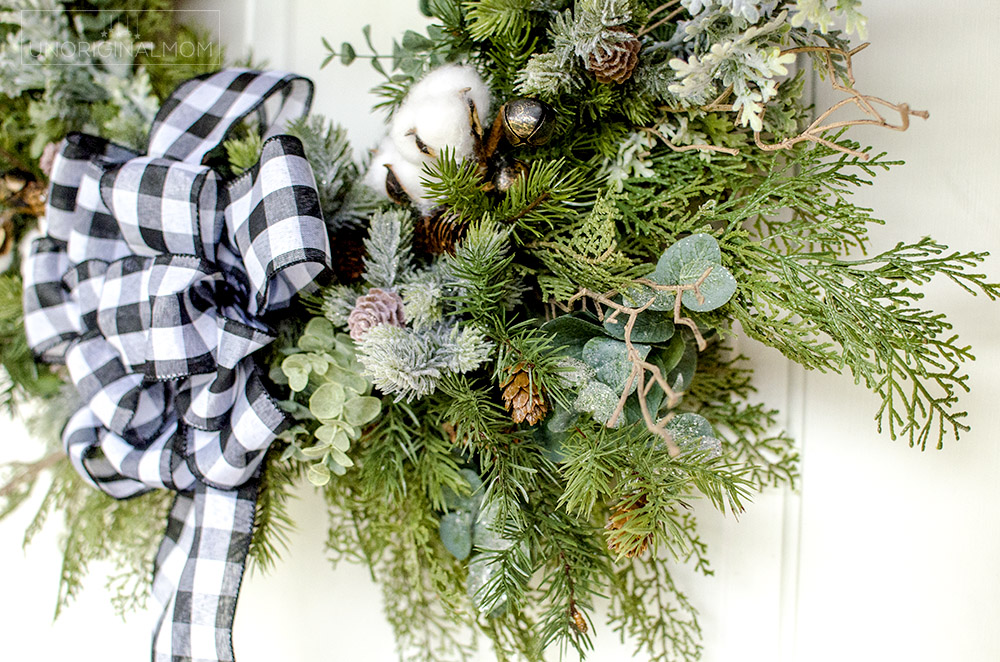 DIY FARMHOUSE CHRISTMAS WREATH – TUTORIAL
Like I mentioned, I didn't actually take any in-progress photos…but I DID share the process on my Instagram Stories! I saved the whole series of videos to my highlights, so you can go over to my Instagram profile to watch the whole thing.
Here's the basic gist: start by laying out all your faux floral branches and wreath picks. Take any larger floral stems and cut them apart into 3-4 smaller pieces. Depending on where your ribbon or focal point is going to go (mine was the bottom center, but you could choose any part of the wreath), start laying out your floral pieces on either side. You want it to be balanced but not 100% symmetrical. Start tucking a few larger branches in on either side of your focal point. Keep experimenting and filling in by tucking in smaller branches around until you find an arrangement you like!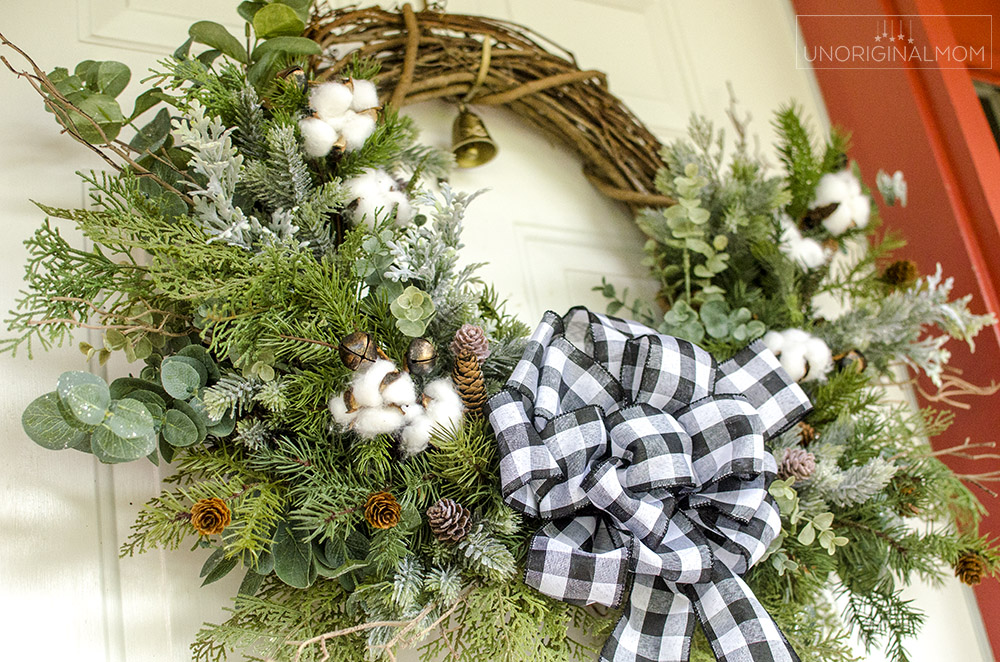 I actually used this same technique to make a no-glue fall wreath – here's a the video tutorial so you can see how easy it is to just tuck the florals into the grapevine wreath bit by bit.

I knew I needed a large accent piece to anchor my wreath, but I was torn between adding a big buffalo check ribbon or using three large pinecones. My instagram followers were split on the decision too! I ended up deciding to go with a ribbon because it looked more festive for Christmastime…but after Christmas, I'm planning on swapping it out for pinecones so it can last all winter long!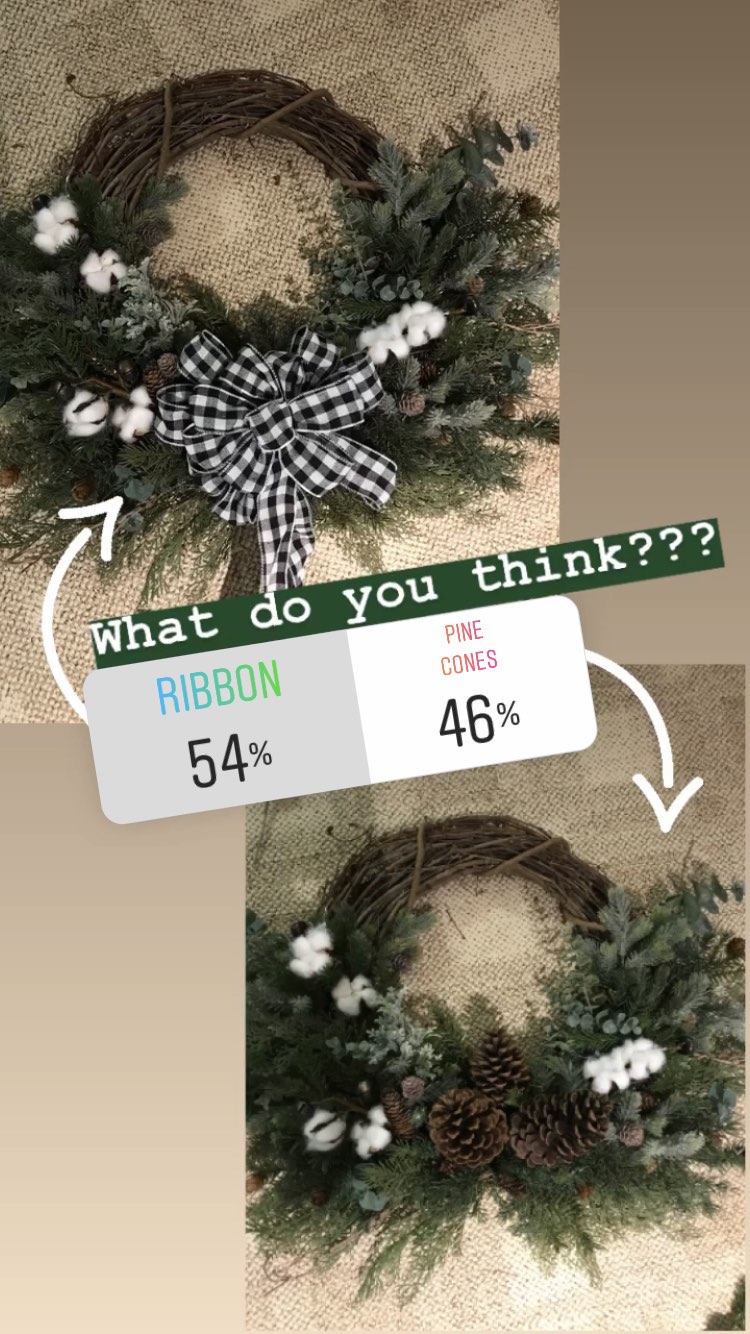 If you want to try making your own DIY farmhouse Christmas wreath (and you totally should!) don't forget to watch the story in my Instagram highlights to how I made mine.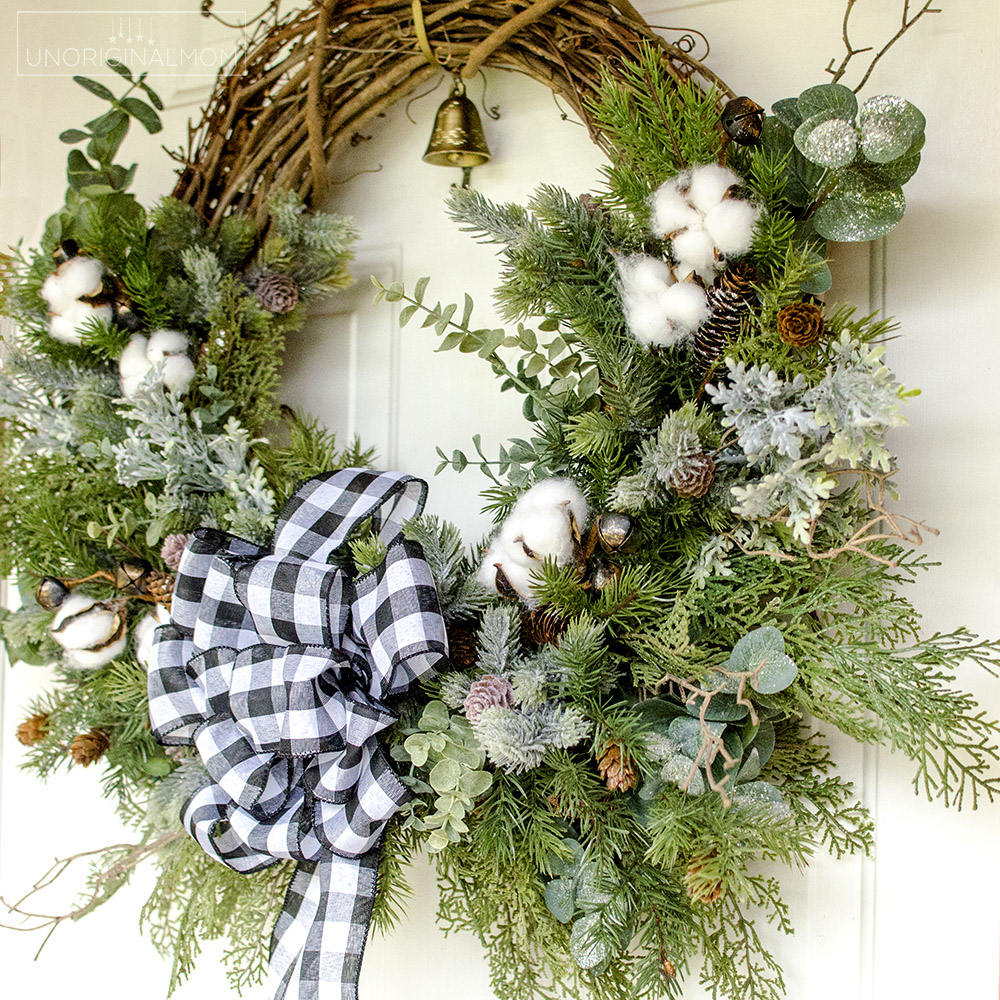 And if you don't want to make your own but like the idea of a hand crafted artificial wreath that will last you year after year, here are some beautiful options on Etsy!



Get your copy of my FREE meal planning binder!
Sign up to get a free copy of my meal planning system - an 11 page printable meal planning binder, complete with a pantry inventory, shopping list, and more to help get on top of your menu each week!