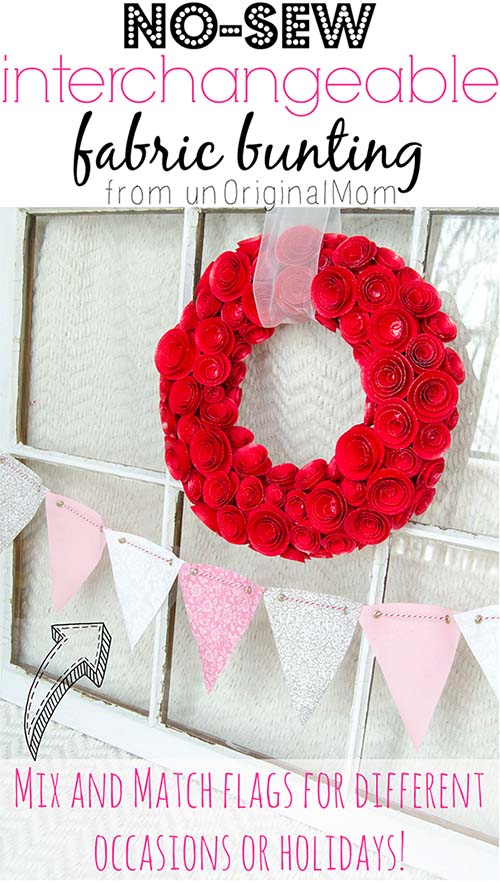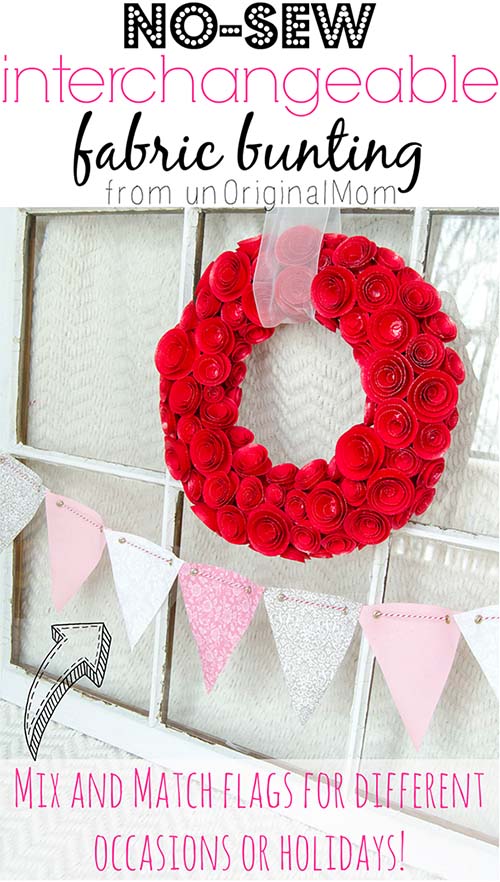 I am a lover-of-buntings.  They are simple, lovely, versatile, and classic.  You can use a bunting to decorate for literally any occasion – holidays, birthdays, parties…indoor or outdoor…formal or informal…with lettering or without…paper or fabric…so many possibilities!
So it got me to thinking…what if there was a way to make all of those buntings in one?  I could create bunting flags out of a bunch of different colors and prints of fabric to be able to mix and match depending on the holiday or occasion!
Now, I am NOT a sewer.  I really hope to learn someday (I do have a machine and know the very basics), but even a simple project like sewing fabric triangles would have taken me a loooong time.  I made a scrapbook paper bunting for my daughter's first birthday which was great for a one-time-use thing, but I wanted something more substantial.  So, I decided to attempt my very first Silhouette fabric project!
This post contains affiliate links – click here to read my full disclosure.
First, I created a cut file in Silhouette studio – just a simple triangle with two holes for stringing.  I put two triangles together into a parallelogram (yes, I know my shapes!) for the most efficient use of fabric when cutting.
Would you like to have the cut file?  I'd love to share!  Here it is!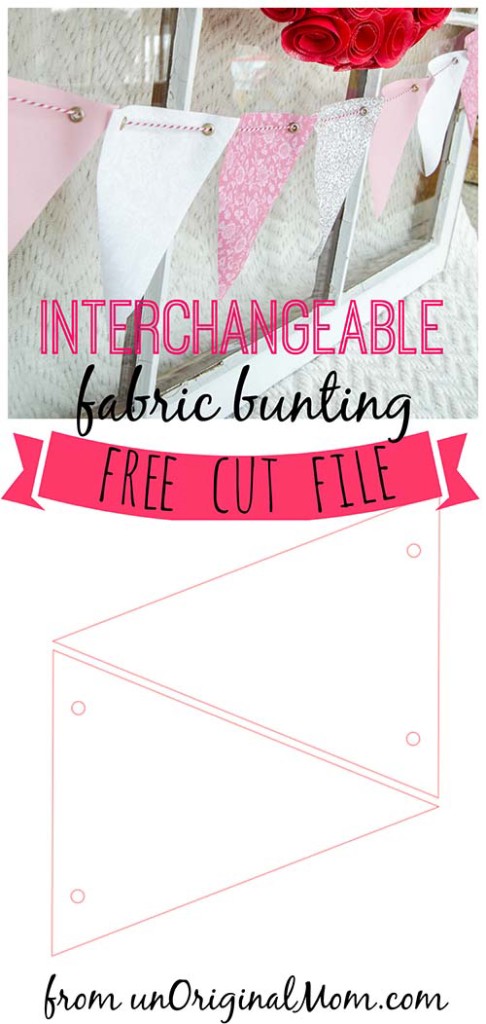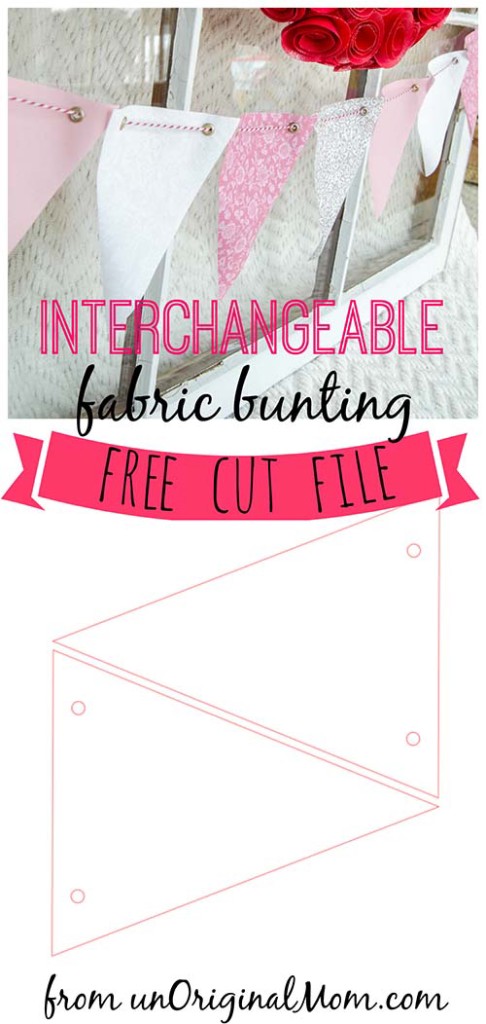 Fine print:  This design is for personal use only.  I'd love for you to follow me via Facebook, Pinterest, or Twitter in exchange for the download…of course, it's not mandatory, but very much appreciated!
I decided to start with a bunting for Valentine's Day, so I went to the fabric store and bought a variety of white, pink, and gray fabric quarters.  (I could have easily gotten 4 triangles out of each quarter, but I only did two for now.)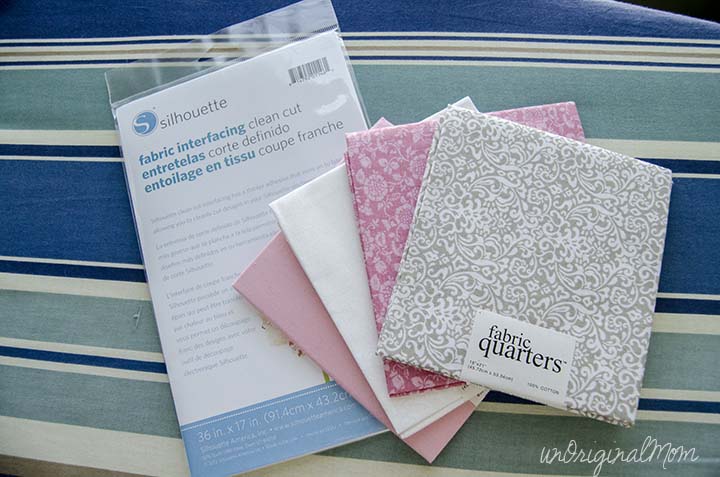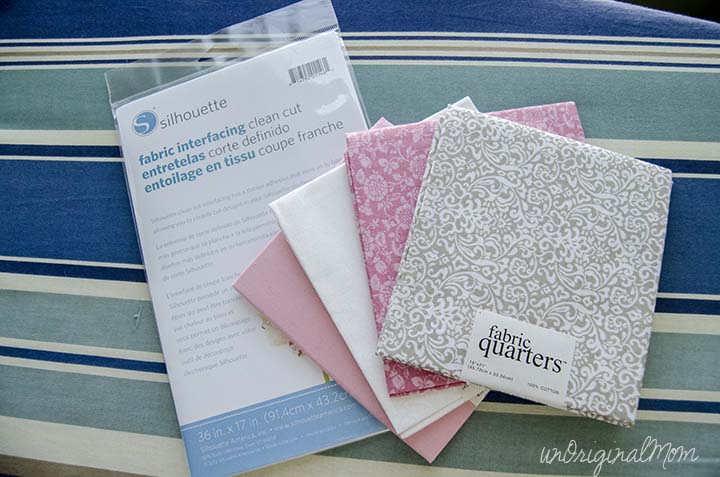 I cut a parallelogram equal to the size of my two triangles onto cardstock to use as a measuring guide.  After cutting the fabric into rectangles, I cut the Silhouette Clean-Cut interfacing into slightly smaller rectangles and ironed it onto the back side of the fabric.  The next step is to trim the excess fabric from the edges, and finally to peel the paper backing off of the interfacing.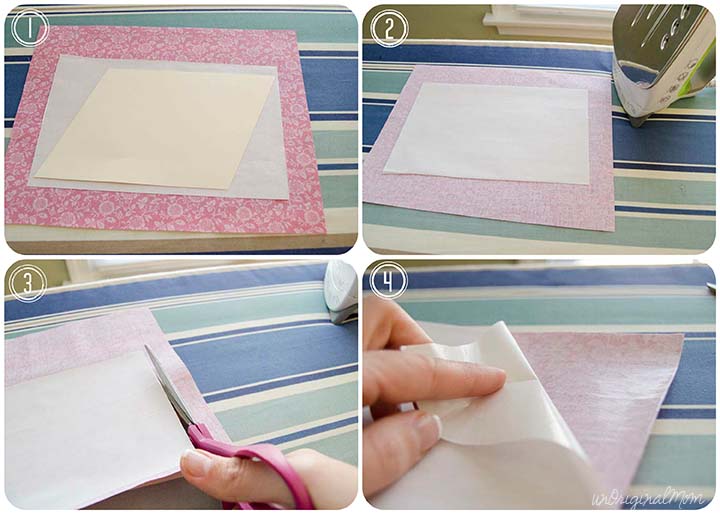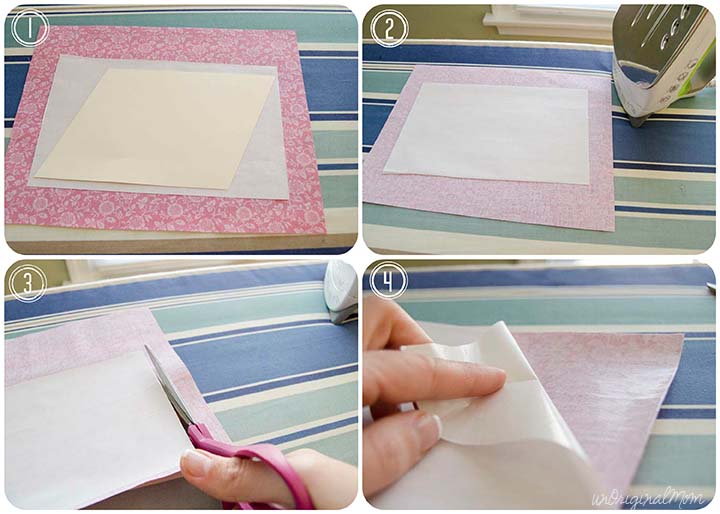 (A quick note about the Clean-Cut Interfacing – it is meant to be used for no-sew projects, and worked great for this…but you can also use it to iron on your fabric cut-outs to other fabric – a t-shirt, tote bag, etc.  I chose not to iron it on to anything, but it would be perfect for cutting out letters or shapes to iron onto more bunting triangles!  You also don't need to use the Silhouette brand – something like Wonder Under would work just as well.)
Apply the fabric – interfacing down – onto the mat.  A few things to keep in mind – be sure the fabric isn't in the way of the rollers or else they will wrinkle and bunch up the edges of the fabric.  Also I made the mistake of using a relatively new mat at first, and it actually held onto the interfacing when I tried to peel up the fabric.  I switched to an older, less sticky mat after that and had no problems.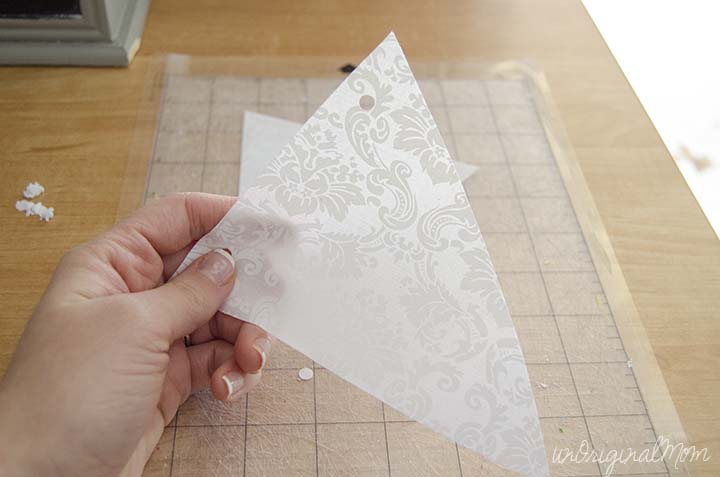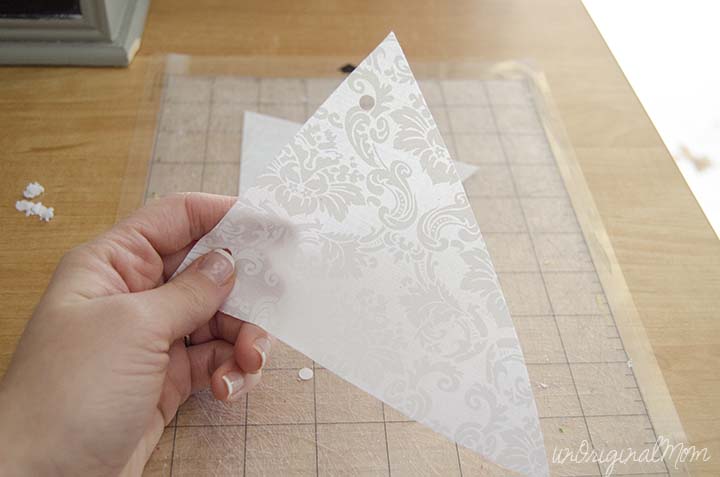 Just like you have fabric scissors you keep separate in order to keep them sharp, you need a fabric blade to dedicate exclusively to fabric – cutting paper even once or twice will make it too dull to cut fabric well.  Silhouette makes a fabric blade, but it's really just a regular blade in a blue casing to make it look different.  If you have a brand new blade, you can use that for fabric – just use nail polish or something to label it as your fabric blade so you can tell it apart from your other blade(s).
Because I want these bunting triangles to hold up for a while, I added eyelets (also known as rivets) to the holes.  If you're using my cut file, you'll need 3/16″ eyelets (or you'll need to adjust the holes to the size of your eyelets.)  Notice that you can't just buy the eyelets – you also need an eyelet tool kit of the corresponding size to set them.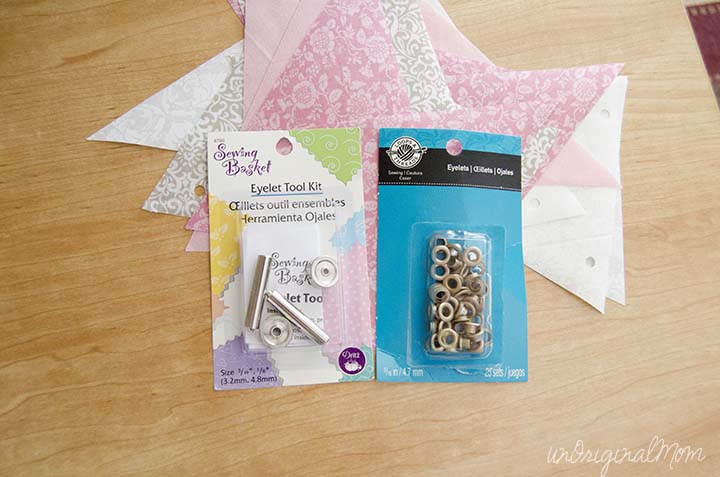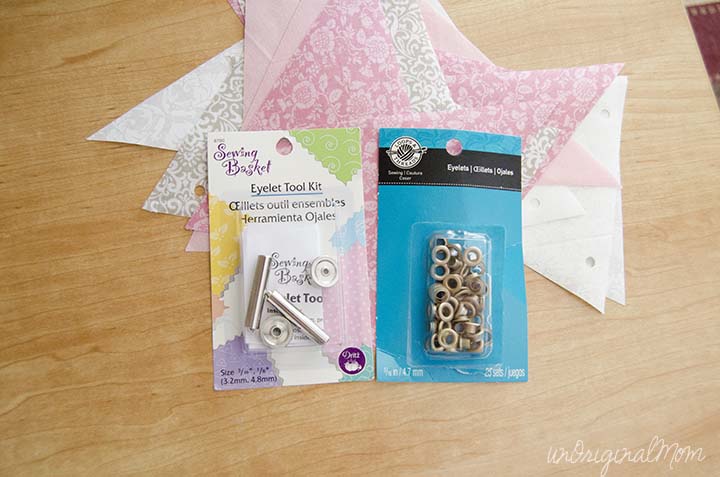 Follow the instructions in the tool kit to set your eyelets. (You get to use a hammer – fun, fun!)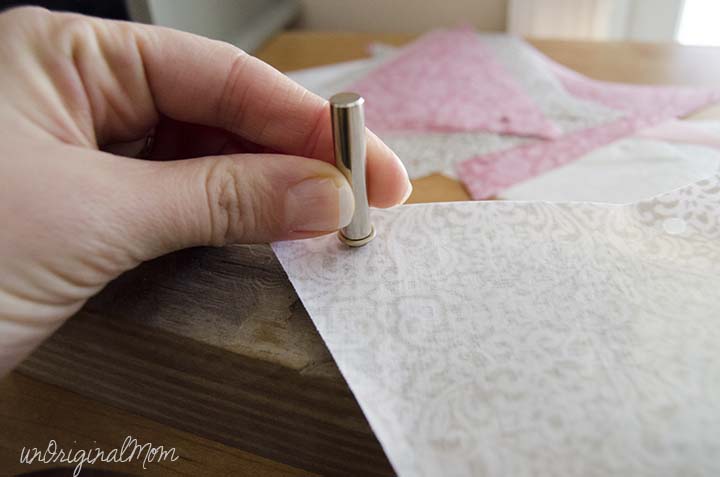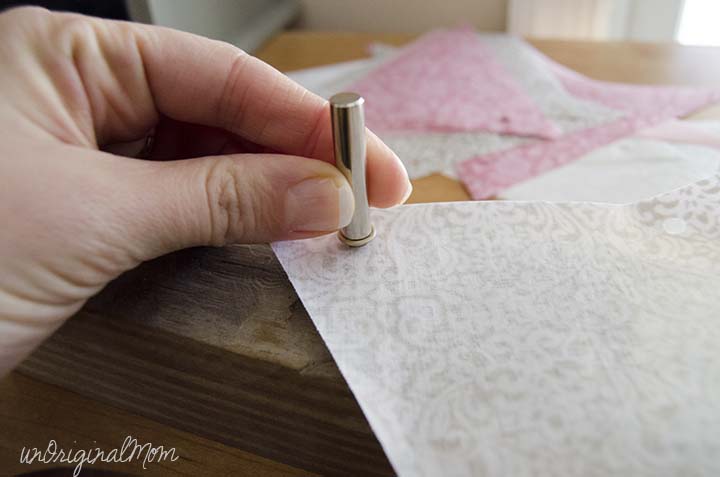 It gives you a nice, finished look to your bunting triangles!  Plus, they'll hold up much better to being used and re-used many times.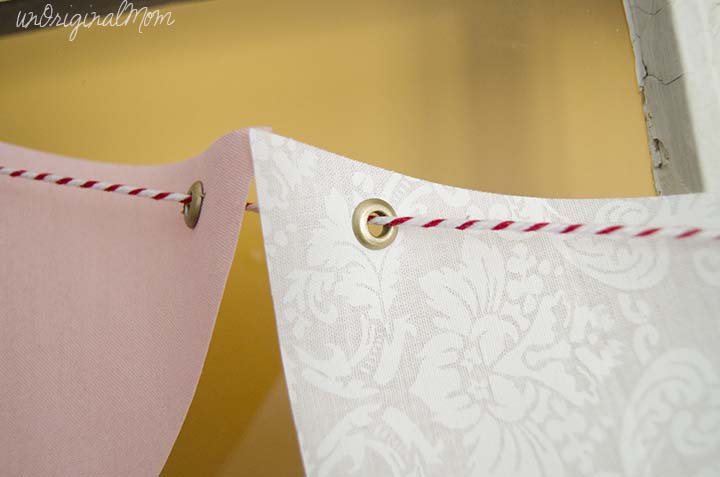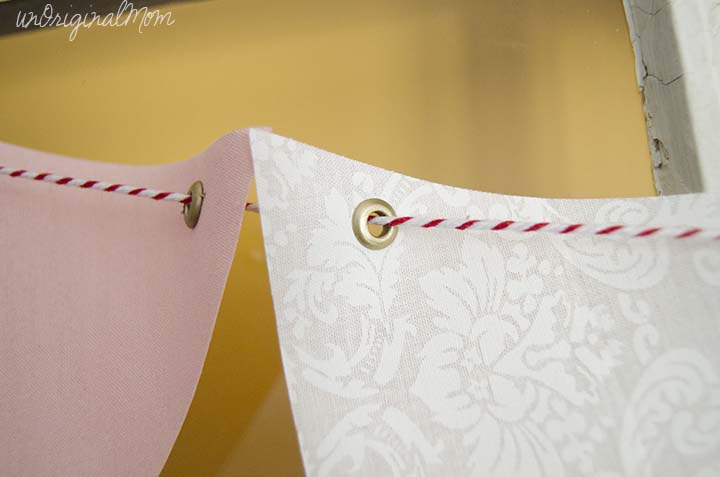 Take your finished triangles and string them together to make your bunting!  I used red & white bakers twine, but you could use yarn, ribbon, rickrack, jute twine, or anything else you have laying around!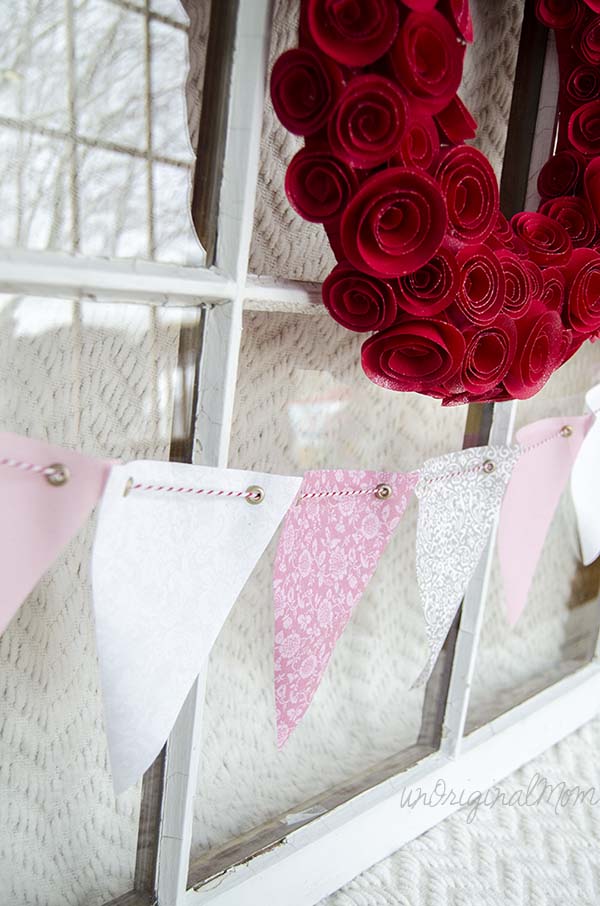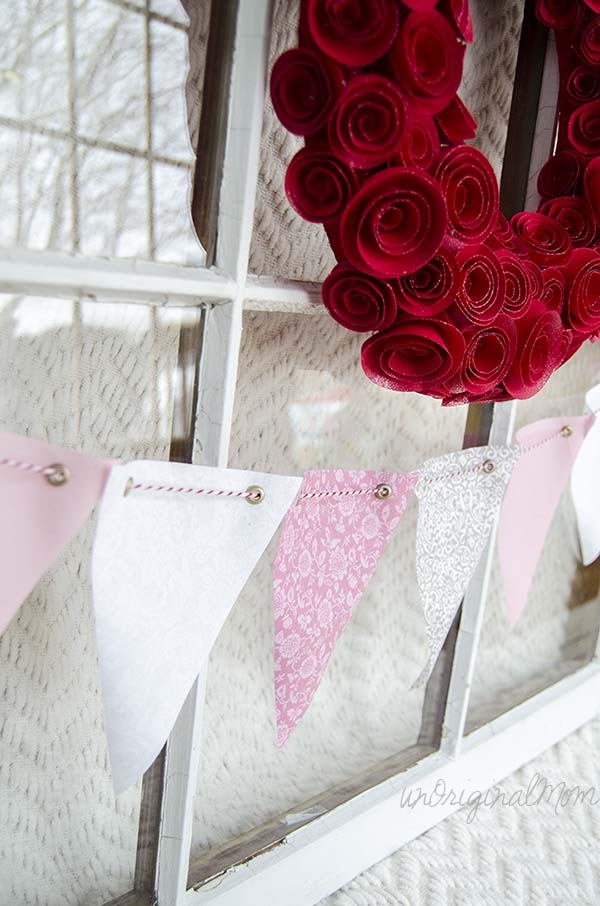 I hung my bunting on an antique window frame underneath my Paper Rosette Wreath to display on my Valentine's Mantel.  Doesn't it look lovely?   You can see my Paper Rosette Wreath (also made with my Silhouette) and Thumbtack Heart Art too!  I am looking forward to swapping out a few of the pink flags for some blues and greens to make a festive spring bunting!  (Unfortunately, I don't think winter is leaving us anytime soon.)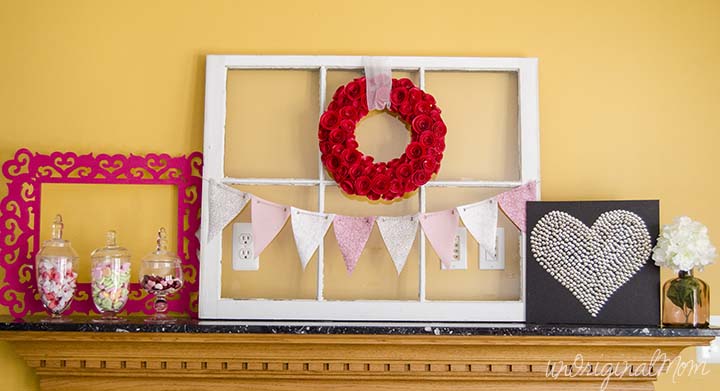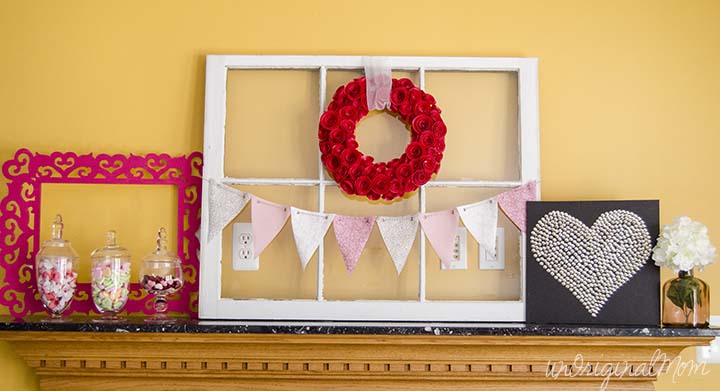 (Yes, I know my wall is quite possibly the most hideous shade of mustard yellow there is.  Bleck.  It is getting repainted soon, I promise!  But in the meantime, just admire how awfully it clashes with the oak mantel…it really is sort of special, isn't it?) 
Hey, wait!  You thought that was it? Not even close!  43 (yes, forty-three!!) of my bloggy friends are also sharing fabric projects for your Silhouette today!  Pace yourself, because you are definitely going to want to make it the whole way through this impressive list.
As a member of the Silhouette Challenge Support Team, I am helping to "test drive" a new concept for our monthly graphic…you can click directly on a specific thumbnail photo within the larger image below to take you to the project you'd like to see – OR scroll down to see a list of the participating blogs with their corresponding photo number!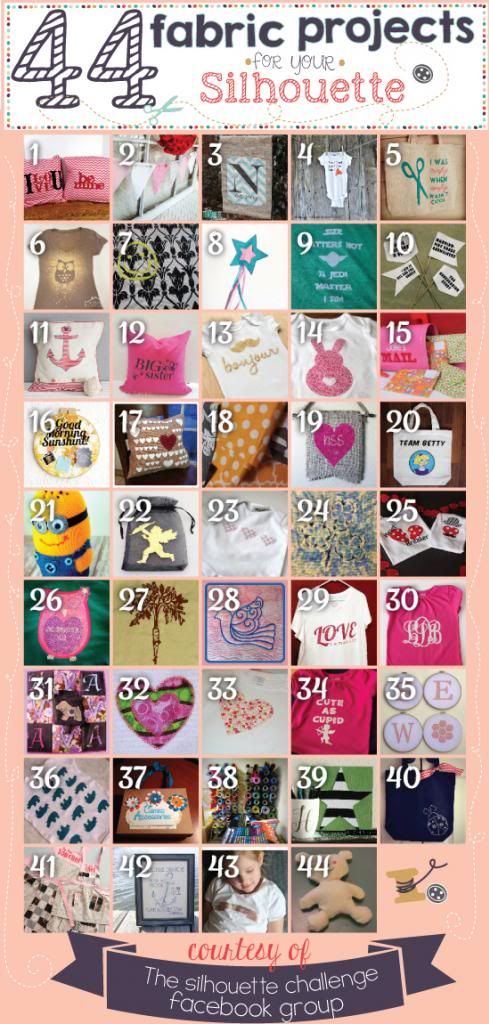 1. A Tossed Salad Life // 2. unOriginal Mom // 3. The Turquoise Home // 4. It's Always Craft Time // 5. Weekend Craft // 6. Practically Functional // 7. Please Excuse My Craftermath… // 8. Cutesy Crafts // 9. Architecture of a Mom // 10. Black and White Obsession // 11. Lil' Mrs. Tori // 12. Creative Ramblings // 13. Essentially Eclectic // 14. Adventures in All Things Food & Family // 15. From Wine to Whine // 16. Tried & True // 17. My Paper Craze // 18. Dragonfly & Lily Pads // 19. Whats Next Ma // 20. The Thinking Closet // 21. Create it. Go! // 22. Getsilvered // 23. Create & Babble // 24. Bringing Creativity 2 Life // 25. The Frill of Life // 26. My Favorite Finds // 27. Chicken Scratch NY // 28. Terri Johnson Creates // 29. Simply Kelly Designs // 30. Pitter and Glink // 31. Fadville // 32. The Sensory Emporium // 33. DailyDwelling // 34. crafts, cakes, and cats // 35. Life After Laundry // 36. It Happens in a Blink // 37. Cupcakes&Crowbars // 38. feto soap // 39. McCall Manor // 40. Ginger Snap Crafts // 41. TitiCrafty // 42. Clever Someday // 43. Mabey She Made It // 44. Work in Progress //
Wow-ee, that's quite a lot of inspiration in one post, wouldn't you say?  If you didn't make it through all the links, that's okay…but be sure to pin and come back to it later! ;-)
What's the next fabric project YOU will be attempting?  Did you get any great ideas?  I hope so…I know I did!


This post contains affiliate links – click here to read my full disclosure.


Get your copy of my FREE meal planning binder!
Sign up to get a free copy of my meal planning system - an 11 page printable meal planning binder, complete with a pantry inventory, shopping list, and more to help get on top of your menu each week!